December 3, 2018 at 7:19 pm PDT | by Staff reports
Aaron Salazar: 'I did not jump off the train'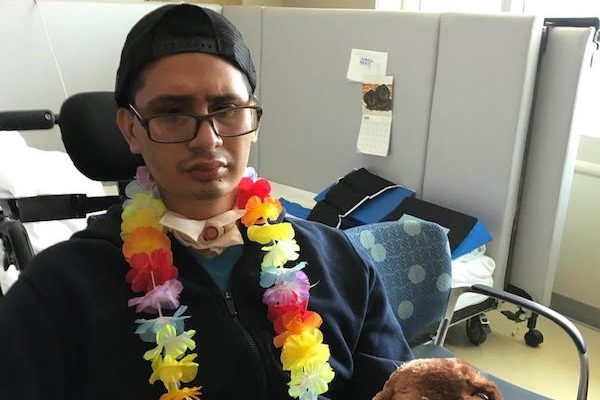 Aaron Salazar, the 22-year old gay Portland State University student who was found critically injured and near death on the railroad tracks just outside of Truckee, California last May 15, flatly denies that he tried to kill himself, as Amtrak investigators concluded.
"I did not jump off the train. I'd never, ever try to kill myself," a still-recovering Salazar said in a family video from home sent to Bob Conrad of ThisIsReno.com. Conrad worked with the Los Angeles Blade to cover the story when Salazar—who had been missing for three weeks while riding Amtrak from Denver to Sacramento—was taken to the Intensive Care Unit of a Reno, Nevada, hospital.
From the beginning, Amtrak police (which investigates train-related incidents) insinuated that Salazar jumped from the train, which was adamantly contradicted by his family and close Portland State University friends.
In phone interviews with the Los Angeles Blade, PSU students Morgan Patterson and Andrea Valencia disputed Amtrak investigators' allegations that Salazar was troubled or even suicidal.
"Someone who is suicidal does not constantly talk about their future. Aaron had big plans to graduate from Portland State with his degree in Economics and continue his education through graduate school in Denver," Patterson said.
"When I heard Amtrak was insinuating he committed suicide, that did not make sense to me because he's just a dork and I don't think he would do that to the people who love him," said Valencia.
Nonetheless, Amtrak's Police Chief, Neil Trugman said at a press conference in May that Salazar was "distraught," according to "several conversations" with 300 people as part of the investigation. "He was very distraught. All indications right now appear that it was an attempted suicide. There's nothing to suggest he involuntarily was removed from that train," Trugman said.
Publicity about the incident induced a number of other people to come forward sharing concerns about similar deaths or injures that occurred on Amtrak's California Zephyr line. Cindy and Douglas Putnam, whose son Robin Putnam, 26—a straight but gay-looking junior at the California College of the Arts in Oakland—disappeared around July 7, 2012 while riding an Amtrak train to Grand Junction, Colo.
His remains were found by Union Pacific Railroad employees on Aug. 25, 2015. The Putnams told the Los Angeles Blade that Amtrak also insisted that Robin had committed suicide.
"We are glad Aaron is improving and look forward to talking with him and any other witnesses as part of the investigation," Amtrak spokesperson Olivia Irvin told Conrad.
The Salazar and Putman families hope congressional oversight committees will look into the harrowing incidents involving Amtrak.