TrevorLIVE LA Gala raises over $1.5 million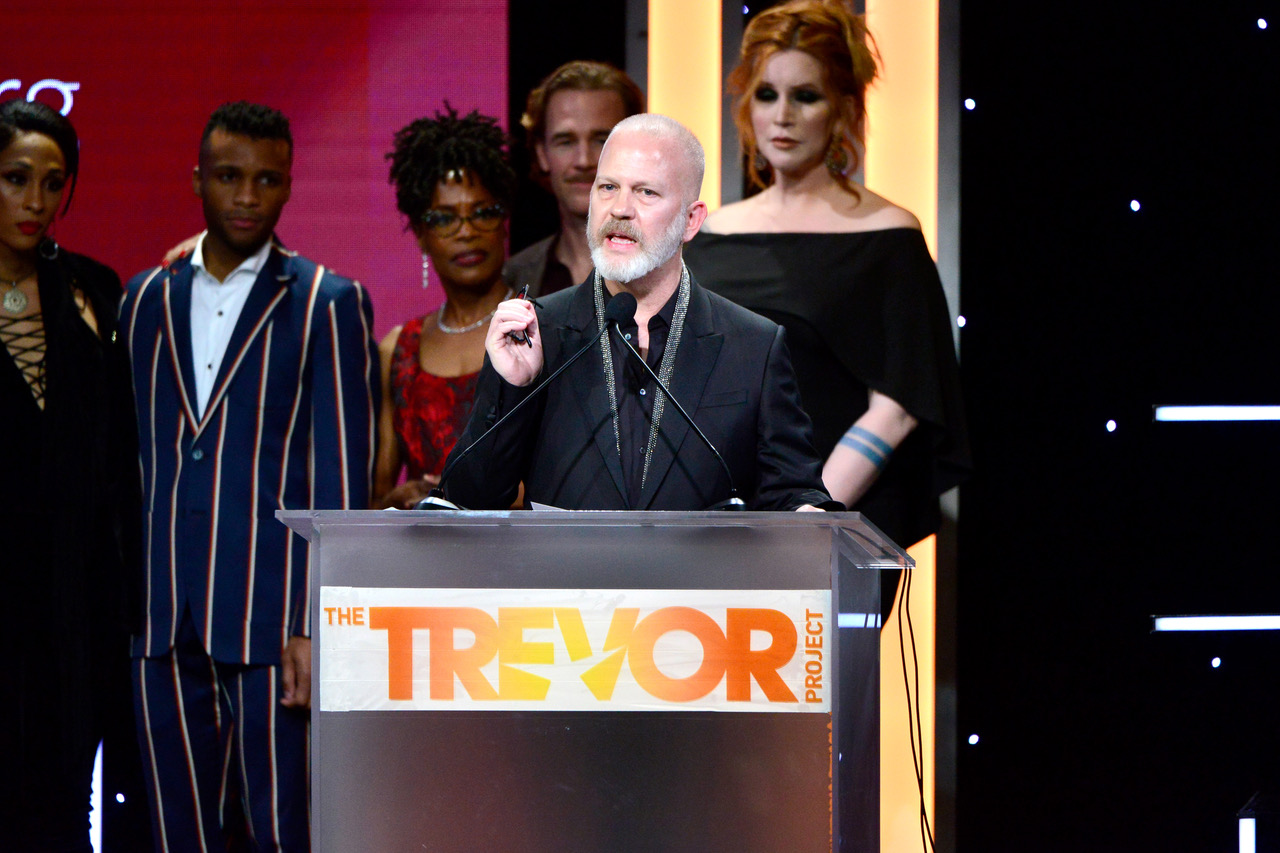 The Trevor Project hosted its 2018 TrevorLIVE Los Angeles gala Sunday night, Dec. 2, at the Beverly Hilton Hotel in a star-studded event that raised over $1.5 million.
The event was hosted by popular YouTuber Eugene Lee Yang, a writer, director, actor and video producer.
"It is an absolute privilege to support The Trevor Project, the world's largest suicide prevention and crisis intervention organization for LGBTQ young people," Yang said in his opening remarks. "Tonight, we are honoring some truly awe-inspiring trailblazers for the LGBTQ community."
The focal point for the evening, the Hero Award, was presented to Emmy, Golden Globe and Peabody award-winning screenwriter, producer and director Ryan Murphy and the cast of POSE. Writer and transgender rights activist Janet Mock presented the award.
"When I was 19, in Indiana, I myself called a suicide hotline. Overwhelmed by the AIDS crisis, by the fact that I was the only 'out' person in my friend group, the only 'out' person I knew at the time, and alienated from my family, I felt profound despair. I made a call one late night in November. I made a connection, got some hope, and carried on. It's powerful life saving work this organization does. In my roundabout way, I know this first hand," Murphy said in his powerful acceptance speech.
Murphy wondered why more wasn't being done to target those who caused the problem. "The homophobes, the trans naysayers, and the small restricted and dangerous minds who are causing so many young people to needlessly hate and doubt themselves in our country when what they should be receiving from this country is love and support and understanding. Weren't we as a nation established on the idea of equality, not appalling and illegal discrimination?" Murphy said.
"It's a simple and very strong idea, I think. Let's help the kids by showing the small-minded the door. There is actually a way to do this. And I want to do it," he continued. "It was the midterms this year that gave me home. One after one, anti-LGBTQ candidates who made hate speech and ideology part of their legacy fell, disgraced and eliminated by candidates (who were largely boosted by victory by young and female voters, by the way.) The number was astounding to me — over 20 anti-LGBTQ right wing politicians and their horrifying views were gone in a day.
"Dana Rohrabacher, Mia Love, Jason Lewis, Pete Sessions—bigots, all of them," he continued. "And all replaced by allies, new politicians who won't spread harmful and wrong rhetoric that can lead a young LGBTQ person to actually believe they are not good enough or worthy enough to stay on this earth anymore."
The Trevor Project's CEO & Executive Director Amit Paley noted how many LGBT had been helped.
"There are people in this room who've told me that they wouldn't be here today if it weren't for this organization, and I know there are others who wish they had known about Trevor in their darkest moments," Paley said. "That is why we are here today. To make sure that every young person, regardless of their sexual orientation, gender identity, race, religion, or immigration status, knows that The Trevor Project is here for them whenever they need us."
Other honorees included actress and singer Amandla Stenberg who accepted the Youth Innovator Award. "Often times who we are is postulated in the context of pain, shame, and tragedy and although that may be a facet of our experiences I do not feel that it is by any means the totality of them or how I experience being gay," they said. "I find that understanding so limiting and inaccurate when I know that if anything we are the opposite; we are joy and light. We are the sacred unraveling of damaging fabrications who reveal the power of truth through love. We are unapologetic expressions of divinity and exuberance."
Presenting sponsor AT&T was honored with the 20/20 Visionary Award, presented by actor, singer, director and photographer Jussie Smollett and accepted by AT&T Mobility & Entertainment President David Christopher.
"Stand up fight back!" – Trans Day Of Visibility brings huge crowds
TDOV in 2023 was one of the largest in years. Huge crowds gathered in cities across the US & court victories were had in Texas and Tennessee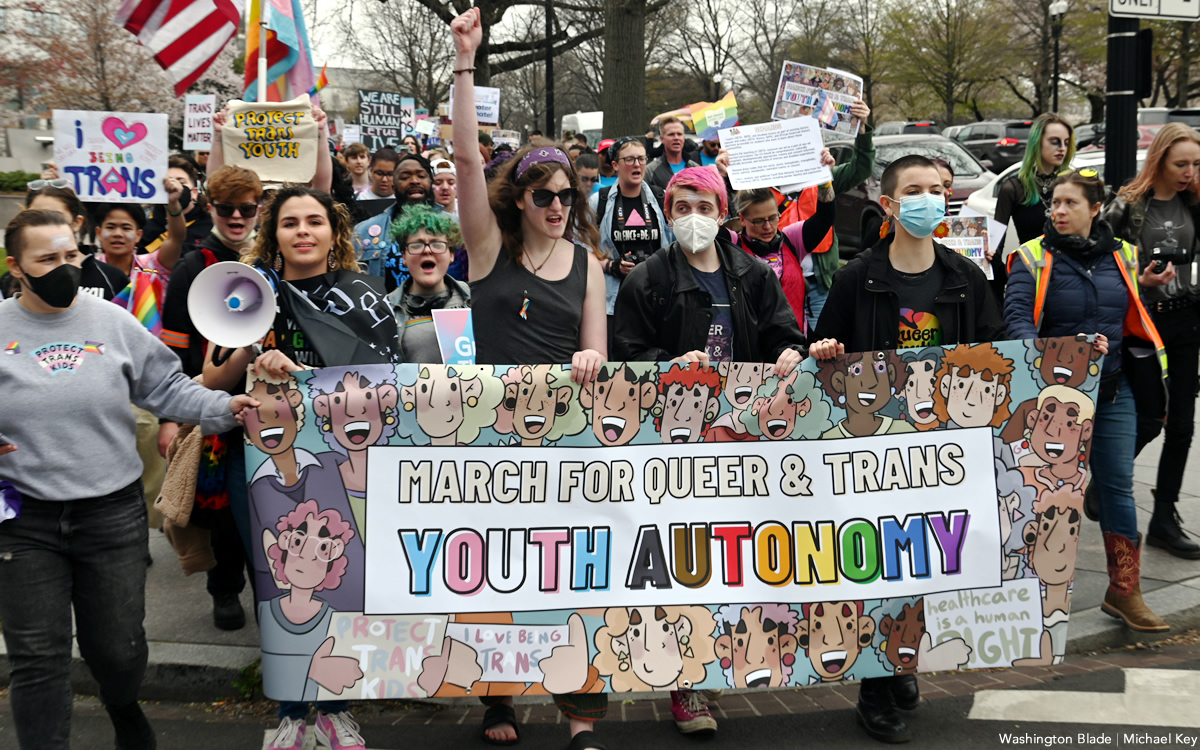 By Erin Reed | WASHINGTON – Transgender Day of Visibility 2023 was one of the most monumental demonstration days for transgender people in years. Across the globe, people marched for trans rights in a year where more laws have been enacted targeting the community than any other time in history.
Queer Youth Assemble, a group of queer and trans youth, spearheaded the effort in the United States and held over 100 events across the country. Massive crowds marched to government buildings in Melbourne, Australia and people gathered in Vancouver and Toronto to show solidarity. As the day came to a close, news traveled about major court wins in Tennessee and Texas, leaving activists with hope that visibility could translate into victory.
Queer Youth Assemble describes itself as a queer-led youth organization of people 25 and under seeking to create the best possible world for queer youth. Originally formed over student walkouts earlier in the year over Texas and Florida legislation targeting queer and trans youth, the group has seen success in planning demonstrations. Given the huge number of the over 450 bills that target queer and trans youth in the United States, centering them and allowing them to take the lead in activism is important. Looking back at the entire day, it is clear that they delivered on their plans.
Lets recap some of the biggest marches and events in the United States as well as the court victories that came about on Trans Day of Visibility 2023:
Minnesota:
Minnesota had a huge rally for transgender day of visibility. Representative Leigh Finke, the first transgender representative of the state, spoke at an event while queer and trans people and their allies gathered in the rotunda of the Minnesota Capitol. People filled all levels of the Capitol Building and showed solidarity with marches across the United States. Minnesota has become a safe haven state for trans people fleeing other states due to an executive order signed by the governor that says Minnesota will not extradite people to other states if they are criminalized over gender affirming care or abortion.
An incredible display of love and strength at the MN Capitol today for #TransDayofVisability.
Thank you to everyone who joined us, and those who couldn't. This is an extraordinary revolution. And I'm honored to be in it with you all. pic.twitter.com/eiCJ2ZJ8UZ

— Leigh Finke (@leighfinke) March 31, 2023
Florida:
Florida's activists met in the Capitol Building while the House of Representatives convened to vote for a major expansion to the Don't Say Gay bill. This expansion would make it against the law to share pronouns in school, making it very difficult for trans people to transition in a school environment. It also would expand book bans. In response, protesters gathered in the halls of the Capitol Building and chanted slogans such as, "this is what Democracy looks like!" At times, you could hear the chanting on the House floor, interrupting speakers.
Florida's House of Representatives did pass the bill, but by the end of the day, court victories in other states put its enforcement in question (more on that later!).
Transgender rights protests spread on trans day of visibility!

Florida passes a Don't Say Gay expansion that targets trans students and teachers in cruel ways and bans books!

So demonstrators flood the halls, "this is what Democracy looks like!"pic.twitter.com/mgBMySqZ2N

— Erin Reed (@ErinInTheMorn) March 31, 2023
Montana
Demonstrators gathered in Montana, where some of the worst anti-trans bills this year have passed through the legislative chambers. Bills that have moved through the Montana legislature include a right to bully trans kids, a right to refuse medical care to trans people, a gender affirming care ban, a drag ban, and a ban on drivers license and birth certificate gender changes. Activists from Forward Montana, a youth-led organization focusing on anti-discrimination, held a die-in in the Capitol Building, singing and sometimes screaming so that their voices would be heard.
Trans day of visibility demonstrations continue around the United States!

Forward Montana and activists hold a die in in the state's Capitol, filling it with their bodies and voices.

Don't miss your city's protests and marches today!pic.twitter.com/NDKuxBETPj

— Erin Reed (@ErinInTheMorn) March 31, 2023
Indiana
Indiana has been the site of some of the harshest anti-trans bills in 2023, including a gender affirming care ban that could ban things like voice therapy for trans youth. The ban currently sits on the Governor's desk. On Trans Day of Visibility, crowds gathered as clergy leaders from several churches marched into the Governor's Office singing "This Little Light of Mine," encouraging the governor to veto the law.
Demonstrations continue across the United States on trans day of visibility.

Clergy leaders march into the Indiana statehouse singing This Little Light Of Mine asking for the governor to veto the gender affirming care ban!#TransDayOfVisibility pic.twitter.com/EdbZWdn1HK

— Erin Reed (@ErinInTheMorn) March 31, 2023
Washington, D.C.
The nation's capital had a large gathering on the National Mall in solidarity with transgender rights protestors all over the United States. It was one of the largest Transgender Day of Visibility marches there in recent years. D.C. has held marches since 2019.
When trans rights are under attack, what do we do? Stand up fight back!

Trans day of visibility protests and rallies continue. This one from Washington, D.C.!

Y'all are showing up today and I am SO proud of you!pic.twitter.com/Bn5rfopCAJ

— Erin Reed (@ErinInTheMorn) March 31, 2023
Other Marches
There were many other marches that were resoundingly successful. Crowds were huge in San Antonio and New Orleans. Students walked out of class in Central High School in Nebraska, where a massive filibuster over anti-trans bills has brought the session to a stall. A large crowd gathered on the steps of the Vermont Capitol. For the first time in history, the transgender flag was raised among the Connecticut Capitol Building. Small towns showed up too, such as this local gathering in Florence, Alabama!
trans visibility march :) pic.twitter.com/0XoAwvVaxP

— Beter (@YaBoyBeter) April 1, 2023
Court Victories
While the crowds across the United States drew national media attention, late in the day, news broke that two significant court victories had occurred. In Texas, Llano County ordered books removed from libraries for their LGBTQ+ content. A federal judge struck down that order, demanding that the books be put back on the shelves and the catalogue updated to account for their renewed availability. Book bans have been a huge issue in several states this year, and this ruling could have implications for broader bans in places like Florida.
In Tennessee, another huge victory emerged. A federal judge in Tennessee ruled that the drag ban there was likely unconstitutional and placed a temporary restraining order blocking it from going into effect. The ruling itself was scathing towards the drag ban, at one point stating that the judge "could see at least three ways in which the ban would violate the rights of citizens in Tennessee."

---
Transgender Day of Visibility achieved remarkable success, with widespread marches and significant victories. Demonstrations spanned vast geographic areas and featured large, passionate crowds. Activists employed innovative tactics to protest legislation, even as some bills advanced while they watched. News of courtroom triumphs will buoy those who oppose anti-trans legislation, who have consistently argued throughout the year that such bills violate the Constitution and will squander taxpayer dollars in futile legal defenses. On this day of vigorous protests and achievements, activists have ample reason to take pride in their accomplishments.
******************************************************************************************
Erin Reed is a transgender woman (she/her pronouns) and researcher who tracks anti-LGBTQ+ legislation around the world and helps people become better advocates for their queer family, friends, colleagues, and community. Reed also is a social media consultant and public speaker.
Follow her on Twitter (Link)
Website here: https://www.erininthemorning.com/
******************************************************************************************
The preceding article was first published at Erin In The Morning and is republished with permission.