Breaking: California Democratic Party Chair Eric Bauman resigns
Despite midterm victory, internal firing squad aims at gay political operative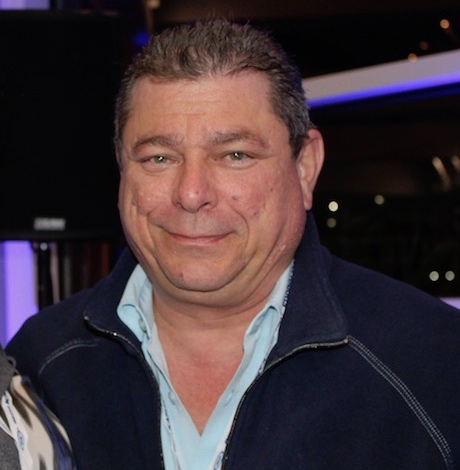 Breaking: Eric Bauman, the first openly LGBT Chair of the California Democratic Party, announced his resignation Thursday following a story in the Los Angeles Times in which 10 staffers and political activists allege sexual harassment and misconduct by the longtime Democratic activist.
"I have made the realization that in order for those to whom I may have caused pain and who need to heal, for my own health, and in the best interest of the Party that I love and to which I have dedicated myself for more than 25 years, it is in everyone's best interest for me to resign my position as chair of the California Democratic Party," Bauman said in a statement to The Times after Gov.-elect Gavin Newsom, state Senate President Pro Tem Toni Atkins, Controller Betty Yee and others, including Equality California Executive Director Rick Zbur,  called on him to step down.
The Times did not indicate whether the investigation would continue or now be halted or what process might occur to replace Bauman.
The following is the cover story for the Los Angeles Blade filed Thursday morning before Bauman's announcement:
In addition to the historic flipping of rock red Republican congressional seats and electing California's first openly gay statewide official, Democrats virtually decimated the state GOP during the midterm elections. "It's been decades since California Democrats had this much power at the Capitol," blared a Nov. 26 Sacramento Bee headline.
Democrats, The Bee wrote, "are on pace to control three-fourths of the Assembly — 60 out of 80 seats — a feat has not been accomplished in 135 years, in 1883. In the Senate, Democrats are likely to grab 29 seats out of 40, which would be the party's largest advantage since 1962 (except for a brief period in 2012)."
But Democrats seem to have a penchant for complicating victories, forming a circular firing squad to kill off or maim someone perceived to have too much power.  A rump group of House rebels—considered by some to be the Democratic equivalent of the Republican Freedom Caucus—is challenging establishment Leader Nancy Pelosi in her historic campaign to re-take the gavel as Speaker next year, despite Pelosi's winning midterm messaging.
And in California, a handful of Democratic Party staffers and associates—some of whom were aligned with Kimberly Ellis, Bauman's 2017 Berniecratic opponent for party chair—have alleged sexual harassment and sexual assault charges against Bauman, forcing him to take a leave of absence while Debra Henshaw Vierra from the outside law firm of Churchwell White investigates the allegations.
But given the publicity, the rush to judgment and societal interpretations of gay male gestures and flirtations by today's #MeToo standards, it is very possible that no matter what the determination of the official investigation, Bauman—one of the key architects of the California midterm success—may not be able to shake the scarlet letter of misconduct.
So what happened? Is Bauman the political Kevin Spacey or California's Al Franken or an old-fashion gay guy who talks sincerely about sexual harassment but hasn't applied it to his own gay culture flirtations?
The story that may bring down a "kingmaker" burst into the open the weekend of Nov. 23-25 during the CDP Executive Board meeting. But it originated before the Nov. 6 elections, according to news accounts. Bauman was leading a statewide get-out-the-vote bus tour when "two young women on the bus reported alcohol was consumed and inappropriate sex talk occurred on Nov. 1," out David Campos, chair of the San Francisco Democratic Party, told the Associated Press. 
They were headed for a Nov. 2 event in San Francisco with Leader Pelosi but when "her campaign team and Campos learned of the incidents aboard the bus," they told state party officials "that Bauman and the bus should stay away," Campos told AP. The wire service added that "it appeared Bauman engaged in the misbehavior and did not intervene to stop others from acting inappropriately," citing Campos as the source.
"We felt, and I felt, it was important for us, given we had serious credible allegations, not to have Chair Bauman attend this get-out-the-vote event in San Francisco," said Campos, who first revealed the details to the Bay Area Reporter. 
On Nov. 28, the Los Angeles Times published interviews with the two young women. Grace Leekley, 21, identified as a temporary worker in the party's communications department, who said she did not want to ride on the bus because of Bauman. But she met up with the tour Nov. 1 in Chico and joined the staff for lunch. She sat next to Kate Earley, 21, identified as having started about six weeks earlier as the party's digital director.
"Leekley and Earley said that during the lunch, Bauman shushed the staffers at the table and then asked the women, within earshot of their colleagues, if the two were having an affair. When both women said no, Bauman pressed the issue, they said, telling them he would not mind if they were involved in a sexual relationship so long as it did not affect the workplace," The Times reported.
Described another way—Bauman teasingly asked the two young women if they were a couple—it was OK if they were, just not at work. And herein lies a problem: Bauman may have thought he was warmly joking around but it was apparently perceived by the two new young staffers as sexual harassment and they felt intimidated.
"I felt really embarrassed, almost ashamed, and uncomfortable," Leekley told The Times. "I'm basically bottom-of-the-barrel staff — and he's the most powerful man in the party. I didn't feel comfortable saying anything."
"A party staffer told The Times that he heard Bauman make the comments and said the two women told him afterward they felt deeply uncomfortable. Earley filed a complaint to her supervisor within 30 minutes of the incident and spoke with the human resources department later that day, she said. Her attorney said the complaint remains unresolved," The Times reported Nov. 28. "As of the time he took a leave of absence on Monday, Bauman had not seen a formal complaint, according to a source close to the chairman." As of Nov. 29, CDP spokeperson Mike Roth has not replied to inquires from the Los Angeles Blade about if and when any complaints have been officially filed and by whom.
It is not yet known what Earley's supervisor or the human resources department did with her complaint. But here's where things get murky.
The bus tour incident occurred on Nov. 1 but apparently nothing more was said or done until Nov. 23, the Black Friday after Thanksgiving, when party Vice-Chair Daraka Larimore-Hall suddenly circulated a "Statement of Charges" to members via email and on social media alleging sexual harassment and sexual assault and a call for Bauman to resign. But he apparently did not confront Bauman directly during the Executive Board meeting.
"This past weekend, I learned of multiple serious and credible allegations that Chairman Bauman sexually harassed, and in some cases sexually assaulted, individuals during party functions, and of at least one incident of Chairman Bauman tampering with witnesses. I have spoken directly with two victims, who confirm the allegations, and I spoke to the potential witness whom Chairman Bauman intimidated. I understand there are additional victims as well," Larimore-Hall wrote. " I believe the victims. Their stories illustrate a clear and escalating pattern of Chairman Bauman's horrific and dehumanizing behavior."
Larimore-Hall is not specific about the charges, doesn't identify the victims and asks for respect for the victims' privacy rights. In a second letter, he explains that he was approached "by a number of Party staff who confided in me their stories of sexual harassment and assault" by Bauman. He calls them "survivors," and "young political professionals, many of whom are at the very beginning of their careers." Obviously, he says, "it is completely unacceptable for Chairman Bauman to remain in office given these credible, corroborated and utterly heart-breaking allegations." 
The first note sounds like Leekley and Earley and the party staffer who overheard Bauman talk to the young women at lunch. But when and how did the two turn into a "number of Party Staff" who came forward to share their experiences? This is before Rep. Ro Khanna (D-San Jose) broke the allegations wide open with a tweet on Friday, Nov. 23.
"The allegations of sexual assault that @DarakaKenric is filing against @EricBauman are shocking. CalDems should replace him with @mldauber who is one of the nation's foremost scholars on sexual harassment & led the Persky recall campaign. We need a bold feminist to lead for 2020."
When Stanford law professor Michele Dauber said thanks but no thanks, others suggested that "a more fitting successor for Bauman would be Kimberly Ellis, who lost the election for party chair by just 62 votes after a contentious race in 2017. Dauber and Khanna agreed that Ellis—who represented the more progressive wing of the Democratic Party—would be well qualified for the role, if she still wants it. Ellis did not immediately respond to a request for comment," sanjoseinside.com reported Saturday.
Were the Party staffers Ellis supporters who Bauman hired to try to create unity after the infamously contentious race for Party chair? Or were they staffers from former chair John Burton's regime, when Bauman served as party vice-chair? If the latter, why did none of them come forward during that 2009-2017 time period when Burton was more intimidating than Bauman? And while there were rumors about Bauman being "handsy" at parties, as one gay person told the Los Angeles Blades, there were no official or registered complaints or leaked stories about Bauman during the 17 years he served as Chair of the LA County Democratic Party.
Bauman, a registered nurse, started his political career at Stonewall Democratic Club where he grew the club into a political powerhouse helping elect local, state and national candidates. His behind-the-scenes strategic political acumen resulted in senior-level positions in state government, including serving as Senior Advisor and LA Director of office services for Speakers John A. Perez, Toni Atkins and Anthony Rendon; Senior Advisor to Senate Majority Leader Dean Florez; Senior Advisor to Lt. Gov. John Garamendi and when Garamendi served as Insurance Commissioner; Special Assistant to Gov. Gray Davis and Director of Davis' LA Office. While some politicos complained about his gruff Bronx/Jewish style, he also served as a generous mentor to many and no credible complaint was leaked to the press or filed from a staffer or party-goer during this time.
However, during Bauman's unexpectedly heated race to become the first openly LGBT CDP chair in May 2017, a number of inaccurate accusations from the Ellis camp emerged. The worst was that he had engaged in "inappropriate behavior with 14- and 16-year-old boys," an old but painful and effective trope used against LGBT people. "What they're accusing me of is being a child predator! And I lost it. I started crying uncontrollably," Bauman told the Los Angeles Blade (May 15, 2017). Then Bauman thought: "how many people are accused of things or are victims of abuse and they hide in shame and so it continues?"
He fumed in an email. "This is despicable! This is not the Democratic Party! These are Trumpian tactics and it has to stop! I'm a pretty tough guy and I can take the attacks, lies, distortions, and mud that has been slung at me pretty well," Bauman wrote. "But to accuse me of child abuse, especially of this nature, is beyond the pale and 100% unacceptable."
The Machiavellian rumor was apparently started by a gay Ellis supporter. Ellis denounced the tactic but references to the rumor have shown up in social media responses to the current allegations. It's hard to un-ring a bell. 
Bauman seemed too politically savvy to cross lines of propriety. In Dec. 2011, in an unflattering LA Weekly story calling him the "L.A. Democratic Party Kingmaker," the author describes Bauman's arm-twisting as "machine politics at its finest." To which Bauman replied: "I don't make promises or ask people to do things in a quid pro quo format. That would be against the law. I'm way too high-profile, way too visible a guy to do that."
The Los Angeles Blade spoke with numerous gay and straight politicos familiar with Bauman and his decades-long leadership in the Democratic Party. They requested anonymity for fear of being dragged into a controversy that might sully their own name or out of respect for the due-process investigation or not wanting to appear to attack the alleged victims. 
Two gay men independently said that years ago Bauman said hello with a lingering pat or quick grab of the butt at an event—but neither man considered the touch sexual harassment. They said Bauman never followed up with anything physical or with sexually explicit comments. Several people said they saw him drink but never saw him drunk. Others said he was often flirtatious, would give an unexpected shoulder rub and sometimes made lewd jokes and risqué gestures that made some people uncomfortable—but never to the degree that he should be reported for sexual harassment. No one ever experienced or witnessed him commit the crime of sexual assault such as grabbing or groping. 
But there were notes of hesitation, too. "I don't believe any of it," one politico told the Los Angeles Blade. "Except Larimore-Hall is too smart to use the term 'sexual assault' unless he had something behind it."
"I take seriously any allegation brought forward by anyone who believes they have been caused pain," Bauman said in a statement that did not include an abject denial. He announced the independent investigation "ensuring these individuals making the charges are treated with respect and free from any concerns of retaliation." He added that he looks "forward to putting these allegations behind us and moving forward as unified Democrats." Alex Gallardo-Rooker, another party vice chair, is serving as acting chairwoman during the investigation.
The story grabbed national headlines but seemed to disappear as other splashier news moved center stage. And then came the Nov. 28 bombshell, with The Times interviews of 10 party staffers and political activists who claimed Bauman "made crude sexual comments and engaged in unwanted touching or physical intimidation in professional settings."
"People just didn't know how to speak up about it," Allan Acevedo, an activist with California Young Democrats told The Times. "There was a sense of loyalty. Not just to him, but to any advancement that any LGBT person makes in terms of us having representation at the table."
"Eight current party staffers said that, while he was serving as chairman, Bauman would regularly make sexually explicit comments in the workplace to men and women, including remarks about sexual acts, his and other staffers' genitalia, and being sexually attracted to staff members," The Times reported, citing some accusers by name. "The eight staff members each said they also experienced or witnessed Bauman engaging in unwanted touching, particularly directed toward male staffers."
The California Democratic Party's handbook defines prohibited behavior, including sexual harassment and assault, and prohibits the use of alcohol while at work. On Nov. 28, Bauman, 59, said he's going to rehab.
"I deeply regret if my behavior has caused pain to any of the outstanding individuals with whom I've had the privilege to work. I appreciate the courage it took for these individuals to come forward to tell their stories," Bauman said in a statement. "In the interest of allowing the CDP's independent investigation to move forward, I do not wish to respond to any of the specific allegations. However, I will use the time I am on leave to immediately seek medical intervention to address serious, ongoing health issues and to begin treatment for what I now realize is an issue with alcohol."
What will the investigation determine? Was this a behind-the-scenes political coup by progressive purists who want to rid the CDP of the old guard? Are the allegations asserted by a new generation with internalized homophobia? Or might Bauman have been blind to his own bad behavior? In any event, there has been a coup—an overthrowing of the old gay cultural attitudes of physical and verbal coziness, which is unacceptable in today's professional environment.
"Leading the California Democratic Party to historic victories has been the honor of a lifetime, and I look forward to continuing this important work upon the conclusion of the investigation and when my health allows," Bauman said in his statement.
Governor Newsom announces new gun safety legislation
In 2021, Calif. was ranked as the #1 state for gun safety by the Giffords Law Center, seeing a 37% lower gun death rate than national average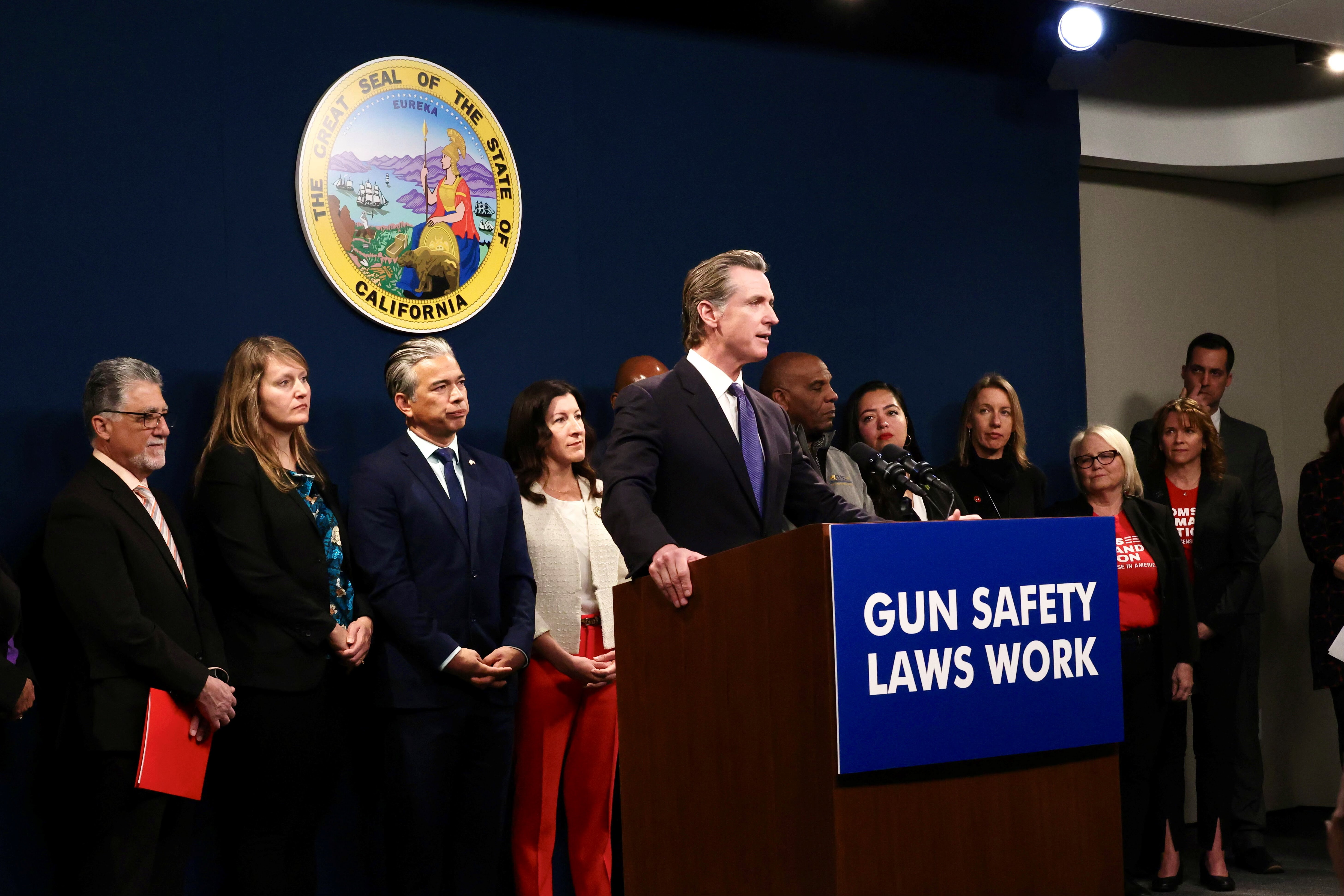 SACRAMENTO – In the wake of multiple mass shootings that took the lives of 19 Californians in just 72 hours last week, Governor Gavin Newsom, Attorney General Rob Bonta, and Senator Anthony Portantino (D-Burbank) announced new gun safety legislation to modernize and strengthen California's public carry laws.
"Only in America do we see the kind of carnage and chaos of gun violence that destroys our communities and our sense of safety and belonging," said Newsom. "America is number 1 in gun ownership and we far surpass every developed nation on Earth in gun deaths – it's not complicated. In California, we've passed common sense gun safety laws and they work: we have a 37% lower gun death rate than the national average. We're doubling down on gun safety and strengthening our public carry law to protect it from radical Republican attacks."
According to the Center for American Progress, efforts to weaken concealed carry laws across the country have increased violent crimes – with studies showing gun homicides increased by 22% in states that passed permitless carry laws and violent crimes with a firearm went up 29%.
Newsom signed a package of gun safety laws last year, making it easier for Californians to sue manufacturers of illegal assault weapons and those spreading them, allowing lawsuits against irresponsible gun industry members, strengthening prohibitions on ghost guns, as well as restricting marketing to minors. 
"The mass shooting incidents we have seen over recent weeks bring to light the need for stronger protections for our communities. The fact is, individuals who are not law-abiding, responsible citizens simply shouldn't possess firearms — and they especially shouldn't be allowed to carry a concealed weapon in public. When a gun is placed in the wrong hands, it is deadly," said California Attorney General Rob Bonta. "The Second Amendment is not a regulatory straightjacket — we must protect our communities. The time for thoughts and prayers has long passed, we need brave and immediate action by our leaders – here in California and beyond. We owe our community stronger protections. I urge our state leaders to quickly adopt SB 2. We can't afford to wait even one minute more."
Last June, the U.S. Supreme Court struck down a New York law, aspects of which mirrored California's public carry laws, and the legislation announced today – Senate Bill 2 by Senator Portantino – would make fixes necessary to update the standards and processes for obtaining a public carry permit in California.
Senate Bill 2 strengthens California's restrictions regarding public carry laws by:
Enhancing the existing licensing system – ensuring those permitted to carry firearms in public are responsible and law-abiding individuals;
Protecting children – setting a minimum age requirement of 21 years of age to obtain a CCW license;
Advancing stronger training requirements – ensuring proper handling, loading, unloading, and storage of firearms; and
Identifying certain sensitive public places – establishing safe community places where people should expect freedom from gun violence.
"In the wake of the recent tragedies in Monterey Park and Half Moon Bay and the continued threat of mass shootings, it's critical that California leads on the issue of gun safety and reform. I am proud to be working with Governor Newsom, Attorney General Bonta and activists on SB 2 to strengthen our existing public carry laws and ensure every Californian is safe from gun violence.  We must be diligent in addressing the gun violence epidemic in our country and public carry laws are a key component of this," said Senator Anthony Portantino.
California launched an 18-month campaign to promote gun violence restraining orders – "red flag laws" – that allow law enforcement, family, coworkers or friends to petition a court to temporarily remove weapons from people deemed dangerous to themselves or others. A study from the Violence Prevention Research Program at the University of California, Davis found that California's red flag law was used to stop 58 threatened mass shootings since 2016.
California's gun safety laws work. In 2021, California was ranked as the #1 state for gun safety by the Giffords Law Center, and the state saw a 37% lower gun death rate than the national average.
According to the CDC, California's gun death rate was the 44th lowest in the nation, with 8.5 gun deaths per 100,000 people – compared to 13.7 deaths per 100,000 nationally, 28.6 in Mississippi, 20.7 in Oklahoma, and 14.2 in Texas.
Moms Demand Action Founder Shannon Watts noted: "The Supreme Court's reckless Bruen decision opened up the floodgates for more guns in more places — but with this bill California once again renewed its commitment to being a national leader in the fight against gun violence. While the gun industry celebrated the ruling that put their profits over our safety, our grassroots army is proud to stand with our Gun Sense Champions in California to pass this critical bill and make our communities safer."
"Following the Supreme Court's egregious decision in the Bruen case, it is vital that the Golden State takes meaningful action to protect all Californians from the threat of gun violence. SB2 would do just this by updating and improving the state's already strong concealed carry license system, and ensure that loaded and concealed weapons are not allowed in certain sensitive places. With SB2, leaders in California are continuing their leadership in prioritizing the public health and safety of all its citizens," said Brady Campaign President Kris Brown, adding "Brady applauds Senator Portantino for introducing this important bill, and thanks Governor Newsom and Attorney General Bonta for their continued leadership on this issue, and urges the California legislature to pass it without delay."
Giffords State Policy Director Ari Freilich stated: "In the face of tragedy, California's leaders act. They've led the nation on gun safety reform and made California a much safer state than most. But today, grieving communities know all too well how much more work there is to do. California achieved an all-time record low gun fatality rate in 2019. But like the rest of the country, we have faced record spikes in gun sales and violence since the start of the pandemic and a flood of new weapons in public spaces as a result of the US Supreme Court's dangerous Second Amendment ruling last year. Passing SB (2) will strengthen communities' ability to respond to these threats by requiring stronger vetting and safety training to carry weapons in public and by designating vital community spaces like parks and playgrounds as off-limits to weapons throughout the state. We thank leaders like Governor Newsom, Attorney General Bonta, and Senator Portantino for their work and commitment to make all Californians safer and freer from violence."