Adam Spickler makes California history as first trans man to hold elected office
With no opposition, Spickler is appointed Cabrillo College Trustee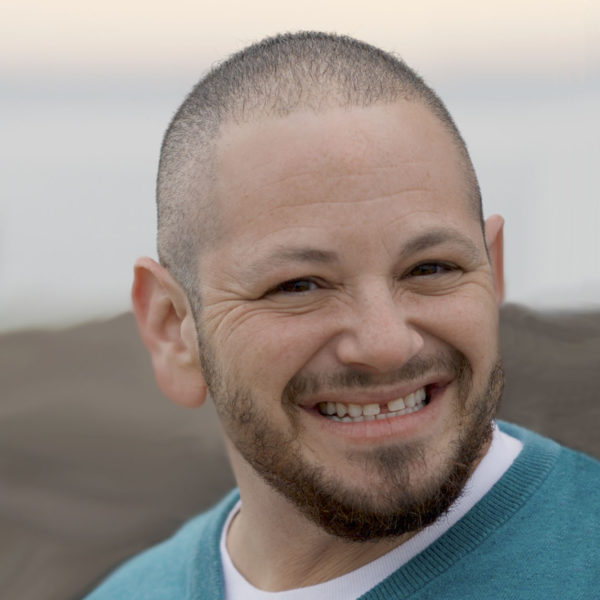 Longtime Santa Cruz County resident Adam Spickler, a transgender man, ran for a seat on the seven-member Governing Board of Cabrillo Community College.
Spickler was seeking to replace Gary Reece, 72, a retired Pasatiempo resident who has held the seat for more than two decades. But because he ran unopposed, he has been appointed to the post— becoming the first openly transgender man to hold elected office in the state of California.
Spickler is seeking to replace Gary Reece, 72, a retired Pasatiempo resident who has held the seat for more than two decades and so far, he is running unopposed in the November elections
Spickler, 48, a senior Santa Cruz County analyst and administrator since 2013, is no stranger to electoral politics. He is a longtime local Democratic Party leader and has spent over a decade working for elected officials in the California State Senate and Assembly representing Santa Cruz County and the Central Coast. He has already compiled a long list of endorsements from local and state officials.
Spickler ran through his political resume when speaking with the LA Blade Aug. 14, pointing out that one of his former bosses, California State Senate Democratic Majority Leader Sen. Bill Monning, has been extremely supportive of him. Spickler transitioned during his five years as the Senator's Senior District Field Representative working on policies and constituent services. Monning—whose district stretches from San Luis Obispo northward along the Central Coast and includes the County and City of Santa Cruz—has publicly praised Spickler.
"Before I took the position with Senator Monning, back in 2007 I worked as a field representative for Assemblyman John Laird, who is openly gay," he said. "He (Laird) had also been an elected member of the Cabrillo Board of Trustees."
Laird and Mark Leno were the first two openly gay men to serve in the California legislature. Laird is currently Secretary of the California Natural Resources Agency.
Serving on the Cabrillo board is important to Spickler.
"Since graduating Cabrillo in 2002, I've got an associate's degree in child development. I've always wanted to give back in a number of ways. I think that what I experienced (at Cabrillo College) helped shaped me," he said. "The way I look at things, I believe students of all ages, backgrounds and education levels should have access to Cabrillo College's world-class academic and occupational learning environment."
Additionally, he said, "after 10 years as a Democratic Party member in Santa Cruz, I think that people have seen that I listen and that I'm a bridge builder who gets things done."
In his non-political life, Spickler administers government contracts for county housing, child welfare, development, employment and human services. He's also been a volunteer commissioner with the Santa Cruz County Equality Opportunity Office for the past four years and currently helps out the local GLBT Alliance group.
"I think that the best part of being so involved is that Santa Cruz and the county is a trans-rich community—and allies in the queer community are awesome. Plus, I have been able to be a role model, especially for LGBTQ youth," he said.
Spickler said he would advocate for marginalized students who may be juggling school and work, as he did during his college days at Cabrillo. He is concerned those students are falling lower on the state's list of priorities as lawmakers and officials seek to improve two-year graduation and transfer rates.
"I am also very interested on finding ways to continue to fund California's Promise Community College program signed into law by Governor Jerry Brown in October last year,"  he said.
Spickler said he's not trying to make history, but he did acknowledge that it is exciting to be part of a greater trend in politics that has recently seen trans candidates Danica Roem elected to the Virginia statehouse in 2017 and Lisa Middleton elected to the Palm Springs City Council in 2018, as well as the Aug. 14 Democratic primary victory in Vermont of Christine Hallquist—who made history as the first transgender person in America to win a gubernatorial nomination from a major political party.
"I've chosen to be a bridge builder where possible in my community based on my trans identity, based on my queer identity," Spickler said. "It's helped me access things that other people have the privilege of just having in life: being comfortable in a space, being able to make other people at ease with me so we get to the business of whatever the business is and get beyond identity politics."
"Only two openly transgender women and no openly transgender men — have been elected to office in California to date," Elliot Imse, Senior Director of Communications at the LGBTQ Victory Fund told the LA Blade. Imse added that there was at least one other openly transgender man, Martin Rawlings-Fein, running in a California race. Rawlings-Fein is hopeful to secure a seat on the school board for the City of San Francisco.
Reporting by The Los Angeles Times, the staff of the LA Blade, and wire service reports.
USCIS expands citizenship eligibility for children of same-sex couples born abroad
New policy announced on Thursday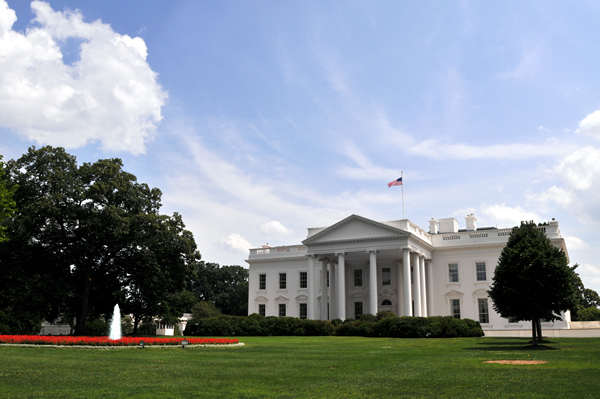 WASHINGTON — The Biden administration on Thursday announced children of same-sex couples who are born overseas via surrogate or another form of assisted reproductive technology are now eligible for U.S. citizenship.
A U.S. Citizenship and Immigration Services press release notes it "will allow a non-genetic, non-gestational legal parent of a child to transmit U.S. citizenship to the child if the parent is married to the child's genetic or gestational parent at the time of the child's birth, and the relevant jurisdiction recognizes both parents as the child's legal parents." CBS News first reported on the new policy.
"USCIS is taking a crucial step towards ensuring fair access and support for all families and their loved ones," said USCIS Director Ur Jaddou in the press release. "We are committed to removing unnecessary barriers promoting policies for all people as they embark on their journey to citizenship and beyond."
A number same-sex couples in recent years have filed federal lawsuits after the U.S. refused to recognize the American citizenship of their children who were born abroad.
The State Department in May announced it will recognize the U.S. citizenship of a married couple's child who is born outside the country if one of their parents is an American citizen. Advocacy groups applauded the new policy.
David Brody & Liberty Counsel's Mat Staver liken push for vaccination to Nazi Germany
Brody serves as chief political analyst at the Christian Broadcasting Network (CBN), uses CBN hosting serial misinformers & QAnon conspirators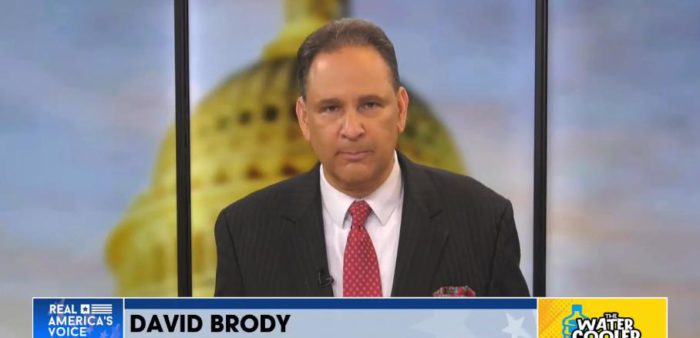 By Justin Horowitz | WASHINGTON – In a recent analysis of David Brody's new show, The Water Cooler, Media Matters researcher Justin Horowitz details how Brody — who serves as a chief political analyst at the Christian Broadcasting Network (CBN) — has hit a new low using his platform to host extremists, serial misinformers, and QAnon conspiracy theorists, including Marjorie Taylor Greene, to spread election lies and vaccine misinformation. On occasion, mainstream media reporters appear on Brody's show, giving credence to his misinformation. 
DAVID BRODY (HOST): It's August 3, 2021. And for the past three months or so, the federal government has been pushing and, in some cases, forcing Americans to take a vaccine that many Americans are just afraid to take. If that's you, you've probably been called crazy, an anti-vaxxer, a conspiracist, all sorts of names.
But the truth is, it's not you — it's them. It's the government that could be in violation here of risking the health and safety of millions of Americans who they prompted to take this very experimental vaccine. As the Liberty Counsel points out, since the vaccine has only been approved for emergency use authorization and not full FDA approval, any mandates for this vaccine would be a violation of federal law.
So why? Well, because it would violate a little thing called the Nuremberg Code, a code mentioned on the FDA website — not pizzagate.com or conspiracy.net — the Nuremberg Code emphasizes that people cannot be forced to take experimental drugs without their full consent. Now, interestingly here, the term Nuremberg Code originated in 1947 Germany during the Nuremberg trials, where, of course, Nazi doctors attempted to excuse the inhumane, deadly experiments that they conducted on concentration camp prisoners by claiming that there were no explicit rules governing medical research on human beings in Germany during that period.
But you're probably thinking, well, hey, hold on, that's Nazi Germany and Nuremberg Code or not, the U.S. government would never administer medical treatment that could potentially be harmful, let alone mandate it, right? Well, actually wrong. Now, don't get me wrong, capitalism [is] a beautiful thing, but what's not so beautiful about it is when it is in bed with the government — specifically, when Big Pharma is in a race to create a vaccine that would enable winning companies to profit billions of dollars from its sales. We saw just months ago with Operation Warp Speed creating the COVID vaccine.
But almost 70 years prior, we saw it with a polio vaccine as well. According to the Smithsonian, by the early 1950s, 25,000-50,000 people were becoming infected each year by the polio virus. It was a highly contagious disease, and those most at risk were children. A virus attacked the central nervous system and as you probably have seen in old pictures, paralyzed patients' chest muscles — or actually paralyzed patients' chest muscles. And the best treatment available prior to 1955 was getting fitted for crutches or hey, if you were lucky, getting placed in an iron lung.
Obviously, America was in need of a cure, but the cure didn't come at a small price. The vaccine race began in the early '50s. By April 12, 1955, a successful vaccine was announced and according to The Washington Post at the time, quote, "that same day licenses were hurriedly granted to several drug companies, including Cutter Laboratories, to make the vaccine." So the vaccines were then rushed out to hospitals in batches. But what Cutter Laboratories and the government had failed to mention to the public is that in the rush to create the vaccine, certain issues were overlooked because a year prior to the initial dispersal of the Cutter vaccine, a doctor named Bernice Eddy noticed that the vaccine designed to protect against the disease had instead given polio to a test monkey. Rather than containing a killer virus to create immunity, the sample from Cutter contained live infectious viruses, but it was too late. About 165,000 doses were already sent out by 1955, and government inoculation campaigns were already well underway, according to the Post again, quote, "Within weeks, reports of mysterious polio infections started coming in." So we know how the story ultimately ends. We did eradicate the deadly virus, but we lost so many innocent lives in the process and it could have been avoided if it was handled with greater care.
Now, look, I'm not saying the COVID vaccine is going to make you grow a third arm or anything like that. Here's the point. I don't actually know what it could do to you. No one does. Actually, Dr. Fauci knows. He simply knows everything. I'm dripping sarcasm when I say that. But what we do know is that the current side effects for many people aren't exactly convincing folks that the vaccine is safe and effective. We still don't know what could happen years from now. Taking the vaccine requires a massive leap of faith that many Americans — rightfully so — are simply not willing to take, especially for a virus that has a mortality rate of under 2%. Because just a quick look into the history books and you're going to find more than enough reasons to not trust the work of big government and Big Pharma. And frankly, it's not really a partisan issue.
It used to be that we had members on the right and left calling out the dangers of Big Pharma's influence. For example, President Trump used to be the populist point person for conservatives on this issue.
…
BRODY: Makes sense, right? But here he is, just a couple of weeks ago.
…
BRODY: Look, then there's Democrat Sen. Elizabeth Warren, who said this just one year ago.
…
BRODY: But this is her tweeting just last month, quote, "The COVID-19 vaccines are safe, free, effective, and lifesaving. Don't wait until it's too late. Please get vaccinated if you haven't already and help someone else do the same."
Hey, look, folks, money and power corrupt. I don't make the rules. It's just reality, which is why politics and money should have no influence over what you put in your body. So if you want to be a human guinea pig, hey, look, by all means, it's your life. But whatever you decide, don't do it just because the government says so.
And joining me now to help us break down all of this further is founder and chairman of Liberty Counsel and constitutional attorney Mat Staver. Mat, great to have you on the show, sir.
MAT STAVER (LIBERTY COUNSEL): Good to be with you, David.
BRODY: Mat, let me ask you about this. Did the U.S. adopt the Nuremberg Code directly as a result of the Nuremberg trials in Germany, or was there another reason? What's happening here?
STAVER: Well, the Nuremberg Code is actually posted on the FDA's website, along with the NIH, including the Declaration of Helsinki. This is a worldwide recognized code. It comes out of the 1930s and '40s experimentation that the Nazis did on their individual people that they had incarcerated and in concentration camps. In 1947, this Nuremberg code came forth and it's been recognized around the world. It is part of various medical ethics practitioners around the world to guide these kinds of issues with regards to experiments, and what we're dealing with as an experiment. And that's the FDA's words. They use the word experimental and investigational as it relates to the COVID shots. That's clearly where we are with the emergency use authorization. If it were other than emergency use authorization, it may not be experimental or investigational, but it in fact is. And so the Nuremberg Code clearly applies. In the 10 points that are part of the Nuremberg Code, we're violating all 10 of them.
BRODY: Yeah, well, I want to go to one of those specifically, because you're right, there are 10 points to it. One of them states the following. And as we're seeing with the COVID vaccine, which is, of course, still experimental, in many cases people are experiencing heart problems and other issues. So I guess why is it going unnoticed by the FDA that this is a violation of the Nuremberg Code? It's right on their website.
STAVER: It's right on their website. You know, a lot of things, they're just simply not presenting. We know that the CDC, for example, has the VAERS log, and in the VAERS log, now, there's around 12,000 deaths, over half a million adverse reactions, over 1,200 miscarriages, lots of heart conditions, blood clots, permanent disability in the tens of thousands and tens and tens of thousands of hospitalizations from the shots. In seven months, we've had more people die from the COVID shots than in the 31 years total combined from all vaccines when they began logging the VAERS from July 1, 1990, to the present.
BRODY: So Mat — say it again, I'm sorry.
STAVER: So the sirens should go off and we should stop this. And in fact, the Nuremberg Code specifically mentions that any experiment that actually results in these kinds of injuries should be halted.
BRODY: Well, you know, it's interesting. You say the sirens should go off and you're absolutely right. Unfortunately, the sirens going off the other way, the vaccinated — or excuse me, the unvaccinated in this country are being demonized, there's discriminatory stuff going on out there. I'm curious as it relates to the legal issues here regarding the Nuremberg Code. I mean, if it's under experimental use, what does that mean legally in terms of this going up the legal food chain? What could happen here?
STAVER: Well, even before you get to the Nuremberg Code, you have the emergency use authorization law, and it clearly says that you have the, quote, "option to accept or refuse," close-quote, that's repeated in the fact sheet required by the FDA and it's also mentioned many times by the FDA. So that's the end of story. You have the option to refuse when it's an EUA and it's an EUA that's specifically designated so by the FDA and federal law. In the Nuremberg Code, the very first point says that the voluntary consent of the human subject is absolutely essential. There should be no duress, no deception, no pressure. And we're doing exactly the opposite. We are violating federal law. We're violating the Nuremberg Code. All of these will be brought into court to raise these issues because we are repeating — this is the tragic part of this — we're repeating the dark history of Nazi Germany and we're not learning the lessons that the Nuremberg Code and those Nazi experiments should have taught this generation.
BRODY: So you're likening it to that time period? We talked about that in the monologue. And we want to be clear, I guess we have to do the disclaimer about the Holocaust and Jews — we're not talking about that specifically, but we are talking about what the Germans were doing from a medical experiment situation.
STAVER: That's right. Yeah. They were experimenting on Jews and others that they had in their custody and they were doing inhumane treatments without their consent. And as a result of that, with regards to the trials of the doctors and others in the Nuremberg trials in 1947, the Nuremberg Code, with its very well set forth, 10 principles was issued and now it's been recognized around the world. And the very first one is free, informed consent with no pressure, no deception. And that's exactly what we are doing the opposite of in the United States with Biden and the VA and the federal government and now private employers and others saying you have to get the shot or you'll be terminated. Look, we are working with lots and lots of nurses around the country, and it's their word saying this. We have been the heroes running to the danger for the last year and a half and now we're being told to get these shots or be terminated. That is a shame. It is something that should never happen in America.
BRODY: Mat, what about the difference between the federal mandates that may be coming or have started to come and the private ones with private employers, for example, we saw today in New York City, Bill de Blasio says you can only eat indoors if you're vaccinated. You know, a lot of folks will say, well, that's that's a private company's decision to do so. But you're saying under emergency use authorization, if people have the option on the vaccine, are you saying, therefore, it's discriminatory what they're doing from a private employer standpoint?
STAVER: Yeah, whether it's public or private, it's discriminatory. It's a violation of federal law. And for these private employers to, for example, say you can't eat here unless you have the shot, that's a violation of other laws like the Americans with Disabilities Act. And that's like inquiring about somebody's particular medical status before you allow them to come into your place of business. That violates other laws in addition to the emergency use authorization, federal law.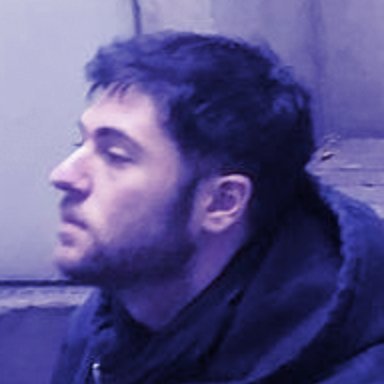 Justin Horowitz is a researcher at Media Matters, where he has worked since September 2020.
The preceding article was previously published by Media Matters for America and is republished by permission.
New York AG report on Cuomo ensnares Human Rights Campaign head
The explosive report from the NY AG sent shockwaves at a time when the country is still grappling with the treatment of women in the workplace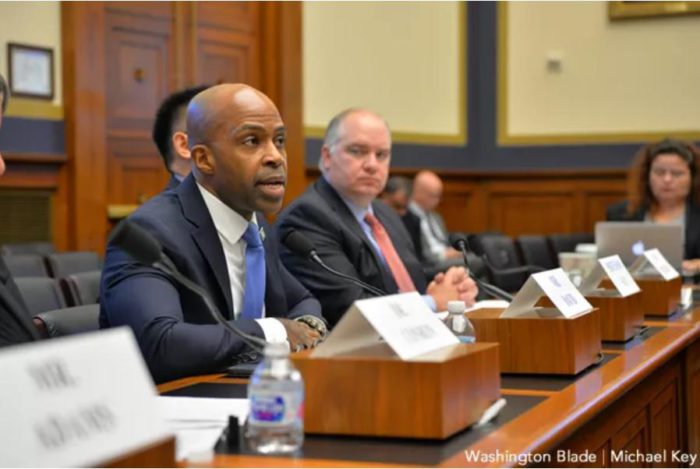 WASHINGTON – The damning report finding New York Gov. Andrew Cuomo violated the law by sexually harassing as many as 11 women on his staff has ensnared the president of the nation's leading LGBTQ advocacy group, Alphonso David of the Human Rights Campaign.
Although David insists the report does not indicate any wrongdoing on his behalf, the findings indicate after his tenure as counselor to Cuomo, that he kept the personnel file for an employee within the office accusing the governor of sexual misconduct, then assisted in efforts to leak that file to the media in an attempt to discredit her.
Further, the report finds David allegedly said he would help find individuals to sign their names to a draft op-ed that sought to discredit the survivor, but went unpublished, although he wouldn't sign the document himself. Also, the report indicates David was involved in the discussions about another staffer secretly calling and recording a call between a former staffer and another survivor in a separate effort to smear her.
Nearly a dozen references are made in the report to David, who prior to his tenure as president of the Human Rights Campaign served as counsel for Cuomo. In fact, the report came out on the two-year anniversary of David's joining the Human Rights Campaign after his time in public service for the State of New York.
The explosive report from New York Attorney General Letitia James sent shockwaves when it came out Tuesday at a time when the country is still grappling with the treatment of women in the workplace after the "Me Too" movement, prompting fellow Democrats — including President Biden — to call on Cuomo to resign. Cuomo has denied the conclusions of the report and not given any indication he'll step down from his position as governor.
Nearly a dozen references are made in the report to David, who prior to his tenure as president of the Human Rights Campaign served as counsel for Cuomo. In fact, the report came out on the two-year anniversary of David's joining the Human Rights Campaign after his time in public service for the State of New York.
Following the issuing of the report on Tuesday, David joined the chorus of high-profile individuals calling on Cuomo to resign as governor. David tweeted, "After reading the AG's devastating report that concluded Gov. Cuomo engaged in a pattern of sexual harassment, in violation of both federal and state law, he should resign." The tweet, however, ignores his mentions in the findings or alleged participation in discrediting sexual harassment survivors.
Criticism of David emerged from both the right and left in the aftermath of the report at a time when morale among many in the LGBTQ movement is low amid states advancing and enacting anti-transgender legislation and inaction on the Equality Act in Congress.
The Human Rights Campaign itself has had significant turnover, including in the communications department. Last year, the organization laid off 22 employees, citing the coronavirus pandemic, at a time when the latest IRS 990 for the organization revealed former president Chad Griffin and David drew combined compensation of more than $825,000 in fiscal year 2019. (From January-August 2019, Griffin earned $570,446 plus $18,771 in other compensation; David earned $229,332 and $7,016 in other compensation for the balance of that year after taking over the job.)
David, responding to the report on Cuomo in an email to board members of the Human Rights Campaign and in a phone interview late Tuesday with the Washington Blade, is standing firm in denying any wrongdoing.
In the email to board members, David said the findings "are beyond comprehension to me and they break my heart as a former employee," referencing the tweet he made calling for Cuomo to resign but also addressing the sections pertaining to himself. David confirmed the accuracy of the email to the Blade.
Maintaining he "had no knowledge of the allegations of harassment outlined in the report," David said he informed the board of ignorance on the issue "earlier this year" and except for one person, he doesn't know any survivors referenced in the report. Further, David said that one person "never disclosed" any allegations of sexual misconduct. David discloses his "substantive engagement" with this survivor "involved an investigation of her regarding allegations of racial discrimination by other employees."
"A final conclusion was ultimately memorialized in a privileged and confidential memo drafted and retained by counsel's office," David writes. "After initially being unable to find the file, the Governor's office requested a copy of the electronic memo from me which I provided (as I am required to do as a former counsel) but my copy was subsequently not relied on because the office found the full official file."
Addressing the unpublished op-ed intended to discredit the survivor, David writes Cuomo's office "had reached out to many former employees requesting that we sign a letter supporting the Governor and the office," but he "declined to sign the letter and it was never released."
Speaking with the Blade, David confirmed the survivor whom he knows is Lindsey Boylan, a former senior staffer for Cuomo, who was among the first to accuse him of sexual misconduct in the workplace last year.
Meanwhile, the board of the Human Rights Campaign has shown no sign of turning on David. In fact, HRC announced it renewed David's contract on his two-year anniversary for five more years.
Morgan Cox, chair of the Human Rights Campaign board of directors, and Jodie Patterson, chair of the non-profit Human Rights Campaign Foundation board of directors in a joint statement to the Washington Blade affirmed both boards "have full confidence in Alphonso David as president of the organization."
"In recognition of his extraordinary leadership during extremely challenging times, we were proud to extend his contract to stay on in his role for five more years," Cox and Patterson said. "For the last two years he has been boldly leading the organization as it works to achieve its mission: full equality for all LGBTQ people, in the midst of a global pandemic, a nationwide reckoning on racial justice, and the most important presidential election of our lifetimes."
Speaking with the Blade, David also said he has no intention of stepping down from his position as president of the Human Rights Campaign voluntarily.
"This is my life's work," David said. "I've been a civil rights lawyer for 20 years. This is what I've been doing, this is what I did in government. I wrote the marriage equality law. I drafted the Paid Family Leave Law, drafted the minimum wage law, drafted regulations to prohibit discrimination against trans people. This is my life's work. So, I intend to continue the work that I've been doing because the work of marginalized communities, the work to actually represent marginalized communities is too important."
David's role in the report stems mostly from the situation with Boylan. According to the report, Cuomo commented on her attractiveness, including comparing her to a former girlfriend; physically touched her on various parts of her body, including her waist, legs, and back; made inappropriate comments, including saying to her once on a plane, words to the effect of, "let's play strip poker"; and kissed her on the cheeks and, on one occasion, on the lips.
After Boylan went public, the report says Cuomo's aides "actively engaged in an effort to discredit her" as a survivor. Among the efforts cited in the report are "disseminating to the press confidential internal documents that painted her in a negative light and circulating among a group of current and former Executive Chamber employees (although not ultimately publishing) a proposed op-ed or letter disparaging Ms. Boylan that the Governor personally participated in drafting."
David is mentioned in the report both during his tenure as counsel to Cuomo and during his time as Human Rights Campaign president. As part of a workplace conflict in 2018 noted in the report as unrelated to the sexual harassment but otherwise not described, David in his capacity as counsel was charged with managing the situation, the report says. Boylan tendered her resignation from the governor's office. David, in his capacity as counsel, asked to create a file on Boylan and added the incident to her personnel file, according to the report.
David is quoted in the report as saying he kept a copy of Boylan's files because it "may have been the only instance where [he] was actually involved in a counseling of an employee when [he] was in the Executive Chamber."
After Boylan tweeted Cuomo is "one of the biggest abusers of all time" a secretary of Cuomo's, Melissa DeRosa, reached out to David, who was serving as Human Rights Campaign president, on Dec. 9 for a request to see the "full file" for Boylan. David said another staffer would have the information in her possession and be able to provide the file. Days later, David sent files relating to his investigation into Boylan shortly before her departure from the governor's office, the report says.
David is quoted in the report as saying he kept a copy of Boylan's files because it "may have been the only instance where [he] was actually involved in a counseling of an employee when [he] was in the Executive Chamber."
It's not immediately clear whether David keeping a confidential personnel file of an employee after leaving the workplace violates any laws. A New York State Bar Association spokesperson said the organization has "no ethics opinion on this issue.
The report, in a subsequent section, continues to address the personnel file from which Cuomo's office distributed unflattering information about Boylan, saying it came from "counsel's office," suggesting the information, at the end of the day, didn't come from David.
A connection between David and Boylan comes up again in the report in a discussion about a potential op-ed from Cuomo's office that was intended to discredit Boylan, but was never published. The report says David signaled he wouldn't be among the signatories of the letter, but would help gather signatures. According to a footnote in the report, DeRosa told other former staff members whom she had asked to sign the letter David said he would sign the letter "if we need him."
David, commenting on the unpublished op-ed when speaking with the Blade, said there were multiple iterations of the document in a draft form. Although one version was focused on more positive aspects of the workplace under Cuomo, David said another was more focused on Boylan and he wouldn't sign it.
"I wasn't willing to sign it because it included facts I couldn't verify," David said. "I was not aware of it. I wasn't personally involved and had no personal knowledge, so I refused to sign the letter and I think everybody else did."
David comes up in the report in the description of another survivor's account of Cuomo's alleged sexual misconduct, identified in the report by her first name Kaitlin.
After coming forward with sexual misconduct allegations, Kaitlin says she suspected she would be smeared for going forward, the report says. True to her predictions, Cuomo allegedly attempted to call her and surreptitiously record her, but nothing came of the effort, the report says.
David and other Cuomo staffers were involved in the internal discussion of plans to call Kaitlin and secretly record her in an effort to defame her, according to the report.
David, speaking with the Blade, said he doesn't deny that aspect of the report, but his role in the conversation about Kaitlin was limited and pertained to his duties as counsel to Cuomo.
"In that instance, it was simply asking me, in my role as a former counsel what the law was, not the context," David said.
Charles Moran, managing director of Log Cabin Republicans, was among those seizing on the report as evidence corporate donors should reconsider their support for the Human Rights Campaign.
"It should disturb every corporate donor to the HRC that its president Alphonso David colluded with Gov. Cuomo to smear one of the women Cuomo sexually harassed," Moran said. "Alphonso David's behavior is disqualifying and he should resign immediately, but the fault doesn't just lie with him. The Human Rights Campaign markets itself as champions for LGBT Americans. In reality, it champions left-wing Democrats – apparently even those guilty of sexual harassment – and bullies anyone who gets in their way."
Max Micallef, a queer rights activist who serves on the Advisory Council of EqualityNY and as the Public Policy Coordinator with GLSEN Lower Hudson Valley, issued a statement on Tuesday calling for both Cuomo and David to resign.
"We all deserve so much better," Micallef said. "The LGBTQ+ community does not stand for this level of complicity and cowardice. Along with Gov. Cuomo himself, Director McMorrow and President David must step down from their positions immediately as they have clearly failed to represent the interests of LGBTQ+ New Yorkers, and advocate against their systemic violence."
NBC News, Full Response: Gov. Cuomo Denies Allegations In Sexual Harassment Report