Adam Spickler makes California history as first trans man to hold elected office
With no opposition, Spickler is appointed Cabrillo College Trustee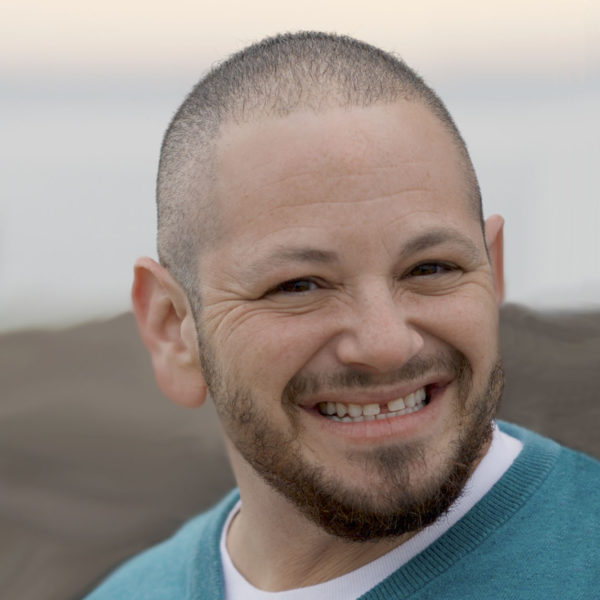 Longtime Santa Cruz County resident Adam Spickler, a transgender man, ran for a seat on the seven-member Governing Board of Cabrillo Community College.
Spickler was seeking to replace Gary Reece, 72, a retired Pasatiempo resident who has held the seat for more than two decades. But because he ran unopposed, he has been appointed to the post— becoming the first openly transgender man to hold elected office in the state of California.
Spickler is seeking to replace Gary Reece, 72, a retired Pasatiempo resident who has held the seat for more than two decades and so far, he is running unopposed in the November elections
Spickler, 48, a senior Santa Cruz County analyst and administrator since 2013, is no stranger to electoral politics. He is a longtime local Democratic Party leader and has spent over a decade working for elected officials in the California State Senate and Assembly representing Santa Cruz County and the Central Coast. He has already compiled a long list of endorsements from local and state officials.
Spickler ran through his political resume when speaking with the LA Blade Aug. 14, pointing out that one of his former bosses, California State Senate Democratic Majority Leader Sen. Bill Monning, has been extremely supportive of him. Spickler transitioned during his five years as the Senator's Senior District Field Representative working on policies and constituent services. Monning—whose district stretches from San Luis Obispo northward along the Central Coast and includes the County and City of Santa Cruz—has publicly praised Spickler.
"Before I took the position with Senator Monning, back in 2007 I worked as a field representative for Assemblyman John Laird, who is openly gay," he said. "He (Laird) had also been an elected member of the Cabrillo Board of Trustees."
Laird and Mark Leno were the first two openly gay men to serve in the California legislature. Laird is currently Secretary of the California Natural Resources Agency.
Serving on the Cabrillo board is important to Spickler.
"Since graduating Cabrillo in 2002, I've got an associate's degree in child development. I've always wanted to give back in a number of ways. I think that what I experienced (at Cabrillo College) helped shaped me," he said. "The way I look at things, I believe students of all ages, backgrounds and education levels should have access to Cabrillo College's world-class academic and occupational learning environment."
Additionally, he said, "after 10 years as a Democratic Party member in Santa Cruz, I think that people have seen that I listen and that I'm a bridge builder who gets things done."
In his non-political life, Spickler administers government contracts for county housing, child welfare, development, employment and human services. He's also been a volunteer commissioner with the Santa Cruz County Equality Opportunity Office for the past four years and currently helps out the local GLBT Alliance group.
"I think that the best part of being so involved is that Santa Cruz and the county is a trans-rich community—and allies in the queer community are awesome. Plus, I have been able to be a role model, especially for LGBTQ youth," he said.
Spickler said he would advocate for marginalized students who may be juggling school and work, as he did during his college days at Cabrillo. He is concerned those students are falling lower on the state's list of priorities as lawmakers and officials seek to improve two-year graduation and transfer rates.
"I am also very interested on finding ways to continue to fund California's Promise Community College program signed into law by Governor Jerry Brown in October last year,"  he said.
Spickler said he's not trying to make history, but he did acknowledge that it is exciting to be part of a greater trend in politics that has recently seen trans candidates Danica Roem elected to the Virginia statehouse in 2017 and Lisa Middleton elected to the Palm Springs City Council in 2018, as well as the Aug. 14 Democratic primary victory in Vermont of Christine Hallquist—who made history as the first transgender person in America to win a gubernatorial nomination from a major political party.
"I've chosen to be a bridge builder where possible in my community based on my trans identity, based on my queer identity," Spickler said. "It's helped me access things that other people have the privilege of just having in life: being comfortable in a space, being able to make other people at ease with me so we get to the business of whatever the business is and get beyond identity politics."
"Only two openly transgender women and no openly transgender men — have been elected to office in California to date," Elliot Imse, Senior Director of Communications at the LGBTQ Victory Fund told the LA Blade. Imse added that there was at least one other openly transgender man, Martin Rawlings-Fein, running in a California race. Rawlings-Fein is hopeful to secure a seat on the school board for the City of San Francisco.
Reporting by The Los Angeles Times, the staff of the LA Blade, and wire service reports.
Marjorie Taylor Greene tweets homophobic attack on Sen. Wiener
"Greene is a toxic person & embodies why the MAGA movement is dangerous, a threat to our democracy & to the personal safety of LGBTQ people"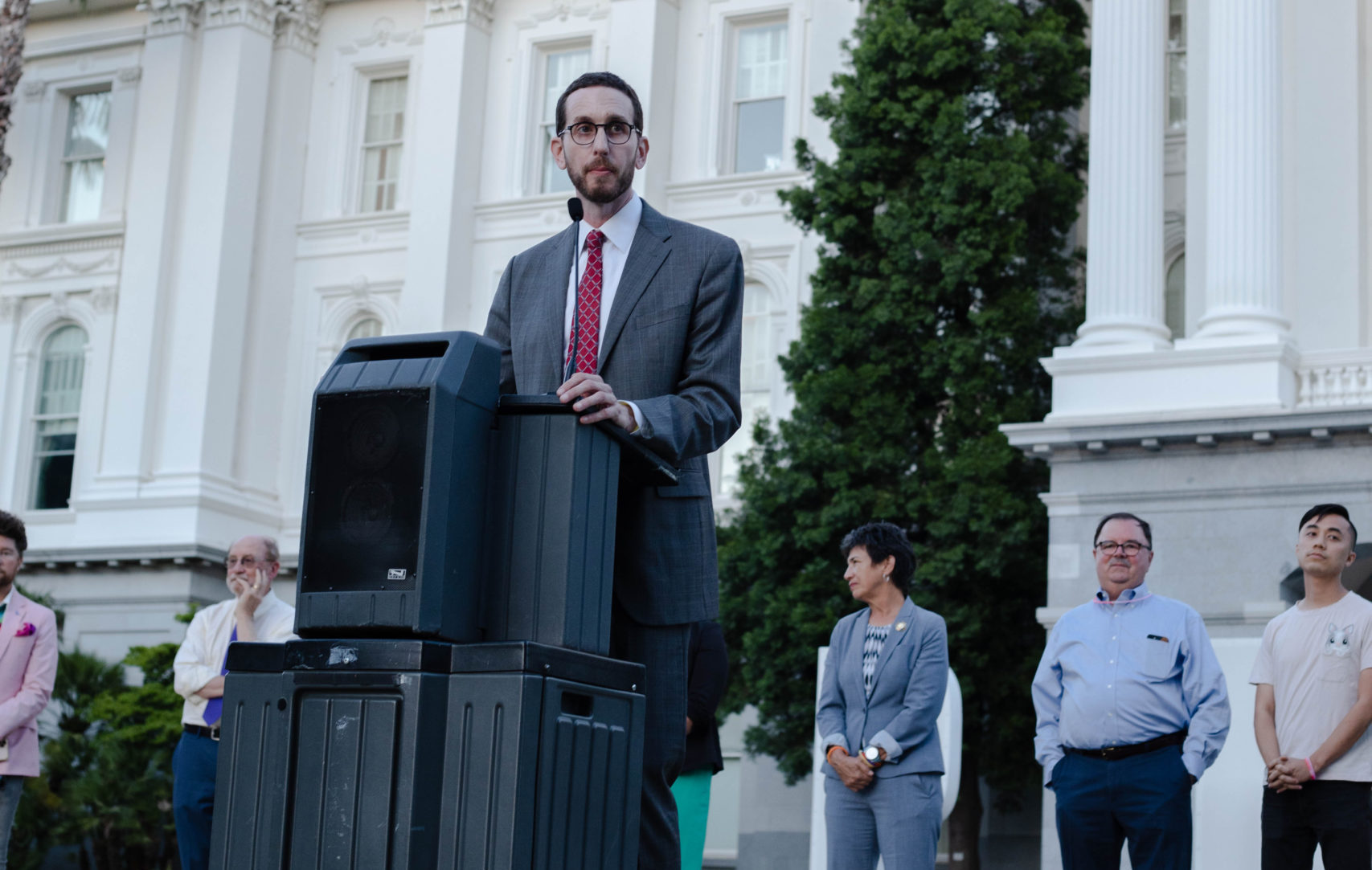 LOS ANGELES – Far-right Republican U.S. Rep. Marjorie Taylor Greene attacked Calif. State Sen. Scott Wiener, (D-San Francisco) on Tuesday after Wiener made a point of calling out use of the word "groomer," as the abusive reaction and fallout from right-wing sources regarding the mass-shooting at Club Q in Colorado Springs, continues to ratchet up against the LGBTQ+ community.
"The word "groomer" is categorically an anti-LGBTQ hate word. It's super homophobic/transphobic. It plays into the slander that LGBTQ people are pedophiles. It's no different than calling someone a fagg*t. If you call someone groomer, you're inciting violence against LGBTQ people," Wiener stated in his tweet.
Quoting Wiener's tweet the far-right MAGA Georgia congresswoman called the Senator a "communist" questioning Wiener's loyalty and service to both the State of California and the U.S. she then went on to accuse Wiener of being a "groomer" implying that the Senator was a predator of minors for sexual purposes:
"Pass my Protect Children's Innocence Act to stop communist groomers like this from using state government power to take children away from their parents to allow a for-profit medical industry to chop off these confused children's genitals before they are even old enough to vote."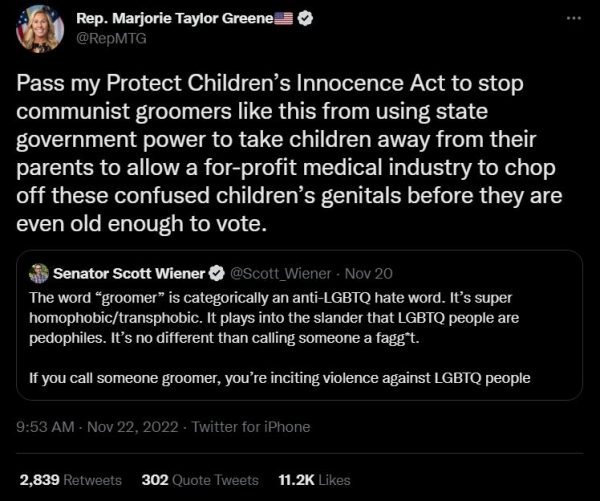 In an emailed statement, Senator Wiener responded to the homophobic attack by the Georgia Republican:
"The same day Elon Musk reinstated QAnon extremist Marjorie Taylor Greene, she launched a vile homophobic attack on me because of my vocal advocacy in response to the Club Q slaughter. When Greene has attacked me in the past, threats against me have typically increased. She is a toxic person and embodies why the MAGA movement is so dangerous. Green is a threat to our democracy and to the personal safety of LGBTQ people."
The term 'groomer' is considered highly offensive as it broadly brushstroke paints LGBTQ+ people as child molesters.
The definition according to the Urban online dictionary:
1 (the crime definition): An adult that builds a sense of trust with a minor to exploit and/or abuse them, typically (but not always) in a sexual manner. This is a crime, and it also causes harm to the minor.
2 (in US politics): What republican politicians and supporters refer to LGBTQIA+ people and their allies as, to manipulate their audience to pass anti-LGBTQIA+ legislation. This is targeting and harming LGBTQIA+ people and the people using the word in this manner typically are (or have connections with those who are) actual groomers.
National Public Radio, (NPR) reported this past May the Movement Advancement Project's executive director, Ineke Mushovic, pointed out:
"What the far right often does is they engage people's reptilian brains, the fight-or-flight instinct," says Mushovic. "And so it behooves far-right conservatives to put people in a state of fear, because then they're reactive. They don't support change."
The "grooming" narrative, Mushovic added, "taps into this primal sense of fear and this kind of parental protective instinct. But we know it's a completely false narrative."
The "grooming" narrative has been actively promoted by conservative activist Christopher Rufo, and Daily Wire pundit and transphobe Matt Walsh who have both attacked gender affirming care in their assaults on the LGBTQ+ community.
It took three days after the mass shooting at Club Q for the Daily Wire's Matt Walsh to blame the victims for the massacre. pic.twitter.com/08kitTdpMt

— Ari Drennen (@AriDrennen) November 22, 2022
Green's H.R.8731 – Protect Children's Innocence Act, was introduced this past August 19 and has forty-nine Republican members listed as co-sponsors. The language as introduced stated targets primarily Trans youth healthcare and targets colleges and universities from "offering instruction in gender affirming care:"
This bill places restrictions on the provision of gender affirming care. Gender affirming care includes performing surgery, administering medication, or performing other procedures for the purpose of changing the body of an individual to correspond to a sex that differs from the individual's biological sex.
Specifically, the bill makes it a felony to perform any gender affirming care on a minor and it permits a minor on whom such care is performed to bring a civil action against each individual who provided the care.
Additionally, the bill prohibits the use of federal funds for gender affirming care or for health insurance that covers such care. Such care may not be provided in a federal health care facility or by a federal employee. The bill also prohibits qualified health plans from including coverage for gender affirming care. Further, plans that include coverage for such care are not eligible for federal subsidies. […]