Adam Spickler makes California history as first trans man to hold elected office
With no opposition, Spickler is appointed Cabrillo College Trustee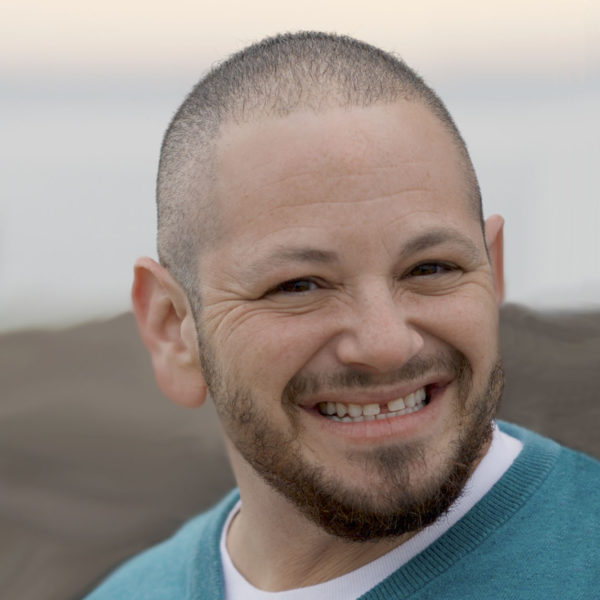 Longtime Santa Cruz County resident Adam Spickler, a transgender man, ran for a seat on the seven-member Governing Board of Cabrillo Community College.
Spickler was seeking to replace Gary Reece, 72, a retired Pasatiempo resident who has held the seat for more than two decades. But because he ran unopposed, he has been appointed to the post— becoming the first openly transgender man to hold elected office in the state of California.
Spickler is seeking to replace Gary Reece, 72, a retired Pasatiempo resident who has held the seat for more than two decades and so far, he is running unopposed in the November elections
Spickler, 48, a senior Santa Cruz County analyst and administrator since 2013, is no stranger to electoral politics. He is a longtime local Democratic Party leader and has spent over a decade working for elected officials in the California State Senate and Assembly representing Santa Cruz County and the Central Coast. He has already compiled a long list of endorsements from local and state officials.
Spickler ran through his political resume when speaking with the LA Blade Aug. 14, pointing out that one of his former bosses, California State Senate Democratic Majority Leader Sen. Bill Monning, has been extremely supportive of him. Spickler transitioned during his five years as the Senator's Senior District Field Representative working on policies and constituent services. Monning—whose district stretches from San Luis Obispo northward along the Central Coast and includes the County and City of Santa Cruz—has publicly praised Spickler.
"Before I took the position with Senator Monning, back in 2007 I worked as a field representative for Assemblyman John Laird, who is openly gay," he said. "He (Laird) had also been an elected member of the Cabrillo Board of Trustees."
Laird and Mark Leno were the first two openly gay men to serve in the California legislature. Laird is currently Secretary of the California Natural Resources Agency.
Serving on the Cabrillo board is important to Spickler.
"Since graduating Cabrillo in 2002, I've got an associate's degree in child development. I've always wanted to give back in a number of ways. I think that what I experienced (at Cabrillo College) helped shaped me," he said. "The way I look at things, I believe students of all ages, backgrounds and education levels should have access to Cabrillo College's world-class academic and occupational learning environment."
Additionally, he said, "after 10 years as a Democratic Party member in Santa Cruz, I think that people have seen that I listen and that I'm a bridge builder who gets things done."
In his non-political life, Spickler administers government contracts for county housing, child welfare, development, employment and human services. He's also been a volunteer commissioner with the Santa Cruz County Equality Opportunity Office for the past four years and currently helps out the local GLBT Alliance group.
"I think that the best part of being so involved is that Santa Cruz and the county is a trans-rich community—and allies in the queer community are awesome. Plus, I have been able to be a role model, especially for LGBTQ youth," he said.
Spickler said he would advocate for marginalized students who may be juggling school and work, as he did during his college days at Cabrillo. He is concerned those students are falling lower on the state's list of priorities as lawmakers and officials seek to improve two-year graduation and transfer rates.
"I am also very interested on finding ways to continue to fund California's Promise Community College program signed into law by Governor Jerry Brown in October last year,"  he said.
Spickler said he's not trying to make history, but he did acknowledge that it is exciting to be part of a greater trend in politics that has recently seen trans candidates Danica Roem elected to the Virginia statehouse in 2017 and Lisa Middleton elected to the Palm Springs City Council in 2018, as well as the Aug. 14 Democratic primary victory in Vermont of Christine Hallquist—who made history as the first transgender person in America to win a gubernatorial nomination from a major political party.
"I've chosen to be a bridge builder where possible in my community based on my trans identity, based on my queer identity," Spickler said. "It's helped me access things that other people have the privilege of just having in life: being comfortable in a space, being able to make other people at ease with me so we get to the business of whatever the business is and get beyond identity politics."
"Only two openly transgender women and no openly transgender men — have been elected to office in California to date," Elliot Imse, Senior Director of Communications at the LGBTQ Victory Fund told the LA Blade. Imse added that there was at least one other openly transgender man, Martin Rawlings-Fein, running in a California race. Rawlings-Fein is hopeful to secure a seat on the school board for the City of San Francisco.
Reporting by The Los Angeles Times, the staff of the LA Blade, and wire service reports.
President Biden endorses Trans Virginia lawmaker for re-election
Roem, a former journalist, in 2018 became the first openly transgender person seated in any state legislature in the nation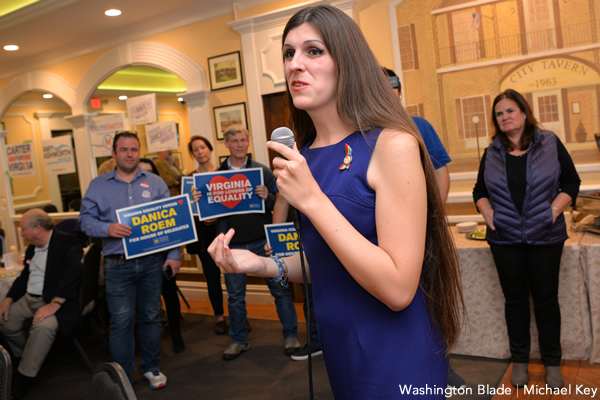 WASHINGTON – President Joe Biden on Tuesday endorsed Virginia state Del. Danica Roem (D-Manassas) for re-election. Roem, a former journalist, in 2018 became the first openly transgender person seated in any state legislature in the nation.
Speaker Eileen Filler-Corn (D-Fairfax County) is among the other Democratic members of the Virginia House of Delegates who Biden backed. Biden in his tweet also stressed his support of Terry McAuliffe, who is running against Republican Glenn Youngkin to succeed Democratic Gov. Ralph Northam.
"Building back better starts in the states," tweeted Biden. "Since flipping the legislature in 2019, Virginia Democrats have been a model of progress—including helping us vaccinate folks to beat the pandemic. To keep our progress, we must elect Terry McAuliffe and Democrats up and down the ballot."
Building back better starts in the states. Since flipping the legislature in 2019, Virginia Democrats have been a model of progress—including helping us vaccinate folks to beat the pandemic. To keep our progress, we must elect @TerryMcAuliffe and Democrats up and down the ballot. pic.twitter.com/NsJiiPNzlv

— Joe Biden (@JoeBiden) October 19, 2021
Biden called Roem on the night she defeated then-state Del. Bob Marshall and congratulated her. A Washington Post picture that showed Roem crying moments later went viral.
The Manassas Democrat who represents the 13th District in 2019 easily won re-election. Christopher Stone, the Republican who is running against Roem in this cycle, opposes marriage and adoption rights for same-sex couples.
Anti-gay Daily Wire host says 2 men shouldn't be allowed to adopt babies
" […] because babies need mothers. They also need fathers, which is why two women shouldn't be allowed either."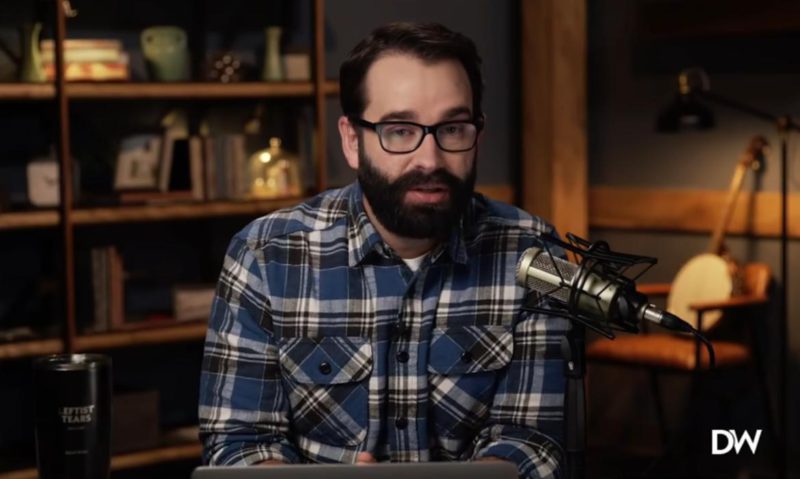 NASHVILLE – Anti-LGBTQ Daily Wire podcast and YouTuber Matt Walsh joined the growing chorus of far-right and conservative voices outraged that U.S. Secretary of Transportation Pete Buttigieg went on paternity leave from his job in August after he and his husband Chasten had adopted two children.
On his show Monday Walsh not only criticized Buttigieg, but he attacked same-sex couples adopting children altogether.
"It's absurd for any public employee, paid on taxpayer dime, to be given that much time off. Now, you can make an argument for women on maternity leave but not for men. Paternity leave is a nice luxury for private companies that can afford it. The U.S. government is not a private company – it's a public institution, deeply in debt, failing in just about every way and everywhere. So this is not a time and not the place for those kinds of luxuries. But that's the somewhat safer point to make, right? You are in a much more hazardous place, you are in more hazardous waters when you go away from that and, instead, you start saying mildly critical things about paternity leave in general as a concept."
"I also didn't say that there's nothing at all for a man to do for his family after a child is born. I said that as far as caring for the newborn himself, most of that is going to be done by the mother. She, in most cases, will be feeding the child. The child also needs and wants his mother's presence, his mother's touch, her voice. The father should be interacting with the baby also, obviously, but the infant is far more focused on his mother at that age. And needs his mother more. There is no mother in the Buttigieg household, but that doesn't change the point here."
"Babies need their mothers, which is why two men shouldn't be allowed to adopt babies in the first place. And the outrage mob can now start a secondary campaign over that comment. But I'll say it again. Two men should not be allowed to adopt babies because babies need mothers. They also need fathers, which is why two women shouldn't be allowed either."
Former U.S. Secretary of State Colin Powell dies at 84
Powell, leaving mixed legacy on 'Don't Ask, Don't Tell,' was key figure once opposed gays in military, then backed review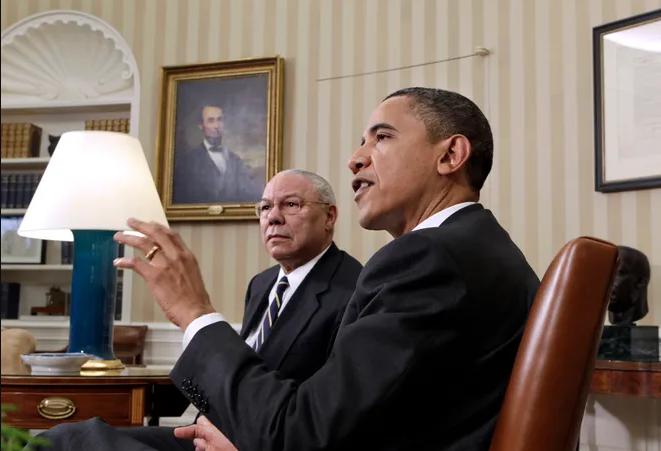 BETHESDA, Md. – General Colin Powell, the nation's first Black U.S. Secretary of State, who served in the top diplomatic and military leadership roles in the presidencies of Ronald Reagan, George H.W. and George W. Bush died Monday at Walter Reed National Medical Center at age 84.
"We want to thank the medical staff at Walter Reed National Medical Center for their caring treatment," the Powell family said in its statement. "We have lost a remarkable and loving husband, father, grandfather and a great American."
Secretary Powell is the first high-profile public figure to die as a result of a so-called breakthrough infection of the novel (COVID-19) coronavirus. Powell was fully vaccinated, according to Peggy Cifrino, Powell's longtime aide, who posted the family's statement to social media after his death. Powell reportedly suffered from multiple myeloma, a condition that hampers an individual's ability to combat blood infections.
For the LGBTQ+ community, Powell leaves a mixed legacy. Rising to the top of the military as chair of the Joint Chiefs of Staff, Powell supported in 1993 Congress moving forward with "Don't Ask, Don't Tell," a law that barred openly gay people from serving in the U.S. military.
During a key moment congressional testimony, Powell and other top military officials were asked whether or not allowing gay people in the military would be compatible with military readiness. Each official, including Powell," responded "incompatible." Congress would enact "Don't Ask, Don't Tell" that year.
Things changed when President Barack Obama took office 15 years later and advocates for repeal of "Don't Ask, Don't Tell" were eager to claim Powell's voice among their ranks. After all, Powell was highly respected as a bipartisan voice after having served as secretary of state in the administration of George W. Bush and endorsing Obama in the 2008 election.
In October 2008, he endorsed Barack Obama as he was weeks away from being elected the nation's first African-American president. "I think he is a transformational figure," Powell said on NBC's "Meet the Press."
After the Obama administration in 2010 announced it would conduct a review of the idea of allowing gay people to serve openly in the military, Powell came out in support of that process. Advocates of repeal called that a declaration of reversal, although the statement fell short of a full support for gay people serving openly in the military.
"In the almost 17 years since the 'Don't Ask, Don't Tell' legislation was passed, attitudes and circumstances have changed," Powell said in a statement issued by his office, adding, "I fully support the new approach presented to the Senate Armed Services Committee this week by Secretary of Defense Gates and Admiral Mullen." He added, "I will be closely following future hearings, the views of the Service Chiefs and the implementation work being done by the Department of Defense."
Congress acted to repeal "Don't Ask, Don't Tell" and the policy was lifted in 2011. At the time, Powell was widely considered a supporter of ending "Don't Ask, Don't Tell" and publicly counted among supporters of repeal.
In 2012, Powell had similar vaguely supportive words on same-sex marriage, saying he had "no problem with it" when asked about the issue.
"As I've thought about gay marriage, I know a lot of friends who are individually gay but are in partnerships with loved ones, and they are as stable a family as my family is, and they raise children," Powell said. "And so I don't see any reason not to say that they should be able to get married."
The White House released a statement from President Joe Biden reacting to the news of Powell's death, The President also ordered the flag of the United States be flown at half-staff at the White House and upon all public buildings and grounds, at all military posts and naval stations, and on all naval vessels of the Federal Government in the District of Columbia and throughout the United States and its Territories and possessions until sunset on October 22, 2021 as a mark of respect for Powell.
Jill and I are deeply saddened by the passing of our dear friend and a patriot of unmatched honor and dignity, General Colin Powell.

The son of immigrants, born in New York City, raised in Harlem and the South Bronx, a graduate of the City College of New York, he rose to the highest ranks of the United States military and to advise four presidents. He believed in the promise of America because he lived it. And he devoted much of his life to making that promise a reality for so many others.

As a Senator, I worked closely with him when he served as National Security Advisor, Chairman of the Joint Chiefs of Staff, and as Secretary of State. Over our many years working together – even in disagreement – Colin was always someone who gave you his best and treated you with respect.

Colin embodied the highest ideals of both warrior and diplomat. He was committed to our nation's strength and security above all. Having fought in wars, he understood better than anyone that military might alone was not enough to maintain our peace and prosperity. From his front-seat view of history, advising presidents and shaping our nation's policies, Colin led with his personal commitment to the democratic values that make our country strong. Time and again, he put country before self, before party, before all else—in uniform and out—and it earned him the universal respect of the American people.

Having repeatedly broken racial barriers, blazing a trail for others to follow in Federal Government service, Colin was committed throughout his life to investing in the next generation of leadership. Whether through his care for the women and men serving under his command and the diplomats he led, or through the work he shared with his wife Alma at the America's Promise Alliance to lift up young people, or through his years leading the Eisenhower Fellowships, Colin's leadership always included a focus on future.

Above all, Colin was my friend. Easy to share a laugh with. A trusted confidant in good and hard times. He could drive his Corvette Stingray like nobody's business—something I learned firsthand on the race track when I was Vice President. And I am forever grateful for his support of my candidacy for president and for our shared battle for the soul of the nation. I will miss being able to call on his wisdom in the future.

Jill and I are sending all our love and strength to Alma, their children, Linda, Annemarie, and Michael, their grandchildren, and the entire Powell family. Our nation mourns with you.

Colin Powell was a good man.

He will be remembered as one of our great Americans.
Former President Obama noted;
"General Powell was an exemplary soldier and an exemplary patriot. He was at the center of some of the most consequential events of our lifetimes…. And although he'd be the first to acknowledge that he didn't get every call right, his actions reflected what he believed was best for America and the people he served.
"Along the way, General Powell helped a generation of young people set their sights higher. He never denied the role that race played in his own life and in our society more broadly. But he also refused to accept that race would limit his dreams, and through his steady and principled leadership, helped pave the way for so many who would follow."
Former President George W. Bush in a statement said:
"He was a great public servant, starting with his time as a soldier during Vietnam. Many presidents relied on General Powell's counsel and experience.
"He was such a favorite of presidents that he earned the Presidential Medal of Freedom – twice. He was highly respected at home and abroad. And most important, Colin was a family man and a friend."