'Conversion therapy' fraud bill passed by California Senate
False claims have riled up evangelicals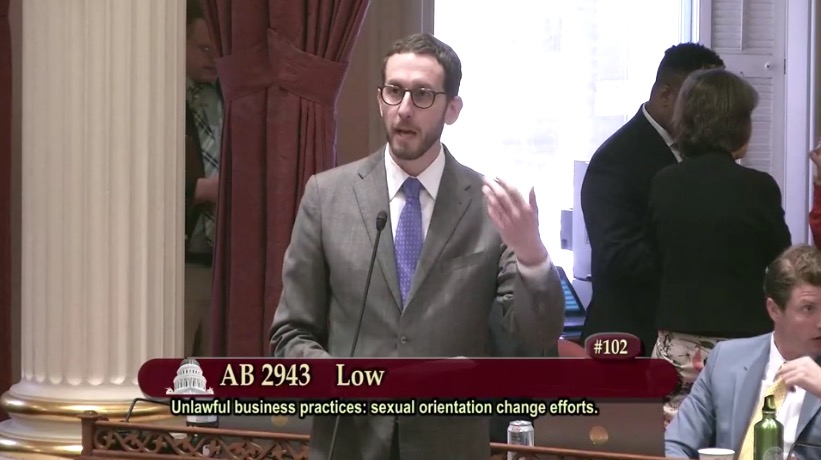 Gird your loins. California lawmakers just passed a bill to make it harder to entice shame-filled parents with advertised false promises of a "cure" for homosexuality. By a vote of 25 to 11, state senators passed Assembly Bill 2943 that makes "advertising, offering to engage in, or engaging in sexual orientation change efforts"—plugged by the religious right as "conversion therapy"—a violation of California's consumer fraud laws.
Debate over the bill also boldly underscores why it is imperative to have LGBT elected officials at the table or on the floor arguing how legislation has a personal impact.
"This is a very personal issue to me," Assemblymember Evan Low, chair of the California LGBT Legislative Caucus, said in introducing his bill before passage by the Assembly. "Growing up with so much hate, I, too wanted to find out if I could be changed and if anything could work because of the societal pressures that we have. There is nothing wrong with me. There is nothing that needs to be changed."
The out members of the State Senate also offered personal stories in the last minute debate Aug. 16 before the bill passed. Out Sen. Scott Wiener introduced the bill on the Senate floor and outlined its merits.
"This critically important bill protects LGBT people from the fraudulent practice known as 'conversion therapy," he said. It prohibits fraudulent business practices "where people sell services that say, 'if you pay me money, I can make you no longer LGBT.' There is absolutely no medical or scientific basis to support the sale of these supposed healthcare or physiological services. Indeed, 'conversion therapy' is nothing short of physiological torture."
Wiener noted that California already bans such harmful practices for youth. "This unacceptable rate of suicide happens because we are told by society that there is something wrong or sick or amiss about who we are. And that we need to change to be 'normal.' Well, we don't need to change and we certainly shouldn't allow people to commit fraud by selling services that harm people and that don't work," Wiener said.
Wiener squarely took on the false assertions made by the religious right. "I want to be very clear what AB 2493 does not do, contrary to some of the claims that have been made during this legislative process," Wiener said. "This bill does not prohibit the sale of the Bible—that's an argument that we've heard—that's untrue. It does not in any way prohibit free speech. It doesn't prohibit anyone from speaking with a counselor, including a religious counselor regarding their sexual orientation, as long as no money is exchanged, as long as no services are sold. Colleagues, this bill is long over due. We should be protecting people from fraud. That's what we do in this legislature in this state."
So-called "conversion therapy" has been thoroughly discredited by all major mental health organizations, with the American Psychological Association saying efforts to "change" sexual orientation through therapy have "serious potential to harm young people." The bill to which Wiener referred was passed in 2012, authored by then-California State Sen. Ted Lieu. It prohibited state licensed mental health providers from practicing such "therapy" on minors under age of 18, calling it "psychological child abuse."
Bill co-author Sen. Ricardo Lara also spoke on the floor. "Conversion" therapy implies there is something wrong with you, somehow you're not normal," he said, beliefs that led to the horrendous murders of 8-old Gabriel Fernandez and 10-year old Anthony Avalos at the hands of their parents.
Lara also referred to his bill, SB 524, signed into law by Gov. Brown in 2016, to regulate residential homes. The bill was intended to put a dent in the billion-dollar "troubled teen" industry, which feeds off unscrupulous promoters peddling "parental-rights" arguments to con concerned fundamentalist parents into sending their "troubled teen" to camps, advertised as providing "tough love" to change youth through abusive "reparative therapy."
"We as legislators have a responsibility to protect Californians from harmful and deceptive practices. All Californians should be celebrated, cherished, and loved for who they are," Low said after the bill passed the Senate. "I am grateful to my colleagues in the Senate for affirming their support for those in the LGBT community who need it most by voting for this bill."
"For far too long, LGBTQ Californians have been psychologically abused by sham therapists who are supposed to be caring for their emotional well-being," says Equality California Executive Director Rick Zbur. "We're deeply grateful to Assemblymember Low, Senate Pro Tem Atkins and Senators Wiener, Lara and Galgiani for their leadership today—and to every member of the Senate who voted to protect LGBTQ Californians from these dangerous, harmful practices."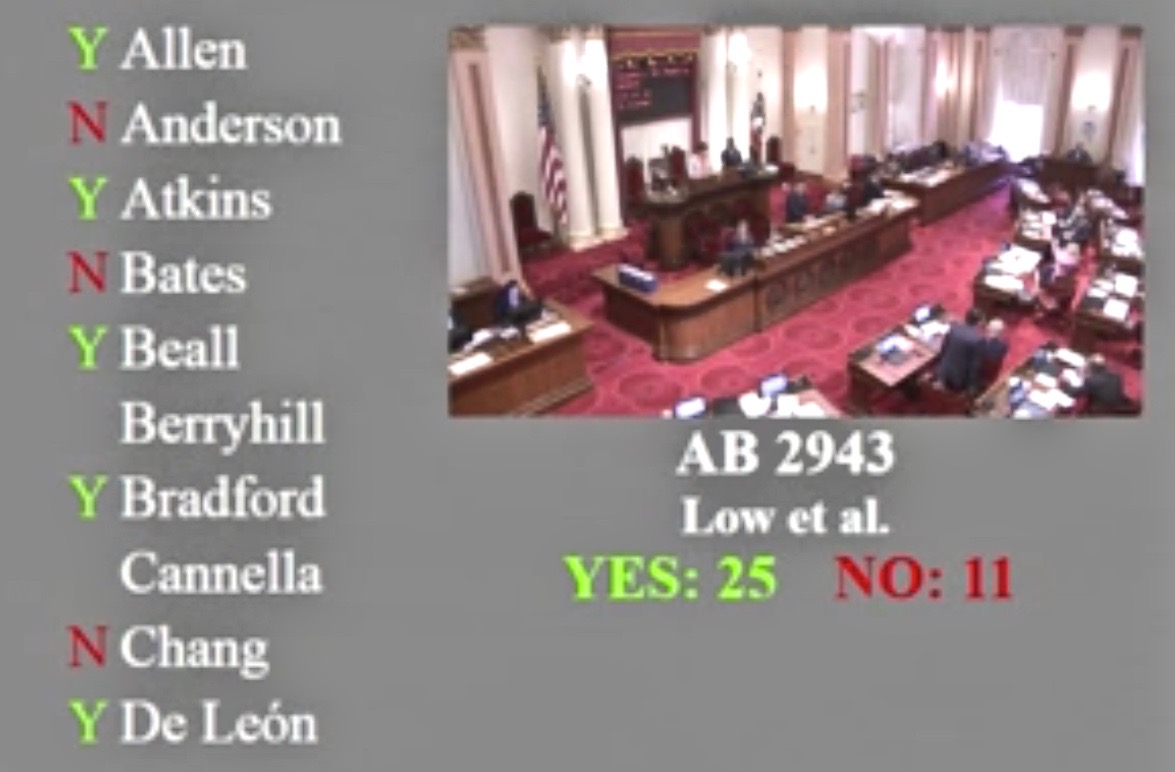 Shannon Minter, Legal Director for the National Center for Lesbian Rights, has been challenging these harmful, unscientific practices for decades, as thriving business for unlicensed and unscrupulous evangelical and Catholic "reparative therapists" such as Joseph Nicolosi at the National Association for Research and Therapy of Homosexuality (NARTH), based on Encino, California.
"This bill will put both consumers and practitioners on notice that taking money for 'conversion therapy' is consumer fraud under California law," Minter tells the Los Angeles Blade. "That is important to ensure that individuals who are financially harmed by false claims that therapy can change a person's sexual orientation or gender identity know that they are entitled to compensation under California law. It will also help deter these fraudulent practices by shining a spotlight on unethical practitioners who defraud vulnerable consumers by peddling quackery and lies."
Nonetheless, AB 2943 is the new tip of the spear for political evangelicals who insist that the bill will prohibit the sale of the Bible and ban free speech. Even the once vaunted conservative Federalist.com challenged reliable watchdog Snopes as a "sneaky liar" after its explanation.
"Sure, it is virtually impossible that California will immediately attempt to ban the sale of the Bible itself. Not even the hard Left in California has that kind of chutzpah. But citations of Bible verses in the context of declaring homosexual practice and transgenderism to be morally debased could indeed get one into serious trouble with the law if it comes in the context of selling or advertising a product or service," Federalist.com's Robert Gagnon wrote.
"So you would be violating the law if you advertise that Christ can empower people not to engage in homosexual practice or not to identify as 'gay' or 'transgender' because such behaviors and self-identities are morally wrong, or if you offer to engage or actually engage in efforts to persuade people of Christ's power to transform in this area, you will be in violation of California AB 2943, at least so long as your advertising or efforts involved in any way an exchange of money for goods or services," The Federalist.com says.
"Consequently, selling religious or secular books (pamphlets, videos, audios, etc.), holding conferences, teaching courses in a college or seminary where tuition is paid, giving a speech at a paid venue, counseling people for a fee, or perhaps even posting online articles in a site that requires a paid subscription, in which it is asserted (in whole or part) that it is morally wrong for people to engage in homosexual practice or identify as "gay" or "transgender," all could be treated as a violation of California Assembly Bill 2943," asserts Gagnon.
In fact, an anti-LGBT panel in Washington DC July 26—"Parental Rights: A Matter of Religious Freedom?" —co-sponsored by the anti-LGBT James Dobson Family Institute (JDFI) and the Alliance Defending Freedom (ADF) International and featuring Tony Perkins, head of the Family Research Council—spent a lot of time talking about ways to circumvent Low's bill through use of the "parental rights" argument.
Anti-LGBT James Dobson Family Institute Public Policy Director Jenna Ellis described "what's at stake."
"This is a very dangerous bill and essentially, any book, any counseling, anything that discusses same sex attraction and is against that or trying to counsel away from that would be under the consumer fraud protection element of California's law," Ellis said. "The people who are not interested in protecting religious freedom, who are not interested in protecting parental rights, they are very shrewd to not just openly say, 'We don't want you to advocate against same sex attraction. We don't want to advocate against these worldviews and moral issues that strike at the heart of traditional values and the family,' but they're willing so far as to say that this is fraud. That's what's going on in the United States and then even globally."
"They want to take away any effort that a parent has to place that [confused] child in any type of 'counseling' or 'psychotherapy' to deal with what they're going through," said JDFI Executive Director Dr. Tim Clinton.
Out California Democratic Party Chair Eric Bauman is "not worried about the GOP using" the bill in arguments before the midterms. "The people who will vote for [Republican gubernatorial candidate John] Cox and the rest of the Trump cronies are already poised to do so."
101 Freeway set to close through downtown this weekend for construction
Closure of the 101 freeway will commence Friday at 10 p.m. & the freeway will reopen Sunday at 3 p.m.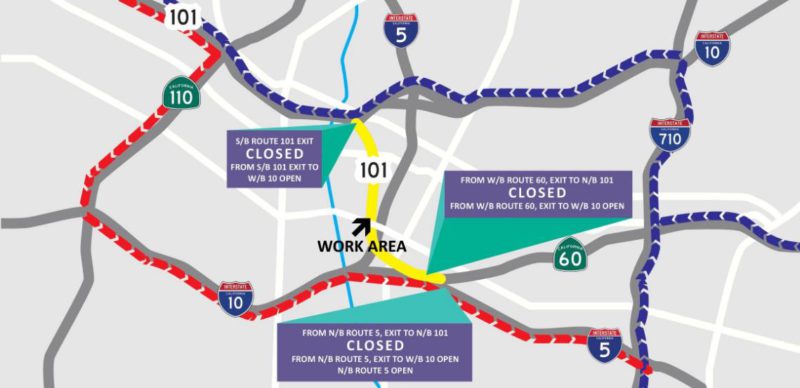 LOS ANGELES – The 101 Freeway will close in both directions this weekend for construction work on the new Sixth Street Viaduct project east of downtown Los Angeles.
Work on the bridge will close 2.5 miles of the freeway in both directions, starting where the 101 and 10 freeways split and ending where the 5, 10 and 101 interchange meets east of downtown Los Angeles, city officials said.
The transition from the westbound 60 Freeway to the 101 will also be closed due to the project. The freeway and transition road are scheduled to reopen by 3 p.m. Sunday.
The closure is necessary to remove the temporary frame supports around the new Sixth Street Viaduct bridge.
A second closure of the same stretch of freeway is scheduled to begin Friday, Nov. 5, at 10 p.m. and continue through Sunday, Nov. 7, at 3 p.m.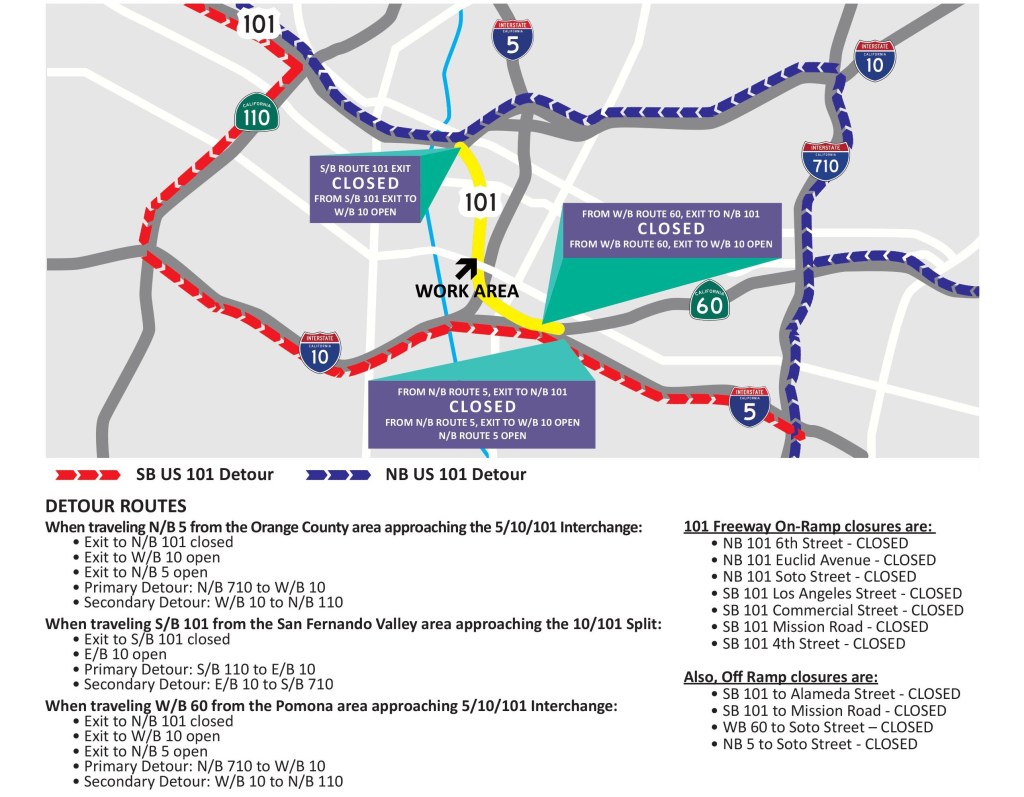 LA County officials say avoid prolonged outdoor activities in Carson area
LA County Public Health recommends temporarily leaving the area where odors are present to alleviate health impacts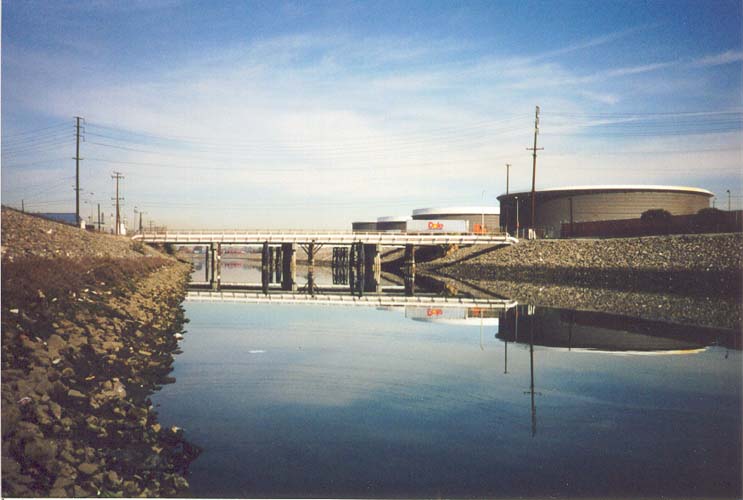 CARSON – Los Angeles County officials have been working collaboratively since Oct. 6 to investigate and address the pungent odor affecting communities in the area of Dominguez Channel in the City of Carson.
A multi-agency response—including the County departments of Public Works, Public Health, Fire and the Office of Emergency Management, as well as the South Coast Air Quality Management District—was mobilized in response to this incident and to provide rapid relief to residents and businesses that have been affected.
The South Coast Air Quality Management District on Tuesday announced it has established a webpage to monitor the foul odor emanating from the Dominguez Channel that has sickened some residents and prompted numerous complaints.
To date, South Coast AQMD has responded to more than 2,000 odor complaints since the acrid scent was first reported on Oct. 3.
Congresswoman Nanette Diaz Barragán, whose 44th congressional district includes the affected areas, in her Oct. 18 letter called on California Governor Gavin Newsom to declare a state of emergency in the area.
On Oct. 15, LA County Public Works maintenance crews began spraying a natural, water-based and biodegradable deodorizer in the channel to neutralize the odor. The community should expect a noticeable reduction in the smell within 3-5 days.
The source continues to be considered as naturally decaying organic material (vegetation and marine life) at the bottom and sides of the Channel in Carson. As air monitoring of the surrounding areas continues, no other point sources for the hydrogen sulfide have been identified. South Coast AQMD, County Fire Hazardous Materials (HazMat), and Public Health continue to evaluate and monitor hydrogen sulfide concentrations and mitigate health impacts.
A bubbler system is being installed today to inject millions of tiny oxygen bubbles into the water to increase the levels of dissolved oxygen and prevent the creation of additional hydrogen sulfide gas.
The Los Angeles County Department of Public Health updated the health recommendations for residents impacted by odors reported in Carson and surrounding communities to avoid prolonged outdoor activities between the hours of 9 p.m. through 8 a.m., based on patterns seen with air monitoring results, and whenever odors are strong to reduce exposure.
While the effort to get rid of the odor continues, Public Health recommends residents take the following actions to lessen their exposure and any symptoms experienced and to protect the health of themselves, their family, and their pets:
If symptoms feel life threatening, seek immediate medical care.
If symptoms are persistent, worrisome, or worsening, seek medical attention. Relocate to another area until odors go away. For assistance, call 2-1-1.
Avoid prolonged outdoor activities between the hours of 9 p.m. through 8 a.m. and whenever odors are strong to reduce exposure.
Keep doors and windows closed as much as possible to prevent outdoor odors from entering the residence or business. Air out the home/business when odors are not present.
If residents have a central heating, ventilation, and air conditioning (HVAC) system, contact an air conditioning specialist, if needed, to determine if the air filters in the system may be replaced with High Efficiency Particulate Air (HEPA) or MERV-rated filters with activated charcoal (carbon) to improve the air quality inside. If residents notice odors are stronger or symptoms are worse in the late evening or early morning hours (9 p.m. to 7 a.m.), residents should try running their central HVAC system throughout the night, if they have not already. Temporarily relocating may be best if this does not help.
Use a certified portable HEPA indoor air filter with activated charcoal to improve air quality in their home. If residents notice odors are stronger or symptoms are worse in the late evening or early morning hours (9 p.m. to 7 a.m.), residents should try running their portable indoor air filter throughout the night, if they have not already. Temporarily relocating may be best if this does not help.
Keep pets indoors. If residents notice any of the following in their pets, they should contact their local veterinarian: difficulty breathing, vomiting, lethargy, or nausea.
Hydrogen sulfide is a colorless gas that has a very strong odor (like "rotten egg"). Its smell can be detected and cause temporary mild to moderate symptoms even below the minimum detection limit of 1 part per million (ppm) or 1000 parts per billion (ppb) of typical equipment used to detect it. Everyone should take steps to reduce their exposure when the odors are present.
People experiencing persistent, worrisome, or worsening symptoms from the odors are encouraged to contact their health care providers, especially if they have any chronic health conditions. People should also ensure that they have adequate supplies of their medications, especially if they have heart or lung conditions. In addition, Public Health recommends temporarily leaving the area where odors are present to alleviate health impacts.

For more information on protective measures to prevent odors from entering the home, residents can contact the Public Health Community line at 626-430-9821 and leave a message with their contact information and their call will be returned. The message line will be checked every hour between 7 a.m. to 10 p.m. every day while odors persist.

If you live in the areas of Carson or West Carson, or the surrounding vicinity, County Public Works has a reimbursement program for the purchase of HVAC air filters, portable HEPA air filters, or for temporary relocation. during this public nuisance event. Please review the recommendations and guidance on "Air Cleaners and Filters to Improve Indoor Air Quality and Remove Odors" below before purchasing filters. Visit https://lacounty.gov/emergency/dominguez-channel for more information on the reimbursement program. Residents can click here to submit for reimbursement. For assistance, they can call 2-1-1.

In addition, residents should continue to call South Coast AQMD to report odors at 1-800-CUT-SMOG (1-800-288-7644) or use the agency's On-line Complaint System.
Learn to Swim scholarship coming this Off Season!
Learn to Swim Scholarships will be made available for the Learn to Swim Program this upcoming Winter and Spring Season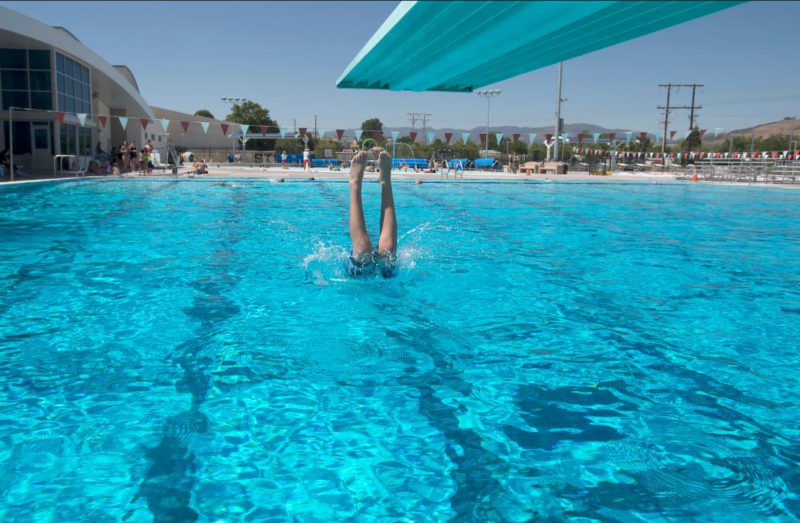 LOS ANGELES –The County of Los Angeles Department of Parks and Recreation, in conjunction with the American Red Cross, is excited to announce that a series of Learn to Swim Scholarships will be made available for the Learn to Swim Program this upcoming Winter and Spring Season.
These scholarships will be made available at the five (5) year-round pools for kids 5-17 years old. These year-round locations are as follows:
· Belvedere Community Pool (5035 E 1st St, East Los Angeles, CA 90022)
· Castaic Sports Complex Pool (31350 Castaic Rd, Castaic, CA 91384)
· Jesse Owens Community Regional Park Pool (9835 S Western Ave, Los Angeles, CA 90047)
· San Fernando Regional Pool (300 Park Ave, San Fernando, CA 91340)
· Franklin D Roosevelt Park Pool (7600 Graham Ave, Los Angeles, CA 90001)
The Learn to Swim Scholarships are being provided as a limited release, as well as a first come, first serve basis. All you have to do is complete the Scholarship Application (available online) as well as provide proof of enrollment in the Federal Free or Reduced Lunch Program. Upon completion and submission, your application will be reviewed for acceptance.
Download and complete the Scholarship Application TODAY!
Please note that completion and submission of application forms does not ensure you are awarded a scholarship. Applications must be reviewed prior to designation of scholarship. Scholarship process must be completed for each child in the household applying and for each session. Scholarships are only for the Youth Learn to Swim Program and are not applicable for any other Aquatics program or Youth program.
For a step by step breakdown, feel free to consult this graphic.
Download and complete the Scholarship Application TODAY!
For questions, contact LA County Parks at [email protected] or (626) 588-5364
For questions, contact LA County Parks at [email protected] or (626) 588-5364.