'Conversion therapy' fraud bill passed by California Senate
False claims have riled up evangelicals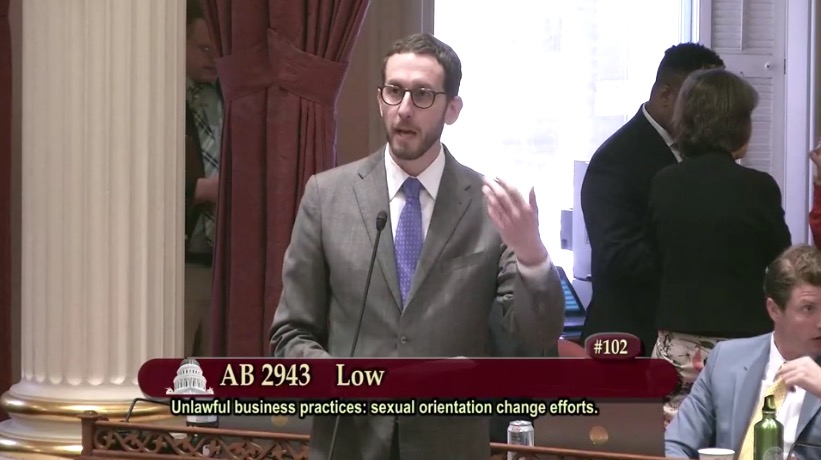 Gird your loins. California lawmakers just passed a bill to make it harder to entice shame-filled parents with advertised false promises of a "cure" for homosexuality. By a vote of 25 to 11, state senators passed Assembly Bill 2943 that makes "advertising, offering to engage in, or engaging in sexual orientation change efforts"—plugged by the religious right as "conversion therapy"—a violation of California's consumer fraud laws.
Debate over the bill also boldly underscores why it is imperative to have LGBT elected officials at the table or on the floor arguing how legislation has a personal impact.
"This is a very personal issue to me," Assemblymember Evan Low, chair of the California LGBT Legislative Caucus, said in introducing his bill before passage by the Assembly. "Growing up with so much hate, I, too wanted to find out if I could be changed and if anything could work because of the societal pressures that we have. There is nothing wrong with me. There is nothing that needs to be changed."
The out members of the State Senate also offered personal stories in the last minute debate Aug. 16 before the bill passed. Out Sen. Scott Wiener introduced the bill on the Senate floor and outlined its merits.
"This critically important bill protects LGBT people from the fraudulent practice known as 'conversion therapy," he said. It prohibits fraudulent business practices "where people sell services that say, 'if you pay me money, I can make you no longer LGBT.' There is absolutely no medical or scientific basis to support the sale of these supposed healthcare or physiological services. Indeed, 'conversion therapy' is nothing short of physiological torture."
Wiener noted that California already bans such harmful practices for youth. "This unacceptable rate of suicide happens because we are told by society that there is something wrong or sick or amiss about who we are. And that we need to change to be 'normal.' Well, we don't need to change and we certainly shouldn't allow people to commit fraud by selling services that harm people and that don't work," Wiener said.
Wiener squarely took on the false assertions made by the religious right. "I want to be very clear what AB 2493 does not do, contrary to some of the claims that have been made during this legislative process," Wiener said. "This bill does not prohibit the sale of the Bible—that's an argument that we've heard—that's untrue. It does not in any way prohibit free speech. It doesn't prohibit anyone from speaking with a counselor, including a religious counselor regarding their sexual orientation, as long as no money is exchanged, as long as no services are sold. Colleagues, this bill is long over due. We should be protecting people from fraud. That's what we do in this legislature in this state."
So-called "conversion therapy" has been thoroughly discredited by all major mental health organizations, with the American Psychological Association saying efforts to "change" sexual orientation through therapy have "serious potential to harm young people." The bill to which Wiener referred was passed in 2012, authored by then-California State Sen. Ted Lieu. It prohibited state licensed mental health providers from practicing such "therapy" on minors under age of 18, calling it "psychological child abuse."
Bill co-author Sen. Ricardo Lara also spoke on the floor. "Conversion" therapy implies there is something wrong with you, somehow you're not normal," he said, beliefs that led to the horrendous murders of 8-old Gabriel Fernandez and 10-year old Anthony Avalos at the hands of their parents.
Lara also referred to his bill, SB 524, signed into law by Gov. Brown in 2016, to regulate residential homes. The bill was intended to put a dent in the billion-dollar "troubled teen" industry, which feeds off unscrupulous promoters peddling "parental-rights" arguments to con concerned fundamentalist parents into sending their "troubled teen" to camps, advertised as providing "tough love" to change youth through abusive "reparative therapy."
"We as legislators have a responsibility to protect Californians from harmful and deceptive practices. All Californians should be celebrated, cherished, and loved for who they are," Low said after the bill passed the Senate. "I am grateful to my colleagues in the Senate for affirming their support for those in the LGBT community who need it most by voting for this bill."
"For far too long, LGBTQ Californians have been psychologically abused by sham therapists who are supposed to be caring for their emotional well-being," says Equality California Executive Director Rick Zbur. "We're deeply grateful to Assemblymember Low, Senate Pro Tem Atkins and Senators Wiener, Lara and Galgiani for their leadership today—and to every member of the Senate who voted to protect LGBTQ Californians from these dangerous, harmful practices."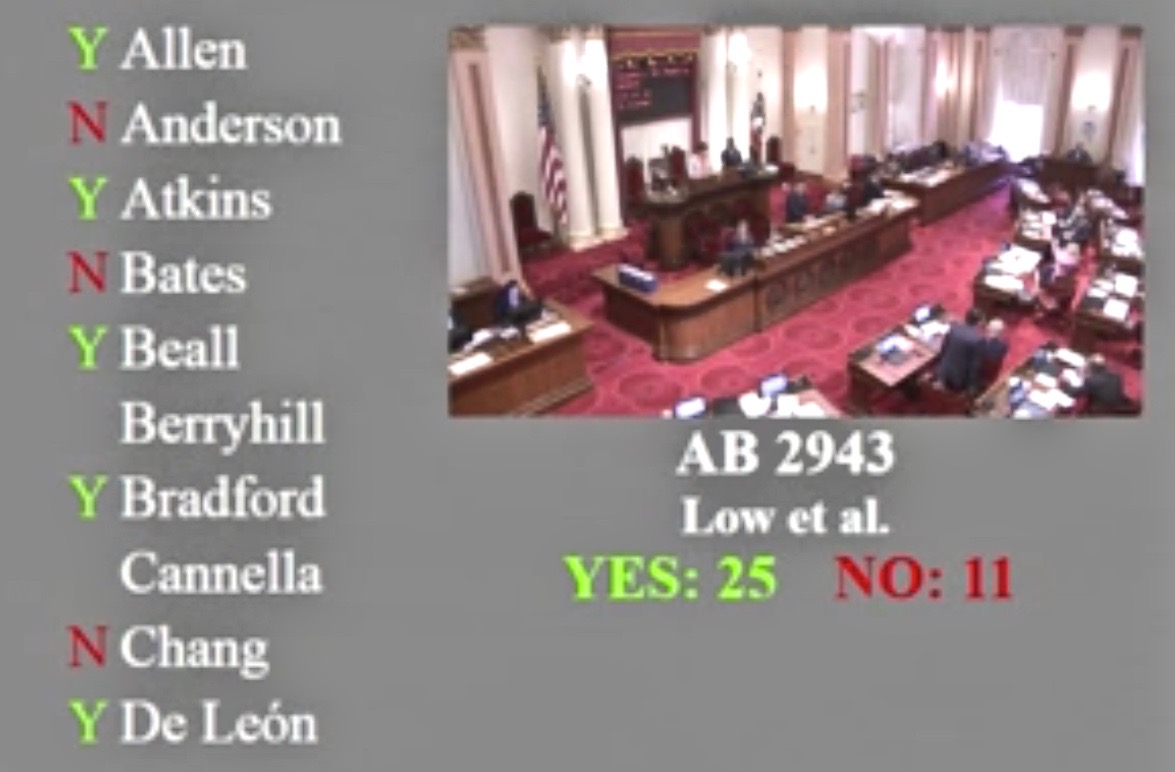 Shannon Minter, Legal Director for the National Center for Lesbian Rights, has been challenging these harmful, unscientific practices for decades, as thriving business for unlicensed and unscrupulous evangelical and Catholic "reparative therapists" such as Joseph Nicolosi at the National Association for Research and Therapy of Homosexuality (NARTH), based on Encino, California.
"This bill will put both consumers and practitioners on notice that taking money for 'conversion therapy' is consumer fraud under California law," Minter tells the Los Angeles Blade. "That is important to ensure that individuals who are financially harmed by false claims that therapy can change a person's sexual orientation or gender identity know that they are entitled to compensation under California law. It will also help deter these fraudulent practices by shining a spotlight on unethical practitioners who defraud vulnerable consumers by peddling quackery and lies."
Nonetheless, AB 2943 is the new tip of the spear for political evangelicals who insist that the bill will prohibit the sale of the Bible and ban free speech. Even the once vaunted conservative Federalist.com challenged reliable watchdog Snopes as a "sneaky liar" after its explanation.
"Sure, it is virtually impossible that California will immediately attempt to ban the sale of the Bible itself. Not even the hard Left in California has that kind of chutzpah. But citations of Bible verses in the context of declaring homosexual practice and transgenderism to be morally debased could indeed get one into serious trouble with the law if it comes in the context of selling or advertising a product or service," Federalist.com's Robert Gagnon wrote.
"So you would be violating the law if you advertise that Christ can empower people not to engage in homosexual practice or not to identify as 'gay' or 'transgender' because such behaviors and self-identities are morally wrong, or if you offer to engage or actually engage in efforts to persuade people of Christ's power to transform in this area, you will be in violation of California AB 2943, at least so long as your advertising or efforts involved in any way an exchange of money for goods or services," The Federalist.com says.
"Consequently, selling religious or secular books (pamphlets, videos, audios, etc.), holding conferences, teaching courses in a college or seminary where tuition is paid, giving a speech at a paid venue, counseling people for a fee, or perhaps even posting online articles in a site that requires a paid subscription, in which it is asserted (in whole or part) that it is morally wrong for people to engage in homosexual practice or identify as "gay" or "transgender," all could be treated as a violation of California Assembly Bill 2943," asserts Gagnon.
In fact, an anti-LGBT panel in Washington DC July 26—"Parental Rights: A Matter of Religious Freedom?" —co-sponsored by the anti-LGBT James Dobson Family Institute (JDFI) and the Alliance Defending Freedom (ADF) International and featuring Tony Perkins, head of the Family Research Council—spent a lot of time talking about ways to circumvent Low's bill through use of the "parental rights" argument.
Anti-LGBT James Dobson Family Institute Public Policy Director Jenna Ellis described "what's at stake."
"This is a very dangerous bill and essentially, any book, any counseling, anything that discusses same sex attraction and is against that or trying to counsel away from that would be under the consumer fraud protection element of California's law," Ellis said. "The people who are not interested in protecting religious freedom, who are not interested in protecting parental rights, they are very shrewd to not just openly say, 'We don't want you to advocate against same sex attraction. We don't want to advocate against these worldviews and moral issues that strike at the heart of traditional values and the family,' but they're willing so far as to say that this is fraud. That's what's going on in the United States and then even globally."
"They want to take away any effort that a parent has to place that [confused] child in any type of 'counseling' or 'psychotherapy' to deal with what they're going through," said JDFI Executive Director Dr. Tim Clinton.
Out California Democratic Party Chair Eric Bauman is "not worried about the GOP using" the bill in arguments before the midterms. "The people who will vote for [Republican gubernatorial candidate John] Cox and the rest of the Trump cronies are already poised to do so."
New on the LA County Channel
You can watch on Channel 92 or 94 on most cable systems, or anytime here. Catch up on LA County Close-Up here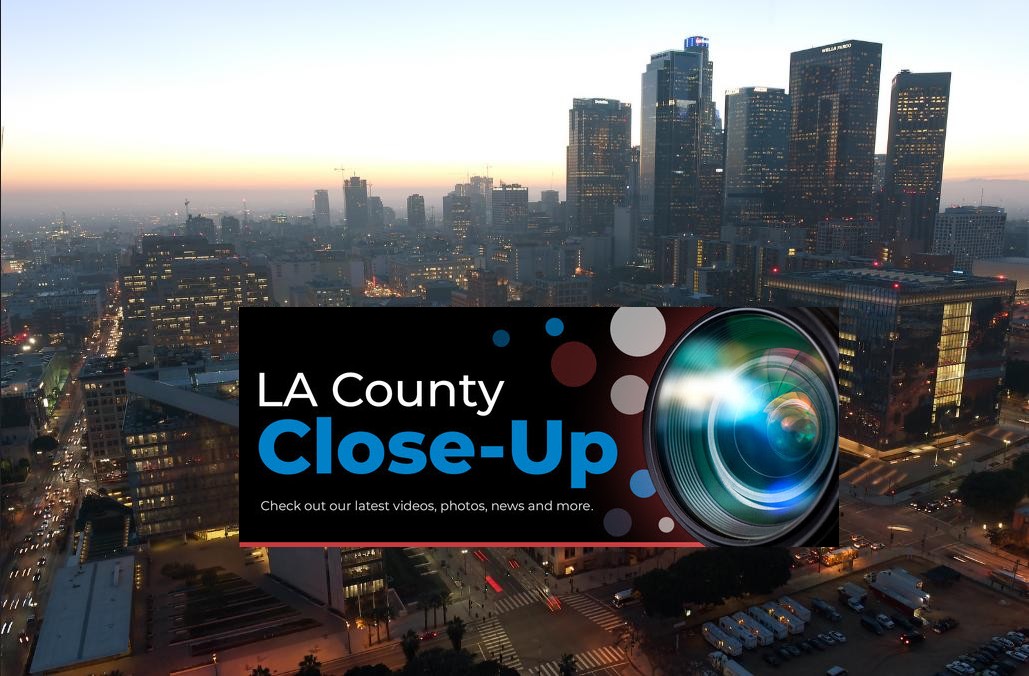 LOS ANGELES – New on the County Channel: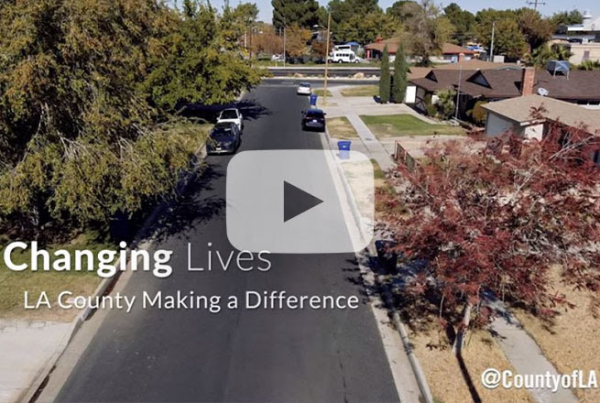 Thanksgiving has special meaning this year for seniors living alone or in congregate settings thanks to a food program run by the Aging and Disabilities Department that ensures elderly residents receive three nutritious meals a day. For the centenarians featured here, the meals may fill their stomach, but those who deliver them warm their hearts.
You can watch more stories like this on Channel 92 or 94 on most cable systems, or anytime here. Catch up on LA County Close-Up here.
---
In Case You Missed It
Having a Safe Thanksgiving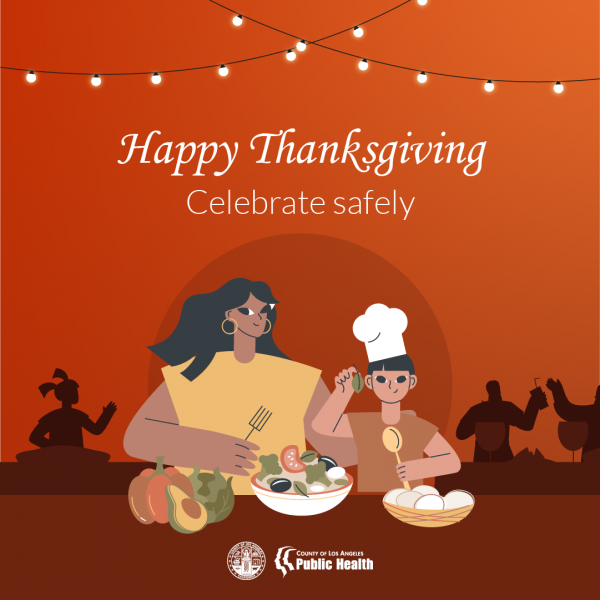 This week, many of us will be celebrating Thanksgiving and gathering with friends and family over the long weekend. We are grateful this year to have the tools that allow us to gather with a lot of safety. It will mean however that all of us are likely to need to take some common-sense precautions to avoid future disruptions and the spread of illness.
Get Vaccinated: First, we should all do our very best to be sure we are up to date on our vaccines. The flu shot and the COVID-19 updated bivalent booster are both widely available in LA County and you can receive both vaccines at the same time. Many people may be thinking that it is too late to get vaccinated before Thanksgiving because the vaccines need time to be effective. While protection does ramp up over the 1-2 weeks after you are vaccinated this does not mean that you will have zero protection until this point. You will still have some protection and you will be prepared for future events. Most pharmacies have these vaccines readily available without an appointment. You can also visit our website: ph.lacounty.gov/howtogetvaccinated.
Test Before Gathering: If you are hosting, consider asking guests to take a home COVID test before they come over. If you are going to a gathering and you know there will be an older person there or others who are at high risk for severe illness for COVID, test before you arrive just to be safe and ensure that you are not passing along anything that you do not want to be. COVID-19 home tests for all DPH employees are covered by your insurance.
Stay Home if Sick: If you are coughing, sneezing, have a runny nose, fever, or other concerning symptoms, you should stay home and not risk infecting others. Even a scratchy throat could result in passing along a respiratory virus. Please stay home, rest, and recover.
Maximize Ventilation: Look for ways that you can improve ventilation in your home. If it is not too cold, stay outdoors as much as possible. When inside, open windows or a screen door and use fans to move the air. If you have an HVAC system in your home, set the fan to 'on' and make sure your filters are installed properly. You can also use a portable, high-efficiency air cleaner, also known as HEPA air purifiers. Improving ventilation in your home, as well as gathering in larger rooms where people are spaced apart or going outside, if possible, can help reduce the transmission of airborne illnesses.
Adopt-A-Family Program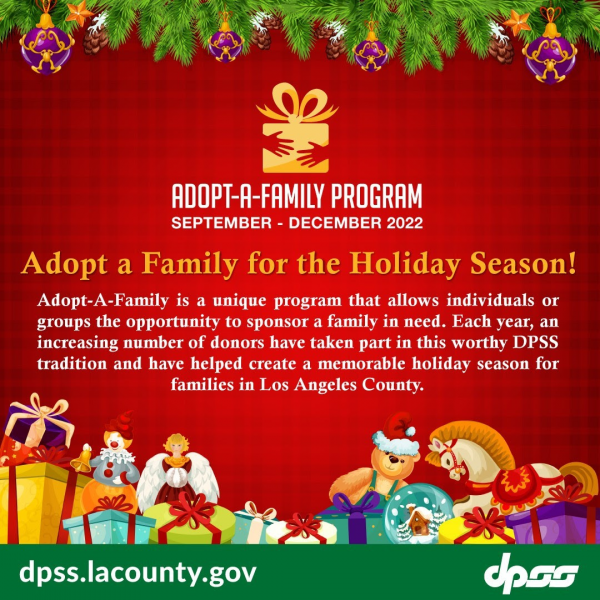 The Department of Public Social Services (DPSS) Toy Loan and Volunteer Services Program is gearing up to host the annual Adopt-A-Family Program, the much-anticipated holiday campaign to bring joy to over 1,000 low-income families receiving DPSS benefits and services.
The call is once again going out to encourage individuals and organizations to help make a difference in the community by supporting this worthwhile program. Sponsoring a family is a wonderful way to celebrate the true spirit of giving.
For over 30 years, the Adopt-A-Family Program has partnered with the community and generously sponsored families needing support during the holidays. Last year, the program provided gifts of clothing, toys, food, and other new items to approximately 1,800 families.
Sponsors may choose the size of the family, general location, and how many families they would like to sponsor. There is no limit to the number of families. Once matched with a family, the sponsor reviews the family's wish list and decides what and how much to give.
Individuals or organizations interested in adopting a family may fill out an online sponsor application at https://bit.ly/DPSSAAF. The deadline to submit applications is Friday, December 9, 2022.
For more information, contact DPSS Volunteer Coordinator Brenda Gonzalez Camacho at [email protected].
---
At Your Service
Emergency Rent Assistance Program for CALWorks Families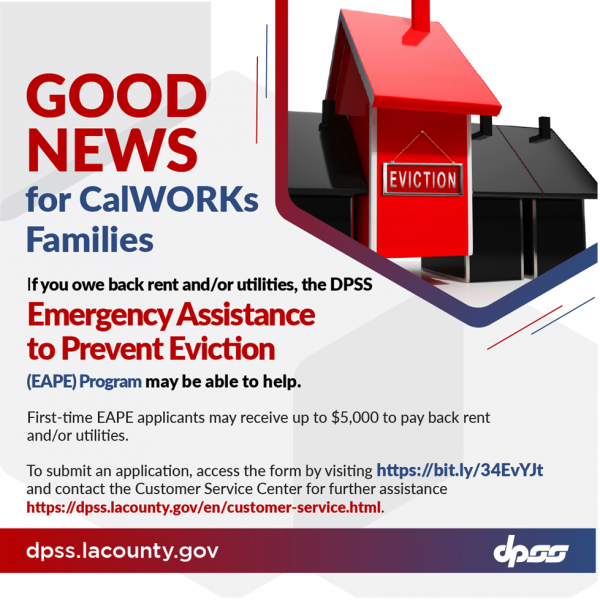 CalWORKs participants who are behind on rent can call the DPSS Customer Service Center at (866)-613-3777 to request Emergency Assistance to Prevent Eviction (EAPE). Download the EAPE fact sheet to learn more. Submit an application to you CalWORKs Eligibility Worker at your district office.
Laptop Giveaway Event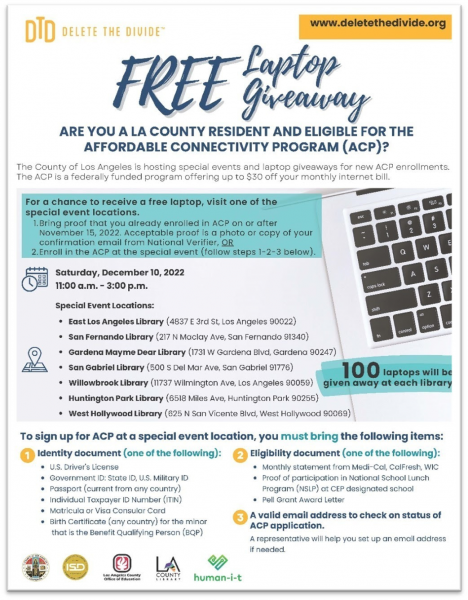 The County of L.A. is hosting special Affordable Connectivity Program (ACP) enrollment and FREE laptop giveaway events at seven library locations on Saturday, December 10, 2022. The ACP is a federally funded program offering up to $30 off your monthly internet bill. One hundred laptops will be given away at each location for new enrollments.
To learn more and see a list of locations, visit ACP Enrollment & FREE Laptop Giveaways – Delete The Divide.
---
Out and About
Tree Lighting Event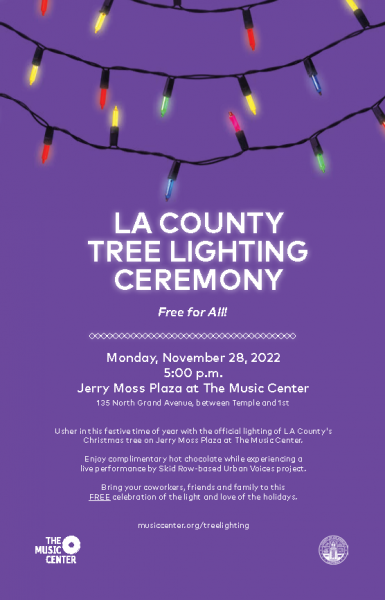 Usher in this festive time of year with the official lighting of LA County's Christmas tree at The Music Center. Enjoy complimentary hot chocolate while experiencing a live performance by Skid Row-based Urban Voices project.
Mon, Nov 28 | 5 pm
Jerry Moss Plaza at The Music Center
135 N Grand Ave, Los Angeles, 90012
This free event is open to all!
Winter Events with LA County Parks

It's Park Time L.A. County! Parks After Dark returns with an enchanting Winter Wonderland experience that will bring holiday cheer and 40 to 80 tons of snow to 34 L.A. County Parks in the month of December. This holiday action packed celebration is for the entire family and is bigger and better than ever before, with more snow, more toys, more craft activities and more fun! All for free!
For more information on Parks After Dark Winter Wonderland, visit parks.lacounty.gov/winterpad.
---
Photo Finish
Photo: Mayra Beltran Vasquez / Los Angeles County