Tripping the Burning Man desert fantastic
A transformative celebration of art, sex and equality at a price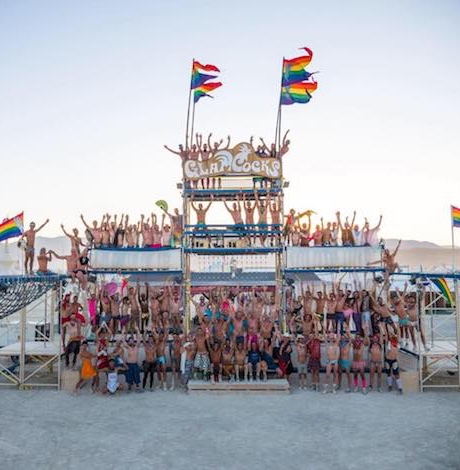 To the uninitiated, the idea of attending Burning Man may well seem like pure insanity.

Taking place on a dry lake bed under the scorching summer sun of Nevada's Black Rock Desert, the festival is a week-long "happening" at which thousands of participants – or "Burners," as they call themselves – gather to experience a counter-cultural explosion of ideas, art and camaraderie. 

Everything they need – food, water, shelter – they must bring for themselves.  There is no running water, and there is no air conditioning to provide relief from the heat; there aren't even any trees to provide shade.  Hot winds frequently fan dust storms that cover everyone from head to toe.  Such an inhospitable environment hardly seems like the ideal setting for a party.

Yet for the approximately 70,000 people who gather every August at Black Rock City – the name given to the temporary settlement which rises, like a futuristic Brigadoon, to host Burning Man – there is nowhere else on earth that they would rather be.

Burners travel from all over the world, alone or in groups, carrying their supplies and their gear to set up camp – often these are elaborately themed and decorated.  They get around the festival site on foot, or on bicycles or even in "mutant vehicles" – specially built cars that reflect Burning Man's creative atmosphere, and which must be approved by the festival authority in advance. 

They wear outlandish clothing, either cobbled together from eclectic thrift store finds or purchased from online merchants like Etsy who have learned to cater to the Burning Man aesthetic.  Sometimes these outfits – which usually fall into one of two categories, "Glam" or "Geek" – are specially and elaborately made, just for the occasion. 

And frequently, Burners spend a lot of time at the festival wearing nothing at all.

As for activities, there are plenty of things to see and do and experience.  Performances, DJs, celebrations, installations of mind-boggling art, engineering and architecture – all of these are core elements of the Burning Man experience.  So too, of course, is the climactic spectacle from which the festival takes its name, in which a giant wooden effigy is incinerated by flames that climb high into the desert sky.  In between the events, there's a surprising amount of gourmet food to be had (courtesy of a "gift economy"), prepared and shared by over-achieving "foodie" Burners, and certainly no shortage of alcohol.  Drugs, of course, are illegal – but you'll still find plenty of them there. 

There's also sex. Lots and lots of sex.

Free-spirited hedonism aside, Burners are drawn to the festival for the experience of belonging to a radical social experiment; they become part of an ephemeral village that relies on that "gift economy" – that is to say, there is no commerce or advertising, no exchange of goods and services, and everyone is expected to give and share what they have according to their own abilities. 

This springs from Burning Man's ten "principals," as officially penned by co-founder Larry Harvey in 2004; these also include communal effort, civic responsibility, and participation, as well as "radical inclusion"— an exhortation which makes the festival a popular destination for many within the LGBTQ community.

Begun as a free event on San Francisco's Baker Beach in 1986, Burning Man was founded by Harvey (who passed away at 70 earlier this year after suffering a massive stroke) and Jerry James.  It has continued annually ever since, from the last Sunday in August to the first Monday in September (Labor Day), and although it has grown from a small gathering into the massive production it is today, it's managed to maintain its dedication to exploring "radical self-expression."

One thing that has changed, though, is the price tag. 

Admission is no longer free; ticket packages for this year's installment range from $425 – $1,200 – though there are "low-income" options available – and that doesn't include various additional fees and charges, nor does it factor in the cost of travel or supplies.

The high price tag is one of the reasons Burning Man has generated controversy in recent years.  Despite being dedicated to inclusion and decommodification, it can't be ignored that the festival's attendees are overwhelmingly white, male and affluent. 

It has become a favorite gathering place for the Silicon Valley crowd, who use it as a networking opportunity (Tesla CEO Elon Musk, now exposed as a conservative SuperPAC donor, has said that the festival "IS Silicon Valley"), and every year sees a larger number of luxury camps set up by wealthy Burners as highly exclusive "gated communities" within Black Rock City. 

In 2014, a venture-capitalist billionaire threw an infamous party at one such camp – he even flew in models to provide company for his guests – and charged $16,500 for a wristband to get in.  Campers who take seriously the festival's egalitarian ethos have, unsurprisingly, been disgruntled by such displays of capitalistic privilege, leading to an accusation that Burning Man has become "gentrified."

Still, die-hard Burners are undeterred by such issues. 

Ask a Burner to define why they love the festival and you will get any number of answers.  For some, it's a social experiment; for others, it's a spiritual retreat; for many, it's a marathon rave.  For all of them, it's an escape from the everyday regimentation of their lives in what they call the "default" world – one which exerts such a powerful appeal that they are drawn to return, year after year, no matter what.

What is it, exactly, that makes Burning Man so essential to its acolytes?

The Los Angeles Blade reached out to the Glamcocks, a queer-centric theme camp at Burning Man since 2010, to get an answer.

One member said, "When you combine the vast amount of energy, the music, the art, and the amazing gifts and unique perspectives people from around the world are bringing to the event, the harshness of the desert environment fades away. What's left is truly magic. It's awe-inspiring."

Another touched on the transformative nature of the experience, adding, "It really changes you. It's made me more open, more willing to say yes to new things. I feel supported and encouraged to express myself in brave new ways and I bring that energy back to the 'default' world with me."

A gay man who is in recovery underscored the inclusiveness of the festival. "I had an amazing experience," he said. "I saw no barrier between gay and straight… and being sober I obviously had some hesitation, but they have 12-step meetings every day.  I love that."

Still, the thing for which Burning Man is most known – by those who have been there and those who have only seen it in pictures  – is the art.

From the beginning, art has been a crucial part of the festival's mission to promote self-expression, and as its profile – and pocketbook – has grown, so has the ambition of the artists who participate and the scale of the work they produce. 

Immense interactive sculptures, designed around annually-announced themes, have become the hallmark of Burning Man, and this year promises to offer an amazing crop.  Though it's impossible to know what will appear on the "Playa" before it actually shows up, there are a number of planned "honoraria" contributions based on this year's theme of "I, Robot."  The festival website has the full list, but a few of them include:
BABA YAGA'S HOUSE, by Jessi Sprocket Janusee of Reno, Nev. – "The house of Baba Yaga will rise from the playa straddling it's mechanical chicken legs.  Ascend her staircases to test the old witch if you dare.  If you are strong of will, feeling bold and willing to show vulnerability she may allow you to venture within her sanctum."
BLOOM, by Peter Hazel of Reno, Nev. – "Peter and his team are bringing back the 40-foot-tall jellyfish from 2017. From a distance, this piece looks like a single large creature, but upon arriving one will realize it is comprised of thousands of smaller jellyfish, swimming in a sea of tentacles and lights. Visitors are able to climb up inside to the top of the jellyfish dome to have an incredible view of the playa."
ETHEREAL FLEETING, by Lukas Truniger, Itamar Bergfreund & Bruce Yoder of Zurich, Switzerland – "A series of clouds is generated and gently held in place by a machine-like sculpture. From twilight to sunrise, the clouds are illuminated by an interactive network of LED lights, which reveal their inner geometries. The clouds appear, float over the playa, and then dissolve into thin air."
THE GREAT TRAIN WRECK, by Debby Brower / Collaborative Artisans of Reno, Nev. & Sacramento, Calif. – "An artistic interpretation of railroad history when outdated locomotives were ceremoniously destroyed in head-on crashes for public entertainment.  Two full scale trains are constructed from wood that will ultimately simulate a crash-and-burn using pyrotechnics in the finale."
IN CASE WE MISS EACH OTHER, by Ilya Barannikov / Soul Oceans of Pasadena, Calif. – "'In Case We Miss Each Other' is an interactive art installation reminiscent of a classic Roswell UFO gently floating above your head. Cutting edge lighting programming interacts with the messaging system, which will allow your voice to be transmitted through space, riding upon a powerful digitized UV laser with a 25 light year range."
iSHEEP, by Bardia Saeedi / DC Regional Artists of Alexandria, Va. – "13 life-size sheep roam the playa–twelve white, one black, each with a unique voice and character. They bear gifts of bareback rides, lit in their latest Burner costume. Pet them or play gently–even play soft games of 'bumper sheep.' iSheep are trans-species: They were once humans acting like sheep, but now they're iSheep, awake and wise."
RADIALUMIA, by FoldHaus Collective from Oakland, Calif. – "A geodesic sphere, five-stories tall, and covered with a breathing skin of origami shells and radiant spikes. Its shape nods to radiolaria, a tiny protozoa with intricate mineral skeletons that covered the desert thousands of years ago, when it was once the sea floor. Inside the sphere, a platform offers a place for people to retreat and look out to the surrounding landscape."
ROBOT RESURRECTION, by Shane Evans from Denver, Colo. – "A 30-foot-tall, human piloted, articulating sculpture made from reclaimed airplane parts and found objects. From the torso cockpit, the operator(s) manipulate the Robot's motions and fire effects."
No doubt images of these creations, and many more, will flood the internet in the weeks and months after Black Rock City disappears once more into the Nevada desert and all of its denizens go back to from whence they came – taking all of their "MOOP" (Matter Out Of Place, Burner-speak for "trash") with them. 

These images will provide a social-media-enabled glimpse into the exotic world of the festival for non-Burners, and perhaps inspire newbies to consider attending next year.  For those who were there in person, however, those images will be much more than a momentary curiosity to be browsed over morning coffee in front of a computer screen. 

They will be visual reminders of an experience not to be found in the everyday world, in which – for a week, at least – they transcended their boundaries and lived their lives as who they truly wanted to be.

When you think of it that way, what's a little dust being blown into your face?
Black Deafhood: A journey at the intersection of sexuality, disability, race
Gallaudet's Bobbi-Angelica Morris on their activism and art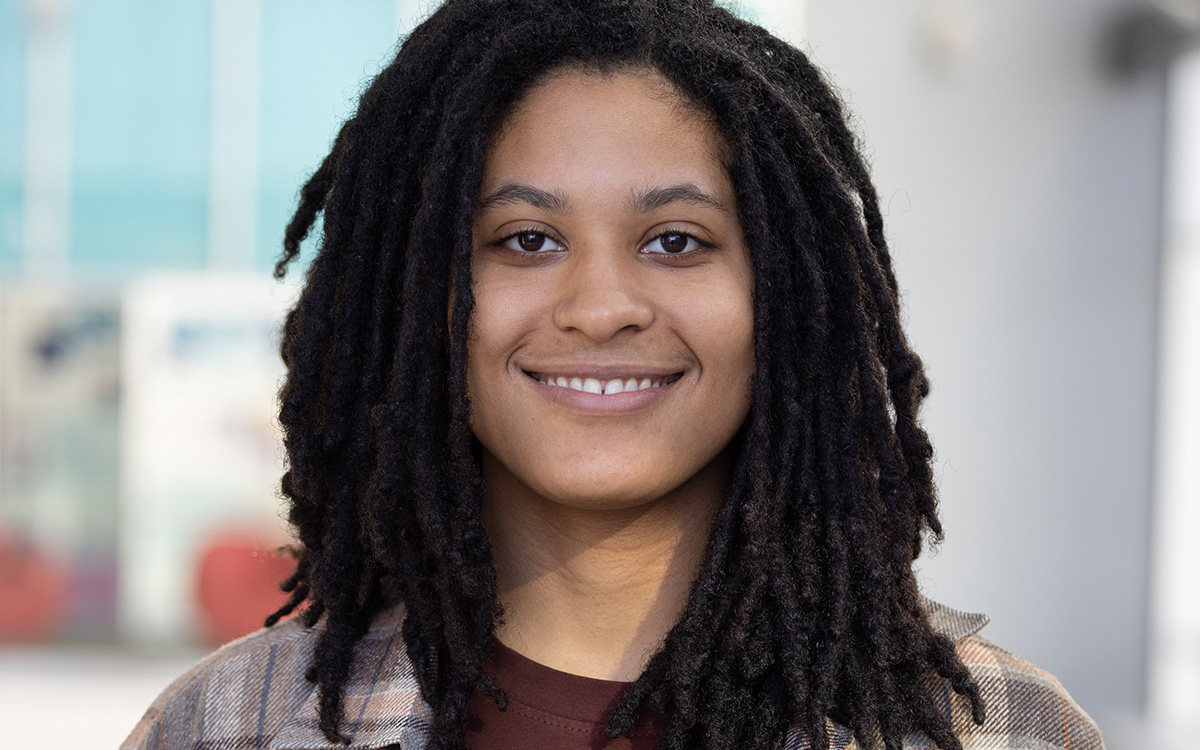 Editor's note: One in four people in America has a disability, according to the CDC. Queer and Deaf/disabled people have long been a vibrant part of the LGBTQ community. Take two of the many queer history icons who were disabled: Michelangelo is believed to have been autistic. Marsha P. Johnson, a hero of the Stonewall Uprising, had physical and psychiatric disabilities. Today, Deaf-Blind fantasy writer Elsa Sjunneson, actor and bilateral amputee Eric Graise and Obama administration Assistant Secretary of Labor for Disability Employment Policy Kathy Martinez are just a few of the people who identify as queer/Deaf/disabled. The stories of this vital segment of this queer community have rarely been told. In its series "Queer, Crip and Here," the Blade is telling some of these long unheard stories.
"My 'coming out' story looks more like me telling someone my favorite cookie flavor is chocolate chip," Bobbi-Angelica Morris, a Gallaudet University graduate student, activist, poet, photographer, videographer and visual artist, told the Blade, "than an emotional roller coaster."
"I've always embodied this carefree energy pertaining to who I am, what my purpose is, and how I show up for others," added Morris, who is Deaf/Hard of Hearing and identifies as a Black, nonbinary, queer and abolitionist artist.
Earlier this year, Morris, 23, received the Mary Bowman Arts in Activism Award from the National AIDS Memorial, the San Francisco organization that displays the internationally acclaimed AIDS Memorial Quilt.
Over the phone and in email, Morris spoke with the Blade about a range of topics – from her "Deafhood" to how she felt safe at a queer Halloween party.
Morris, who uses she/they pronouns, grew up in different parts of the East Coast. They spent most of that time in Richmond, Va.
"Growing up, most of the people around me would ask if I was gay," Morris said, "because I fit into the stereotypical realms of present day msc [masculine] presenting dykes."
"No one questioned me when I actually came to terms with my queer identity," they added.
Before enrolling in Gallaudet, Morris spent most of their time as a student with hearing people in schools, where most teachers and students didn't communicate in American Sign Language (ASL). Morris was the only Deaf student in their classes until they graduated from the University of Virginia in 2022 in Charlottesville. There, they majored in global development studies and minored in ASL with a concentration in disability studies and community development.
Growing up, Morris didn't know about ASL or the creativity and history of Deaf culture.
"It wasn't until I was in elementary school," Morris said, "that an audiologist said I qualified for hearing aids."
In their poetry, Morris, who speaks and signs their work, reflects on their family and their experience of being Deaf.
"I reflect on my own Deafhood:/ my playground fights/ with uneducated parents," Morris writes in a poem, "When little Black Deaf girl doesn't hear someone speak to her,/that someone thinks little Black Deaf girl is disrespectful."
Like many Deaf/Hard of Hearing people, who go to school when they don't know American Sign Language, and there are no ASL interpreters, Morris felt isolated.
"I had no knowledge of the Deaf community or of Black Deaf history," they said.
Some in Morris's family and community couldn't accept that Morris is Deaf. "Some, not out of maliciousness, prayed for my healing," they said.
What Morris calls her "Black Deafhood," has been a long journey at the intersection of sexuality, Deafness, disability, Blackness, gender, activism, and art.
Deafhood is a "journey that a Deaf person undertakes to discover his, her or their identity and purpose in life," according to a Deafhood Foundation statement on deafhood.org.
Hearing people often perceive of Deafness as a disease that should be cured, and of Deaf people as incompetent, second-class, less-valued, citizens.
Just as coming out helps queer people to affirm their sexuality and connect with the LGBTQ community and history, Deafhood empowers Deaf people to have pride in themselves – to connect with the Deaf community, history and culture.
As it often goes with finding and loving your queer self, Deafhood is a process.
In middle school, Morris watched "Switched at Birth," the popular TV series. The teen and family drama features Deaf and hearing actors and scenes in ASL.
The show jump-started Morris's interest in Deafness and the Deaf community. "But, I still didn't understand my connection [with the Deaf community]," Morris said.
Curious to discover something about Deaf culture, Morris started an informal class – a club. There, they and their friends learned signs from YouTube videos.
At the University of Virginia, Morris took a sign language class. They studies abroad for a time in India.
At Gallaudet, Morris began to feel connected to the Deaf community. They are a student in the Master of Social Work program at Gallaudet's School of Civic Leadership, Business, and Social Change. Morris will graduate with an M.S.W. degree in 2024.
They are equally committed to making art and activism – to working for social justice for Black, Deaf/disabled, queer, and other marginalized groups. A love of art and social change is etched in their bones.
"I am an abolitionist and an artist," Morris said, "I cannot be one without the other."
Their abolitionist identity is connected to how they experience intersectionality. Morris sees their life as connected "to the movement for total liberation of all our people, beings, and non-beings in this present day and beyond," they said.
Because they are an artist, they have a responsibility to use their skills to educate, inspire and protect "everyone and everything that abolitionists fight for daily," Morris said.
From early on, Morris loved being creative. During an unstable childhood, art helped Morris to express their feelings.
Fortunately, art ran in Morris's family. "My bio-mom is an amazing artist," Morris said, "so we would draw things together."
Later, Morris's god-mom gave Morris materials that sparked their interest in painting and photography.
In middle school, Morris got into spoken word poetry when one of their Boys and Girls Club mentors showed them a spoken word video. At the University of Virginia, Morris participated in poetry slams. In their Gallaudet social work program, they impressively deploy their artistic and activism chops.
Their advocacy projects are numerous. Morris is developing ASL G, a non-profit organization. The group's mission "is to develop community garden coalitions and programming for art and health wellness through disability justice," Morris said.
Morris was the former creative outreach coordinator of VOCA, a non-profit that supports BIPOC, Deaf artists.
"I have family members that have been incarcerated," Morris said. "Because of that, I want to fight the injustice of the prison industry and mass incarceration."
Morris is the president of Students Against Mass Incarceration (SAMI), a student club at Gallaudet.
Ableism, audism (discrimination against Deaf people), homophobia and racism are issues for Morris. "The white presence is prominent in many institutions," they said, "often they're predominantly white."
Morris likes being a Gallaudet student. But, "there's a lack of racial competency at Gallaudet as there is in the whole of America," they said.
The queer community has provided safe spaces for Morris.
Once, Morris and their partner attended a queer Halloween party in Charlottesville. "Half the people in attendance knew or were learning sign language," Morris said. "I think it was then that I realized how connected the queer community was in ensuring no one was left out."
Morris went to the party as Beast Boy, and their partner went as Raven from Teen Titans.
Follow Morris on Instagram @Blckrainbow5