Utopian Queers of Burning Man
Whatever your brand of an ultimate world, you will find yourself in the desert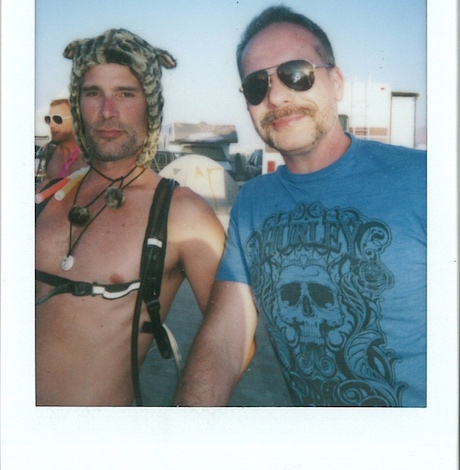 "Most men and women lead lives at the worst so painful, at the best so monotonous, poor and limited that the urge to escape, the longing to transcend themselves if only for a few moments, is and has always been one of the principal appetites of the soul."
― Aldous Huxley, The Doors of Perception/Heaven and Hell
For many people, hearing the words "Burning Man" conjures up a dusty interlude somewhere in the desert near Black Rock, Nev. And yet, each year, thousands of people from around the world come together to build, live and demolish a diverse town.
Black Rock City is unlike any other place in the world, with employees and citizens who build an exquisite, commerce-free place in just one week.
Whether you are a virgin burner or a veteran, Burning Man is a cathartic, life changing experience. The Los Angeles Blade talked to attendees about their participation.
Jose Caballer
"That first burn was a journey of discovery," reminisced queer-ish graphic design expert Jose Caballer, who co-founded Node Republik, one of the many wildly creative camps with Jesse Grushack.
"I had brought with me pillows, shade, costumes, a little tribal drum, jewelry— all that symbolized where I was in my journey. "That Tuesday on a playa journey, I was gifted the keys to the doors of perception. I accepted and proceeded to take a journey of initiation."
Where the burlap shade structure Caballer built became a filter for the rays of sunlight, the drum became a bridge to his Caribbean ancestry and taught him how to play.
"And that the center was the fire, the heart and the edges was the conversation, the community. I played with campmates at Mardi Gras as if I was channeling the spirit of Tito Puente. I went to a talk on Sacred Geometry at Red Lighting, to yoga and meditation. I danced, skated, pillow fought and attended a non-sexual nudity workshop that I stumbled on at a physics talk. It was an explosion of new ideas, new ways of being and a world I knew existed but didn't even know I was looking for."
David Jensen
"It's a challenge just to go," noted five-time attendee David Jensen, who is part of The Pink Fuzzy Monkeys camp, an art camp with activities every afternoon, like Titty Twister and Homo Hoe Down.
"One plans for months, you don't just show up! And that's both a blessing and a challenge."
Jensen says the queer community is a key element/foundation to Burning Man. "I feel COMPLETELY accepted and supported…it doesn't matter who you are there, as long as you're kind, empathetic, and live your life in a non-judgmental and accepting way."
The queer business entrepreneur is intrigued by this year's theme: Metamorphosis. "Meta= next chapter. Being that I am about to create my latest startup, it's the perfect place for me to get inspired."
Back in 2004, co-founder Larry Harvey wrote the Ten Principles as a guideline for regional groups who meet year-round, which illustrate Burning Man's values that have evolved since the event first was held.
This is why Jensen has not been happy with the "trustafarians" culture. "These are rich 24 year olds that try to have private camps. All that nonsense is not part of the Principles, which celebrate the communal nature and kindness that abounds."
Franco Cefalo
With everyone dressed in flamboyant, colorful and sexy burner wear, finding the Burning Man "Gayborhood" can be a challenge. "Nevertheless, LGBTQ folks are everywhere and pretty indistinguishable from any other burner," quipped Franco Cefalo, who has attended for 13 years.
Cefalo has stayed at a variety of camps, including The French Quarter, (looks like New Orleans) and Kostume Kult (gives away costumes). "And I've run my own camp for a few years. This time, our camp 3DBJ, has a 'Baywatch' theme, with two art cars that look like jet skis and one that is a lifeguard stand."
Cefalo, who has been with men and women, loves visiting the many LGBTQ-themed camps.
"I participate in the Naked Pub Crawl every year, which stops at a number of gay camps along the route. I'm a wrangler, so I have a megaphone to alert people when it's time to move on to the next pub. It's fun."
Every camp has its own flavor and personality. "The sexy-themed camps are obvious, but my favorites are ones like Celestial Bodies, which is a welcoming space for people to gather, regardless of identity or orientation. It's a lovely, friendly vibe," Cefalo added.
While the Burning Man experiment is ever changing in pursuit of improvements and inclusiveness, "I can't imagine what the LGBTQ community would want that is any more inclusive than this place," emphasized Cefalo. "The one thing I'd like to see more of are women-based camps."
Richard Radiance
While Richard Radiance loves the Burning Man principle that encourages the individual to discover, exercise and rely on his or her inner resources, he feels the organization could help more people with limited incomes to attend.
"This is a for-profit, beautiful festival with a lovely bunch of subcultures attached to it, and a deeply spiritual history. But even church is a business. So is Burning Man. If I could change anything, I would make it cheaper, and make it easier for broke LGBTQIA kids to get out there. I would trade 20 European millionaires to give a couple of gay boys from South Central an opportunity to take a bike ride on the deep playa."
Radiance, who is bisexual, took his first experience at camp Wasabi Kisses as an opportunity to try on a new gender expression and identity. "I wore dresses and drag almost the whole week, and used they/them pronouns. My camp was extremely accommodating, and so were many people I met. It help me answer some questions I had about my own masculinity and gender identity."
Libby Higgins
With so much happening at every hour of the day, sometimes it's a bit hard to find the LGBTQ happenings. Bisexual production coordinator  Libby Higgins has been to Burning Man twice, staying with the camps, Whiskey and Dust and Black Rock Bakery.
"While I didn't search too hard, I found the LGBTQ culture to not be readily evident. My impression was that it seemed to be limited to specific camps, bringing like- minded people. That said, there are so many 'scenes' on the playa that it's impossible to experience them all!" she enthused.
Higgins continued: "Burning Man culture is so inclusive that to me it's impossible for it to feel exclusionary. But I felt like the visibility just isn't there. I thought I read the guide closely, but couldn't recall seeing many LGBTQ-specific events."
When she comes back again, Higgins would like to see improved accessibility for people of color and improved visibility for LGBTQ people.
Anthony Drew 
Anthony Drew had a "mesmerizing and awe inspiring" experience with his first Burn last year,  staying with Poly Paradise, one of the biggest camps, based out of Phoenix.
"It was about 17 years in the making! I felt like I was at an adult playground—you can have fun in so many different ways, be it singing, dancing, roller skating, telling people to fuck off, walking away from a conversation mid sentence and not looking back! These are things you cannot get away with in the default world!"
Drew enjoyed the fact that people were so open and loving there. "I made friends with this giant straight biker dude that I thought was going to kill me but just wanted to greet me with a hug. We had a beer everyday, he was my neighbor. He gave me my playa name, mamabear! It's fun for so many reasons."
Drew will definitely be back next year. "While Black Rock City may be de-commodified, getting there is not (tickets, flights, supplies, etc.) so every other year seems reasonable to attend. Besides, no one should have that much fun annually!"
Boots (Playa Name)
This will be Boots' eighth year at Burning Man. The most special moments she has experienced happened during the building of her camp's infrastructure.
"Setting up our large goedesic dome, our shade structures, our kitchen, our shower, etc. was amazing. Radical self-reliance and communal effort are two of the principles, and physically building a camp requires and expresses both of those initiatives," she said.
Boots has felt empowered working with a team of women and non-binary people. "To build that without the assistance of cis-men, who are generally the dominant ones society associates with the ability to do manual labor, is incredible."
It can be difficult to be at a non-LGBTQ-specific camp the way that it can be difficult to attend your heterosexual cousin's wedding, where every other guest appears to be heterosexual, acknowledged Boots.
"The experience of being the only queer at a camp can be alienating for some, which is why I think Camp Beaverton provides an important space on the playa. This is a  place where queer and non-binary people can come be around other queer women and non-binary folk."
Boots has never felt unsafe as a result of her sexual orientation or affiliation with Camp Beaverton. "There are many more camps for queer men than there are for queer women in the gayborhood, but this is also consistent with cities outside of burning man, where gay men tend to geographically cluster more than lesbians do."
Boots would like to see the Burning Man organization increase the number of LGBTQ people at the event, by offering more low-income tickets.
"When folks pass through the gate, they enter a city that utilizes a gift economy," she noted. "However, getting there requires quite a bit of participating in the capitalist economy. It generally costs thousands of dollars, between the ticket price and all the food and gear it takes to sustain yourself on the playa," she stated.
"Making the event more affordable to demographics who are screwed over in the default world by the gender/sexuality/racial wage gap, would be immensely helpful.
Turning pain into positive & using art as therapy – Carl Hopgood
He knew he wanted to embark on a path toward a "bold, exciting life" among other "creative people" while "doing amazing things and living"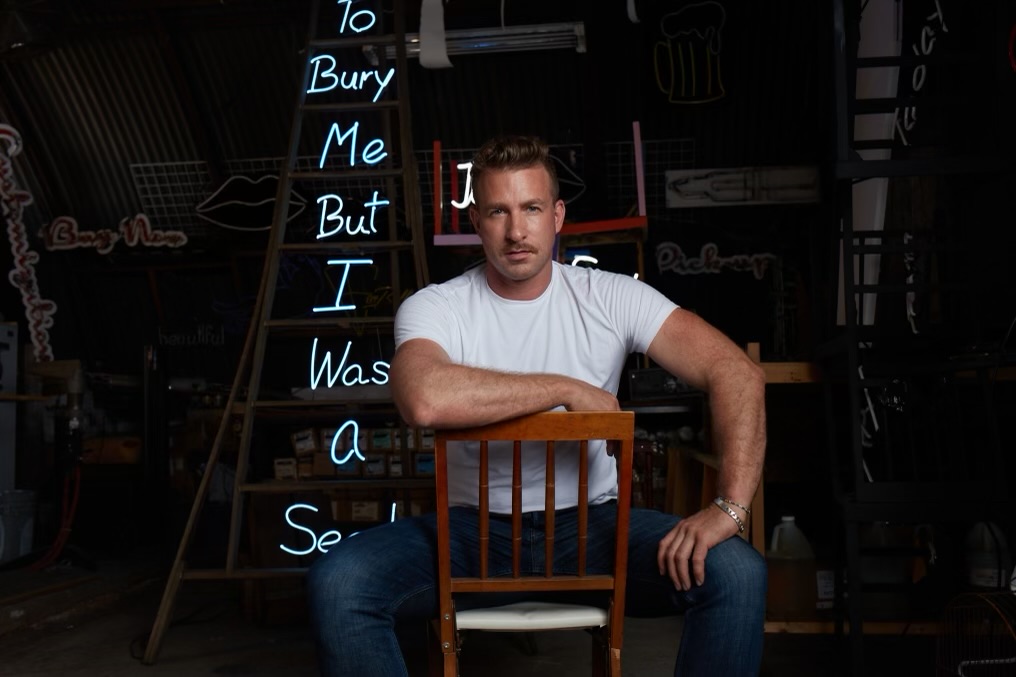 LOS ANGELES – Like many people born with an inclination toward creative expression, Carl Hopgood has known from a very young age that he wanted to be an artist.
Growing up on a small farm in rural Wales, the Cardiff-born Hopgood spent his childhood surrounded by animals and nature, letting his imagination run wild and creating worlds he envisioned with baskets, fruit boxes, flowers, stones, tabloid clippings, and other items that struck his fancy. Then, at 7, he was invited to spend an afternoon with his best friend, whose cousin was visiting; that cousin happened to be Richard Burton, and he happened to be accompanied by his even more famous wife, Elizabeth Taylor.
Hopgood was not just star-struck, he was inspired.
"My world was never the same after that day," he tells the Blade. "They told stories about Hollywood, London, glamorous parties, movies, photography… and Andy Warhol! Andy Warhol was my first artist crush. He was also born on a farm, so I felt an immediate connection."
After that experience, he knew he wanted to embark on a path toward a "bold, exciting life" among other "creative people" while "doing amazing things and living."

Four decades and one continental transplant later, it can safely be said that Hopgood has accomplished his goal.
A successfully established LA-based artist, he's created a unique body of work that includes pieces in Neon, Sculpture, Film / Video Installation, and canvas painting; his collectors include Morgan Freeman, Eugiono Lopez, The Vinik Family Foundation, The Groucho Club and Rupert Everett; and recent exhibitions of his work – like his neon art installations 'Looking For Love In All The Wrong Places', 'My Heart Is Open', and 'You Changed My Life' at the Maddox Gallery in West Hollywood, and 'Chair Therapy' at United Talent Agency's UTA Artspace LA – have garnered a flurry of enthusiasm and increasing national attention.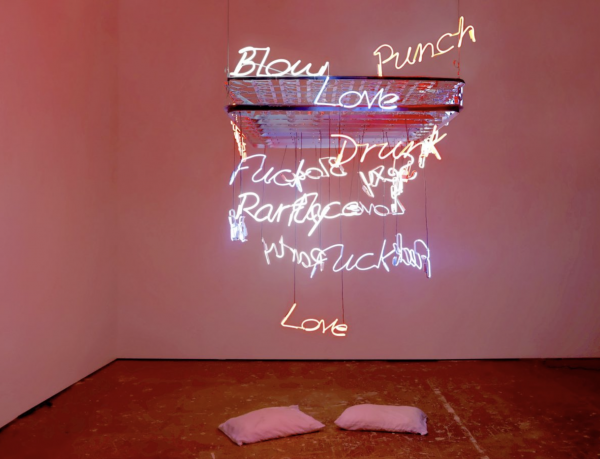 The latter installation created a particular stir with its inclusion of a controversial neon sculpture called "Just Say Gay", Hopgood's response to the draconian anti-LGBTQ legislation championed by Florida Governor Ron DeSantis; that work was acquired by prominent collector Beth Rudin DeWoody and will be on display from December 2023 at her Bunker Art Space in West Palm Beach, Florida.
When talking with the Blade, Hopgood is keen to focus the discussion on a new goal – the completion of a documentary about the creation of "Chair Therapy" – but he's certainly willing to start the conversation by talking about the sense of queer defiance behind "Just Say Gay" and many of his other works, because the two subjects go hand in hand.
"Being a gay man of Welsh and Greek heritage," he proudly proclaims, "the fight against bullying, repression, injustice and discrimination became central themes of my artistic expression."
As he explains, that fight is rooted in a traumatic childhood experience. "I was bullied by classmates," he remembers. "They would chase after me, push me to the ground and kick me in the groin. I managed to escape and found sanctuary under a stack of chairs in the school assembly hall. The school therapist helped me cope by using a technique called Empty Chair Therapy, where you would talk to an empty chair about your feelings.
"I decided turn this pain into something positive and use art as my therapy."

Much later, the young Hopgood would be inspired by the confrontational aesthetic of Damien Hirst – after reading a scathing criticism of one of his works in the paper – and follow in the controversial artist's footsteps to Goldsmiths College in London, eventually becoming part of a movement with fellow graduates like Steve McQueen, Jason Martin, Ceal Floyer, Angela De La Cruz and Alessandro Raho.
"It was an incredible moment to be a young artist in 1990s London."
Nevertheless, after 20 years in the London art scene, he decided it was time for a change.
"I had just watched a documentary featuring David Hockney," he explains. "The freedom and possibility of David's work was clearly inspired by Southern California with its beautiful palette and open, sunny skies. It was a stark contrast to the gloomy weather of the UK, and the anxiety and depression that accumulated over the years. I had heard about the growing LA art scene –LACMA, MOCA and The Broad were beginning to attract an international audience – and I decided that moving to Los Angeles would be good for both my mental health and creativity."
The choice was a fortuitous one for him – "It was the perfect time to go," he says, "and I was ready to work in new mediums and expand my repertoire." Then, like the rest of us, he had to put all his plans indefinitely up in the air.
"In early 2020, when the pandemic hit," he tells us, "I would see all the bars and restaurants shuttered in West Hollywood. It was like a ghost town. Looking through the store front windows, all I could see were chairs stacked on top of each other – and that image took me straight back to my unhappy childhood."
He decided to use it for inspiration and began work on the first sculpture in the "Chair Therapy" series ("My Heart is Open") – which as he describes, addresses "toxic masculinity, oppression and queer identity, themes I've always championed."
Those themes are doubtless also at least partly behind his desire to see the planned documentary – titled "Fragile World" – reach fruition. Filmed during the pandemic, it profiles Hopgood by charting his personal artistic journey, but centers on the development of "Chair Therapy", in which he combined found and vintage wooden chairs with neon lights shaped into positive words to provide hope, love and support for a community who were hardest hit by Covid and the shutdowns it necessitated.
"Seeing those stacked chairs and tables, in those empty establishments, I knew some would be forced to close for good. I felt so helpless, but I knew there was something I could do."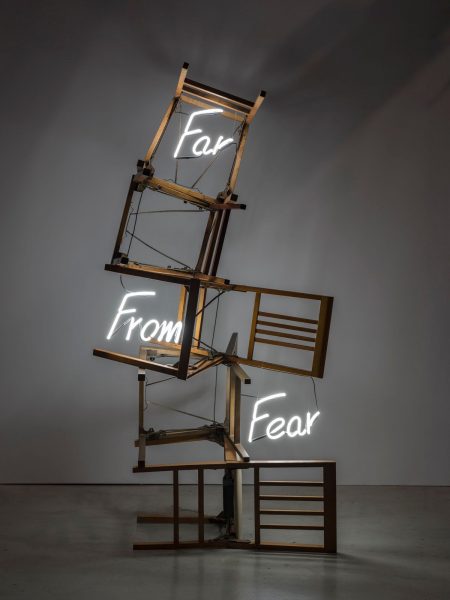 Now, with his own hard-hit community – alongside many others – facing aggressive legislative oppression from the extremist right, he's determined to see the film finished, so that the same empowering message of optimism embodied in his work can be spread to a larger audience as a reminder not to let the bullies break their spirit. To that end, the documentary's director and producer, LA-based British filmmaker Kate Rees Davies, has set up an Indiegogo campaign to raise the funding necessary to finish the project.
Another motivation, perhaps even more personal, might be found in Hopgood's revelation of a hidden influence in another work from the "Empty Chairs" series: "Twelve Steps", which explores the massive financial success of a California citrus industry made possible by the hard work of a segregated Mexican immigrant labor force. "I was also inspired in that piece by a line from Greek poet Dinos Christianopoulos," he says, "who was sidelined by the Greek literary community in the 1970s because he was gay. It's a small but powerful couplet which was included in the collection 'The Body and the Wormwood' that reads, 'What didn't you do to bury me, but you forgot that I was a seed.'"
For Hopgood, perhaps, the documentary also represents a seed, one that he himself has planted in hope of spreading its positive power into the world – and he's counting on the support of his patrons through Indiegogo for the water, light and nourishment it requires to grow.