Utopian Queers of Burning Man
Whatever your brand of an ultimate world, you will find yourself in the desert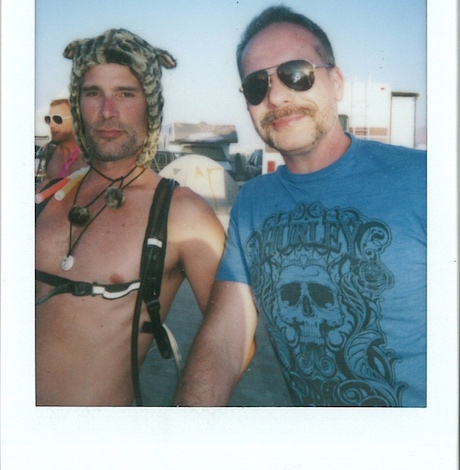 "Most men and women lead lives at the worst so painful, at the best so monotonous, poor and limited that the urge to escape, the longing to transcend themselves if only for a few moments, is and has always been one of the principal appetites of the soul."
― Aldous Huxley, The Doors of Perception/Heaven and Hell
For many people, hearing the words "Burning Man" conjures up a dusty interlude somewhere in the desert near Black Rock, Nev. And yet, each year, thousands of people from around the world come together to build, live and demolish a diverse town.
Black Rock City is unlike any other place in the world, with employees and citizens who build an exquisite, commerce-free place in just one week.
Whether you are a virgin burner or a veteran, Burning Man is a cathartic, life changing experience. The Los Angeles Blade talked to attendees about their participation.
Jose Caballer
"That first burn was a journey of discovery," reminisced queer-ish graphic design expert Jose Caballer, who co-founded Node Republik, one of the many wildly creative camps with Jesse Grushack.
"I had brought with me pillows, shade, costumes, a little tribal drum, jewelry— all that symbolized where I was in my journey. "That Tuesday on a playa journey, I was gifted the keys to the doors of perception. I accepted and proceeded to take a journey of initiation."
Where the burlap shade structure Caballer built became a filter for the rays of sunlight, the drum became a bridge to his Caribbean ancestry and taught him how to play.
"And that the center was the fire, the heart and the edges was the conversation, the community. I played with campmates at Mardi Gras as if I was channeling the spirit of Tito Puente. I went to a talk on Sacred Geometry at Red Lighting, to yoga and meditation. I danced, skated, pillow fought and attended a non-sexual nudity workshop that I stumbled on at a physics talk. It was an explosion of new ideas, new ways of being and a world I knew existed but didn't even know I was looking for."
David Jensen
"It's a challenge just to go," noted five-time attendee David Jensen, who is part of The Pink Fuzzy Monkeys camp, an art camp with activities every afternoon, like Titty Twister and Homo Hoe Down.
"One plans for months, you don't just show up! And that's both a blessing and a challenge."
Jensen says the queer community is a key element/foundation to Burning Man. "I feel COMPLETELY accepted and supported…it doesn't matter who you are there, as long as you're kind, empathetic, and live your life in a non-judgmental and accepting way."
The queer business entrepreneur is intrigued by this year's theme: Metamorphosis. "Meta= next chapter. Being that I am about to create my latest startup, it's the perfect place for me to get inspired."
Back in 2004, co-founder Larry Harvey wrote the Ten Principles as a guideline for regional groups who meet year-round, which illustrate Burning Man's values that have evolved since the event first was held.
This is why Jensen has not been happy with the "trustafarians" culture. "These are rich 24 year olds that try to have private camps. All that nonsense is not part of the Principles, which celebrate the communal nature and kindness that abounds."
Franco Cefalo
With everyone dressed in flamboyant, colorful and sexy burner wear, finding the Burning Man "Gayborhood" can be a challenge. "Nevertheless, LGBTQ folks are everywhere and pretty indistinguishable from any other burner," quipped Franco Cefalo, who has attended for 13 years.
Cefalo has stayed at a variety of camps, including The French Quarter, (looks like New Orleans) and Kostume Kult (gives away costumes). "And I've run my own camp for a few years. This time, our camp 3DBJ, has a 'Baywatch' theme, with two art cars that look like jet skis and one that is a lifeguard stand."
Cefalo, who has been with men and women, loves visiting the many LGBTQ-themed camps.
"I participate in the Naked Pub Crawl every year, which stops at a number of gay camps along the route. I'm a wrangler, so I have a megaphone to alert people when it's time to move on to the next pub. It's fun."
Every camp has its own flavor and personality. "The sexy-themed camps are obvious, but my favorites are ones like Celestial Bodies, which is a welcoming space for people to gather, regardless of identity or orientation. It's a lovely, friendly vibe," Cefalo added.
While the Burning Man experiment is ever changing in pursuit of improvements and inclusiveness, "I can't imagine what the LGBTQ community would want that is any more inclusive than this place," emphasized Cefalo. "The one thing I'd like to see more of are women-based camps."
Richard Radiance
While Richard Radiance loves the Burning Man principle that encourages the individual to discover, exercise and rely on his or her inner resources, he feels the organization could help more people with limited incomes to attend.
"This is a for-profit, beautiful festival with a lovely bunch of subcultures attached to it, and a deeply spiritual history. But even church is a business. So is Burning Man. If I could change anything, I would make it cheaper, and make it easier for broke LGBTQIA kids to get out there. I would trade 20 European millionaires to give a couple of gay boys from South Central an opportunity to take a bike ride on the deep playa."
Radiance, who is bisexual, took his first experience at camp Wasabi Kisses as an opportunity to try on a new gender expression and identity. "I wore dresses and drag almost the whole week, and used they/them pronouns. My camp was extremely accommodating, and so were many people I met. It help me answer some questions I had about my own masculinity and gender identity."
Libby Higgins
With so much happening at every hour of the day, sometimes it's a bit hard to find the LGBTQ happenings. Bisexual production coordinator  Libby Higgins has been to Burning Man twice, staying with the camps, Whiskey and Dust and Black Rock Bakery.
"While I didn't search too hard, I found the LGBTQ culture to not be readily evident. My impression was that it seemed to be limited to specific camps, bringing like- minded people. That said, there are so many 'scenes' on the playa that it's impossible to experience them all!" she enthused.
Higgins continued: "Burning Man culture is so inclusive that to me it's impossible for it to feel exclusionary. But I felt like the visibility just isn't there. I thought I read the guide closely, but couldn't recall seeing many LGBTQ-specific events."
When she comes back again, Higgins would like to see improved accessibility for people of color and improved visibility for LGBTQ people.
Anthony Drew 
Anthony Drew had a "mesmerizing and awe inspiring" experience with his first Burn last year,  staying with Poly Paradise, one of the biggest camps, based out of Phoenix.
"It was about 17 years in the making! I felt like I was at an adult playground—you can have fun in so many different ways, be it singing, dancing, roller skating, telling people to fuck off, walking away from a conversation mid sentence and not looking back! These are things you cannot get away with in the default world!"
Drew enjoyed the fact that people were so open and loving there. "I made friends with this giant straight biker dude that I thought was going to kill me but just wanted to greet me with a hug. We had a beer everyday, he was my neighbor. He gave me my playa name, mamabear! It's fun for so many reasons."
Drew will definitely be back next year. "While Black Rock City may be de-commodified, getting there is not (tickets, flights, supplies, etc.) so every other year seems reasonable to attend. Besides, no one should have that much fun annually!"
Boots (Playa Name)
This will be Boots' eighth year at Burning Man. The most special moments she has experienced happened during the building of her camp's infrastructure.
"Setting up our large goedesic dome, our shade structures, our kitchen, our shower, etc. was amazing. Radical self-reliance and communal effort are two of the principles, and physically building a camp requires and expresses both of those initiatives," she said.
Boots has felt empowered working with a team of women and non-binary people. "To build that without the assistance of cis-men, who are generally the dominant ones society associates with the ability to do manual labor, is incredible."
It can be difficult to be at a non-LGBTQ-specific camp the way that it can be difficult to attend your heterosexual cousin's wedding, where every other guest appears to be heterosexual, acknowledged Boots.
"The experience of being the only queer at a camp can be alienating for some, which is why I think Camp Beaverton provides an important space on the playa. This is a  place where queer and non-binary people can come be around other queer women and non-binary folk."
Boots has never felt unsafe as a result of her sexual orientation or affiliation with Camp Beaverton. "There are many more camps for queer men than there are for queer women in the gayborhood, but this is also consistent with cities outside of burning man, where gay men tend to geographically cluster more than lesbians do."
Boots would like to see the Burning Man organization increase the number of LGBTQ people at the event, by offering more low-income tickets.
"When folks pass through the gate, they enter a city that utilizes a gift economy," she noted. "However, getting there requires quite a bit of participating in the capitalist economy. It generally costs thousands of dollars, between the ticket price and all the food and gear it takes to sustain yourself on the playa," she stated.
"Making the event more affordable to demographics who are screwed over in the default world by the gender/sexuality/racial wage gap, would be immensely helpful.
Michael Kearns, the Godfather of LGBTQ+ authenticity
Michael's work has been described as "collisions of sex and death, of eroticism and grief," but he has truly dug to an even deeper level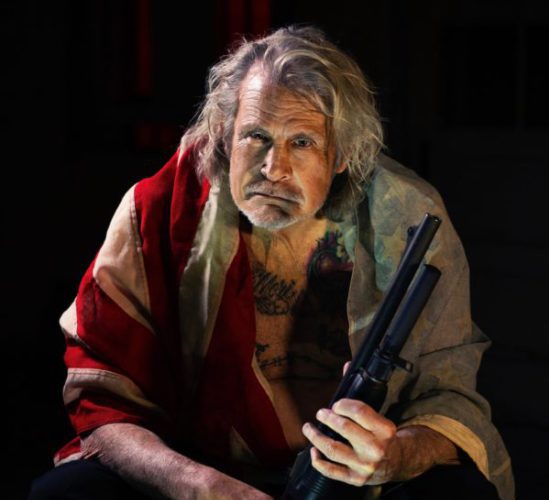 HOLLYWOOD – The arc of LGBTQ+ history over the past 50 years has been one of constant upheaval and evolvement. From a period when it was both illegal and insane to be gay, through the achievement of being able to serve openly in the military, to marriage equality and the ability to create families to today's fight against the tyranny against Trans people, the movement has not stopped to take a breath.
Michael Kearns, the first recognized "out" actor on the Hollywood landscape, has been a visible presence through it all. More importantly, he has always" been visible on the gay scene. In the seventies he epitomized the free love and erotic freedom that many gay men lived. He was featured in classic gay porn movies and did a PR stint as the face of the "happy hustler."
"That was my introduction to a lot of people," Michael told me when we sat down for a chat on Rated LGBT Radio. "I kind of captured the zeitgeist of the times, the freewheeling seventies. We forget that there was that period of time when sexuality was joyful and exciting and thrilling."
In the eighties he was visible in mainstream media as a gay man playing gay men characters. In 1983, Michael was cast in a minor role on the Cheers Emmy winning episode "the Boys in the Bar." He was instantly recognized for his gay sexual iconic status by LGBTQ audiences, even though the population at large did not know who he was. The casting director who fought for his casting was Stephen Kolzak, who would himself become a prominent AIDS activist before he died at 37 in 1990. Stephen casted Michael to make a statement. He wanted to signal to the LGBTQ community that Cheers had our backs. "He was one of the only ones that had the guts," Michael remembers.
"There were a lot of stereotypes in television regarding gay portrayals. I was pegged and cast in some of those roles. I did play the stereotype, but rather than a straight guy playing those roles, I brought authenticity. I was real. Straight guys playing gay would always spoof the role. They were always 'winking' and signaling to the camera 'I am not really that way.' So, the performances are by in large horrible, even with some academy award winners. The actors were constantly saying that it was not who they were—if they weren't making that clear on the talk shows, they were doing it in the performance itself.' Michael says.
Michael soon morphed into an HIV positive man playing HIV positive characters, while off camera becoming a visible and vocal AIDS activist. "It was a new kind of cliché. They had to always make me look horrible. The ghastlier the better. They could not have an HIV character who looked normal—as I did when I arrived at the set. Finally, I had enough and refused to do that anymore." Michael then immersed himself in theater where he found greater character honesty and truth.
As gay men captured their identities in the 90s as husbands and fathers, Michael was there too—becoming one of the first gay men to adopt a child. It is that role, as a father, that Michael has said is his greatest.
Today, Michael has been a driving force behind QueerWise, a multigenerational writing collective and performance group. Through QueerWise, Michael gives poetic voice to talent that would otherwise be voiceless. Its members include published poets, writers of fiction and non-fiction, playwrights, singers, musicians, social activists, dancers, actors artists and teachers.
This weekend, on Sunday October 17th, QueerWise launches its latest work, The Ache for Home.
"The Ache for Home is a video presentation of heartfelt stories from formerly homeless/unhoused individuals in and around West Hollywood. It was developed through a mentorship program facilitated by QueerWise members. The production represents citizens-turned-writers who share their inspirational stories from those glamorous streets and sidewalks, ranging from soaring self-acceptance to narratives of truth-telling defeats," states Michael. The production can be seen on QueerWise's YouTube Channel starting 5pm October 17.
The Ache for Home features a young cis male with a passion for music and art, who finds joy "when I can put a smile on someone's face and give back", a retired mixed race bisexual government worker who is a voracious reader and literacy advocate, two trans males share their experiences of living on the street, and a former resident playwright who was homeless for 44 days and nights in the city. "I am thrilled at our inclusion of transmen in this work," Michael says. "It is a poorly represented community within a poorly represented community."
On current controversies with media and transgender targeting, particularly the Dave Chappelle issue, Michael remarks, "I am glad it is generating passion. It is bringing up conversation on the plights of black trans women who are victimized at an alarming rate, we should not say victimized… we should say murdered. I am glad we are shedding light on that."
Michael's work has been described as "collisions of sex and death, of eroticism and grief," but he has truly dug to an even deeper level. The Ache for Home takes its inspiration from the Maya Angelou quote, "The ache for home lives in all of us, the safe place where we can go as we are and not be questioned." Michael Kearns work has always encouraged us to go, and live, "as we are." He is the amalgamation of eroticism, grief, healing, and appreciating the richness of life itself.
He is the godfather of LGBT+ authenticity. In earlier days, he may have represented sex, he may have walked us through a period of darkness and death into the arms of the creation of the new family. He has now brought us home, and when we look at him, we see a new quality.
Wisdom.
********************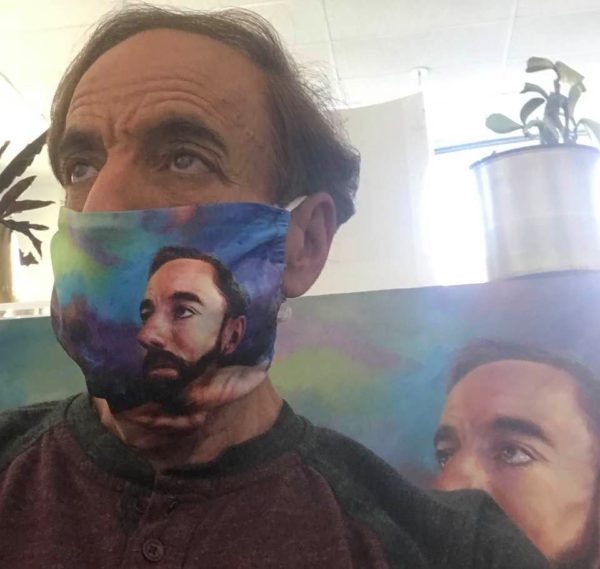 Rob Watson is the host of RATED LGBT RADIO, a national podcast and he's one of the founders of the evolequals.com.
A gay dad, business man, community activist and a blogger/writer, Watson is a contributor to the Los Angeles Blade covering entertainment, film, television, and culture with occasional politics tossed in.
********************
Listen to the show here:
Schock treatment: an interview with Gina Schock of the Go-Go's
Drummer on her new book and upcoming Hall of Fame induction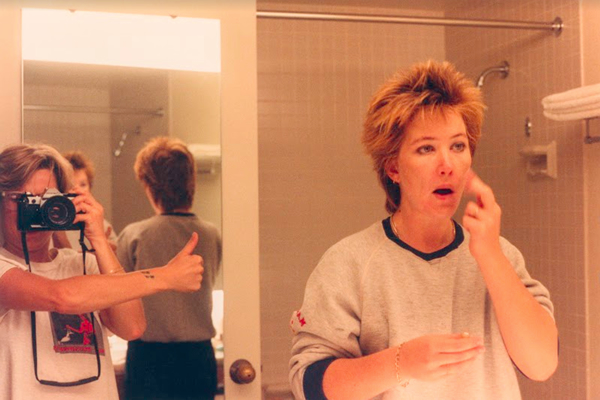 Too much of the Go-Go's is never enough. In the 40 years since the all-female punk band burst on the scene with its unforgettable debut album "Beauty and the Beat" to some of the band members' solo careers that followed its break-up to its ongoing reunion and the eye-opening 2020 documentary about the band, we just can't get our fill.
But wait, there's more! Gina Schock, the Go-Go's legendary drummer (she's got the beat!), has just published a sensational coffee-table book, "Made In Hollywood: All Access with the Go-Go's" (Black Dog & Leventhal Publishers, 2021) that features photos from Schock's own stock, as well as her own personal recollections of her life in music. She made time for an interview before the publication of the book as well as the Go-Go's long-awaited induction into the Rock and Roll Hall of Fame later this month.
GREGG SHAPIRO/WASHINGTON BLADE: I'd like to begin by congratulating you, as well as the rest of the Go-Go's, on your upcoming induction into the Rock and Roll Hall of Fame. How do you feel about it?
GINA SCHOCK: It took so long for this to happen, and at first we were sort of like, "Hell's bells! We don't even care anymore." Every year, we'd think "Maybe it's gonna happen next year," and it just wasn't happening. Then it happens! We were all dumbfounded. We couldn't really believe that we were nominated and then we got inducted! Everybody was pleasantly surprised. This is kind of great, kind of neat. I'm really happy about this now [laugh].
BLADE: At the same time, your memoir "Made in Hollywood: All Access with the Go-Go's," is being released. What did the experience of writing such a book mean to you?
SCHOCK: Actually, Gregg, it's not a memoir. Kathy (Valentine) wrote a memoir. Mine is actually a book of photography.
BLADE: Right, but you also tell your story in the book.
SCHOCK: There's a lot of writing in it, too. But I basically put this together because I had tons and tons of photographs. I've been moving them all over. Putting them in the closet here, under the bed there. I was like, "I have to do something with this. All these years of taking photos of the band." Of course, everybody in the band was like. "Gina, you really need to put a photo book together!" I finally found the right guy to do it with and he helped me get it together, organize it, and help me work on the book. I couldn't believe that along with the list of my credits will be photographer and author. It's kind of mind-blowing. Things that you don't think you're capable of, and then when you have an opportunity to do something and maybe make a difference…certainly for The Go-Go's. This needed to be out there. This is way long overdue; a book of photos with all of us. Photos that I've had that people have never seen. Also, you're getting these photos from a band member's perspective. With writing from one of the band members about what was going on during that period of time.
BLADE: I'm sure that looking at the pictures brought back lots of memories, but were you also a journal or diary keeper?
SCHOCK: Check this out! I don't have a journal, but since 1978, Gregg, I have been keeping daily planners every single year. I've written down things that were going on during that time period. Not big, long stories, but this happened today, that happened yesterday, next week we're going to be doing this. I used that as my reference. It was invaluable in the process. I now need to make room for them in the closet. I've got them all in drawers in cabinets in my office. It's like, "OK, there's no more room here [laughs]!" They were invaluable, like I said, in putting this together. What exact date did this happen? What was going on in November of '83? It was important to have.
BLADE: Do you see the book as an extension of Alison Ellwood's 2020 Go-Go's documentary?
SCHOCK: No, but I'll tell you that 99% of the photos in Alison's documentary are mine.
It's not an extension of that. This book has been in the works for decades. I just needed to find the right person to help me get it together. But when Alison was interviewing, I'd show her a photo and she would say, "Gina, can we come back and get some of these photos for the documentary?" I was like, "Of course, you can!" The majority of what you saw are my photos.
BLADE: The book is full of marvelous personal history details, such as performing with the late Edith Massey, known to many from her performances in some of John Waters' movies. What do you think Edie would think of the book?
SCHOCK: She would be, [imitating Massey] "Oh, Gina, I'm so happy about your book! Finally, it's about time!" Bless her heart and soul. I was doing an interview yesterday and I said, "If it wasn't for Edie, I don't know if The Go-Go's would exist. Certainly not in the way that they have for the last more than 40 years. Things happen in a magical way, how it all comes together. No one really knows why somebody meets someone on that particular day at that particular time, and then something comes out of that that you can't believe. Edie gave me the opportunity to come out to LA and San Francisco and New York and actually play in clubs. We got to play at Max's Kansas City and CBGB's; what a thrill that was. Then to come to LA and do three nights of the Nuart Theater and then play The Warfield up in San Francisco. That was the first time I'd ever been on a plane! After doing that with Edie, the minute I got back to Baltimore I realized it was time to make a move. It gave me the courage to believe that I could go back to any one of these places and I'm going to do something! By the way, Edie was such a lovely person. A sweetheart.
BLADE: Another scoop for the readers that I loved was the part about the Go-Go's performing with ska in the early 1980s, leading to the collaboration with Terry Hall on the song "Our Lips are Sealed," which was a much bigger hit for the Go-Go's than for Terry's band Fun Boy Three. Do you know how he felt about that?
SCHOCK: I have no idea how he felt, but I'm sure he was happy because all Terry Hall was hearing was "ka-ching, ka-ching, ka-ching [laughs]." I think Terry was quite happy about that. I would be. When Jane brought in the song, she was scared to death to play it for us because it was basically like a love letter that she readjusted a little bit lyrically and put some chords and a melody to. She played it for us, and we were like, "Jane, this song's great!"
BLADE: We are all saddened by the recent passing of Charlie Watts, drummer for the Rolling Stones. In your book, you wrote about the Go-Go's opening for The Rolling Stones. Can you please say a few words about what Charlie meant to you as a fellow drummer?
SCHOCK: There were two drummers that were my heroes growing up. That was Charlie Watts and John Bonham (of Led Zeppelin). Those two guys are part of the reason I started and kept playing drums. To think that many years later I actually got to meet my hero and talk to him. I got to sit on his drum kit! I talked to his drum tech!
That was one of the biggest thrills of my life. Then to be able to just open for the Stones, I mean, God! Wow, what a thrill! He was, of course, a gentleman. Very quiet kind of guy; soft-spoken. A lovely guy; very personable, very sweet. I didn't have a lot of time to talk to him, but when I did my heart was pounding. I couldn't believe it. Meeting David Bowie was the same sort of thing. You have such adoration for these people. The impact they have on your life in many ways, not just musically.
BLADE: You put some personal thoughts and experiences in the book, including your open-heart surgery to correct an atrial septal defect, yours and the band's encounters with drugs and recovery, the break-up of the band and issues with songwriting revenue. Was it painful or freeing to revisit these subjects?
SCHOCK: It was a little bit of both. It brought up some really heavy things that went down. But all those things have been ironed out and taken care of. Everything is good now and it has been for many years. The songwriting splits were a big part of why the band broke up. It seemed very unfair to me. I have to tell the truth [laughs]. I have to be honest with the people that I'm working with. They are my family, and nobody can hurt you worse than somebody in your family. I think I explained it all in the book the best that I can.
BLADE: Following the original break-up of the Go-Go's, you formed the band House of Schock with Vance DeGeneres, brother of Ellen DeGeneres. What are the chances that, aside from the Smothers Brothers, two funny people would come from the same womb?
SCHOCK: Yeah, right [laughs]? It's crazy, right? Vance was fresh out of New Orleans and I don't know how I met him; (through) a friend of a friend or something. We hit it off right away. I don't like to do anything by myself, Gregg. I always want a partner in crime. I like a team! That's why I always want to be in a band. I never want to be a solo anything. I like being in a band. I like having other people to bounce ideas off of. I'm not the greatest at anything, but I'm pretty good when you put me with somebody else who's talented as well. Vance and I worked great together. Ellen had just come to town and she was just starting out in the comedy clubs. We'd meet and have dinner. She'd ask me lots of questions about who I thought was a good agent to see. It was very sweet to watch everything happen for her. One of the funniest things, I told this to somebody the other day, I'll never forget this. Ellen said to me, "Gina, do you think if I make a lot of money one day, would you sell me your house [laughs]?" I don't remember what I said, but I'll never forget her asking me that. Because Ellen could buy a city block!
BLADE: In 2018, the Go-Go's went to Broadway with the musical Head Over Heels, featuring the band's music. What was that experience like for you?
SCHOCK: That was another unbelievable moment being in the Go-Go's. To think that this punk band, so many years later, has a musical on Broadway is absurd. But it happened! It's another crazy thing that just happened! There's a lot of work involved, don't get me wrong, and years and years of being in this band and working our butts off to achieve the status that we have in the industry. But it was still an incredible thrill. To meet all the Broadway actors and all, my God, those people can really sing and act! I was never a big fan of Broadway, but I am now. I was knocked out! They're so fucking talented. It's such a thrill to watch them interpreting our songs woven into this 17th-century short story.
BLADE: Recently, Belinda's son (James) Duke (Mason), posted a happy birthday message to you on social media in which he referred to you as his "Auntie."
SCHOCK: Yes! I love Dukie! I watched that little boy grow up. I just adore him. I will always be in his life. He's very precious to me.
BLADE: When Duke came out, Belinda became a very outspoken advocate for the community. Would you mind saying a few words about your connection to the LGBTQ+ community?
SCHOCK: I don't know what my relationship really is. All I know is that I'm who I am. I'm a musician and I will fight for anything or anybody that has had a difficult time in society. Just live your life. Society creates its own do's and don'ts and rights and wrongs for people, which is just a load of crap to me. Everyone should be allowed to be who they are, and love who they want to love, and marry who they want to marry. Love is love; it has no gender. It's the most important thing we can give to one another. It's what this world needs now more than ever. Never think for a second you haven't got the right to love whomever you fall for because love is always right. It is a human right!
Everything you need to know about WorldPride 2021
Party in Scandinavia with the happiest people on Earth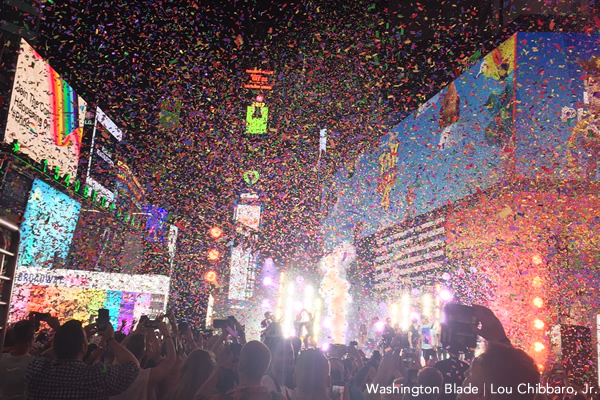 By Mikey Rox| NEW YORK – It's been two years since Stonewall 50 – WorldPride NYC 2019 became the largest international Pride celebration in history, but the "bye" year of 2020 wasn't due to the pandemic.
The global celebration has been held every odd-numbered year since 2017 given its massive logistical undertaking (with sporadic celebrations in 2006, 2012 and 2014 before then), and WorldPride Copenhagen – Malmö 2021 couldn't have come at a better time.
Hundreds of thousands of cooped-up queer revelers and allies will flock to the twin host cities in Denmark and Sweden, respectively, from Aug. 12-22, to party with the happiest people on the planet, a delightful distinction provided to the Scandinavian countries by the United Nations' famous World Happiness Report. (The United States ranked No. 19 in the most recent report, FYI.)
So what's in store for this year's all-out progressive-flag-flying festival? Read on for more.
Two LGBTQ anniversaries in Denmark
If you can believe it, it's been 70 years since Danish doctors in 1951 performed the world's first successful genital reconstruction surgery, a medical marvel that provided hope to transgender people the world over. This year is also the 50th anniversary of the founding of the Gay Liberation Front's Danish chapter, which has been instrumental in blazing trails toward equality for the country. Look how far it's come.
Opening ceremonies kick off in Copenhagen
In conjunction with Copenhagen Pride, WorldPride will officially start late afternoon on Aug. 13, but in adherence with COVID-19 protocols the opening ceremony won't be held in WorldPride Square (at least not as of press time; things could – and probably will – change). That potential snafu notwithstanding, Denmark welcomes vaccinated U.S. travelers, and if any testing is needed, both PCR and antigen tests will be available free to everyone, including tourists, 24/7. Copenhagen is OPENhagen again.
WorldPride Square will be open for the rest of the fest
WorldPride Square, a makeshift village of sorts (similar to the Olympics) located within Copenhagen's main square, will provide a gathering place for all attendees that have traveled far and wide. LGBTQ+ and non-governmental organizations spanning the globe will set up shop in the square to greet pedestrians, provide information, and invite folks to get involved. Art exhibits also will be a centerpiece of the village, alongside a street-food market and bars with plenty of space to relax.
EuroGames will be held simultaneously
If you enjoy watching athletes compete in variety of sports that range from boxing and badminton to dancing and dodgeball, add the spectator-friendly EuroGames to your list of to-dos while you're in Copenhagen. If you want to get hands-on, consider signing up to become a volunteer at the games, to be held Aug. 18-20; EuroGames' website is currently accepting those applications.
Spread out and explore other WorldPride villages
While WorldPride Square will serve as the jump-off for the 10 days of festivities, other available villages will allow crowds to spread out and explore their individual interests. In addition to Sports Village for EuroGames athletes and fans, other villages will focus on kids and families, youth, women, and the queer community, among others. Programs and content of these villages will be target-audience specific but open to everyone.
You might have a brush with royalty
Mary, Crown Princess of Denmark, Countess of Monpezat, is patron of Copenhagen 2021, making her the first-ever royal to serve in the role for a major LGBTQ+ event. Say hi if you spot her; she knows a queen when she sees one.
Despite pandemic protocol, the show will go on
Organizers have said in an official statement that despite some COVID-19 restrictions, they're "continuing to plan for full delivery of all Copenhagen 2021 events taking into account the guidance and recommendations" of government agencies. Doubling down, organizers have promised they will not cancel or postpone events.
Now there's only one thing left to do: Let's go!
Mikey Rox is an award-winning journalist and LGBT lifestyle expert whose work has been published in more than 100 outlets across the world. Connect with Mikey on Instagram @mikeyroxtravels)