Anti-LGBT Republican Rep. Duncan Hunter indicted
Will voters in the 50th Congressional District care?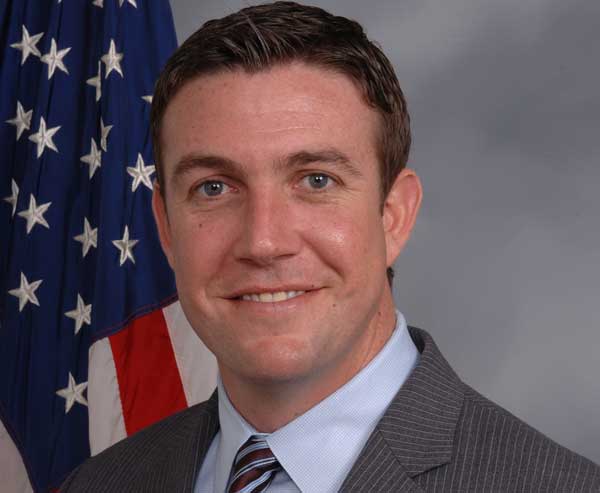 It's an odd trifecta. For a good part of the day, cable news focused on split-screen coverage of two trials with enormous political consequence: Donald Trump's former campaign manager Paul Manafort and Trump's former personal lawyer Michael Cohen were found guilty of eight felony counts each, with Cohen directly implicating Trump in two campaign finance crimes. Meanwhile, in San Diego, a federal grand jury indicted Republican Rep. Duncan Hunter and his wife Margret, his campaign manager, for misuse of campaign finances and wire fraud.
"The indictment alleges that Congressman Hunter and his wife repeatedly dipped into campaign coffers as if they were personal bank accounts, and falsified FEC campaign finance reports to cover their tracks," U.S. Attorney Adam Braverman said in a statement.  "Elected representatives should jealously guard the public's trust, not abuse their positions for personal gain. Today's indictment is a reminder that no one is above the law."
"Congressman Hunter believes this action is purely politically motivated," Michael Harrison, a spokesman for Hunter, told The Hill in an email. 
"The charges against Rep. Hunter are deeply serious. The Ethics Committee deferred its investigation at the request of the Justice Department," Speaker Paul Ryan said in a statement. "Now that he has been indicted, Rep. Hunter will be removed from his committee assignments pending the resolution of this matter."
The serious question for the republic now is: will voters care? Democrats trying to retake the House hope so. They've been working to win six solid Trump GOP seats with some Republican red districts starting to swing more into "toss-up" or "lean Republican" territory. But for all the volunteers who've turned out and all the money contributed to Ammar Campa-Najjar, the smart, former Obama administration official, Hunter's lock on the 50th Congressional District seemed assure—Larry Sabato's Crystal Ball has Hunter "safe" and up by 7 points. After all, it's a legacy seat: together Duncan Hunter and his father have held the seat for 40 years.
But last August, Hunter fans got a surprise—headlines saying the offices of his former campaign treasure had been raided by the FBI.
They seized computers and documents in their investigation into whether Hunter (R-Alpine) had violated campaign finances rules by using campaign funds for personal use. The search warrant was revealing. "It was the more than $1,300 in video game purchases by Hunter's campaign that first drew the attention of federal election officials and the San Diego Union-Tribune. Hunter blamed his son for the video game purchases, saying he had used the wrong credit card. Other unusual spending by Hunter's campaign included a now-infamous airplane ride for the family rabbit and payments to nail salons, his children's private school and a Phoenix resort," the Los Angeles Times reported at the time. 
Hunter told Politico he did nothing wrong, as if that was enough. "I was not involved in any criminal action," Hunter said. "Maybe I wasn't attentive enough to my campaign. That's not a crime." Hunter also has repeatedly pointed out that he reimbursed his campaign around $62,000 for money he used for such expenditures as oral surgery, gifts from Disneyland and a family trip to Italy.
Though he easily won his safe San Diego seat by nearly 27% in November 2016, his loose ethics and possible criminal behavior prompted six opponents in the June 2018 primary, including two Republicans. "We need to bring Integrity back to the 50th District. We cannot stand for this!" tweeted GOP challenger Andrew Zelt, who failed to make the top two in the jungle primary.
Democrat Ammar Campa-Najjar, a communications consultant, came in second with 17.5% to 47.4% for Hunter. Campa-Najjar noted that it was the first time Hunter received less than 50% of the vote in one of the most conservative districts in California. Voter registration in that district is 41.6% Republican, 27.4% Democrat and 25.13% no party preference.
San Diego voters have been aware of Hunter's alleged impropriety since at least March 2017 when the House said they were delaying their own investigation into Hunter in deference to the Department of Justice.
The Office of Congressional Ethics voted 5-0 to recommend that the committee review allegations concerning Hunter "because there is substantial reason to believe that Rep. Hunter converted campaign funds to personal use to pay expenses that were not legitimate and verifiable campaign expenditures attributable to bona fide campaign or political purposes," the San Diego Union-Tribune reported.
"Rep. Hunter has shown a blatant disregard for the rules, spending tens of thousands of dollars from his campaign for his personal benefit," Citizens for Responsibility and Ethics in Washington Executive Director Noah Bookbinder said in a statement at the time. "This is the most egregious Congressional spending scandal since Aaron Schock. We are glad to see the Office of Congressional Ethics voted unanimously for an investigation and will be closely following the FBI's criminal investigation in Congressman Hunter."
"Last year, Congressman Hunter became aware of expenditure issues confronting his campaign committee. Out of an abundance of caution, he took corrective action in consultation with the FEC and, ultimately, he and his wife personally repaid the campaign approximately $60,000," Hunter's attorneys said in response. "Congressman Hunter intends to cooperate fully with the government on this investigation, and maintains that to the extent any mistakes were made they were strictly inadvertent and unintentional."
At a town hall meeting, Hunter was unshaken by the irregularities. "I am not going to make excuses for it," he said. "It was my responsibility for my family, for the charges my kid made, that's on me….And I take responsibility for it. I fixed it, and as far as I am concerned, end of story."
And with that, Duncan Hunter Jr. resumed the congressional life he apparently inherited from his gratingly anti-LGBT father. Hunter senior, a "born-again" Baptist, was a staunch conservative "family values" congressional vote from 1981 to 2009. His son has had a zero rating from the Human Rights Campaign since he was elected.
But just how anti-LGBT is Duncan Hunter Jr? He actively seeks to set back LGBT civil rights. Hunter and Rep. Vicky Hartzler (R-Mo) set the stage for the anti-transgender servicemembers ban that Trump has been advocating since his tweet of July 26, 2017. Many viewed the team attack as another low bow to Trump—Hunter was the second member of Congress to endorse Trump after Rep. Chris Collins—who has been virtually maniacal about eliminating any clue of Barack Obama's presidency. The congressmembers declared that transgender open military service was part of Obama's social engineering of the armed forces after Defense Secretary Ash Carter ended the ban on June 2016. Trans troops started receiving medical care on Oct. 1, 2016 and changing their gender identifications in the Pentagon's personnel system.
In August 2017, Hunter and Hartzler led the House effort to pass an amendment to the annual defense policy bill to prohibit the Pentagon from paying for gender transition surgeries and hormone therapy as part of military's health care system. "Figure out whether you're man or a woman before you join," said Hunter. "U.S. taxpayers shouldn't have to foot the bill."
After some reported behind the scenes maneuvering by Sec. of Defense Jim Mattis, opposition from 24 Republican lawmakers and the refusal of Speaker Paul Ryan to bring the bill to the floor, the amendment was dropped. But that wasn't the end of it. The anti-LGBT team appealed to Vice President Mike Pence and along with Pence-whisperer, Tony Perkins of the Family Research Council and a few White House players, the trans ban was brought to Trump who tweeted out the new policy.
Hunter was thrilled. "The President's decision was the absolute right decision. National security should trump social experimentation, always. It's about time that a decision is made to restore the warrior culture and allow the U.S. military to get back to business," he posted on his official website on July 26, 2017.
Interestingly, before he caved into Trump's orders, Mattis did not object when Navy Sec. Spencer said
"any patriot" should be allowed to serve, echoing other commanders supporting their trans servicemembers. Equality California and the State of California filed a lawsuit to stop the trans ban, one of four such lawsuits nationally.
Interestingly, the Hunter's military service has been one of the attributes voters note when explaining their approval of him. But the federal grand jury indictment may change some minds. As Roll Call points out, the indictment notes that Hunter was unhappy about not getting a tour of a military base in Italy when he and his family visited—using campaign funds to pay for the trip—and said: "Tell the Navy to go f*** themselves."
The indictment also accuses Hunter of lying about campaign funds used as personal expenditures, saying the money was for "wounded warriors."
"Hunter tried to justify using campaign funds to pay for a family trip to Italy in November 2015 by visiting a Navy installation but was told that only a particular date was available, the indictment alleges. That's when he was reported to have made the offensive comment to his chief of staff," Roll Call reports. "To conceal the use of campaign funds to pay for the Italy trip, Hunter's wife Margaret told California Republican campaign treasurer that the charges were mostly 'military/defense' related." However, an email to a friend indicates the trip was a family-oriented.
"Hunter's wife also concealed a number of improper campaign expenditures by saying they were for wounded veterans. In March 2015, Hunter spent campaign funds buying shorts for himself. According to the indictment, Margaret counseled him to buy the shorts at a golf pro shop so that they could falsely describe the purchase later as 'some [golf] balls for the wounded warriors,'" Roll Call reports. She also spent $216.50 of campaign funds at Dick's Sporting Goods, telling the campaign treasurer she was buying goods for a wounded warriors dove hunting event.
Democratic Leader Nancy Pelosi says enough is enough. "The charges against @Rep_Hunter, one of @realDonaldTrump's first supporters in Congress, are further evidence of the rampant #CultureOfCorruption among the Washington GOP today," Pelosi tweeted Aug. 21. "@SpeakerRyan must call on Hunter to resign immediately."
LA County Parks winter classes are happening NOW!
Whether you're looking to learn a new skill, pick up a hobby or instrument or simply be more active, there's a class for everyone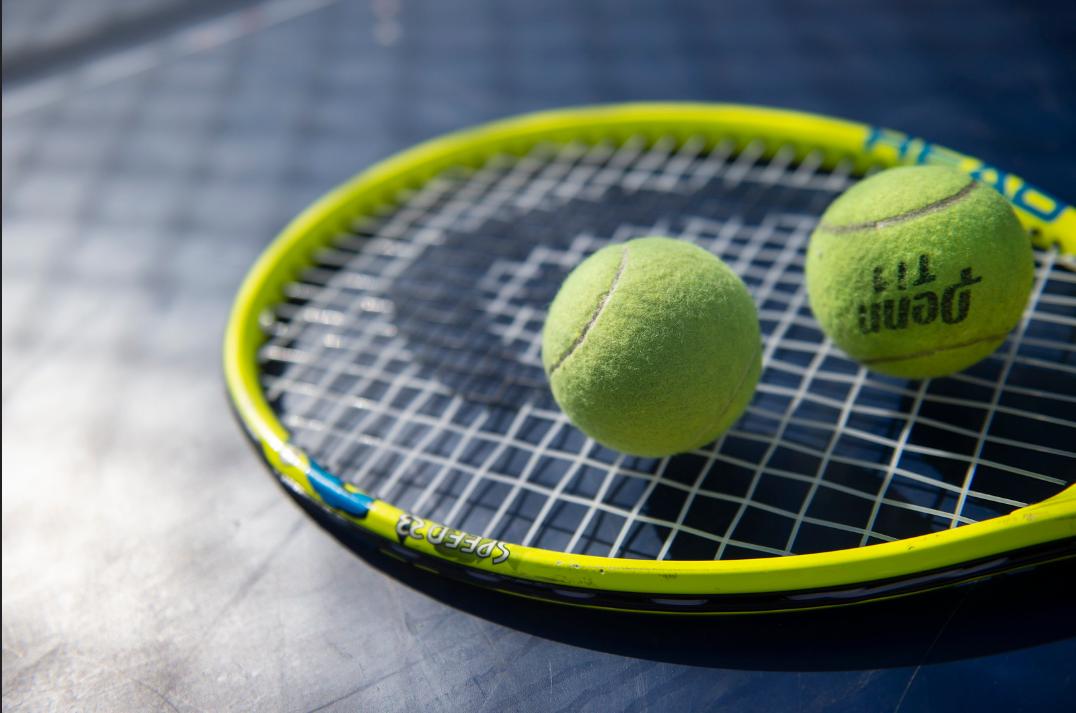 LOS ANGELES – LA County Parks is here to make your 2022 memorable. If you have not yet taken one of our classes, now is the time to register! Meet us safely outdoors at a park near you or join a class virtually from the comfort of your own home.
Whether you're looking to learn a new skill, pick up a hobby or instrument or simply be more active, there's a class for everyone. We offer a wide range of classes (held outdoors or virtually) for all ages.
Here are just a few of the many classes we offer!
Arts & Culture: Music Mondays Family & Me Music Class
Computers and Technology: Become a Roblox Developer
Exercise and Fitness: Morning Senior Stretching (Virtual), Adrienne's Salsa Cardio (Virtual) and Jay's Fitness 365 Athletes ️
Health & Wellness: Brain Fit for Work and Life (Virtual), Integrating Essential Oils into your Everyday Life (Virtual) , Sound Bowl Healing Meditation
Martial Arts: Karate and San Do Kai Karate
Performing Arts, Music & Culture: Acting for the Camera (Virtual) , Ballet and Tap Dancing, Ballroom & Latin Dance and Modern Middle Eastern Belly Dance
Special Interest Classes: Build, Paint & Race An Army Battle Tank, How to Become a Certified Livescan Provider (Virtual), Intro to Fashion Design (Virtual) , Parent & Child Red Cross CPR, First Aid, AED and more
Sports: Badminton, All Level Softball Clinics and European Tennis Academy

Our quick and easy 24/7 online registration system Active Net allows you to manage everyone's schedule through a single household account. Sign up for Winter Classes for yourself, partner and children from your smartphone or computer. To learn more about Active Net, visit parks.lacounty.gov/reserve/.
COVID-19 Safety Guidelines for In-person Classes:
The health and well-being of park guests and staff is our top priority. In accordance with LA County Public Health, currently masks are required at all times for all participants. Participants must maintain six feet physical distance from the instructor and staff at all times.
Follow LA County Parks on social media: Facebook @parks.lacounty.gov and Twitter/Instagram/TikTok @lacountyparks.
Share your experience using #LearnSomethingNew at #LACountyParks.  
We're Hiring! Become a LA County Pool Lifeguard!
Candidates will get paid for a 64-hour training which includes becoming certified though the American Red Cross in Emergency Medical Response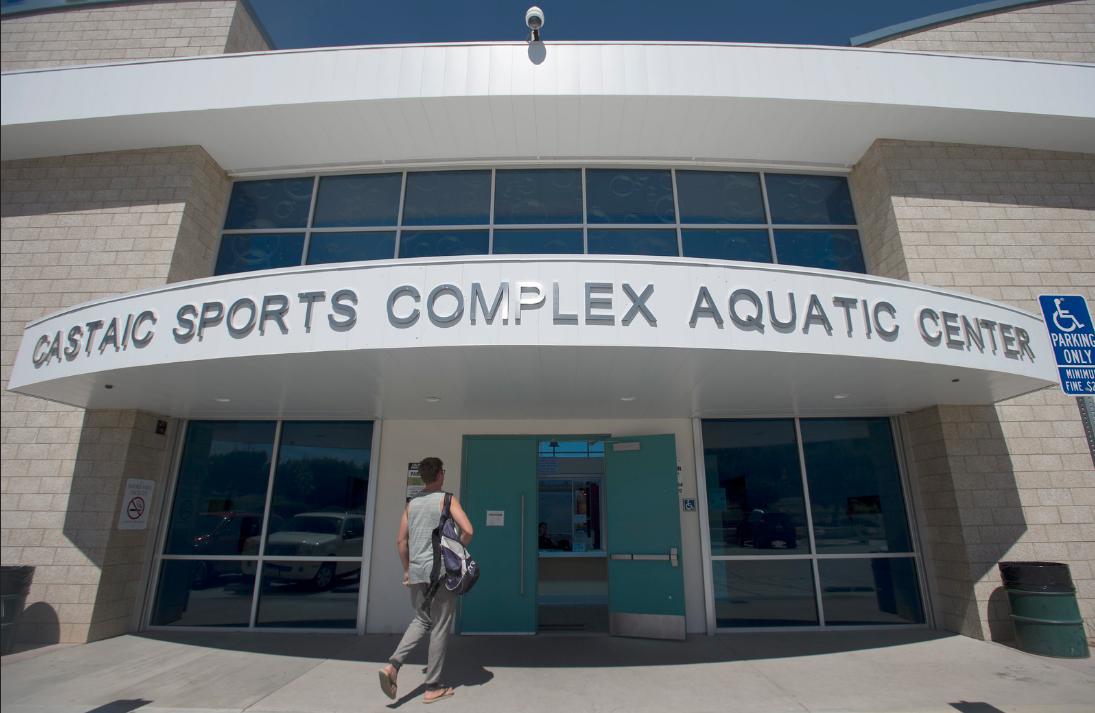 LOS ANGELES – LA County Department of Parks and Recreation is hiring! This summer, the Department aims to hire over 250 new lifeguards to work at our 30 aquatic facilities, all across LA County. Not only is lifeguarding a fantastic way to kickstart your career, but it's a great opportunity for young adults looking for part time employment while in school or looking for a career as a first responder.
Pool Lifeguards will receive a starting pay of $18.27, well above the minimum wage with opportunities to work year round. Applicants must be 17 years of age by time of appointment.
Those who meet the initial requirements will then be required to sign up and pass the Los Angeles County Swim Test. The Los Angeles County Swim Test consists of a 500-yard swim test that must be completed under 10 minutes. Upon completion of the test they will be invited to Pool Lifeguard Academy.
Candidates will get paid for a 64-hour training which includes becoming certified though the American Red Cross in Emergency Medical Response, CPR, AED, Lifeguarding, and First Aid.
Our Aquatics team is eager to help as many prospective candidates and interested students start a career path that can provide them with so many opportunities beyond lifeguarding!
Those who are interested in becoming a Pool Lifeguard are encouraged to attend an online "Open House" session to learn more about the position and answer questions.
VIRTUAL OPEN HOUSE SESSIONS: 
Session 1: January 19, 6pm tinyurl.com/mr36m9mn
or call in:+13237766996,,17084440#
Session 2: January 25,  5pm tinyurl.com/2p9a27ty
or call in: +13237766996,,573214358#
Session 3: January 26,  4pm tinyurl.com/5n8ks28c
or call in: +13237766996,,602797897#
Missing woman in WeHo, public's help sought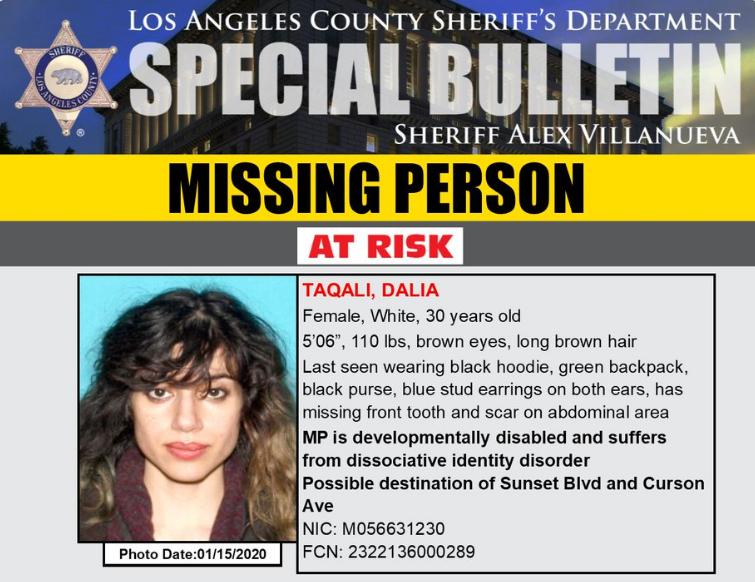 WEST HOLLYWOOD – The Los Angeles County Sheriff's Department is asking for resident's assistance in locating thirty-year-old Dalia Taqali who disappeared from West Hollywood Sunday night.
Taqali was last seen around 5 p.m. in the 1100 block of North Genesee Avenue, according to a news release from the Los Angeles County Sheriff's Department. Taqali is developmentally disabled and suffers from dissociative identity disorder, the Sheriff's Department stated.
Taqali's family is concerned for her well-being and is asking for help finding her.
Investigators said she may be headed near the area of Sunset Boulevard and North Curson Avenue in Hollywood.
Taqali stands 5 feet, 6 inches tall and weighs about 110 pounds with long brown hair and brown eyes.
She was last seen wearing a black hoodie, green backpack, black purse and blue stud earrings on both ears.
Authorities also said Taqali has a scar on her abdominal area and is missing a front tooth.
Anyone with information on her whereabouts is asked to call the Sheriff's Department at 323-890-5500. Those who prefer to remain anonymous can contact Crime Stoppers at 800-222-8477.
#LASD is Asking for the Public's Help Locating Missing Person Dalia Taqali, Los Angeles. Anyone with information is encouraged to contact the Los Angeles County Sheriff's Department's Missing Persons Unit at (323) 890-5500. pic.twitter.com/Uqw9yuG9Ro

— LA County Sheriffs (@LASDHQ) December 27, 2021