Navy Secretary Spencer says 'any patriot' should be allowed to serve
Trans policy update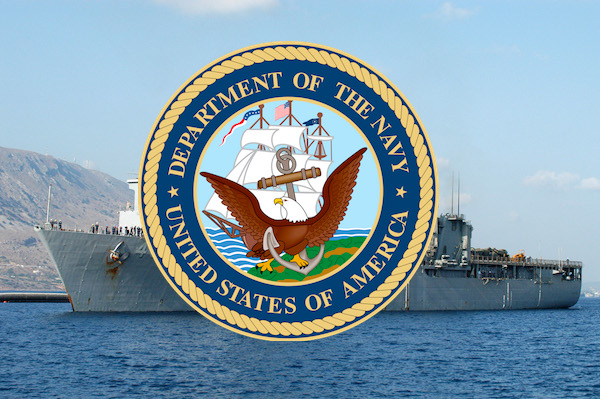 Friday morning, President Trump tweeted out his best Charlton Heston interpretation, upping the ante yet again in the escalating nuclear threat level against North Korean dictator Kim Jong Un. "Military solutions are now fully in place, locked and loaded, should North Korea act unwisely," he wrote.
The US and South Korea are about to engage in a pre-planned 10-day joint military exercise in an increasingly hostile environment where North Korea has threatened to fire missiles at Guam if the US doesn't de-escalate the rhetoric.
Despite the threat of a possible nuclear war, the ban on transgender military service continues to be an issue, no doubt unsettling to active duty trans service members, their allies and commanders. On Friday, August 11, recently confirmed Trump-nominated Navy Secretary Richard V. Spencer added his voice.
"We will process and take direction of a policy that is developed by the [Defense] secretary [with] direction from the president and march out smartly," Spencer told reporters Thursday night after visiting Naval Station Norfolk in Virginia, The Hill reported. "On a fundamental basis, any patriot that wants to serve and meets all the requirements should be able to serve in our military."
Spencer echoes remarks by Coast Commandant Adm. Paul Zukunft shortly after Trump tweeted July 26 that, after consultation with "my Generals and military experts," he was changing military policy to "not accept or allow" transgender people to serve "in any capacity."
"The first thing we did is we reached out to all 13 members of the Coast Guard who have come out" as transgender, Zukunft said at a Center for Strategic and International Studies event, citing Lt. Taylor Miller who is in the process of transitioning. "I told Taylor, I will not turn my back. We have made an investment in you and you have made an investment in the Coast Guard and I will not break faith," Zukunft said. "And so that was the commitment to our people right now. Very small numbers, but all of them are doing meaningful Coast Guard work today."
Last month, during his confirmation hearing, Spencer said the military should not be a "Petri dish for social experiments," adding "I totally believe that policy should be developed at the DOD level, and then discussed and socialized and deployed and then obeyed," which has been the process for lifting the trans ban.
"We have to work together, including all our service people, to make sure that they are given what they need, whether that be spiritually, whether that be psychologically, whether that's materialistically, to fight forward so that — so readiness is the key and lethality is the product," Spencer said.
After Trump's tweets, Gen. Joseph Dunford, Chair of the Joint Chiefs of Staff, said the military's transgender policy will remain unchanged until the White House sends the Pentagon an official directive.
On Friday, Aug. 4, the Los Angeles Blade reported, based on reliable anonymous sources familiar with the undertaking, that the White House had developed a new policy to comply with Trump's tweeted order. "A Guidance Policy for Open Transgender Service Phase Out" was certified by the White House Counsel's Office after repeated advice that it would result in lawsuits. The policy encouraged early retirement, would usher out any enlisted personnel at the end of their contract, and would fire trans officers up for promotion. The new Trump policy allowed trans service members to continue serving but without protection from discrimination or harassment and without transgender-specific medical care.
At the same time information about the new Trump policy emerged, Sec. of Defense Mattis distributed a memo reminding military service members about their ethical obligations. "I want our focus to be on the essence of ethical conduct: doing what is right at all times, regardless of the circumstances or whether anyone is watching," he wrote.
The Guidance was expected to be transmitted to the Pentagon the week of Aug. 7 but the threat of war, internal conflict within the White House and pushback from the military prompted the authors of the new Trump policy to revise it again. According to reliable sources familiar with the process, the Guidance has allegedly been weakened to soften criticism and be less open to legal challenge. The watered-down policy still forbids new transgender recruits or commissions and still prohibits coverage of transitioning or other medical costs. But active duty trans servicemembers will not be forced out at the end of their contracts or when they seek promotion.
It is unclear if Trump is aware of the revised policy ban with allegedly softened language—which will no doubt infuriate his Religious Right base that pushed strenuously for an outright ban. But at an impromptu news conference at his New Jersey vacation golf resort on Thursday, Trump indicated that execution of his new policy is proceeding.
"No, no, no. I have great respect for the community," Trump said, when asked if the ban was a betrayal of his campaign promise to protect LGBT people. "I think I've had great support, or I've had great support from that community. I got a lot of votes. But the transgender, the military's working on it now… It's been a very difficult situation and I think I'm doing a lot of people a favor by coming out and just saying it. As you know, it's been a very complicated issue for the military, it's been a very confusing issue for the military, and I think I'm doing the military a great favor."
In fact, LGBT voters rejected Trump by lopsided 4-1 margin, voting instead for the consistently pro-equality Democratic presidential candidate, Hillary Clinton. Additionally, trans service members have been serving openly without incident since the original ban was lifted by Defense Sec. Ash Carter in July 2016, after a year of study and deliberation.
Defense Secretary James Mattis, the Joint Chiefs of Staff and other top military leaders said they were blindsided by Trump's July 26 tweets announcing a complete transgender service ban. Mattis and the generals were also caught off guard by Trump's impromptu bellicosity towards North Korea.
Given the need for all hands on deck during this time of a heightened state of military readiness, Mattis has said he will deal with no personnel issues right now, effectively putting the ban or even the weakened trans military policy on hold until further notice.
Meanwhile, five transgender service members filed a lawsuit in the DC District court on Wednesday against Trump and Pentagon officials.  "It is critical to act now because the harms are happening now," said Shannon Minter, the legal director for the National Center for Lesbian Rights. "These service members deserve to know where they stand."
Assembly passes bill protects patients & providers from anti-choice states
AB 1666 protects patients and providers in California from civil liability judgments for providing reproductive health care to patients

SACRAMENTO — In a two-thirds vote Monday, the Assembly passed AB 1666, sponsored by Assemblymember Rebecca Bauer-Kahan (D – Orinda) which creates a legal shield up for California patients and providers from extremist anti-abortion laws from anti-choice states.
The language of the measure reads: "This bill would declare another state's law authorizing a civil action against a person or entity that receives or seeks, performs or induces, or aids or abets the performance of an abortion, or who attempts or intends to engage in those actions, to be contrary to the public policy of this state. The bill would prohibit the application of that law to a case or controversy heard in state court, and would prohibit the enforcement or satisfaction of a civil judgment received under that law."
We're out! #AB1666 just passed the Assembly floor with a 2/3rds vote. This bill puts a legal shield up for CA patients and providers from extremist anti-abortion laws from anti-choice states. #ABORTIONISHEALTHCARE @PPActionCA @acog @AAUW @eqca

— Asm Rebecca Bauer-Kahan (@BauerKahan) May 23, 2022
Planned Parenthood Affiliates of California Legislative Director Molly Robson told the Blade in an emailed statement Monday;
"AB 1666 will allow California providers to continue to provide essential and timely health care, like abortion, with decreased risks of potential liability when helping people forced to seek care here in California rather than in their home state due to hostile, extreme, and dangerous restrictions or outright bans. These precautions and protections are necessary given the increased hostility and frequency of abortion bans in other states seeking to target patients and providers. Taking this action now is crucial as we prepare for the U.S. Supreme Court to overturn Roe v Wade and unleash a flood of hostile bans in more than half the states."
Planned Parenthood Affiliates of California also noted that AB 1666 protects patients and providers in California from civil liability judgments for providing reproductive health care to patients when the claims are based on laws in other states that are hostile to abortion rights and are contrary to the public policy of California.
AB 1666 builds on a recommendation put forth by the California Future of Abortion Council recommendations released in a December report, in which Planned Parenthood Affiliates of California is a member of its "Steering Committee."
A spokesperson for Equality California, Jorge Reyes Salinas, told the Blade Monday afternoon;
"LGBTQ+ people are directly impacted by laws that undermine abortion care. The LGBTQ+ community overall often lacks access to inclusive and affirming health care, and in particular transgender men and nonbinary people who become pregnant face significant challenges when seeking reproductive care.  In addition, many of the clinics that provide abortions also provide hormones and reduced-cost reproductive care for transgender and nonbinary people, efforts to undermine these clinics directly harm the LGBTQ+ community.
AB 1666 is a critical safeguard against the wave of proposals that will harm the health and well-being of vulnerable populations across the country. To the extent that California can provide a refuge for people seeking critical care, we have a duty to do so."
Right-wing extremist provocateur threatens to 'hunt' LGBT supporters
He has a history of right-wing extremist short videos including a harassment campaign against an Arizona wig shop that serves cancer patients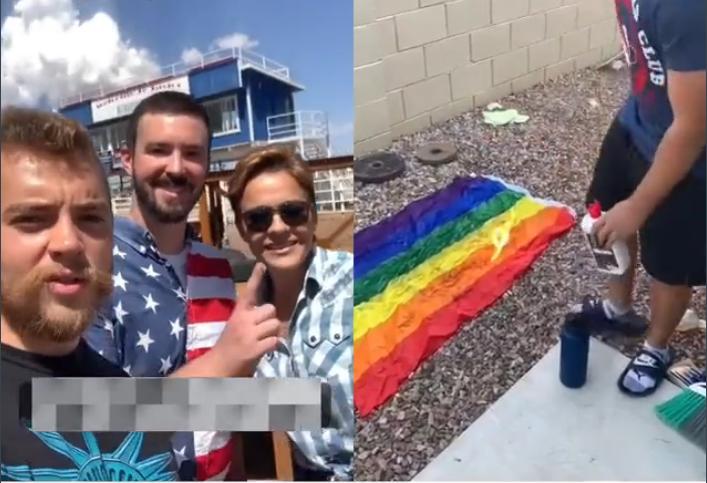 PHOENIX – A twenty-four year old right-wing extremist based in the metropolitan Phoenix, Arizona area, Ethan Schmidt, posted a short video of himself accompanied by Kyle Clifton who describes himself as "authoritarian Christian nationalist," driving in an undisclosed area announcing that he and Clifton will be "hunting 'LGBT supporters" and people in area Target retail stores.
The video captured by Twitter account Patriot Takes, which describes itself as a group of dedicated researchers monitoring and exposing right-wing extremism and other threats to democracy, first posted the video clip Saturday.
Ethan Schmidt, a right wing provocateur who has made videos with Kari Lake, Wendy Rogers, and Paul Gosar, warned Target he will "hunt LGBT supporters" in their stores and across Phoenix in June, stating they "are not safe" and they "can't hide." pic.twitter.com/O3ReHVN3qY

— PatriotTakes 🇺🇸 (@patriottakes) May 21, 2022
Schmidt has a history of making right-wing extremist short videos including a harassment campaign against an Arizona wig shop that serves cancer patients.
Sunny's Hair and Wigs, specialize in making wigs for women who have lost hair while getting treated for cancer and the store had implemented coronavirus pandemic protections including strict mask guidelines to ensure safety of their clients who are particularly vulnerable to infection.
Lisa Memberr, the owner of the shop had explained to local media outlets: "My customer base is very diverse," and she added, "Not only do I have Caucasians, I have Afro-Americans, I have Asians, I have Latin Americans."
Schmidt, who has ban banned by nearly all social media platforms including Twitter for spreading false and misleading COVID-19 pandemic information had been visiting numerous retail stores in the Phoenix area including Sunny's Hair and Wigs targeting those businesses that still require customers to wear mask. He invariably creates videos of his encounters which he uploads to right-wing social media and web sites that he hasn't been banned from.
In addition to his anti-mask campaign he has made videos with extremist conservative lawmakers including one with Arizona U.S. Republican Representative Paul Gosar telling antivaxxers "to stay the course."
Rep. Paul Gosar with Ethan Schmidt telling antivaxxers "to stay the course."

This is the new Republican Party. pic.twitter.com/Z0ogrq8nO4

— PatriotTakes 🇺🇸 (@patriottakes) May 21, 2022
He also filmed a short with Arizona State Senator Wendy Rogers who has established herself firmly as an anti-vax, anti-LGBTQ, right wing extremist.
Arizona State Senator Wendy Rogers made a video promoting Ethan Schmidt, who is now stating he will "hunt LGBT supporters" at Target and across Phoenix. pic.twitter.com/1CBmJGHYvN

— PatriotTakes 🇺🇸 (@patriottakes) May 21, 2022
Clifton is a leader of the America First Union, an openly white nationalist, antisemitic, "conservative youth" organization. He also promotes former President Donald Trump's big lie about the 2020 Presidential election being stolen by Democrats and President Joe Biden. Clifton also participated in the Arizona audit of the 2020 vote in Maricopa County, which state Sen. Rogers, had raised the visibility of her own political profile by insisting that Arizona's vote was stolen.
A semi-copy of the"American Populist Union" has been organizing under the name America First Union. The local chapter is led by the openly antisemitic Kyle Clifton of Peoria, AZ who describes himself as an "authoritarian Christian nationalist."https://t.co/OlyhxhK9kh

— AZ Right Wing Watch (@az_rww) October 8, 2021
Kyle Clifton is also obsessed with The Anti-Defamation League (see image above). He recently thought he went and filmed a rant in front of the Phoenix ADL headquarters, not realizing it has been long abandoned. pic.twitter.com/BjOxsme8fQ

— AZ Right Wing Watch (@az_rww) October 8, 2021
Last Fall Schmidt posed with Trump endorsed Republican candidate for Arizona Governor Kari Lake as he burned a LGBTQ+ Pride flag.
Kari Lake posed for an "Antimaskers Club" video with bigot Ethan Schmidt who burns rainbow flags.

This is who Trump endorsed. pic.twitter.com/mnTFqdjaAZ

— Resist Programming 🛰 (@RzstProgramming) September 28, 2021
GOP nominee for Pennsylvania governor, QAnon friendly & anti-LGBTQ+
"Only biological females can play on biological females' teams & you can only use the bathroom that your biology & anatomy says"
GETTYSBURG, Pa. – Republican leadership in the Keystone State are expressing quiet alarm over the emergence of radical-right state senator who secured his place as the party's nominee in the race against Democratic nominee for governor, Josh Shapiro, who is himself currently serving as the Commonwealth's attorney general.
Sen. Doug Mastriano, who represents Cumberland, Adams, Franklin and York counties in the south-central Pennsylvanian area bordering Maryland, was not seen as a truly viable candidate in the primary race to be the party standard-bearer until he was endorsed by former President Donald Trump.
Pennsylvania's gubernatorial race has serious implications for the outcome of the 2024 presidential election cycle as well. The Commonwealth is a strategic swing state and the occupant of the governor's chair in Harrisburg will lend considerable influence to a final vote count.
Mastriano is a polarising figure within the state's Republican party. The retired U.S. Army colonel has campaigned at political events that included QAnon adherents, he espoused a political agenda that embraced Trump's Big Lie about the 2020 election, rejected measures taken to protect Pennsylvanians including masks in the coronavirus pandemic, holding an anti-vaccine "Medical Freedom Rally" rally on the state Capitol steps days after declaring his candidacy for the GOP governor's primary race, and also mixing in messaging of Christian nationalism.
He also supports expanding gun rights in Pennsylvania and in the Senate sponsored a bill to ban abortion once a heartbeat is detected.
NBC News noted that Mastriano pledged in his election night address that on the first day of his administration he would crack down on "critical race theory," a catchall term Republicans have used to target school equity programs and new ways of teaching about race, transgender rights and any remaining Covid vaccine requirements.
"CRT is over," Mastriano declared. "Only biological females can play on biological females' teams," he added, and "you can only use the bathroom that your biology and anatomy says."
His anti-LGBTQ+ views have long been part of his personal portfolio. The Washington Post reported that twenty-one years ago while attending the Air Force's Air Command and Staff College in 2001, then Major Mastriano wrote his master's thesis on a hypothetical "left-wing 'Hitlerian putsch'" that was caused by "the depredations of the country's morally debauched civilian leaders." Among those "depredations," in his words, was the "insertion of homosexuality into the military."
As the Post reported, his paper shows "disgust for anyone who doesn't hold his view that homosexuality is a form of 'aberrant sexual conduct.'"
The paper is posted on an official Defense Department website and lists Mastriano as the author at a time when he said he received a master's degree from the school.
Two decades before he was Republican nominee for Pennsylvania governor, Doug Mastriano warned in a master's thesis that morally debauched political leaders weren't fit to oversee the U.S. military. https://t.co/NHOnijBng7

— The Washington Post (@washingtonpost) May 20, 2022
This is not the only instance of Mastriano professing anti-LGBTQ beliefs.
In 2018, he stated his belief that LGBTQ couples should not be allowed to adopt a child. During an interview with 103.7FM, when asked "should LGBTQ couples, i.e. two moms or two dads, be allowed to adopt?" Mastriano answered, "No." [This takes place at the 16:00 mark.]
NBC News interviewed David La Torre, a Republican and former adviser to fellow gubernatorial candidate Jake Corman.
"As far as what a Pennsylvania government would look like with Mastriano in charge, quite frankly, it's just not something I'm ready to think about at this point," La Torre said, adding that while there are many unknowns, the dynamic between Mastriano and the state Legislature, currently controlled by Republicans, would be one to watch.
"All I know is this — he will govern as governor like he campaigned," he said. "He would govern with a sledgehammer and expect Republicans to fall in line. And it would be one of the more fascinating tugs of war we've seen in Harrisburg."
Dave Ball, chairman of the Washington County GOP, told NBC News that Mastriano's victory was "a shame" for the party, the product of "a phenomenon that I truly don't understand." But any misgivings won't stop Ball from working toward the ultimate goal: taking back the governor's mansion, saying it's a must-win race. (The two-term incumbent, Tom Wolf, a Democrat, is term-limited.)
As if telegraphing the battles to come should he take the governor's chair, Politico reported: "Our biggest problem," said Mastriano on Steve Bannon's "War Room: Pandemic" podcast on Tuesday, "is going to be these feckless RINO-type Republicans here that will not allow us to have a fighter as governor. But we're going to beat them and they're going to lose power, and they're going to be put to shame."
Mastriano Lists Agenda As Governor During Pennsylvania GOP Nominee Victory Speech: