Navy Secretary Spencer says 'any patriot' should be allowed to serve
Trans policy update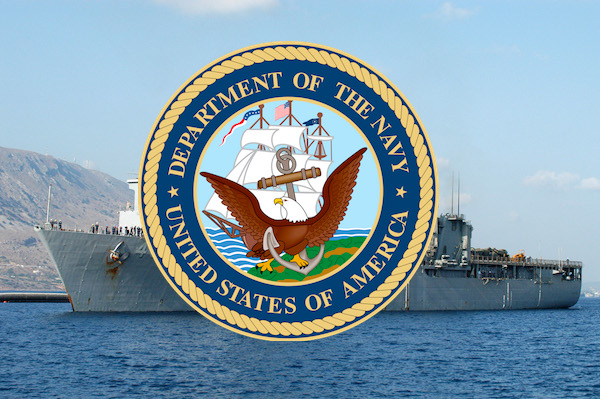 Friday morning, President Trump tweeted out his best Charlton Heston interpretation, upping the ante yet again in the escalating nuclear threat level against North Korean dictator Kim Jong Un. "Military solutions are now fully in place, locked and loaded, should North Korea act unwisely," he wrote.
The US and South Korea are about to engage in a pre-planned 10-day joint military exercise in an increasingly hostile environment where North Korea has threatened to fire missiles at Guam if the US doesn't de-escalate the rhetoric.
Despite the threat of a possible nuclear war, the ban on transgender military service continues to be an issue, no doubt unsettling to active duty trans service members, their allies and commanders. On Friday, August 11, recently confirmed Trump-nominated Navy Secretary Richard V. Spencer added his voice.
"We will process and take direction of a policy that is developed by the [Defense] secretary [with] direction from the president and march out smartly," Spencer told reporters Thursday night after visiting Naval Station Norfolk in Virginia, The Hill reported. "On a fundamental basis, any patriot that wants to serve and meets all the requirements should be able to serve in our military."
Spencer echoes remarks by Coast Commandant Adm. Paul Zukunft shortly after Trump tweeted July 26 that, after consultation with "my Generals and military experts," he was changing military policy to "not accept or allow" transgender people to serve "in any capacity."
"The first thing we did is we reached out to all 13 members of the Coast Guard who have come out" as transgender, Zukunft said at a Center for Strategic and International Studies event, citing Lt. Taylor Miller who is in the process of transitioning. "I told Taylor, I will not turn my back. We have made an investment in you and you have made an investment in the Coast Guard and I will not break faith," Zukunft said. "And so that was the commitment to our people right now. Very small numbers, but all of them are doing meaningful Coast Guard work today."
Last month, during his confirmation hearing, Spencer said the military should not be a "Petri dish for social experiments," adding "I totally believe that policy should be developed at the DOD level, and then discussed and socialized and deployed and then obeyed," which has been the process for lifting the trans ban.
"We have to work together, including all our service people, to make sure that they are given what they need, whether that be spiritually, whether that be psychologically, whether that's materialistically, to fight forward so that — so readiness is the key and lethality is the product," Spencer said.
After Trump's tweets, Gen. Joseph Dunford, Chair of the Joint Chiefs of Staff, said the military's transgender policy will remain unchanged until the White House sends the Pentagon an official directive.
On Friday, Aug. 4, the Los Angeles Blade reported, based on reliable anonymous sources familiar with the undertaking, that the White House had developed a new policy to comply with Trump's tweeted order. "A Guidance Policy for Open Transgender Service Phase Out" was certified by the White House Counsel's Office after repeated advice that it would result in lawsuits. The policy encouraged early retirement, would usher out any enlisted personnel at the end of their contract, and would fire trans officers up for promotion. The new Trump policy allowed trans service members to continue serving but without protection from discrimination or harassment and without transgender-specific medical care.
At the same time information about the new Trump policy emerged, Sec. of Defense Mattis distributed a memo reminding military service members about their ethical obligations. "I want our focus to be on the essence of ethical conduct: doing what is right at all times, regardless of the circumstances or whether anyone is watching," he wrote.
The Guidance was expected to be transmitted to the Pentagon the week of Aug. 7 but the threat of war, internal conflict within the White House and pushback from the military prompted the authors of the new Trump policy to revise it again. According to reliable sources familiar with the process, the Guidance has allegedly been weakened to soften criticism and be less open to legal challenge. The watered-down policy still forbids new transgender recruits or commissions and still prohibits coverage of transitioning or other medical costs. But active duty trans servicemembers will not be forced out at the end of their contracts or when they seek promotion.
It is unclear if Trump is aware of the revised policy ban with allegedly softened language—which will no doubt infuriate his Religious Right base that pushed strenuously for an outright ban. But at an impromptu news conference at his New Jersey vacation golf resort on Thursday, Trump indicated that execution of his new policy is proceeding.
"No, no, no. I have great respect for the community," Trump said, when asked if the ban was a betrayal of his campaign promise to protect LGBT people. "I think I've had great support, or I've had great support from that community. I got a lot of votes. But the transgender, the military's working on it now… It's been a very difficult situation and I think I'm doing a lot of people a favor by coming out and just saying it. As you know, it's been a very complicated issue for the military, it's been a very confusing issue for the military, and I think I'm doing the military a great favor."
In fact, LGBT voters rejected Trump by lopsided 4-1 margin, voting instead for the consistently pro-equality Democratic presidential candidate, Hillary Clinton. Additionally, trans service members have been serving openly without incident since the original ban was lifted by Defense Sec. Ash Carter in July 2016, after a year of study and deliberation.
Defense Secretary James Mattis, the Joint Chiefs of Staff and other top military leaders said they were blindsided by Trump's July 26 tweets announcing a complete transgender service ban. Mattis and the generals were also caught off guard by Trump's impromptu bellicosity towards North Korea.
Given the need for all hands on deck during this time of a heightened state of military readiness, Mattis has said he will deal with no personnel issues right now, effectively putting the ban or even the weakened trans military policy on hold until further notice.
Meanwhile, five transgender service members filed a lawsuit in the DC District court on Wednesday against Trump and Pentagon officials.  "It is critical to act now because the harms are happening now," said Shannon Minter, the legal director for the National Center for Lesbian Rights. "These service members deserve to know where they stand."
Marjorie Taylor Greene tweets homophobic attack on Sen. Wiener
"Greene is a toxic person & embodies why the MAGA movement is dangerous, a threat to our democracy & to the personal safety of LGBTQ people"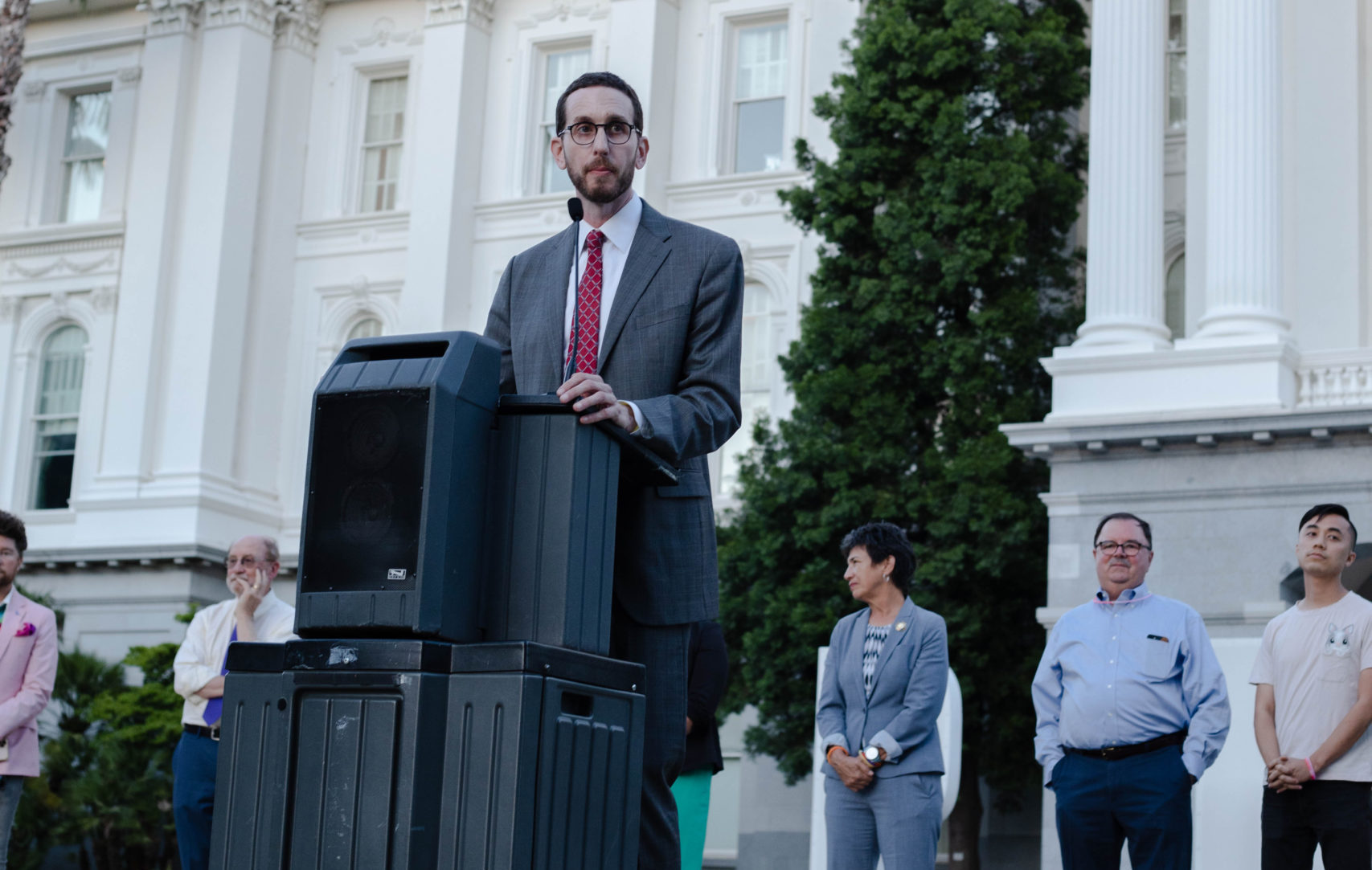 LOS ANGELES – Far-right Republican U.S. Rep. Marjorie Taylor Greene attacked Calif. State Sen. Scott Wiener, (D-San Francisco) on Tuesday after Wiener made a point of calling out use of the word "groomer," as the abusive reaction and fallout from right-wing sources regarding the mass-shooting at Club Q in Colorado Springs, continues to ratchet up against the LGBTQ+ community.
"The word "groomer" is categorically an anti-LGBTQ hate word. It's super homophobic/transphobic. It plays into the slander that LGBTQ people are pedophiles. It's no different than calling someone a fagg*t. If you call someone groomer, you're inciting violence against LGBTQ people," Wiener stated in his tweet.
Quoting Wiener's tweet the far-right MAGA Georgia congresswoman called the Senator a "communist" questioning Wiener's loyalty and service to both the State of California and the U.S. she then went on to accuse Wiener of being a "groomer" implying that the Senator was a predator of minors for sexual purposes:
"Pass my Protect Children's Innocence Act to stop communist groomers like this from using state government power to take children away from their parents to allow a for-profit medical industry to chop off these confused children's genitals before they are even old enough to vote."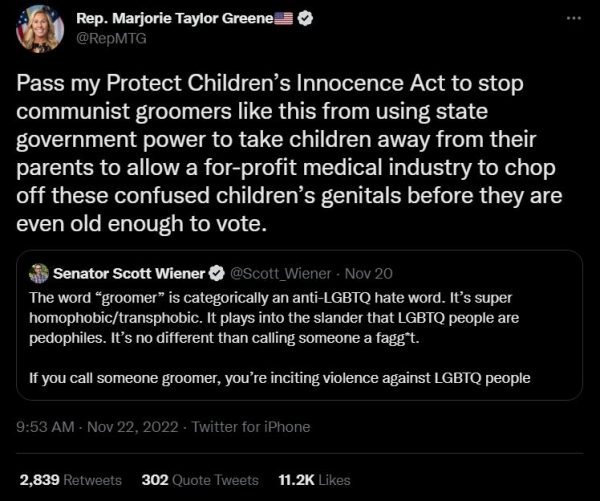 In an emailed statement, Senator Wiener responded to the homophobic attack by the Georgia Republican:
"The same day Elon Musk reinstated QAnon extremist Marjorie Taylor Greene, she launched a vile homophobic attack on me because of my vocal advocacy in response to the Club Q slaughter. When Greene has attacked me in the past, threats against me have typically increased. She is a toxic person and embodies why the MAGA movement is so dangerous. Green is a threat to our democracy and to the personal safety of LGBTQ people."
The term 'groomer' is considered highly offensive as it broadly brushstroke paints LGBTQ+ people as child molesters.
The definition according to the Urban online dictionary:
1 (the crime definition): An adult that builds a sense of trust with a minor to exploit and/or abuse them, typically (but not always) in a sexual manner. This is a crime, and it also causes harm to the minor.
2 (in US politics): What republican politicians and supporters refer to LGBTQIA+ people and their allies as, to manipulate their audience to pass anti-LGBTQIA+ legislation. This is targeting and harming LGBTQIA+ people and the people using the word in this manner typically are (or have connections with those who are) actual groomers.
National Public Radio, (NPR) reported this past May the Movement Advancement Project's executive director, Ineke Mushovic, pointed out:
"What the far right often does is they engage people's reptilian brains, the fight-or-flight instinct," says Mushovic. "And so it behooves far-right conservatives to put people in a state of fear, because then they're reactive. They don't support change."
The "grooming" narrative, Mushovic added, "taps into this primal sense of fear and this kind of parental protective instinct. But we know it's a completely false narrative."
The "grooming" narrative has been actively promoted by conservative activist Christopher Rufo, and Daily Wire pundit and transphobe Matt Walsh who have both attacked gender affirming care in their assaults on the LGBTQ+ community.
It took three days after the mass shooting at Club Q for the Daily Wire's Matt Walsh to blame the victims for the massacre. pic.twitter.com/08kitTdpMt

— Ari Drennen (@AriDrennen) November 22, 2022
Green's H.R.8731 – Protect Children's Innocence Act, was introduced this past August 19 and has forty-nine Republican members listed as co-sponsors. The language as introduced stated targets primarily Trans youth healthcare and targets colleges and universities from "offering instruction in gender affirming care:"
This bill places restrictions on the provision of gender affirming care. Gender affirming care includes performing surgery, administering medication, or performing other procedures for the purpose of changing the body of an individual to correspond to a sex that differs from the individual's biological sex.
Specifically, the bill makes it a felony to perform any gender affirming care on a minor and it permits a minor on whom such care is performed to bring a civil action against each individual who provided the care.
Additionally, the bill prohibits the use of federal funds for gender affirming care or for health insurance that covers such care. Such care may not be provided in a federal health care facility or by a federal employee. The bill also prohibits qualified health plans from including coverage for gender affirming care. Further, plans that include coverage for such care are not eligible for federal subsidies. […]