Navy Secretary Spencer says 'any patriot' should be allowed to serve
Trans policy update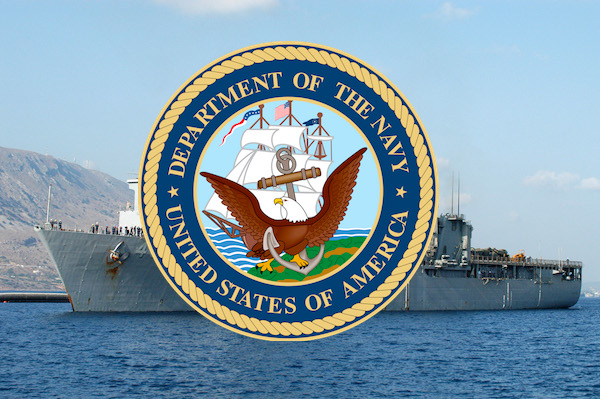 Friday morning, President Trump tweeted out his best Charlton Heston interpretation, upping the ante yet again in the escalating nuclear threat level against North Korean dictator Kim Jong Un. "Military solutions are now fully in place, locked and loaded, should North Korea act unwisely," he wrote.
The US and South Korea are about to engage in a pre-planned 10-day joint military exercise in an increasingly hostile environment where North Korea has threatened to fire missiles at Guam if the US doesn't de-escalate the rhetoric.
Despite the threat of a possible nuclear war, the ban on transgender military service continues to be an issue, no doubt unsettling to active duty trans service members, their allies and commanders. On Friday, August 11, recently confirmed Trump-nominated Navy Secretary Richard V. Spencer added his voice.
"We will process and take direction of a policy that is developed by the [Defense] secretary [with] direction from the president and march out smartly," Spencer told reporters Thursday night after visiting Naval Station Norfolk in Virginia, The Hill reported. "On a fundamental basis, any patriot that wants to serve and meets all the requirements should be able to serve in our military."
Spencer echoes remarks by Coast Commandant Adm. Paul Zukunft shortly after Trump tweeted July 26 that, after consultation with "my Generals and military experts," he was changing military policy to "not accept or allow" transgender people to serve "in any capacity."
"The first thing we did is we reached out to all 13 members of the Coast Guard who have come out" as transgender, Zukunft said at a Center for Strategic and International Studies event, citing Lt. Taylor Miller who is in the process of transitioning. "I told Taylor, I will not turn my back. We have made an investment in you and you have made an investment in the Coast Guard and I will not break faith," Zukunft said. "And so that was the commitment to our people right now. Very small numbers, but all of them are doing meaningful Coast Guard work today."
Last month, during his confirmation hearing, Spencer said the military should not be a "Petri dish for social experiments," adding "I totally believe that policy should be developed at the DOD level, and then discussed and socialized and deployed and then obeyed," which has been the process for lifting the trans ban.
"We have to work together, including all our service people, to make sure that they are given what they need, whether that be spiritually, whether that be psychologically, whether that's materialistically, to fight forward so that — so readiness is the key and lethality is the product," Spencer said.
After Trump's tweets, Gen. Joseph Dunford, Chair of the Joint Chiefs of Staff, said the military's transgender policy will remain unchanged until the White House sends the Pentagon an official directive.
On Friday, Aug. 4, the Los Angeles Blade reported, based on reliable anonymous sources familiar with the undertaking, that the White House had developed a new policy to comply with Trump's tweeted order. "A Guidance Policy for Open Transgender Service Phase Out" was certified by the White House Counsel's Office after repeated advice that it would result in lawsuits. The policy encouraged early retirement, would usher out any enlisted personnel at the end of their contract, and would fire trans officers up for promotion. The new Trump policy allowed trans service members to continue serving but without protection from discrimination or harassment and without transgender-specific medical care.
At the same time information about the new Trump policy emerged, Sec. of Defense Mattis distributed a memo reminding military service members about their ethical obligations. "I want our focus to be on the essence of ethical conduct: doing what is right at all times, regardless of the circumstances or whether anyone is watching," he wrote.
The Guidance was expected to be transmitted to the Pentagon the week of Aug. 7 but the threat of war, internal conflict within the White House and pushback from the military prompted the authors of the new Trump policy to revise it again. According to reliable sources familiar with the process, the Guidance has allegedly been weakened to soften criticism and be less open to legal challenge. The watered-down policy still forbids new transgender recruits or commissions and still prohibits coverage of transitioning or other medical costs. But active duty trans servicemembers will not be forced out at the end of their contracts or when they seek promotion.
It is unclear if Trump is aware of the revised policy ban with allegedly softened language—which will no doubt infuriate his Religious Right base that pushed strenuously for an outright ban. But at an impromptu news conference at his New Jersey vacation golf resort on Thursday, Trump indicated that execution of his new policy is proceeding.
"No, no, no. I have great respect for the community," Trump said, when asked if the ban was a betrayal of his campaign promise to protect LGBT people. "I think I've had great support, or I've had great support from that community. I got a lot of votes. But the transgender, the military's working on it now… It's been a very difficult situation and I think I'm doing a lot of people a favor by coming out and just saying it. As you know, it's been a very complicated issue for the military, it's been a very confusing issue for the military, and I think I'm doing the military a great favor."
In fact, LGBT voters rejected Trump by lopsided 4-1 margin, voting instead for the consistently pro-equality Democratic presidential candidate, Hillary Clinton. Additionally, trans service members have been serving openly without incident since the original ban was lifted by Defense Sec. Ash Carter in July 2016, after a year of study and deliberation.
Defense Secretary James Mattis, the Joint Chiefs of Staff and other top military leaders said they were blindsided by Trump's July 26 tweets announcing a complete transgender service ban. Mattis and the generals were also caught off guard by Trump's impromptu bellicosity towards North Korea.
Given the need for all hands on deck during this time of a heightened state of military readiness, Mattis has said he will deal with no personnel issues right now, effectively putting the ban or even the weakened trans military policy on hold until further notice.
Meanwhile, five transgender service members filed a lawsuit in the DC District court on Wednesday against Trump and Pentagon officials.  "It is critical to act now because the harms are happening now," said Shannon Minter, the legal director for the National Center for Lesbian Rights. "These service members deserve to know where they stand."
California Rep. Eric Swalwell on death threats from Tucker Carlson fans
"He does this because he knows that his followers will be inspired & radicalized & then aim their vitriol at whoever he is attacking"
WASHINGTON – Appearing on MSNBC's Deadline: White House, on Friday, U.S. Representative Eric Swalwell, (D) who represents California 15th which covers most of eastern Alameda County and part of central Contra Costa County, detailed the death and other threats he receives from fans of Fox News host Tucker Carlson.
"We receive hundreds of threats. What was specific about this was the caller identified he had just been watching Tucker Carlson. Now, we get a lot of threats that come in as Tucker Carlson attacks me, but this person identified he had just heard from Tucker Carlson. He was now calling my office and then of course dropped a number of racist, sexist, homophobic epithets in the call, and then threatened to kill my entire family," Swalwell said. "And what is so frustrating about this, Nicole, is that I have personally, eyeball to eyeball, asked Tucker Carlson not to lie about me on his show because of this effect."
"I've even in the last couple months sent a text message to him telling him when he lies about me on his show it results in death threats to me, my wife, and our family. And when he had people protesting outside his house just a couple years ago I went on Twitter despite not agreeing with almost anything he says and I said that that's wrong to go to his house and terrify his wife in the way that that happened. But he does this because he knows that his followers will be inspired and radicalized and then aim their vitriol at whoever he is attacking that day," the congressman added.
Tucker Carlson: "Biden declared biological man is now a female admiral"
"And so you have to ask yourself, how long will it be before Joe Biden appoints his horse to the Supreme Court"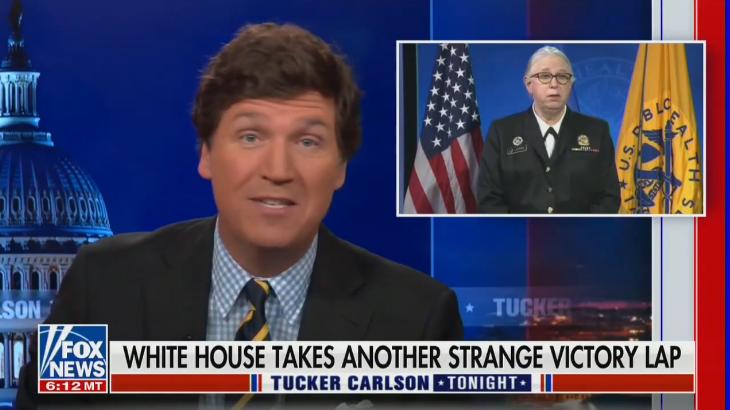 NEW YORK – In a diatribe delivered Thursday evening, Fox News and anti-LGBTQ celebrity Tucker Carlson called out the swearing in earlier this week of Admiral Dr. Rachel Levine as a commissioned officer in the uniform corps of the U.S. Public Health Service, (USPHS).
Levine, the U.S. Assistant Secretary for Health at the Department of Health and Human Services is now also in charge of the 6,000 uniformed personnel of the USPHS.
On his show last night Carlson said: "Behind the heavily guarded walls of the White House, everyone has gone crazy. Just this week the Biden administration declared that a biological man who wears a dress is now a female admiral.
"And then they sent that brave four-star female admiral out to deliver a speech that read like something out of a D-Day documentary.
"Come on. They're daring you to sit there and not say this is ridiculous. But it is, sorry. It is ridiculous. Sorry, not playing along!
"But they don't think it is. And so you have to ask yourself, how long will it be before Joe Biden appoints his horse to the Supreme Court?
"And when he inevitably does do that, you have to ask, how long will it be until CNN informs us, 'This is a watershed moment for equine rights.' Don't you dare laugh. That would be a hate crime."
Tucker Carlson Mocks Promotion of Transgender Admiral: 'How Long Will It Be Before Joe Biden Appoints His Horse to the Supreme Court?' https://t.co/Qg1Fj54thu

— Mediaite (@Mediaite) October 22, 2021
Mediate has the video here.
Trans candidate endorsed for state senate by EQ California & Victory Fund
"A victory for Lisa will shatter a long-standing political barrier in California and will be a milestone moment for the state"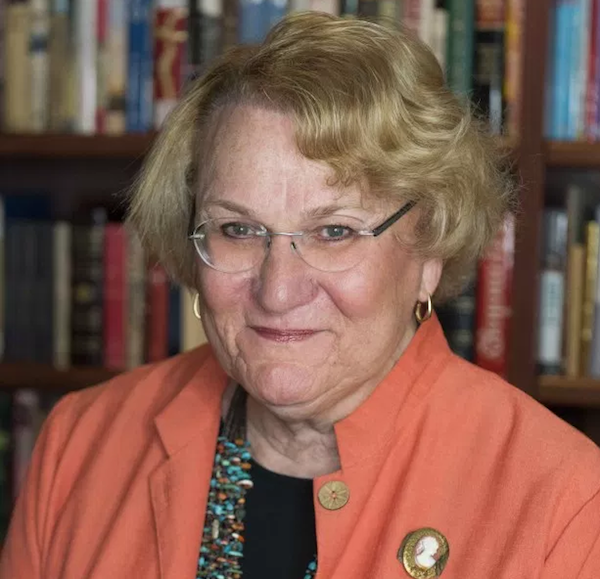 PALM SPRINGS –  Equality California and LGBTQ Victory Fund jointly announced their endorsements of Palm Springs Mayor Pro Tem Lisa Middleton in her race for California Senate District 28 Thursday.
The endorsements demonstrate an early commitment from the LGBTQ political community to elect Middleton, who would be the first out transgender state legislator in California history. In 2017, Middleton became the first out transgender person elected to a non-judicial position in California, when she won her race for Palm Springs City Council.
Only eight out transgender people have ever been elected to state legislatures in the United States. All are currently serving.
"Lisa Middleton is an accomplished leader who has made her region more inclusive, just and equitable," said Equality California Executive Director Tony Hoang. "That's why Equality California is thrilled to announce our early support for Lisa's campaign for Senate. The 28th District needs Lisa's courage, innovative thinking and unique ability to build coalitions in Sacramento, where she will be a trailblazing champion for full, lived equality while delivering critical resources to her community. We're with Lisa 100 percent and look forward to helping her make history once again as California's first transgender state legislator."
"A victory for Lisa will shatter a long-standing political barrier in California and will be a milestone moment for the state and the country," said Annise Parker, President & CEO of LGBTQ Victory Fund. "Yet Lisa is not running for state senate to be a trailblazer. She is a passionate public servant who brings solutions-oriented optimism to challenges big and small – from filling potholes to healthcare access to climate change. Her constituents' quality of life will always be the priority, but Lisa's election will also inspire a new generation of trans leaders to follow in her footsteps."
"I am deeply humbled and thrilled to receive the joint endorsements of Equality California and LGBTQ Victory Fund," said Lisa Middleton. "Since launching my bid for State Senate, the profound, extensive support I've received from the LGBTQ community has been a tremendous honor and boost to my campaign. I remain committed to being a leader who helps to unify and proudly stands for respect, inclusion and opportunity and that my campaign can also show the transgender community that nothing is out of reach, and we can win at all levels of government. I look forward to hopefully partnering with both incredible organizations in Sacramento to continue being an unrelenting advocate for our community and fighting for full, lived equality."
As Mayor Pro Tem and a member of the Palm Springs City Council, Middleton ensured PPE and vaccines were available to residents, led efforts on solar requirements for all new homes and worked to address inequities in the city – including the unique challenges LGBTQ+ seniors face.

Middleton's primary will be held on June 7, 2022.