August 14, 2017 at 3:10 pm PST | by Karen Ocamb
Feinstein, Booker send letter to Sessions about LGBT civil rights case
"We write to you to express deep disappointment regarding the brief the Department of Justice filed in the case of Zarda v. Altitude Express which is pending before the Second Circuit Court of Appeals, arguing that Title VII of the Civil Rights Act of 1964 does not protect lesbian, gay or bisexual people from discrimination, we believe this action is not only contrary to existing law, but violates our nation's ideals of liberty and justice for all," sixty-two US senators and members of the US House of Representatives said in an August 7 letter to Attorney General Jeff Sessions.
The Justice Department filed a brief on July 26 intervening in a federal employment discrimination case in New York to argue that federal civil rights law does not protect employees from discrimination based on sexual orientation, as the Obama administration had argued.
"The sole question here is whether, as a matter of law, Title VII reaches sexual orientation discrimination," the Justice Department said in a friend-of-the-court brief, citing the 1964 Civil Rights Act, which bars discrimination in the workplace based on "race, color, religion, sex or national origin," the New York Times reported.
"It does not, as has been settled for decades. Any efforts to amend Title VII's scope should be directed to Congress rather than the courts."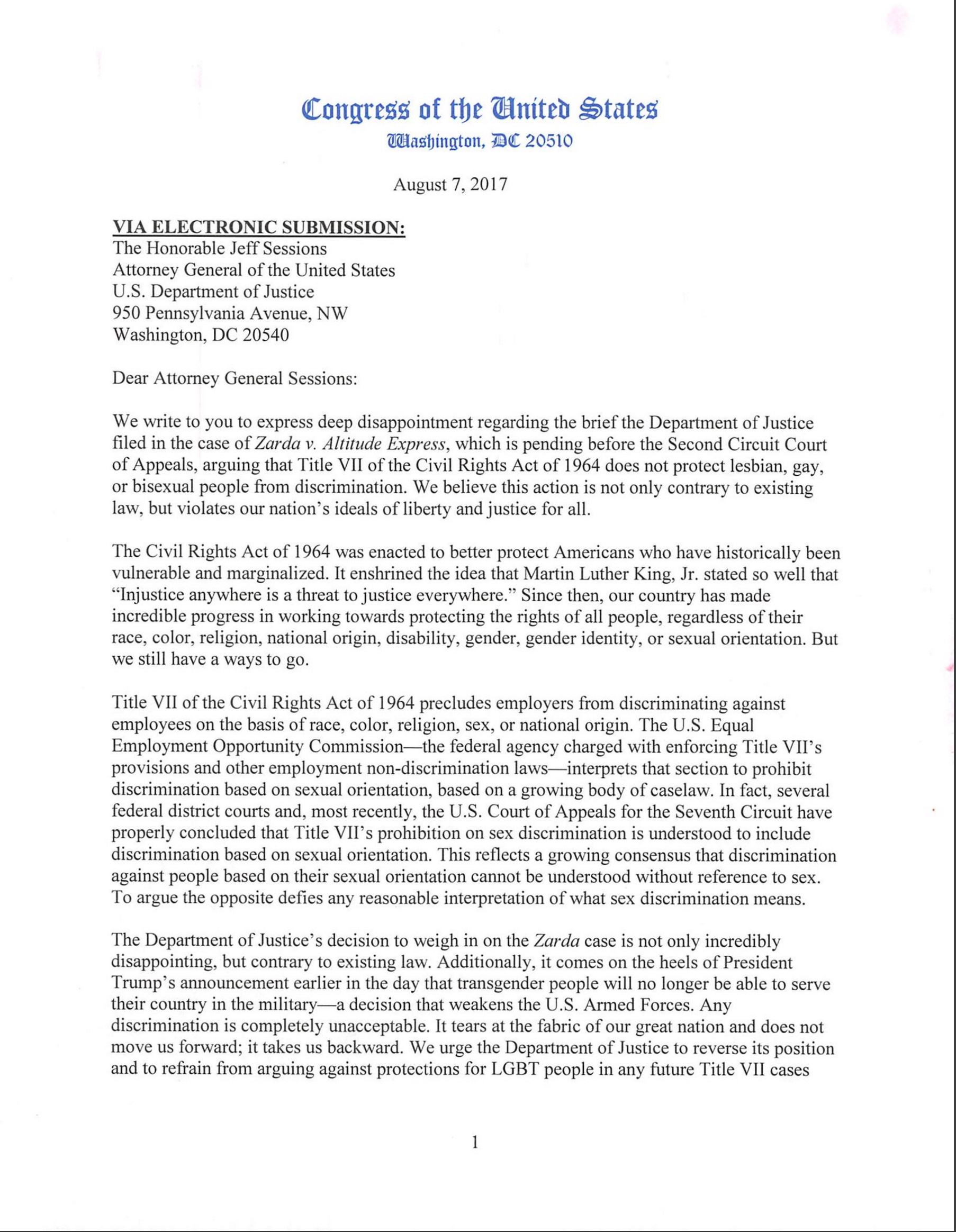 And a number of members of Congress responded. The congressional letter also notes that: "The Department of Justice's decision to weigh in on the Zarda case is not only incredibly disappointing, but contrary to existing law. Additionally, it comes on the heels of President Trump's announcement earlier in the day that transgender people will no longer be able to serve their country in the military—a decision that weakens the U.S. Armed Forces. Any discrimination is completely unacceptable. It tears at the fabric of our great nation and does not move us forward; it takes us backward."
The members urged Sessions to reverse the DOJ's position and "to refrain from arguing against protections for LGBT people" in future cases.
It's not as if LGBT people and their allies didn't see this coming.
California Sen. Dianne Feinstein voted "no" Feb. 8 in Session's confirmation hearings, though the Southern conservative Republican subsequently won on a near party-line 52-47 vote to become Attorney General.
During the hearings, Feinstein called Sessions out on his blatant lying to the committee: "One thing I found striking was that in Senator Sessions' written statement to the committee, he said the following: 'I understand the demands for justice and fairness made by the LGBT community.' I have served on the Judiciary Committee for 24 years—20 of them have been alongside Senator Sessions. I cannot recall a single time when he spoke about supporting any kind of 'justice and fairness' for the LGBT community, or made any kind of statement like this. And we looked and couldn't find one in the Congressional Record either. In fact, the statement stands at odds with his record."
New Jersey Sen. Cory Booker was so upset about the prospect of Sessions as Attorney General, he broke with tradition and spoke out against him at the hearing. When asked why he testified, NPR host Audie Cornish also cited Sessions' promise to senators that he would ensure that statutes protecting LGBT civil rights and safety are fully enforced.
To which Booker replied: "What he's done as a senator has consistently voting – voted against the interests of those folks, voted against things that are now law, like the Matthew Shepard Act. So this is not – if somebody tells you who they are, shows you who they are, has a 40-year career of being extreme and out of line even with many Republicans now, you have to believe what they're going to be when they become the highest law enforcement officer in this land. And that's why we all, not just me breaking tradition – all of us must speak out because the real challenge, I think, right now is that there's too much silence and not enough alarm about what is going to happen to the – if we don't stop this."
Sessions proved Booker and Feinstein right.