Los Angeles Blade and U.S. Bank host Pride In The Sky
Honoring visibility of LGBTQ life in DTLA during DTLA Proud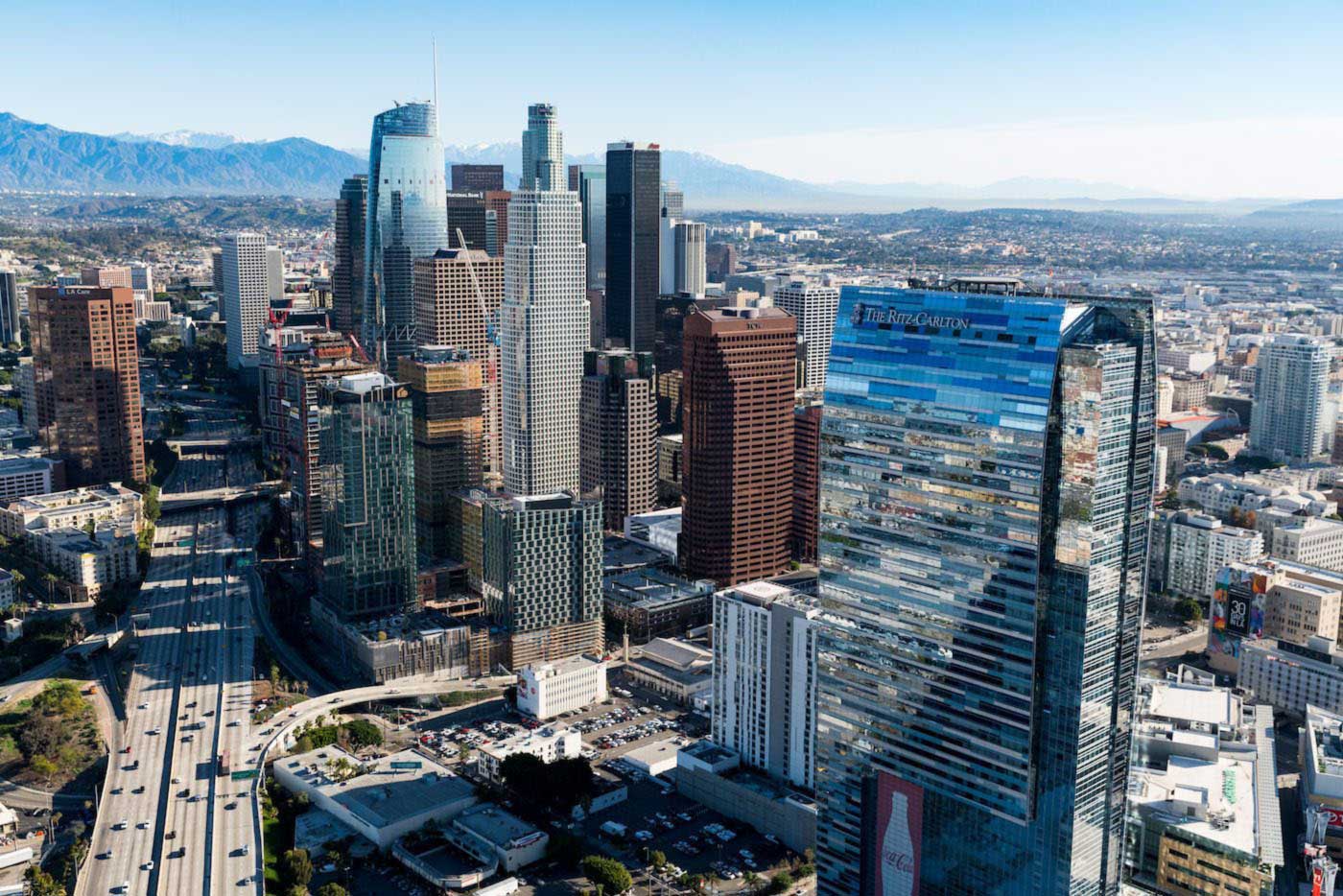 The Los Angeles Blade, LA's weekly LGBT newspaper, is pleased to partner with U.S. Bank to present PRIDE IN THE SKY, an event in celebration of the emergence of DTLA as a core neighborhood for the Los Angeles LGBTQ community, honoring some of the people and organizations playing a key role in making that happen.
PRIDE IN THE SKY will feature a red-carpet mixer and a ceremony honoring the work of these tireless advocates with our first-ever Visibility Awards.
The event is to be held from 6-8 p.m. Saturday on the 70th floor of OUE Skyspace in Downtown Los Angeles. Tickets are sold out.

Hany Haddad, U.S. Bank Vice President, District Manager at U.S. Bank

Hany has worked with U.S. Bank for more than 14 years and you are likely a beneficiary of his generosity. He has directed nearly $1 million in U.S. Bank donations to various LGBTQ non-profits and causes in the greater Los Angeles area, during that time. Haddad's work with a diverse range of non-profits is prolific and has earned him this recognition. Haddad has supported LGBTQ organizations and causes for years, including Los Angeles LGBT Center, Gay Men's Chorus of Los Angeles, the West Hollywood Community Housing Corporation, the Los Angeles Gay & Lesbian Chamber of Commerce, the West Hollywood Chamber of Commerce and DTLA Proud.
Marc Malkin, Variety magazine/TV personality, Senior Events and Lifestyle Editor

Marc is one of the most visible faces in Hollywood. You will find him on just about every red carpet in town, asking personal questions of entertainment's most important personalities, formerly for E! Entertainment and now as an editor at Variety magazine where he will serve it up. He has undergone something of a transformation in more than one sense and has an incredible story to tell. Marc is a benefactor to many LGBTQ non-profits, giving both time and money.
James Wen, transgender activist and member of the West Hollywood Transgender Advisory Board
Wen is one of the most widely respected men in West Hollywood and very humble. He serves on the West Hollywood Transgender Advisory Board and has helped bring attention to an escalation of violence against trans people and the high suicide rates with which the community grapples. He recently caused a stir at a West Hollywood City Council meeting where he defended the city's statement requesting removal of Donald Trump's Hollywood Walk of Fame star against a Trump supporter.
Jennifer Gregg, ONE Archives Foundation, Executive Director 
It's often the documentarians who play the most vital role in providing historians with information on any community. Jennifer's work in shaping our legacy is unmatched as she has helped enhance ONE Archives, already the largest repository of LGBTQ  materials in the world. Founded in 1952 as ONE Inc., the publisher of ONE Magazine, ONE Archives Foundation is the oldest active LGBTQ organization in the United States. In 2010, the ONE Archives Foundation deposited its vast collection of LGBTQ historical materials with the USC Libraries. Today, the organization is dedicated to promoting this important resource through diverse activities including educational initiatives, fundraising, and a range of public programs.

Eddie Martinez, Mi Centro and Latino Equality Alliance Executive Director
Eddie Martinez is the executive director of Latino Equality Alliance located at Mi Centro LGBTQ Community Center in Boyle Heights. For the past two years under the leadership of Martinez, Latino Equality Alliance has been able to uplift 50 LGBTQ youth leaders and educate over 400 parents in the eastside communities of Los Angeles to promote family acceptance, healthy school climate, and academic success. His 20-year career in public service included the wonderful journey of building community support for the AIDS Monument at Lincoln Park and educating LGBTQ married couples throughout the State of California on social security.
Jeffrey King, In The Meantime Men's Group Executive Director
By 1997, the combination drug cocktail was working and the dying and devastation of HIV/AIDS was subsiding. But Jeffrey realized that AIDS wasn't over, especially for Black gay men, even if the epidemic wasn't snatching lives every moment, "We came out of the dying and found ourselves living," King says. "But how do we move forward? And what are we doing with our lives in the meantime?" King brought together an informal collective of Black gay men to wrestle with the dilemma. They realized they could not wait or expect to rely on someone else to save them—they had to act on their own behalf, beyond HIV/AIDS to the health and wellness of Black gay/bi/same-gender-loving men, many of whom bore scars from the homophobia within the Black community while also not being fully embraced by the LGBT community. Jeffrey's work has contributed measurably since to giving proud expression to a new generation of Black gay men.
Michael Weinstein, AIDS Healthcare Foundation, President
Michael Weinstein can be credited for saving lives around the world and on a scale few non-profit agencies can imagine. He founded an AIDS hospice at a time when no hospitals would care for "gay cancer" patients and has built it into the world's largest AIDS organization that literally reaches around the globe and exceeds $1 billion in support. His most recent endeavor is helping to transform Los Angeles' homeless crisis, particularly in Downtown Los Angeles, renovating the city's many dilapidated Single Residency Hotels and giving apartments to deserving homeless people. He is noted for his willingness to ask tough questions and his reluctance to always embrace every medical breakthrough without consideration of the full cultural and epidemiological impact.
Johnny Sibilly, Actor and FX "Pose" cast member
We watched and wept as Billy Porter sang an AIDS cabaret to a young actor playing his lover on FX's "Pose."  If you haven't seen that scene, Johnny plays Perez Costas, the lover of Billy's character. "Pray Tell," you will pardon the gushing, but it was a profound moment on an extraordinary television program that deserves everyone's attention. We suggested an Emmy! But Johnny represents every budding actor who moves to Los Angeles with a dream of making it and so much more. When NYTimes.com recently promoted a cartoon of Vladimir Putin and Donald Trump in love, Johnny, not a Trump fan, took to Facebook in protest. "Being gay is not a punchline. Being gay is not an insult. The more you perpetuate this idea, the more you add fuel to fire of this toxic masculinity & threatened safety of queer people around the globe. Be better." It was classically layered Johnny. He is known to push back fast and hard on anti-trans and anti-blackness narratives online. He is a protector of the ones he loves.
Oliver Luke Alpuche, DTLA entrepreneur and DTLA Proud founder
The man of the moment is busy transforming Los Angeles' Downtown scene. He founded Redline, DTLA's popular LGBTQ bar and helped launch the visibility of the community downtown into the stratosphere. He recognized the power of the community and the need for expression and so founded DTLA Proud, which has become one of the region's most dynamic Pride celebrations. This weekend the event will attract tens of thousands and proceeds from the sale of tickets will help establish a new LGBTQ Center for Downtown.
Gay Men's Chorus of Los Angeles
The Gay Men's Chorus of Los Angeles is the leading Gay Men's Chorus in the world and under the leadership of Jonathan Weedman, its visibility has soared. In October, the chorus welcomes Mexico City's Gay Men's Chorus to celebrate a new choral offering, Dos Coros Uno Voz. The work of the Chorus goes way beyond Los Angeles, with a robust outreach to area high schools and a new program to nations abroad. Its outreach work has spanned the decades of the AIDS crisis to the age of Resistance.
Jewel Thais-Williams, Activist, LGBT community pioneer, founder of Catch One and director of the Netflix documentary, Catch One will receive a special Editor's Award

Jewel is a legend in Los Angeles. Her work in the community covers the gamut. She helped found the world's first AIDS Service Organization, focusing on the needs of people of all colors. Jewel has been a leader, a hero, and a visionary and an advocate for decades, linking the LGBT African-American community to organizations such as AIDS Project Los Angeles and her alma mater, UCLA. You could call her the mother of all of us but she is almost certainly regarded as the mother of nightlife in LA, creating a racially diverse nightclub that dominated this town.
Thais-Williams likes to say that she spent the last 40+ years at Catch One "partying." Approaching 79, Jewel says her greatest joy is her service to her community. "But there is still a lot of work to do. Remember to always reach out to those in need."
Nonbinary activist Alok Vaid-Menon; gender labels hurt everyone
"I'm nonbinary, which means it's not just that I'm challenging the binary between male, female, man and woman, but between us and them"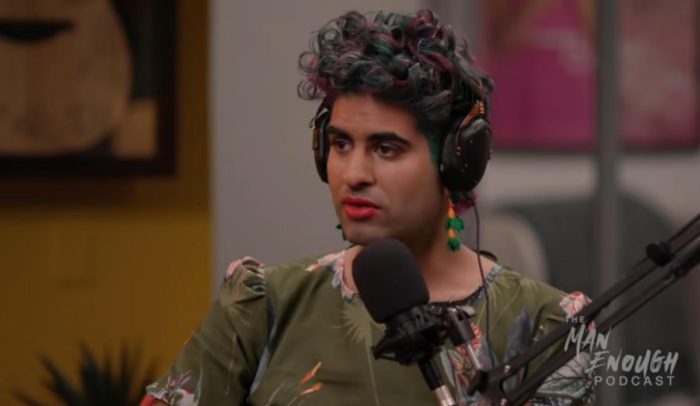 LOS ANGELES – This past week on the Wayfarer Studios new national podcast "Man Enough," nonbinary activist and poet Alok Vaid-Menon appeared alongside hosts actor Justin Baldoni, writer and MSNBC columnist Liz Plank and composer Jamey Heath.
During the broadcast Vaid-Menon noted that "people need to have compassion before "comprehension" — meaning they need to have empathy for trans people even if they don't understand them."
The activist-poet also deconstructed the gender binary — the idea that there are only two genders rather than a spectrum — and the traditional expectations associated with binary gender labels hurt everyone, not just transgender people, and these fixed ideas of what it means to be a man or a woman make it difficult for people to find out who they truly are.
In the podcast Vaid-Menon, who is the author of "Beyond the Gender Binary," said in response to Heath, who had asked what he needs to "unlearn" and what he needs to do to help other men unlearn, in order to better support them, referring to trans and nonbinary people like Vaid-Menon;
"I'm nonbinary, which means it's not just that I'm challenging the binary between male, female, man and woman, but between us and them," Vaid-Menon said, adding, "And in your statement, you said, 'Why don't I help them?' as if this struggle is not your struggle. The reason you don't fight for me is because you're not fighting for yourself fully."
Reporting on the premiere of the podcast episode, NBC News OUT contributor Jo Yurcaba noted;
They said though trans and nonbinary people face violence and death for challenging traditional gender norms, they don't want people to fight for their rights "because you want to protect me or you want to help me."
"I don't need your help," they said, adding that they "have an unshakable and irrevocable sense of who I am" and don't need to prove anything.
'The Man Enough Podcast' was launched in June in partnership with Procter & Gamble who will also co-finance and co-produce other projects with Wayfarer across film, TV and new media.
The Man Enough Podcast | ALOK | The Urgent Need for Compassion
IOC: 'Trans Women Are Women' Laurel Hubbard set to make sports history
Laurel Hubbard is set to make sports history on Monday and the International Olympic Committee clearly has her back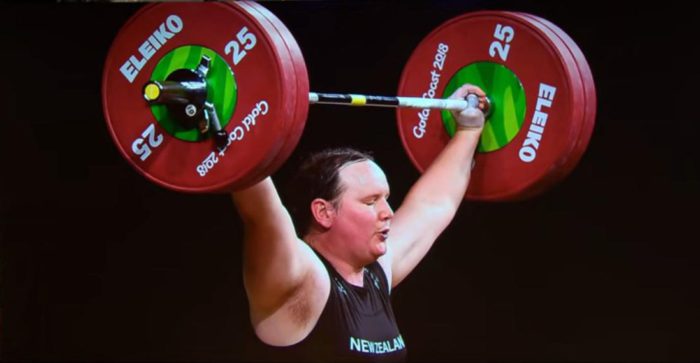 TOKYO – The director of medicine and science for the International Olympic Committee praised weightlifter Laurel Hubbard's "courage and tenacity" as she prepares for her upcoming competition as the world's first out transgender woman Olympian.
In speaking to reporters in Tokyo Thursday, Dr. Richard Budgett directly addressed those who have attacked and mocked the 43-year-old New Zealander and claimed she shouldn't be competing with cisgender women, saying "everyone agrees that trans women are women."
"To put it in a nutshell," he said, "the IOC had a scientific consensus back in 2015. There are no IOC rules or regulations around transgender participation. That depends on each international federation. So Laurel Hubbard is a woman, is competing under the rules of her federation and we have to pay tribute to her courage and tenacity in actually competing and qualifying for the Games."
Hubbard herself has not made any public comments except for a statement following her qualifying for the Summer Games, saying she was "humbled" by the support which had helped her "through the darkness" following a near career-ending injury in Australia in 2018.
Reports around the world have claimed Hubbard is the first trans Olympic athlete, which is actually not the case. As the Los Angeles Blade has reported, Quinn, a trans nonbinary soccer midfielder for Team Canada, last Wednesday became the first out trans athlete ever to complete in the Olympic Games. They posted about it on Instagram, saying, "I feel proud seeing 'Quinn' up on the lineup and on my accreditation. I feel sad knowing there were Olympians before me unable to live their truth because of the world."
The IOC is expected to review and likely revise its policies on transgender participation following Tokyo. Trans athlete and researcher Joanna Harper, who has advised the organization and other sports policy groups, told the Los Angeles Blade her recommendation will be for the IOC to continue to regulate trans athletes sport-by-sport. "There shouldn't be a one-size fits all policy," said Harper.
She also noted how the mainstream cisgender media is consumed with coverage of Hubbard and missing out on the bigger picture, and what it will mean for the next generation watching on TV and online.
"The lack of attention paid to Quinn and to Chelsea Wolfe has been interesting," said Harper.
"A few news outlets have commented on their presence in Tokyo and in Quinn's case the comments have been mostly favorable. On the other hand, the storm of mostly negative press heaped on Laurel Hubbard has been disappointing, although predictable. I hope that the negative press that Laurel has gotten won't dissuade young trans athletes from following their dreams. I think that the next trans woman to compete in the games will get less negative press, and eventually (although probably not in my life) there will come a time when trans women in sport generate little or no controversy."
Hubbard issued a statement Friday via the New Zealand Olympic Committee in which she said: "The Olympic Games are a global celebration of our hopes, our ideals and our values. I commend the IOC for its commitment to making sport inclusive and accessible."
According to a French news outlet, NZOC spokesperson Ashley Abbott told reporters the committee had seen a "particularly high level of interest" in Hubbard's Olympic debut, and much of it has been negative.
"Certainly we have seen a groundswell of comment about it and a lot of it is inappropriate," Abbott said. "Our view is that we've got a culture of manaaki (inclusion) and it's our role to support all eligible athletes on our team. In terms of social media, we won't be engaging in any kind of negative debate."
Abbott reminded the media that the NZOC's job was to support its athletes, including Hubbard. "We all need to remember that there's a person behind all these technical questions," she said. "As an organization we would look to shield our athlete, or any athlete, from anything negative in the social media space. We don't condone cyberbullying in any way."
RELATED: CBS This Morning from 22 Jun 2021
LGBTQ+ ally Jamie Lee Curtis reveals her 25-year-old child is Trans
Curtis and her husband Christopher Guest, British screenwriter, composer, musician, director, and actor have two daughters.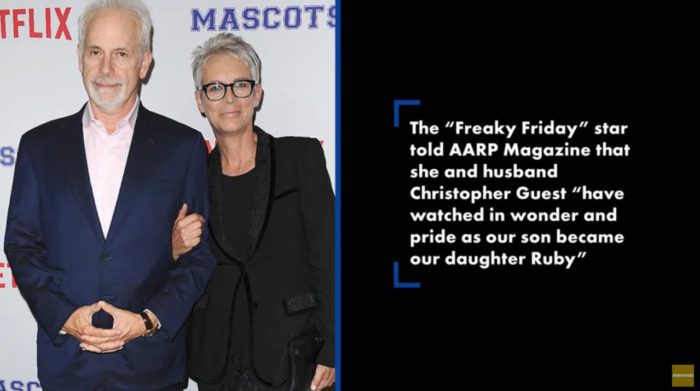 LOS ANGELES – In a new interview with the American Association of Retired Persons' magazine, Golden Globe and BAFTA winning actress Jamie Lee Curtis disclosed that her youngest child is transgender. In the interview Curtis reflected that she has "watched in wonder and pride as our son became our daughter Ruby."
Curtis and her husband Christopher Guest, British screenwriter, composer, musician, director, and actor have two daughters. Ruby, 25, works as a computer gaming editor while Curtis and Guest's 34-year-old daughter, Annie, is married and works as a dance instructor. Curtis also noted that Ruby and her fiancé are getting married next year in a wedding that Curtis will officiate.
The longtime Hollywood couple have been married for more than 36 years but have no grandchildren, "but I do hope to," she told the magazine.