Chloë Grace Moretz credits her LGBT advocacy to her two gay brothers
'The Miseducation of Cameron Post' star also explains her hopes for the film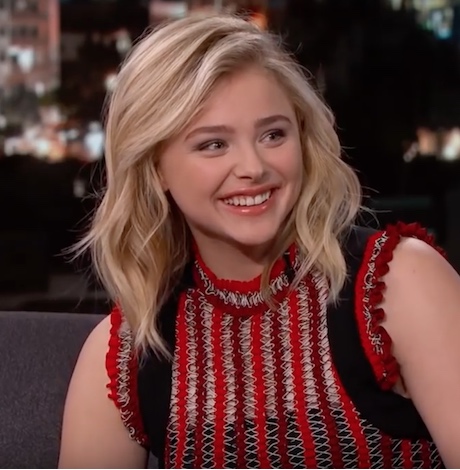 Chloë Grace Moretz explained how she became an advocate for the LGBT community in an interview in the September issue of the Gay Times. 
Moretz, who stars in the gay conversion drama "The Miseducation of Cameron Post," says fighting for her two gay brothers is what started her LGBT advocacy.
"I grew up fighting on their behalf because it broke my heart to see that yes, they can stand up for themselves, but people wouldn't listen. So I took it upon myself with their blessing to go out there and talk about it, and to tell people, 'Hey, being gay is not a big deal at all. But be proud and be out there and raise the flag high. Be a part of the community, and be for the community.' So it was never a question to me whether or not I was ever going to be an advocate, and what that meant to my heart and how it shaped me," Moretz says in quotes obtained by Just Jared. 
The actress explains how she learned how to have a healthy relationship from her brother and his boyfriend.
"The healthiest relationship that I've ever seen and grew up with was not that of my parents, it was that of my brother [Trevor] and his boyfriend [Nick] who have been together – still to this day – for 11 years," she says."That has been my most healthy parental relationship that I've ever seen. It gave me faith and hope that you can find someone to be with for a long period of time who you truly love. But for me, it's interesting that it wasn't your typical nuclear family unit – it's my gay brother and his boyfriend."
She also says she hopes "The Miseducation of Cameron Post" can help the fight against conversion therapy.
"In the current state of America, if you don't have a message that you're pushing out, if it's not some sort of activism, then why are you doing it? I want this movie to be a platform. I want this movie to start a conversation and to help lobby against conversion therapy in America. I'm actually flying to DC to do a screening and to have an open conversation with a couple of politicians, and to talk about lobbying against gay conversion therapy in America," Moretz says.
"The Miseducation of Cameron Post" is currently in theaters.
First Trans Amazon introduced by DC Comics In 'Wonder Woman'
DC Comics-Warner Brothers became more LGBTQ+ inclusive with the introduction of the character of Bia, a Black trans woman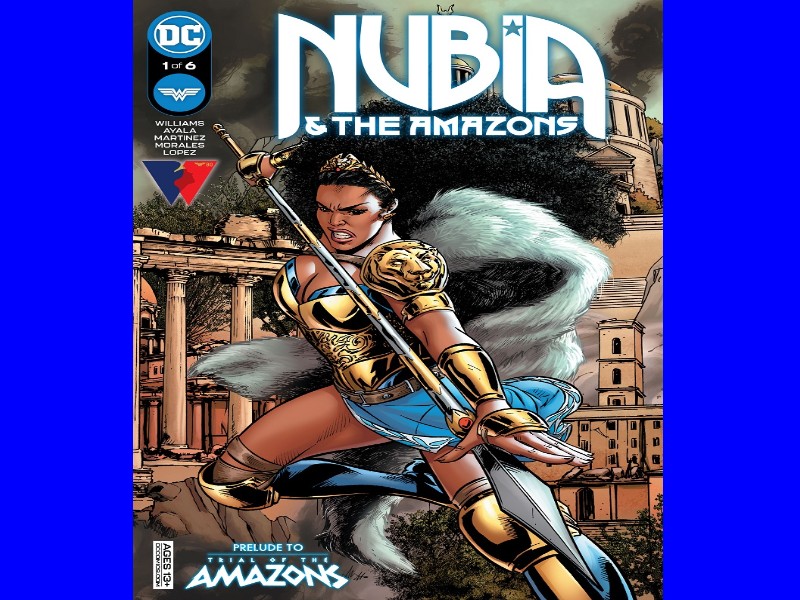 BURBANK – The world of DC Comics-Warner Brothers became more LGBTQ+ inclusive this weekend as the venerable comic book franchise of Wonder Woman expanded with the introduction of the character of Bia, a Black trans woman, in the first issue of the series Nubia & The Amazons.
Earlier this month on National Coming Out Day, the canon of the Superman series changed for the life of Jon Kent, the Superman of Earth and son of Clark Kent and Lois Lane, taking a bold new direction. After initially striking up a friendship with reporter Jay Nakamura, he and Jon become romantically involved, making Kent an Out bisexual character.
In this latest offering, Stephanie Williams and Vita Ayala, writers and creators confirmed that Bia is a Black Trans woman. They stressed that she "isn't a box to tick … [she] is important to her community. Just as Black trans women are important to us in real life."
We didn't want to make An Announcement because we wanted to introduce the character in an organic way, but it is not a secret! We are glad people picked up on it, but if y'all hadn't we would have made sure to say it so it wasn't hand-twaveable subtext! https://t.co/XsHp5wGBLv

— ✊🏾🇵🇷Vita 'Emancipated Blacula' Ayala🏳️‍🌈🎃 (@definitelyvita) October 21, 2021
Of special significance to the introduction of the character in the DC Comic worlds was the endorsement of actress Lynda Carter who played the title role of Wonder Woman on television based on the comic book superheroine, which aired on ABC and later on CBS from 1975 to 1979. Earlier in the week Carter tweeted her support of Trans women;
Trans women are Wonder Women. End of story.

— Lynda Carter 🎃 (@RealLyndaCarter) October 19, 2021
Writing for the DC Comics-Warner Brothers website blog, co-creator Stephanie Williams said;
"It's been a dream to work with the likes of Vita Ayala, a non-binary Afro-Latinx comic writer who has been making quite a name for themselves. And then there is the illustrious and widely talented and dedicated Afro-Latina artist Alitha Martinez who is already in the comic hall of fame for all-time greats. Her passion for Nubia is unmatched. It shows in every cover and panel from Nubia's Future State story written by L.L. McKinney, her Infinite Frontier #0 story written by Becky Cloonan and Michael Conrad, and now the Nubia and the Amazons miniseries written by myself and Vita Ayala."
"I'm so excited about the history we're creating, adding to, and remixing. The foundation has always been there, but needed some TLC. As Nubia embarks on this new journey as Queen of Themyscira, I hope her rebirth will be met with open arms and the desire to keep her always at the forefront. Nubia, now being queen, is poetic in so many ways, but one that stays on my mind is the very personal connection I feel. As I help to add to her legacy, she's opened the door wider to my own," Williams said adding:
"Long may Queen Nubia reign, forever and always."
Nubia and the Amazons #1 by Stephanie Williams, Vita Ayala and Alitha Martinez is now available in print and as a digital comic book.
Along with co-writing Nubia and the Amazons, Stephanie Williams writes about comics, TV and movies for DCComics.com. Check out more of her work on Den of Geek, What To Watch, Nerdist and SYFY Wire and be sure to follow her on both Twitter and Instagram at @steph_I_will.
Ebony Power 100: Deputy White House Press Sec. Karine Jean-Pierre
Her position is historic as the first Black Lesbian who is speaking for the nation's chief executive as Deputy Press Secretary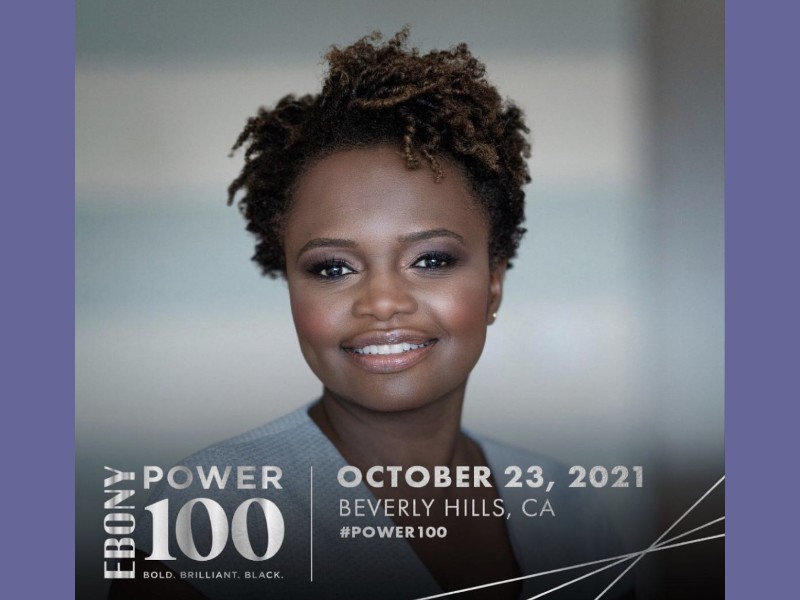 BEVERLY HILLS – Ebony Magazines' iconic annual Power 100 awards ceremony, honoring those individuals who have had a positive impact on the African-American community is making its 2021 post coronavirus pandemic return airing Saturday, October 23 from Los Angeles and hosted by Wayne Brady.
Brady, a television personality, comedian, actor, and singer, will also give a special performance during the broadcast, and he is slated to receive Ebony's Vanguard Award for his decades-plus career "as a consummate, all-around entertainer and performer."
Included in the distinguished list of honorees is principal Deputy White House Press Secretary Karine Jean-Pierre, who is listed in the magazine's category of 'Ceiling Breakers.' As the principal Deputy White House Press Secretary Jean-Pierre conducts the daily press briefing in the Brady Press Room in the West Wing standing in as needed for White House Press Secretary Jennifer Psaki and also she conducts what are referred to as 'gaggles.'
"Gaggles" refers to informal briefings a White House press secretary conducts with the daily press pool rather than the entire White House press corps.
President Joe Biden's selection of Jean-Pierre was a first in the history of presidential administrations. Her position is seen as historic from the perspective of being the first Black Lesbian to hold forth behind the podium of the James S. Brady Press room in the West Wing speaking for the nation's chief executive.
Jean-Pierre has been with the Biden administration since she joined the Biden-Harris campaign in May of 2020 and then accepted the position of Chief of Staff to Senator Harris in August. In late November of 2020, then President-elect Joe Biden named seven women to his incoming White House Communications Team to include naming Jean-Pierre as the Deputy White House Press Secretary.
The daughter of immigrant parents from Haiti, Jean-Pierre was born in Martinique and later raised in Queens, a borough of New York City. A longtime activist and communications specialist, she has a Master's in Public Affairs conferred on her by New York's Columbia University School of International and Public Affairs, where she has taught as an adjunct professor and lecturer in international and public affairs since 2014.
During the first Obama admkistartion term, Jean-Pierre, 43, served as the regional political director for the White House Office of Political Affairs.
Speaking with the Advocate magazine in June of 2011 Jean-Pierre reflected on her tenure working for the Obama Administration as an openly LGBT staffer. "What's been wonderful is that I was not the only; I was one of many. President Obama didn't hire LGBT staffers, he hired experienced individuals who happen to be LGBT," she told the Advocate. "Serving and working for President Obama where you can be openly gay has been an amazing honor. It felt incredible to be a part of an administration that prioritizes LGBT issues."
Speaking with NBC News journalist Tim Fitzsimons; "The sun was setting and the lights got much more prominent," she said, referring to late June 2015, when she watched the White House lit in rainbow colors to mark the historic Supreme Court Obergefell v. Hodges ruling that legalized same-sex marriage nationwide. "People had signs and people were crying, and there was just so much joy."
"I remember thinking how proud I was of this administration, that I had worked for that," Jean-Pierre, said. "It really brought together, in that one moment, how important LGBTQ rights were and how much that administration fought for our rights."
In 2016 after her White House stint, Jean-Pierre served as a Senior Advisor and National Spokesperson for Washington D.C. based MoveOn, a progressive non-profit public policy advocacy group and political action committee. Her primary portfolio at the non-profit was addressing President Trump's rhetoric and platform of hate, violence, racism, immigrant-bashing, and women-bashing.
She also served as the deputy campaign manager for former Democratic Maryland Governor Martin O'Malley's 2016 campaign run for the Oval Office.
Jean-Pierre received national recognition after a June 1, 2019 incident during the MoveOn Big Ideas Forum she was moderating in San Francisco, when 24 year-old Aidan Cook, a member of the animal right activist organization Direct Action Everywhere (DxE), rushed the stage grabbing the microphone out of then California U.S. Senator Kamala Harris's hand. The Senator was a candidate for the 2020 Democratic presidential nomination at the time of the incident.
Jean-Pierre, who had jumped in between Cook and the Senator after he took the microphone kept the activist away from Harris until security arrived and removed him. At the time of the incident, Harris, like most other candidates in early stages of the primary process, didn't have a U.S. Secret Service detail for protection.
Jean-Pierre, her partner, CNN correspondent Suzanne Malveaux, and their daughter reside in Washington D.C.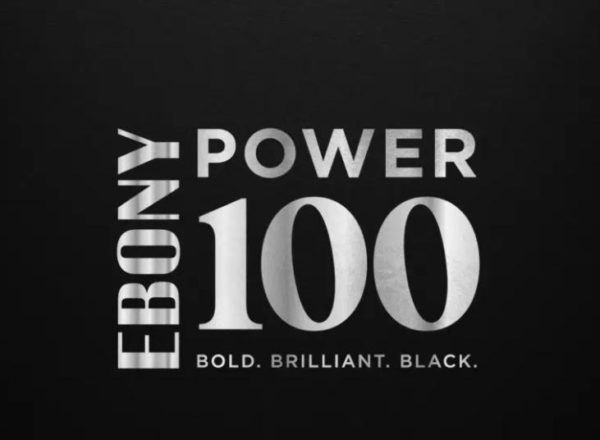 The EBONY Power 100 ceremony also is marking the culmination of Ebonys 75th anniversary year.
For the complete list of honorees please head over to here. (Link)
West Hollywood Halloween Events 2021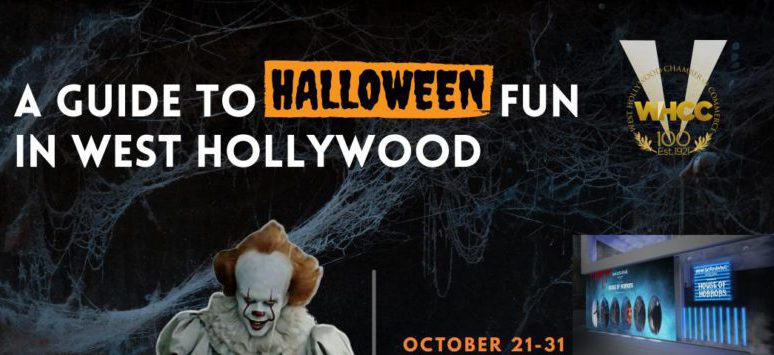 WEST HOLLYWOOD – The West Hollywood Chamber of commerce has released its annual Halloween events guide available here.