Your 'must do' 2018 fall arts season guide
There's a whole lot of LGBT in the mainstream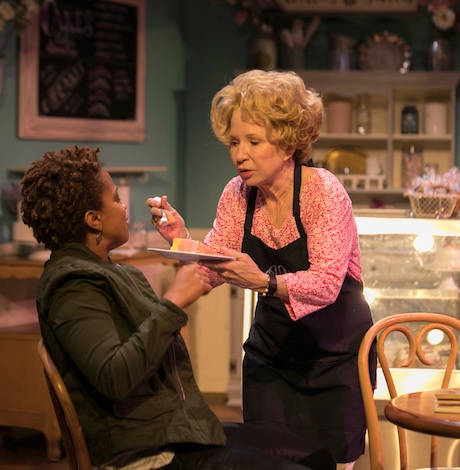 As fall approaches, the Southland's cultural institutions gear up for the beginning of another arts season. You can't DVR these offerings, but if you're willing to gather in the dark with a gang of strangers, LA's dance, music, opera and theater companies have some exciting and ambitious offerings this fall. Here are some highlights:
DANCE
"Romeo and Juliet"
The Los Angeles Philharmonic presents the complete score to Sergei Prokofiev's beloved ballet based on Shakespeare's tragic love story, conducted by Gustavo Dudamel. In tandem, dancer/choreographer (and "Black Swan" star) Benjamin Millepied choreographs portions of the piece, danced by members of his LA Dance Project. Oct. 18-21, Walt Disney Concert Hall (111 S. Grand Ave, Los Angeles). laphil.com.
Jacob Jonas the Company
Under the direction of its LA-born namesake, Jacob Jonas the Company takes its exciting, visceral, athletic work to the Wallis this season as company-in-residence. Combining balletic dance with acrobatics and some break-dance sensibility, the young company's fall offering is an intimate evening in the Lovelace Studio Theatre. Oct. 24-27, The Wallis, (9390 N. Santa Monica Blvd., Beverly Hills). thewallis.org.
Bill T. Jones/Arnie Zane Company – "Analogy Trilogy"
The restlessly inventive dance legend Bill T. Jones gives LA audiences the rare experience of seeing all three "Analogy" works in a single, seven-hour event (including one intermission and a 90-minute dinner break). "Analogy: Dora" is based on Jones' 95-year-old mother-in-law who defied the Nazis as a nurse in France. "Analogy/Lance" follows the partying excesses of a 1980s New York club kid, and the latest piece, "Analogy/Ambros," is based on the main character in W.G. Sebald's novel "The Emigrants." The event is capped with a Q&A with the artists. Nov. 3-4, Royce Hall at UCLA Westwood (10745 Dickson Ct., Los Angeles). cap.ucla.edu.
MUSIC
John Beasley's MONK'estra
Award-winning, versatile jazz pianist John Beasley brings his MONK'estra ensemble to the Broad this fall. A Grammy-nominated gang of virtuoso musicians, MONK'estra evokes the spirit of the masterful and mysterious Thelonious Monk as they play some of his iconic jazz music in fresh, innovative arrangements. Oct. 12, The Broad Stage (1310 11th St., Santa Monica). thebroadstage.org.
The Mariinsky Orchestra
St. Petersburg's Mariinsky Orchestra is one of the oldest and most revered in Russia. Renamed the Kirov Orchestra by Stalin, the ensemble reclaimed its original name after the fall of the Soviet Union. Under the tireless direction of the powerhouse conductor Valery Gergiev, the orchestra tours constantly. This fall they bring a program featuring great works by Igor Stravinsky, the Petersburg native who spent much of his later life in West Hollywood (with numerous appearances at the Hollywood Bowl). Some criticize Gergiev for snuggling up to Putin, but there's nobody better to interpret Stravinsky. Oct. 25, The Soraya CSUN (18111 Nordhoff St., Northridge). thesoraya.org.
"The Tempest"
The Los Angeles Philharmonic presents a special evening featuring the incidental music for Shakespeare's "The Tempest" written by famed Finnish composer Jean Sebelius. The program also includes scenes from the play performed by actors from San Diego's Old Globe Theatre and staged by artistic director Barry Edelstein. Sebelius is a major figure in Finland (his image was on the 100 Finnish mark note before the country adopted the euro), and the program is conducted by Susanna Mälkki, chief conductor of the Helsinki Philharmonic Orchestra. Nov. 8-10, Walt Disney Concert Hall (111 S. Grand Ave, Los Angeles). laphil.com.
The Music of Harold Arlen: The Wonderful Wizard of Song
Harold Arlen is one of the giants of the Great American Songbook, having composed the music for so many beloved classics, including "Come Rain or Come Shine," "Stormy Weather," "The Man Who Got Away," and the songs for "The Wizard of Oz" (he snagged an Oscar for "Over the Rainbow"). CSUN's The Soraya presents an evening celebrating his work, hosted by son Sam Arlen, and featuring Broadway stars Eden Espinosa and Joseph Leo Bwarie. Dec. 1, The Soraya CSUN (18111 Nordhoff St., Northridge). thesoraya.org.
OPERA
"Don Carlo"
LA Opera kicks off its season with ambition, presenting Verdi's sprawling epic "Don Carlo" with a smashing cast. Acclaimed Mexican-born tenor Ramón Vargas sings the title role of the conflicted prince angry at his father for marrying his fiancée. LA Opera's general director and resident legend Plácido Domingo — famous for his Don Carlo as a young tenor – sings the baritone role of kind-hearted pal Rodrigo, while LA Opera favorite Ana María Martínez sings Elisabeth. As if that wasn't enough, the great Italian bass Ferruccio Furlanetto sings King Phillip for the first two performances, defying time along with Maestro Domingo. Sept. 22-Oct. 14, Dorothy Chandler Pavilion (135 N. Grand Ave., Los Angeles). laopera.org.
"Satyagraha"
LA Opera continues its bold commitment to the work of Philip Glass by presenting the minimalist American composer's second opera, "Satyagraha," examining Gandhi's formative years facing oppression and injustice in South Africa. With a book comprised entirely of verses from the Bhagavad Gita (sung in Sanskrit), the opera traces young Gandhi's growth from a well-meaning attorney to the leader of a movement. The stunning English National Opera production is directed by Phelim McDermott, whose mesmerizing staging of Glass's "Akhnaten" was at the Chandler two years ago. Oct. 20-Nov. 11, Dorothy Chandler Pavilion (135 N. Grand Ave., Los Angeles). laopera.org.
THEATER
"All Night Long"
The Open Fist Theatre Company presents the Southern California premiere of longtime Bay Area theater artist John O'Keefe's mind-bendingly absurd and entertaining 1980 play about a day (and night) in the life of a sitcom-like American family. O'Keefe takes audiences on a wild ride, careening between reality and dream, the conscious and subconscious, in a piece that defies categorization. Through Oct. 21, Atwater Village Theatre (3269 Casitas Ave., Atwater Village). openfist.org.
"Six Characters in Search of a Play"
Playwright Del Shores is best-known and loved for his play "Sordid Lives" and the Logo series inspired by the play's characters. Now, with apologies to Luigi Pirandello, he takes the stage himself, inhabiting six characters he has met in real life but has not yet found a way to use in a play. Celebration Theatre presents this limited run of brand-new Shores material. Sept. 27-30, The Lex Los Angeles (6760 Lexington Ave., Hollywood). celebrationtheatre.com.
"The Cake"
The Geffen Playhouse presents a remount of the Echo Theatre Company's acclaimed 2017 premiere of Bekah Brunstetter's play about a North Carolina baker whose devout religious beliefs are challenged when she's asked to bake a cake for the wedding of a friend's lesbian daughter. Most of the Echo's original cast (including Debra Jo Rupp from "That '70s Show") makes the transfer to the Geffen stage in this timely and topical piece. Through Oct. 21, Geffen Playhouse (10886 Le Conte Ave., Westwood). geffenplayhouse.org.
"Dear Evan Hansen"
The first national tour of the 2017 Best Musical Tony Award winner, "Dear Evan Hansen," comes to town with a lot of buzz and most seats already sold. The show has become hugely popular among young people, as it tells the story of the titular teen who lives with severe social anxiety. When a classmate dies of suicide, Evan concocts stories that lead to social-media popularity but also moral dilemmas. You might snag some mezzanine seats on weeknights. Oct. 17-Nov. 25, Ahmanson Theatre (135 N. Grand Ave., Los Angeles). centertheatregroup.org.
Turning pain into positive & using art as therapy – Carl Hopgood
He knew he wanted to embark on a path toward a "bold, exciting life" among other "creative people" while "doing amazing things and living"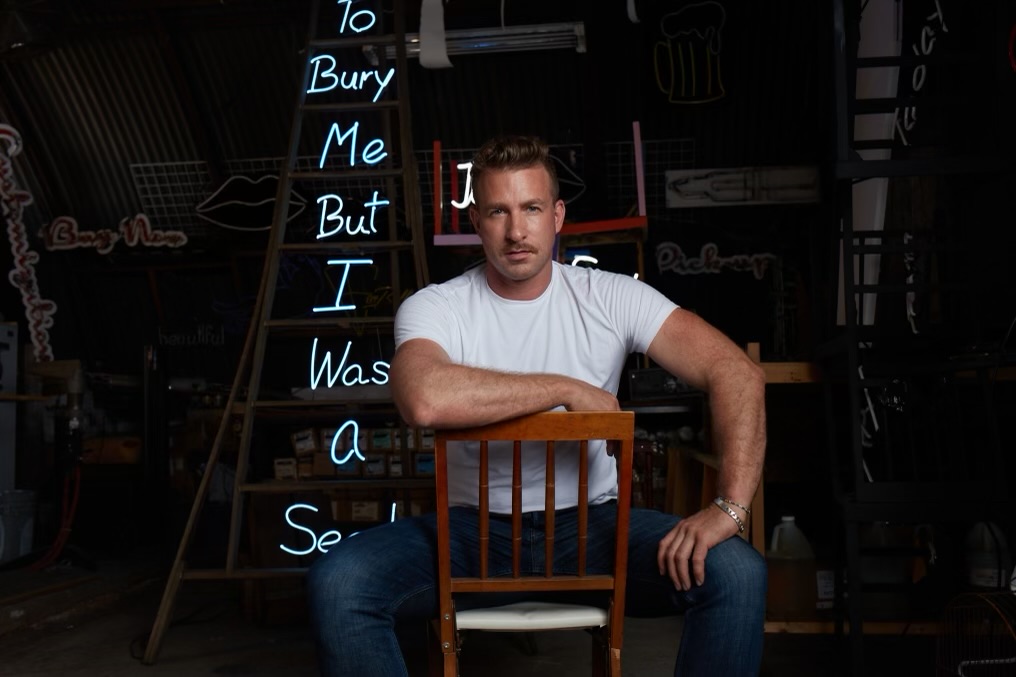 LOS ANGELES – Like many people born with an inclination toward creative expression, Carl Hopgood has known from a very young age that he wanted to be an artist.
Growing up on a small farm in rural Wales, the Cardiff-born Hopgood spent his childhood surrounded by animals and nature, letting his imagination run wild and creating worlds he envisioned with baskets, fruit boxes, flowers, stones, tabloid clippings, and other items that struck his fancy. Then, at 7, he was invited to spend an afternoon with his best friend, whose cousin was visiting; that cousin happened to be Richard Burton, and he happened to be accompanied by his even more famous wife, Elizabeth Taylor.
Hopgood was not just star-struck, he was inspired.
"My world was never the same after that day," he tells the Blade. "They told stories about Hollywood, London, glamorous parties, movies, photography… and Andy Warhol! Andy Warhol was my first artist crush. He was also born on a farm, so I felt an immediate connection."
After that experience, he knew he wanted to embark on a path toward a "bold, exciting life" among other "creative people" while "doing amazing things and living."

Four decades and one continental transplant later, it can safely be said that Hopgood has accomplished his goal.
A successfully established LA-based artist, he's created a unique body of work that includes pieces in Neon, Sculpture, Film / Video Installation, and canvas painting; his collectors include Morgan Freeman, Eugiono Lopez, The Vinik Family Foundation, The Groucho Club and Rupert Everett; and recent exhibitions of his work – like his neon art installations 'Looking For Love In All The Wrong Places', 'My Heart Is Open', and 'You Changed My Life' at the Maddox Gallery in West Hollywood, and 'Chair Therapy' at United Talent Agency's UTA Artspace LA – have garnered a flurry of enthusiasm and increasing national attention.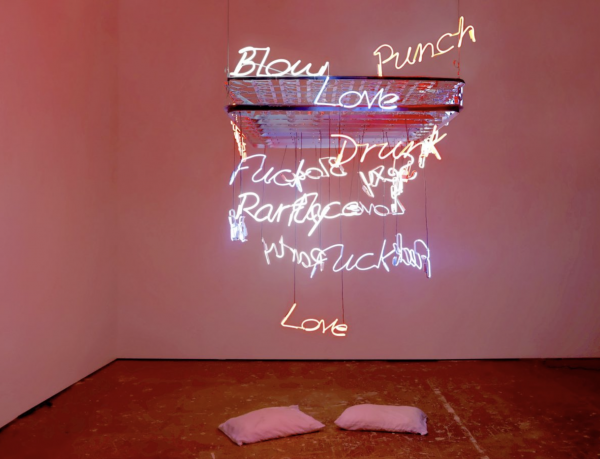 The latter installation created a particular stir with its inclusion of a controversial neon sculpture called "Just Say Gay", Hopgood's response to the draconian anti-LGBTQ legislation championed by Florida Governor Ron DeSantis; that work was acquired by prominent collector Beth Rudin DeWoody and will be on display from December 2023 at her Bunker Art Space in West Palm Beach, Florida.
When talking with the Blade, Hopgood is keen to focus the discussion on a new goal – the completion of a documentary about the creation of "Chair Therapy" – but he's certainly willing to start the conversation by talking about the sense of queer defiance behind "Just Say Gay" and many of his other works, because the two subjects go hand in hand.
"Being a gay man of Welsh and Greek heritage," he proudly proclaims, "the fight against bullying, repression, injustice and discrimination became central themes of my artistic expression."
As he explains, that fight is rooted in a traumatic childhood experience. "I was bullied by classmates," he remembers. "They would chase after me, push me to the ground and kick me in the groin. I managed to escape and found sanctuary under a stack of chairs in the school assembly hall. The school therapist helped me cope by using a technique called Empty Chair Therapy, where you would talk to an empty chair about your feelings.
"I decided turn this pain into something positive and use art as my therapy."

Much later, the young Hopgood would be inspired by the confrontational aesthetic of Damien Hirst – after reading a scathing criticism of one of his works in the paper – and follow in the controversial artist's footsteps to Goldsmiths College in London, eventually becoming part of a movement with fellow graduates like Steve McQueen, Jason Martin, Ceal Floyer, Angela De La Cruz and Alessandro Raho.
"It was an incredible moment to be a young artist in 1990s London."
Nevertheless, after 20 years in the London art scene, he decided it was time for a change.
"I had just watched a documentary featuring David Hockney," he explains. "The freedom and possibility of David's work was clearly inspired by Southern California with its beautiful palette and open, sunny skies. It was a stark contrast to the gloomy weather of the UK, and the anxiety and depression that accumulated over the years. I had heard about the growing LA art scene –LACMA, MOCA and The Broad were beginning to attract an international audience – and I decided that moving to Los Angeles would be good for both my mental health and creativity."
The choice was a fortuitous one for him – "It was the perfect time to go," he says, "and I was ready to work in new mediums and expand my repertoire." Then, like the rest of us, he had to put all his plans indefinitely up in the air.
"In early 2020, when the pandemic hit," he tells us, "I would see all the bars and restaurants shuttered in West Hollywood. It was like a ghost town. Looking through the store front windows, all I could see were chairs stacked on top of each other – and that image took me straight back to my unhappy childhood."
He decided to use it for inspiration and began work on the first sculpture in the "Chair Therapy" series ("My Heart is Open") – which as he describes, addresses "toxic masculinity, oppression and queer identity, themes I've always championed."
Those themes are doubtless also at least partly behind his desire to see the planned documentary – titled "Fragile World" – reach fruition. Filmed during the pandemic, it profiles Hopgood by charting his personal artistic journey, but centers on the development of "Chair Therapy", in which he combined found and vintage wooden chairs with neon lights shaped into positive words to provide hope, love and support for a community who were hardest hit by Covid and the shutdowns it necessitated.
"Seeing those stacked chairs and tables, in those empty establishments, I knew some would be forced to close for good. I felt so helpless, but I knew there was something I could do."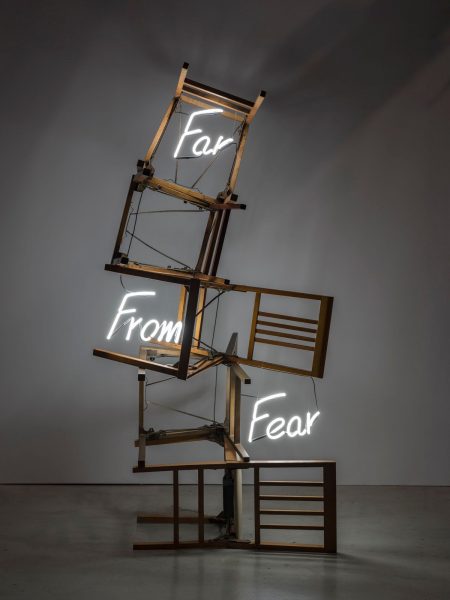 Now, with his own hard-hit community – alongside many others – facing aggressive legislative oppression from the extremist right, he's determined to see the film finished, so that the same empowering message of optimism embodied in his work can be spread to a larger audience as a reminder not to let the bullies break their spirit. To that end, the documentary's director and producer, LA-based British filmmaker Kate Rees Davies, has set up an Indiegogo campaign to raise the funding necessary to finish the project.
Another motivation, perhaps even more personal, might be found in Hopgood's revelation of a hidden influence in another work from the "Empty Chairs" series: "Twelve Steps", which explores the massive financial success of a California citrus industry made possible by the hard work of a segregated Mexican immigrant labor force. "I was also inspired in that piece by a line from Greek poet Dinos Christianopoulos," he says, "who was sidelined by the Greek literary community in the 1970s because he was gay. It's a small but powerful couplet which was included in the collection 'The Body and the Wormwood' that reads, 'What didn't you do to bury me, but you forgot that I was a seed.'"
For Hopgood, perhaps, the documentary also represents a seed, one that he himself has planted in hope of spreading its positive power into the world – and he's counting on the support of his patrons through Indiegogo for the water, light and nourishment it requires to grow.