Chula Vista district high school crowns first trans homecoming queen
Karl Cristian Cruz's coronation was last Friday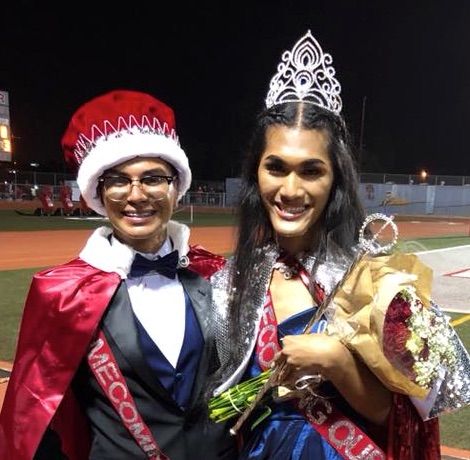 Students in the suburban San Diego Chula Vista School District voted overwhelmingly for 18-year old transgender Karl Cristian Cruz, a student at Sweetwater Union High School, to be their 2018 homecoming queen. Her coronation was on Friday, Sept. 14.
Cruz told KGTV ABC 10 she was shocked but happy to know her classmates are accepting of who she is. "Everyone started cheering for me. I didn't really expect that from anyone," Cruz said. "After the fireworks, I just started crying my eyes out."
On her Facebook page after Friday's coronation Cruz wrote;
"From being nominated, to being part of top 10 to being SUHI's first Transgender Homecoming Queen has been such a crazy fun experience and I'm forever thankful for everyone who supported me throughout this journey. I wanna give special thanks to my family who supported me, to my friends who supported me all the way, […] They were just there for me thru thick and thin. I love you guys with all my heart."
"I was extremely proud. I can't say I was surprised. Every single student should be accepted for who they are," Principal Maribel Gavin told KGTV. "They're all wonderful human beings that are here to learn."
In addition to being Homecoming Queen, Cruz is also on the principal's honor roll and is involved in several school clubs.
Both Gavin and Cruz believe Cruz being crowned queen shows that the school has created a safe environment for all students, including LGBTQ students.
Reporting by KGTV ABC 10 San Diego and the staff of the Los Angeles Blade.
This story has been updated to specify that Sweetwater Union High School is in National City. 
WeHo is working to shut down scam pop-up COVID testing sites
Free walk-up COVID-19 PCR and rapid testing is available at the West Hollywood Sheriff's Station front parking lot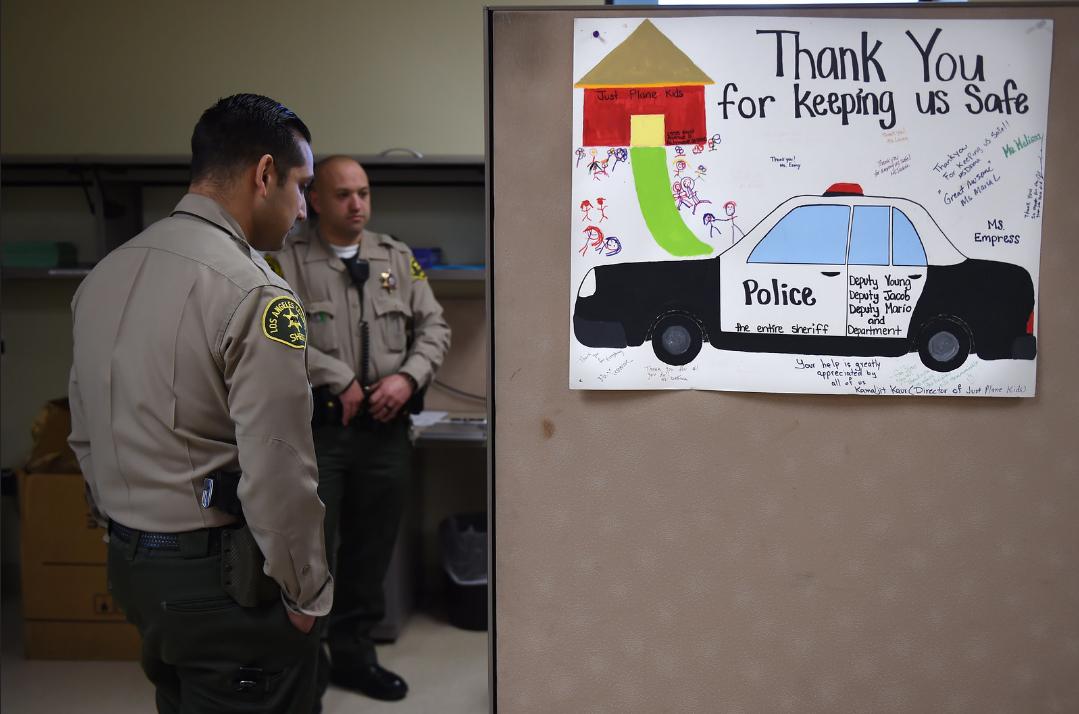 WEST HOLLYWOOD – Demand for COVID-19 testing in Los Angeles County has skyrocketed during the past several weeks. Sharply rising COVID-19 case counts and positivity rates coupled with the aftermath of holiday gatherings and travel has led to an unprecedented demand for testing.
Unfortunately, this demand has led to scammers distributing and setting-up fraudulent COVID-19 testing sites, some of which are requiring those seeking tests to pay a fee and/or provide a social security number.
As a reminder, community members should not have any out-of-pocket costs for a COVID-19 test or be providing their social security number. Free testing options are available, and public and private medical insurance companies are required to cover the cost of COVID-19 testing and treatment without charging any co-pays.
The City's Code Compliance Division is working in coordination with the West Hollywood Sheriff's Station to shut down scam pop-up testing sites. Community members who are concerned about illegitimate testing sites may reach out to the City by calling the Code Enforcement Hotline at (323) 848-6516.
The City of West Hollywood is getting the word out that COVID-19 testing is available for free to anyone in LA County, regardless of health insurance or immigration status.
If you are experiencing symptoms or if you may have been exposed to COVID-19, visit www.covid19.lacounty.gov/testing.
Learn more about COVID-19 tests at www.ph.lacounty.gov/covidtests.
West Hollywood community members should first call a healthcare provider for a COVID-19 test. For people who cannot get a test through a healthcare provider, free testing options include:
COVID-19 Testing at Plummer Park – Los Angeles County coordinates a testing site at Plummer Park, located at 7377 Santa Monica Boulevard. The testing site is open each week from Tuesday through Saturday from 9 a.m. to 5:30 p.m. adjacent to the West Hollywood Community Center at Plummer Park in the South Parking Lot. Tests are administered by Fulgent Genetics. Appointments are required. People interested in getting a test should pre-register for an appointment at la.fulgentgenetics.com. People getting tests should bring ID and confirmation number to the appointment.
Pick-Up COVID-19 Testing Kit Program – Los Angeles County Health Services has launched a program to increase and facilitate access to COVID-19 tests. The program allows residents to pick up a PCR test kit and return it at designated locations, which includes the COVID-19 West Hollywood testing site at Plummer Park. Results will be available within 24-48 hours. For details, visit: https://covid19.lacounty.gov/la-county-pick-up-testing-kit-program.
COVID-19 Testing at the West Hollywood Sheriff's Station Front Parking Lot – Free walk-up COVID-19 PCR and rapid testing is available at the West Hollywood Sheriff's Station front parking lot, located at 780 N. San Vicente Boulevard, on weekdays from 8 a.m. to 4 p.m. (Please note, this location is closed on holidays.) The lot has limited parking capacity; metered street parking is available nearby. No appointment is necessary. Testing is available at no cost to anyone four-years-old or older and is available regardless of insurance or citizenship status. Testing is sponsored by The Testing Co. and is hosted by the Los Angeles County Sheriff's Community Advisory Council.
Los Angeles County Testing Sites Across the Region – If you are unable to secure an appointment right away and need a test quickly, there are many testing sites regionally. Visit: https://covid19.lacounty.gov/testing.
Free Shipped At-Home Tests – As part of a new federal program, every home in the nation is eligible to order four free at-⁠home COVID-⁠19 tests. The tests are free and orders will usually ship in 7 to 12 days. Visit www.covidtests.gov for details and to order tests.
At-Home Tests for Purchase at Stores, Pharmacies, and Websites – Before buying a test kit online, check the website that is selling it and find out if the test is authorized on the FDA EUA test webpage. Learn about at-home COVID-19 testing by visit the CDC self-testing webpage or the FDA's At-Home Tests webpage area.
Additional information, such as links to West Hollywood-area drug store chains offering vaccinations, is available on the City of West Hollywood's website at www.weho.org/coronavirus in the Vaccines and Testing Information section.
Officials from the LA County Department of Public Health continue to remind community members about the importance of getting vaccinated, getting boosted, getting tested, and masking-up; these remain critical to stop the spread. For details, visit www.VaccinateLACounty.com.
For people without access to a computer or the Internet, or people with disabilities, an LA County call center is open daily from 8 a.m. to 8:30 p.m. to help schedule appointments at (833) 540-0473.
The City of West Hollywood remains in a declared local emergency in response to the coronavirus (COVID-19) outbreak. West Hollywood City Hall is open for in-person transactions by appointment.
Visitors to City Hall and City facilities are required to adhere to vaccine verification requirements. Click here for details.
To make an appointment, visit www.weho.org/appointments.
City Hall services remain accessible by phone at (323) 848-6400 and via the City's website at www.weho.org. City of West Hollywood coronavirus information is available at www.weho.org/coronavirus.
[email protected] Coalition receives bomb threat, LAPD investigating
Officers, specialists and detectives from the Rampart Division of the Los Angeles Police Department responded and swept the building
LOS ANGELES – A bomb threat was phoned in Wednesday afternoon to the Wilshire Blvd. Koreatown offices of the [email protected] Coalition, Bamby Salcedo, the president and CEO of the non-profit organization told the Blade.
According to Salcedo, an unidentified male caller told the staff person who answered at approximately 3 pm, while delivering the threat said; "you're all going to die." The staff immediately evacuated everyone from their offices and then contacted the LAPD for assistance.
Officers, specialists and detectives from the Rampart Division of the Los Angeles Police Department responded and swept the building. A spokesperson for the LAPD confirmed that the incident is under active investigation but would make no further comment.
On a Facebook post immediately after the incident the non-profit wrote; "To ensure the safety of our clients and staff members, we ask that you please NOT come to our office."
In a follow-up post, Salcedo notified the organization and its clientele that the LAPD had given the all-clear and that their offices would resume normal operations Thursday at 9:00 AM. "Thank you for your messages and concern for our staff and community," Salcedo said.
"No amount of threats can stop us from our commitment to the TGI community," she added.
The [email protected] Coalition (TLC) was founded in 2009 by a group of Transgender and Gender nonconforming and Intersex (TGI) immigrant women in Los Angeles, California, as a grassroots response to address the specific needs of TGI [email protected] immigrants who live in the United States.
Since then, the agency has become a nationally recognized organization with representation in 10 different states across the U.S. and provides direct services to TGI individuals in Los Angeles.
In 2015, The [email protected] Coalition identified the urgent need to provide direct services to empower TGI people in response to structural, institutional, and interpersonal violence, and the Center for Violence Prevention and Transgender Wellness was born.
Since then, the organization has secured funding from the state and local government sources as well as several private foundations and organizations to provide direct services to all TGI individuals in Los Angeles County (LAC).
TLC's primary focus is to change the landscape of access to services for TGI people and provide access to comprehensive resource and services that will improve the quality of life of TGI people.
Mayor Garcetti selects Kristin Crowley to become city's next fire chief
Kristin Crowley already made history within the LAFD when she became the city's first female fire marshal in 2016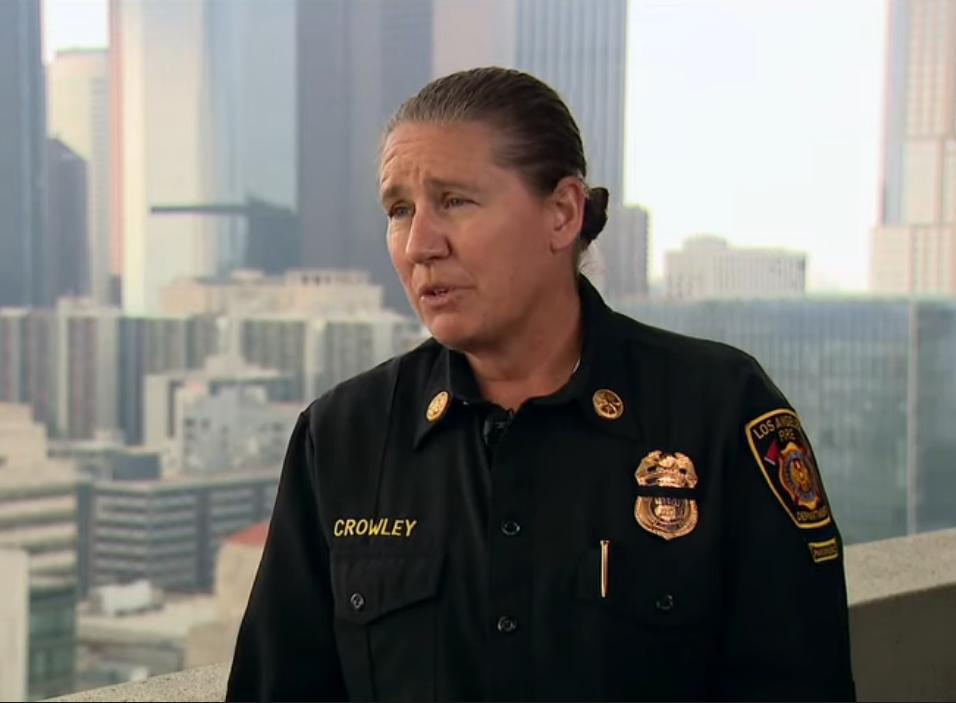 LOS ANGELES – Los Angeles Mayor Eric Garcetti nominated Deputy Chief Kristin Crowley to be the first woman to lead the Los Angeles Fire Department Tuesday. She would replace Chief Ralph Terrazas, who retires in March.
"I am honored and humbled by the opportunity to be the next fire chief of the Los Angeles City Fire Department and to lead the department into the future," Crowley said during the press conference event. "We will focus our efforts on increasing our operational effectiveness, enhancing firefighter safety and well-being, and fully commit to fostering a diverse, equitable, and inclusive culture within the LAFD."
The Los Angeles City Council will be required next in the process to confirm the appointment.
"Throughout her distinguished career, Kristin Crowley has proven her brilliance, determination and bravery on the job again and again," the mayor said. "There is no one better equipped to lead the LAFD at this moment than Kristin."
City News Service reported that Crowley took the firefighters' exam in 1998 and placed among the top 50 scores out of 16,000 applicants, according to the department. During her 22 years at the department, she rose through the ranks as firefighter, firefighter paramedic, engineer, fire inspector, captain I, captain II, battalion chief, assistant chief, fire marshal and deputy chief.
Crowley already made history within the LAFD when she became the city's first female fire marshal in 2016.
Mayor Garcetti names 1st female LAFD fire chief: