AJ Valenzuela is running for Community College Board
Out bisexual wants to serve Ventura County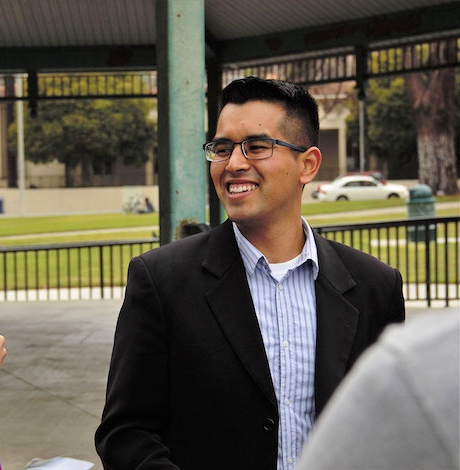 Lost in the uproar over heady political conflicts and fears of a conflagration poised to destroy American democracy as we know it are the skirmishes closer to the ground, the local grassroots fights over elected seats for the judiciary, controller, assessor, or on water boards and school boards that impact citizens more directly than most voters realize.
Arthur "AJ" Valenzuela Jr., 27, is one such candidate. Valenzuela is a young bisexual Democratic activist running for Ventura County Community College District Trustee Area 1, an area that covers Ventura and Ojai. After incumbent Trustee Stephen Blum decided not to seek re-election, four people qualified to run for that seat. Valenzuela says he was recruited by Blum.
"He thought I would be a good candidate because I used to be the Student Trustee on the Ventura County Community College District Board years ago, back in 2012-2013," Valenzuela tells the Los Angeles Blade. "I had the experience with higher education at the community college level, was elected President of the California Community College Association of Student Trustees, did some advocacy work for U.C. Santa Barbara and also covered higher education for Assemblymember Das Williams. I was known as a local young activist that probably could give a better understanding of the student youth population when it came to community colleges."
Valenzuela comes to the table armed with policy positions on such hot button issues as free college tuition, workforce development and building community—and he has the personal experience to back it up. 
"I was that student that struggled with community college back when I went through it. Most of my friends went off to four year universities and I was that person locally who went to a local community college, went up to a four year university, came back and now I'm contributing to the community," he says. "And I think I do have a lot to offer the community college system here locally as a young professional Latinx LGBTQ youth."
Valenzuela, a strong advocate for free community college, is in favor of Democratic Socialism—which he says means the government is supposed to provide for the community. In the 1960s, he notes, "education was free until Prop 13 came along and Ronald Reagan." K through 12 grade education is free now, and community college was free in the past so his plan to "break down barriers" is "nothing radical." Besides, with the California College Promise that waives certain enrollment fees for eligible students at any community college, "we are halfway there now to providing free community college."
The California College Promise is a good start. "But let's go to the next step—let's see how we can make it two years free and so forth, extending it to four years versus in the long run. So I'm willing to work towards it in the realistic capacity that we have," he says.
Valenzuela has been involved in California politics since 2012, which accounts for endorsements from out former Assembly Speaker John Perez, State Sen. Kevin de Leon and out California Democratic Party Chair Eric Bauman. "It shows my dedication to the community and to the Democratic Party," he says. "I think it just shows that my reputation of being effective and progressive works for itself."
He supports Sen. Bernie Sanders' view of Democratic Socialism. "It means that people get a fair say in how things are distributed, that it's done equally," he says. "But I think we all have to give what we can as individuals. Some of us can give more than others. For example, I do believe that people should pay their fair share of taxes, especially as someone who comes from a family of long shoremen. I do think that we do get plenty of money and we give a good amount back in taxes because we benefit a lot from public taxes that go into contributing to our ports. So for me, as a young professional or a young blue collar worker, we are giving our fair share."
Valenzuela is highly cognizant of the burgeoning student loan crisis. "The student loan crisis started becoming an issue in California after they started charging students for tuition for attending higher education," he says. "For me, that just seems like it's more privatization of community college because in the long run people are gonna have to pay back student debt."
Valenzuela says he was "very lucky" having to only take out $4,400 while attending UC Santa Barbara. "Once we provide free education for people, we have our Community College Foundation that can help students with the other needs that they have," he says. "Ideally, I would like to see forgiveness of student loans just from the scratch. But I don't know if that is politically possible at this time."
Valenzuela thinks it was "a tragedy" that Donald Trump was elected president. "It was unfortunate that a lot of people didn't turn out to vote in 2016," he says. But "I think young people are going to vote when it comes to people that meet their values."
For more, visit: here.
California's LGBTQ Pride week 2021, Capitol Lighting
The building will be illuminated for the week, marking just the second time in California's history that Pride colors have donned the dome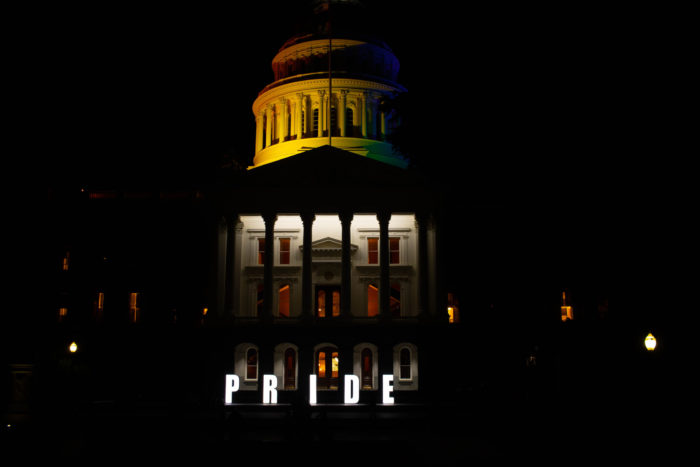 SACRAMENTO — The California Legislative LGBTQ Caucus and partner organizations held a press event and lighting ceremony, Monday, June 21, for the illumination of the California State Capitol Dome in rainbow colors to kick off a weeklong recognition of Pride Month.
The building will remain illuminated for the entire week, marking just the second time in California's history that Pride colors have donned the dome. The first lighting occurred after the U.S. Supreme Court legalized marriage equality.
The ceremony is part of a citywide initiative to put light installations at additional Sacramento landmarks, including City Hall, Sutter's Fort, and the Museum of Science and Curiosity. The lighting initiative is the brainchild of the Sacramento LGBT Community Center and the first of its kind for the region.
Speakers and participants included Assemblymember Evan Low, Chair of the CA Legislative LGBTQ Caucus, Senator Scott Wiener, former Chair of the CA Legislative LGBTQ Caucus, Senator Susan Talamantes Eggman, Vice Chair of the CA Legislative LGBTQ Caucus, California's Senate President pro Tempore Toni G. Atkins, Senator John Laird, Alexis Sanchez, Director of Advocacy for the Sacramento LGBT Community Center, Tony Hoang, Executive Director-designate for Equality California, Tami Martin, External Affairs Director for the Capitol LGBTQ Association and Legislative LGBTQ Caucus members and community stakeholders.

Editor's note: The Los Angeles Blade thanks the efforts of the event's photographer, Nune Garipian, who is responsible for covering the event on behalf of the Blade. All photographs are [Copyright Garipian 2021] and are used by permission.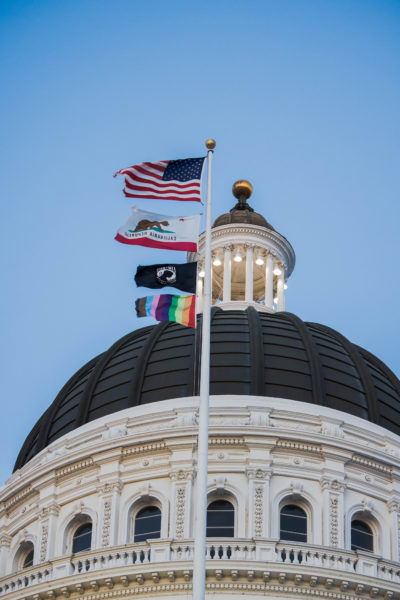 9th Circuit Court of Appeals blocks lower court overturn of assault rifle ban
Benitez ruled that California's three-decade-old ban on assault weapons violates the Second Amendment to the U.S. Constitution.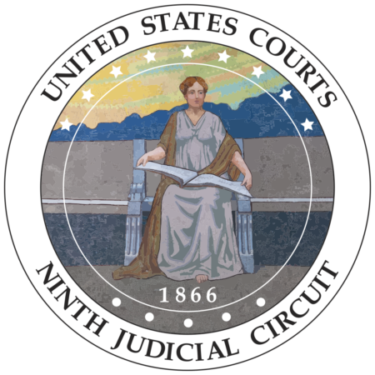 SAN FRANCISCO – In a ruling issued Monday, a three-judge panel of the U.S. 9th Circuit Court of Appeals issued a stay of U.S. District Judge Roger Benitez's controversial decision to overturn California's assault weapons ban on June 4. The ruling will be on hold until the 9th Circuit court decides on a separate gun control case.
Benitez ruled that California's three-decade-old ban on assault weapons violates the Second Amendment to the U.S. Constitution. The state had first crafted the ban in 1989 and in the intervening thirty-two years lawmakers in Sacramento had repeatedly amended the law.
Benitez overturned the ban and likened an AR-15 semiautomatic gun to a Swiss army knife, calling it "good for both home and battle." California Governor Gavin Newsom took exception to the comparative made by Judge Benitez remarking at the time;
"Today's decision is a direct threat to public safety and the lives of innocent Californians, period. As the son of a judge, I grew up with deep respect for the judicial process and the importance of a judge's ability to make impartial fact-based rulings, but the fact that this judge compared the AR-15 – a weapon of war that's used on the battlefield – to a Swiss Army Knife completely undermines the credibility of this decision and is a slap in the face to the families who've lost loved ones to this weapon. We're not backing down from this fight, and we'll continue pushing for common sense gun laws that will save lives."
The Roberti-Roos Assault Weapons Control Act of 1989 (AWCA) is a California law that bans the ownership and transfer of over 50 specific brands and models of semi-automatic firearms, which were classified as assault weapons. Most were rifles, but some were pistols and shotguns.
The case, Miller v. Bonta (previously Miller v. Becerra) had been brought by the Firearms Policy Coalition, (FPC) which in 2019, developed and filed the suit as a federal Second Amendment challenge to California's Assault Weapons Control Act (AWCA). The FPC argued that the State's ban prohibits arms that are constitutionally protected, no more lethal than other certain arms that are not banned, and commonly possessed and used for lawful purposes in the vast majority of the United States.
California Attorney General Rob Bonta had appealed Benitez's ruling. On Monday he said in a tweet; "This leaves our assault weapons laws in effect while appellate proceedings continue. We won't stop defending these life-saving laws."
#BREAKING: The 9th Circuit granted our motion to stay the district court's ruling in Miller v. Bonta.

This leaves our assault weapons laws in effect while appellate proceedings continue.

We won't stop defending these life-saving laws.https://t.co/L8F8zpLuhv pic.twitter.com/udtszNfOis

— Rob Bonta (@AGRobBonta) June 21, 2021
Disney honors Pride month and keeps some pandemic rules for now
"I was lost, desperate to connect with someone who understood what I was feeling. That all changed when I arrived at Disneyland."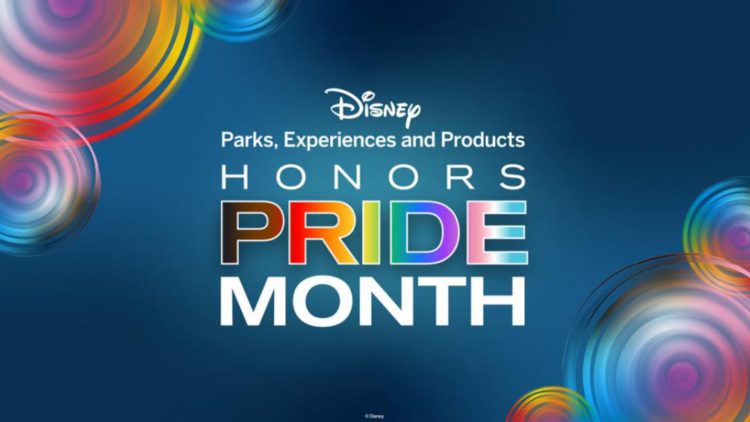 ANAHEIM – The Walt Disney Company's Disney Parks, Experiences and Products, (DPEP) is celebrating and honoring Pride this year, highlighting its LGBTQ employees as well as supporting a welcoming and embracing work environment where LGBTQ+ cast members are encouraged to be their authentic selves.
Writing for the company's blog, Michelle Mockler, DPEP's External Communications Manager profiled James Heath, a Senior Duty Manager at the Disneyland California Adventure Park. Heath, who has been employed by the Disney company since he was 17, related his personal experiences with Disney that he said shaped not only his career as an employee but as a gay man as well.
In the winter of 2000, Heath applied for a job position in hopes of fulfilling a lifelong dream of becoming a cast member, a term that Disney describes it employees as. After several interviews, James was offered a cast member role as a Food & Beverage Host.
According to Heath, he didn't realise that position working at Disneyland had just given him something far more important than a job… "It gave me a place to belong," he told Mockler.
Mockler writes that just two years prior, Heath had made the decision to come out as gay. At 15 years old, he found himself as the only openly gay student in his school.
"While I was fortunate to have supportive family and friends by my side, I was missing something truly critical at this time in my life: Other people like me. I was lost, desperate to connect with someone who understood what I was feeling. That all changed when I arrived at Disneyland."
At Disney, James found himself working alongside other LGBTQ+ cast members. He found people, with whom he could share stories, compare experiences and talk through challenges.
"Being gay was no different to my coworkers and leaders than any of the other countless qualities that make each of us unique."
Twenty-one years later, the now thirty-eight year old Senior Disney Manager related; "Sometimes I wonder who I would be today had I not had this safe place to grow into my own skin. I was fortunate to have allies who courageously pushed against outdated ideas to give me a safe place to thrive."
Heath says that he's found himself in the role of leader, mentor, ally and advocate.
"It's my turn to give back and help to further our culture of inclusivity. Somewhere out there, a future cast member is looking for a place where they can belong. I'm committed to helping them find it at Disney."
As Disney celebrates Pride Month, this past week as the State of California lifted most of the restrictions imposed by California state and local health officials and Governor Gavin Newsom. However, Disney officials have decided to keep in place for the time being some of those measures.
"I don't want to say we are going to go back to the way it was," Josh D'Amaro, chairman of Disney Parks, Experiences and Products, said Thursday about managing the parks. "I want to be really smart in the way we do this."
The parks at the Disneyland Resort in Anaheim in Orange County are continuing to reopen in phases, but a handful of the COVID-era changes are going to stick.
In an interview with the Los Angeles Times this past week, D'Amaro said that the company is poised to keep "in place a reservation system that was adopted to manage visitor numbers under the state-imposed capacity limits and the continued use of a virtual queuing system that was designed to give all parkgoers a shot at visiting the most popular attractions."
Currently valid theme park admission as well as a confirmed park reservation about both required if a guest wishes to visit either Disneyland or Disney California Adventure. Park Pass Reservations are also currently required at Disney World.
We're celebrating #PrideMonth by sharing the voices and contributions of the LGBTQ+ community. @Disneyland's James Heath shares how he found acceptance and encouragement to be his authentic self at Disney: https://t.co/efn4Q9e4ST pic.twitter.com/NQumRUicJT

— Disney Parks (@DisneyParks) June 18, 2021