September 22, 2018 at 11:33 pm PDT | by Austin Mendoza
Bi Pride makes history in West Hollywood
History was made Saturday afternoon as the first bisexual pride celebration in the world, he Sat. Sept 22  in West Hollywood. It was sponsored by the City of West Hollywood.
The festivities included a bi visibility march and a party in the West Hollywood Auditorium, at which Mayor John Duran declared Saturday as "Bisexual Celebration Day" in the City of West Hollywood. Saturday's festivities were capped by performances by spoken word performer Irene Suico Soriano and singer Torrey Mercer.
Robert Gamboa of the Lesbian and Gay Advisory Board of the City of West Hollywood told the Los Angeles Blade that,"…this is the next big step in making the bi community feel welcome. September 23rd is Bisexual Pride Day around the world, so we decided to take that up a notch and create this event."
The Advisory Board was joined in arranging Saturday's events by social group amBi and by Human Rights Campaign LA.
After the several hundred-strong gathering met at the Auditorium, the revelers took to the busiest boulevards of West Hollywood. They chanted and made themselves seen and heard by the patrons of the clubs and restaurants on Santa Monica Boulevard – the triumphant sea of purple, pink, and blue extended for nearly an entire block. This feeling of visibility was hailed by many in the march.
"We don't feel like we fit in either world, but we definitely should fit into the queer world. This parade is really helping us create awareness and for us to be seen by both the queer and straight communities," said Katie Sharpe. "[Bisexuality] is not something that we're trying on. It's our lives and our sexuality, and it's legitimate."
Alana Rochay, also of the Lesbian and Gay Advisory Board, concurred. "We're finally making a conscious choice to make the B visible in LGBTQ for once. We're actually spotlighting it by making this amazing march and making it visible to everyone that bi people exist," she said.
After finishing the march route, the attendees were treated to a party featuring booths, refreshments, and camaraderie. Many attendees welcomed having an event specifically celebrating bisexuality.
Amanda Price lamented that there were only two floats in this year's LA Pride parade that highlighted bisexuality, and was glad to "…have a space where we can be proud of the 'B' in LGBT." It would seem that the supportive cheers and horns from business patrons and cars passing the marchers do not translate to concrete actions or acknowledgements by the gay and lesbian communities.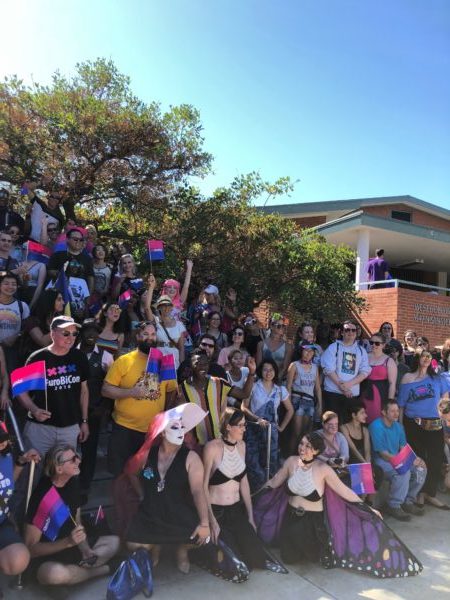 This is surprising, considering that people who identify as bisexual actually comprise the majority of the LGBT community, according to the Pew Research Center.
"We're always trying to prove that we're enough for the queer community, and it's nice to have spaces where we don't have to do that," said marcher Chelsie Uriarte. Attendee Maggie Jung also felt "empowered and validated to be surrounded by people who feel the same way about people as I do."
Before making his Bisexual Celebration Day proclamation, West Hollywood John Duran related to the Los Angeles Blade that Bi Pride was "…about public education so that the public understands [more about the bi community]."
Indeed, public education on the existence and affirmation of a community often ostracized by the queer community at large is a laudable and historic step for the City of West Hollywood.
Amidst constant bi underrepresentation and erasure from broader society, "…to have something that acknowledges our existence is very important," said Uriarte. Rachel McAllister was of a similar mindset, arguing the importance of "showing that there's other people in the community" beyond the gay white males that often typify the LGBT community.
Now that West Hollywood has become the first city on the planet to sponsor an event specifically celebrating the bi community, the chance exists that more cities around the world will soon follow suit. Rochay certainly looks forward to this event continuing in the future, at least in West Hollywood: "I can't wait for it to be bigger and better every year, because it's going to be."
Here's hoping.