WeHo's one-stop sobriety shop celebrates 15 years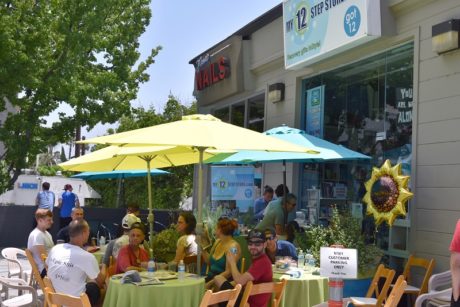 You might think a store dedicated to sobriety would be out of place in the heart of West Hollywood's party scene, but My 12 Step Store been there for years.
It's a one-stop shop that fills an important need by selling all the essentials required for any meetings of the various 12-step programs – books, chips and medallions designating sobriety milestones – as well as racy clothing, jewelry, unique gifts and inspirational recovery cards.
R.J. Holguin, who is Founder and CEO as well as the store's Director of Marketing and Outreach, says, "Whether your addiction is alcohol, drugs, sex, love, food, meth or codependency – to list only a few – we have something for you and those you love."
On September 26, the store will celebrate its 15-year Anniversary with an alcohol-free mixer, in partnership with West Hollywood Chamber of Commerce, Institute for Public Strategies, West Hollywood Project, Keys to Recovery and WeHo Times.
Nestled in a prime stretch of real estate along Santa Monica Boulevard, the shop is more than just a familiar landmark for the bustling crowds and busy traffic that move past it, day after day.  It's a long-standing WeHo fixture – but it started out a little further east.
In 2003, Holguin, a designer specializing in hotel events, had an opportunity to take over a store front near his studio at Sunset and Wilcox.  It was an offer he couldn't refuse.
"I saw it as a way to give back to a community that I was a part of, both as a resident and as a person in recovery myself," he says.  "So, I opened a boutique-style store that would be welcoming and exciting to people who are clean and sober."
A year later, the building was bought by Magic Johnson's company, with an eye toward building condos in newly revitalized, hip-and-trendy Hollywood.  It meant relocation for Holguin's store, but that's what he wanted to do, anyway.  The problem was finding a suitable place to move.
"We needed to do it within a year, to get the moving relocation allowance," he says.  "I looked high and low, but for one reason or another, none of the places I wanted worked out.  Six days before the year was up, I was sitting in my car, heartbroken because I couldn't find a place that suited our needs, with a friend telling me, 'well, maybe you're not supposed to move and that's the end of the store.'  I surrendered to a deeper level, thinking if that was the case I would accept it – and then as I started to drive away, I noticed this eyewear shop that was closed, and I thought, 'Why are they always closed?  If I had that space I would be open at this time of day!'"
"Within 24 hours I was signing papers to take over the lease."
The new location has proven to be fortuitous.  Because of its central location, it's a go-to spot to buy the necessary chips and literature for meetings – and for those outside the area, the store offers a variety of shipping options.
One might think that a WeHo location would mean that his shop caters mostly to LA's sizeable "Gay AA" community, but Holguin says that's not the case.
"Our average customer is a woman not in the LQBTQ community," he says.
He elaborates, "I don't identify us as a store for LGBTQ, I identify us as store that's very supportive for LGBTQ and welcomes you.  We are a gift store.  If you are gift-giver you most likely will support us by buying gifts for friends and loved ones in recovery."
He also points out, "One-third to three-quarters of our business is online.  We ship all over the world. That's where we represent WeHo, and we want to shine like a star and be of service.  We get families traveling from Europe – they tell us our store is on their list to visit during their US tour. We welcome them to our country, offer our services, and wish them a wonderful vacation."
"It can make us feel very rewarded," he says.  "We're left with our hearts having been touched."
The store has also hosted several high-profile events over the years.  Holguin says, "We partnered with some big names and put on a celebrity Emmy party that made T-shirts for charity.  The shelves that house the recovery books in our store are from the premier party for "Ray," the movie of Ray Charles' life story that included addiction."  Ironically, he says that at the party they were filled with expensive bottles of Luis XIII cognac.
And there have been the celebrity visits.  Holguin says "A memorable one was Steven Tyler, who stopped by with his band on their way to perform at the Hollywood bowl.  He drew us a piece of 'One Day at a Time' art that has become a signature postcard of ours."
On another occasion, he says, "Lindsey Lohan hid in the store during one of her runs from the paparazzi."
Such memories may be fun, but Holguin never loses sight of his store's true mission – providing support for those in recovery.  It's something he takes very seriously, and which goes beyond simply selling gifts and necessities.
"We believe My 12 Step Store has a purpose beyond the service we provide," he says.  "In my 32 years of recovery I have employed hundreds of people in all my businesses – sometimes for years, sometimes just for a day to help them out.  The store donates a portion of profits to charity and has a scholarship program for those newly recovering; we partner with many recovery organizations and travel out of state and country for events."
Such dedication has paid off by making My 12 Step Store not only a cornerstone of LA's recovery community, but one of the top five recovery stores in the world.
And what about that building Magic Johnson bought out from under him, all those years ago?
"It never got converted," Holguin says.  "It's still sitting there."
The My 12 Step Store anniversary celebration will also commemorate National Recovery Month, which falls during the month that My 12 Step Store opened its doors 15 years ago.  City of West Hollywood residents and neighboring communities will gather in the front courtyard of the store located at 8730-B Santa Monica Boulevard, West Hollywood CA 90069, on Wednesday, September 26, 2018 from 5pm to 8 pm. 
The store, known for its outdoor patio events, will convert the parking lot on the corner of Santa Monica Boulevard and Huntley Drive into a stylized party venue, complete with carpeting, and an illuminated bar serving mocktails and hors d'oeuvres from local restaurants. There will be a Live DJ featuring various songs related to recovery from popular artists. The event will also host a "My Fair Junkie" softcover book release and book signing with author Amy Dresner.
Newsom announces historic Supreme Court nominations 
Judge Kelli Evans will be the second openly LGBTQ+ justice to serve on the state's high court joining Justice Martin Jenkins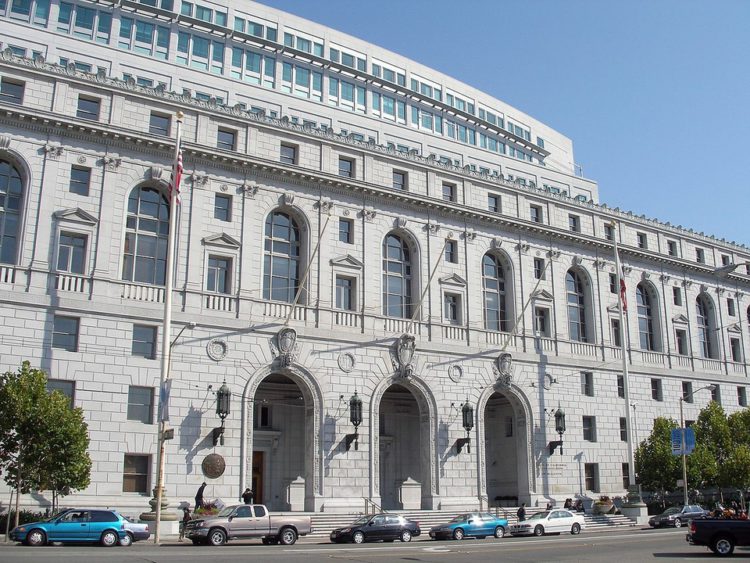 SACRAMENTO – Governor Gavin Newsom announced his nomination of Supreme Court Associate Justice Patricia Guerrero to serve as California's next Chief Justice after Chief Justice Tani Cantil-Sakauye concludes her current term of office on January 2, 2023.
A first-generation Californian, Justice Guerrero was the first Latina to serve on the California Supreme Court and, if confirmed, will be the first Latina to serve as California's Chief Justice.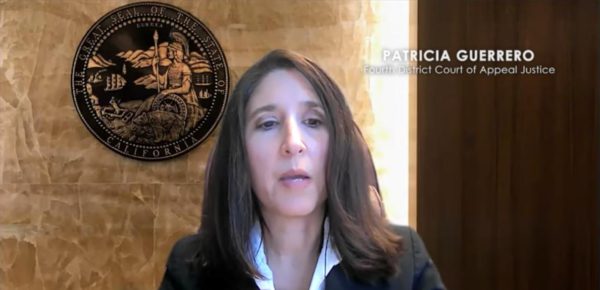 "Justice Guerrero has established herself as a widely respected jurist with a formidable intellect and command of the law and deep commitment to equal justice and public service," said Governor Newsom. "A first-generation Californian from the Imperial Valley, Justice Guerrero broke barriers as California's first Latina Supreme Court Justice, enriching our state's highest court with her insights and deep understanding of the real-world impacts of the Court's decisions in the lives of everyday Californians. I thank Justice Guerrero for her willingness to step into this role and am confident that the people of California will continue to be well served by her leadership for years to come."
"I am humbled by this nomination to lead our state's Supreme Court and thank the Governor for entrusting me with this honor," said Justice Guerrero, who was sworn in to the California Supreme Court by Governor Newsom earlier this year. "If confirmed, I look forward to continuing the strides the Court has made under Chief Justice Cantil-Sakauye to expand equal access to justice and create a fairer justice system for all Californians."  
The Governor also announced his intention to appoint Alameda County Superior Court Judge Kelli Evans to serve as an Associate Justice of the California Supreme Court to fill the vacancy created by Justice Guerrero's elevation to Chief Justice.
Equality California, the nation's largest statewide LGBTQ+ civil rights organization, released the following statement from Executive Director Tony Hoang:
"Representation is power, and it's critical in our collective fight for full, lived equality. Governor Newsom's historic appointment of Judge Evans ensures that California's highest court better reflects the diversity of our state and sends an important message to the rest of the country at a time when LGBTQ+ people, women and communities of color are under attack. Judge Evans is an outstanding, highly qualified jurist, and we are confident she will continue to uphold and advance equal justice under the law for all Californians."
Judge Evans assumed office in 2021 as a judge of the Superior Court of Alameda County. Evans served as an Assistant Public Defender at the Sacramento County Public Defender's Office, as an Attorney for the ACLU of Northern California and as a Senior Trial Attorney in the Civil Rights Division of the U.S. Department of Justice from.
She was Senior Director for the Administration of Justice at the California State Bar and Special Assistant to the Attorney General at the California Department of Justice. From 2019 to 2020, Evans worked as Deputy Legal Affairs Secretary for Criminal Justice in the Office of Governor Newsom, where she worked as Chief Deputy Legal Affairs Secretary from 2020 to 2021.
"Throughout her career, Judge Evans has dedicated herself to helping all Californians have an equal chance at justice," said Governor Newsom. "Raised by her grandmother in public housing, Judge Evans was inspired from a young age to find ways to help expand justice and opportunity for everyone, especially marginalized and vulnerable communities. I have seen firsthand her commitment to the highest ideals of public service, and her passion to protect and advance civil rights and liberties for all Californians. I have no doubt that her exemplary talent, wide-ranging knowledge and experience, strong moral compass, and work ethic will make her an outstanding Supreme Court Justice," said Governor Newsom.   
Judge Evans will be the second openly LGBTQ+ justice to serve on the state's high court joining Justice Martin Jenkins who was appointed October 2020.
"I am truly honored by this opportunity to serve the people of California on our state's highest court," said Judge Evans. "I have worked my entire career to promote equality and access to justice and to protect the rights of some of society's most disenfranchised members. If confirmed, I look forward to furthering our state's work to ensure equal justice under the law for all Californians."

"Governor Gavin Newsom has made historic appointments to the California Supreme Court in nominating Justice Patricia Guerrero to be the new Chief Justice and Judge Kelli Evans to be a Justice. These two individuals are impeccably qualified," said Erwin Chemerinsky, Dean of the University of California, Berkeley School of Law. "They will lead the California Supreme Court in using the California Constitution and California law to advance freedom and equality."
Background biographical on the Governor's choices:
Raised in the Imperial Valley by immigrant parents from Mexico, Justice Guerrero, 50, of Coronado, served as an Associate Justice at the Fourth District Court of Appeal, Division One from 2017 to 2022 and has wide-ranging experience as a trial court judge, partner at a major law firm and Assistant U.S. Attorney.  
As an appellate justice at the Fourth District Court of Appeal, Justice Guerrero authored numerous opinions to protect the rights of consumers and individuals, while also ensuring that defendants' constitutional rights are protected and that all parties, including the government, are treated fairly and consistent with the rule of law. She served as a Judge at the San Diego County Superior Court from 2013 to 2017 and was Supervising Judge for the Family Law Division at the Court in 2017. Justice Guerrero was hired as an Associate at Latham & Watkins and became a Partner in 2006. She served as an Assistant U.S. Attorney at the U.S. Attorney's Office, Southern District of California from 2002 to 2003. Justice Guerrero earned a Juris Doctor degree from Stanford Law School. The compensation for this position is $293,286. She is a Democrat.

"This is truly an exceptional and historic day for the people of California and for the justice system. Justice Guerrero is an outstanding choice to lead our court system. This includes chairing the work of the California Supreme Court in reviewing the landscape of thousands of legal opinions across the state and ensuring that the development of the law is consistent with the statutory and Constitutional mandates that govern our state," said retired California Supreme Court Justice Carlos R. Moreno. "Justice Guerrero's inspiring nomination demonstrates that, regardless of humble beginnings, hard work and commitment to one's values can lead to the fulfillment of the true American dream."

Instilled with the importance of education by her grandmother, Judge Evans, 53, of Oakland, excelled academically and was able to attend a top-rated high school when her family moved from a public housing project to a HUD subsidized apartment. One of only a small number of students of color at the school, she managed to thrive and graduate among the top of her class while working 20 hours a week to help support her family. Judge Evans went on to attend Stanford University and earn a Juris Doctor degree from the University of California, Davis School of Law, where she received the Martin Luther King, Jr. award for exceptional public service.
Judge Evans has served as a Judge in the Alameda County Superior Court since 2021. Prior to this appointment, she served as Chief Deputy Legal Affairs Secretary in the Office of Governor Gavin Newsom, where she helped shape California's moratorium on capital punishment and advised the Governor and executive agencies on myriad issues in administrative proceedings and in state and federal trial and appellate courts. 
Judge Evans served as Special Assistant to the Attorney General at the California Department of Justice from 2017 to 2019 and was Senior Director for the Administration of Justice at the California State Bar from 2014 to 2017. She was Associate Director of the ACLU of Northern California from 2010 to 2013, where she served as an Attorney from 1995 to 1998. She was a Partner at Independent Assessment & Monitoring LLP from 2006 to 2010 and an Associate at Relman and Associates from 2001 to 2004. Judge Evans served as a Senior Trial Attorney in the Civil Rights Division of the U.S. Department of Justice from 1998 to 2001 and as an Assistant Public Defender at the Sacramento County Public Defender's Office in 1995. She has served as a member of federal court-appointed monitoring teams for the Oakland and Cleveland Police Departments.  

"Judge Kelli Evans is a brilliant choice to serve as Associate Justice on the California Supreme Court. Besides being an amazingly accomplished lawyer and judge, she has devoted her professional life – and her very heart and soul – to social justice for all and is ideally suited for service on the state's highest court. I cannot imagine anybody better than Judge Evans to fill the vacancy," said Kevin Johnson, Dean of the University of California, Davis School of Law.

The Governor's nominations and appointments must be submitted to the State Bar's Commission on Judicial Nominees Evaluation and confirmed by the Commission on Judicial Appointments.
The Commission on Judicial Appointments consists of Chief Justice Tani Cantil-Sakauye, Attorney General Rob Bonta and Senior Presiding Justice of the state Court of Appeal Manuel Ramirez.
The nomination of Justice Guerrero as Chief Justice must also be confirmed by the voters in the November 8, 2022 general election. 
Newsom launches nation's largest college savings program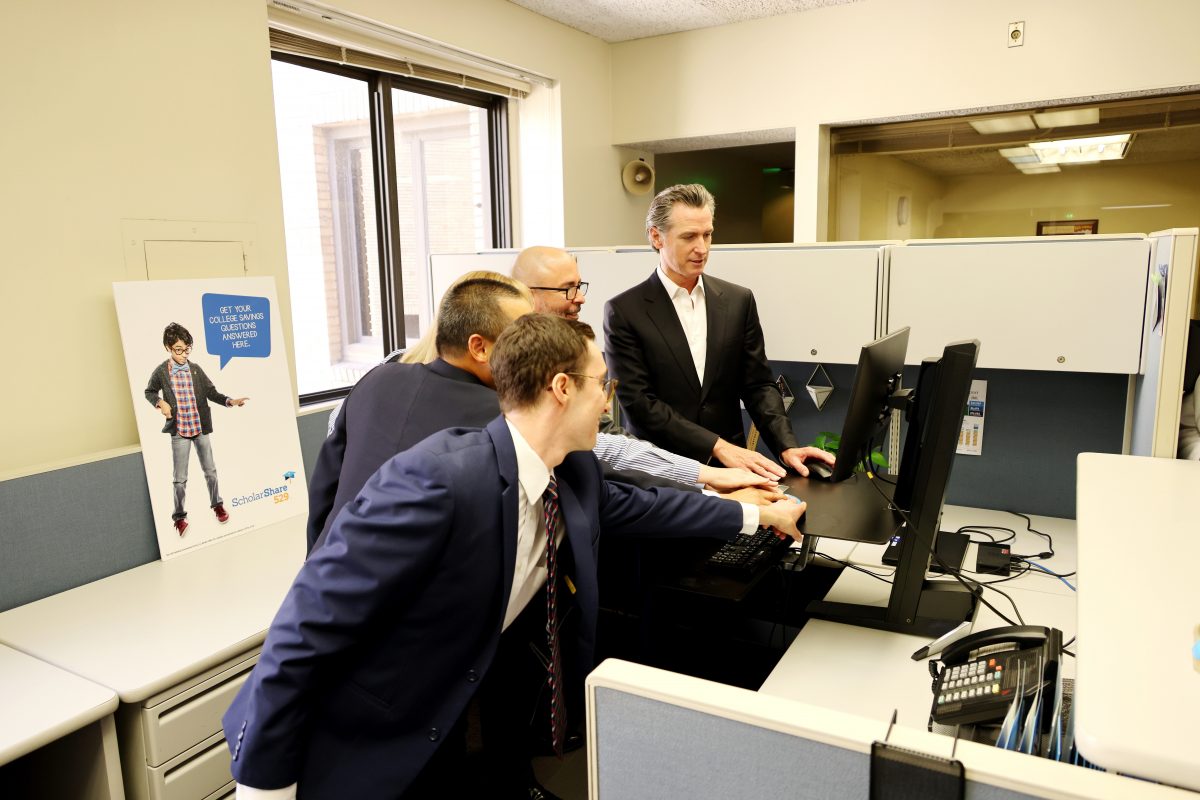 SACRAMENTO – Starting today, all Californian families of low-income public school students – 3.4 million across the state – can now access college savings accounts created in their children's names, with seed investments of between $500 and $1,500.
The CalKIDS program, launched by Governor Gavin Newsom, invests $1.9 billion into accounts for low-income school-age children in grades 1-12 and for newborn children born on or after July 1, 2022. 
"California is telling our students that we believe they're college material – not only do we believe it, we'll invest in them directly," said Newsom. "With up to $1,500, we're transforming lives, generating college-going mindsets, and creating generational wealth for millions of Californians."
"I am proud and excited to finally see CalKIDS in action," said Assemblymember Adrin Nazarian. "My goal with this program was to bridge the gap between wealth inequality and the high cost of education. CalKIDS will expand access to college through savings by providing each child born in the state of California a seed deposit in a ScholarShare 529 college savings account. Furthermore, thanks to Governor Newsom's investment and expansion of the Program to make college more accessible to low-income California kids, additional deposits will be made for low-income first graders across the state, with supplemental deposits for foster and homeless youth. Our shared vision ensures each child across the state will have an opportunity at higher education."
FIND OUT IF YOU'RE RECEIVING MONEY BY CLICKING HERE.
Up to $1,500 for 3.4 Million School-Age Children:
$500 Automatic Deposit: Eligible low-income public school students in grades 1-12.
$500 Additional Deposit: Eligible low-income public school students in grades 1-12 identified as foster youth.
$500 Additional Deposit: Eligible low-income public school students in grades 1-12 identified as homeless.
Up to $100 for Newborn Children:
$25 Automatic Deposit: Every eligible child born on or after July 1, 2022.
$25 Additional Deposit: Those who register on the program's online portal.
$50 Additional Deposit: Those who link a new or existing ScholarShare 529 account to the CalKIDS account.
Californians can begin accessing their accounts via the online portal now. In the coming months, CalKIDS will send notification letters to qualifying children and families with more information.
Triple A: Drivers asked stay alert & drive carefully as kids go back to school
Distracted driving is especially dangerous for pedestrians and bicyclists. Non-drivers account for nearly 1 in 5 distracted driving deaths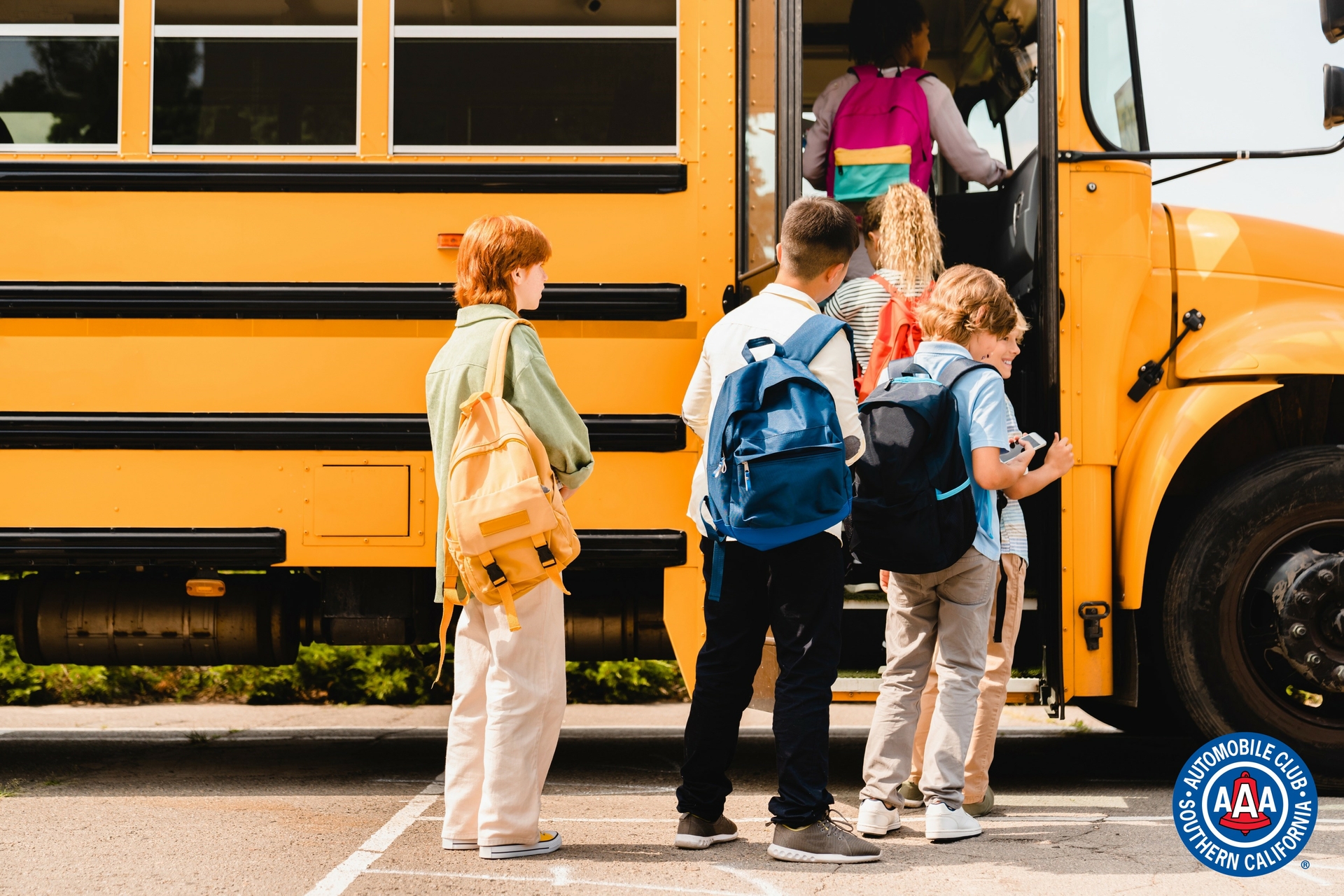 LOS ANGELES – This month Southern California students are returning to classes on foot, bicycles, as well as in cars and school buses. To prevent traffic-related injuries and fatalities to students this school year, the Automobile Club of Southern California reminds drivers to slow down and stay alert in school zones and in other areas where children might be present.
Crashes are the leading cause of death for children and adolescents. The problem escalates during the months kids are in school, and the afternoon school hours are particularly dangerous. Nearly one-third of child pedestrian fatalities occur between 3 p.m. and 7 p.m.
Kids are particularly vulnerable because they are small and less visible to drivers, are not always able to make sound and safe decisions near streets and can be easily distracted when around other kids. Children are not adults, so it is up to drivers to compensate for these differences. AAA's School's Open – Drive Carefully! awareness campaign began in 1946 to help reduce child pedestrian fatalities and injuries. Today, this effort is more important than ever due to the prevalence of drivers with smartphones and the increase in distracted driving on our roads.
According to the National Highway Traffic Safety Administration (NHTSA), 3,138 people died in distracted-related crashes in the U.S. in 2020, accounting for 8.1% of all roadway fatalities. That's an average of 9 people killed each day in crashes that are totally preventable. Additionally, another 400,000 people are injured each year in distracted-related crashes. However, the true numbers of deaths and injuries are likely much higher because distracted driving is often underreported or difficult to determine as the cause of a crash.
Distracted driving is especially dangerous for pedestrians and bicyclists. Non-drivers account for nearly one in five distracted driving deaths. Nationally in 2020, there were 480 pedestrians, 83 bicyclists and 14 other non-occupants killed in crashes that involved a driver who was reported to be distracted. It is unknown how many of these pedestrians, cyclists and other non-occupants were also distracted at the time.
"School-aged children will soon be going to and from campuses, so drivers should prepare for them," said Auto Club Corporate Communications & Programs Manager Doug Shupe. "If you drive distracted you are "intexticated" behind the wheel, and you could cause the same tragedies as a driver who is impaired by alcohol or drugs. So, make it a habit to put smartphones out of sight and stay alert on the road, especially in school zones, in neighborhoods, around parks, and near bus stops," said Shupe.
To keep kids safe this school year the Auto Club reminds drivers to:
Eliminate distractions and put down the cell phone. Children often cross the road unexpectedly and may emerge suddenly between parked cars. Research shows that taking your eyes off the road for just two seconds doubles your chances of crashing.
Slow down. Speed limits in school zones are reduced for a reason. A pedestrian struck by a vehicle traveling 25 mph is nearly two-thirds less likely to be killed compared to a pedestrian struck by a vehicle traveling just 10 mph faster. A difference between 25 mph and 35 mph can save a life.
Talk with teens. Car crashes are the leading cause of death for teens in the United States, and more than one-quarter of fatal crashes involving teen drivers occur during after-school hours.
Come to a complete stop. Research shows that more than one-third of drivers roll through stop signs in school zones or on neighborhood streets. Always come to a complete stop, checking carefully for children on sidewalks and in crosswalks before continuing.
Watch for bicycles. Children on bikes can be inexperienced, unsteady, and unpredictable. Slow down and allow at least three feet of passing distance between your vehicle and the bicycle. If your child rides a bicycle to school, require that they wear a properly fitted bicycle helmet on every ride.
Watch for school buses. Yellow flashing lights indicate the bus is preparing to stop to load or unload children. Drivers should slow down and prepare to stop. Red flashing lights and extended stop arms indicate the bus has stopped and children are getting on or off. Drivers MUST stop and wait until the red lights stop flashing, the extended stop-arm withdraws, and the bus begins to move before they can start driving again.
Parents and guardians are also key to keeping children safe during the trip to and from school. Adults should walk with children to familiarize them with the route to school and point out potential traffic hazards.
Students walking to and from school should:
Wait until you get to your destination before calling people, texting or gaming. If you must text or make a call while walking, stop and find a safe location.
Avoid using hands-free devices while walking – Hang up and walk!
Remove your headphones or turn down the volume of your music so you can hear what's going on around you.
Watch out for cars while crossing the street. There are a lot of distracted drivers out there so look all around you while in and around crosswalks.
Be a role model – pay attention while you walk and if you see your friends and family distracted while they walk – speak up.
For more information about the Auto Club's traffic safety initiative, "Don't Drive Intoxicated. Don't Drive Intexticated," visit aaa.com/dontdrivedistracted to read real stories of lives impacted by distracted driving, watch PSAs, and view a new distracted driving documentary called "Sidetracked."