October 6, 2018 at 2:36 pm PDT | by Karen Ocamb
California reacts to Kavanaugh confirmation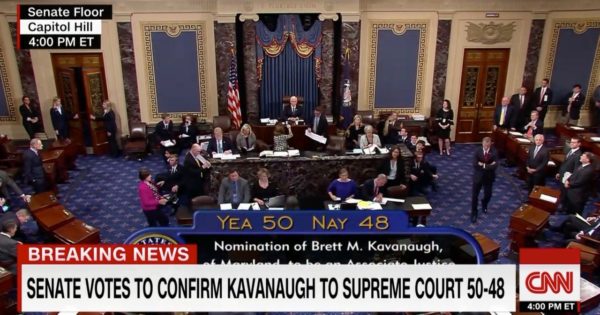 And so a dark chapter begins.
The Senate confirmed Brett Kavanaugh to the US Supreme Court, despite his overt lies, display of partisanship and lack of judicial temperament. "What goes around, comes around," he threatened in sworn testimony after claiming that his critics were left-wingers seeking revenge for his participation in the Starr investigation against the Clinton's and Trump's win in 2016.
How is any registered or suspected Democrat going to receive a fair hearing from this Justice after he has made his intentions known?
The vote was 50 to 48-1, the closest Supreme Court confirmation vote in US history, with Vice President Mike Pence seated as President of the Senate to break a tie vote, if necessary. The SCOTUS seat was the second for Donald Trump after Republican Senate Majority Leader Mitch McConnell refused to even hold hearings for President Obama's Supreme Court nominee, Merrick Garland. McConnell has also been busy packing the federal court with judges hand-picked by the conservative Federalist Society.
Now, the final branch of government – the courts – where a marginalized person could believe in the possibility of justice under the traditional notion "no one is above the law" – has been severely clouded. And now with Kavanaugh, who is unpopular among the American people – nominated by a president who failed to win the popular vote – was confirmed by the slightest majority of senators who represent about 44% of the nation.
Here are just some of the reactions to today's travesty:
"This controversial and partisan choice further deepens the divisions in America and profoundly undermines democratic governance. A real tragedy," says California Gov. Edmund G. Brown Jr..
The City of West Hollywood, through its elected officials, also condemns the actions of the United States Senate, having already officially opposed Kavanaugh's nomination last August.
"Brett Kavanaugh's display of rage and belligerence at the Senate Judiciary Committee hearings proves that he does not have the temperament to be a Judge — much less on the Supreme Court," said West Hollywood Mayor John J. Duran. "It is abhorrent to think we are placing our future, our equality, and our liberty in the hands of a drunken frat boy who sexually assaulted a teenage girl while his friend Mark Judge stood by and laughed. This is a sad moment in the history of our Nation."
"The Senate and all of America deserved a better choice than Brett Kavanaugh," said Mayor Pro Tempore John D'Amico. "There is more work for all of us to do."
"Judge Kavanaugh has not demonstrated the impartiality we should expect from nominees for the Supreme Court. But of course that's exactly why he was nominated and he is being confirmed," said Councilmember John Heilman. "The President and his allies in the Senate don't believe in an independent and impartial judiciary. They want someone who will support their assault on civil rights. This is a dark day for our democracy."
"Today marks another shameful moment in American history," said Councilmember Lindsey P. Horvath. "The Senate has acted against the protection of victims of sexual assault — and against the provisions of the Violence Against Women Act — and has confirmed a violator of women's safety and trust to the highest Court in the land. Blaming and shaming victims is not justice. Appointing Kavanaugh is not justice. With this appointment, women are clearly and deliberately under attack in this country. I am grateful for the leadership of Senators Feinstein and Harris. I commend Senators Heitkamp and Murkowski for their courage and conviction — both face daunting consequences for their selfless votes."
"It is outrageous that, through the hearing process, the Senate Judiciary Committee placed politics ahead of the American people," said Councilmember Lauren Meister. "The Senate vote to confirm Brett Kavanaugh to the Supreme Court is deeply disappointing. The process warranted a full and thorough FBI investigation. Instead, what we received was a week for the FBI to prepare a short report based on a few interviews. This is a lifetime appointment to the most powerful Court in the land. This appointment will have lasting negative consequences for our judicial system and for our democracy."
Equality California also condemned the vote.
"Millions of LGBTQ people and our allies throughout California and the nation are angry. I'm angry. We marched and rallied, called and tweeted at our senators and stood together in solidarity. We demanded better for our community and our nation. Dr. Christine Blasey Ford gave survivors the courage to step forward and share their own stories of assault. Senators Feinstein and Harris, and many others, heard our voices and fought alongside us. But ultimately, a majority of senators refused to be the leaders we deserve," said Executive Director Rick Zbur. "We lost this battle, but our fight is not over. We cannot be discouraged, nor can we allow our anger to turn into bitterness. One month from today, we have a chance to elect leaders who will stand with our community and fight for our values. And if those who refused to listen to us today think we're angry and fired up now, they haven't seen anything yet."
National Center for Lesbian Rights (NCLR) took note that "Kavanaugh faced credible allegations of attempted rape" and that "More than 2,400 law professors signed a letter opposing Kavanaugh's nomination, citing his lack of judicial temperament and the partisan behavior he displayed at last week's Senate Judiciary Committee hearing. And this week, Retired Supreme Court Justice John Paul Stevens echoed these concerns, stating that Kavanaugh's behavior at last week's hearing indicates that he is not qualified to sit on the nation's highest court."
"Today's Senate vote is not only a slap in the face to women and all sexual assault survivors—it is a terrible blow to the legitimacy of the Supreme Court. Kavanaugh's belligerence and hyper-partisan attacks at last week's hearing demonstrates that he does not have the temperament or impartiality for a lifetime appointment to our nation's highest court," said NCLR's Legal Director Shannon Minter "Kavanaugh would tilt an already conservative court to the far right. We need a balanced court—not a rubber stamp for Trump that would permit our president to be above the law. And I have little doubt that Kavanaugh will be a consistent vote against liberty and equality for LGBTQ and many other people.
"The points made by Senator Susan Collins yesterday on Roe and the Affordable Care Act justifying her vote for Kavanaugh," Minter continued, "were completely out of step with Kavanaugh's judicial record and his strong support from extremist groups that seek to gut these protections. Kavanaugh had to pass a Trump litmus test to secure this nomination. Many expect he would eliminate Affordable Care Act protections for preexisting conditions, which would be particularly devastating for transgender people and people living with HIV in our community. He is also likely to decimate Roe v. Wade, and with that access to critical reproductive healthcare, including abortion.
"Today the United States Senate failed the American people by confirming to the Supreme Court an individual wholly unsuited to a lifetime appointment to a position that will affect the lives of everyone in this country."
The deadline to REGISTER TO VOTE is Oct. 22. From the Sec. of State website: https://www.sos.ca.gov/elections/
— You can apply to register to vote right now by filling in the online application. The application is available in English, Spanish, Chinese, Hindi, Japanese, Khmer, Korean, Tagalog, Thai, and Vietnamese. If you have any questions, visit Frequently Asked Questions or contact the Secretary of State's Elections Division at (800) 345-VOTE (8683) or by email.
If you are enrolled in California's confidential address program, Safe At Home, please do not apply to register to vote using this site. Contact the Safe At Home program toll-free at (877) 322-5227 or by the Safe At Home email….
County elections officials will begin mailing vote by mail ballots on October 8. If you do not receive your vote by mail ballot within a week, you may want to contact your county elections office for assistance. For county contacts, go to sos.ca.gov/county-elections-offices. —
PLEASE visit the LA County Registrar at LAvotes.net. https://www.lavote.net/
They note that the last day to request a Vote By Mail ballot is Oct. 30. They have lots of other information, too.