October 8, 2018 at 11:26 am PST | by Karen Ocamb
Trans vet used by GOP extremist in San Bernardino campaign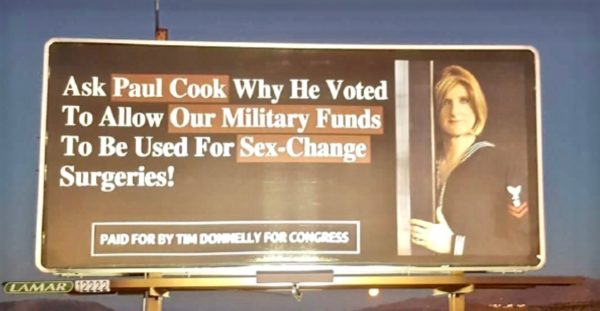 The only congressional seat in California where Republicans are assured of a win Nov. 6 is in the 8th Congressional District—the conservative eastern desert areas of Victorville and Yucca Valley—where the June jungle primary produced two right-wing candidates, incumbent Paul Cook, endorsed by Donald Trump, and former Assemblymember Tim Donnelly, an anti-LGBT extremist who has previously challenged and lost to Cook. This time, Donnelly's strategy is challenge whether Cook is Trumpian enough for the district and he's using an apparently appropriated image of transgender veteran Allison Hannan on a billboard to do it.
"Ask Paul Cook Why He Voted To Allow Our Military Funds To Be Used For Sex-Change Surgeries!" the billboard reads, next to a photo of Hannan taken for an OUT Magazine profile of 18 transgender veterans. Hannan, who lives in a very rural farming township in Southern New Jersey, found out about the billboard from Cassidy DuHon, the photographer for the OUT Magazine photo spread. Neither Hannan, nor DuHon, nor OUT Magazine gave Donnelly permission to use Hannan's image for his congressional campaign, Hannan tells the Los Angeles Blade in an Oct. 7 email.
"I feel soiled that my image was used to advance the campaign of a homophobe/transphobe and my face is on a billboard next to a hateful message," Hannan says.
And Donnelly's strategy is curious since the registration in the district is 37% registered Republican, 32% Democrat, and 22% no party preference suggesting he might need some crossover votes to win. Additionally, in 2016, voters rejected Donnelly in the primary and reelected Cook by 62%. "He is one of the very few people alive who could make Donald Trump look like a moderate on immigration," political science professor John J. Pitney, told the Los Angeles Times in 2016 about Donnelly, a former activist with the Minuteman border militia movement.
That Donnelly would use anti-trans messaging is not a stretch. In 2011, then-Assemblymember Donnelly called out gay senator Mark Leno's bill requiring LGBT history to be taught in schools "censorship."
"It's a sad day for our republic when we have the government essentially telling people what they should think," Donnelly told the New York Times, disparaging the law prohibiting schools from presenting gays and lesbians "in anything other than a positive light, and I think that's censorship right there."
In 2013, he pulled his son out of school after Gov. Brown signed AB 1266, giving transgender K-12 students access and the ability "to participate in sex-segregated programs, activities and facilities" based on their gender identities. Donnelly told the Associated Press that his 13 and 16 year old sons were "horrified" at the thought of sharing bathrooms with trans students. "We don't know yet how this policy is going to affect our town," he said.
The obscure billboard message refers to Donnelly calling Cook a "NeverTrumper" and blasting the congressmember for his vote opposing an amendment to the National Defense Authorization Act that would have prohibited the use of military funds toward gender transition surgeries. Cook says he voted against the amendment on the advice of Defense Secretary James Mattis.
"It's unsettling that Donnelly would oppose our President and put our troops at risk just to make a cheap political point," Cook's campaign spokesperson Matt Knox to the Victorville Valley Daily Press last month.
The billboard message isn't even accurate, says Hannan.
"I served in the Navy over 30 years ago. I had a physical on my way in and prior to my honorable discharge and had my wisdom teeth pulled. Other than that, I never even went to sick call or had any type of VA medical care. However, I totally agree that trans care should be provided to our service members who need it because it will help them so their services so much more effectively. The burden of living two lives takes a lot of energy that can be used more constructively if one can just be herself. Isn't that a good thing for the service, nation and individual?" she asks.
Hannan received two Naval Commendations during her service from 1986 to 1990. After being honorably discharge, she received her Bachelor's degree at Rutgers University, New Brunswick, New Jersey, where she met her wife of 25 years, then obtained a law degree from Rutgers School of Law while working full-time. She's worked for the State of New Jersey for 18 years, now as Director of Appeals and Regulatory Affairs.
"I have only recently began the process of transition, and, for reasons of my super supportive spouse and kids, am taking it very slowly in a measured fashion. I start laser hair removal next month, but hormones and surgery are targeted for the next 5 years. Most importantly, I am funding my care, not the VA, and the needs of my children and wife will always take priority if there is ever an issue of competing resources," she says.
But what is truly galling about the appropriation of her image is the attempt to tarnish her military service. "What bugs me to no end is that my honorable service, like the others who have served honorably, is somehow devalued because of who we are," Hannan says. "Further, the use of the property of others without their permission is troubling. Is not 'property rights' a big conservative platform?"