Trans vet used by GOP extremist in San Bernardino campaign
Anti-LGBT candidate Tim Donnelly trolls Trump-endorsed Paul Cook with anti-trans billboard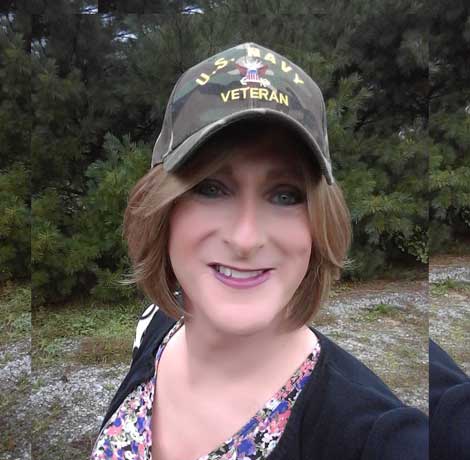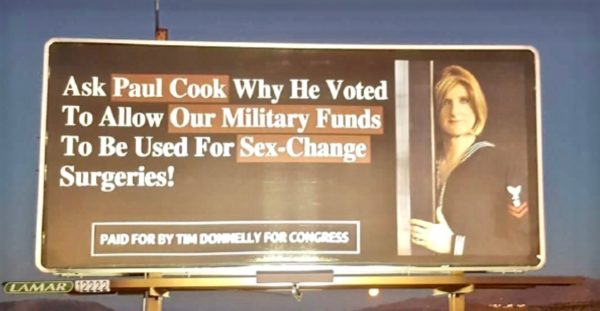 The only congressional seat in California where Republicans are assured of a win Nov. 6 is in the 8th Congressional District—the conservative eastern desert areas of Victorville and Yucca Valley—where the June jungle primary produced two right-wing candidates, incumbent Paul Cook, endorsed by Donald Trump, and former Assemblymember Tim Donnelly, an anti-LGBT extremist who has previously challenged and lost to Cook. This time, Donnelly's strategy is challenge whether Cook is Trumpian enough for the district and he's using an apparently appropriated image of transgender veteran Allison Hannan on a billboard to do it.
"Ask Paul Cook Why He Voted To Allow Our Military Funds To Be Used For Sex-Change Surgeries!" the billboard reads, next to a photo of Hannan taken for an OUT Magazine profile of 18 transgender veterans. Hannan, who lives in a very rural farming township in Southern New Jersey, found out about the billboard from Cassidy DuHon, the photographer for the OUT Magazine photo spread. Neither Hannan, nor DuHon, nor OUT Magazine gave Donnelly permission to use Hannan's image for his congressional campaign, Hannan tells the Los Angeles Blade in an Oct. 7 email.
"I feel soiled that my image was used to advance the campaign of a homophobe/transphobe and my face is on a billboard next to a hateful message," Hannan says.
And Donnelly's strategy is curious since the registration in the district is 37% registered Republican, 32% Democrat, and 22% no party preference suggesting he might need some crossover votes to win. Additionally, in 2016, voters rejected Donnelly in the primary and reelected Cook by 62%. "He is one of the very few people alive who could make Donald Trump look like a moderate on immigration," political science professor John J. Pitney, told the Los Angeles Times in 2016 about Donnelly, a former activist with the Minuteman border militia movement.
That Donnelly would use anti-trans messaging is not a stretch. In 2011, then-Assemblymember Donnelly called out gay senator Mark Leno's bill requiring LGBT history to be taught in schools "censorship."
"It's a sad day for our republic when we have the government essentially telling people what they should think," Donnelly told the New York Times, disparaging the law prohibiting schools from presenting gays and lesbians "in anything other than a positive light, and I think that's censorship right there."
In 2013, he pulled his son out of school after Gov. Brown signed AB 1266, giving transgender K-12 students access and the ability "to participate in sex-segregated programs, activities and facilities" based on their gender identities. Donnelly told the Associated Press that his 13 and 16 year old sons were "horrified" at the thought of sharing bathrooms with trans students. "We don't know yet how this policy is going to affect our town," he said.
The obscure billboard message refers to Donnelly calling Cook a "NeverTrumper" and blasting the congressmember for his vote opposing an amendment to the National Defense Authorization Act that would have prohibited the use of military funds toward gender transition surgeries. Cook says he voted against the amendment on the advice of Defense Secretary James Mattis.
"It's unsettling that Donnelly would oppose our President and put our troops at risk just to make a cheap political point," Cook's campaign spokesperson Matt Knox to the Victorville Valley Daily Press last month.
The billboard message isn't even accurate, says Hannan.
"I served in the Navy over 30 years ago. I had a physical on my way in and prior to my honorable discharge and had my wisdom teeth pulled. Other than that, I never even went to sick call or had any type of VA medical care. However, I totally agree that trans care should be provided to our service members who need it because it will help them so their services so much more effectively. The burden of living two lives takes a lot of energy that can be used more constructively if one can just be herself. Isn't that a good thing for the service, nation and individual?" she asks.
Hannan received two Naval Commendations during her service from 1986 to 1990. After being honorably discharge, she received her Bachelor's degree at Rutgers University, New Brunswick, New Jersey, where she met her wife of 25 years, then obtained a law degree from Rutgers School of Law while working full-time. She's worked for the State of New Jersey for 18 years, now as Director of Appeals and Regulatory Affairs.
"I have only recently began the process of transition, and, for reasons of my super supportive spouse and kids, am taking it very slowly in a measured fashion. I start laser hair removal next month, but hormones and surgery are targeted for the next 5 years. Most importantly, I am funding my care, not the VA, and the needs of my children and wife will always take priority if there is ever an issue of competing resources," she says.
But what is truly galling about the appropriation of her image is the attempt to tarnish her military service. "What bugs me to no end is that my honorable service, like the others who have served honorably, is somehow devalued because of who we are," Hannan says. "Further, the use of the property of others without their permission is troubling. Is not 'property rights' a big conservative platform?"
West Hollywood in brief- City government in action this week
WeHo Pride Parade & Pride Weekend, Draft Housing Element Report, West Hollywood Park Update, & Cedars-Sinai LGBTQ+ Cancer Symposium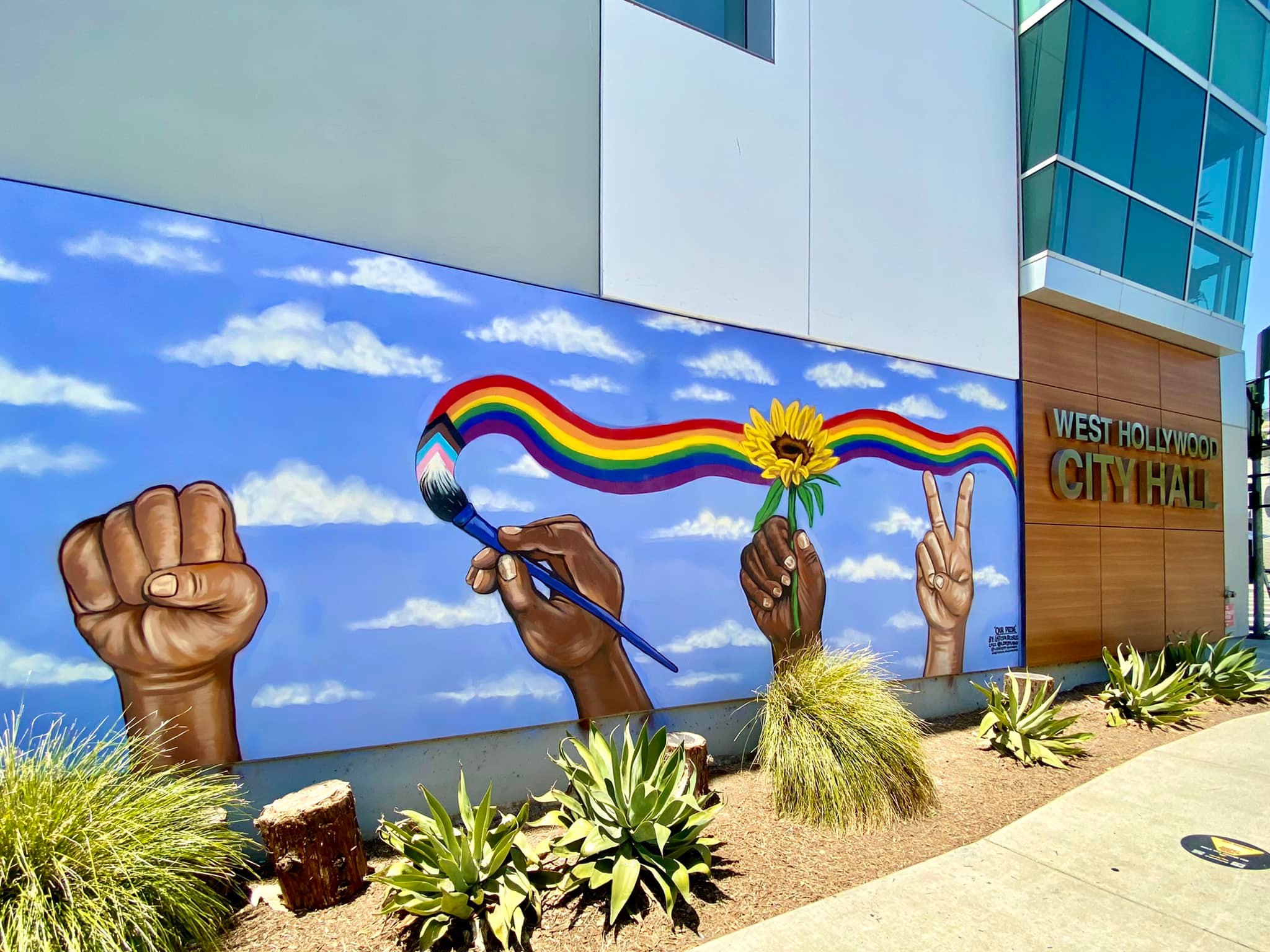 WEST HOLLYWOOD – The City of West Hollywood has announced that it will recognize Janelle Monáe as Grand Marshall Icon and JoJo Siwa as Next Gen Icon during the upcoming #WeHoPride Weekend Pride Parade on Sunday, June 5, 2022.
The free WeHo Pride Parade will step off at noon on Santa Monica Boulevard starting at N. Crescent Heights Boulevard and will head west into the heart of the City's Rainbow District to N. Robertson Boulevard.
"The City of West Hollywood is thrilled to be producing #WeHoPride for our community this year," said City of West Hollywood Mayor Lauren Meister, "and our amazing icons – Janelle Monáe and JoJo Siwa – truly reflect the core values of our city. Pride celebrations have always been more than festivals or parades. Pride events give the diverse LGBTQ community a place to advocate for equality as well as a place to celebrate exactly who they are – exactly who they were meant to be. As our icons join parade contingents rolling down Santa Monica Boulevard on Sunday, June 5, West Hollywood will give #WeHoPride Parade participants and spectators from around the world a safe space and a loving, accepting home. At this moment in history, with women's rights and LGBTQ rights under attack, our icons stand as proud, outspoken beacons of light and hope for a better tomorrow. West Hollywood has been the home of the largest Pride celebration in Southern California for nearly four decades. We're looking forward to continuing that tradition this year for WeHo Pride. I can't wait for our city to be filled with all the colors of Pride as we welcome the global community to our historic Rainbow District, filled with LGBTQ bars, clubs, restaurants, and retail shops. Come celebrate Pride with us in West Hollywood! Pride starts here!"
 This year, Janelle Monáe will be honored as the Grand Marshal Icon for the inaugural WeHo Pride Parade for continuing to inspire the world with her incredible artistry and advocacy. Monáe is a renowned American singer, songwriter, producer, rapper, author and actor. She has become an icon for queer people of color by illuminating the community's most important conversations about identity and being true to who you are.
She has received numerous award nominations and has won multiple awards for her music, including eight Grammy nominations. Monáe made her theatrical film debut in two high-profile productions: Hidden Figures and Moonlight. In 2019, Monáe won a GLAAD Media Award for Outstanding Music Artist. In April 2022, Monáe published her book, The Memory Librarian: And Other Stories from Dirty Computer, which became a New York Times bestseller. She will soon star as icon Josephine Baker in De La Resistance, which is also produced under her Wondaland banner.
In addition, Monáe recently wrapped production for Netflix's Knives Out 2, headlined the dramatic thriller Antebellum, and starred in the second season of Amazon's critically acclaimed series Homecoming.
Along with her film and television work, Monáe officially launched her non-profit, Fem the Future, which provides young women and girls the resources and support they need to overcome the challenges associated with upbringings in under-resourced communities of color. Fem the Future aims to expand their world of opportunities by supporting and creating after-school and summer enrichment activities that increase exposure and access to a variety of careers. 
JoJo Siwa will also be joining the parade as WeHo Pride's Next Gen Icon. Siwa is a global superstar, entrepreneur, singer, television and film star, New York Times bestselling author and social media sensation. In 2021, Siwa came out as gay to her millions of fans on social media and inspired a generation of young LGBTQ+ community members and their allies.
Siwa has more than 66 million followers on social media and more than 3.7 billion views on YouTube. In 2020, she was named one of Time magazine's 100 Most Influential People. She has bridged a fan following across a broad demographic by promising and delivering on her messaging of "positivity, self love, inclusivity and acceptance."
Siwa's newest TV venture finds her on the judges panel for Season 17 of So You Think You Can Dance. ​​Facebook Watch will be following alongside JoJo at WeHo Pride as part of its docuseries-format JoJo Goes which will premiere on Facebook Watch this summer and will be available on Watch Together via Messenger and Instagram video calls.
On June 14, 2022, Siwa will be hosting P&G and iHeartMedia's Can't Cancel Pride, a fundraiser for the LGBTQ+ community celebrating visibility and inclusivity for all.
The City is reminding community members about events surrounding the upcoming #WeHoPride season and is providing regularly updated information about WeHo Pride 2022 programming as it becomes available:
WeHo Pride Weekend will take place on Friday, June 3, 2022, Saturday, June 4, 2022, and Sunday, June 5, 2022 in and around West Hollywood Park, located at 647 N. San Vicente Boulevard and will include will include a free WeHo Pride Street Fair representing a diverse array of LGBTQ+ community groups as part of visibility, expression, and celebration.
The annual Dyke March and the Women's Freedom Festival will take place beginning on Friday, June 3, 2022 at 5 p.m. The Dyke March will feature the presentation of the Melissa Etheridge and Community Activist awards, a poetry reading, sign-making and supplies, speakers, a DJ, and the Dykes on Bikes contingent. The Dyke March will step off and return to the corner of Robertson and Santa Monica Boulevards. The Women's Freedom Festival will take place immediately following the Dyke March at the #WeHoPride Street Fair stage on Robertson Boulevard and will feature emerging LGBTQ and BIPOC women and non-binary musicians, comedians, poets, and activists.
WeHo Pride Weekend will feature OUTLOUD: Raising Voices, the award-winning three-day LGBTQ concert series produced by JJLA at West Hollywood Park. Headliners, artist lineup, and ticket information are available by visiting https://weareoutloud.com.
The City of West Hollywood's Pride Parade will step-off at noon at N. Crescent Heights Boulevard on Sunday, June 5, 2022 and will make its way west along Santa Monica Boulevard to the City's Rainbow District.
WeHo Pride LGBTQ Arts Festival began on Sunday, May 22, 2022 (Harvey Milk Day) and continues for 40 days, closing out the Festival on Thursday, June 30, 2022. Events will be live at various locations throughout the City of West Hollywood and will also feature selected online programming. The theme for 2022 is With Liberty, Diversity, Inclusion, and Progress For All. The WeHo Pride LGBTQ Arts Festival is organized by the City of West Hollywood's Arts Division with input from the City's Lesbian & Gay Advisory Board, Transgender Advisory Board, Arts and Cultural Affairs Commission, and community partners. A full calendar of events is available online.
Updated details about WeHo Pride Weekend are posted as they become available at www.weho.org/pride.
For nearly four decades, the City of West Hollywood has been home to the largest Pride celebration in Southern California, as hundreds of thousands of LGBTQ people and allies from around the world make West Hollywood their destination for the Pride season. Home to the "Rainbow District" along Santa Monica Boulevard, which features a concentration of historic LGBTQ clubs, restaurants, and retail shops, the City consistently tops lists of "most LGBTQ friendly cities" in the nation.
Since incorporation in 1984, the City of West Hollywood has become one of the most influential cities in the nation for its outspoken advocacy on LGBTQ issues. No other city of its size has had a greater impact on the national public policy discourse on fairness and inclusiveness for LGBTQ people.
More than 40 percent of residents in West Hollywood identify as LGBTQ and three of the five members of the West Hollywood City Council are openly gay. The City has advocated for nearly four decades for measures that support LGBTQ individuals and the City is in the vanguard on efforts to gain and protect equality for all people on a state, national, and international level.
The City of West Hollywood is one of the first municipalities to form a Lesbian & Gay Advisory Board and a Transgender Advisory Board, which each address matters of advocacy. As part of its support of the transgender community, the City has a Transgender Resource Guide available on the City's website, which provides information about a variety of resources including legal, health, and social services, available in the Greater Los Angeles area to enhance and improve the well-being of transgender people.
For more information about WeHo Pride, please contact the City of West Hollywood's Events Services Division at [email protected]. For more information about the WeHo Pride LGBTQ Arts Festival, please contact the City of West Hollywood's Arts Coordinator Mike Che at (323) 848-6377 or [email protected].
For people who are Deaf or hard of hearing, please call TTY (323) 848-6496.
City of West Hollywood Draft Housing Element Report is now available for public review and community input
After extensive community engagement and public hearings to gather information about community needs, values, and priorities, the City of West Hollywood's draft Housing Element Report for 2021 to 2029 is available for public review until June 6, 2022, as required by state law.
The Housing Element serves as a policy guide that provides an indication of housing needs in the community – in particular, the availability, affordability, and adequacy of housing.
The City of West Hollywood encourages community members to take part in the process of reviewing the draft Housing Element Report and providing comments and input. The forthcoming Housing Element is for the period of 2021 to 2029 and it will assist the City in completing its housing policy framework for the future to address vital housing needs in the community.
The California Department of Housing and Community Development (HCD) will review the draft after the public review period is complete and will provide comments to ensure that the Housing Element meets all State requirements. Should HCD have additional comments, staff will amend the Plan as necessary.
Additional changes will be made to future drafts based on City Council requests for policies that create additional affordable housing in the City, and changes to the site inventory, which provides a conceptual plan for where housing could be built over the next eight (8) years.
The community will be able to weigh in as future drafts are published for public review. Once HCD approves the plan, the West Hollywood City Council will then adopt the plan as a part of the City's General Plan. Additionally, the City will continue to study the environmental impacts of the Plan and will certify an Environmental Impact Report upon adoption of the Plan. 
The Housing Element is required by the State of California to be included in the City of West Hollywood's General Plan and it must be updated every eight years to demonstrate that the housing needs of all community members can be met regardless of income. The purpose of the Housing Element is to achieve an adequate supply of safe and affordable housing. It assesses housing needs for a variety of income groups and lays out a program to meet those needs as part of a strategy for addressing housing needs across the economic and social spectrum.
The draft Housing Element Report for 2021 to 2029 is available for viewing at www.weho.org/housingelement. 
For more information or to submit written feedback, please contact Rachel Dimond, City of West Hollywood Senior Planner, at [email protected] or by postal mail to West Hollywood City Hall, 8300 Santa Monica Boulevard, West Hollywood, CA 90069.
For people who are Deaf or hard of hearing, please call TTY (323) 848-6496.
City of West Hollywood May 2022 West Hollywood Park Update
The City of West Hollywood is working to open the Aquatic and Recreation Center (ARC) at West Hollywood Park in the coming weeks. Public access to the ARC will be accomplished in a phased approach to protect the safety and welfare of the public and users of the facility.
Despite the finished appearance of the building, final items are being completed and City staff has just begun to occupy the ARC at West Hollywood Park under a temporary occupancy permit. Currently, staff are training and certifying fire-life-safety systems for the pools and equipment in the building, and staff are beginning to move into office space and test and familiarize themselves with operations of the site.
The City anticipates receiving approval to allow limited public access soon and will begin a phased roll-out approach in June 2022. All maintenance, operations, and recreation staff, including lifeguards, must be fully trained in site operations and pools prior to public access.
The children's playground remains closed at West Hollywood Park. Deficiencies in installation were identified after a state-mandated Playground Safety Audit and site inspections were conducted. The City has commenced repair work under guidance of the playground manufacturer and its installation contractor. The City anticipates this work to take a few weeks for completion. The playground repair work is being expedited to the best of the City's ability. The City is aware this is especially frustrating and is working to open the playground for community use as soon as possible. In the interim, the City operates two (2) playgrounds at other locations: Kings Road Park (1000 N. Kings Road) and Plummer Park (7377 Santa Monica Boulevard). The playground at Plummer Park is the largest playground operated by the City of West Hollywood.
The City recently reopened a large portion of the park-site at West Hollywood Park. This area was previously closed for completion of the West Hollywood Park Phase II Master Plan Implementation Project, which includes the Aquatic and Recreation Center (ARC) building and park construction work.
West Hollywood Park open areas currently include:
Adult Fitness Equipment: Open to the public.
El Tovar Place: Open to the public. El Tovar Place provides east to west access through West Hollywood Park between N. San Vicente Boulevard and N. Robertson Boulevard including access to the parking structures.
Expanded Turf Areas: Open to the public. There is access from N. San Vicente Boulevard, N. Robertson Boulevard, El Tovar Place, and from the third level of the West Hollywood Park Five-Story Parking Structure located at 625 N. San Vicente Boulevard.
New Public Art: Open to the public. Parallel Perpendicular by artist Phillip K. Smith III is located in the Robertson Gardens area.
Robertson Gardens: Open to the public. There are picnic tables and an expanded turf area for passive recreation activities.
West Hollywood Library Parking Structure: Open to the public. Open hours align with the West Hollywood Library's operating hours.
West Hollywood Park restrooms adjacent to the City's Small Dog Park: Open to the public.
For park updates, subscribe to the City's West Hollywood Park Master Plan Phase II e-notifications list to receive updates.
For more information, please contact Erin Hamant, City of West Hollywood Senior Administrative Analyst, at [email protected] or (323) 848-6859.
For people who are Deaf or hard of hearing, please call TTY (323) 848-6496.
City of West Hollywood Co-Presents Two-Day Cedars-Sinai LGBTQ+ Cancer Symposium 
The City of West Hollywood co-presents an upcoming two-day Cedars-Sinai LGBTQ+ Cancer Symposium. This symposium is the first of its kind to center the science and voices of LGBTQ+ people on cancer care, community engagement, and policies that influence health disparities. Cedars-Sinai Cancer recognizes that by examining the intersection of sexual orientation, gender, and cancer, it can better prevent, detect, and cure cancer.
The LGBTQ+ Cancer Symposium will take place on Thursday, June 2, 2022, and Friday, June 3, 2022, at Sofitel Los Angeles at Beverly Hills, located at 8555 Beverly Boulevard in Los Angeles. Oncologists, oncologic surgeons, epidemiologists, health equity researchers, health outcomes researchers, policy makers, community organizers, and thought leaders in this space are encouraged to register and attend.
The Symposium will feature, as Keynote Speaker, Karen L. Parker, Ph.D., MSW, Director of the Sexual and Gender Minority Research Office at the National Institutes of Health. Symposium Co-Chairs are B.J. Rimel, M.D., Associate Professor of Obstetrics and Gynecology at Cedars-Sinai, and Zul Surani Associate Director of Community Outreach and Engagement at Cedars-Sinai Cancer.
For registration information, a full schedule, and details about conference faculty and more, please visit the Cedars-Sinai website.For more information about this event, please contact Andi Lovano, the City of West Hollywood's Community & Legislative Affairs Manager, at (323) 848-6333 or at [email protected].
For people who are Deaf or hard of hearing, please call TTY (323) 848-6496.
California's rent relief programs distribute over $5 billion
Governor Newsom has proposed an additional $2.7 billion in emergency rental assistance in the California Blueprint May Revision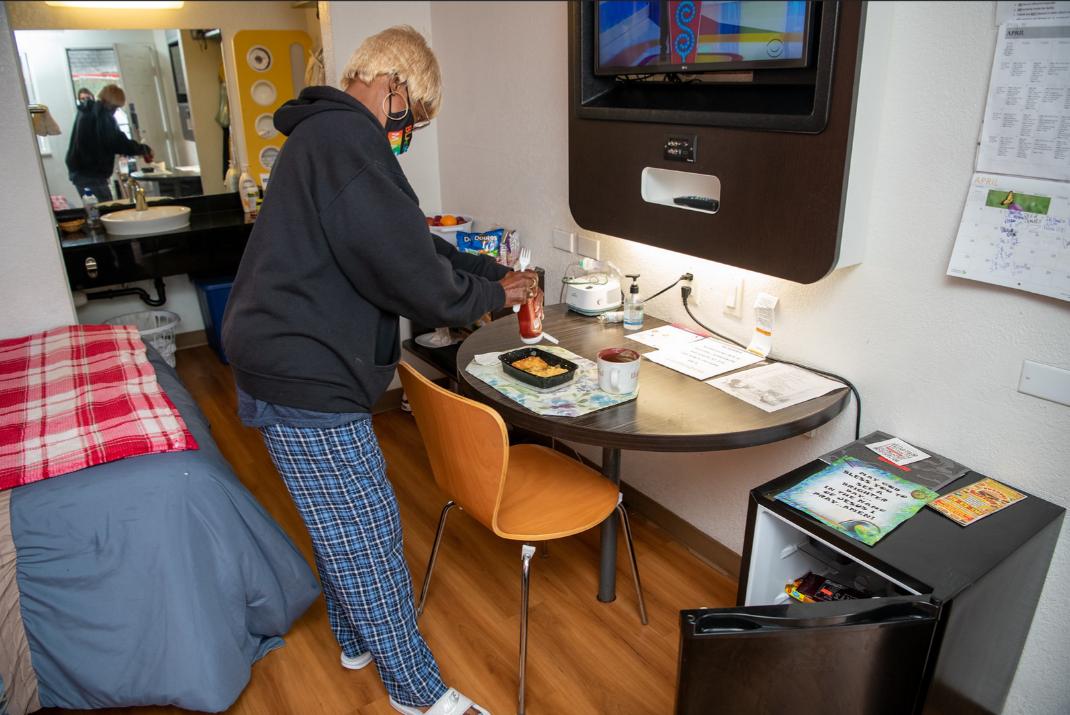 SACRAMENTO – Governor Gavin Newsom announced Thursday that California's state and local rent relief programs have hit a major milestone with over $5 billion having been distributed to help more than 1.2 million Californians impacted by the COVID-19 pandemic stay stably housed.
The Governor's California Blueprint May Revision proposes an additional $2.7 billion in emergency rental assistance for eligible applicants who applied through March 31, creating a total $8.1 billion investment.
"With the largest rent relief program of any state in the nation, we've ensured more than one million Californians remain housed, and we're advancing funding to help more families get back on their feet through this historic effort," said Newsom. "As California's recovery progresses, the state is committed to continuing our work to ensure the hardest-hit communities have the support and resources they need to thrive."
Throughout the pandemic, California has had the most robust eviction protections, for the longest period of time, in the country. Statewide eviction protections remain in place through June 30, 2022, for eligible applicants who applied through March 31, with additional local protections in place throughout the state.
The state program has helped those hardest hit by the pandemic, with more than 85 percent of households that have received rental assistance at or below 50 percent of Area Median Income.
"Keeping people stably housed has been a critical component of California's emergency response to the COVID-19 pandemic," said Business, Consumer Services and Housing Agency Secretary Lourdes Castro Ramírez. "In partnership with our federal and local partners, we have responded quickly and compassionately to address housing insecurity as a health emergency and stabilize over a million vulnerable Californians."
As of this week, the state program has provided rental assistance to more than 309,000 households, with an average payment of more than $11,000. With an average of 2.33 individuals per household assisted, the state program has kept more than 720,000 adults, children and seniors in their homes. And with the hard work of local jurisdictions that are running their own rent relief programs, an additional 233,000 households have been served, assisting a total of more than 500,000 residents.
In all, the number of people kept stably housed exceeds 1.2 million.  
"Since the beginning of the COVID-19 pandemic, California has answered the call of the U.S. Treasury to work with urgency to get rental assistance dollars into the hands of families in need so they could remain housed during the emergency," said Gustavo Velasquez, the Director of the California Department of Housing and Community Development. "To reach more than one million residents in just over a year is incredible. It is critical that applicants act as quickly as possible to reply to any requested action or response so they can receive the funding they requested."
The milestone comes as the state program announced that case managers have reviewed all applications submitted by March 31, 2022, and continue working with applicants, both landlords and renters, as the state program reviews the remaining applications and distributes relief funds to eligible Californians in need. All eligible applicants who submitted complete applications by March 31, 2022 will receive assistance, covering a total of up to 18 months for the period beginning April 1, 2020 and ending March 31, 2022.
State program dollars have been distributed throughout California, with residents of the City of Los Angeles receiving the largest share of California's COVID-19 Rent Relief program funds totaling over $1 billion to nearly 86,000 households. The counties of Los Angeles, Orange, Contra Costa, and the city and county of San Francisco round out the top five jurisdictions with tenants assisted to date.
Martha, an Orange County resident, was assisted by the state program and Local Partner Network organization, Helpline Youth Counseling. The pandemic brought hardship to her life, and she struggled with health issues. "I have not been able to work and was behind on rent for several months," she said. "I am so happy programs like these exist. Completing this application has given me hope that I thought I lost since COVID-19."
Adam, a resident of Los Angeles County, had the following to say about the state's rental assistance program: "This program has been extremely helpful during these tough times. I've had personal difficulties throughout and am blessed to have received this assistance. It has helped keep me from being placed in a homeless shelter."
Individual support for applicants needing assistance with outstanding tasks, appeals, or other help with their application is still available. Applicants are encouraged to call 833-687-0967 to schedule an appointment in their preferred language.
In addition, legal aid resources are available to support tenants navigating available protections. Low-or no-cost legal help is available through www.lawhelpca.org and/or the Tenant Resources page on HousingIsKey.com.
San Francisco LGBTQ+ Police & Mayor pull out of Pride over uniform ban
"For some members of our community, the presence of the police in the parade is difficult given their history with the police department"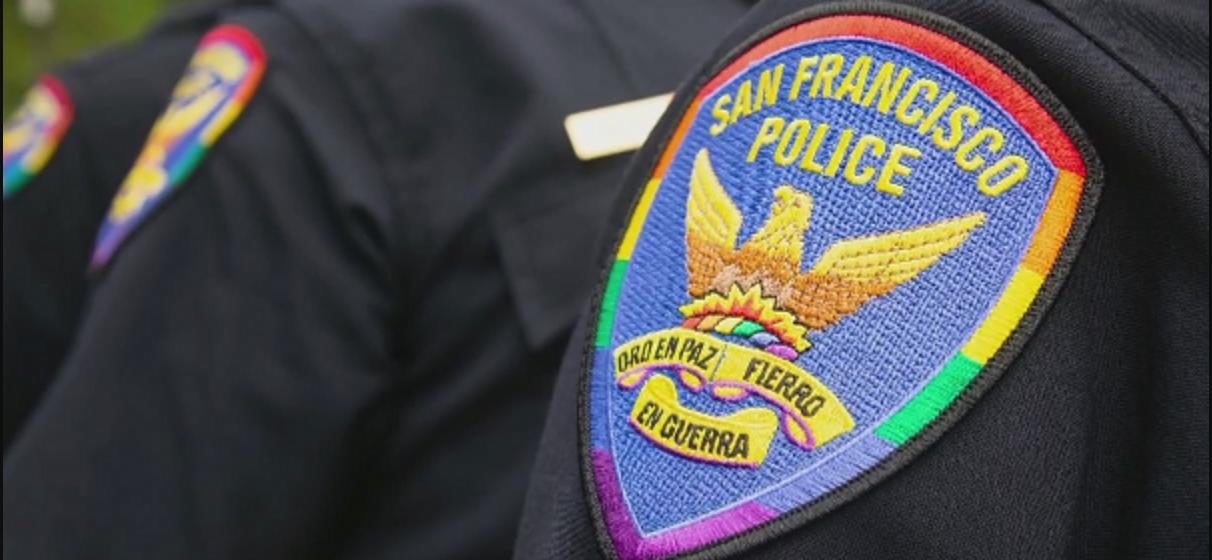 SAN FRANCISCO – San Francisco LGBTQ+ police officers joined by deputies from the sheriff's department expressed disappointment that the Pride committee ruled that the city's LGBTQ+ law enforcement contingents are banned from participating in the Pride parade wearing their uniforms.
"I would really like San Francisco Pride to embrace the values of San Francisco, the values of radical inclusion," Officer Kathryn Winters, of the SFPD Officers Pride Alliance told ABC7 Bay Area. "We want to be able to show the members of our community that there are people just like you who put on these uniforms every day and are out there to support, help, and protect you," she added.
Suzanne Ford, executive director of San Francisco Pride responding to the controversy told ABC7 Bay Area, "We want them to march in the parade," she said adding, "They can march in matching t-shirts that say SF police, or SF County Sheriff's Department, that's fine, but no full uniform."
The division was further exacerbated by the first the San Francisco Fire Department and then the city's Mayor London Breed announcing separately that as a result of San Francisco Pride's announcement they would be pulling out as well.
"I love the Pride Parade, and what it means for our LGBTQ community and for our city. It's one of my favorite events of the year. However, if the Pride Board does not reverse its decision, I will join our city public safety departments that are not participating in the Pride Parade," the Mayor said in a statement.
"I've made this very hard decision in order to support those members of the LGBTQ community who serve in uniform, in our Police Department and Sheriff's Department, who have been told they cannot march in uniform, and in support of the members of the Fire Department who are refusing to march out of solidarity with their public safety partners," Breed added.
San Francisco Fire Department spokesman Jonathan Baxter said that the city's LGBTQ+ firefighters will stand in solidarity with uniformed law enforcement officers. They will not be marching in this year's parade either unless police are allowed to wear their uniforms.
"We need to allow the public to see that our uniformed law enforcement officers are good, they do reflect our community," Baxter said.
SF Mayor @LondonBreed will not march in #PrideParade over @SFPD and @SheriffSF uniform ban. Here's part of the mayor's statement: "…if the Pride Board does not reverse its decision, I will join our city public safety departments that are not participating in the Pride Parade." pic.twitter.com/GelVXaruQL

— Lyanne Melendez (@LyanneMelendez) May 23, 2022
An incident at the last in-person Pride in 2019 when protestors blocked a portion of the parade route and according to San Francisco Pride's Ford the board reacted by creating the new policy excluding law enforcement agencies' personnel in uniform.
"For some members of our community, the presence of the police in the parade is difficult for them given their history with the police department so we want to honor and make sure we protect and make people feel safe," said Ford.
Winters, from the SFPD Officers Pride Alliance pointed out; "Over the years it has been the LGBTQ officers who have really driven reform, improvements, and diversity measures within the department that have made policing better."
San Francisco Pride now joins New York City whose Pride announced last May that it would no longer allow corrections and law enforcement exhibitors to participate in NYC Pride events until 2025. The decision is in accordance with NYC Pride's commitment to create safe spaces for marginalized LGBTQ groups including BIPOC and transgender individuals at their Pride festivities.