October 8, 2018 at 10:18 pm PDT | by Karen Ocamb
Homeland Security detains members of Mexican Gay Men's Chorus
Resistance. Defiance and solace through camaraderie and song. That's what gave birth to the Gay Men's Chorus movement, first in San Francisco when about 100 men moved their fourth rehearsal onto the steps of City Hall on Nov. 27, 1979 and sang for the first time in public at the candlelight vigil for assassinated gay Supervisor Harvey Milk and Mayor George Moscone. Two months later, 99 gay men came together in Plummer Park to form the Gay Men's Chorus of Los Angeles.
And for 40 years now, GMCLA has served as beacons of hope and love through the AIDS crisis and the roller coaster ride of politics and cultural warfare. They intend to do it again, despite the inconvenient threats from the Department of Homeland Security.
The launch of GMCLA's 40th anniversary season on Oct. 13 was intended to mark this unique convulsive moment in US history with an extravagant celebration of diversity and building bridges with Coro Gay Ciudad de México—the Gay Men's Chorus of Mexico City.
"As we started we watched lots of videos of gay choruses," Oscar Urtusástegui, Board President and founding member of Coro Gay Ciudad de México, told the Los Angeles Blade about the origins of the joint concert, "and the one we most wanted to be like was GMCLA. For a 5-year-old organization such as ours, sharing the stage with such a prestigious organization is an honor, and at the same time makes the friendship much stronger between us."
Both he and GMCLA executive director Jonathan Weedman want their collaboration "to show that building bridges – between two choruses, two cities and two countries – only makes us stronger and more powerful," Urtusástegui said.
But their plans were almost ruined by the knee-jerk ignorance of profiling racism espoused by President Donald Trump. As members of Coro Gay Ciudad de México traveled through customs and immigration at William P. Hobby Airport in Houston on their way to Los Angeles Sunday morning. Oct. 7, they were detained by Homeland Security after an officer found sheet music in their luggage—despite having their airfare underwritten by GMCLA sponsor Southwest Airlines.
The issue started when university professor Jorge Gutierrez was pulled aside to verify that he was not the same Jorge Gutierrez suspected of stealing a truck, according to an account in the Los Angeles Times.  Several chorus members chatted with him about the concert while he waited, which led to officers becoming suspicious that the 52-member group were entering the US as paid performers, not as tourists, as their visas indicated—plus that sheet music.
A Homeland Security officer called Weedman and said he thought "these guys weren't being truthful or forthcoming, and they were considering deporting them back to Mexico," Weedman told The Times. Weedman assured the officer that they were not being paid, explained the nature of the concert and advised him that "it would be an international incident" if they deported the chorus since the concert host committee included LA Mayor Eric Garcetti and US Senators Dianne Feinstein and Kamala Harris. After a 13-minute chat, the Homeland official decided to let the chorus proceed to LA.
"The Department of Homeland Security did not immediately respond to a call to comment on Monday," The Times reported.
By Monday night, the group was in LA and enjoying full rehearsals with GMCLA.
"We are very glad that our brothers and sisters from Mexico City Gay Men's Chorus all arrived safely late last night, after their experience being detained in Houston by the Department of Homeland Security," Weedman tells the Los Angeles Blade. "We have had this trip planned for over a year, all had been granted US Visas and this came as a great shock. But given the serious deterioration of United States and Mexico relations under the Trump administration and the President's endless offensive comments about the Mexican people—coupled with the appalling and inhuman treatment of people seeking asylum at the US-Mexican border—I can't help but think they were singled out."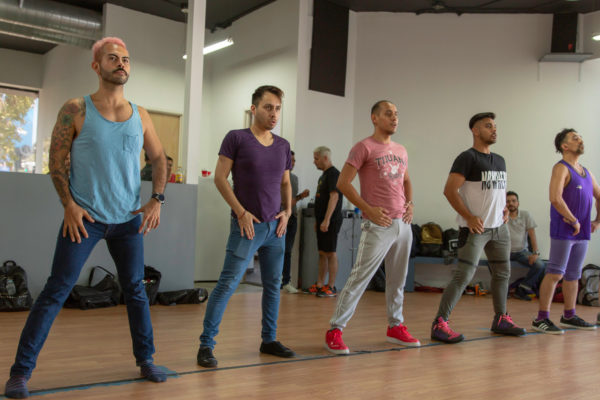 "We are here to give a message of unity between two countries," Professor Gutierrez tells the Los Angeles Blade. "For us, it's a dream to perform with the GMCLA and that dream almost vanished at the Homeland Security Department in Houston. Our only fault was to carry in our luggage, sheet music. I had to convince the officer we were not getting paid and we were only trying to fight for human rights because we think no matter what, everyone should be treated equally no matter where they come from."
"After the great invitation we received a year ago from our dear friend and now brother Jonathan Weedman, we have been not only working very hard, but also dreaming of sharing not only the stage but the experience with almost 300 of our new family, the GMCLA chorus," says Urtusastegui. "On Sunday that dream almost vanished by a very bad experience at the Houston airport. But we are so lucky now to say we all made it through and this only gives us more reason to keep on doing what we're doing, with more passion and more heart."
GMCLA, Coro Gay Ciudad de México, and the Mariachi Arcoiris de Los Angeles will perform at the Alex Theatre in Glendale in the opening concert of GMCLA's 40th season on Saturday, Oct. 13. Wonder if they'll dedicate a song to Homeland Security.