Rouda really could unseat Rohrabacher
Laguna Beach-based candidate Harley Rouda wants to restore decency to Congress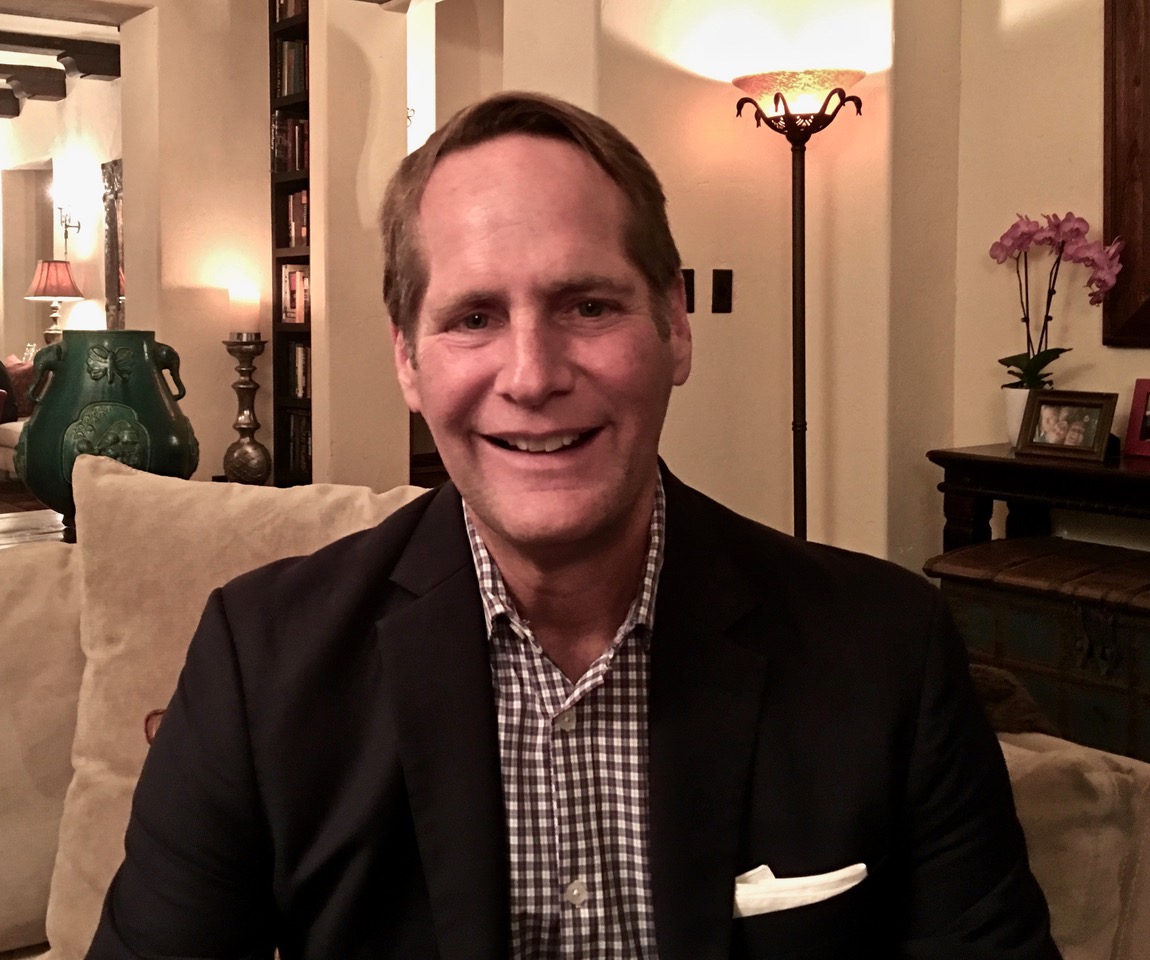 The midterm elections just weeks away will be close with Democrats still predicted to win the House and Republicans assumed to keep the Senate. But while the confirmation hearings for Brett Kavanaugh gave a bounce to GOP enthusiasm, polls following his swearing in as the new Supreme Court Justice and President Trump's mocking of sexual assault victim Dr. Christine Blasey Ford at a campaign rally reflect what CNN calls a huge and growing gender gap that may—may—reflect a cultural turning point with political consequences.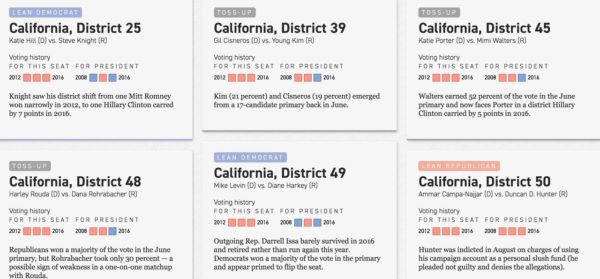 One of the starkest markers of that change is in Orange County, where some of the reddest of red anti-LGBT congressional districts have turned purple. Mark Baldassare, president and CEO of the Public Policy Institute of California, calls the evolution a "tectonic shift," with the decline of Republican voter registration from 49% to 36%, plus an increase in Democratic and independent registration and the changing demographics with the influx of Latinos and Asian Americans who are likely registered Democrats.
Politico has the six OC races that could flip the House as: "Lean Democrat" for Katie Hill vs Steve Knight in CD 25 and Mike Levin vs Diane Harkey in CD 49; "Toss-up" for Gil Cisneros vs Young Kim in CD 39, Katie Porter vs Mimi Walters in CD 45, and Harley Rouda vs Dana Rohrabacher in CD 48. Ammar Campa-Najjar's once dark horse race against Duncan Hunter is rated as "Lean Republican," though an Oct. 10 San Diego Union-Tribune report about yet more issues with campaign finance reporting may hurt Hunter in his desperate effort to keep his legacy seat.
One campaign getting a lot of national attention is Laguna Beach businessman Harley Rouda's challenge to unseat 30-year office holder Dana Rohrabacher—the anti-LGBT representative long known as Russian President Vladimir Putin's favorite congressman—in the coastal district that spans Seal Beach south to Laguna Niguel. As the Los Angeles Times detailed on Oct. 8, Rohrabacher's ties to the Russians also link him to Special Counsel Robert Mueller's investigation into Russian interference in the 2016 elections, thus complicating the Republican's reelection bid.
But as a new video ad for Rouda points out, teased on his Twitter account, https://twitter.com/HarleyRouda, a number of Republicans are fed up with Rohrabacher. "The party left me. It's not the same party," one Republican woman says, answering the question "Why are Orange County conservatives thinking differently in 2018?" A Republican man calls the election Rohrabacher's "performance review" and determines he's accomplished "absolutely nothing."
The ad contrasts Rouda with Rohrabacher's views on issues such as the exploding federal deficit under Republican rule, climate change (which Rohrabacher calls a "hoax") and women's healthcare.
The ad does not mention LGBT rights but Rouda has repeatedly stressed his support in interviews, saying he will immediately sign onto the LGBT civil rights bill, the Equality Act, if elected. Laguna Nigel residents Tyler Robuck and husband Nic Robuck believe him. They attended a recent LGBT fundraiser for Rouda at the Los Angeles home of Alan Uphold and Jeff Olde and expressed passionate concerned about raising their three-year old son Staton in an America that now lacks decency "in our neighborhoods and in our conversations and in our groceries stores, and especially in politics. Human decency is gone. The compassion for one another, the connection seems to be missing," Robuck told the Los Angeles Blade. Caring, kindness— that's missing right now in this administration and in the Republican Congress. So trying to find role models for him is difficult and we want to change that."
Rouda shares similar sentiments, one of the reasons why he stepped up as a citizen to run for office.
"My wife (award winning author Kaira Sturdivant Rouda) and I have always been very active in charity and philanthropy," Rouda told the Los Angeles Blade in an Oct 3 interview. "My dad raised me saying you give your time, your talent, your treasures. We're at a point in life when it's easier to give treasures. But it's always been important to give time, as well, to commit to getting things done.
"And the 2016 election was a watershed event. It wasn't just the fact that Donald Trump became president," Rouda continues. "It was the polarizing effect that he has had on our country. It was both parties putting party first, country second—that the election seemed to be about two personalities instead of issues, and for me, the clear indication that our country was going in a direction that is not what I believe our founders wanted us to do with this republic. And that all of us needed to start talking about our issues. Regardless of where we are on the political spectrum, we need to talk. And for me, that meant running for office."
Rouda says changing hearts and minds and restoring decency—and creating role models for Staton Robuck—takes leadership from the top.
"Unfortunately, Donald Trump is a bad example, in so many ways, for our kids and also for elected politicians. I think what we've seen in the Senate with this breakdown in decorum—Donald Trump has to take some responsibility for that happening by creating an environment where that type of behavior is not only acceptable but it's almost encouraged," he says. "The role of the President of the United States is to bring Americans together. That has always been one of the key roles of the President. This is the first time in our lifetime that we have ever seen a president who purposely and systematically is pitting Americans against Americans."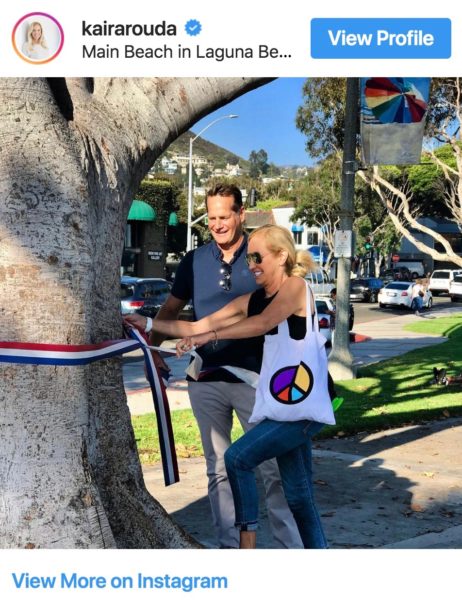 Rouda and his wife Kaira actually have a history of stepping up when the duty of citizenship calls, creating a homeless shelter to allow families to stay together.
"My wife read the story in the New Yorker Magazine about the plight of homeless families. Typically the breadwinners lose their jobs, and you miss mortgage payments; you lose the house; you go live in a motel until you run out of money; you live in your car until you realize that's just not a tenable situation; and then you go into a shelter. And what they would do is send the men, the fathers and the oldest boys to the men's shelter and the women, the mothers and the youngest children to the women's shelter when all they have left is each other in that family unit.
"And there the system was separating them—just as we're seeing on the Southern border where the only thing they have left when they get to our border," Rouda says, "and we have our government, under the direction of Donald Trump, separating them when all they have is each other. It's wrong. It's wrong, whether its because they're homeless Americans or wrong at the border—that's when you want to keep the family together and help get them back on their feet."
Rouda is also keenly aware of the history of white supremacy in his district. One of the four Southern California members of the so-called white supremacists "Rise Above Movement" arrested Oct. 2 for inciting that violence in Charlottesville lives in Huntington Beach.
"If you recall, Dana Rohrabacher said that the violence in Charlottesville was perpetrated by Democratic operatives," Rouda said. "Clearly, that's not the case. Clearly that was never the case. Not only has he failed to admonish the white nationalists, he has embraced them. It's just one more piece of evidence as to how he is unfit to lead and unfit to serve."
Rouda and his wife created a different approach to confronting white supremacists when the group America's First staged a protest in Laguna Beach one week after the Charlottesville violence under the banner "Unity Over Division, Love Over Hate."
"These same organizers came to Laguna Beach to organize a demonstration. And when my wife and I found out about that, we created #UnityRibbons. We took ribbons of every color and every size to represent the diversity of our country and our city and tied them around every signpost and every tree with hundreds and hundreds of volunteers helping us," Rouda says. "So that when these people came into Laguna Beach, they knew they were going to be outnumbered by people who not only did not agree with their message, but were going to fight against that message every day of their lives."
The flier for the event said: "Instead of confronting them at their rally, we've come together, activists and community leaders, and created our own rally the day before to bring together like-minded people who must demonstrate that America is better than this. In addition, we need a symbol to squash their evil ones. We are the majority. We are more powerful. We just need to come together to show our unity."
"Don't attend the hate group rally," Kaira Rouda told the Laguna Beach Patch newspaper. "That's what they want. The local law enforcement strongly urges us to stay away from these hate group gatherings. So don't go. Instead, imagine them, ignored, surrounded by #unityribbons. As Dr. Martin Luther King once said: The time is always right to do what is right. With these simple, powerful steps, you will let everyone know that hate is not welcome here," Rouda said.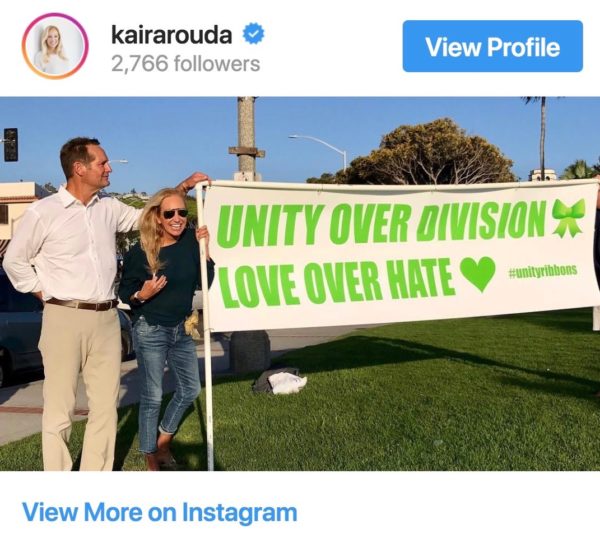 The contrast between Rouda and Rohrabacher couldn't be more stark on issues from climate change to homelessness. But on the issue of civil and human rights, Rohrabacher's job performance lacks common decency while Rouda and his family stepped up for civility without being asked to do it simply because it's the right thing to do.
"I welcome the opportunity to serve," Rouda told the Los Angeles Blade. "And I need support in helping retired Dana Rohrabacher. And I'm committed to working with the constituents—not just in the 48th District but across Southern California and all of America to do what's right."
Rep. Frost talks gun control on anniversary of March for Our Lives
"10 years ago I became an Organizer because of Sandyhook. 3 years later, I'd become a survivor myself. That same year, Pulse"
Editor's note: The full interview with Congressman Frost will be published next week.
WASHINGTON – U.S. Rep. Maxwell Frost (D-Fla.), after a week of making headlines for his gun violence prevention advocacy, sat down with the Washington Blade for an exclusive interview on Friday, which marks the five-year anniversary of the founding of March for Our Lives.
The 26-year-old freshman Congressman, who before his election was national organizing director for the student-led gun control group, had just introduced his first piece of legislation Tuesday with U.S. Sen. Chris Murphy (D-Conn. that would establish an Office of Gun Violence Prevention within the U.S. Department of Justice.
The proposal's aim, in part, is to better facilitate the implementation of last year's Bipartisan Safer Communities Act by establishing a singular office to coordinate that work.
And on Thursday, Frost captured and tweeted a video of a confrontation between U.S. Capitol Police and Patricia and Manuel Oliver, gun control advocates who lost their son Joaquin in the 2018 Parkland, Florida high school shooting.
Manuel and Patricia Oliver were just kicked out of this committee hearing on gun violence. Patricia said one thing and the chair escalated the entire situation. Then, Police arrested Manuel Oliver who lost his son in the Parkland shooting.

His son was shot to death.

— Maxwell Alejandro Frost (@MaxwellFrostFL) March 23, 2023
Here is @manueloliver00 being arrested for speaking out at a committee hearing. His son, Jaoquin, was shot to death in Parkland, Fl.

MANNY IS A HERO. He didn't deserve this. The Republican Chair of this committee just called him a narcissist. Disgraceful. pic.twitter.com/6jccYvesHb

— Maxwell Alejandro Frost (@MaxwellFrostFL) March 23, 2023
The couple had been removed by police from the House Oversight and House Judiciary Committees' gun rights hearing at the request of GOP Reps. Andy Biggs (Ariz.) and Pat Fallon (Texas).
Frost, who was in attendance, told the Blade the conflict started when Patricia Oliver "just stood up and she said, 'you took my son' and she sat down," but "instead of moving on, the Chair [Fallon] escalated things."
The Congressman said hearing itself was "a sham" convened for the purpose of attacking the Biden administration's Bureau of Alcohol, Tobacco, Firearms and Explosives (ATF), the entity within the U.S. Justice Department that investigates violations of laws governing the manufacture, possession, and use of guns.
"The real story here," said the Congressman, "is the fact that there were two parents who lost their son who was in high school, because he was shot to death and died in a pool of his own blood, and now they're going to spend the rest of their lives fighting for a world where it doesn't happen to anybody else."
Frost noted the Olivers were joined at the hearing by other families, activists, and organizers – all of whom were gathered in Washington, D.C. to advance the mission established by the group of teenaged Parkland survivors who founded March for Our Lives five years ago.
Among these student activists were Cameron Kasky, who identifies as queer, and X González, who is bisexual and uses they/them pronouns.
Frost has repeatedly said he ran for Congress because of his involvement in the gun violence prevention advocacy movement, which began with his volunteering on behalf of the Newtown Action Alliance, a group formed in the wake of the 2012 Sandy Hook Elementary School shooting.
The Congressman told NPR the 2016 shooting at Pulse, the gay nightclub in Orlando "where 49 angels were murdered right here because they're queer" marked one of the most significant moments of his life.
That same year and in that same city, Frost himself survived a gun violence incident.
During his congressional campaign, on the heels of last year's elementary school shooting in Uvalde, Texas, Frost tweeted: "10 years ago I became an Organizer because of Sandyhook. 3 years later, I'd become a survivor myself. That same year, Pulse. Now I'm running for Congress and 15 lives were taken at another Elementary school. I will not stop until the endless shootings do."