ONE Archives celebrates "Queer Noise," honors Jewel Thais-Williams
On Sunday night, Los Angeles' ONE Archives Foundation kicked off its membership program with "Queer Noise," a launch party which was held at the site of the iconic Catch One nightclub on Pico Boulevard.
The evening was a lavish event taking place in both of the upstairs rooms at the historic venue, which from 1973 to 2015 was owned and operated by Jewel Thais-Williams.  Catch One was the first black LGBTQ club in Los Angeles and one of the first black-owned discos in the United States; it was a haven for LGBTQ women and people of color who experienced discrimination in the bars of nearby West Hollywood but were welcomed by Thais-Williams.  In its heyday, it was an important performance venue for musicians like Sylvester, Donna Summer, Janet Jackson, Rick James, Chakha Khan, and Madonna, to name just a few.
The bar has been widely acknowledged as a milestone and a cultural touchstone for the queer community, and was the subject of a 2016 documentary, "Jewel's Catch One," which explored both its historical importance and its founder's influence in the Los Angeles community.
Catch One was purchased by in 2015 by Mitch Edelson, owner of Los Globos, who changed the name to Union.  Edelson opened up the bar to the ONE Archives Foundation for the event to honor the club's important heritage.  He also made a donation to the foundation and has announced that he will formally change the establishment's name back to Catch One.
In addition to launching the ONE Archives' membership drive, Sunday's event was also highlighted by a presentation to Thais-Williams of the Foundation's first annual History Maker Award.
Jennifer Gregg, Executive Director of the ONE Archives, said, "As stewards of queer history, we were delighted to honor Jewel for her enormous contributions to the LGBTQ community with our inaugural History Maker Award."
She added, "It gave us great pride to give Jewel this award during Queer Noise at Catch One—the same space where she made history."
Introducing Thais-Williams at the presentation of the award were ONE Archives Board Members Chiedu Egbuniwe and Roland Palencia.
Egbuniwe recounted the history of the bar, which he called "the unofficial Studio 54 of the West Coast," and its importance as a hub for the LGBTQ community, the black community, and the entertainers and artists who performed there.  He also elaborated on one of Thais-Williams' lesser known contributions.
"Jewel didn't stop at the Catch," he explained. "In 2001 she opened the Village Health Foundation, right next door.  The non-profit clinic continues to provide low-cost services, specializing in nutrition, alternative medicine, lifestyle changes, and diseases with high incidence in the African-American community – including HIV/AIDS, hypertension, and diabetes."
Palencia's comments were addressed from a more personal standpoint.  "Jewel," he said, "when you opened this place, it became a sanctuary."
He went on, "While in West Hollywood they were talking about pigmentation, you were talking about liberation, affirmation, and acceptance.  They had open-toed shoe policies so that women would not get into those places – you said, 'I'm open.'  They were saying, 'You don't belong here,' and you were saying, 'No matter if you were born here or born queer, this is where you belong.'"
No doubt he spoke for many present when he added, "I remember I used to come to Catch One, in my early twenties – and many of us came because this was family, many of our families rejected us, they were not interested in us, and Jewel was really our mother.  While we were getting kicked out, you were opening your arms and saying, 'I embrace you, I accept you for who you are.'  And because of that, we are so eternally grateful to you, for ever and ever.  Thank you."
The award was presented by Gregg, who called Thais-Williams to the stage by saying, "As a businesswoman, as an activist, and as a healer, we are proud to honor Jewel tonight with the inaugural One Archives Foundation History Maker Award."
Thais-Williams took the stage to jubilant cheers from the crowd, and thanked them for their reception, referring to them as "my family."  She also thanked her spouse "of almost thirty years," Rue Thais-Williams, and her sister Carol, who had flown from Hawaii especially for the event.
She then told a story about a predominantly black middle school in Philadelphia about which she had recently read, at which the graduation rate was only 35 percent.  "That means that 65% of the kids that started in the 6th grade could not finish the 8th grade," she said.  "So, they brought in a principal that had a record of making kids become achievers, and within two years that number had turned over to 65% completing, and 95% at the end of three years.  How did he do it?  First off, he had all the kids wear uniforms.  And the second thing that he did, was make it a priority – a pre-requisite, a must – for all grade levels to study African and African-American history."
She went on, "I'm saying that to say how important it is for ONE Archives to be here, and how important it is for all of you to take the time to go down and visit, and see where your roots and your history came from.  Then you can step out in faith, and know that we have big shoulders to stand on – and you too can make history."
She continued by citing a joke by late comedienne "Moms" Mabley, who when people were talking about the "good old days" responded by asking "What good old days?  I was there, where was they at?"  She elaborated, "I say all of that to lead into this theme of '45' saying 'Make America Great Again.' America has not ever been 'The Great Country.'  The economy was always based on wars, and in between we had depression and recession and all that.  Let's make America great once and for all, by doing what we can to lift everything up."
As the crowd cheered, she went on to add, "Everybody says, 'vote' – well yeah, vote, and then follow it up with action.  Begin with celebrating the organizations that are out there doing the work, start your own, just be active and be visible – and if you put the right energy into motion, it will manifest in success."
In addition to the presentation of the History Maker Award, the evening featured a host of queer performers, musicians, and DJs, including Kelela, San Cha, BAE BAE, Adee Roberson, Amanda-Faye Jimenez, Rush Davis, Solomon Georgio, Thurmon Green, Liza Dye, bitchface, LZ Love, and Asmara and DJ Kita presented by MUSTACH.
ONE Archives Board Chairman Jeff Soref said, "This is the largest party we've ever thrown, around 450 people.  It's a great way to get younger people involved, introduce them to the archives."
Gregg echoes this sentiment, saying "We were beyond pleased with the turnout at Queer Noise, many of whom are new members to the ONE Archives Foundation.  Some of our guests had experienced Jewel's Catch One over the past few decades, but the majority are of the next generation just learning about the incredible history of Jewel and of the Catch—they will continue to carry the legacy of Jewel's Catch One forward."
The ONE Archives Foundation is an independent community partner supporting the ONE National Gay & Lesbian Archives at the University of Southern California (USC) Libraries, the largest repository of Lesbian, Gay, Bisexual, Transgender, Queer (LGBTQ) materials in the world. Founded in 1952, the ONE Archives Foundation, Inc. is the oldest active LGBTQ organization in the United States. In 2010, the ONE Archives Foundation, Inc., deposited its vast collection of LGBTQ historical materials with the USC Libraries. Today, the organization is dedicated to promoting this important resource through diverse activities including educational initiatives, fundraising, and range of public programs.
The ONE Archives Foundation, Inc. collects, preserves, and protects LGBTQ history, art, and culture in collaboration with ONE Archives at the USC Libraries. To provide access to the ONE collection, the Foundation presents and supports projects, programs, exhibitions, and education to share the LGBTQ experience with diverse communities worldwide.
R.K. Russell's life, sport & bisexual awakening 
This Black queer former NFL player says he's fighting "for us all to be seen, whether it be in the pages or on the screen"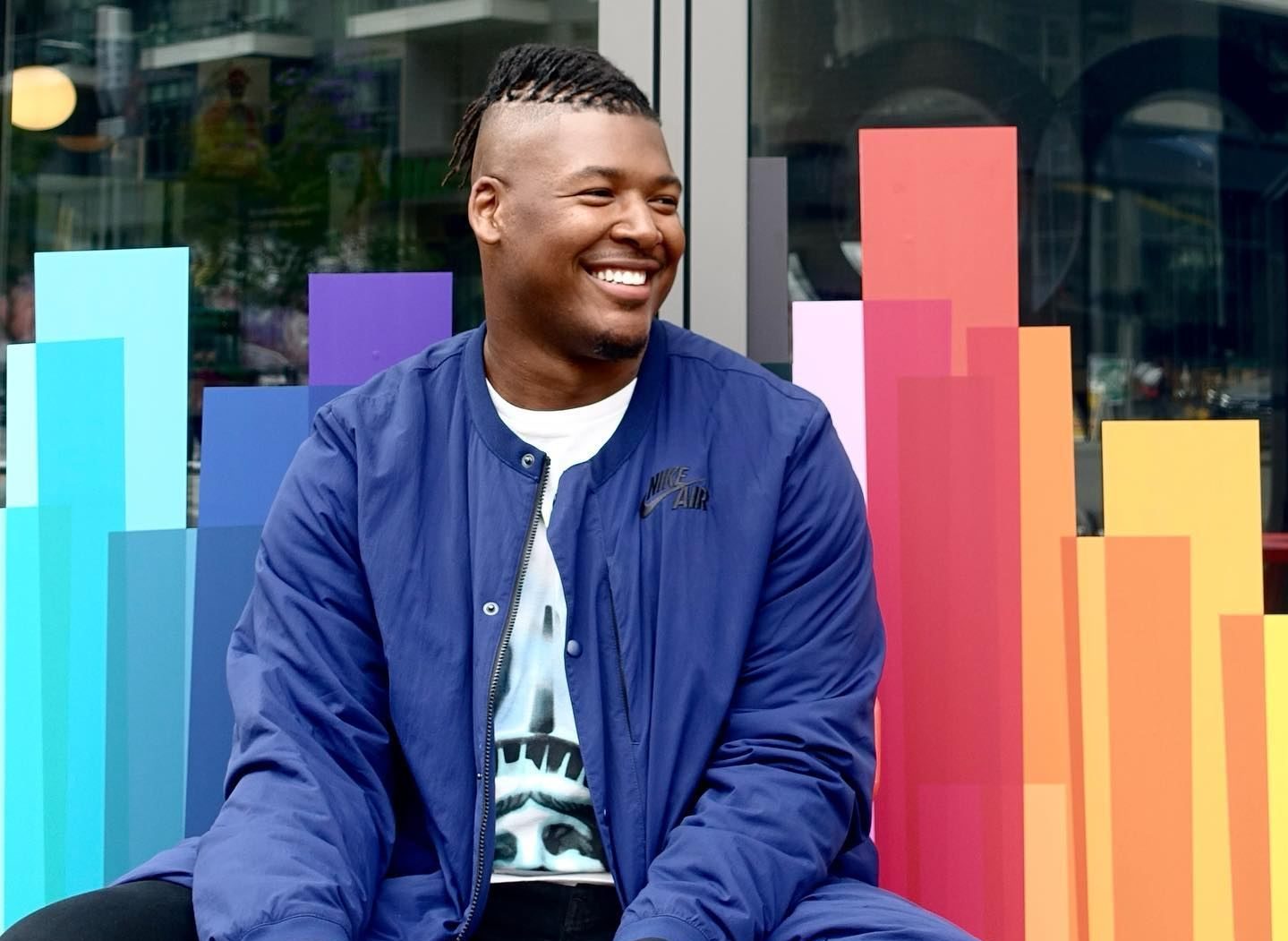 WEST HARTFORD, Conn. – He's tackled opponents on the gridiron, paved a path for out LGBTQ+ athletes and shared his unique voice in words and prose. Now R.K. Russell is celebrating the release of his long-awaited memoir, The Yards Between Us, as well as a Hollywood deal to bring his story to television viewers. 
It's something Russell told the Los Angeles Blade he never dreamed would be possible, even as a child.
"Grown me could barely imagine the book, let alone, little me," Russell said. "It is something I have not seen before, and something that doesn't really exist. Something that is so shocking even to me, this being my life. I think the reason that I continue to take these opportunities that come to use my platform and my voice and my talents, my gift, to not just tell these stories, but to hopefully champion other people in their story. To just fight for us all to be seen, whether it be in the pages or on the screen, everywhere people exist. We exist."
As the Blade reported in August 2019, Russell came out as bisexual in a feature for ESPN. The NFL defensive end was drafted by the Dallas Cowboys in 2015 and played a few seasons for the Tampa Bay Buccaneers and Buffalo Bills. After coming out as a free agent, Russell wasn't able to fulfill one of his dreams — to play professional football as an out and proud bisexual man. But at that time, he said all he was focused on was living his truth.
"It was a powerful time in my life," Russell told the Blade. "It was the first time I really felt that I was taking all this control and I wasn't just at the mercy of the NFL or waiting for that phone call, or at the mercy of friends, family, lovers. It was my decision and my moment and my truth. And I got to express it in a form that felt very genuine to me."
The Buffalo native called the experience "freeing."
"I didn't think I'd realize how much I had been proverbially holding my breath until that moment. And then it just felt like such an exhale. It's such a freeing thing, and the weight of the burden of that secret, of that shroud, or that shame," he said. "I just realized how heavy what I had been carrying for so long. So, definitely a powerful and freeing moment."
Having already told part of his story to ESPN, The New York Times and other news outlets over the years, there was a reason Russell felt it was important to write the rest of his story.
"That was just a very specific part of my life, and it showed me that maybe by sharing my whole story, my life and my journey and my truth and other parts could be just as impactful, if not more impactful," he said. As he set out to write the memoir, he said he first experienced imposter syndrome, until he came to a realization.
"The point that got me through was, 'What would little R.K. read that would have helped him? What was a book that didn't exist when he was young, and that he could have picked up and seen himself, or that people like him can pick up and see themselves? Or even people unlike him, to get a human connection to someone that does not look like them or doesn't play sports?' So, I think the huge, final push was, 'What would I have liked to have read as a child?' And hopefully that will help other people."
The Yards Between Us traces not only Russell's football career and his love for the game, for both men and for women, but also what it was like for him to keep his bisexuality secret and the tension between his private and public lives. As his weighs upon him, he's dealt a devastating loss, an event that leads to an all-enveloping darkness, until finally he recognizes, it's time to make a change.
Since coming out, he's found love with his boyfriend, Corey, grown closer to his mother and this September he'll mark four years sober.
Russell's memoir has won him accolades from LGBTQ+ readers, but not just them.
"I've also gotten a lot of support from people who aren't LGBTQ+ who see the value in the story, but also see the value in the intersections of it all. Because I don't just talk about being a bisexual, I talk about being a Black man. I talk about being a football player, defining masculinity and redefining masculinity. There's a lot of intersections that my story crosses. And I think for people to see all of these layers also coexisting in one person, that's important to see the bridges between these communities that at times can be put against each other, or it can be divided, to see them all exist within one person."
While all that sounds very serious, Sony Pictures Television sees comedy gold in exploring Russell's intersectionality of sports, race, sexuality and masculinity. His memoir is being adapted into a half-hour comedy series, as Deadline reported. Russell is co-writing and executive producing a half hour comedy series with Saeed Crumpler of "Flatbush Misdemeanors," alongside Gabrielle Union, who is a producer in her own right as well as wife to Dwyane Wade and stepmother to their 15-year-old trans daughter, Zaya Wade. As the Blade reported last month, the Wades left Florida because of its anti-trans policies and laws.
"She's fantastic. Amazing," said Russell. "If anyone wants to know what allyship looks like, Gabrielle Union and Dwyane Wade and their whole family, they're so amazing. "
Union, he said, recognizes the importance of representation. "It's important to have genuine representation, whether it be during Pride Month with companies and campaigns or in shows and books that our stories are coming from, that there are Black queer writers writing Black queer stories hopefully also in part started or acted by Black queer artists."
Long before he wrote a word of his memoir, Russell has been publishing his own poems, which he told the Blade was his "way to express life with words." He said he started writing poetry following the death of his stepfather.
"It was a way for me to kind of name grief, without naming it. I didn't have that vocabulary, that word at that time, but I was feeling it so intensely," he said.
One of Russell's poems, Tributes, was an effort at explaining bisexuality and his experiences. "'Bisexuality,' the word, means something slightly different to you, to me, or to someone else. I can talk about the experience in a way that is so varied and so broad and to me, so true and genuine." Below, an excerpt from that poem:
Love is freedom
and the freedom to love is a birthright,
or at least it should be.
These years fill my canvas
and I know too much of life to expect
only one color to leave its strokes across my heart.
Paint is intended to mix no matter the artist. —Tributes, by R.K. Russell