BlackManWhiteBaby means to challenge you
'As a queer person of color, going into boy's town feels like the gay white man's club and I'm just there on a day pass'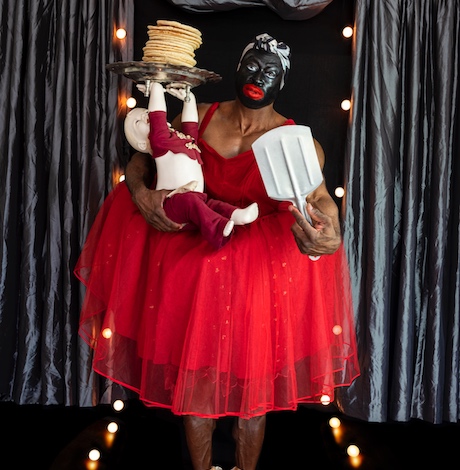 JMR Art Gallery's latest opening is showcasing the work of BlackManWhiteBaby, who creates bold self-portraits which intersperse racial and sexual themes.

The queer artist has predominantly utilized Instagram as a way to explore his photography. Recently, his collection of photographs, a series he calls, "Tar and Feather" was featured during a gender-neutral fashion show put together by gender fluid designer, Radimo. BlackManWhiteBaby also was one of the runway's impressive models.
We talked to BlackManWhiteBaby about his art show, and how it reflects race in America.
Los Angeles Blade: Tell us more about this exhibit.

BlackManWhiteBaby: My show, "American Traditions," reflects race in America by using stereotypes, real life stories and situations. One example is my piece entitled, "White Lives Matter." I've noticed some white people responding to Black Lives Matter by saying, "All lives matter." If that were true we wouldn't have the need for Black Lives Matter. When African Americans say, "Black lives matter. We are saying, "All lives matter!" A lot of people don't understand that.  My show shines a light on this lack of understanding and what the words Black Lives Matter truly mean.
Blade: What inspired your show?

BlackManWhiteBaby: My inspiration for this show was my need to understand the race and gender issues we struggle with in this country. I remember working out in the gym, looking up at the television and seeing angry, young, white, men with tiki torches. I was one of only two black people in the gym that day. I remember my body feeling as if all of its survival instincts kicked in at once. I thought, "Is the other black guy feeling the same as me right now? I wonder what these white people around me are thinking. When are we gonna figure this shit out?!" I later learned that Heather Heyer was killed by a young white man over a Confederate statue and it made me so sad. And then I felt angry. I think I'm still angry about it. There's a piece called, "Heather" in the show. Heyer is the inspiration for this piece.

Blade: What's it like to go from being an Instagram artist to an art gallery?
BlackManWhiteBaby: To be honest, it was one of the hardest things I've done. My art is me and me is not that vulnerable in real life! As an IG artist, no one could harm me because I have the power to make my work, myself or you disappear!
Going into an art gallery from expressing myself on Instagram is a really difficult transition. I went from people saying, "BMWB for president!" to only talking about image quality. It felt like it was no longer about the message or the concept. It became about art collectors, editions and a bunch of high-brow formalities. It was really scary and kind of disappointing at first.
This is why I chose to do my first solo show, "American Traditions," different than traditional art gallery events. There are a few high-brow formalities, but there's also spoken word, a BMWB video installation, and DJ ATrak is playing a set as part of the final live installation.
Blade: Talk about the gay themes you explore.
BlackManWhiteBaby: "American Traditions" challenges traditional gender norms through its use of gender-queer, non-binary characters. I think it's time the gay community address its own tendencies to shame others and at times, act a bit racist.
I think the gay community needs to check itself. Specifically, gay white males. Is there a difference between a heterosexual white man and a gay white man when it comes to privilege, entitlement and racial tendencies? Gay white men are part of a marginalized group yet at the same time they are white men.
As a queer person of color, going into boy's town feels like the gay white man's club and I'm just there on a day pass. It's not easy to identify—sometimes it's just a feeling. The other time, it's that guy brushing up against you to whisper in your ear, "Hey dark chocolate, what's your number? You look like you could rape me." Yes, this really happened to me.
Blade: What suggestions do you have on how this behavior can be combatted or overcome? Is it systemic or just cultural?

BlackManWhiteBaby:That's a good question and I'm not sure I know the answer. Maybe start with sensitivity training. It feels like a little bit of both. Systemic in a similar way to how religion is marketed to the public, by showing repeated images of a white man with blond hair as our savior. Gay men are repeatedly shown images of young white men as being the standard of good health, beauty and sex appeal.
Cultural in this situation is hard for me to define. Meaning I would hope that a marginalized group of people would be much more sensitive to racial issues than most. But I don't think that's always true. 
People believe certain things and teach that to their children. Sometimes this doesn't fade away over time and it becomes a part of their belief system, which then can become part of a larger system—even if they are gay. I just read something about a group called, Twinks for Trump. I think that says it all.
Blade: What's next for you?

BlackManWhiteBaby: The Broad Museum I hope! Until then I've got a new series I'll be shooting. This is an extension of a piece in the show called, "Topsy & Eva, When little girls dream big." I also designed a limited edition hoodie for the show and partial proceeds will go to the NAACP legal defense fund.  I think BlackManWhiteBaby will be designing a few more clothing items down the line.
Ellen Degeneres sits down with NBC's Savannah Guthrie
Ellen chats with Savannah Guthrie on Today about her leaving daytime television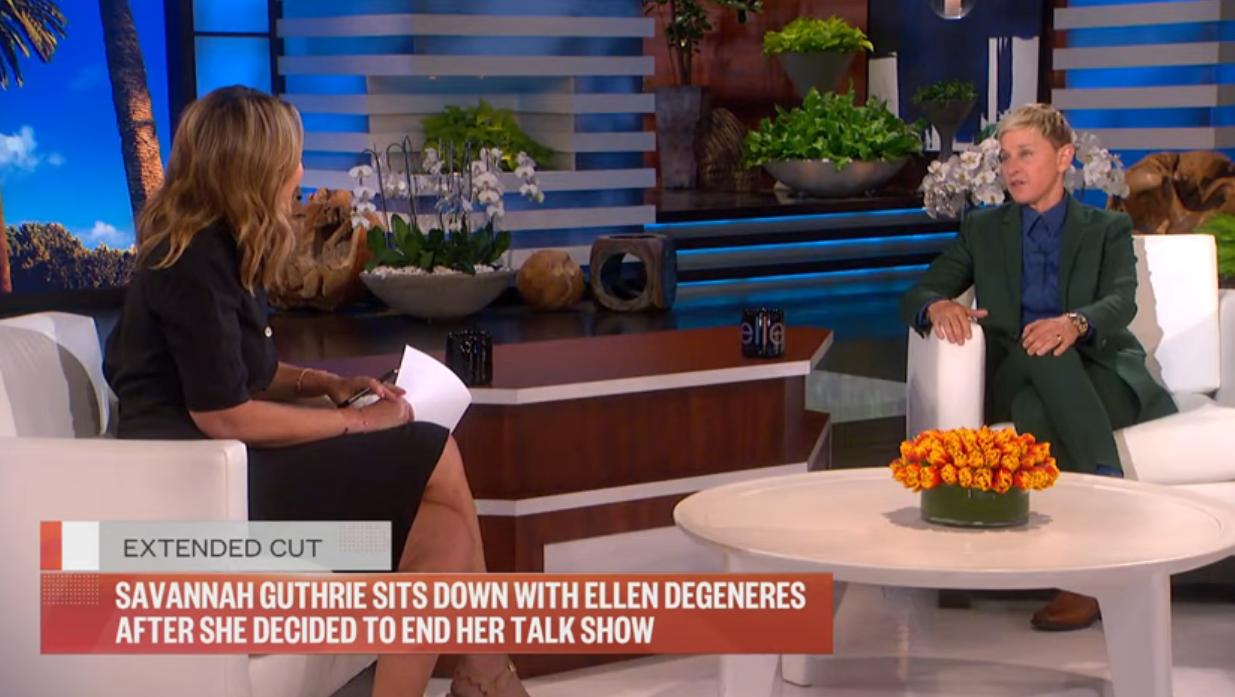 BURBANK – Ellen DeGeneres announced yesterday that she will end her talk show after next season. NBC's Savannah Guthrie speaks with DeGeneres Friday about the decision, which comes 10 months after DeGeneres faced accusations of allowing/running a toxic workplace.
WATCH:
Ellen discusses her departure with Oprah Winfrey
The two powerful women television celebrities shared how each came to the decision for their shows to end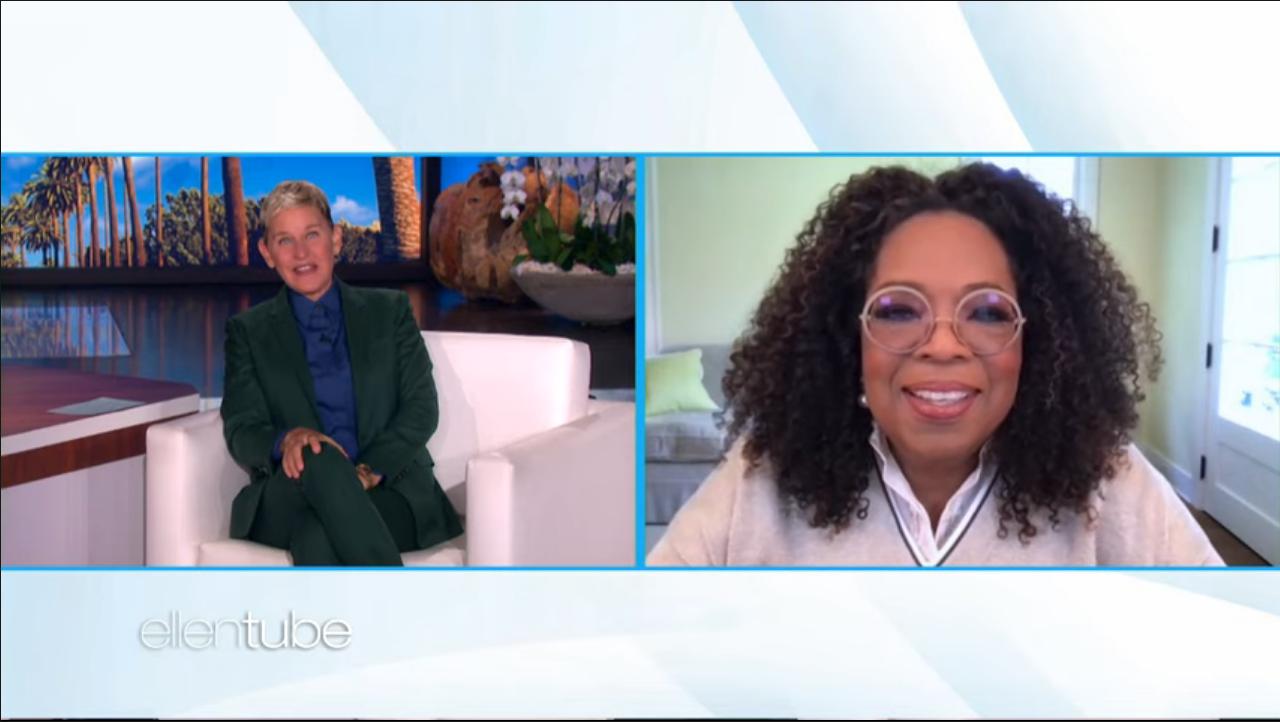 BURBANK – After Ellen DeGeneres announced she would be ending her talk show with Season 19 this week, she had a discussion with invited special guest Oprah Winfrey on Thursday, whose iconic talk show wrapped in 2011 after 25 seasons.
The two powerful women television celebrities shared how each came to the decision for their shows to come to an end, and Winfrey divulged what she misses about her show, and DeGeneres revealed what she will miss about hers.
Winfrey also talked about her new Apple TV+ mental health docuseries "The Me You Can't See," which she co-created and executive produces with the Duke of Sussex, Prince Harry.
WATCH:
Elton John and Years & Years give a fabulous performance at the 2021 Brit Awards
Elton John's & Years & Years' BRIT Awards 2021 song 'It's a Sin' released in support of Elton John AIDS Foundation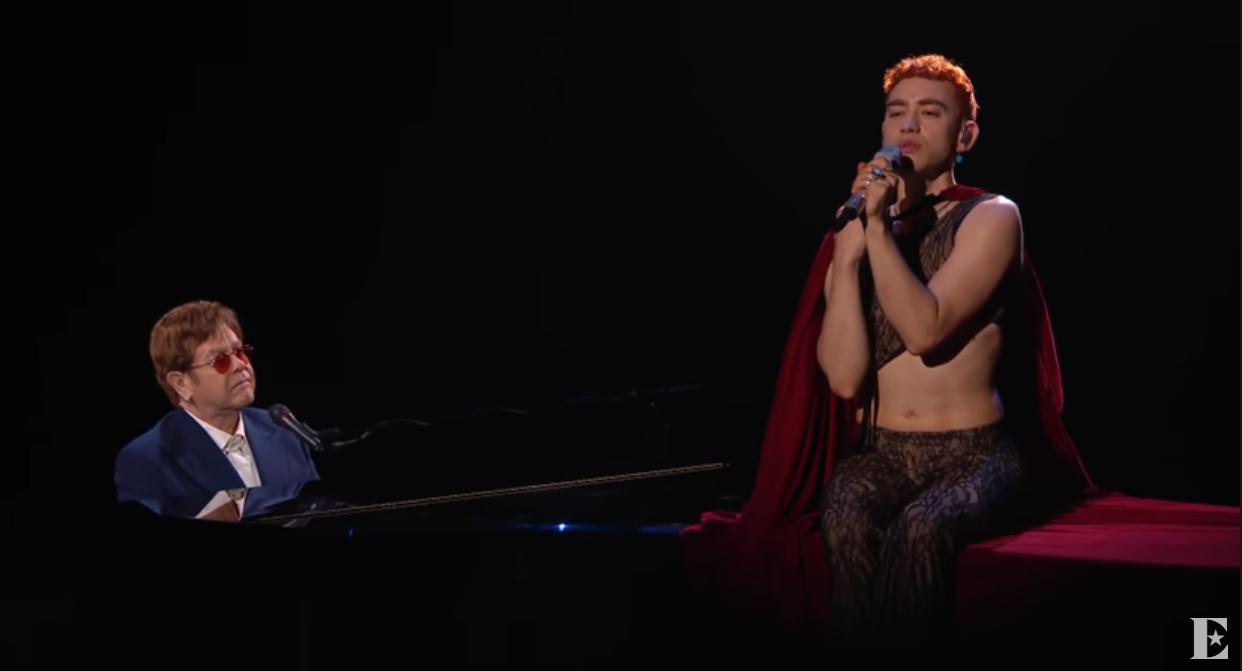 LONDON – In a show stopping performance Tuesday, Sir Elton John and Olly Thornton both who are British musicians, singer-songwriters, actors, and LGBTQ advocates- Thornton performs as Years & Years, rendered their new version of the Pet Shop Boys classic single 'It's a Sin'.
John's and Years & Years' BRIT Awards 2021 performance of the Pet Shop Boys classic single 'It's a Sin' was released in support of the Elton John AIDS Foundation.
WATCH:
LISTEN TO It's a sin HERE: https://EltonJohnYearsandYears.lnk.to…
DONATE TO EJAF HERE: https://donate.eltonjohnaidsfoundatio…