Oliver Mayer returns to the ring with 'Members Only'
Sequel to 'Blade to the Heat,' a game-changing gay play for New York and Los Angeles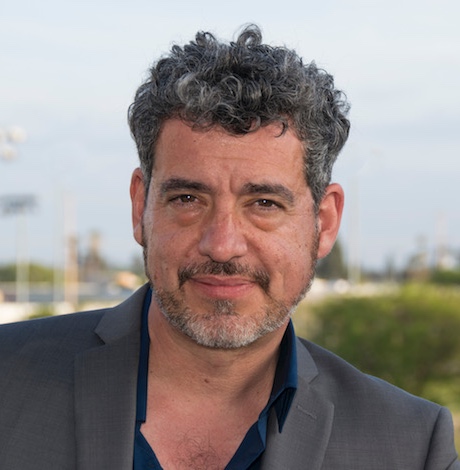 Playwright Oliver Mayer may not be gay, but he's an LGBTQ pioneer, nonetheless.

His play "Blade to the Heat," which debuted in 1994 at Joseph Papp's New York Public Theatre before its sold-out Los Angeles run at the Mark Taper Forum two years later, was a watershed moment in queer theatre; centered on a closeted Latino boxer in the late 1950s, it was a story about the struggle of being gay not only within a hyper-masculine and homophobic environment, but also as a person of color. It was controversial, but it was also a hit. Even Madonna wanted the rights to it.

Now, over 20 years later, Mayer – who is an associate professor at the USC School of Dramatic Arts – has returned to the world of his groundbreaking play with a sequel, "Members Only."  Produced by the Latino Theater Company at Los Angeles Theatre Center, it begins its World Premiere run on Oct. 25.

"Members Only" continues the story of protagonist Pedro Quinn, who will be played by Ray Oriel – the same actor who portrayed the role in the Mark Taper production 22 years ago.  He will be joined by Jon Huertas from the TV hit, "This Is Us," along with Gabriela Ortega, Darrin Henson, Ron Alvarez, Hansford Prince and Geoff Rivas – as well as Marlene Forte, the playwright's wife of 12 years, who had wanted to be in the original show but, having no agent at the time, couldn't get an audition.

The new work picks up with Quinn after two decades in the ring, still closeted and still fighting – despite the ravages of age and the ghosts of his past. It's the dawn of a new era in America, where people of color are beginning to find equal footing, where sexual behavior and identity have become more open-ended, and where women are pursuing goals previously denied them because of their gender – such as a young female boxer whom Quinn has taken on as his protégé.

It's also a world on the brink of a plague.

"When I wrote 'Heat' in the '90s," Mayer says, "I deliberately set it in 1959-1960 to make things harder on the characters. And even though it took place in the past, people saw it as an 'AIDS' play, because it was about a certain kind of mystery and violence around the sexual coming-together of men – and I think they were right."

He hadn't intended it, but he recognized that there was, as he puts it, a "seed" in what he had written that could be viewed in the context of the then-current culture.

"With 'Members Only,'" he says, "I wanted to take that seed and let it bloom – to deal with that actual moment in time with the surviving characters from the original play."

There were other compelling reasons to revisit his previous work.

"It was important to me when I wrote 'Blade' that Quinn was not going to be a victim.  He was not going to come out dead – it was one of the first plays with a gay lead that didn't die at the end. Yet I thought that the guilt, the regret – the need for absolution – would have only grown in 20 years."

He reflects, "Maybe it says something about me, too – about how I feel some level of regret for being unable to do anything, except just love people, about some of the terrible things that have happened in my lifetime. So, I thought if I moved Quinn up into a moment when there was this crisis – that was global but that you could still feel, person to person – maybe this character, who has not lived an 'out' lifestyle, could have a chance to come into the light."

Mayer, who is Latino, is also still exploring the relationship between sexuality and ethnicity.

"A big part of both these plays," he says, "is that I'm dealing primarily with communities of color – black and brown, specifically – and these communities have a history of cruelty and fear, of a lack of understanding around non-binary sexuality."

He adds, "It's important to me for an audience – particularly an audience of color – to check itself, to see these things onstage and realize, 'Yeah, we could do a lot better.'"

There's also the experience of women.

"One of the big relationships in this play is between Quinn and the female boxer," he points out.  "This piece takes place before women were welcomed into boxing gyms. There were women in the sport, but they were considered freaks – they were certainly abused, in various ways, and not taken seriously. This young woman is trying to break into this world, and there's a real threat of physical violence against her in this gym, because it's so macho – she could be raped."

It's a situation that resonates in our current cultural climate, but as Mayer explains, there are parallels to be found throughout "Members Only."

"Unfortunately, I think we have the same problems that we had back then," he says, "and in some ways it's because we feel we've advanced. We have to be careful of backsliding, and to be aware of the complexities of living an adult, sexual life in this country."

It's the reason, he says, that he felt the need to elaborate on the resonance with AIDS that was found in the earlier play.

"I set this play right before the disease was named – when it was still called 'GRID,' when it was this mysterious thing that people didn't know much about.  These characters are on the front lines, they're all in danger and don't know it."

As someone who came into adulthood during this exact time, his own memories informed his writing.

"In 1982 I was 17," he remembers.  "I lived in LA, and my mother worked at County General. I was about to leave for Cornell, and I was really a virgin – I had some sexual experience but never all the way – and I didn't know a damn thing. And she stopped me and she said, 'There's something out there, wear a condom.'  It went right through me, because she'd never spoken to me like that and never has again."

"I'm a mama's boy," he continues.  "I did what she told me, and all these years later I tend to think she may have saved my life. I was an activist in school, and I went to a lot of meetings for Latino students, and a lot of our LGBT brothers and sisters were there – and I think about them, because they were also in this moment, '82-'86 or thereabouts, when it was still very shadowy and full of misinformation – of fear that any particular sexual experience might be the one that brands you forever."

Reflecting, he adds, "I think about our own moment, and I realize that AIDS is back, and I'm also afraid of the next scourge. I don't want to live in fear, but as someone who's lived on the planet for over fifty years I know that the next 'unknown' is coming that's going to change everything. It's important to brace yourself, even if you don't know what that is going to be."
It's for this reason the playwright thinks it's important for people to be able to recognize their own world in his material.

"It's essential for an audience to be able to see itself on stage," he says, "and the great news, the thing that has changed in 20 years, is that there's a broader canvas of diversity among characters and the actors playing them. That includes ethnicity and race as well as sexual behavior and other kinds of identifiers – and you don't have to be of those particular categories to see yourself. Hopefully, we've been working on ourselves as humans enough that our compassion for each other is a little more defined."

Even so, he acknowledges that the current state of discourse in our country is strained. 

"There's unbelievable levels of tribalism," he says, " but I do think that's the reason why the theatre means more now than ever. People who might feel tribal by day come together in a dark room in the evening and they have to deal with a storyline that they have to figure out on the other end, hopefully as human beings, over a drink. Maybe they can realize that they are no longer quite as tribal – quite as binary – as they were before."

He goes on, "I think that's why, even though the theatre is always tottering, the actual need for plays is actually keeping it alive. Especially with companies that represent certain community bodies, like the Latino Theatre Company – even though they're broker than a joke, they've got a reason to produce like they've never had. That makes me hopeful."

It also makes him proud to be part of the local LA theatre community. 

"I've put more than 30 years of my life into this community of artists," he says, "and it's no coincidence. I think we're really great. I don't want to oversell us, but it's been enough to keep me here, and to make me want to continue."

While that explains why Mayer remains a fixture of the local theatre scene, it doesn't answer the question of why this straight-identifying playwright keeps returning to plays that explore gay subject matter.

He laughs about that. 

"It's funny," he says.  "I've written gay characters, or at least non-binary characters, throughout my entire 33-year career."  Chuckling, he adds "I guess I'm a little bit gay."

More seriously, he continues.  "I write about it because it's hot – and I mean that in more ways than one."

"As a dramatist," he explains, "my sense tells me to go after stories that are edgy and difficult – like a boxer who might be coming out as a gay man."

He goes on, "In my personal experience, and especially by my mother, I have been educated and relaxed into knowing that love is love – people come together, and they find happiness, and that is completely comfortable to me."

"But even so," he concludes, "I've trained myself to look for the drama in a story. In our American story, gay sensibility goes hand in hand with discomfort, with a threat of violence – and that's the stuff of drama."

Mayer's latest drama promises to be a must-see milestone for all fans of provocative, challenging theatre – not just the LGBTQ ones – and it runs at LATC Oct. 25-Nov. 18.  For tickets and more information, visit www.thelatc.org.
Charles Busch reflects on the paths he didn't take in new book
'Leading Lady' a riveting memoir from legendary entertainer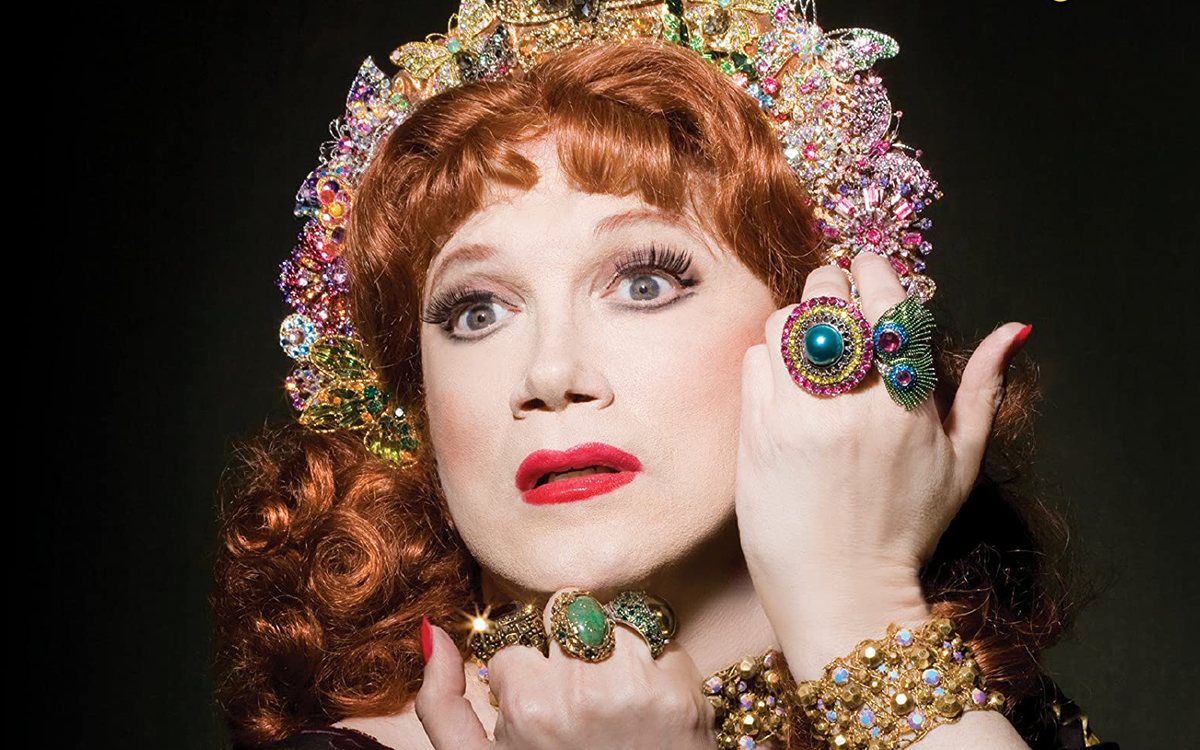 "Charles, I'm telling you, I go to plays in rat-infested basements where I'm the only one who shows up," the late queer icon Joan Rivers once told the queer, legendary playwright, actor, director, novelist, cabaret performer and drag icon, Charles Busch. "I can see the actors peeking through the curtain and groaning, 'Oh God, that old bitch in the fur coat is here. Does that mean we've gotta go on?'"
Busch reminded Rivers that she'd seen him perform in a rat-infested basement.
This is just one of the many stories that Busch, born in 1954, tells in his riveting memoir, "Leading Lady: A Memoir of a Most Unusual Boy," which comes out on Sept. 12.
"Leading Lady" is a page-turner. Some of its tales of Busch's life and career, such as his account of a Christmas party with Rivers as a guest, are dishy. Others, like his memories of trying to care for his beloved Aunt Lil, when he knew she was dying, would make even the Wicked Witch in Oz tear up.
The memoir, is, as Busch says on his website (charlesbusch.com), the story of "a talented artist's Oz-like journey."
"Leading Lady" isn't linear. This isn't a detriment. Busch deftly intertwines memories of his life and career from his mom dying when he was seven to being raised by his loving Aunt Lil to being the author and star of the cult classic "Vampire Lesbians of Sodom" to watching Kim Novak handle fans to being the Tony-nominated writer of "Tales of the Allergist's Wife" to being creative during the pandemic.
"Storytelling is a huge part of my life," Busch told the Blade in a lengthy phone interview, "I get into various adventures and, I think, this could be a good story to tell."
Interviewing Busch is like chatting with a fab storyteller over coffee or a glass of wine. Except that you're talking to a legend who's entertained and inspired queers (and discerning hetero audiences) for decades. (I'm wearing my "Vampire" T-shirt as I write this.)
As a playwright, Busch writes "linear" plays, with a beginning, middle and an end, he said. As a cabaret singer, "the way I sing songs is telling a story," Busch said.
Since childhood, he's been creating vivid scenes in his imagination. From early on, Busch has felt as if he's both a spectator and star in the movie of his life.
It seemed inevitable that he'd write a memoir. It's the ultimate form of storytelling. "You reach a certain point in your life," Busch said, "where you're more reflective and see your life as a whole."
"You reflect on the paths you didn't take," he added.
Busch spent his childhood in Hartsdale, N.Y. He had two older sisters, Betsy and Margaret. His mother's death was devastating for Busch. His Aunt Lil and Joan Rivers have been among the women who have been "mothers" to Busch since his mom died.
Once, Busch said he and Rivers dined with friends. "Joan Rivers said 'I wish I had a gay son I could phone at midnight and discuss whatever movie was on TCM,'" he recalled.
Busch would have loved to have been Rivers's "gay son."
Life in Hartsdale was hard for Busch after his mother passed away. His father was often absent and showed little interest in his children.
Things were miserable for Busch when his grandmother, for a time, cared for the family. He knew, as a boy, that he was gay and hated going to school where a movie-and-theater-loving kid who liked to draw wasn't one of the cool kids.
Yet Busch forgave his "father's failings," he writes in "Leading Lady, "because he gave me the theater."
Busch became entranced with the theater when his father, an aspiring opera singer who performed in summer stock, took him to the old Metropolitan Opera House in New York City to hear Joan Sutherland sing the role of Amina in Bellini's "La Sonnambula."
Busch was saved from a life of boredom and bullying when Aunt Lil, his mother's sister, took him to live with her in Manhattan. There, like Auntie Mame, she raised him. She prodded him into applying to the High School of Music and Art in New York City. He was accepted there.
After high school, Busch graduated with a bachelor's degree in drama from Northwestern University in 1976.
"My Aunt Lil is the leading lady [of the title of his memoir]," Busch said, "she was the most influential person in my life."
One of the reasons why Busch wrote "Leading Lady" was to paint a full portrait of her. "It was important that it not be this kind of gauzy, sentimental memory piece," he said, "making her out to be a saint."
Aunt Lil adopted Bush when he was 14. Her goal was that he would go to college, become independent, be a survivor – make a place for himself in the world.
"I don't know what would have happened if she hadn't stepped in," Busch said.
"She was very intellectual," he added, "I've never met anyone [else] with such a pure devotion to thinking. It was a little intimidating."
Aunt Lil's standards for caring – for giving of oneself – were so high that it was almost impossible to meet them. "She believed that you should anticipate what people would need," Busch said, "before they told you."
Looking back, Busch is most proud of himself when, "I've gone past my natural self-absorption," he said, "when I've thought of someone else."
Busch is being too hard on himself. In "Leading Lady," and when interviewed, he's caring and curious as well as witty, savvy, and as you'd expect, a bit campy.
His sister Margaret died recently. "She declined gradually over nine months," Busch, said, choking up, "I gave her my bedroom and I slept on my sofa."
Like many of her generation, Aunt Lil didn't understand queerness or drag. But she loved Busch. She didn't go to see his productions, he said. "She could have gone like other parents," he said, "and been tight-lipped. And said something nice that she didn't believe."
But "she didn't want to lie or be hurtful," Busch added, "so, for her, it was: can't I just love and support you, and not go?"
Aunt Lil didn't get Busch's sexuality. But she knew about secrecy. Busch learned of a terrifying secret that his aunt had long kept hidden. In the 1930s, during the Depression, Aunt Lil worked as a nurse. One day, when she worked overtime, one of the patients suffered a burn. She had to leave nursing. "Her sister in a nasty mood revealed this," Busch said, "Aunt Lil never discussed it."
In the 1970s, Busch had trouble getting into theater because there were only roles for actors playing straight male characters. "The only way I could get on stage was to write my own roles," he said, "I have a rather androgynous nature."
Busch found that the feminine within him was a place of authority and strength. "I'm fine when I play male characters," he said, "but I'm better when I play female characters."
Why this is so liberating for him is a bit of a mystery to Busch. "But I accept and love it," he said.
Times have changed since Busch made his first big splash with "Vampire Lesbians of Sodom." "In 1985, being a drag queen was considered a negative," Busch said, "my generation of drag performers bristled at being referred to as drag queens."
Busch no longer bristles. "I feel like the characters," he said, "I enjoy costumes and getting the right wig."
"But, I go from male to female not through trickery or anything visual, I transfer through my soul."
In "Leading Lady," Busch recalls AIDS and other dark moments from the past. Many of his friends and colleagues died from AIDS. "AIDS was the World War II of our generation," he said.
But Busch, in his memoir and in his life, isn't only looking back. He's very much in the present. Busch is embarrassed to say he was lucky. During the pandemic, devastating to many, he made art. He did play readings on Zoom and finished writing "Leading Lady" which he'd worked on for 14 years.
During the pandemic, Busch with Carl Andress co-wrote and co-directed the movie "The Sixth Reel." The film's cast includes Busch, Julie Halston (Busch's longtime muse), Margaret Cho and Tim Daly.
Busch describes the film, an homage to the Hollywood madcap movies of the 1930s, as "a comic, caper movie."
"I play a disreputable dealer in movie memorabilia," Busch said, "a legendary lost film is found, and I see it as my ticket out of debt."
The "Sixth Reel" is playing from Sept. 21 to Sept. 27 at the LOOK Dine-In Cinema West 57th Street in New York City.
"I hope the run in New York will encourage people to distribute this little movie," Busch said.