Campa-Najjar vs. Hunter is now a 'toss-up'
Devoted Christian challenges anti-LGBT culture of corruption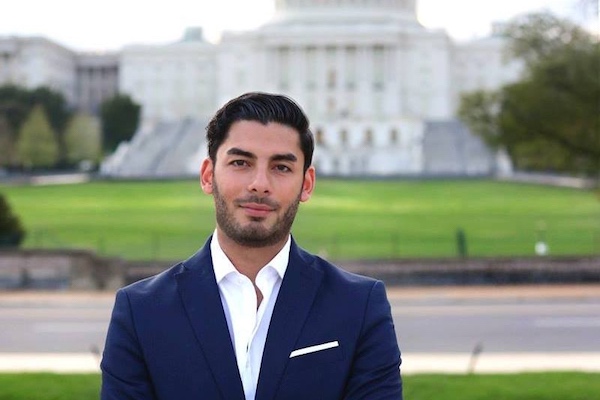 Stonewall Democrats laughed when Ammar Campa-Najjar described himself as Donald Trump's "worst nightmare"— a Latino, Arab-American millennial who talks unabashedly about morality, under-representation of minorities and the administration's "assault on our values" and "country over party."
"Whether you're Latino or Middle Eastern or LGBTQ or maybe both–or all three–it's a really defining time for our country. We have to stand for our values. An assault on any one of us is an assault on all of us," said the 29-year-old challenging anti-LGBT Republican Rep. Duncan Hunter in California's 50th congressional district, covering northeastern San Diego County.
"We've seen how Donald Trump has really enabled the worst of the worst to come out of people. And right now it's really about bringing people back together again," Campa-Najjar told the Los Angeles Blade last July, noting that he has an LGBTQ stepsister and his stepfather, a Vietnam veteran, is a Trump supporter.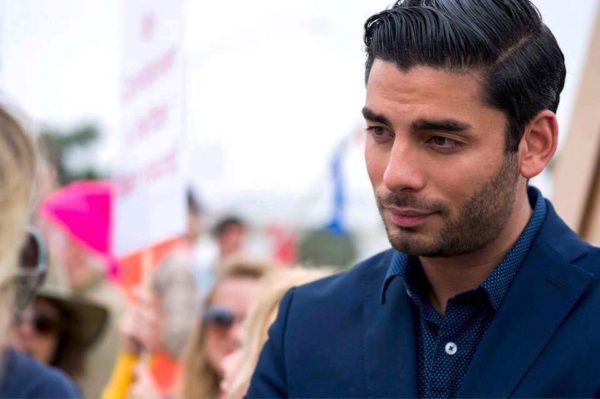 Though the 50th CD is on the list of GOP seats Democrats are hoping to flip to win back the House, this race is a steep climb. Though Hunter was the target of an FBI investigation before the June primary, a San Diego Union-Tribune poll showed Hunter with 43% of the vote to Campa-Najjar's 10%.
Then the U.S. Attorney's Office in San Diego released a 47-page indictment charging the Hunters with 60 criminal counts, including illegally using $250,000 in campaign funds for personal expenses such as flying their pet rabbit across the country and purchasing clothing itemized as "golf balls for a wounded warriors" nonprofit, as well as conspiracy, wire fraud and falsifying records. Hunter blamed the Democrats for the "witch-hunt" and threw his campaign manager wife under the bus: "Whatever she did, that'll be looked at, too, I'm sure, but I didn't do it."
Unlike Trump, Hunter doesn't wear corruption and irresponsibility well. A Monmouth University Poll subsequently revealed that Hunter was still leading with 49% but Campa-Najjar had jumped to 41%, with 10% undecided. 
Hunter could lose his legacy seat, handed down from his anti-LGBT father, Duncan Hunter Sr., who won reelection from 1981 to 2009 largely because of his position on the powerful House Armed Services Committee. Hunter Jr. has used his seat on that committee to collect campaign money and posit anti-LGBT legislation like the proposed ban on transgender military service, advocated by the Family Research Council.
House Speaker Paul Ryan temporarily removed Hunter from three House committees after the indictment. But he still uses his committee connections to wield political power. On Oct. 15, Hunter released a letter labeled "Security Alert" from retired brigadier general Terry Paul and two retired major generals, Randall West and T.L. Corwin—all three lobbyists with business before the House Armed Services Committee. They allege Campa-Najjar is a "national security risk" who would use "secret information on U.S. military operations" to protect disengaged family in the Middle East.
"Mr. Hunter's ongoing attacks on me, his wife, and the Justice Department aren't just political; they're pathological," Campa-Najjar said in a statement. VoteVets encouraged 148,000 Twitter followers to complain to the Marine Corps.
But Hunter went even lower. "Ammar Campa-Najjar is working to infiltrate Congress," says the narrator of Hunter's ad on YouTube. "He's used three different names to hide his family's ties to terrorism."
That outraged the conservative San Diego Union-Tribune: "We endorse Campa-Najjar for Congress. He is far superior to the troubled incumbent. This fact is underlined by the despicable ad that Hunter has begun to air in recent days suggesting that his 'Palestinian Mexican millennial' opponent was linked to terrorist groups and was 'working to infiltrate Congress.'"
The Union-Tribune disputed the allegation that Campa-Najjar—who was raised by his single Catholic Mexican mother after his Palestinian father left when he was a boy—is a risk to national security because his grandfather, who was killed by Israeli commandos 16 years before Campa-Najjar was born and whom he has strongly disavowed, was a terrorist who helped plan the 1972 attack on Israeli athletes at the Munich Olympics.
"It's also well-known that Campa-Najjar, a Christian, has had literally nothing to do with his grandfather. As Campa-Najjar notes, when he worked at the White House, he was 'given a security clearance by the Secret Service after a thorough background check.' With this smear, Hunter continues to demolish his own reputation," said the Union-Tribune editorial.
An Oct. 15 Washington Post editorial also noted that the "ad's claims have been thoroughly discredited, earning a four Pinocchios rating from The Post's Fact Checker, which concludes the Hunter campaign ignored or distorted basic biographical facts about Mr. Campa-Najjar."
The Post pointed out that Campa-Najjar's job in the Obama White House "reviewing letters sent to the president" and his public affairs position at the US Department of Labor "required him to pass FBI background checks (something the Fact Checker noted Mr. Hunter would be unable to do because of his indictment)…. The only danger posed by Mr. Campa-Najjar is to Mr. Hunter's reelection chances."
Nonetheless, Hunter doubled down, enlisting his father after an Oct. 4 Los Angeles Times/University of California-Berkeley poll showed Hunter with only a 2% lead, well within the margin of error. "Mr. Najjar is a security risk," Duncan Hunter Sr. said at an Oct. 16 press conference. "As an American congressman, he would have the right to know about American troop movements in the Middle East."
Campa-Najjar didn't wait for a call from reporters—he went to the news conference and charged the former congressmember with "race-baiting" and promoting "disinformation."
"This is an act of desperation," Campa-Najjar said. "Daddy had to come out and save him…. I'm my own man and the people of my district respect people who fight for themselves."
It's a flash of anger from a contemporary Christian gladiator. Campa-Najjar speaks with such authentic empathy and thought about the biblical principles of love, as well as the distortions caused by "toxic masculinity," he sounds like an updated version of Thomas a Kempis' "Imitation of Christ." In fact, the real "nightmare" Campa-Najjar may pose to Trump and anti-LGBT religious right hero Mike Pence is his grasp of humanity and real morality. 
"You have to extend love to those who you may not maybe share views with. That's how we have to deal with Trump," Campa-Najjar tells the Los Angeles Blade. "Even that slogan that 'love trumps faith.' I think that is something that is rooted in our humanity but also can be found in our Christian teachings."
Agape, for instance, is "unconditional love. That no matter what you do, what you believe in, how different you may look or feel or love or live—that is irrelevant to the fact that you have to show people love," he says.
"The opposite of love is condemnation and then putting that condemnation into action by persecuting others is very far away from what God died for, in my view," Campa-Najjar says.
"In the Bible, there's only one time where Jesus was angry, like outright angry, uncharacteristically outraged and it was the event that led to his crucifixion. It was when he went to the temple and there were the money changers, the tax collectors, and those who were trying to basically get money out of everybody to give them something to leave at the alter for God," he says. "And literally homeless people and widows and people with no money—the least of these—were giving pennies, whatever they had to scrape together, to get some commodity to offer to the alter to God—a pigeon," a valueless "rodent with wings."
Campa-Najjar continues, as if recalling a memory: "And Jesus was so angry that he turned over the tables and the money and he said to them, to the religious elites: 'you're white washed and beautiful on the outside but you're dead inside.' And he was so outraged that it led to his crucifixion" since Pontius Pilot saw this act as meaning that "Jesus was no longer containable," that he was a rebel who posed a threat to the elites.
"I see that moment as today's tax plan where it's basically taking away from those who have almost nothing just to give more to those who are at the very top," he says. "The income inequality that turns into gender and racial and generational inequality—that's the kind of thing that morally outraged Jesus so much that it led to his crucifixion. And I think right now we have an administration that is doing the same thing— but in the 21st century, in the form of giving tax breaks to the wealthy at the expense of those who are really, really struggling," the lower and middle class.
"That's the kind of outrage that I think even Jesus would express," Campa-Najjar says. "And it's OK and healthy and I think within our bounds as Christians to speak truth to power when there is gender, generational or income inequality, when the least of these are either religious minorities, or any minority, be it women or orientation, we have an obligation to speak out and defend them. On that grounds, we do have, as Christians, an obligation to speak up against the moral bankruptcy of all of this today."
Besides, Campa-Najjar says, " I made a promise to my mom that her future granddaughter, her life would be fairer, her opportunities would be more equal and her rights would be more protected. And I can't keep that promise with the way the world is going today. So I'm desperately looking forward to getting involved and making sure that we hold people accountable in Washington."
For more, visit campacampaign.com
Enjoy as a tradition returns this year with July 4 fireworks displays
Here are the places hosting firework shows around Southern California, organized by each county in the region: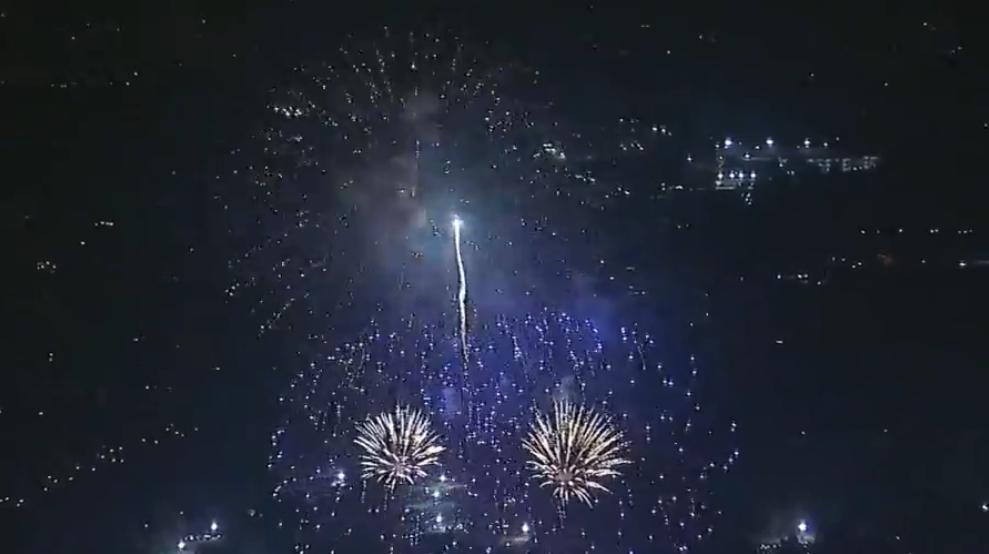 LOS ANGELES – (KABC 7) Due to the COVID-19 pandemic, the last two years looked a little different on the Fourth of July weekend. This year, events are back in full force.
Here are the places hosting firework shows around Southern California, organized by each county in the region:
Los Angeles County
Burbank
Starlight Bowl, 1249 Lockheed View Dr., Burbank
Festivities from 5:30 p.m. – 10 p.m.
starlightbowl.com
Glendale
Jewel City Sparkles Fireworks show in downtown Glendale.
Centered near Harvard St and Brand Blvd.
Fireworks show will begin at 9 p.m.
For information, call (818)548-2792.
glendaleca.gov
La Crescenta
Crescenta Valley High School, 2900 Community Ave.
Show begins at 9:30 p.m.
cvfireworks.com
Long Beach
Fireworks over Queensway Bay
Begins at 9 p.m.
visitlongbeach.com
Hollywood Bowl
This year the Hollywood Bowl is having three nights of Fourth of July traditions.
Thomas Wilkin and the Los Angeles Philharmonic are performing a program of favorites alongside Steve Martin and Martin Short.
First night of festivities is July 2.
The last night will be on the Fourth of July.
Gate opens at 5:30 p.m.
Show begins at 7:30 p.m.
hollywoodbowl.com
Marina del Rey
Fireworks can be seen at Burton Chace Park or Fisherman's Village
Event begins at 9 p.m. and is a 20-minute show.
visitmdr.com
Rose Bowl Stadium, Pasadena
The annual AmericaFest is recognized as one of the nation's largest and longest running shows celebrating the Fourth of July.
Doors open at 5:30 p.m.
The event starts at 7 p.m.
Tickets are available and start at $20.
visitpasadena.com
Santa Clarita
Spirit of America Fireworks Spectacular at Westfield Valencia Town Center.
Begins at 9:20 p.m.
santa-clarita.com
Santa Fe Springs
Annual independence day celebration and firework spectacular at Los Nietos Park.
11143 Charlesworth Rd.
Sunday July 3, festivities start at 4:30 p.m. with the fireworks show at 9 p.m.
santafesprings.org
South Gate
Fireworks show at South Gate Park
Show starts at 9 p.m.
cityofsouthgate.org
Woodland Hills
The July Fourth extravaganza is at Warner Center Park and starts off with a free concert and festivities everyone can enjoy.
5800 Topanga Canyon Blvd
It goes from 6 p.m. to 9:30 p.m.
The fireworks show is 15 minutes long.
valleycultural.org
Lancaster
The July Fourth extravaganza is at the Antelope Valley Fair & Event Center and will feature live entertainment, summer games and competitions.
2551 W Ave H
cityoflancasterca.org
Riverside County
Corona – Santana Park
The city of Corona invites the community to the Main Street USA Independence Day Parade. Corona's Main Street USA Independence Day Parade is a non-competitive parade which provides entertainment, community spirit and fun for all to enjoy. Drawing 4,000+ families, friends, and neighbors, the parade takes place on Main Street from Ontario Avenue to Olive Street.
Parade begins at 9 a.m.
Live entertainment starts at 5 p.m. at Santana Park.
The fireworks celebration will occur at sundown.
coronaca.gov
Riverside
The city of Riverside Pparks
The city's free event displays an array of fireworks at two separate locations which include La Sierra Park (5215 La Sierra Ave.) and Ryan Bonaminio Park (5000 Tequesquite Ave). Participants are encouraged to bring their own blankets and refreshments. Access will not be permitted in La Sierra and Carlson Dog Park all day on Sunday, July 4 after 7 a.m.
Show begins at 9 p.m.
riversideca.gov
Orange County
Huntington Beach
The city of Huntington Beach welcomes back the 118th Annual 4th of July parade after two years of the event not taking place due to COVID regulations.
The parade starts at 10 a.m.
Closing out the festivities will be a fireworks show at the Huntington Beach Pier.
The show starts at 9 p.m. For tickets and more information, visit hb4thofjuly.org
City of Orange
Grijalva Park, 368 North Prospect St., hosts a family event on Sunday July 3.
The event starts at 4 p.m., and there will be plenty of interactive activities for kids.
Local nonprofits host food trucks. Around 8 p.m. the Orange Community Master Chorale performs with the grand finale patriotic fireworks happening around 8:45 p.m.
cityoforange.org
Newport Beach
Newport Dunes Waterfront Resort, 1131 Back Bay Drive, hosts family events from July 1 to July 4.
Family-friendly events on July 1-3 begin at 10:00 a.m. while July 4's events begin at 12:00 p.m.
Monday's firework show begins at 9:00 p.m.
newportdunes.com/event
Los Alamitos
The cities of Los Alamitos and Seal Beach will host the 4th of July Fireworks Spectacular at the Los Alamitos Joint Forces Training Base.
This year, bring your lawn chairs and your blankets for the traditional event setup.
Gates will open at 4 p.m. and close at 8:45 p.m.
The fireworks show will begin at 9 p.m.
cityoflosalamitos.org
Mission Viejo
The Mission Viejo Activities Committee will hold the Annual Street Faire and Fireworks Spectacular on Olympiad between Marguerite and Melinda.
Festivities start at noon, with plenty of food, activities for kids and live entertainment.
Admission is free with tickets being sold for games and rides.
Parking will be available around surrounding streets but the Marty Russo Youth Athletic Field parking lot is closed will be closed to the public on the 4th of July
The show begins at 9 p.m.
mvactivities.com
San Bernardino County
Big Bear Lake
Fireworks spectacular at Big Bear Lake.
Show time begins between 8:45-9:15 PM, runs approximately 30-40 mins, and is free to spectators.
For more information check here:
bigbear.com
City of Upland
Light up the Night fireworks show on Monday July 4.
Gates open at 5:30 p.m.
Show begins at 9 p.m.
Tickets are on sale now and are $12 at the gate.uplandca.gov
City of Victorville
The city of Victorville will host the annual fireworks show on Monday, July 4.
The event will be located at the Victorville Fairgrounds.
Gates open at 4 p.m. and the fireworks show is scheduled to begin at 9 p.m. For further information, call Hook Community Center at (760) 245-5551.victorvilleca.gov
Lake Arrowhead
The Arrowhead Lake Association's 2022 Lake Arrowhead Fireworks show will be on Sunday, July 3.
Show begins at 9 p.m.
lakearrowheadchamber.com
Apple Valley Fireworks
Lenny Brewster Sports Center, 21024 Otoe Rd.
Festivities from 2 p.m. – 9 p.m.
Show begins at 9 p.m.
applevalley.org
Fontana
Fontana's Fourth of July Celebration
Miller Park Amphitheater, 17004 Arrow Rd
There will be music, food, novelty vendors and of course, fireworks.
fontana.org
Ventura County
Thousand Oaks
The 4th of July Fireworks Spectacular takes place on the hill behind the Hillcrest Center of the Arts in Thousand Oaks.
Fireworks start at 9 p.m.
conejovalleyguide.com
Westlake Village
The city of Westlake Village presents its 6th Annual Fireworks Spectacular Show from the Westlake Village Golf Course.
4812 Lakeview Canyon Road
There will be family-friendly activities.
Event begins at 5 p.m.
Show will be at 9:10 p.m.
wlv.org
Moorpark
3rd of July Fireworks Extravaganza is going to be at Arroyo Vista Community Park.
Fireworks show starts at 9 p.m.
Tickets are on sale now.
moorparkca.gov
California ends loitering for prostitution law
This repeals "loitering with intent to engage in prostitution" law, which results in profiling of sex workers particularly trans women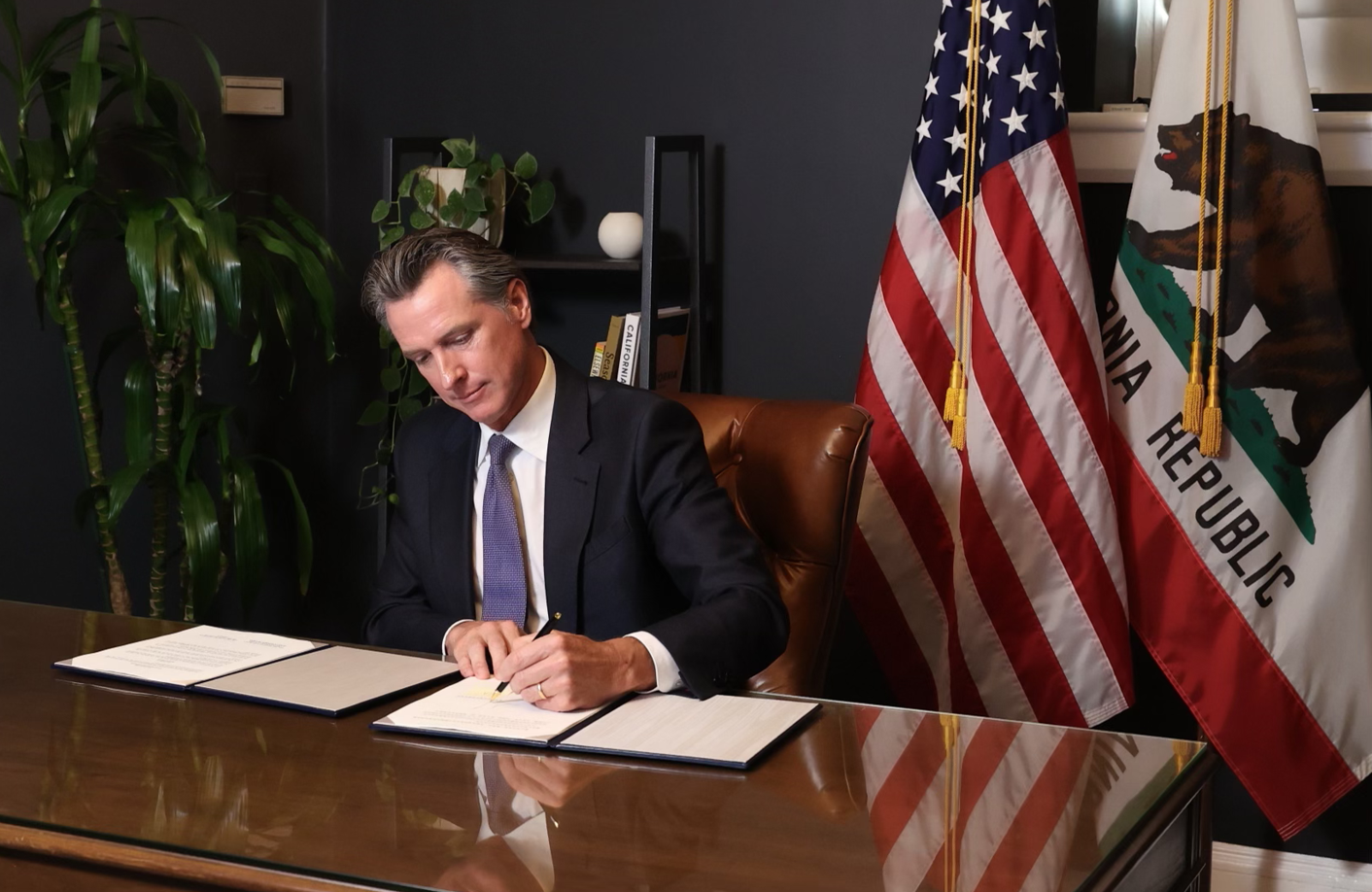 SACRAMENTO – Senate Bill 357, the Safer Streets for All Act, authored by Out state Senator Scott Wiener (D-San Francisco)'s was signed into law by Governor Gavin Newsom on Friday.
"As trans people are being criminalized across the country, Governor Gavin Newsom has once again shown that California stands with the LGBTQ community and communities of color," said Wiener. "Everyone – no matter their race, gender or how they make a living – deserves to feel safe on our streets. Thank you, especially, to our coalition of former and current sex workers and LGBTQ advocates who made this day a reality. Your leadership is inspiring."
SB 357 repeals a provision of California law criminalizing "loitering with the intent to engage in prostitution." This criminal provision — arrests for which are based on an officer's subjective perception of whether a person is "acting like" or "looks like" they intend to engage in sex work — results in the disproportionate criminalization of trans, Black and Brown women, and perpetuates violence toward sex workers.
SB 357 is sponsored by a large coalition made up of former and current sex workers, LGTBQ groups like Equality California and Transgender Gender-variant and Intersex Justice Project (TGIJP), and civil rights groups like the ACLU. The Coalition to Abolish Slavery and Trafficking (CAST LA) is supporting the legislation.
SB 357 does not decriminalize soliciting or engaging in sex work. Rather, it simply eliminates an loitering offense that leads to harmful treatment of people for simply "appearing" to be a sex worker.
This crime is so subjective and inherently profiling that it allows a police officer to arrest someone purely based on how they are dressed, whether they're wearing high heels and certain kinds of make-up, how they're wearing their hair, and the like. This criminal provision is inherently discriminatory and targets people not for any action but simply based on how they look. People who engage in sex work deserve to be treated with dignity and respect.
Criminalizing sex work does not make sex workers or communities safer. Most criminal penalties for sex workers, loitering laws included, do nothing to stop sex crimes against sex workers and human trafficking. In fact, loitering laws make it harder to identify trafficking victims; trafficking victims are often afraid to come forward in fear of being arrested or incarcerated.
In February of 2021, a similar piece of legislation to repeal this type of loitering ban became law in New York. SB 357 is part of the movement to end discrimination against and violence toward sex workers, especially the most targeted communities — trans, Black, and Brown people. SB 357 is co-sponsored by Positive Women's Network – USA, St. James Infirmary, SWOP LA, Trans [email protected] Coalition, Asian Pacific Islander Legal Outreach, Equality California and ACLU California Action.
Under current law, it is a crime to loiter in a public place with the "intent" to commit a sex work-related offense. But this law can be broadly interpreted, and thus allows for discriminatory application against the LGBTQ community and people of color.
Law enforcement can use a non-exhaustive list of circumstances to subjectively determine if someone "intends" to engage in sex work, including factors such as speaking with other pedestrians, being in an area where sex work has occurred before, wearing revealing clothing, or moving in a certain way.
Because current law regarding loitering is highly subjective and vague, law enforcement officers disproportionately profile and target Black and Brown transgender women by stopping and arresting people for discriminatory and inappropriate reasons.
This is how Black and Brown transgender women get arrested and cited for simply walking on the street. It also gives law enforcement the ability to more easily target and arrest sex workers.
People in the LGBTQ, Black, and Brown communities report high rates of police misconduct throughout the United States and are disproportionately affected by police violence.
Transgender people who have done street-based sex work are more than twice as likely to report physical assault by police officers and four times as likely to report sexual assault by police.
A Black person is 3.5 times more likely to be shot by police than a white person. These statistics are a daily reality that transgender, Black and Brown people face and lead to mistrust of law enforcement.
SB 357 will repeal a discriminatory law that makes it a crime to loiter with the intent to engage in sex work, given that it fails to prevent street-based sex work and disproportionately results in the criminalization of transgender people and communities of color.
"For far too long, California law has been used to profile, harass and arrest transgender and gender-nonconforming people simply for existing in public spaces," said Equality California Executive Director Tony Hoang. "We all deserve to live in public peacefully without fear of arrest. Thanks to Governor Newsom and Senator Wiener's leadership, California boldly stands on the side of justice. This law will make our communities safer for all Californians. We are immensely proud to be in this fight as part of a coalition that has been trans led since the beginning."
Proud Boys disrupting a California Pride drag show get pepper sprayed
"There was an altercation, obviously people are here & are upset about the bar having their Pride event," said the deputy police chief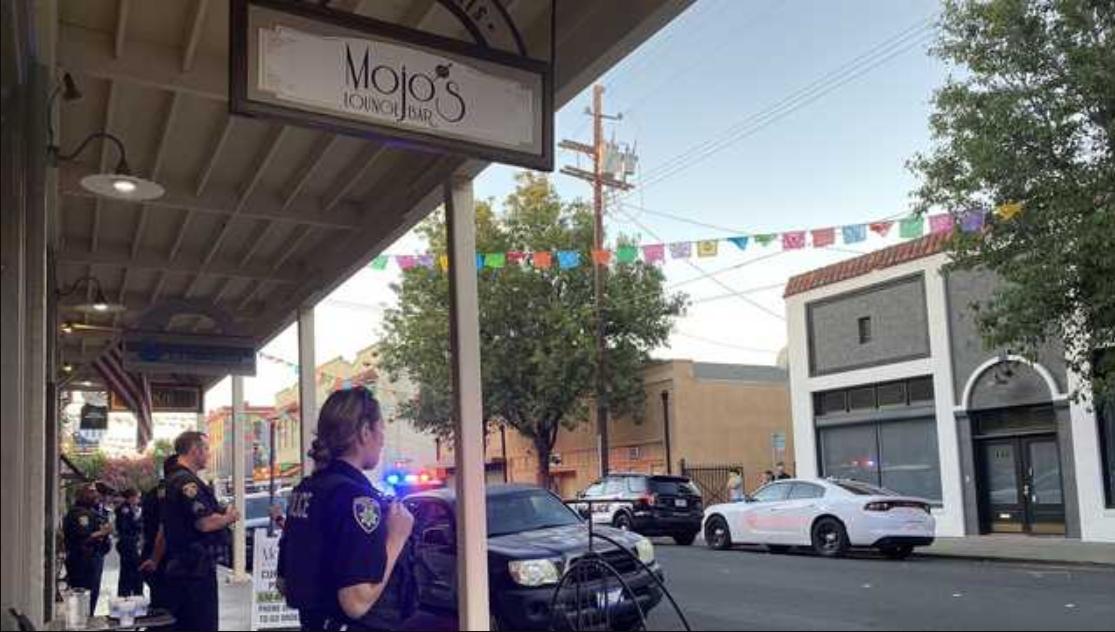 WOODLAND, Ca. – An end of Pride month drag show in this suburban city Northwest of Sacramento was disrupted by Proud Boys at the The Mojo Lounge bar and restaurant in the downtown business district.
As the group attempted to gain access to the establishment, a now viral video by local ABC10 television reporter Luke Cleary showed them and the near-by police officers getting pepper-sprayed by an unseen person inside the bar.
Screams of pain erupted along with one Proud Boy who can be heard shouting "fuck you paedophile motherfuckers," after being sprayed. Woodland police officers can also be seen retreating wiping their eyes from the effects of the irritant self-defensive spray weapon.
Roughly a dozen people have gathered on the opposite sidewalk shouting insults to patrons and police pic.twitter.com/aCB7LSmzCm

— Luke Cleary (@LukeCleary) July 1, 2022
Another reporter, Lee Anne Denyer from NBC News Sacramento affiliate KCRA 3 noted that the event, which was initially advertised as an an all-ages Drag Show by the bar was at first postponed and then scaled back.
Denyer posted video that showed the heavy law enforcement presence after the Proud Boys attempted to storm the restaurant demanding to know how many children were in attendance at the show.
Our story tonight: https://t.co/lRLMWp3PGR

— KCRA Lee Anne Denyer (@KCRALeeAnne) July 1, 2022
"There was kind of rumors that things were brewing on main street but there was obviously a presence by the Woodland Police Department so that made us feel more comfortable. Then it escalated, it escalated pretty quickly," Julie Ramos, who attended the event, told KCRA. "This really was a positive event and everyone was having a great time. So I think most people were angry but I would say resilient."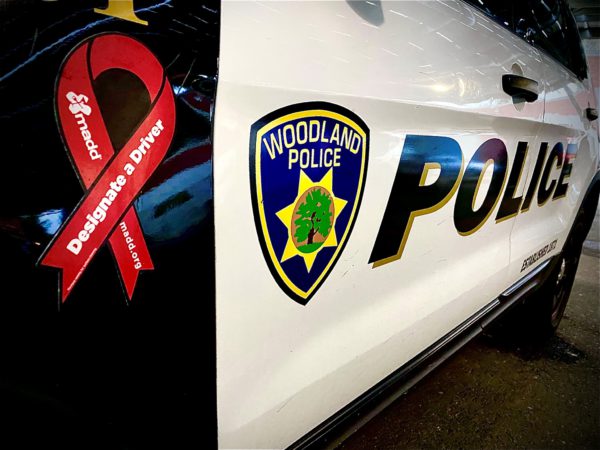 "There was an altercation, obviously people are here and are upset about the bar having their Pride event," Anthony Cucchi, the deputy chief of the Woodland Police Department told KCRA. "We tried to intervene as quickly as we could, it was a pretty chaotic scene. Our main priority was to get a safe scene and then make sure anybody that needed help got the help that they needed. We will work on the investigation."