OC Republican candidate Young Kim's anti-LGBT record
Democrat Gil Cisneros vindicated from false claim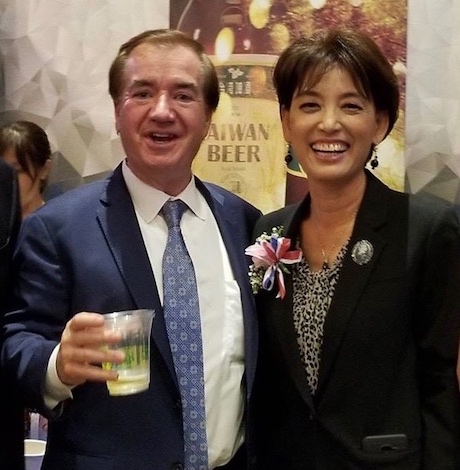 Republican Rep. Ed Royce wholeheartedly endorsed former Assemblymember Young Kim to take his 39th Congressional District seat when he retires at the end of this year. Royce has represented sections of northern Orange, eastern Los Angeles and southwestern San Bernardino counties since 1992, receiving a zero rating from the Human Rights Campaign on LGBT equality. For 20 years, Kim worked for Royce and according to her subsequent record in the Assembly, espoused many of the same anti- LGBT positions. But Kim, who is in a tight "toss-up" race with pro-equality Democrat Gil Cisneros, is apparently now trying to hide her anti-LGBT voting record.
Asked about her commitment to protecting healthcare access for LGBT folks and people of color during a meeting at Temple Beth Tikvah in Fullerton on Oct. 3, Kim cited her Assembly vote to "recognize individuals that are making contributions to our community [including] the LGBTQ community."
She was apparently referring to a 2015 resolution that established June as Pride Month—a resolution that sailed through the Assembly with a vote of 65-0. Kim failed, however, to recognize Pride Month on social media, through a statement, or by participating in any district celebrations. In 2016, Kim also supported Democrat Assemblymember Phil Ting's bill, AB 1732, that passed 55-19, requiring single-user restrooms to be gender-neutral.
That 2016 vote was ironic since a cornerstone of Kim's 2013 campaign for the 65th Assembly seat was her promise to overturn out Assemblymember Tom Ammiano's AB 1266—a bill Gov. Jerry Brown signed into law on Aug. 12, 2013 that allows public school students to use restrooms and other facilities consistent with their gender identities. "That doesn't represent the values of this community," she told the Orange County Register in 2014.
Kim's campaign ads were condemned by The LGBT Center of Orange County. "Young Kim should be ashamed of the campaign ads. They are bigoted and will encourage discrimination and increased violence against an already vulnerable group of children," Center Executive Director Kevin O'Grady said in a statement. Local school districts, meanwhile, contested the candidate's claims that the measure would lead to harassment of women and girls, asserting its passage was positive for students.
Once elected, Kim voted against a series of ultimately-successful bills in the state legislature that: required the California Energy Commission to implement outreach programs that included LGBT businesses; banned government travel to states that passed laws discriminating against LGBT residents; required the State Department of Education to assess information on resources provided to LGBT students; urged U.S. Congress to enact the Equality Act of 2015, which would extend protections of the Civil Rights Act to include sexual orientation and gender identity; and prohibited state agencies from entering into contracts valued over $100,000 with businesses that discriminate against employees or dependents based on their actual or perceived gender identities.
Kim, who also opposes same-sex marriage, told the Orange County Register that she believes sexual orientation and gender identity are not immutable characteristics, but rather products of "the environment one grows up in."
"Young Kim has disrespected and actively voted against the LGBTQ community and for her to suggest otherwise is crass and shameless," Gil Cisneros's Campaign Manager Nic Jordan told the Los Angeles Blade. "At a time when LGBTQ rights are under constant attack by President Trump and his administration, Young Kim refuses to call out hate, stand up to bullying, and do what's right. Gil Cisneros has served alongside LGBTQ servicemembers, has met with LGBTQ leaders of the 39th, and is ready to stand with the LGBTQ community and fight for equality, respect, and inclusion for all."
An Oct. 9 Politico poll has the 39th CD race as a "toss-up," with Kim hoping to become the first Korean American woman elected to Congress in a district that is 25.8 percent Asian voters and 32.6 percent Hispanic.
Until recently, Kim was leading Cisneros, thanks in large part to an ugly ad attack and campaign mailers from Speaker Paul Ryan's Congressional Leadership Fund in which a Democratic woman claimed Cisneros sexually harassed her. Cisneros fought back and eventually met with the accuser, Melissa Fazli, who recanted her accusation. "I misunderstood the conversations that I had with Gil Cisneros at the Democratic convention and after. I don't believe that Gil sexually harassed me," Fazli said in a statement, the OC Weekly reported Oct. 3.
She also complained that the Republican PAC had used her image and name "without her permission" and accused them of "weaponizing my story for their own political gain. I denounce their ads," she said. "I believe Mr. Cisneros has a good heart and is truly sorry for the handling of my accusations."
The Congressional Leadership Fund was forced to pull the ads. Cisneros put out an ad to correct the record and scold Kim for cowardice in failing to "denounce the blatantly false ads while they were airing."
"Kim can try to wipe her hands of these attacks, but her refusal to call out her dark money allies speaks to her real character," Jordan said in a press release. "Ultimately, it's not surprising that Kim continues to demonstrate a complete lack of political courage considering she gladly and willingly has thrown her support behind President Trump." The Kim campaign did not comment to OC Weekly.
California expands broadband infrastructure & internet access across state
The initial project locations based on unserved/underserved areas that don't reliably have download speeds of at least 25 Megabits per second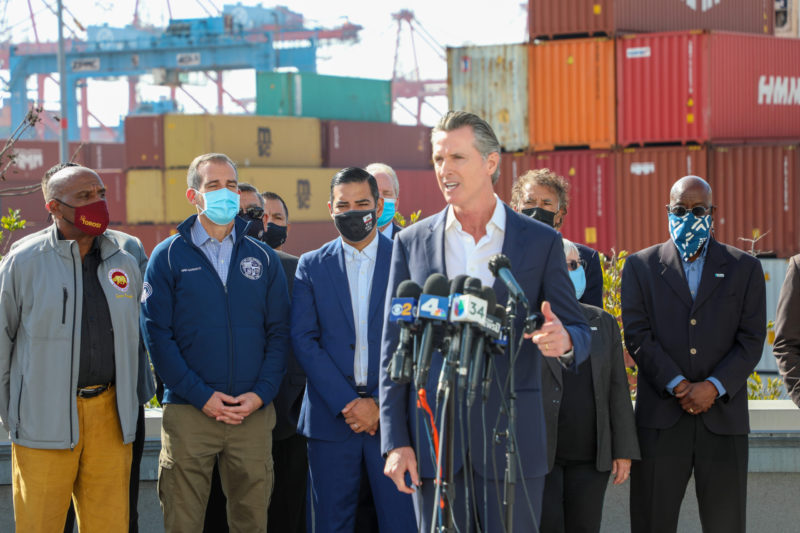 SACRAMENTO – Advancing California's commitment to bridge the digital divide, Governor Gavin Newsom announced that the state has identified 18 projects to begin work on an open-access middle-mile network that will provide missing infrastructure paths to bring broadband to all communities.
As part of the historic $6 billion broadband investment advanced in partnership with legislative leaders earlier this year, the initial project locations are based on known unserved and underserved areas across the state. The projects will connect to the core of the global internet and interconnect to last-mile infrastructure, which is the final leg that provides internet service to a customer.
"California is committed to taking on the challenges laid bare by the pandemic, including the digital divide holding back too many communities across the state," said Newsom. "These projects are the first step to delivering on our historic investment that will ensure all Californians have access to high-quality broadband internet, while also creating new jobs to support our nation-leading economic recovery."
The initial 18 projects represent a range of geographic locations and technical approaches. Projects are being initiated in the following tribal communities, counties and cities: Alpine County; Amador County; Calaveras County; Central Coast; Coachella Valley; Colusa Area; Inyo County; Kern County; Kern/San Luis Obispo Area; Lake County Area; Los Angeles and South Los Angeles; Oakland; Orange County; Plumas Area; Riverside/San Diego Area; San Bernardino County; Siskiyou Area; and West Fresno.
Evaluation of project areas included consideration of public comments, prioritization of unserved or underserved areas of the state, and inclusion of tribal communities, cities and counties. An unserved or underserved area has households that do not reliably have download speeds of at least 25 Megabits per second (Mbps) and upload of at least 3 Mbps.
"Core to our success will be the deep partnerships we've built with a diverse set of community organizations and last mile providers. Through many years of engagement with metropolitan planning organizations, CPUC-supported broadband consortia, Tribal organizations, community-based broadband advocacy groups, and organizations like the Rural County Representatives of California, the NAACP, and the California Emerging Technology Fund, we are now ready to take this historic step towards broadband equity for California," said Louis Fox, Founder and Chair of GoldenStateNet, the state's third-party administrator.
State partners implementing the middle-mile initiative include the California Department of Technology, California Public Utilities Commission (CPUC) and Caltrans. GoldenStateNet was selected as the Third-Party Administrator (TPA) to manage the development, acquisition, construction, maintenance and operation of the statewide open-access middle-mile broadband network. As the TPA, GoldenStateNet will partner with key stakeholder groups across the state to investigate the best technical, financial and operational models to meet the needs of the project sites.
A map and additional information on the initial projects can be found here.
"A reliable broadband connection makes the difference between having access to full-service health care, education and employment or sometimes going without," said State Chief Information Officer Amy Tong. "Through a historic partnership between our Governor, the Legislature, state agencies and a third-party administrator, we are taking immediate action to improve connectivity for Californians in the northern, central and southern parts of the state."
"These initial routes have been identified to accelerate projects in areas of the state that are unserved because of the lack of open middle mile infrastructure to serve them. We are accelerating the selection of a diverse set of routes — those that are ready to build and those that are not ready to build. This allows the state to partner with locals on these diverse projects and learn by doing, as we concurrently work to finalize all the needed routes in the State. There are many more communities like those in Phase I that will be included in the final map," said Martha Guzman Aceves, Commissioner at the CPUC.
Sen. Alex Padilla & Santa Monica College- Thanksgiving grocery giveaway
"As we approach Thanksgiving, it is important to support each other and our communities, and give back when we can"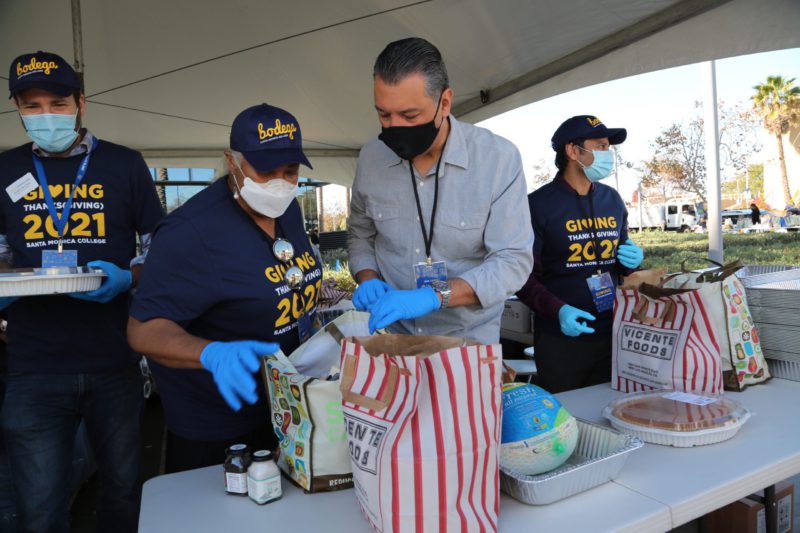 SANTA MONICA — Ahead of Thanksgiving, U.S. Senator Alex Padilla (D-Calif.) on Tuesday volunteered with Santa Monica College (SMC) for their 2nd Annual GIVING THANKS(giving) Holiday Grocery Drive-Thru Giveaway.
Padilla joined dedicated SMC volunteers, along with state and local officials to provide fresh holiday groceries to 1,500 food insecure students.
"As we approach Thanksgiving, it is important to support each other and our communities, and give back when we can," said Senator Padilla. "I was proud to join Santa Monica College and regional partners for their annual holiday food drive to make sure students have access to fresh food and groceries this holiday season. But this is also a stark reminder that there is more work to be done to address student food insecurity, an issue that existed since before the pandemic. I've introduced the BASIC Act to give students the resources they need to stay focused on their education. No student should have to worry about meeting their basic needs while pursuing their education."
"Having Senator Padilla attend today's event is so powerful because it raises the importance of giving back to our community," said Lizzy Moore, president of the Santa Monica College Foundation and Santa Monica College's dean of institutional advancement. "The Santa Monica College community is grateful for his leadership in the Senate to push for the BASIC Act and other legislative proposals to address the dramatic rates of food insecurity that exists on all college campuses including Santa Monica College."
Even before the pandemic, 50 percent of California Community College students were food insecure.
Senator Padilla has been a strong advocate for addressing food insecurity and ensuring students can meet their basic needs while pursuing a higher education. This year, Padilla introduced the Basic Assistance for Students in College (BASIC) Act, bicameral legislation to ensure college students are able to meet their basic needs while pursuing their education. Specifically, the legislation provides $1 billion for grants to ensure institutions of higher learning have the resources they need to support their students' most fundamental needs, and directs the federal government to streamline data sharing across agencies to help students qualify for aid – particularly Pell Grant recipients and attendees of community colleges and minority-serving institutions.
Senator Padilla also joined his colleagues in introducing the Student Food Security Act of 2021. This bicameral legislation helps address food insecurity on college campuses by enabling more low-income college students to access the Supplemental Nutrition Assistance Program (SNAP), improve data collection and sharing, and create a new grant program to help colleges and universities support their students.
2022 Best of LGBTQ LA Readers' Choice Award Nominations
Nominate your favorites in our 2022 Best of LGBTQ LA categories through December 5th.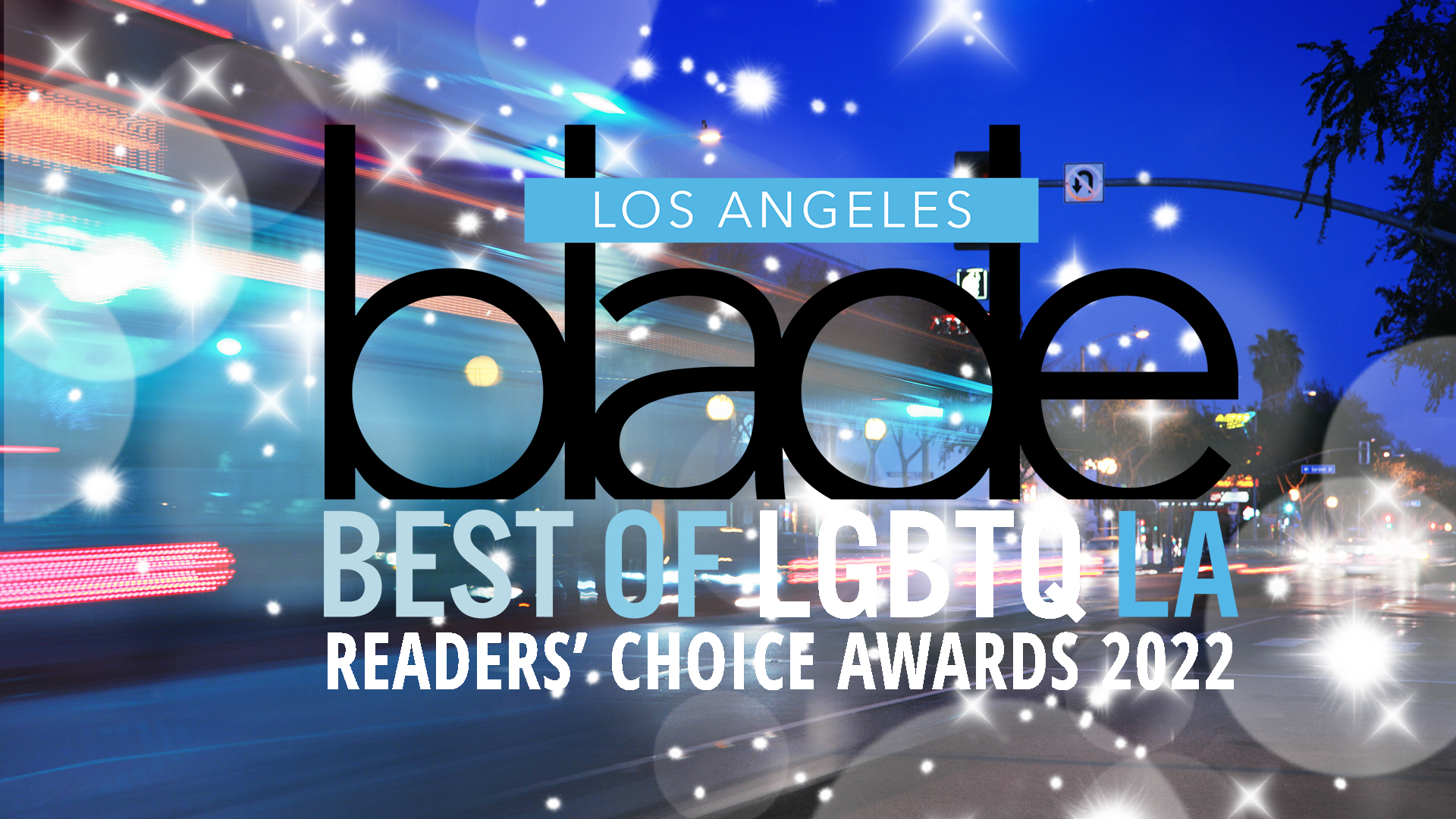 It is Decision 2022! Nominate your favorites in our 2022 Best of LGBTQ LA categories through December 5th. The top 5 nominees from each category will become a finalist with voting starting December 15th. Our 2022 Best of LGBTQ LA will be announced at the Best of LGBTQ LA Awards Party and special issue on January 28th, 2022.
Nominate below or click HERE.