OC Republican candidate Young Kim's anti-LGBT record
Democrat Gil Cisneros vindicated from false claim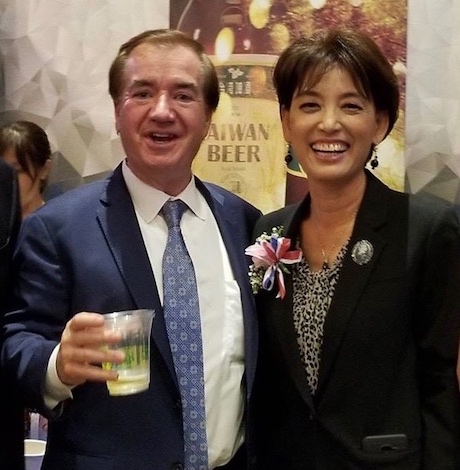 Republican Rep. Ed Royce wholeheartedly endorsed former Assemblymember Young Kim to take his 39th Congressional District seat when he retires at the end of this year. Royce has represented sections of northern Orange, eastern Los Angeles and southwestern San Bernardino counties since 1992, receiving a zero rating from the Human Rights Campaign on LGBT equality. For 20 years, Kim worked for Royce and according to her subsequent record in the Assembly, espoused many of the same anti- LGBT positions. But Kim, who is in a tight "toss-up" race with pro-equality Democrat Gil Cisneros, is apparently now trying to hide her anti-LGBT voting record.
Asked about her commitment to protecting healthcare access for LGBT folks and people of color during a meeting at Temple Beth Tikvah in Fullerton on Oct. 3, Kim cited her Assembly vote to "recognize individuals that are making contributions to our community [including] the LGBTQ community."
She was apparently referring to a 2015 resolution that established June as Pride Month—a resolution that sailed through the Assembly with a vote of 65-0. Kim failed, however, to recognize Pride Month on social media, through a statement, or by participating in any district celebrations. In 2016, Kim also supported Democrat Assemblymember Phil Ting's bill, AB 1732, that passed 55-19, requiring single-user restrooms to be gender-neutral.
That 2016 vote was ironic since a cornerstone of Kim's 2013 campaign for the 65th Assembly seat was her promise to overturn out Assemblymember Tom Ammiano's AB 1266—a bill Gov. Jerry Brown signed into law on Aug. 12, 2013 that allows public school students to use restrooms and other facilities consistent with their gender identities. "That doesn't represent the values of this community," she told the Orange County Register in 2014.
Kim's campaign ads were condemned by The LGBT Center of Orange County. "Young Kim should be ashamed of the campaign ads. They are bigoted and will encourage discrimination and increased violence against an already vulnerable group of children," Center Executive Director Kevin O'Grady said in a statement. Local school districts, meanwhile, contested the candidate's claims that the measure would lead to harassment of women and girls, asserting its passage was positive for students.
Once elected, Kim voted against a series of ultimately-successful bills in the state legislature that: required the California Energy Commission to implement outreach programs that included LGBT businesses; banned government travel to states that passed laws discriminating against LGBT residents; required the State Department of Education to assess information on resources provided to LGBT students; urged U.S. Congress to enact the Equality Act of 2015, which would extend protections of the Civil Rights Act to include sexual orientation and gender identity; and prohibited state agencies from entering into contracts valued over $100,000 with businesses that discriminate against employees or dependents based on their actual or perceived gender identities.
Kim, who also opposes same-sex marriage, told the Orange County Register that she believes sexual orientation and gender identity are not immutable characteristics, but rather products of "the environment one grows up in."
"Young Kim has disrespected and actively voted against the LGBTQ community and for her to suggest otherwise is crass and shameless," Gil Cisneros's Campaign Manager Nic Jordan told the Los Angeles Blade. "At a time when LGBTQ rights are under constant attack by President Trump and his administration, Young Kim refuses to call out hate, stand up to bullying, and do what's right. Gil Cisneros has served alongside LGBTQ servicemembers, has met with LGBTQ leaders of the 39th, and is ready to stand with the LGBTQ community and fight for equality, respect, and inclusion for all."
An Oct. 9 Politico poll has the 39th CD race as a "toss-up," with Kim hoping to become the first Korean American woman elected to Congress in a district that is 25.8 percent Asian voters and 32.6 percent Hispanic.
Until recently, Kim was leading Cisneros, thanks in large part to an ugly ad attack and campaign mailers from Speaker Paul Ryan's Congressional Leadership Fund in which a Democratic woman claimed Cisneros sexually harassed her. Cisneros fought back and eventually met with the accuser, Melissa Fazli, who recanted her accusation. "I misunderstood the conversations that I had with Gil Cisneros at the Democratic convention and after. I don't believe that Gil sexually harassed me," Fazli said in a statement, the OC Weekly reported Oct. 3.
She also complained that the Republican PAC had used her image and name "without her permission" and accused them of "weaponizing my story for their own political gain. I denounce their ads," she said. "I believe Mr. Cisneros has a good heart and is truly sorry for the handling of my accusations."
The Congressional Leadership Fund was forced to pull the ads. Cisneros put out an ad to correct the record and scold Kim for cowardice in failing to "denounce the blatantly false ads while they were airing."
"Kim can try to wipe her hands of these attacks, but her refusal to call out her dark money allies speaks to her real character," Jordan said in a press release. "Ultimately, it's not surprising that Kim continues to demonstrate a complete lack of political courage considering she gladly and willingly has thrown her support behind President Trump." The Kim campaign did not comment to OC Weekly.
Bruce's Beach is returned to heirs undoing racially motivated land grab
Anthony Bruce, a family spokesman, said in a statement that the return means the world to them but it is also bittersweet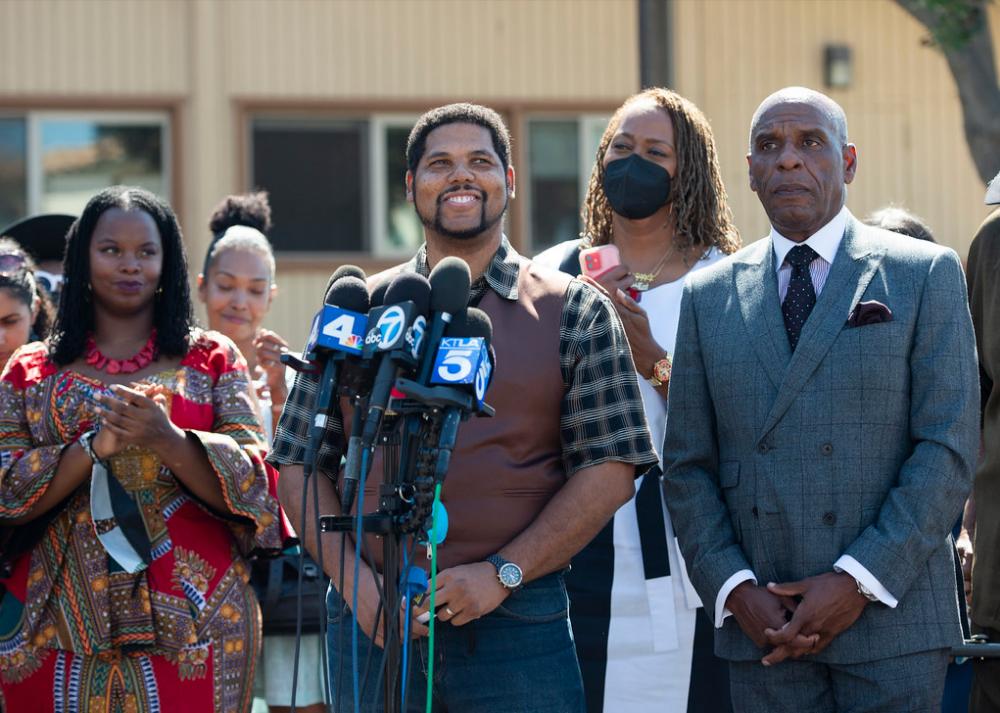 MANHATTAN BEACH – In 1912 Willa and Charles Bruce bought two lots of land for $1,225 with the intent of creating a safe beachfront space for Black Angelenos. But their purchase was met with heavy opposition a July 27, 1912 Los Angeles Times article reported.
Undaunted the Bruce's pushed ahead, "Wherever we have tried to buy land for a beach resort, we have been refused, but I own this land and I am going to keep it," Willa told the Times.
For nearly ten years Willa & Charles's property was a destination and haven for Black people coming there for recreation from all over the rest of southern California. But by 1922 issues with the local white neighbors and the police department began to mount, as the majority white population put pressure on the Bruce family to close down their enterprise.
In the 1920's, like most of the rest of the United States, the Ku Klux Klan was very active in Southern California. Racially motivated animus was then in turn amplified by Klan activity and resulting press coverage, which according to some historians, had a bias towards white supremacist viewpoints.
In an interview last year a descendent of Willa and Charles told the BBC the local police department put up signs limiting parking to 10 minutes, and another local landowner put up no trespassing signs, forcing people to walk half a mile to reach the water.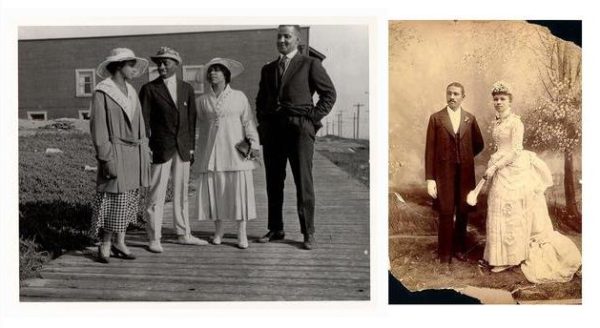 After efforts failed to pressure the family into closing down their little resort, the Manhattan Beach City Council working with County officials seized Bruce's Beach under eminent domain- laws designed to let the government forcibly buy land needed for roads and other public buildings. Officials claimed they planned to build a park which didn't happen.
The city did nothing with the property and it was transferred to the state of California in 1948. Then in 1995, the state transferred it to Los Angeles county, with restrictions on further transfers.
California's legislative leaders along with Governor Gavin Newsom passed a bill that removed the restriction on transfer of the property, making transfer easier, which was a result of Los Angeles County Supervisor Janice Hahn's work to process the return the property to heirs of Willa and Charles begun in April 2021.
This week the Los Angeles County Board of Supervisors unanimously voted in approval of the plan to return the property to the Bruce family. The property will now enter escrow before officially transferring to the family. Once transferred, LA county agreed to rent the property back from the Bruce's for $413,000 per year and will maintain its lifeguard facility there.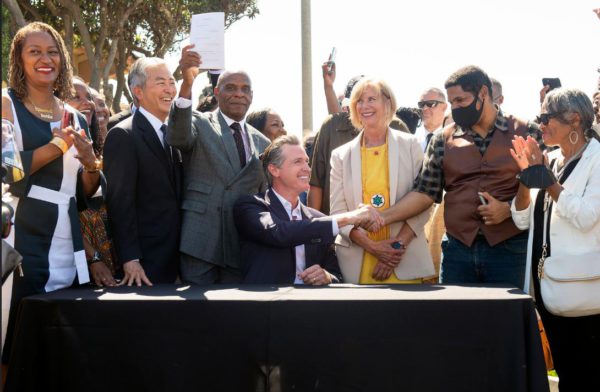 Anthony Bruce, a family spokesman, said in a statement that the return means the world to them but it is also bittersweet.
"My great-great-grandparents, Willa and Charles Bruce sacrificed to open a business that gave Black people a place to gather and socialize, and Manhattan Beach took it from them because of the color of their skin," he said. "It destroyed them financially. It destroyed their chance at the American Dream."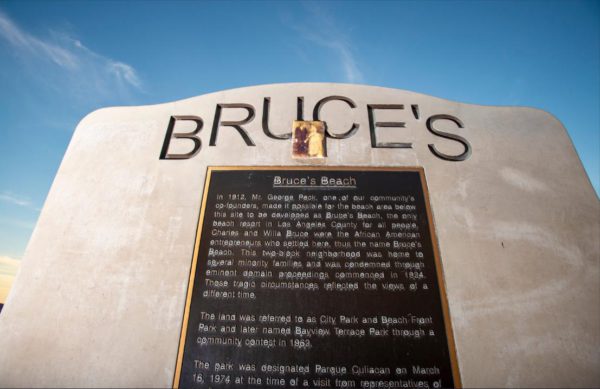 Heat Advisory issued as temps expected to be in triple digits
LA County will see hot & breezy conditions Monday. High temperatures will reach 90 degrees. Temperatures at night will fall to 64 degrees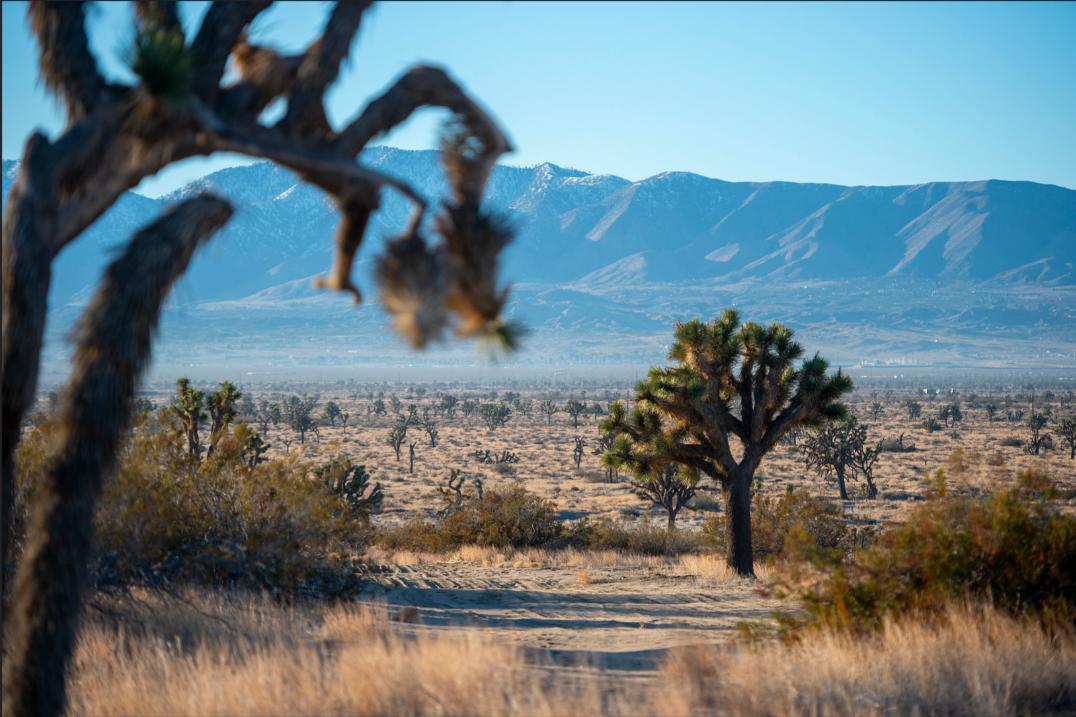 LOS ANGELES – The National Weather Service issued a heat advisory warning for most of Southern California on Monday. Temperatures while remaining lower in the 80s and 70s in the coastal areas are expected to exceed triple-digits for most of the inland areas in the region.
Los Angeles and Orange counties will see hot and breezy conditions Monday. High temperatures will reach 90 degrees. Temperatures at night will fall to 64 degrees.
The valleys and Inland Empire will be very hot and windy Monday as temperatures soar to 105 degrees. Evening temperatures will drop to 72 degrees.
Beaches will see temperatures rising to 78 degrees amid breezy conditions on Monday. Overnight lows will dip to 64 degrees.
Look for a 20% chance of thunderstorms in the mountain communities on Monday, with temperatures reaching a high of 89 degrees. Temperatures will fall to 55 degrees at night.
Desert conditions will be sunny and windy on Monday, with temperatures expected to rise to 104 degrees. Nighttime temperatures will drop to 69 degrees.
Detailed Forecast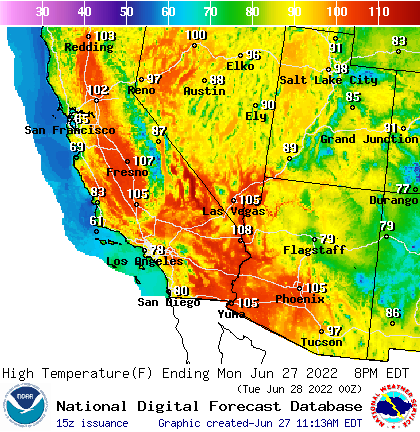 Today
Sunny and hot, with a high near 106. East northeast wind 10 to 15 mph becoming north northwest in the afternoon. Winds could gust as high as 20 mph.
Tonight
Clear, with a low around 69. Northwest wind 5 to 15 mph becoming east northeast after midnight. Winds could gust as high as 20 mph.
Tuesday
Sunny and hot, with a high near 104. Southeast wind around 10 mph becoming northwest in the afternoon. Winds could gust as high as 15 mph.
Tuesday Night
Clear, with a low around 68. West northwest wind 5 to 15 mph becoming east southeast after midnight. Winds could gust as high as 20 mph.
Wednesday
Sunny and hot, with a high near 98. East southeast wind 5 to 10 mph becoming west 10 to 15 mph in the afternoon. Winds could gust as high as 20 mph.
Wednesday Night
Clear, with a low around 62. Breezy.
Thursday
Sunny, with a high near 94.
Thursday Night
Clear, with a low around 58.
Friday
Sunny, with a high near 92.
Friday Night
Clear, with a low around 57.
Saturday
Sunny, with a high near 90.
Saturday Night
Clear, with a low around 56.
Sunday
Sunny, with a high near 89.
Right-wing news anchor delivers obscenity-laden homophobic rant
"Guess what I came home to be greeted with? This fucking bullshit. [points to Rainbow Pride flag] What the hell is that?"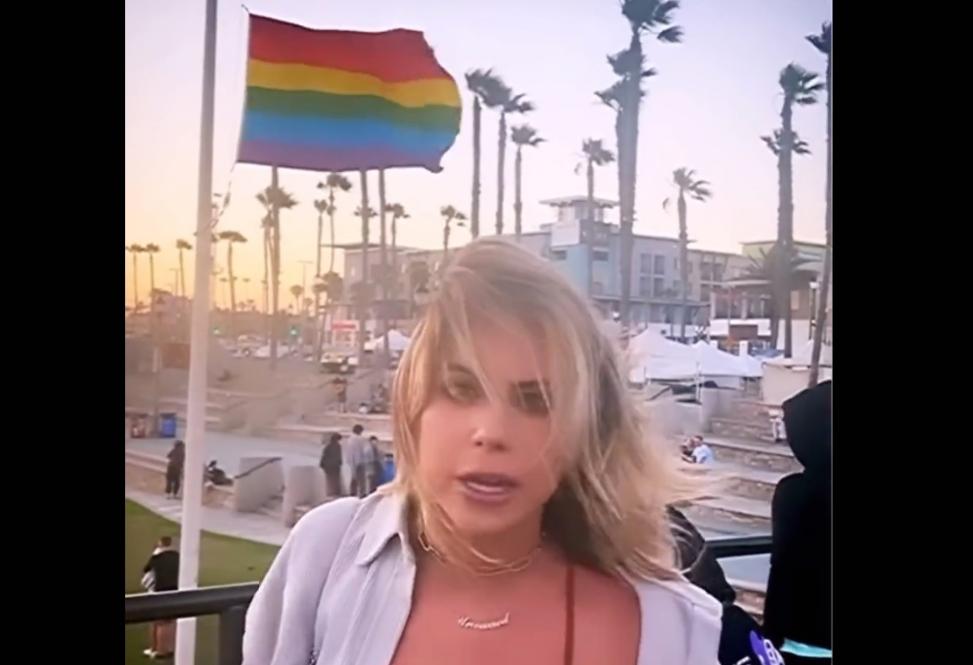 HUNTINGTON BEACH, Ca. – Alison Steinberg, an anchor and contributor for right-wing extremist media outlet One America News, launched into an obscenity-laden rant captured in a now viral video over an LGBTQ+ Pride flag flying in the beachfront business district of Huntington Beach commemorating Pride Month.
Steinberg had originally posted her video to her Instagram account but it was later removed.
In the rant Steinberg is heard saying: "And guess what I came home to be greeted with? This fucking bullshit. [points to Rainbow Pride flag] What the hell is that? Huntington Beach is the town of good old-fashioned hard-working American people, much less human. People who worked all through the COVID lockdown. Yes, that's right. Huntington Beach never shut down through any of the COVID nonsense fuckery. And now we're peddling this garbage?"
"What the hell is this? The only flag that should be up there is that American flag. This is a disgrace to our city and it should be taken down immediately. Whoever the hell is running this town needs to be fired. Make America great again. Make Huntington Beach great."
Ron Filipkowski, a defense lawyer and former Assistant United States Attorney had captured the video and uploaded it to his Twitter account where many of his 402.9K followers retweeted it:
OAN Contributor Alison Steinberg is raging after returning home to Huntington Beach to find the city flying a Pride flag. (Language) pic.twitter.com/fk5rTg88hF

— Ron Filipkowski 🇺🇦 (@RonFilipkowski) June 26, 2022