The California Democrats' need for unification
Will impeachment dominate the debates?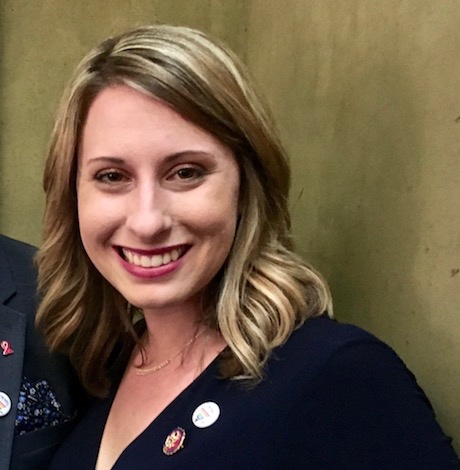 The eyes of the political universe will be on San Francisco as May slides into June and presidential hopefuls descend on the Moscone Center to tango with delegates at the California Democratic Convention. The nation's most populous state final matters in the primaries as the biggest catch of 2020's Super Tuesday next March 3.
For months, many politicos feared grassroots activists would bitterly squabble over who would replace Eric Bauman, the first openly gay chair of the California Democratic Party (CDP) who resigned amid allegations of sexual impropriety. But the imperative of replacing Donald Trump has relegated the chair contest to more of an internal matter, enabling delegates to spend May 31 to June 2 debating how to win the presidency and hold the House.
Seven candidates are vying for CDP chair, with election results announced on June 2. Bay Area activist Kimberly Ellis, whose dramatically contentious challenge to Bauman in 2017 was a shocker to party stalwarts and Daraka Larimore-Hall, a millennial activist primarily based in Santa Barbara, are the top two contenders. But less flashy longtime union organizer Rusty Hicks, who has a slew of endorsements from numerous LGBT politicos such as Los Angeles County Supervisor Sheila Kuehl and LA County Assessor Jeff Prang, appears to be the candidates many are hoping will restore order and the CDP's reputation.
While that party business is going on in the background—as well as the race for new chairs of the LGBT Caucus—delegates will mostly focus on organizing for the big 2020 races, given the 8.6 million registered Democrats in California. Official CDP endorsements will occur at a second state convention in November in Long Beach.
But the San Francisco convention will no doubt also become caught up in impeachment mania. Longtime Democratic strategist House Speaker Nancy Pelosi has been trying to tamp down calls for immediate impeachment hearings but featured speakers on Saturday night are Rep. Adam Schiff, chair of the House Intelligence Committee, and impeachment proponent Rep. Maxine Waters, Chair of the House Finance Committee.
Pelosi argues that the seven House seats flipped in the midterms are held by more moderate Democrats in red districts and impeachment could be the wedge Trump and the Republican National Committee need to flip those seats back to GOP control.
The RNC is already raising money and recruiting challengers in California. "We're very confident we can get those seats back," RNC spokesperson Torunn Sinclair told the San Francisco Chronicle. "There are a lot of folks who want to run against the socialist Democrats who were just elected."
Though the filing deadline for the March 3, 2020 is on Dec. 6, several candidates have already jumped in and secured major backing. GOP businesswoman Young Kim is challenging Rep. Gil Cisneros again in the 39th District in Orange County. Kim was so confident of her win last year—before losing by 7,600 votes—that she went to Washington and posed with other women elected during the midterm elections. She has the backing of House GOP Leader Kevin McCarthy of Bakersfield.
Also being challenged is Rep. Harley Rouda of Laguna Beach in the 48th District. Orange County Supervisor Michelle Steel already has the backing of the conservative Republican Orange County Lincoln Club. Trump named Steele to the President's Advisory Commission on Asian Americans and Pacific Islanders.
Fred Whitaker, chair of the Republican Party of Orange County, tells the Chronicle that San Juan Capistrano Mayor Brian Maryott will be their likely pick to challenge Rep. Mike Levin in the 49th District.
Five Republicans have announced their challenge to Rep. Katie Porter in the 45th District—but that may take some doing. Law professor Porter has become an Internet sensation with her simple, direct schooling of Trump administration officials, most recently Housing and Urban Development Sec. Ben Carson who confused a real estate owned property term (REO) with Oreo cookies.
On May 20, retired Army colonel and Assemblymember Bob Elliott, who represents San Joaquin County's District 5, announced he had received "new information" from the RNC that prompted him to abandon his race to replace Cathleen Galgiani in the state Senate and instead challenge Josh Harder, the Democrat from Turlock, for the 10th Congressional District, according to Recordnet.com. He didn't reveal the "new information."
No Republican has yet emerged to take on Rep. TJ Cox, who won a squeaker against Republican Rep. David Valadao by less than 900 votes.
Anti-LGBT Rep. Duncan Hunter, who was almost defeated by newcomer Ammar Campa-Najjar in the 50th District, has been indicted on federal campaign corruption charges and faces trial in September. In the meantime, he's trying to get an advance pardon from Trump for a Navy SEAL accused of killing civilians in Iraq. Hunter told reporters he doesn't think the Navy will give the SEAL a fair trial, the San Diego Union-Tribune reports.
Rep. Katie Hill, the proud moderate bisexual who defeated anti-LGBT Rep. Steve Knight in the 25th District, was given a leadership role by Speaker Pelosi early on. She already has four GOP challengers and may prove more vulnerable if Democrats take a hard plunge into impeachment. But as Trump flaunts his penchant for authoritarianism, the debate intensifies over how best to uphold the Constitution and the separation of powers.
"We're just getting closer and closer to a point where we have to do something," Hill told Politico. "Each of us is personally struggling because we see on so many levels … where he's committed impeachable offenses."
Politicos everywhere will be looking to California Democrats for direction, clarity and unification, if not a final conclusion.   
State of California ends contract with AIDS Healthcare Foundation
State is alleging improper negotiating tactics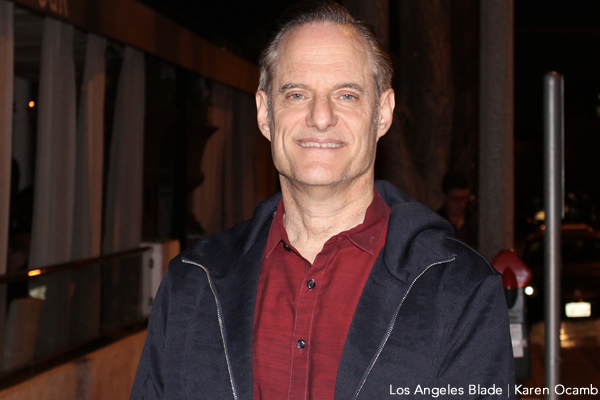 LOS ANGELES – (The Los Angeles Times) California will no longer contract with a prominent L.A.-based nonprofit, the AIDS Healthcare Foundation, to provide healthcare plans for hundreds of HIV-positive patients in Los Angeles County.
The announcement comes after the state accused the foundation of engaging in improper negotiation tactics while negotiating a rate increase.
The group's founder and leader, Michael Weinstein, rejects those claims, calling the state's action "pure retaliation."
The transition announced by the state would affect 770 HIV-positive patients that AIDS Healthcare is contracted to provide care for.
Read the Times piece here: https://www.latimes.com/california/story/2022-06-30/california-aids-healthcare-foundation-state-contract?utm_id=59781&sfmc_id=967189
Ketanji Brown Jackson sworn in as 116th justice of the U.S. Supreme Court
"It has taken 232 years and 115 prior appointments for a black woman to be selected to serve on the Supreme Court of the United States"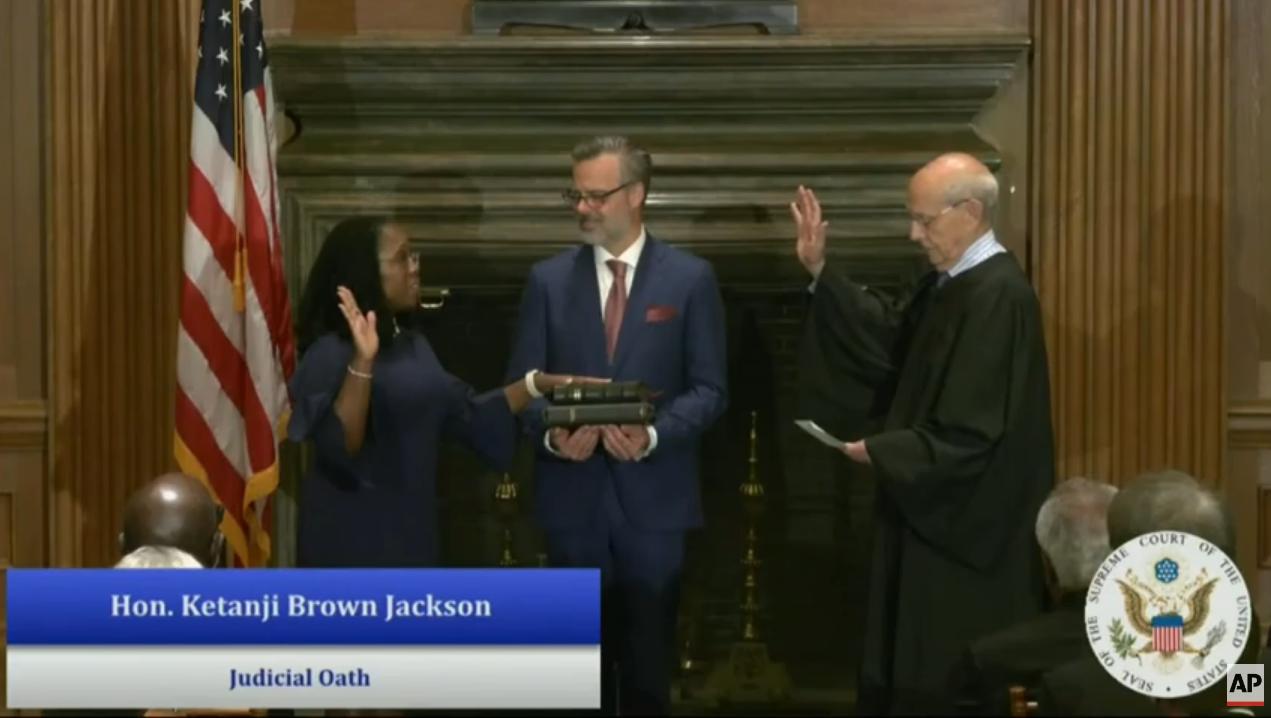 WASHINGTON – In oaths administered by the Chief Justice John Roberts and outgoing Associate U.S. Supreme Court Justice Stephen Breyer, Judge Ketanji Brown Jackson was sworn in as the 116th justice of the U.S. Supreme Court.
The 51 year-old Justice Jackson made history as the first-ever black woman sworn in as a justice on the U.S. Supreme Court. She replaces Justice Breyer, whose resignation from the Supreme Court becomes effective at noon Thursday (Eastern) after his nearly 28 years of service on the nation's high court.
In the simple ceremony held at the Court, Jackson in the constitutional oath, given by Chief Justice Roberts, solemnly swore to defend the Constitution "against all enemies, foreign and domestic," and "bear true faith and allegiance to the same."
Justice Breyer gave her the statutory oath, in which Jackson swore to "administer justice without respect to persons, and do equal right to the poor and to the rich."
The newly sworn-in Associate Justice was joined by her husband, Dr. Patrick Jackson, and their two daughters, Talia and Leila.
The court will hold another formal inaugurating ceremony, called an investiture, in the fall, Roberts said. But Thursday's ceremony allows her to immediately begin work as the newest member of the nine-seat Supreme Court.
Nominated by President Biden and confirmed by the Senate, in April at a ceremony on the South Lawn of the White House, addressing the audience of members of Congress, the Biden Cabinet, and White House staff along with family and invited guests, Justice Jackson noted;
"As I take on this new role, I strongly believe that this is a moment in which all Americans can take great pride. We have come a long way towards perfecting our union. In my family, it took just one generation to go from segregation to the Supreme Court of the United States." 
As the first Black woman to be nominated to serve on the nation's highest court which she noted in her remarks:
"It has taken 232 years and 115 prior appointments for a black woman to be selected to serve on the Supreme Court of the United States. But we've made it," she said, to applause from the crowd. "We've made it, all of us, all of us. And our children are telling me that they see now, more than ever, that here in America anything is possible."
Quoting Maya Angelou, an American author, poet and civil rights activist, "I am the hope and the dream of the slave," Jackson said.
Final vote on new Cuba family code slated for September
Same-sex couples poised to receive marriage, adoption rights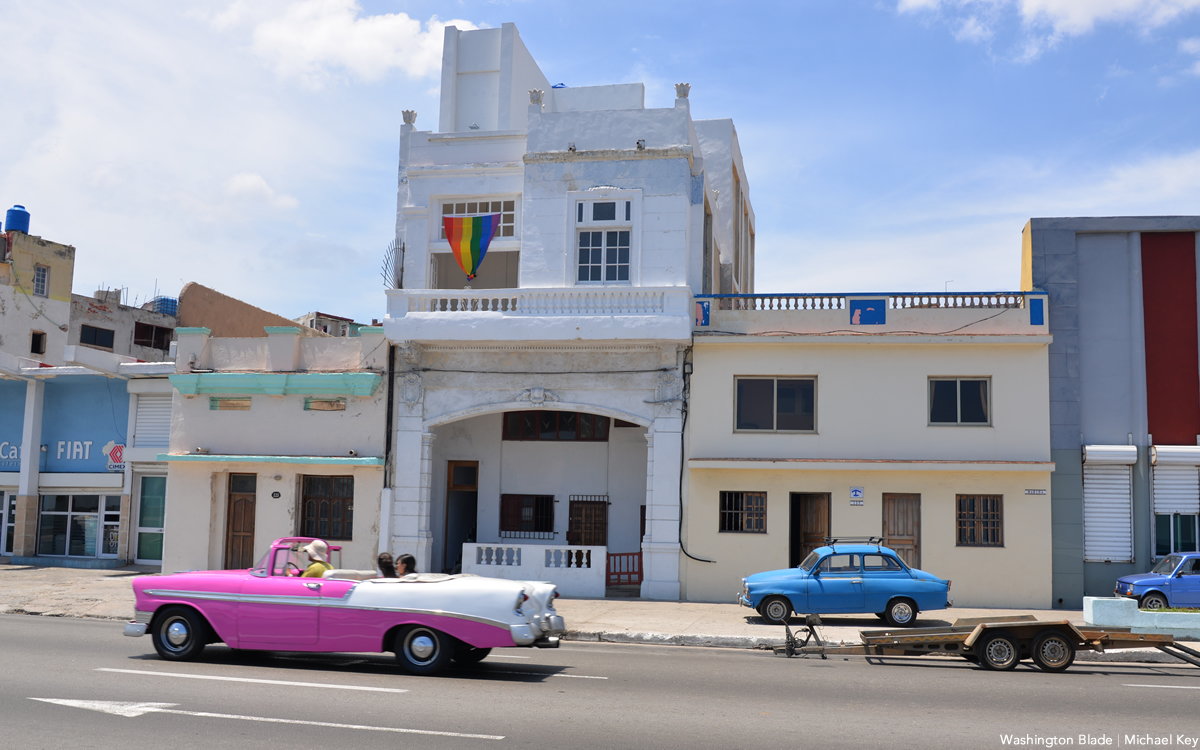 HAVANA — The Washington Blade's media partner in Cuba is reporting a final referendum on whether the final draft of a new family code that would extend marriage and adoption rights to same-sex couples will take place in September.
Tremenda Nota on June 23 reported a specific date for the referendum has not been announced, but it quoted comments President Miguel Díaz-Canel made the day before during a meeting of the commission that has written the draft.
"We are entering a decisive stage," said Díaz-Canel, according to Tremenda Nota. "We are going to need all the support that we need to ensure the emancipatory principles of equality and inclusion that the family code defends are actually approved."
The National Assembly late last year approved the draft family code.
A "popular consultation" ended on April 30. Tremenda Nota reported the last of the family code's 25 drafts was presented to Díaz-Canel and other officials on June 6.
Díaz Canel and Mariela Castro, the daughter of former President Raúl Castro who is the director of Cuba's National Center for Sexual Education, are among those who publicly support marriage equality. Cuban voters in 2019 overwhelmingly approved the draft of their country's new constitution, but the government's decision to remove a marriage equality amendment before the referendum on it sparked outrage among independent LGBTQ+ and intersex activists.
Efforts to implement the new family code are taking place against the backdrop of continued persecution of LGBTQ+ and intersex Cubans and others who publicly criticize the country's government.
Tremenda Nota Editor Maykel González Vivero is among the hundreds of people who were arrested during anti-government protests that took place across Cuba on July 11, 2021.
Yoan de la Cruz, a gay man who used Facebook Live to livestream the first protest that took place in San Antonio de los Baños in Artemisa province. De La Cruz subsequently received a 6-year prison sentence, but he was released on house arrest last month.
Reports indicate Brenda Díaz, a Transgender woman who was arrested during a July 11 protest in Güira de Melena in Artemisa province, on Wednesday received a 14-year prison sentence. 
Editor's note: Tremenda Nota's original story is here.