Will Trump's latest jaw-dropper be a shrug or help Democrats?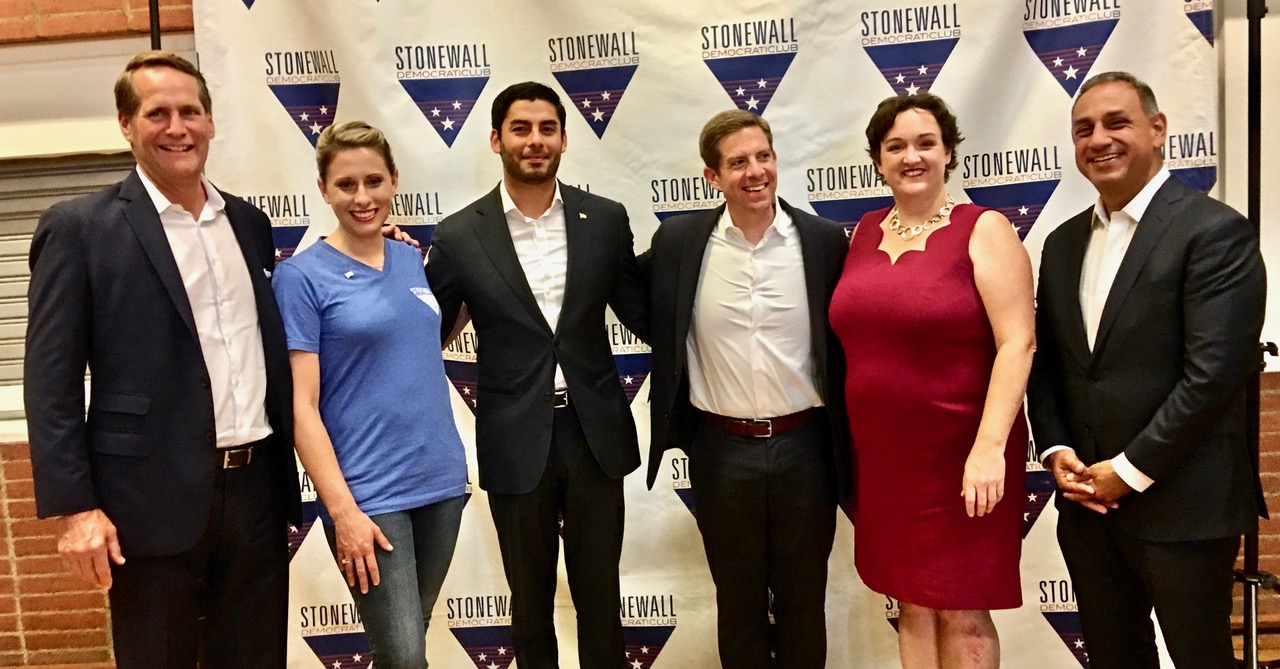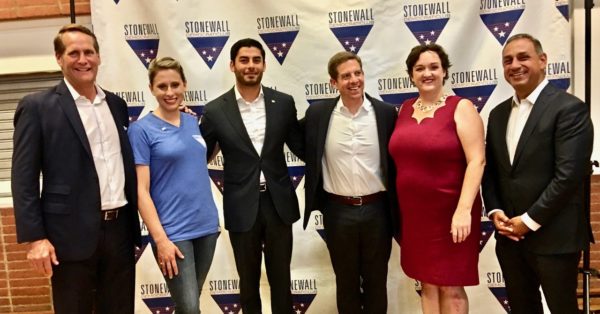 "Russia, if you're listening….," Republican presidential candidate Donald Trump said in a solicitation for campaign help heard around the world. He appeared to have received it, which prompt the two-year investigation into whether the Trump campaign colluded with Russia to interfere in the 2016 election to benefit the Reality TV star.
Special Counsel Robert Mueller accepted the premise of a Justice Department memo that a sitting president can not be indicted while in office and concluded that while he could not prove beyond a reasonable doubt that Trump knew that accepting anything of value from a foreign government is against the law, there is sufficient evidence that the Russian government interfered in a "sweeping and systemic fashion" to elect Trump. Evidence of duplicity concocted to conceal the Trump campaign's desire to get "dirt" on opponent Hillary Clinton at a Trump Tower meeting with a Russian lawyer is apparently insufficient to prove intent and foreknowledge of wrong-doing.
But surely, out MSNBC host Rachel Maddow sarcastically opined on June 12, Trump knows now that accepting foreign assistance is illegal. The unvetted assistance could be a Trojan Horse hiding the foreign entity's agenda of destabilizing the US government, its institutions and creating a useful secret asset.
If that was Russia's intent, mission accomplished. America's in a constitutional crisis with citizens being constantly told by Trump not to trust the FBI, the media ("Fake News"), or any source of information, other than him and his tweets, which are now considered policy statements. Meanwhile, as of March, the US debt to China is $1.12 trillion, an estimated 28% of the $4.07 trillion held by foreign countries, according to thebalance.com. With Trump's imposition of punishing tariffs on China—which are actually hurting the ports of Los Angeles and Long Beach—China and Russia have suddenly become close allies. If Trump goes through with his threats of levying tariffs against America's biggest trading partner, Mexico, the Southern California region recently flipped from red to blue will be economically devastated.
But what Maddow was dumb-founded about was ABC News anchor George Stephanopoulos' jaw-dropping interview with Trump in the Oval Office earlier in the day. Stephanopoulos asked if Trump would accept opposition research on his 2020 opponent offered by a foreign government.
"I think you might want to listen, there isn't anything wrong with listening," Trump said. "If somebody called from a country, Norway, [and said] 'we have information on your opponent' — oh, I think I'd want to hear it."
Trump disputed that such information could be construed as interference in the democratic electoral process.
"It's not an interference, they have information—I think I'd take it," Trump said. "If I thought there was something wrong, I'd go maybe to the FBI — if I thought there was something wrong."
But, Trump said, everyone does oppo research. "The FBI doesn't have enough agents to take care of it," he said. "You don't call the FBI. You throw somebody out of your office, you do whatever you do."
Stephanopoulos noted that FBI Director Christopher Wray said campaigns should report suspected interference.
"I think my view is that if any public official or member of any campaign is contacted by any nation-state or anybody acting on behalf of a nation-state about influencing or interfering with our election, then that is something that the FBI would want to know about," Wray told a May 7 Senate hearing.
"The FBI director is wrong," Trump scoffed. "Give me a break. Life doesn't work like that."
The reaction was fast and furious. Some noted that Trump publicly and unabashedly just put a "For Sale" sign on his forehead. Others quipped this was "Russia, if you're listening," part two.
House Intelligence Committee Chair Adam B. Schiff, former federal prosecutor who just return to DC from the LA Pride parade to start holding hearings into the Mueller Report, told CNN a change in the campaign laws is needed "to deter the kind of unethical unpatriotic conduct the president engaged in the last campaign and is completely willing to do all over again. He learned nothing."  Schiff isn't playing. As an assistant US Attorney based in LA back in the day, Schiff prosecuted a case against former FBI agent Richard Miller who was convicted on Schiff's third attempt in 1990 of "passing secret documents to the Soviet Union in exchange for a promised $65,000 in gold and cash," according to the LA Times.
Schiff said he is running out of patience with the Justice Department and might subpoena the FBI for information. "The FBI has an obligation by the National Security Act to brief us on a recent counterintelligence matter. If there are ongoing counterintelligence investigations involving people around the president, they must inform us," Schiff told reporters after his Intelligence Committee hearing on the Mueller report.
"What Donald Trump said is unAmerican, unpatriotic, and unbelievable," Rep. Ted Lieu said on MSNBC. Lieu sits on the House Judiciary Committee and was asked if Trump's admission that he would violate the law would galvanize the movement to hold Impeachment hearings, for which he has already voiced support. The former active duty officer Air Force JAG officer, now a Colonel in the Reserves seemed to back the slow, methodical evidentiary hearing approach advocated by Speaker Nancy Pelosi.
"The eyes of the nation tonight must look to Nancy Pelosi," former Florida Republican Congress member David Jolly told MSNBC anchor Brian Williams, after tweeting that Trump's comments are an "impeachable moment."
To be sure, the pressure to start Impeachment hearings piled on Pelosi as the day and night wore on.
And surely, the first question asked at the first Democratic Party debates on June 26 & 27 will pertain to Impeachment and the Mueller report – which now even out Fox News anchor Shepard Smith has encouraged his fans to read, noting "10 instances of apparent obstruction of justice."
"Remember, in his 400-plus page report that everyone in America should read ― everyone ― Robert Mueller laid out 10 instances of apparent obstruction of justice, criminal obstruction of justice, potentially, by President Trump," Smith told his audience. "The special counsel did not exonerate the president. Said if they could've they would've, but they couldn't so they didn't."
Of the many reasons Pelosi and others have cited for her cagey methodical approach to exposing Trump's corruption and criminality is the fact that it is the Speaker's job to protect the House majority. She is keenly aware that many Democrats are more moderate than the louder progressives, including the newly elected Democrats from the red-flipped-to-blue Southern California region.
Many of those areas – such as the closely won district represented by out bisexual Rep. Katie Hill — are also populated with residents who have a profound red respect for the military and the idea of law and order. It would be an ironic twist if they, too, start to consider Trump's comments un-American, unpatriotic and a disgrace to all the cold warriors who sacrificed to keep Russia and China at bay.
But there is another below the radar issue that's causing concern. Some politics fear that so much attention and money will go to ousting Trump and funding favorite Democratic presidential candidates that funding and volunteers will dry up for those incredibly important California congressional re-election races.
Equality California has already endorsed the seven new incumbents and one challenger in 2020 battleground Congressional districts: Rep. Josh Harder (CA-10), Rep. TJ Cox (CA-21), Rep. Katie Hill (CA-25), Rep. Gil Cisneros (CA-39), Rep. Katie Porter (CA-45), Rep. Harley Rouda (CA-48), Rep. Mike Levin (CA-49) and Ammar Campa-Najjar (CA-50).
"Protecting and expanding our pro-equality majority in the House is critical for the LGBTQ community and our allies," Equality California Executive Director Rick Zbur said in a press release. "While the House was passing historic nondiscrimination protections for LGBTQ Americans this month, the Trump-Pence Administration spent the last month attacking LGBTQ healthcare and trying to kick LGBTQ people out of homeless shelters. The choice for pro-equality voters couldn't be clearer. Each of these seven incumbents has been an invaluable partner in the fight for full, lived LGBTQ equality, and we can't wait to have Ammar join them in 2021."
Campa-Najjar came so close to defeating mega-anti-LGBT hater Rep. Duncan Hunter in 2018 there are high hopes for him again. Those hopes increased on June 12 when Hunter's wife Margaret, who he threw under the bus when they were indicted on multiple felony campaign violations, withdrew her not guilty plea and is expected to testify against her husband.
But whichever way the political winds blow as the Democrats continue to deliberate over what to do with Trump and Trump continues his impervious bluster – the LGBT community will continue to assert itself in the march to June 28, the 50th anniversary of the Stonewall Rebellion. And maybe, just maybe, another notch will be carved in the collective unconscious for LGBT visibility to survive past Pride Month.
Photo: Reps. Harley Rouda, Katie Hill, candidate Ammar Campa-Najjar, Reps. Mike Levin , Katie Porter and Gil Cisneros (Photo by Karen Ocamb)
President Biden endorses Trans Virginia lawmaker for re-election
Roem, a former journalist, in 2018 became the first openly transgender person seated in any state legislature in the nation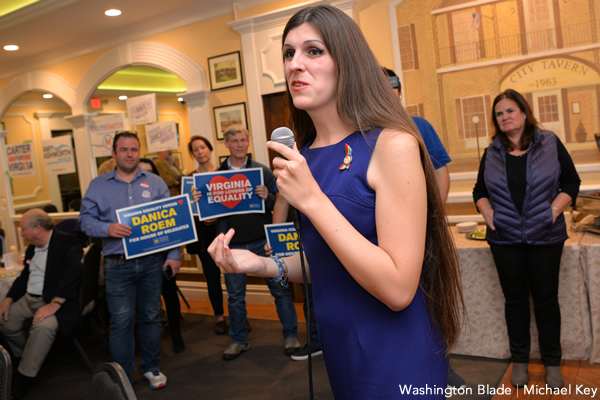 WASHINGTON – President Joe Biden on Tuesday endorsed Virginia state Del. Danica Roem (D-Manassas) for re-election. Roem, a former journalist, in 2018 became the first openly transgender person seated in any state legislature in the nation.
Speaker Eileen Filler-Corn (D-Fairfax County) is among the other Democratic members of the Virginia House of Delegates who Biden backed. Biden in his tweet also stressed his support of Terry McAuliffe, who is running against Republican Glenn Youngkin to succeed Democratic Gov. Ralph Northam.
"Building back better starts in the states," tweeted Biden. "Since flipping the legislature in 2019, Virginia Democrats have been a model of progress—including helping us vaccinate folks to beat the pandemic. To keep our progress, we must elect Terry McAuliffe and Democrats up and down the ballot."
Building back better starts in the states. Since flipping the legislature in 2019, Virginia Democrats have been a model of progress—including helping us vaccinate folks to beat the pandemic. To keep our progress, we must elect @TerryMcAuliffe and Democrats up and down the ballot. pic.twitter.com/NsJiiPNzlv

— Joe Biden (@JoeBiden) October 19, 2021
Biden called Roem on the night she defeated then-state Del. Bob Marshall and congratulated her. A Washington Post picture that showed Roem crying moments later went viral.
The Manassas Democrat who represents the 13th District in 2019 easily won re-election. Christopher Stone, the Republican who is running against Roem in this cycle, opposes marriage and adoption rights for same-sex couples.
Anti-gay Daily Wire host says 2 men shouldn't be allowed to adopt babies
" […] because babies need mothers. They also need fathers, which is why two women shouldn't be allowed either."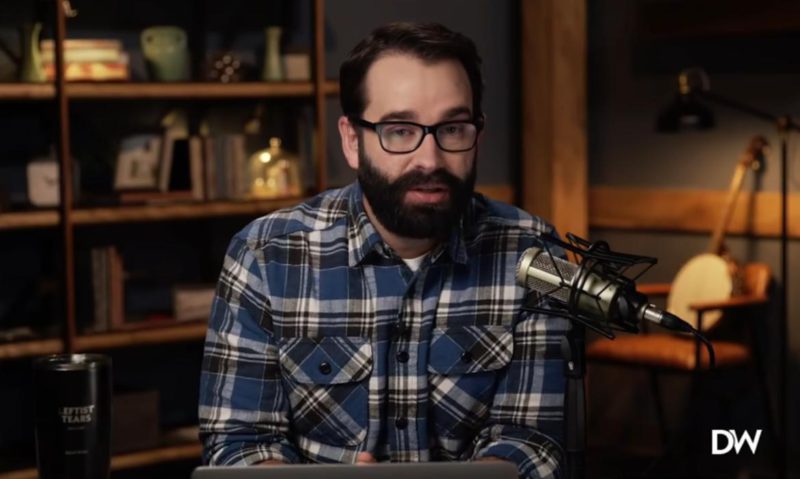 NASHVILLE – Anti-LGBTQ Daily Wire podcast and YouTuber Matt Walsh joined the growing chorus of far-right and conservative voices outraged that U.S. Secretary of Transportation Pete Buttigieg went on paternity leave from his job in August after he and his husband Chasten had adopted two children.
On his show Monday Walsh not only criticized Buttigieg, but he attacked same-sex couples adopting children altogether.
"It's absurd for any public employee, paid on taxpayer dime, to be given that much time off. Now, you can make an argument for women on maternity leave but not for men. Paternity leave is a nice luxury for private companies that can afford it. The U.S. government is not a private company – it's a public institution, deeply in debt, failing in just about every way and everywhere. So this is not a time and not the place for those kinds of luxuries. But that's the somewhat safer point to make, right? You are in a much more hazardous place, you are in more hazardous waters when you go away from that and, instead, you start saying mildly critical things about paternity leave in general as a concept."
"I also didn't say that there's nothing at all for a man to do for his family after a child is born. I said that as far as caring for the newborn himself, most of that is going to be done by the mother. She, in most cases, will be feeding the child. The child also needs and wants his mother's presence, his mother's touch, her voice. The father should be interacting with the baby also, obviously, but the infant is far more focused on his mother at that age. And needs his mother more. There is no mother in the Buttigieg household, but that doesn't change the point here."
"Babies need their mothers, which is why two men shouldn't be allowed to adopt babies in the first place. And the outrage mob can now start a secondary campaign over that comment. But I'll say it again. Two men should not be allowed to adopt babies because babies need mothers. They also need fathers, which is why two women shouldn't be allowed either."
Former U.S. Secretary of State Colin Powell dies at 84
Powell, leaving mixed legacy on 'Don't Ask, Don't Tell,' was key figure once opposed gays in military, then backed review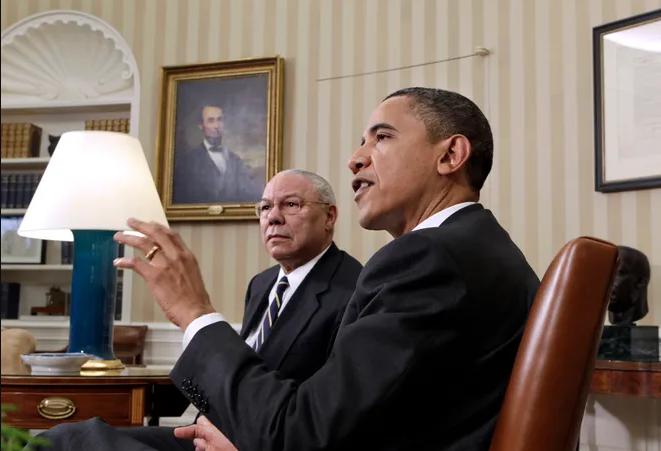 BETHESDA, Md. – General Colin Powell, the nation's first Black U.S. Secretary of State, who served in the top diplomatic and military leadership roles in the presidencies of Ronald Reagan, George H.W. and George W. Bush died Monday at Walter Reed National Medical Center at age 84.
"We want to thank the medical staff at Walter Reed National Medical Center for their caring treatment," the Powell family said in its statement. "We have lost a remarkable and loving husband, father, grandfather and a great American."
Secretary Powell is the first high-profile public figure to die as a result of a so-called breakthrough infection of the novel (COVID-19) coronavirus. Powell was fully vaccinated, according to Peggy Cifrino, Powell's longtime aide, who posted the family's statement to social media after his death. Powell reportedly suffered from multiple myeloma, a condition that hampers an individual's ability to combat blood infections.
For the LGBTQ+ community, Powell leaves a mixed legacy. Rising to the top of the military as chair of the Joint Chiefs of Staff, Powell supported in 1993 Congress moving forward with "Don't Ask, Don't Tell," a law that barred openly gay people from serving in the U.S. military.
During a key moment congressional testimony, Powell and other top military officials were asked whether or not allowing gay people in the military would be compatible with military readiness. Each official, including Powell," responded "incompatible." Congress would enact "Don't Ask, Don't Tell" that year.
Things changed when President Barack Obama took office 15 years later and advocates for repeal of "Don't Ask, Don't Tell" were eager to claim Powell's voice among their ranks. After all, Powell was highly respected as a bipartisan voice after having served as secretary of state in the administration of George W. Bush and endorsing Obama in the 2008 election.
In October 2008, he endorsed Barack Obama as he was weeks away from being elected the nation's first African-American president. "I think he is a transformational figure," Powell said on NBC's "Meet the Press."
After the Obama administration in 2010 announced it would conduct a review of the idea of allowing gay people to serve openly in the military, Powell came out in support of that process. Advocates of repeal called that a declaration of reversal, although the statement fell short of a full support for gay people serving openly in the military.
"In the almost 17 years since the 'Don't Ask, Don't Tell' legislation was passed, attitudes and circumstances have changed," Powell said in a statement issued by his office, adding, "I fully support the new approach presented to the Senate Armed Services Committee this week by Secretary of Defense Gates and Admiral Mullen." He added, "I will be closely following future hearings, the views of the Service Chiefs and the implementation work being done by the Department of Defense."
Congress acted to repeal "Don't Ask, Don't Tell" and the policy was lifted in 2011. At the time, Powell was widely considered a supporter of ending "Don't Ask, Don't Tell" and publicly counted among supporters of repeal.
In 2012, Powell had similar vaguely supportive words on same-sex marriage, saying he had "no problem with it" when asked about the issue.
"As I've thought about gay marriage, I know a lot of friends who are individually gay but are in partnerships with loved ones, and they are as stable a family as my family is, and they raise children," Powell said. "And so I don't see any reason not to say that they should be able to get married."
The White House released a statement from President Joe Biden reacting to the news of Powell's death, The President also ordered the flag of the United States be flown at half-staff at the White House and upon all public buildings and grounds, at all military posts and naval stations, and on all naval vessels of the Federal Government in the District of Columbia and throughout the United States and its Territories and possessions until sunset on October 22, 2021 as a mark of respect for Powell.
Jill and I are deeply saddened by the passing of our dear friend and a patriot of unmatched honor and dignity, General Colin Powell.

The son of immigrants, born in New York City, raised in Harlem and the South Bronx, a graduate of the City College of New York, he rose to the highest ranks of the United States military and to advise four presidents. He believed in the promise of America because he lived it. And he devoted much of his life to making that promise a reality for so many others.

As a Senator, I worked closely with him when he served as National Security Advisor, Chairman of the Joint Chiefs of Staff, and as Secretary of State. Over our many years working together – even in disagreement – Colin was always someone who gave you his best and treated you with respect.

Colin embodied the highest ideals of both warrior and diplomat. He was committed to our nation's strength and security above all. Having fought in wars, he understood better than anyone that military might alone was not enough to maintain our peace and prosperity. From his front-seat view of history, advising presidents and shaping our nation's policies, Colin led with his personal commitment to the democratic values that make our country strong. Time and again, he put country before self, before party, before all else—in uniform and out—and it earned him the universal respect of the American people.

Having repeatedly broken racial barriers, blazing a trail for others to follow in Federal Government service, Colin was committed throughout his life to investing in the next generation of leadership. Whether through his care for the women and men serving under his command and the diplomats he led, or through the work he shared with his wife Alma at the America's Promise Alliance to lift up young people, or through his years leading the Eisenhower Fellowships, Colin's leadership always included a focus on future.

Above all, Colin was my friend. Easy to share a laugh with. A trusted confidant in good and hard times. He could drive his Corvette Stingray like nobody's business—something I learned firsthand on the race track when I was Vice President. And I am forever grateful for his support of my candidacy for president and for our shared battle for the soul of the nation. I will miss being able to call on his wisdom in the future.

Jill and I are sending all our love and strength to Alma, their children, Linda, Annemarie, and Michael, their grandchildren, and the entire Powell family. Our nation mourns with you.

Colin Powell was a good man.

He will be remembered as one of our great Americans.
Former President Obama noted;
"General Powell was an exemplary soldier and an exemplary patriot. He was at the center of some of the most consequential events of our lifetimes…. And although he'd be the first to acknowledge that he didn't get every call right, his actions reflected what he believed was best for America and the people he served.
"Along the way, General Powell helped a generation of young people set their sights higher. He never denied the role that race played in his own life and in our society more broadly. But he also refused to accept that race would limit his dreams, and through his steady and principled leadership, helped pave the way for so many who would follow."
Former President George W. Bush in a statement said:
"He was a great public servant, starting with his time as a soldier during Vietnam. Many presidents relied on General Powell's counsel and experience.
"He was such a favorite of presidents that he earned the Presidential Medal of Freedom – twice. He was highly respected at home and abroad. And most important, Colin was a family man and a friend."