June 13, 2019 at 8:56 am PDT | by Karen Ocamb
Will Trump's latest jaw-dropper be a shrug or help Democrats?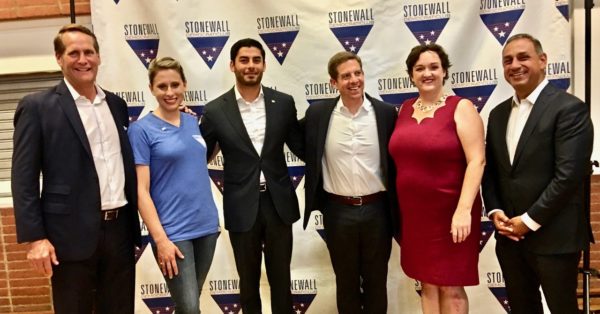 "Russia, if you're listening….," Republican presidential candidate Donald Trump said in a solicitation for campaign help heard around the world. He appeared to have received it, which prompt the two-year investigation into whether the Trump campaign colluded with Russia to interfere in the 2016 election to benefit the Reality TV star.
Special Counsel Robert Mueller accepted the premise of a Justice Department memo that a sitting president can not be indicted while in office and concluded that while he could not prove beyond a reasonable doubt that Trump knew that accepting anything of value from a foreign government is against the law, there is sufficient evidence that the Russian government interfered in a "sweeping and systemic fashion" to elect Trump. Evidence of duplicity concocted to conceal the Trump campaign's desire to get "dirt" on opponent Hillary Clinton at a Trump Tower meeting with a Russian lawyer is apparently insufficient to prove intent and foreknowledge of wrong-doing.
But surely, out MSNBC host Rachel Maddow sarcastically opined on June 12, Trump knows now that accepting foreign assistance is illegal. The unvetted assistance could be a Trojan Horse hiding the foreign entity's agenda of destabilizing the US government, its institutions and creating a useful secret asset.
If that was Russia's intent, mission accomplished. America's in a constitutional crisis with citizens being constantly told by Trump not to trust the FBI, the media ("Fake News"), or any source of information, other than him and his tweets, which are now considered policy statements. Meanwhile, as of March, the US debt to China is $1.12 trillion, an estimated 28% of the $4.07 trillion held by foreign countries, according to thebalance.com. With Trump's imposition of punishing tariffs on China—which are actually hurting the ports of Los Angeles and Long Beach—China and Russia have suddenly become close allies. If Trump goes through with his threats of levying tariffs against America's biggest trading partner, Mexico, the Southern California region recently flipped from red to blue will be economically devastated.
But what Maddow was dumb-founded about was ABC News anchor George Stephanopoulos' jaw-dropping interview with Trump in the Oval Office earlier in the day. Stephanopoulos asked if Trump would accept opposition research on his 2020 opponent offered by a foreign government.
"I think you might want to listen, there isn't anything wrong with listening," Trump said. "If somebody called from a country, Norway, [and said] 'we have information on your opponent' — oh, I think I'd want to hear it."
Trump disputed that such information could be construed as interference in the democratic electoral process.
"It's not an interference, they have information—I think I'd take it," Trump said. "If I thought there was something wrong, I'd go maybe to the FBI — if I thought there was something wrong."
But, Trump said, everyone does oppo research. "The FBI doesn't have enough agents to take care of it," he said. "You don't call the FBI. You throw somebody out of your office, you do whatever you do."
Stephanopoulos noted that FBI Director Christopher Wray said campaigns should report suspected interference.
"I think my view is that if any public official or member of any campaign is contacted by any nation-state or anybody acting on behalf of a nation-state about influencing or interfering with our election, then that is something that the FBI would want to know about," Wray told a May 7 Senate hearing.
"The FBI director is wrong," Trump scoffed. "Give me a break. Life doesn't work like that."
The reaction was fast and furious. Some noted that Trump publicly and unabashedly just put a "For Sale" sign on his forehead. Others quipped this was "Russia, if you're listening," part two.
House Intelligence Committee Chair Adam B. Schiff, former federal prosecutor who just return to DC from the LA Pride parade to start holding hearings into the Mueller Report, told CNN a change in the campaign laws is needed "to deter the kind of unethical unpatriotic conduct the president engaged in the last campaign and is completely willing to do all over again. He learned nothing."  Schiff isn't playing. As an assistant US Attorney based in LA back in the day, Schiff prosecuted a case against former FBI agent Richard Miller who was convicted on Schiff's third attempt in 1990 of "passing secret documents to the Soviet Union in exchange for a promised $65,000 in gold and cash," according to the LA Times.
Schiff said he is running out of patience with the Justice Department and might subpoena the FBI for information. "The FBI has an obligation by the National Security Act to brief us on a recent counterintelligence matter. If there are ongoing counterintelligence investigations involving people around the president, they must inform us," Schiff told reporters after his Intelligence Committee hearing on the Mueller report.
"What Donald Trump said is unAmerican, unpatriotic, and unbelievable," Rep. Ted Lieu said on MSNBC. Lieu sits on the House Judiciary Committee and was asked if Trump's admission that he would violate the law would galvanize the movement to hold Impeachment hearings, for which he has already voiced support. The former active duty officer Air Force JAG officer, now a Colonel in the Reserves seemed to back the slow, methodical evidentiary hearing approach advocated by Speaker Nancy Pelosi.
"The eyes of the nation tonight must look to Nancy Pelosi," former Florida Republican Congress member David Jolly told MSNBC anchor Brian Williams, after tweeting that Trump's comments are an "impeachable moment."
To be sure, the pressure to start Impeachment hearings piled on Pelosi as the day and night wore on.
And surely, the first question asked at the first Democratic Party debates on June 26 & 27 will pertain to Impeachment and the Mueller report – which now even out Fox News anchor Shepard Smith has encouraged his fans to read, noting "10 instances of apparent obstruction of justice."
"Remember, in his 400-plus page report that everyone in America should read ― everyone ― Robert Mueller laid out 10 instances of apparent obstruction of justice, criminal obstruction of justice, potentially, by President Trump," Smith told his audience. "The special counsel did not exonerate the president. Said if they could've they would've, but they couldn't so they didn't."
Of the many reasons Pelosi and others have cited for her cagey methodical approach to exposing Trump's corruption and criminality is the fact that it is the Speaker's job to protect the House majority. She is keenly aware that many Democrats are more moderate than the louder progressives, including the newly elected Democrats from the red-flipped-to-blue Southern California region.
Many of those areas – such as the closely won district represented by out bisexual Rep. Katie Hill — are also populated with residents who have a profound red respect for the military and the idea of law and order. It would be an ironic twist if they, too, start to consider Trump's comments un-American, unpatriotic and a disgrace to all the cold warriors who sacrificed to keep Russia and China at bay.
But there is another below the radar issue that's causing concern. Some politics fear that so much attention and money will go to ousting Trump and funding favorite Democratic presidential candidates that funding and volunteers will dry up for those incredibly important California congressional re-election races.
Equality California has already endorsed the seven new incumbents and one challenger in 2020 battleground Congressional districts: Rep. Josh Harder (CA-10), Rep. TJ Cox (CA-21), Rep. Katie Hill (CA-25), Rep. Gil Cisneros (CA-39), Rep. Katie Porter (CA-45), Rep. Harley Rouda (CA-48), Rep. Mike Levin (CA-49) and Ammar Campa-Najjar (CA-50).
"Protecting and expanding our pro-equality majority in the House is critical for the LGBTQ community and our allies," Equality California Executive Director Rick Zbur said in a press release. "While the House was passing historic nondiscrimination protections for LGBTQ Americans this month, the Trump-Pence Administration spent the last month attacking LGBTQ healthcare and trying to kick LGBTQ people out of homeless shelters. The choice for pro-equality voters couldn't be clearer. Each of these seven incumbents has been an invaluable partner in the fight for full, lived LGBTQ equality, and we can't wait to have Ammar join them in 2021."
Campa-Najjar came so close to defeating mega-anti-LGBT hater Rep. Duncan Hunter in 2018 there are high hopes for him again. Those hopes increased on June 12 when Hunter's wife Margaret, who he threw under the bus when they were indicted on multiple felony campaign violations, withdrew her not guilty plea and is expected to testify against her husband.
But whichever way the political winds blow as the Democrats continue to deliberate over what to do with Trump and Trump continues his impervious bluster – the LGBT community will continue to assert itself in the march to June 28, the 50th anniversary of the Stonewall Rebellion. And maybe, just maybe, another notch will be carved in the collective unconscious for LGBT visibility to survive past Pride Month.
Photo: Reps. Harley Rouda, Katie Hill, candidate Ammar Campa-Najjar, Reps. Mike Levin , Katie Porter and Gil Cisneros (Photo by Karen Ocamb)