An apparent Trump win is really a huge trans victory
'We get another bite at the apple,' says NCLR legal director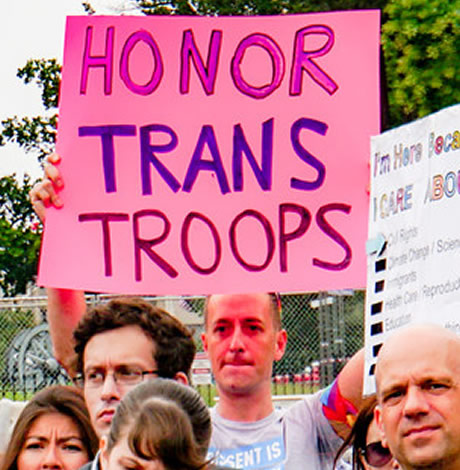 On first reading, the Reuters headline seemed like dismal news for transgender military servicemembers and advocates fighting the Trump trans ban. "U.S. Court Lets Trump Transgender Military Ban Stand, Orders New Review," the longtime wire service reported on a Friday ruling by the 9th Circuit Court of Appeals.
The opening paragraph doused the wound with lemon. "A U.S. appeals court handed President Donald Trump a victory in his effort to ban most transgender people from the military, ordering a judge to reconsider her ruling against the policy, which the U.S. Supreme Court has allowed to take effect," Reuters reported.
A three-judge panel issued a ruling in Karnoski v The State of Washington setting aside the positive April 18, 2018 ruling by District Court Judge Marsha Pechman saying the trans ban probably violated the constitutional rights of trans servicemembers, those seeking promotion and recruits. The 9th Circuit seemed to side with the Justice Department's appeal of her ruling, explicitly saying that Pechman had not given the military the due deference it usually receives in district courts. The court ordered the judge to try again.
"That finding could strengthen Trump's position, though the government still had the burden of justifying his policy," Reuters reported, a policy that Trump announced by tweet in 2017.
And therein lies the hitch upon which the trans ban twists.
"We get another bite at the apple," an excited Shannon Minter, Legal Director for the National Center for Lesbian Rights, told the Los Angeles Blade. The 9th Circuit ordered Pechman—one of four federal court judges to rule against Trump's ban—to review the case again, but this time under heightened scrutiny. That shifts the burden of proof from the trans plaintiffs and their backers to the federal government and affords an opportunity to get to the merits of the case.
Last January, when the Supreme Court voted 5-4 to lift the nationwide injunction against the trans military ban going into effect, many in the LGBT community were crushed. Dreams of service, fulfilling legacies, education and job opportunities were put on hold. Trans servicemembers on the brink of coming out—as previously encouraged by the Obama administration—jumped back into the closet lest they lose their careers in a witch hunt.
Trans individuals were allowed to serve in the armed forces, the Pentagon said, as long as they served in their birth sex and endured the inhumane indignity of inauthenticity. But the Pentagon insisted it did not target trans individuals for discrimination. The ban pertained more to medical issues and costs and unit cohesion—all of which had been addressed by a RAND Study commissioned by Defense Secretary Ash Carter, who lifted the ban on open trans service in June 2016 with policy backing from President Barack Obama.
"As always, we treat all transgender persons with respect and dignity," Lt. Col. Carla Gleason, a Pentagon spokesperson, told CNN after the Supreme Court decision on Jan. 22, 2019. The Defense Department's "proposed policy is NOT a ban on service by transgender persons. It is critical that DoD be permitted to implement personnel policies that it determines are necessary to ensure the most lethal and combat effective fighting force in the world. DoD's proposed policy is based on professional military judgment and will ensure that the U.S. Armed Forces remain the most lethal and combat effective fighting force in the world,"
On Friday, the 9th Circuit said refuted the DoD, saying the government "discriminates on the basis of transgender status." Importantly, the 9th Circuit also said that a policy that discriminates on that basis can only be upheld if it meets the same tough standard applied to policies that discriminate based on sex. That elevates transgender people to the same protected constitutional status to gender. That's a game-changer.
And, since nether the Supreme Court nor the 9th Circuit ruled on the merits of the case, trans advocates have an opportunity to dramatically expose the cruelty behind the targeted unconstitutional discrimination. In the meantime, all trans cases in the 9th Circuit jurisdiction must be considered under heightened scrutiny with the anti-trans policies providing evidence of "exceedingly persuasive justification."
"This outcome in Karnoski v. Trump is no surprise, since the Supreme Court already lifted Pechman's injunction," wrote Slate's Mark Joseph Stern.  "The 9th Circuit found that Pechman hadn't properly assessed whether former Defense Secretary James Mattis' final implementation plan shored up the legality of the ban by providing the "considered military judgment" absent from Trump's impromptu tweets and the resulting scramble to rationalize them."
"We are pleased that the Ninth Circuit recognized that the district court was wrong to prevent the Department of Defense from applying its policy and also wrong to disregard the confidentiality of matters protected by executive privilege.  The Department of Defense will be able to continue implementing a personnel policy it determined necessary to best defend our nation, and the Department of Justice will continue defending that policy as the litigation continues," DOJ spokesperson Kelly Laco said in a statement.
"Well, it's not a surprise that the government is focusing on the fact that the Ninth Circuit technically reversed the district court's refusal to dissolve the preliminary injunction.  That is true, of course—that is the immediate impact of the ruling," Minter told the Los Angeles Blade. "But to note only that is to miss the forest for the trees.  The ruling could have reversed the district court and held that the Mattis plan is likely to be constitutional and cannot be enjoined.  Instead, it vacated and remanded the issue back to the district court, with instructions that the court should issue a new decision taking into account the panel's determination that the Mattis plan (contrary to the government's argument) targets transgender people and that such discrimination is subject to a very serious level of constitutional scrutiny."
That more serious level of scrutiny also enables the plaintiffs to question more deeply how Mattis arrived at his recommendations for the current policy. The Los Angeles Blade, Politico, and ThinkProgress have all reported extensively on how Trump's anti-trans tweets originated with anti-LGBT Vice President Mike Pence and his evangelical followers.
As reported in the Washington Blade, on May 16, 2019, 85 conservative leaders, many like Tony Perkins, head of the Family Research Council, and scores of retired anti-LGBT military officers, issued a statement opposing transgender service.
"Conservative leaders urgently suggest that the Trump Administration review and rescind the Obama-era policies that hinder military readiness and overall effectiveness," the statement said. "Politically correct policies have been imposed largely through administrative fiat. They can be removed in like manner while further study and congressional guidance is obtained. The most problematic policies in this category are those addressing the presence of transgender individuals in the military."
"While the liberal media insists no thought went into the president's tweets, the administration has been coordinating with military attorneys behind the scenes for days," Family Research Council president and leading social conservative activist Tony Perkins wrote in a blog post, The Christian Post confirmed Aug. 11, 2017. "Fortunately, a Pentagon working group had already been established to deal with the issue as part of Defense Secretary James Mattis's order to delay the enlistment of people confused about their gender."
The Southern Poverty Law Center, which considers the Family Research Center to be a hate group, wrote this about how they work:
"To make the case that the LGBT community is a threat to American society, the FRC employs a number of 'policy experts' whose 'research' has allowed the FRC to be extremely active politically in shaping public debate. Its research fellows and leaders often testify before Congress and appear in the mainstream media. It also works at the grassroots level, conducting outreach to pastors in an effort to 'transform the culture.'"
There is a good possibility a motive with animus attached might be discovered during the review process. "On the discovery front, the Ninth Circuit similarly held that the plaintiffs are entitled to discovery about the process and provided the district court with a clear road map of how to proceed (including requiring the plaintiffs to make targeted requests and reviewing sensitive documents in camera)," Minter told the Los Angeles Blade.
"In a nutshell, the government's comment focuses only on one narrow aspect of the ruling and disregards the larger picture, which has opened the door for the plaintiffs to seek a new order enjoining the ban. That is a real game changer and a hugely positive development for the plaintiffs."
The 9th Circuit ruling also applies to Stockman v. Trump, a challenge brought by Equality California on behalf of its members and seven individual plaintiffs. GLAD and NCLR are counsel in Stockman, along with Latham and Watkins LLP.
The State of California also joined the Stockman v. Trump suit. "Our office is reviewing the decision and will be working closely with our co-plaintiffs on next steps in the Stockman litigation," a spokesperson for California Attorney General Xavier Becerra told the Los Angeles Blade.
"This is a hugely positive development.  The Ninth Circuit recognized that the Mattis plan clearly targets transgender people, and that the government faces an uphill battle in justifying it," said Jennifer Levi, Director of Transgender Rights Project at GLBTQ Legal Advocates & Defenders (GLAD) in a statement.
"Equality California welcomes this opportunity to once again make the case for why this ban is harmful to transgender servicemembers, to their families and to our nation's military. Excluding qualified, dedicated Americans who want nothing more than to serve our country is not only irrational, it is deeply contrary to the military's own values of judging individuals based on merit, not on irrelevant characteristics that have nothing to do with their fitness to serve," said Rick Zbur, Executive Director of Equality California.
Minter said he has no idea what kind of timeline the court might establish.
Kick Big Tobacco OUT of California Political Campaigns launches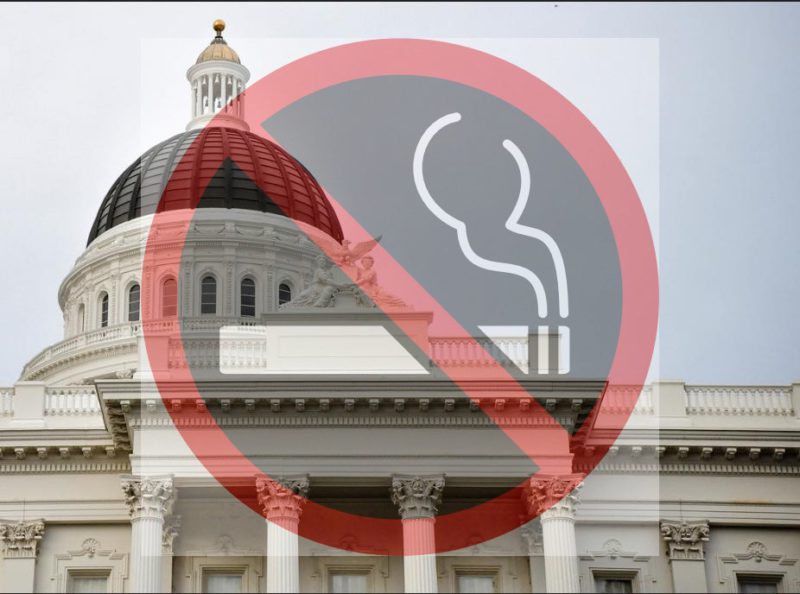 LOS ANGELES — The OUT Against Big Tobacco coalition supported by Equality California Institute launched a pledge last week urging California legislators and candidates to voluntarily refuse campaign contributions from the tobacco industry.
A total of sixteen legislators and candidates have taken the pledge thus far, with more expected to sign on as the 2022 campaign season gets underway.
The pledge was launched in conjunction with the American Cancer Society's Great American Smokeout, a national day in recognition of tobacco users who are looking to quit tobacco for good. LGBTQ+ people are more than TWICE as likely to smoke as our non-LGBTQ+ peers, and nearly 30,000 LGBTQ+ people across the country die every year of tobacco-related causes.
Initial signers of OUT Against Big Tobacco's pledge not to take tobacco industry campaign contributions include:
Senator Lena Gonzalez (D-Long Beach)
Senator Dave Min (D-Irvine)
Senator Scott Wiener (D-San Francisco)
Assemblymember Sabrina Cervantes (D-Corona)
Assemblymember Tasha Boerner Horvath (D-Encinitas)
Assemblymember Cottie Petrie-Norris (D-Laguna Beach)
Annie Cho, candidate for Assembly District 38
Supervisor Matt Haney, candidate for Assembly District 17
Daniel Hertzberg, candidate for Senate District 18
Mayor Christy Holstege, candidate for Assembly District 42
Bilal Mahmood, candidate for Assembly District 17
Mayor Lily Mei, candidate for Senate District 10
Caroline Menjivar, candidate for Senate District 18
Andrea Rosenthal, candidate for Assembly District 36
Rick Chavez Zbur, candidate for Assembly District 50
"For decades, Big Tobacco has used their profits to place themselves as friends of our community. This year we are kicking them OUT; out of our Pride, out of our organizations, and out of our politics," said Equality California Program Manager, Dr. Shannon Kozlovich. "We are calling all 2022 California State legislative candidates to stand with us and pledge to run tobacco free campaigns.
"The tobacco industry is killing our children, killing people of color, killing people that have underlying health conditions. We have to take a stand by not accepting tobacco contributions!" said Senator Lena Gonzalez.
In California's 2020 Senate and Assembly election cycle, tobacco companies spent $6 million on campaign contributions, while spending millions more lobbying against legislation to prohibit the sale of flavored tobacco products — products disproportionately targeted towards LGBTQ+ people, people of color and our young people.
"The tobacco industry serves no purpose other than to make people sick. Tobacco money is not essential for people to win" states Senator Scott Wiener.
California voters in a new poll say society will completely break down
QUESTION: Agree or disagree: I am worried that a complete breakdown in American society could happen in my lifetime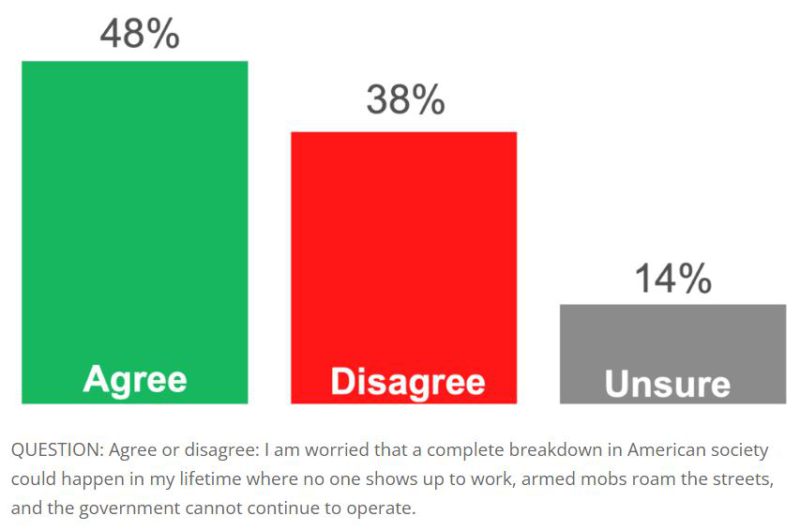 NEWPORT BEACH – A new poll released last Thursday by Probolsky Research found that a near majority of California voters think that a complete breakdown in American society could happen in the next couple of decades or so where no one shows up to work, armed mobs roam the streets, and the government cannot continue to operate.
QUESTION: Agree or disagree: I am worried that a complete breakdown in American society could happen in my lifetime where no one shows up to work, armed mobs roam the streets, and the government cannot continue to operate.
The results are even more dramatic among Republicans, 69% of whom say they are worried, and those fifty and older who say American society is on the brink. Black voters too.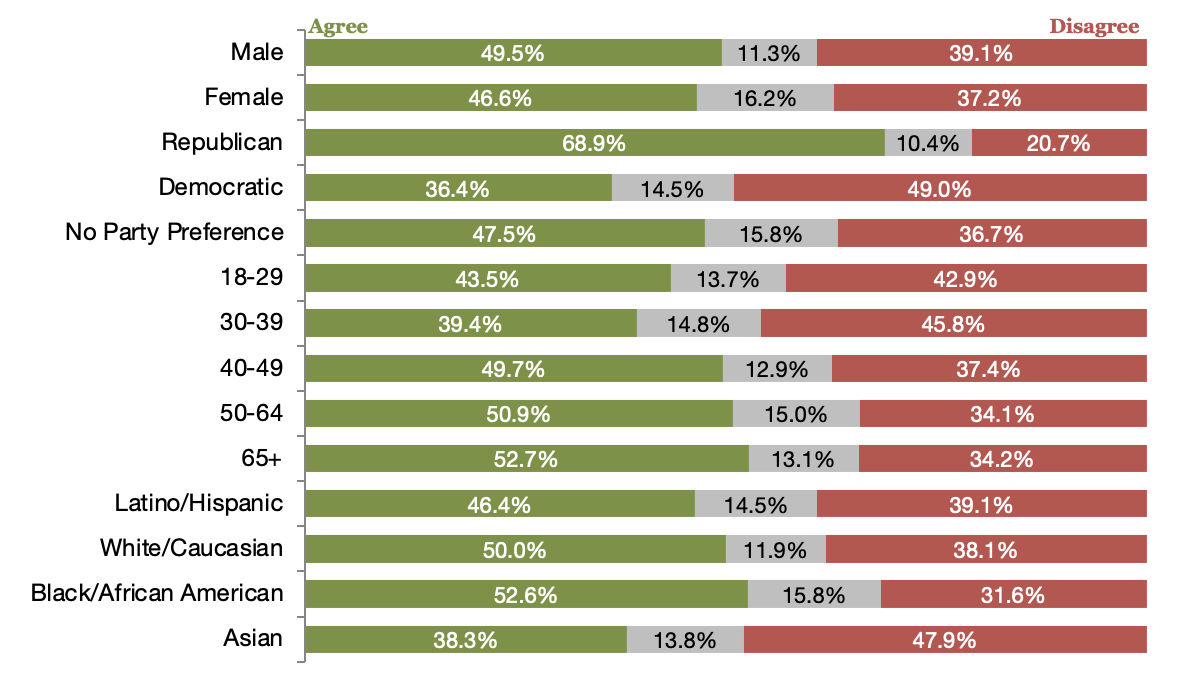 Full majorities in Los Angeles County, the Central Valley and Northern California also believe Californians are doomed, as do a majority of those who prefer to speak Spanish.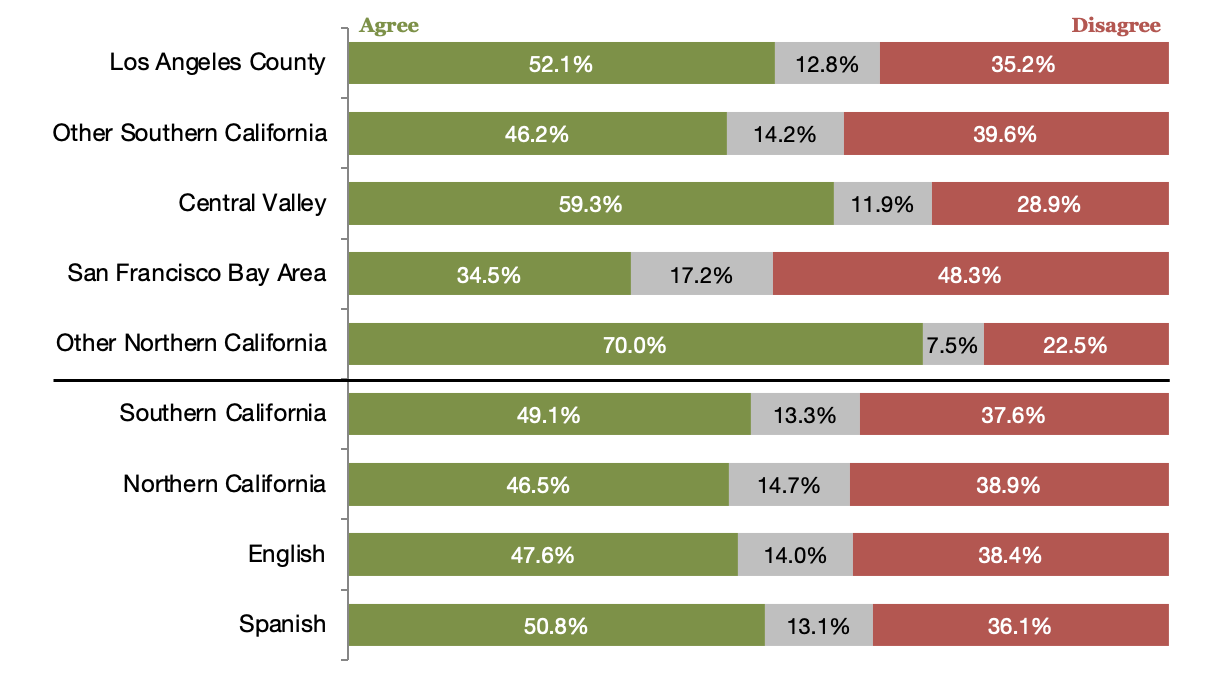 The multi-mode poll was conducted by telephone and online among 900 California voters from November 12 – 18, 2021. A survey of this size yields a margin of error of +/-3.3% and a 95% confidence level. This survey question was not sponsored by a third party, the results are being released for public interest.
Probolsky Research which conducted the poll is a non-partisan Latina- and woman-owned research firm with corporate, election, government, and non-profit clients.
Assembly Speaker strips Evan Low of committee chair- no reason stated
Speaker Anthony Rendon under fire from LGBTQ, diversity groups for sidelining one of California's top gay legislators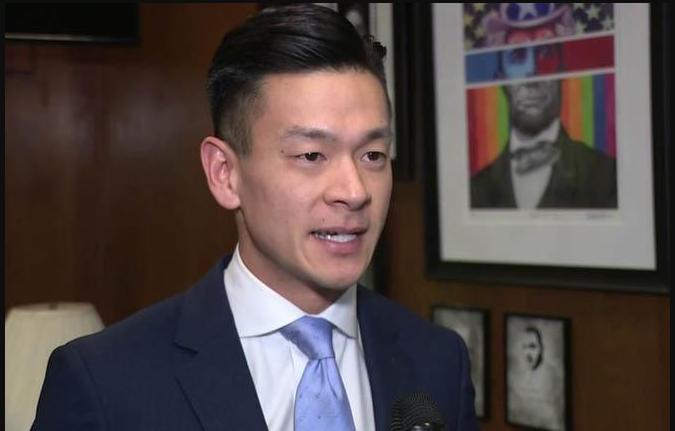 SACRAMENTO – The Speaker of the California Assembly Anthony Rendon (D-Los Angeles) abruptly stripped Assemblymember Evan Low (D-Campbell) of both of his positions as chairman and member of the Assembly's Business and Professions Committee Wednesday without a stated reason.
In a letter to Sue Parker, the Chief Clerk of the Assembly, Rendon named Assemblymember Marc Berman (D-Palo Alto) as Low's replacement without explanation. Low, who has served as chair of the committee for the past five legislative sessions, offered no direct comment instead stating in a release via his office; "It has been an honor to serve as chair of the Assembly's Business and Professions Committee, where my colleagues and I crafted legislation to help small businesses, combat the opioid crisis, implement a system to regulate legal cannabis, and work with Governor Newsom to protect patients and health professionals during the COVID-19 pandemic."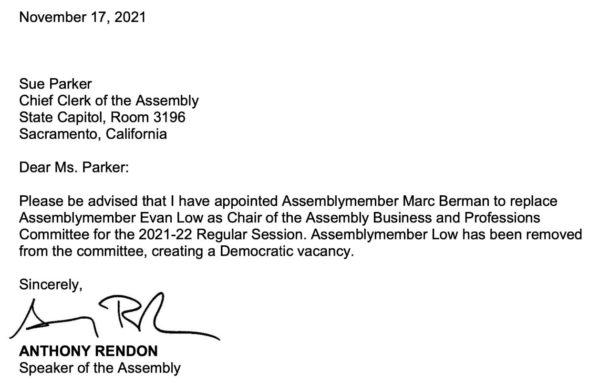 Low serves as Chair of the California Legislative LGBTQ Caucus and Vice Chair of the California API Legislative Caucus, his removal brought immediate condemnation from groups aligned with those marginalised communities.
"We are deeply disappointed to see Assemblymember Low removed as Chair of the Assembly Business and Professions Committee without any explanation. At a time when the API community faces a surge in hate, violence and discrimination, and state legislatures across the country relentlessly attack the LGBTQ+ community, Assemblymember Low has provided critical representation for our communities in Sacramento," Equality California said in a statement. "He has chaired the B&P Committee for the last five years with policy-driven and solution-oriented leadership. Removing Assemblymember Low as chair is an unfortunate example of people of color — especially API people — being sidelined from leadership roles despite demonstrated success and a commitment to strengthening and diversifying the Legislature."
The Washington D.C. based non-profit OCA-Asian Pacific American Advocates, a 48 year-old group that has chapters in all 50 states, dedicated to advancing the social, political, and economic well-being of Asian Americans and Pacific Islanders, tweeted their displeasure:
Assemblymember @Evan_Low remains a key leader and representative for both the AAPI and LGBTQ+ communities. Stripping him of the position moves California backwards in its work to protect and serve its constituents, many of whom are AAPI.

— OCA–Asian Pacific American Advocates (@OCANational) November 18, 2021
Assembly sources told the Blade over the past two days that Rendon's actions appear to be politically driven retaliation stemming from several factions who had approached Low to campaign for the Speaker's gavel this past summer, unhappy with Rendon's handling of the legislative calendar as well as his handling of certain matters on the Democratic agenda.
One source pointed out that "stripping him [Low] of his chair was ridiculous and a petty move that smacked of revenge on the Speaker's part given that he [Low] has held a personal fundraiser for Rendon and raised $120 thousand for the Speaker."
A legislative staffer speaking to the Blade on background Friday said that the optics of the Speaker's action was terrible. "You remove the gay lawmaker who heads the LGBT caucus and vice-chairs the Asian-PI caucus without reason? Look its clearly revenge- but Evan told those people he wasn't going to do an end run on the Speaker and he didn't."
"Speaker Rendon has the right to replace any committee chair, but he also has the responsibility to explain why. To remove Evan Low – the only out LGBTQ AAPI committee chair in the Assembly – from his position without explanation is problematic, especially with no other LGBTQ people serving as chairs. At a time when the LGBTQ community and the AAPI community face increasing harm, we need more bold leadership like Evan Low's, not less."

Annise Parker, LGBTQ Victory Institute President & CEO
Movement is afoot inside Assembly circles as disbelief is turning to anger. Another source speaking to the Blade on background said that the Speaker's action looks like it will backfire. "I've heard that some are saying they will go on the record in the next week- and some are really pissed off. He's [Rendon] annoyed the Black caucus, now the Asian caucus- the people thinking about to go on the record, that momentum is building."
The Speaker is not commenting nor making public statements as of Friday. One source told the Blade that a prominent non-profit leader had texted Rendon expressing grave concerns over what appeared to be a capricious move in removing Low and received no answer other than "Message received."
One of oldest LGBTQ non-profit political groups, The Bay Area Municipal Elections Committee (BAYMEC) a four-county LGBTQ political action committee (PAC) which has been advocating for the civil rights of LGBTQ people since 1984 in the central coast counties of San Mateo, Santa Clara, Santa Cruz, and Monterey, took to Twitter expressing its outrage.
Assemblymember Low's leadership has been crucial in responding to the crisis of hate and attacks against AAPI and LGBTQ+ people. To talk about elevating leaders that represent our communities while doing the opposite is mere lip service.

— BAYMEC (@BAYMEC) November 19, 2021
On the B&P Committee, Low has delivered results for all Californians. Removing the only openly LGBTQ AAPI committee chair in the Assembly is deeply troubling.

— BAYMEC (@BAYMEC) November 19, 2021
We demand an accounting of your actions against @Evan_Low and an explanation of how less diversity in leadership positions makes California a better place. @SpeakerRendon @Rendon63rd

— BAYMEC (@BAYMEC) November 19, 2021
The Bay Area Reporter noted that the Sacramento Bee first reported about Low being stripped of his chairmanship. His being removed means he no longer chairs any committees, as per Assembly rules its members are only given one chairmanship per legislative session. Low remains a member of the communications and conveyance; elections; governmental organization; and higher education committees.