An apparent Trump win is really a huge trans victory
'We get another bite at the apple,' says NCLR legal director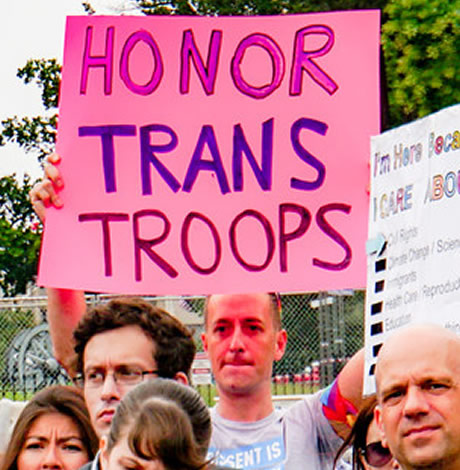 On first reading, the Reuters headline seemed like dismal news for transgender military servicemembers and advocates fighting the Trump trans ban. "U.S. Court Lets Trump Transgender Military Ban Stand, Orders New Review," the longtime wire service reported on a Friday ruling by the 9th Circuit Court of Appeals.
The opening paragraph doused the wound with lemon. "A U.S. appeals court handed President Donald Trump a victory in his effort to ban most transgender people from the military, ordering a judge to reconsider her ruling against the policy, which the U.S. Supreme Court has allowed to take effect," Reuters reported.
A three-judge panel issued a ruling in Karnoski v The State of Washington setting aside the positive April 18, 2018 ruling by District Court Judge Marsha Pechman saying the trans ban probably violated the constitutional rights of trans servicemembers, those seeking promotion and recruits. The 9th Circuit seemed to side with the Justice Department's appeal of her ruling, explicitly saying that Pechman had not given the military the due deference it usually receives in district courts. The court ordered the judge to try again.
"That finding could strengthen Trump's position, though the government still had the burden of justifying his policy," Reuters reported, a policy that Trump announced by tweet in 2017.
And therein lies the hitch upon which the trans ban twists.
"We get another bite at the apple," an excited Shannon Minter, Legal Director for the National Center for Lesbian Rights, told the Los Angeles Blade. The 9th Circuit ordered Pechman—one of four federal court judges to rule against Trump's ban—to review the case again, but this time under heightened scrutiny. That shifts the burden of proof from the trans plaintiffs and their backers to the federal government and affords an opportunity to get to the merits of the case.
Last January, when the Supreme Court voted 5-4 to lift the nationwide injunction against the trans military ban going into effect, many in the LGBT community were crushed. Dreams of service, fulfilling legacies, education and job opportunities were put on hold. Trans servicemembers on the brink of coming out—as previously encouraged by the Obama administration—jumped back into the closet lest they lose their careers in a witch hunt.
Trans individuals were allowed to serve in the armed forces, the Pentagon said, as long as they served in their birth sex and endured the inhumane indignity of inauthenticity. But the Pentagon insisted it did not target trans individuals for discrimination. The ban pertained more to medical issues and costs and unit cohesion—all of which had been addressed by a RAND Study commissioned by Defense Secretary Ash Carter, who lifted the ban on open trans service in June 2016 with policy backing from President Barack Obama.
"As always, we treat all transgender persons with respect and dignity," Lt. Col. Carla Gleason, a Pentagon spokesperson, told CNN after the Supreme Court decision on Jan. 22, 2019. The Defense Department's "proposed policy is NOT a ban on service by transgender persons. It is critical that DoD be permitted to implement personnel policies that it determines are necessary to ensure the most lethal and combat effective fighting force in the world. DoD's proposed policy is based on professional military judgment and will ensure that the U.S. Armed Forces remain the most lethal and combat effective fighting force in the world,"
On Friday, the 9th Circuit said refuted the DoD, saying the government "discriminates on the basis of transgender status." Importantly, the 9th Circuit also said that a policy that discriminates on that basis can only be upheld if it meets the same tough standard applied to policies that discriminate based on sex. That elevates transgender people to the same protected constitutional status to gender. That's a game-changer.
And, since nether the Supreme Court nor the 9th Circuit ruled on the merits of the case, trans advocates have an opportunity to dramatically expose the cruelty behind the targeted unconstitutional discrimination. In the meantime, all trans cases in the 9th Circuit jurisdiction must be considered under heightened scrutiny with the anti-trans policies providing evidence of "exceedingly persuasive justification."
"This outcome in Karnoski v. Trump is no surprise, since the Supreme Court already lifted Pechman's injunction," wrote Slate's Mark Joseph Stern.  "The 9th Circuit found that Pechman hadn't properly assessed whether former Defense Secretary James Mattis' final implementation plan shored up the legality of the ban by providing the "considered military judgment" absent from Trump's impromptu tweets and the resulting scramble to rationalize them."
"We are pleased that the Ninth Circuit recognized that the district court was wrong to prevent the Department of Defense from applying its policy and also wrong to disregard the confidentiality of matters protected by executive privilege.  The Department of Defense will be able to continue implementing a personnel policy it determined necessary to best defend our nation, and the Department of Justice will continue defending that policy as the litigation continues," DOJ spokesperson Kelly Laco said in a statement.
"Well, it's not a surprise that the government is focusing on the fact that the Ninth Circuit technically reversed the district court's refusal to dissolve the preliminary injunction.  That is true, of course—that is the immediate impact of the ruling," Minter told the Los Angeles Blade. "But to note only that is to miss the forest for the trees.  The ruling could have reversed the district court and held that the Mattis plan is likely to be constitutional and cannot be enjoined.  Instead, it vacated and remanded the issue back to the district court, with instructions that the court should issue a new decision taking into account the panel's determination that the Mattis plan (contrary to the government's argument) targets transgender people and that such discrimination is subject to a very serious level of constitutional scrutiny."
That more serious level of scrutiny also enables the plaintiffs to question more deeply how Mattis arrived at his recommendations for the current policy. The Los Angeles Blade, Politico, and ThinkProgress have all reported extensively on how Trump's anti-trans tweets originated with anti-LGBT Vice President Mike Pence and his evangelical followers.
As reported in the Washington Blade, on May 16, 2019, 85 conservative leaders, many like Tony Perkins, head of the Family Research Council, and scores of retired anti-LGBT military officers, issued a statement opposing transgender service.
"Conservative leaders urgently suggest that the Trump Administration review and rescind the Obama-era policies that hinder military readiness and overall effectiveness," the statement said. "Politically correct policies have been imposed largely through administrative fiat. They can be removed in like manner while further study and congressional guidance is obtained. The most problematic policies in this category are those addressing the presence of transgender individuals in the military."
"While the liberal media insists no thought went into the president's tweets, the administration has been coordinating with military attorneys behind the scenes for days," Family Research Council president and leading social conservative activist Tony Perkins wrote in a blog post, The Christian Post confirmed Aug. 11, 2017. "Fortunately, a Pentagon working group had already been established to deal with the issue as part of Defense Secretary James Mattis's order to delay the enlistment of people confused about their gender."
The Southern Poverty Law Center, which considers the Family Research Center to be a hate group, wrote this about how they work:
"To make the case that the LGBT community is a threat to American society, the FRC employs a number of 'policy experts' whose 'research' has allowed the FRC to be extremely active politically in shaping public debate. Its research fellows and leaders often testify before Congress and appear in the mainstream media. It also works at the grassroots level, conducting outreach to pastors in an effort to 'transform the culture.'"
There is a good possibility a motive with animus attached might be discovered during the review process. "On the discovery front, the Ninth Circuit similarly held that the plaintiffs are entitled to discovery about the process and provided the district court with a clear road map of how to proceed (including requiring the plaintiffs to make targeted requests and reviewing sensitive documents in camera)," Minter told the Los Angeles Blade.
"In a nutshell, the government's comment focuses only on one narrow aspect of the ruling and disregards the larger picture, which has opened the door for the plaintiffs to seek a new order enjoining the ban. That is a real game changer and a hugely positive development for the plaintiffs."
The 9th Circuit ruling also applies to Stockman v. Trump, a challenge brought by Equality California on behalf of its members and seven individual plaintiffs. GLAD and NCLR are counsel in Stockman, along with Latham and Watkins LLP.
The State of California also joined the Stockman v. Trump suit. "Our office is reviewing the decision and will be working closely with our co-plaintiffs on next steps in the Stockman litigation," a spokesperson for California Attorney General Xavier Becerra told the Los Angeles Blade.
"This is a hugely positive development.  The Ninth Circuit recognized that the Mattis plan clearly targets transgender people, and that the government faces an uphill battle in justifying it," said Jennifer Levi, Director of Transgender Rights Project at GLBTQ Legal Advocates & Defenders (GLAD) in a statement.
"Equality California welcomes this opportunity to once again make the case for why this ban is harmful to transgender servicemembers, to their families and to our nation's military. Excluding qualified, dedicated Americans who want nothing more than to serve our country is not only irrational, it is deeply contrary to the military's own values of judging individuals based on merit, not on irrelevant characteristics that have nothing to do with their fitness to serve," said Rick Zbur, Executive Director of Equality California.
Minter said he has no idea what kind of timeline the court might establish.
Governor Newsom & Legislative Leaders to expedite gun reform legislation
"California will not stand by as kids across the country are gunned down- Guns are now the leading cause of death for kids in America"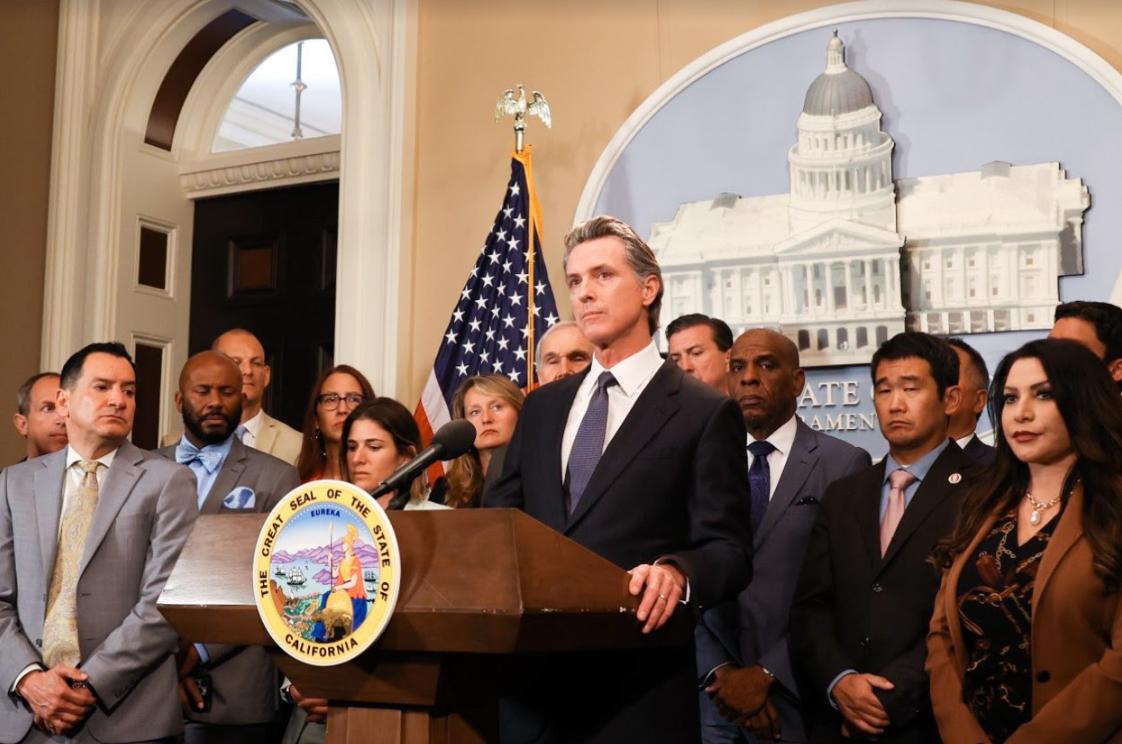 SACRAMENTO – Following a mass shooting at an elementary school in Texas that left at least 19 children and two adults dead Tuesday, Governor Gavin Newsom, Senate President pro Tempore Toni G. Atkins (D-San Diego) and Assembly Speaker Anthony Rendon (D-Lakewood) announced California will expedite commonsense gun safety laws that will protect people from gun violence.
"California will not stand by as kids across the country are gunned down," Governor Newsom said. "Guns are now the leading cause of death for kids in America. While the U.S. Senate stands idly by and activist federal judges strike down commonsense gun laws across our nation, California will act with the urgency this crisis demands. The Second Amendment is not a suicide pact. We will not let one more day go by without taking action to save lives."
"We have gotten to a point where we can't live our lives without the very real fear that every time we say goodbye to our children, spouses, and friends, it could be the last," said Senate President pro Tempore Toni G. Atkins (D-San Diego).
"These dreadful, devastating tragedies have to stop. Every politician, judge, or Supreme Court Justice who has opted to put more guns on our streets needs to resign today and hang their heads in deep shame. We have to do everything in our power to get guns out of our classrooms and grocery stores and away from people who should never have them. That includes our work this week to move expeditiously on more than a dozen bills that make our communities safer, and I'll be continuing to work alongside Speaker Rendon and Governor Newsom to ensure that these bills move swiftly through the legislative process so that they can start to make positive change in our communities."

"In the face of repeated tragedies in our state and elsewhere, California remains committed to doing everything we can to stem the violence," said Assembly Speaker Anthony Rendon. "As a society, we must do better."

"There have been more mass shootings in the U.S. in 2022 than days in the year," said California Attorney General Rob Bonta.
"In California, we refuse to accept the current norm. We will continue to call on our federal leaders and neighboring states to do more, because our nation's current standard for preventing gun violence is unacceptable. Our children should not suffer this burden. Active shooter drills, metal detectors, and schools that look like prisons are not the answer — we need commonsense gun safety laws. We are sick and tired of seeing young and promising lives cut short due to gun violence. We at the California Department of Justice and leaders throughout California know that addressing gun violence is critical to public safety. As your Attorney General, I vow to do much more than send thoughts and prayers — I will use the full force of the law and my office to end gun violence."
An initial package of bills the Governor has committed to signing include:
AB 2571 (Bauer-Kahan) – Restricts advertising of firearms to minors
AB 1621 (Gipson) – Restricts ghost guns and the parts and kits used to build them
SB 1327 (Hertzberg) – Creates private right of action to limit spread of illegal assault weapons and ghost guns
AB 1594 (Ting) – Allows governments and victims of gun violence to sue manufacturers and sellers of firearms
Governor Newsom and legislative leaders said they will continue working together to expedite additional bills pending before the legislature aimed at curbing gun violence and increasing safety in California communities.
"I heard the news about Uvalde, just as I was getting ready to pick up my kids from school. I can see how this can happen at any school, anywhere in the country," said Assembly Member Miguel Santiago who represents a portion of downtown Los Angeles.
"This comes on top of shootings in Buffalo, Laguna Hills, and at Grand Central Market one block from my District Office. We need stricter gun laws and we need them right now! That's why I'm proud to join Governor Newsom and legislative leaders in the call for gun safety laws. I am also co-authoring AB 1594 (Asm. Ting) which helps gun violence survivors pursue legal action against gun manufacturers and AB 1621 (Asm. Gipson) which will help us get ghost guns off our streets for good," Santiago added.
Trans Inclusive Health Care Act passes California State Senate
This first-in-the-nation legislation will help create a more inclusive and culturally competent healthcare system for TGI people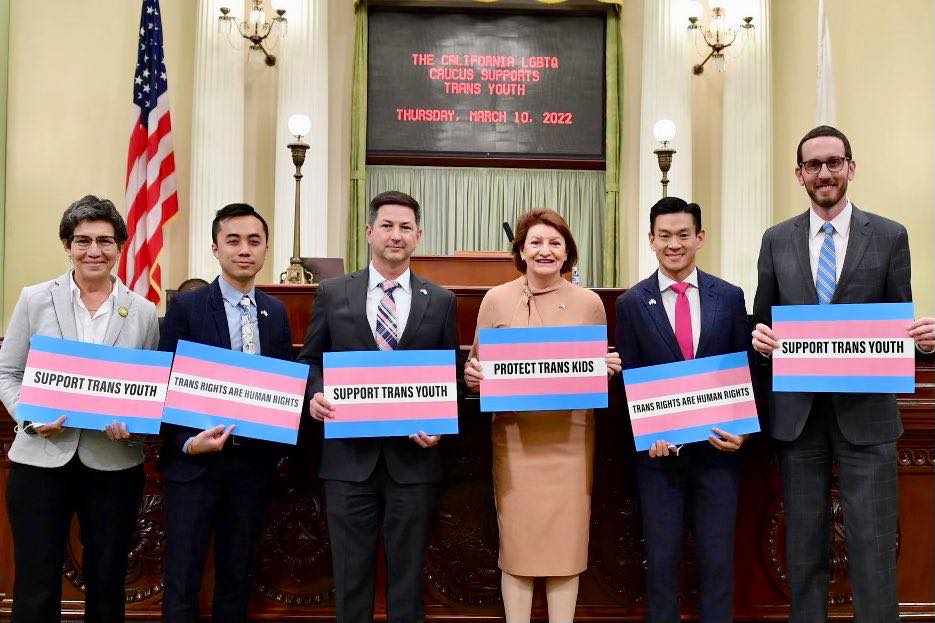 SACRAMENTO – Senator Scott Wiener's (D-San Francisco) Senate Bill 923, the TGI Inclusive Care Act passed the Senate by a vote of 28-6. It now heads to the Assembly for policy committee hearings.
This first-in-the-nation legislation will help create a more inclusive and culturally competent healthcare system for TGI (transgender, gender non-conforming, and intersex) people in California by requiring:
● That physician Continuing Medical Education (CME) include evidence-based cultural competent studies to help physicians provide inclusive care for TGI people
● That the Health and Human Services Agency issue enforceable quality standards for treating TGI patients
● That health insurance companies provide TGI cultural competency training for their employees
● That health insurance companies, in their network directories, include a list of providers who offer gender-affirming services, so that TGI people know where to go for specialized care
● That the relevant oversight agencies track and monitor complaints relating to TGI-inclusive care and publicly post findings in their annual reports or website
SB 923 comes at a time when LGBTQ people — and particularly transgender children — are under attack across the country by right-wing state leaders. Many of those attacks seek to criminalize gender-affirming care.
In February, Texas Governor Greg Abbott issued an executive order making it illegal for parents to allow their trans kids to receive gender-affirming care. These parents could have their children taken away and be sent to prison simply for allowing their children to be who they are and receive this necessary care.
Abbott called gender-affirming care "child abuse."
Alabama just enacted a law imposing ten-year state prison sentences on parents and physicians who allow or provide gender-affirming care to their children.
In Florida, Governor Ron DeSantis signed the "Don't Say Gay" law, banning discussions about gender identity and sexual orientation from public school classrooms.
"As more and more red states ban gender-affirming care and try to erase LGBTQ people, California must step up to ensure strong access to health care," said Wiener. "That includes ensuring that trans people are treated with respect and dignity by health care providers. While many health care professionals provide excellent care to trans people, more work remains. Improved training, clear standards, and improved network directories will result in better care for TGI people."
While LGBTQ kids are under attack in Texas, Alabama, Florida, and other states, SB 923 shows a different path forward — one in which quality gender-affirming care is provided for anyone who needs it, with providers going above and beyond to treat TGI patients with the respect and care they deserve.
Healthcare discrimination and a lack of access to culturally competent care is a major problem that many TGI people regularly face. The National Center for Transgender Equality reports that one-third of all transgender individuals who saw a healthcare professional in 2014 had at least one negative experience related to being transgender, with even higher rates for people of color and people with disabilities. These negative experiences include being refused treatment, verbally harassed, physically or sexually assaulted, or having to teach the provider about transgender people in order to receive appropriate care.[1]
This is especially problematic given that TGI people, compared with the general population, suffer from more chronic health conditions. TGI people experience higher rates of health problems related to HIV/AIDS, substance use, mental illness, and sexual and physical violence, as well as a higher prevalence and earlier onset of disabilities that can also lead to longterm health issues. Sadly, 23% of transgender individuals reported that fear of discrimination caused them to postpone or not receive necessary medical care.[2]
Moreover, while all health plans are required to cover gender-affirming care, it can be difficult for TGI patients to actually find providers who routinely offer this care. This is a major impediment to TGI people accessing the care they need.
Every person deserves to receive quality, compassionate health care from understanding, informed, and respectful providers – providers who don't make assumptions about their gender or sexuality, and who honor their bodily autonomy. TGI people already face so many obstacles outside of the healthcare system, including higher rates of violence, workplace discrimination, ostracization from families and religious communities, and housing discrimination. Going to the doctor should not mean facing additional discrimination or unecessary hardship.
TGI people should have access to positive healthcare experiences. This includes seeing providers who are able to give them the care they need in a non-judgmental and supportive environment, and being able to search for providers who provide gender-affirming services (gender-affirming services include but are not limited to: chest reconstruction, mastectomy, facial feminization surgery, hysterectomy, voice masculinization or feminization, hormone therapy related to gender dysphoria or intersex conditions, gender-affirming gynecological care, or voice therapy related to gender dysphoria or intersex conditions). Gender-affirming care is critically important health care, and anyone who needs it should be able to find and access it.
The TGI-Inclusive Care Act will help create a healthcare system that meets the needs of TGI people, and provide a more positive patient experience.
SB 923 is sponsored by the California LGBTQ Health and Human Services Network, Equality California, National Health Law Program Trans Community Project, TransFamily Support Services, and Western Center on Law & Poverty. It is co-authored by Assemblymembers Sabrina Cervantes (D-Corona), Evan Low (D-San Jose), Alex Lee (D-Fremont), and Cristina Garcia (D-Bell Gardens).
Senator Wiener's No Tax Exemption for Insurrection Act, passes Senate
Senate Bill SB 834 strips state tax-exempt status from organizations that engage in or incite insurrection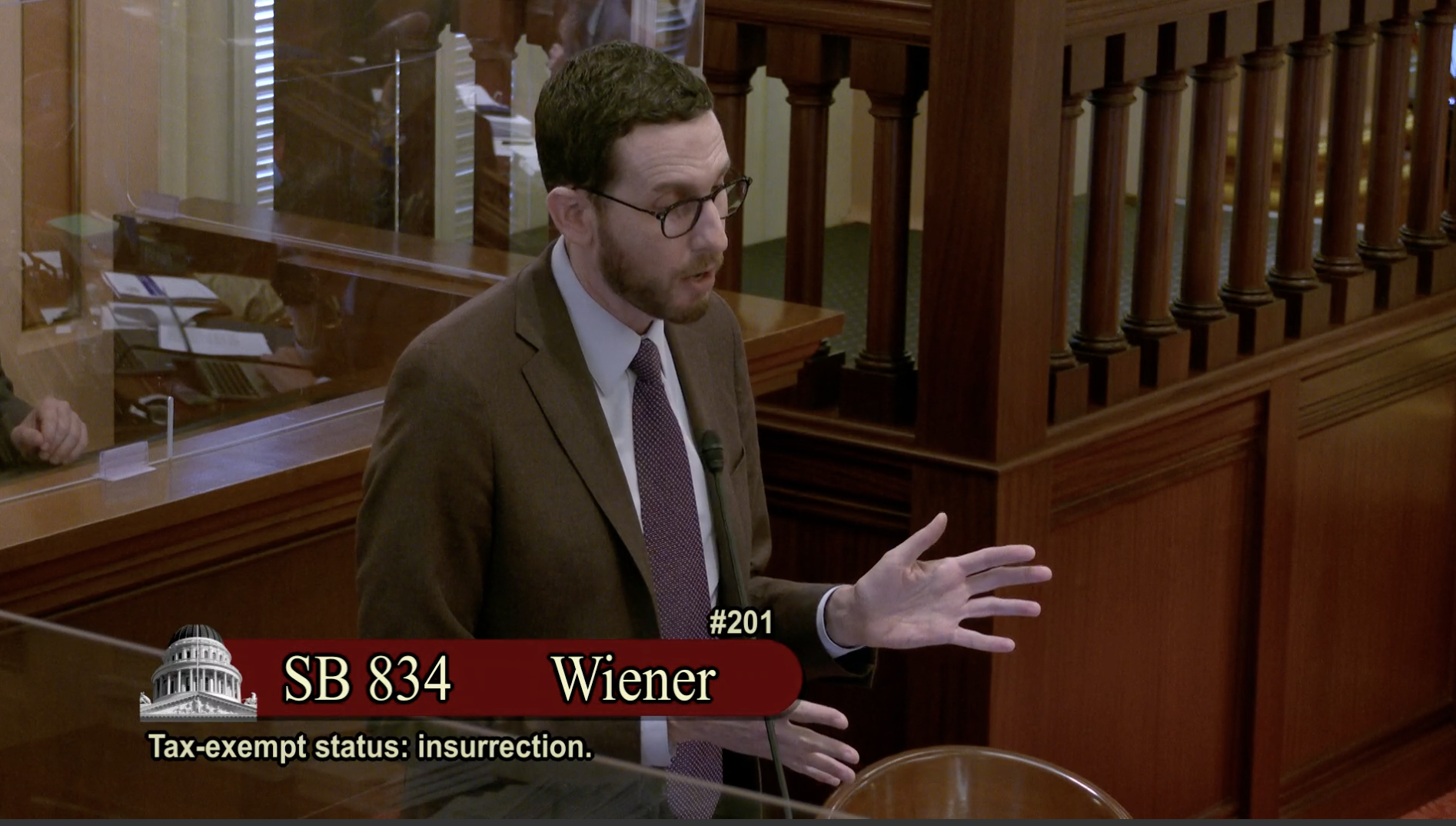 SACRAMENTO – Senator Scott Wiener (D-San Francisco)'s Senate Bill 834, the No Tax Exemption for Insurrection Act, passed the Senate by a vote of 28-0 Monday. It will now head to the Assembly for policy committee hearings.
SB 834 is a first-in-the-nation bill that will revoke the California tax-exempt status of nonprofit organizations that participate in or incite efforts to overthrow the United States government or any state government. Nonprofit organizations have used the "Big Lie" – the fraudulent notion that the 2020 election was stolen – to fundraise for and funnel money to extremist and anti-democratic initiatives like the January 6 insurrection.
Tax-exempt status is a privilege, not a right, and organizations that engage in or incite insurrection or conspiracy to commit insurrection – both of which are illegal – should not be given this special status to help them fundraise. Moreover, non-California nonprofits should not be able to register to raise money in California if they are engaging in or inciting insurrection.
"On January 6, 2021, the peaceful transfer of power in our democracy was threatened," said Wiener. "And for the first time since the Civil War, people died as a result. We cannot and will not let organizations that aid and abet insurrection – that break the law by trying to overthrow the U.S. government – operate with tax-exempt status. The people of California should not be subsidizing insurrection."
The January 6, 2021 insurrection took place, when pro-Trump extremists – in response to the false narrative that the Democrats "stole" the 2020 election and incited by then-President Donald Trump – breached the United States Capitol. Five people were killed as a result of this insurrection, and hundreds were injured.
Vice President Pence and Speaker Pelosi were specific targets of this violent attack on the nation's democracy. Many nonprofits that supported the insurrection and continue to perpetuate lies about the 2020 election in hopes of overturning the results still operate with tax-exempt status, both at the federal and state level.
SB 834 clarifies the Franchise Tax Board's authority to revoke the California tax-exempt status of a nonprofit organization if the California Attorney General determines that the nonprofit has actively engaged in, or incited: treason, misprision of treason, insurrection, seditious conspiracy, advocating overthrow of the government or the government of any State, or advocating mutiny by members of the military or naval forces of the United States (1.)
Under SB 834, if the Attorney General finds that a nonprofit organization has incited, or actively engaged in actions that are directed to or likely to imminently violate one or more of these crimes, they will notify the FTB, which then will have the ability to revoke the nonprofit's tax-exempt status.
For out-of-state nonprofits that engage in or incite insurrection, they will be prohibited from registering to raise money in California.
The United States Supreme Court has ruled that the purpose of charitable organizations claiming tax-exempt status "may not be illegal or contrary to public policy." Trying to overturn elections and violently attacking our legislators fits the bill. SB 834 will ensure that these organizations no longer claim this financial advantage.
Tax-exempt nonprofits are not required to pay corporate income taxes and may be exempt from other taxes as well. Additionally, donations to many nonprofits are deductible from income taxes, and private foundations and donor-advised funds can only donate to tax-exempt nonprofits. Private foundations and donor-advised funds represent a major funding source for many nonprofits.
Authoritarian and anti-democratic organizations have increasingly used the "Big Lie" to fundraise, and this narrative has driven millions of dollars in tax-exempt donations. And many new organizations have cropped up in the past year, hoping to ride the coattails of the insurrection and cash in.
These include California nonprofits and nonprofits registered in other states that fundraise in California. These organizations, which are fundamentally undermining our democracy and cheering for the destruction of free and fair elections in America, should not be allowed to operate with advantages like tax-exempt status.
For example, the leader of the "Oath Keepers," a national militia movement, was charged with seditious conspiracy. While the Oath Keepers does not have California tax-exempt status, it has an "educational foundation" with federal exempt status and tax-exempt branches in several states. In the words of one expert, "It can only be presumed that [funds contributed to the Oath Keepers], which [donors were] able to deduct from their federal taxes, went to transporting and lodging members of the group slated to participate in the ensuing riots." (2.) These organizations should not be allowed, under any circumstances, to use tax write-offs to help fund illegal activities.
There is precedent for making this distinction in California's tax code. Under federal and California law, for instance, if a nonprofit organization supports terrorism, its tax-exempt status is suspended. The nonprofit organizations that support insurrection should receive the same treatment.
Citations:
1. USC §§ 2381-2385, 2387
2. "Dollars against Democracy: Domestic Terrorist Financing in the Aftermath of Insurrection," Virtual Hearing before the Subcommittee on National Security, International Development and Monetary Policy of the Committee on Financial Services, U.S. House of Representatives, Feb 25, 2021.
Senators Josh Becker (D-Peninsula), Dave Min (D-Irvine), Josh Newman (D-Fullerton), Anthony Portantino (D-La Cañada Flintridge), Tom Umberg (D-Orange County), and Bob Hertzberg (D-Van Nuys) are co-authors of this bill. Assemblymembers Buffy Wicks (D-Oakland), Phil Ting (D-San Francisco), Cristina Garcia (D-Bell Gardens) and Marc Berman (D-Menlo Park) are also co-authors of SB 836. Assemblymember Kevin Mullin (D-San Mateo) is principal co-author.