Kamala Harris wants your vote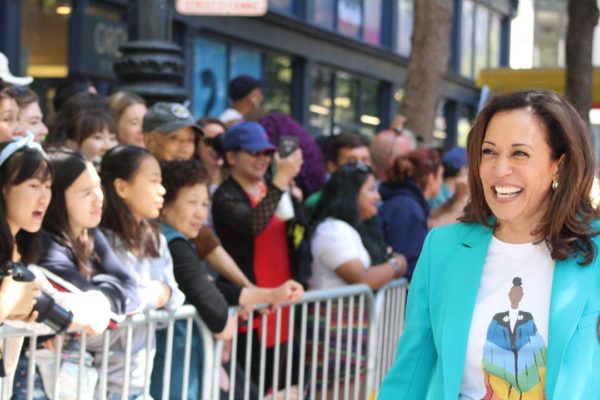 The conflict is internal. It's a secret struggle, really, that Kamala Harris has been forced to face in public. The Democratic presidential candidate doesn't like to brag. It's unbecoming, it's immodest, it places the individual ahead of the community. Instead, Harris, who was inculcated in the spirit of the 1960s civil rights and social and economic justice movements, profoundly believes in community and coalition building.
"That's exactly how I was raised," Harris tells the Los Angeles Blade in a June 18 phone interview. "It's not about you. It's about getting the job done."
The job done of winning the presidency means not taking any group or voter for granted, including the LGBT community. Harris' struggle to tout her own achievements, which she discusses in her memoir The Truths We Hold: An American Journey, stands in sharp contrast to the man she intends to defeat, Donald Trump, the biggest chest-pounding, klieg lights-seeking braggadocio con artist the world has seen in decades. Harris, a former district attorney and California attorney general who believes Trump is a racist, thinks the House should launch impeachment proceedings into the president's illegal behavior. She also thinks Trump should be prosecuted after he leaves office.
Some wonder if Harris is "tough enough" to go up against Trump. They need only look at her precision prosecution of Attorney General Jefferson Beauregard Sessions during a Senate Intelligence Committee hearing. Despite being interrupted by her Republican colleagues, Harris forced the flabbergasted Sessions to throw his hands in the air. "I'm not able to be rushed this fast!" Sessions said, as if needing a fan and mint julep. "It makes me nervous."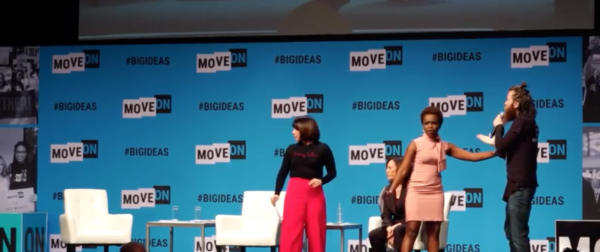 Or juxtapose a visibly frightened Trump crouching behind a lectern during a disturbance at a rally before four burly men rushed to his rescue—to Harris who was initially surprised but sat calmly when a white man rushed the stage, grabbed her microphone and had only black lesbian MoveOn.org communications director Karine Jean-Pierre for protection.
Harris calmly walked off the stage, smiling, while the man was hustled away. She then calmly returned to deliver her talk about pay equity. No one talks about the courage it takes for Harris to stand alone onstage, despite what one presumes is an ongoing avalanche of death threats from Trump supporters.
The field of 23 Democratic presidential contenders is expected to narrow after the June 26-27 debates. But while Harris is top-tier, she is not a shoo-in for the nomination, which is still a long ways away.
"I hate to say this—but we need a man. Nothing against her. I'm sure she's smart and great. But I'm going with Joe Biden. He's got thick skin and he's the only one who can beat Trump," one white gay man tells the Los Angeles Blade on background.
Biden's "thick skin" is now under scrutiny. Though he had been advised against it, on Juneteenth, the former vice president cited working with notorious racist segregationist senators James Eastland (a Mississippi plantation owner who believed integration would lead to ""mongrelization") and Herman Talmadge (who as Georgia governor closed schools rather than desegregate) as an example of civility and bipartisanship.
New Jersey Sen. Cory Booker, an African American presidential candidate, was offended and said Biden should apologize. Biden took umbrage and pushed back. "Cory should apologize," Biden told reporters. "He knows better. There's not a racist bone in my body; I've been involved in civil rights my whole career. Period. Period. Period."
Harris said Biden's remarks concerned her "deeply. If those men had their way, I wouldn't be in the United States Senate and on this elevator right now," she told Capitol Hill reporters.
It is unclear if Biden, the frontrunner in the race for the Democratic presidential nomination, will lose support as some younger progressive politicos claim he is "out of touch" with current sensibilities around race, while older politicos try to explain his gaffe.
Several younger LGBT voters support South Bend, Ind. Mayor Pete Buttigieg, who smartly talks about the future. They think Buttigieg, a vet who served in Afghanistan, can take down the bully Trump and shame him for ducking the Vietnam War. Buttigieg has stepped off the campaign trail to deal with the shooting of a black man by a while police officer in South Bend, which has resurrected past racial complaints over a housing policy. But Buttigieg will be standing next to Biden during the second Democratic debate on June 27, a visual that screams generational divide.
Harris will be standing next to Vermont Sen. Bernie Sanders and New York Sen. Kirsten Gillibrand.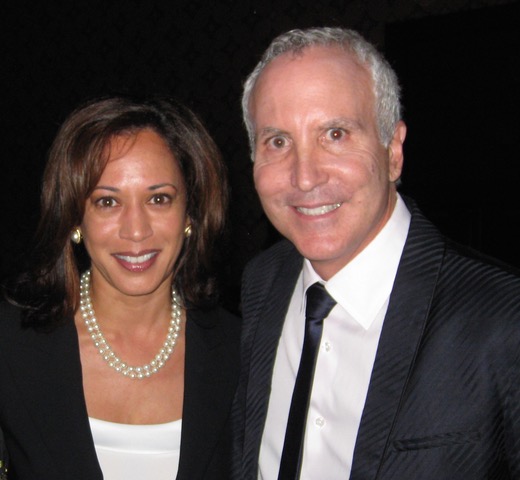 California Attorney General candidate Kamala Harris with Equality California Executive Director Geoff Kors at an EQCA event (Photo by Karen Ocamb) 
Harris will have a strong LGBT cheering section glued to TVs across California, including longtime friend Mark Leno, the first openly gay man elected to the State Senate who brought Harris to her first Human Rights Campaign gala in 1999 and Palm Springs City Councilmember Geoff Kors who, as executive director of Equality California, first introduced Harris to the broader LGBT community when she was the San Francisco DA running for attorney general.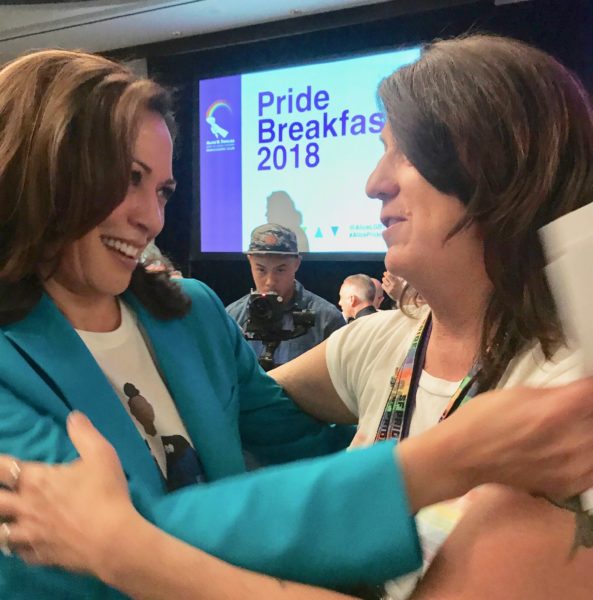 Sen. Kamala Harris and Kate Kendell, Campaign Manager for
Take Back the Court, at a Pride event (Photo courtesy Kendell) 
Kors and Kate Kendell, former executive director of the National Center for Lesbian Rights, also worked closely with Harris when San Francisco Mayor Gavin Newsom decided to issue marriage licenses to same sex couples in 2004 and Harris was recruited to officiate at City Hall. They teamed up again to fight the anti-gay marriage Prop 8, which her 2010 opponent, Republican LA DA Steve Cooley supported.
Kris Perry, former plaintiff in the federal lawsuit against Prop 8, whose wedding to Sandy Stier Harris officiated when Prop 8 was defeated, tells the Los Angeles Blade she supports Harris "100%." Perry's son Spencer works on Harris' presidential campaign.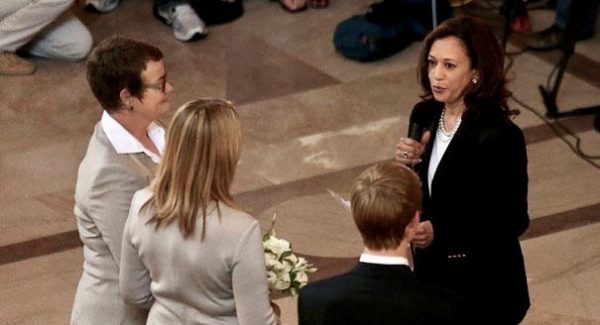 Attorney General Harris officiating at the wedding of Kris Perry and Sandy Stier, with Elliot Perry looking on. (Photo courtesy Perry)
The documentary "The Case Against 8"  shows the wedding and the moments before when fellow Prop 8 plaintiffs Paul Katami and Jeff Zarrillo in LA are being told to "step aside" to let straight couples get their licenses since the Los Angeles County Registrar/Clerk's had not yet received official word from the state to go ahead after the Supreme Court decision. The couple is stunned but their legal team gets Harris on the phone—she's celebrating with Perry & Stier, Chad Griffin, Cleve Jones and others in San Francisco—and Harris directs Clerk Dean Logan to start the marriages now. She tells him to "enjoy it." Logan says he will—he's a strong LGBT ally.
Interestingly, Harris confirms that she intentionally uses the couple in her book as an example of finding the commonality in people. In the chapter "Wedding Bells," she talks about Prop 8 and officiating at their wedding—and then, in the same chapter, she talks about meeting, falling in love with and marrying white California attorney Doug Emhoff, who brings to the interracial marriage two adult step-children. Thought there is no blaring neon light signaling her intention, Harris uses her own personal story and a public exercise of her office to illustrate that a straight inter-racial couple and a lesbian couple, both with children folded into a blended family, have the experience of love in common.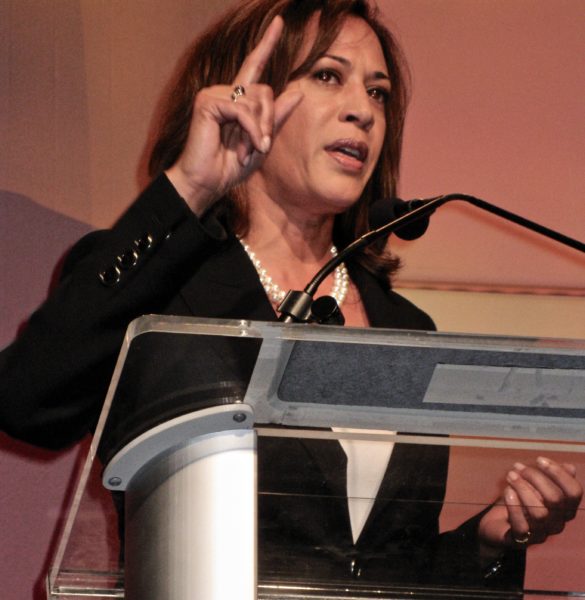 Attorney General Harris at Equality California event (Photo by Karen Ocamb) 
Indeed, while Harris works at finding commonality and building coalitions, she is herself the walking positive personification of intersectionality and an example of why identity politics still serve to combat invisibility and under-representation.
Her brilliant parents immigrated from Jamaica and India. She fought hard to become the first female, the first black and the first Asian-American district attorney in San Francisco. Then she fought to become California's first female, black, and Asian-American attorney general. She then the second black woman in U.S. history to win a Senate seat.
"I grew up exposed to many cultures, and it certainly did teach me from birth about the fact that people have so much more in common than what separates them," Harris tells the Los Angeles Blade. "I didn't have to learn it from reading about it. I didn't know the word 'intersectionality' but I've always known the commonality between people. A mother's love for her child, a parent's desire for their family to be healthy and safe. These are universal truths, regardless of the last name and how you spell it, or what your grandmother's language is, or the God you pray to. That's how I've always lived my life, which is knowing the commonality between people."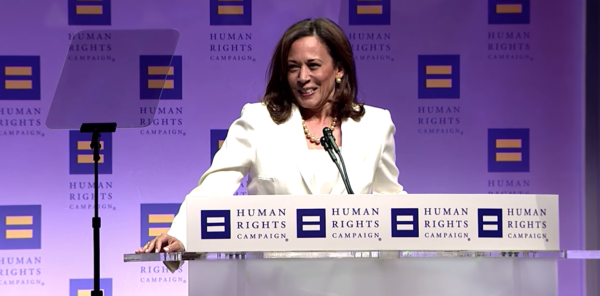 It was a point she made in her Oct. 31, 2017 keynote HRC address in Washington DC.:
"I believe this is a moment when our country is witnessing an assault on our deepest values and ideals. Where people don't trust our government, its institutions, or leaders.

So to restore that trust, HRC I believe we must speak truth.

Even when it makes people uncomfortable.

Even when others are silent.

And as the poet Audre Lorde reminds us, "there are so many silences to be broken."

So let's speak truth. From Charlotte to Charlottesville, we have been reminded racism in this country is real.

Sexism, anti-Semitism are real in this country.

Homophobia and transphobia are real in this country.

And we must speak that truth, so we can deal with it…..

And we need to speak another truth. That despite the forces of hate and division that are trying to tear us apart, Americans have so much more in common than what separates us. That is a truth.

I remember, for example, many years ago I was sent to go speak in the Castro to a group of young gay men. I was there – apparently you were too – I was there campaigning against a ballot measure that would have required young women to notify their parents before getting an abortion.

And so I was going to speak in this home in the Castro with a group of twenty, thirty year old men, and I remember scratching my head, thinking "Ok now what am I going to say to this group that for the most part has not had to deal with an unintended pregnancy?"

So I said to them, "I guess you guys are wondering what you could possibly have in common with a 16-year-old pregnant girl." And as you can imagine, everyone laughed.

And then I asked them, "Well, when you were 16, did you want to speak with your parents about your sexuality?" And the room went silent.

Because they knew we have so much more in common than what separates us. And I think it's what Bayard Rustin meant when he said, "You have to join every movement for the freedom of people."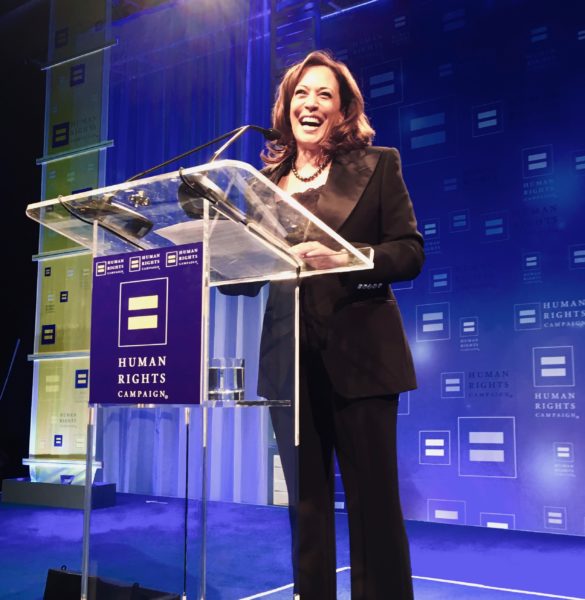 Sen. Kamala Harris at 2019 HRC/LA gala (Photo by Karen Ocamb)
Two years later, at the HRC/LA gala last April, Harris again underscored how the country is at an inflection point and each citizen has a responsibility to respond.
"These last two years and some months have certainly caused a lot of us to start talking to an inanimate object called a television and to shout at that thing," Harris said, prompting agreeing chuckles from the crowd. "It has caused a lot of us to sign up for individual or group therapy, it has caused a lot of us to feel a lot of despair and depression and anxiety and fear. And I say, 'Don't let the bad guys win!'"
Harris also referenced poet Emma Lazarus' famous quote "Until we are all free, we are none of us free."
"Let's pass the Equality Act in the U.S," she said. "Until all of us are equal, none of us are equal."
That these are not just "freedom" talking points pulled out for an LGBT gala is illustrated by a funny vignette in her memoir. Harris and her younger sister Maya were raised by her civil rights activist mother Shyamala. At one rally, when Harris was still in a stroller, she starting acting out, being fussy. When her mother asked her what she wanted, toddler Harris said, "Fweedom!"
In 2014, out legal eagle Chris Geidner reported on Harris the "progressive prosecutor" at a Center for American Progress' Making Progress Policy Conference:
"If there's a distrust of law enforcement — and, by extension, government — all of the systems break down, at least for certain populations," she said. "When I charge a case … it's in the name of the people and the premise there is that a crime against any of us is a crime against all of us. If there are specific communities that are not receiving the full benefit of the protections we created, it's a problem for all of us."

Asked about the history of distrust between the black community and law enforcement, Harris said, "It's all of our responsibilities to acknowledge it and deal with it where it occurs. And it's not just because it's the morally right thing to do, I believe it's in the best interest of public safety for everyone."
A funny vignette in a lengthy profile of Harris in the May issue of The Atlantic suggests gay people are part of her everyday consciousness, not just called forth when required. It's a vignette she later talked about on The Daily Show With Trevor Noah.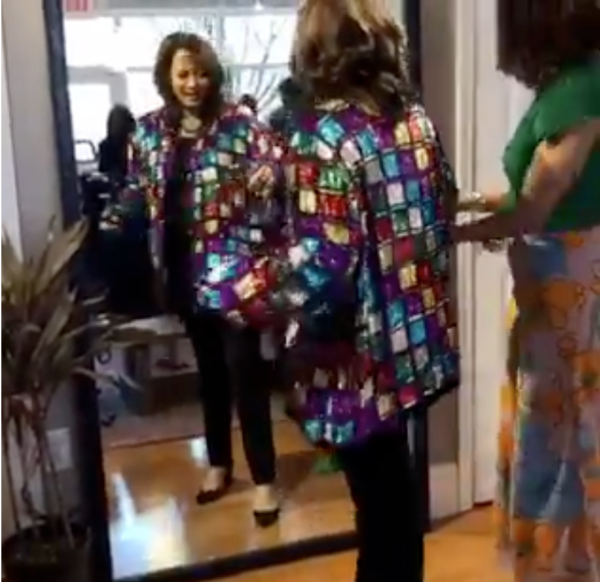 Screengrab from CNN reporter Maeve Reston's tweet
Harris and her sister, followed by a slew of journalists, visited Styled by Naida, "a vintage-clothing store run by Naida Rutherford, who grew up in the foster-care system and was homeless before she steadied herself economically by hosting stylish garage sales," Elizabeth Weil reported.
After picking out a hat and a black belt:
"Harris noticed a brightly colored sequined coat, a chessboard of turquoise, purple, yellow, green, and sky blue. The jacket was just about the furthest fashion choice imaginable from Harris's standard dark blazer. Still, Rutherford, a good saleswoman, encouraged Harris, a good candidate, to try it on, and Harris did. She looked in the mirror, the horde of journalists to her back. "This really would be perfect for the Pride parade," she said.

A nice, unguarded human moment. The jacket was way too big, and she'll almost certainly never wear it anywhere but the parade. But you'd have to be a monster—and a tone-deaf politician—not to want to support Rutherford. Harris bought the coat."
Kamala (comma-la) Harris was born on Oct. 20, 1964, five years before the Stonewall Rebellion, and never needed an epiphany to discover that LGBT people were OK.
"I grew up in a community and a culture where everyone was accepted for who they were, so there wasn't a moment where it was like, 'Okay, now let's let this person in.' Everyone was a part of everything. It was about community," Harris says. "It was about coalition building. It was about equality, inclusion. I mean, I had an uncle who was gay. [But] there was no epiphany" about gay people.
In fact, with the exception of Buttigieg's very presence, Harris is the only top-tier presidential candidate to constantly reference homophobia and transphobia in her speeches.
But some trans people are still angry over how Harris backed the Department of Corrections in its 2015 denial of gender reassignment surgery for then 51-year-old inmate Michelle-Lael Norsworthy.
The Washington Blade's Chris Johnson asked Harris about the issue in January at Harris' first news conference after announcing her 2020 presidential bid.
"I was, as you are rightly pointing out, the attorney general of California for two terms and I had a host of clients that I was obligated to defend and represent and I couldn't fire my clients, and there are unfortunately situations that occurred where my clients took positions that were contrary to my beliefs," Harris said.
"And it was an office with a lot of people who would do the work on a daily basis, and do I wish that sometimes they would have personally consulted me before they wrote the things that they wrote?" Harris said. "Yes, I do."
"But the bottom line is the buck stops with me, and I take full responsibility for what my office did," Harris said.
Harris confirmed to the Los Angeles Blade that she worked behind the scenes with the California Department of Corrections & Rehabilitation to establish a process enabling transgender inmates to receive transition-related care, including gender reassignment surgery, and she worked on getting Norsworthy paroled.
"I did it quietly, because I actually disagreed with my client initially, when they had the policy, and so I did it behind the scenes," Harris tells the Los Angeles Blade. "I helped to resolve and change the policy. The issue for me was to make sure the right thing would happen."
But Harris adds: "Let me just be very clear. I don't want to take full credit for that, because I don't deserve full credit for that. I don't want what I said to be interpreted as that. There were a lot of people involved in that."
But Harris' responses have been so cerebral, some feel she doesn't see the humanity in trans individuals.
"I understand not only their humanity, but I also understand the unfair challenges that they face in a society that still hasn't come to appreciate their full humanity," Harris tells the Los Angeles Blade. "And I know the hate that also has been targeted at our transgender friends, and I know that it resulted in lethal proportions. That's why, when I was the vice president of the National District Attorneys Association, I led the national DAs in a training on the ways that we can get rid of the 'gay panic defense,' because I knew it was being used as justification for the killing of many people, including transgender people."
Transphobia "is something I care deeply about. I have known many people who are transgender, and talked with them and really shared their pain around what their life experience has been like because of the ignorance that still exists about who they are and the challenges they face," Harris says.
That includes all healthcare concerns.
On Thursday, June 20, Harris introduced the PrEP Access and Coverage Act, legislation to guarantee insurance coverage for PrEP and create a grant program to fund access for uninsured patients.
"PrEP is a critical advancement in the fight against HIV that can finally provide peace of mind to Americans who live in the shadow of the HIV epidemic. But for too many in our country, lack of insurance coverage and exorbitant costs have put PrEP out of reach—and that needs to change. We must truly commit ourselves to HIV prevention by finally requiring every health insurance plan—public and private—to cover PrEP and all of the required tests and follow-up doctors' visits. We must also provide the resources necessary to help people without insurance access PrEP. Nearly four decades since the beginning of the HIV/AIDS crisis that took so many lives and caused countless others to live in fear, we can and will stop the spread of this disease," said Harris in a statement.
Harris says that if elected president, she would sign an executive order to protect DREAMers and put them on a path to citizenship. The Los Angeles Blade asked if she would sign an executive order for the Equality Act, the LGBT civil rights bill that would prohibit discrimination against LGBT people in employment, housing and public accommodations.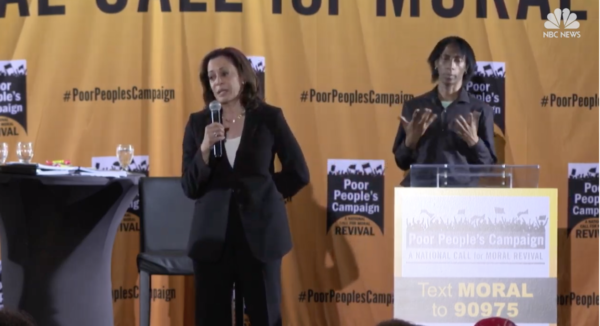 At the recent Poor People's Campaign forum on poverty, Harris noted her efforts to help LGBT homeless youth in San Francisco. But, other that the Campaign's leader, Bishop William Barber, LGBT people are being left out of the discussions and debates over the economy, pay equity, and jobs. The last report with research from the Williams Institute, the Center for American Progress and the Movement Advancement Project was in 2015 under President Obama.
The report found that: "Due to discriminatory laws, America's 5.1 million LGBT women face lower pay, frequent harassment, compromised access to health care, and heightened violence. Anti-LGBT laws, together with inequitable and outdated policies, mean that LGBT women's economic security is compromised by reduced incomes and added costs ranging from health care to housing."
"LGBT women face added challenges not solely because of their gender, but also because of who they are and whom they love. Discrimination and stigma, combined with the struggles faced by all women, make LGBT women and their families especially vulnerable," said Ineke Mushovic, executive director of the Movement Advancement Project.
"Making matters worse, the burden falls most acutely on those who can least afford it: LGBT women raising children, older LGBT women, LGBT women of color, LGBT immigrants, and those LGBT women and families who are already living near or below the poverty line."
The Equality Act, which has passed in the House, would help counter some of these issues. While Harris did not commit to issuing the legislation as an executive order, she did commit to making it a top priority as president.
"One of my first orders of business would be to get the Equality Act passed," Harris says. "Listen, I believe in the words and the spirit behind the Constitution of the United States and all of its amendments and those words we spoke in 1776 at the founding of our nation—that we are all equal and should be treated that way. That's why I fought against Prop 8. I don't believe that it is reflective of our democracy or the spirit of our founding, that any person would be treated differently under the law.
"So it is for all of those reasons that the Equality Act would be a first order of business for me," Harris continues, "and to do everything that I can within my power to make sure that we make that point about who we are as a nation. I often look at the words inscribed on that marble at the United States Supreme Court, and it says, 'Equal Justice Under Law.' I truly believe that. That is our goal. That is our ideal. That is part of who we are as a nation and we have to fight for that every day."
Cover photo of Sen. Harris at 2018 Pride parade courtesy Harris' 2020 presidential campaign. 
Newsom signs refuge bill for Trans kids & their families into law
Provides safeguards to block out-of-state attempts to penalize families that come to Calif. seeking medical treatment for trans children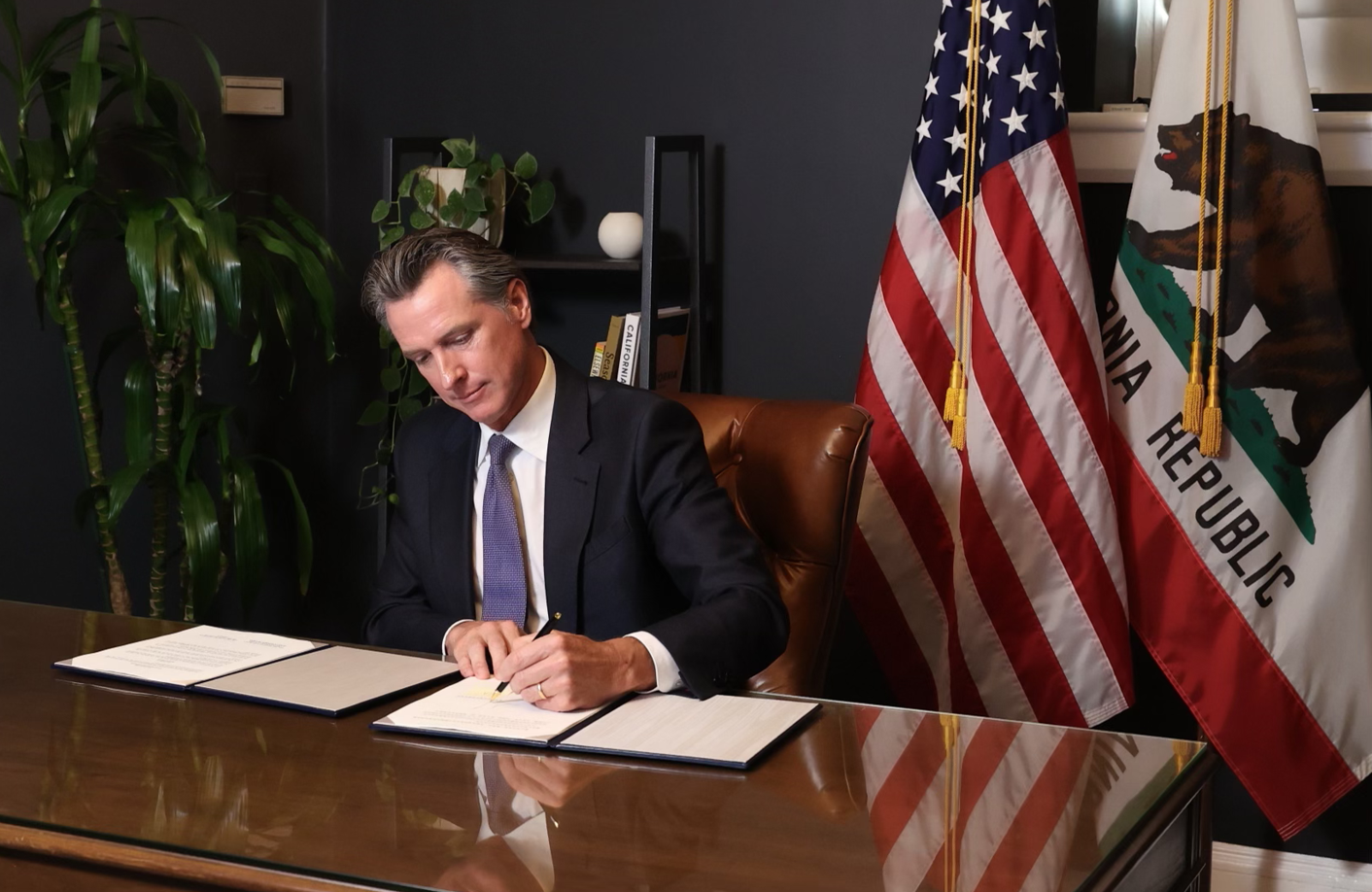 SACRAMENTO – Governor Gavin Newsom signed legislation to provide refuge for trans kids and their families authored by Senator Scott Wiener (D-San Francisco). Senate Bill 107 will protect trans kids and their families if they flee to California from Alabama, Texas, Idaho or any other state criminalizing the parents of trans kids for allowing them to receive gender-affirming care.
If these parents and their trans kids come to California, the law will help protect them from having their kids taken away from them or from being criminally prosecuted for supporting their trans kids' access to healthcare. It will take effect on January 1, 2023.
"As so many states work to erase trans kids and criminalize their families, California must always have their backs," said Senator Wiener. "With SB 107 signed into law, California is forcefully pushing back against the anti-LGBTQ hatred spreading across parts of our nation. The rainbow wave is real, and it's coming. Thank you, Governor Newsom, for standing with our community."
SB 107 was co-sponsored by Equality California, Planned Parenthood, TransFamily Support Services and Lieutenant Governor Eleni Kounalakis.
"While small, hateful men like Greg Abbott and Ron DeSantis attack trans children and their families, Governor Newsom today made clear that California will welcome them with open arms. SB 107 officially makes California a state of refuge for trans kids and their families," said Equality California Executive Director Tony Hoang. "SB 107 will continue California's legacy of leadership in protecting and advancing the health and well-being of LGBTQ+ communities in a time when we cannot take our rights and protections for granted. We are grateful for the leadership of Senator Scott Wiener and his commitment to protecting the most vulnerable members of our community."
"Extreme politicians across the country are openly attacking trans youth and their families like never before, but thanks to today's action by Governor Newsom and the leadership by Senator Scott Wiener, SB 107 provides reassurance that California will be a place where people can get the care they need," said Jodi Hicks, President and CEO of Planned Parenthood Affiliates of California. "We stand in solidarity with our friends and colleagues at EQCA and LGBTQ+ communities across the country. California Planned Parenthood health centers are committed to providing care, including gender-affirming care and LBGTQ+ services, to all who come through their doors – regardless of where they call home."
Senate Bill 107 provides for a range of safeguards meant to block out-of-state attempts to penalize families that come to California seeking medical treatment for transgender children and teens or move to the state to avoid consequences for already seeking that treatment elsewhere.
SB 107 has three main components:
1) It prohibits the enforcement of a law of another state that authorizes a state agency to remove a child from their parent or guardian based on the parent or guardian allowing their child to receive gender-affirming health care. The bill would prevent California's law enforcement from cooperating with any individual or out-of-state agency regarding the provision of lawful gender-affirming health care performed in this state. As a result, families will be able to come to California to avoid having their trans children taken away from them.
2) It bars compliance in California with any out-of-state subpoena seeking health or other related information about people who come to California to receive gender-affirming care, if the subpoena relates to efforts to criminalize individuals or remove children from their homes for having received gender-affirming care. Some states are considering legislation that would extend their criminal prohibitions even to residents who travel out of state to receive gender-affirming health care.
3) It prohibits law enforcement participation in the arrest or extradition of an individual that criminalizes allowing a person to receive or provide gender-affirming health care where that conduct is lawful in California and to the fullest extent permitted by federal law. It will declare that it is California's public policy that any out-of-state criminal arrest warrant for someone based on violating another state's law against receiving gender-affirming care is the lowest priority for law enforcement in California.
Trans youth already face numerous barriers to receiving the health care they need. Studies have shown that access to gender-affirming care for trans kids reduces risk for depression, psychological distress, and suicidal ideation. The criminalization of trans children and their parents leads to increased mental health issues and even suicide.
SB 107 is co-authored by Senators Susan Eggman (D-Stockton), and John Laird (D-Santa Cruz), and Assemblymembers Evan Low (D-Campbell), Alex Lee (D-San Jose), Chris Ward (D-San Diego), Sabrina Cervantes (D-Corona), Matt Haney (D-San Francisco), Ash Kalra (D-San Jose), Rebecca Bauer-Kahan (D-Orinda), and Mia Bonta (D-Alameda). Senate President pro Tempore Toni G. Atkins (San Diego) and Assemblymember Lori Wilson (D-Fairfield) principal co-authors.
Christian lawyers take case of anti-trans athletes to appeals court
Besides campaigning for a national abortion ban, Alliance Defending Freedom aims to ban trans girls competing in girls' high school sports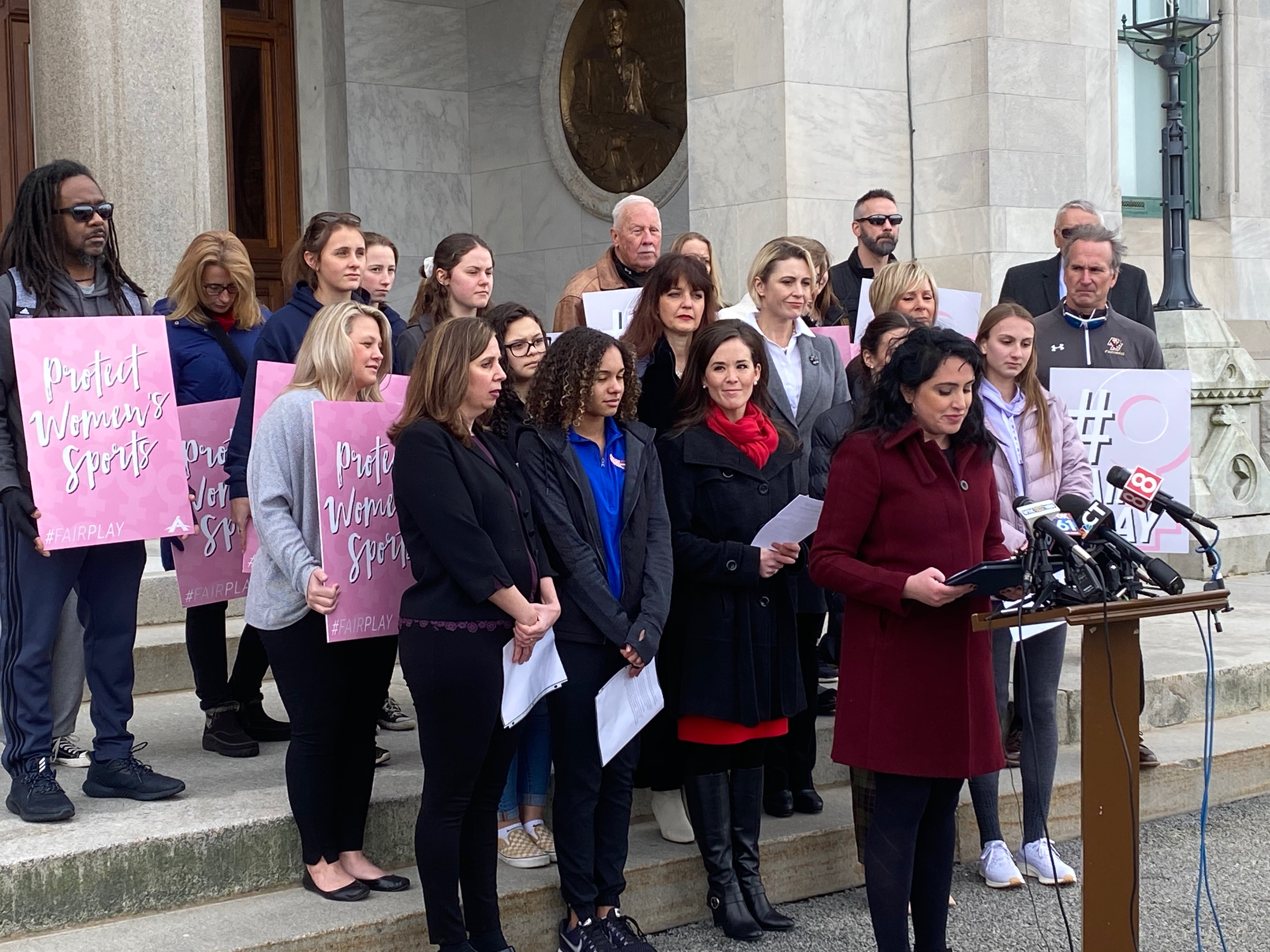 NEW YORK – A federal appeals judge in New York City on Thursday listened to attorneys arguing for and against a ban on transgender athletes in high school sports, the first federal case challenging a policy of inclusion.
Now it's up to Chief Judge Debra Ann Livingston of the Second Circuit of the U.S. Court of Appeals to decide whether a landmark case should be retried or tossed out.
The case, brought by the Alliance Defending Freedom in February 2020, was dismissed by a federal judge in Connecticut in April 2021.
The ADF, a conservative Christian law group labeled an extremist hate group by the Southern Poverty Law Center, is appealing the decision by U.S. District Judge Robert Chatigny. The ADF claims he was biased in favor of the defendants, the Connecticut Interscholastic Athletic Conference and several Connecticut boards of education.
Their original lawsuit and this appeal claims that by permitting transgender student-athletes to compete according to their gender identity, the CIAC and the schools discriminated against the plaintiffs: cisgender women who were track and field athletes in high school in Connecticut. They have all gone on to win collegiate sports scholarships: Selina Soule, Chelsea Mitchell and Alanna Smith.
"Today we argued that my clients, Selena, Chelsea and Alanna, their records and achievements matter, and we ought to be able to prove our case in court," said ADF Senior Counsel Christiana Kiefer outside court in Manhattan. "And so, we're asking that the judges here allow the case to continue to move forward."
A fourth plaintiff, Ashley Nicoletti, was added to the case last year. The women claim they couldn't win against trans girls, and because they were forced to compete with trans girls, they were "denied the chance to be champions."
They also want the court to order the state to change its track and field records and championship-winning results and erase the names of two transgender athletes: Andraya Yearwood and Terry Miller.
In their appeal, and in their press release following today's hearing, the ADF attorneys repeatedly misgendered the two young Black women, referring to them as "boys" and "biological males." Yearwood and Miller are not named in the suit, but American Civil Liberties Union attorneys represented them at the hearing.
The ACLU tweeted what the organization called "the facts" of the case, responding to the ADF's arguments, including that Mitchell and Smith did in fact beat Yearwood and Miller and that three of the four plaintiffs actually did win championships.
"Connecticut's laws preventing discrimination against trans youth in school and sports are consistent with federal law," said Elana Bildner, ACLU Foundation of Connecticut senior staff attorney, in a statement. "For years now, Andraya and Terry have carried more on their shoulders, as two Black trans youth, than most adults face in a lifetime."
"The plaintiffs' argument is filled with hypotheticals about a dystopia where cisgender girls disappear from the podium, but the court must rely on facts," said ACLU attorney Joshua Block. "The facts are that these plaintiffs repeatedly outperformed Andraya and Terry and won an impressive collection of first place trophies in the process. There is enough room on the victory podium for transgender girls too. Under Title IX, all girls, including transgender girls, should be able to participate fully and equally in athletics, in accordance with who they are."
Yearwood and Miller's records and the lawsuit naming them have been cited in several states across the U.S. where legislatures have considered and enacted bans on trans student-athletes. Outside court, Block called this case "sort of Exhibit A," in that effort. "It's held up as an example of the dangers that would happen if transgender girls were allowed to participate. And the reality is that that's based on a completely false premise, because there's no cisgender girls getting pushed off the victory podium. The plaintiffs in this case have been on the victory podium on multiple occasions."
Miller and Yearwood did not win any sports scholarships to colleges and are not pursuing track and field following their graduation from their high schools.
You can read the filing by ADF by clicking here.
The ACLU's statement is here.
Anti-LGBTQ+ Libs of TikTok hit with [another] 7 day suspension
LGBTQ activists pushed for Twitter to permanently ban Libs of TikTok from its platform permanently although so far no actions have been taken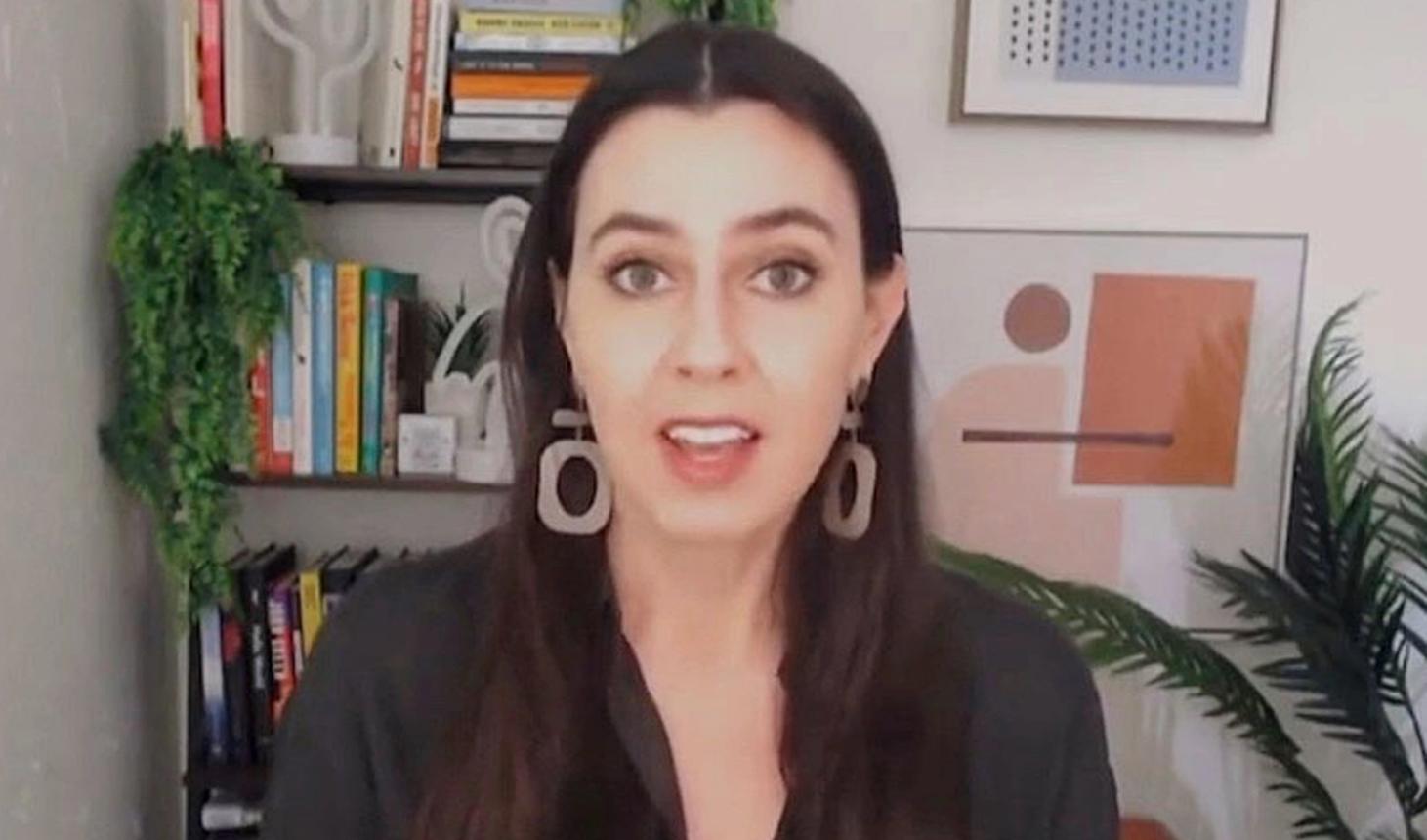 SAN FRANCISCO – The social media account Libs of TikTok, known for its attacks against LGBTQ people, was suspended from Twitter for seven days on Sunday, according to a letter made public Wednesday.
James Lawrence III, a lawyer at the Raleigh-based Envisage Law representing Raichik, sent the letter to Twitter's head of legal, policy and trust Vijaya Gadde – requesting the account be reinstated. It claims Twitter "again wrongfully" suspended Chaya Raichik, who runs Libs of TikTok.
The Los Angeles Blade reached out to Gadde for comment. The request has not yet been returned.
The account has not made a post on Twitter since Sunday.
Libs of TikTok has grabbed headlines for spreading what advocates call anti-LGBTQ hate speech. In August, the account was temporarily suspended from Meta's Facebook for falsehoods attacking Boston Children's Hospital's gender-affirming treatments. The hospital received "well over a dozen distinct threats" following a harassment campaign, according to FBI Special Agent in Charge Joseph Bonavolonta.
More recently, the American Library Association (ALA) sent a letter to FBI Director Christopher Wray expressing concerns about the ongoing serious threats directed toward libraries, asking the FBI to launch an investigation. Raichik, a former Brooklyn real estate agent, promulgated many of the disruptions and threats on social media.
"Our client's reporting may be offensive to Twitter users, including users who identify with protected categories, but that is not sufficient in and of itself to cut LOTT off from your company's platform and our client's audience," Lawrence wrote.
According to the letter, Twitter has suspended the account multiple times – the last coming a month ago.
In a Substack blog post, Raichik said she is the target of a "harassment campaign from the Left to deplatform" her.
"The truth is I haven't engaged in hateful conduct," she said. "I've just exposed the Left's depravity by reporting the facts. There's no rule against that, so they have to make up violations I've never committed."
A spokesperson for GLAAD, an LGBTQ media advocacy group, previously told the Blade the account was "synonymous with maliciously targeting LGBTQ organizations, people, and allies by posting lies, misinformation, and blatant hate,"
In addition, Raichik said she is "not taking it lying down," vowing to sue Twitter if it permanently suspends her Libs of TikTok account. She also asked for donations through her legal defense fund to cover "legal fees associated with fighting back against not only Big Tech, but every single media outlet that has lied about me to try and get me deplatformed."
On Twitter, LGBTQ activists pushed for Twitter to permanently ban Libs of TikTok from its platform.
"They need to be suspended PERMANENTLY," said Alejandra Caraballo, a clinical instructor at Harvard Law School's Cyberlaw Clinic. "No other account has gotten this much special consideration or consecutive lockouts without a permanent suspension. It's clear they are getting special treatment."