January 21, 2019 at 6:54 pm PDT | by Karen Ocamb
Presidential candidate Kamala Harris endorsed by Geoff Kors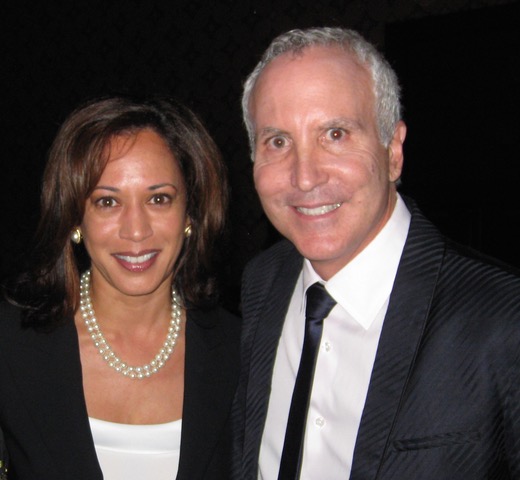 Then-Attorney General candidate Kamala Harris with then-Equality California Executive Director Geoff Kor at an EQCA gala in Los Angeles. (Photo by Karen Ocamb)
That was quick. Just hours after California Sen. Kamala Harris announced she is running for president, Palm Springs Mayor Pro Tem Geoff Kors, the highly regarded former executive director of Equality California, told the Los Angeles Blade that he is supporting Harris and will work to get her elected. This may be the first high-profile LGBT endorsement in what is expected to be a large field of candidates, including a possible run by out South Bend, Indiana Mayor Pete Buttigieg and brother-like ally, LA Mayor Eric Garcetti.
"I am thrilled that Senator Kamala Harris is running for President.  She is smart, passionate and always puts people first. Kamala's work and leadership as District Attorney, Attorney General and Senator demonstrates that she knows how to bring people together and get things done," Kors wrote in an email to the Los Angeles Blade.
"At this troubling time in our nation's history, we desperately need a leader and visionary in the White House and Kamala is that person.  I strongly support her and will work to help get her elected.  The race will be crowded with many good candidates, but I believe Kamala will rise to the top.  Anyone watching her during Senate Judiciary Committee Hearings knows that she is a fierce advocate and that she will shine in debates."
Kors also stressed Harris' long commitment to the LGBT community.  "She has always prioritized the LGBT Community from her work to prevent the use of so called "gay and transgender panic defense" to hate crimes to her refusal to appeal the Prop 8 case, which was key in winning back marriage in California.  She is a true hero to our community and the rights of all Americans to equality and justice."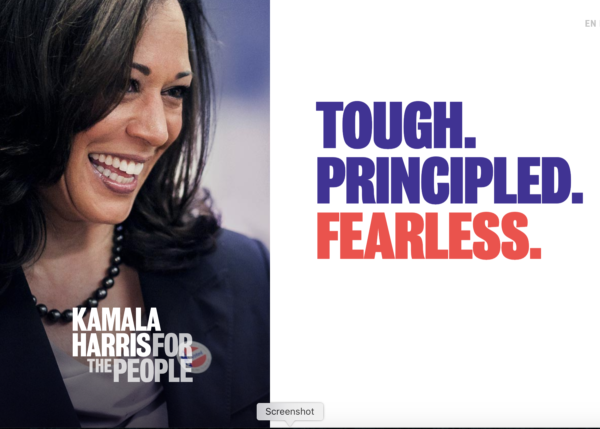 Though the plaintiffs in the federal Prop 8 case withheld their endorsements when first asked for comment on Harris' expected announcement, the two couples were enthusiastic about her entering the race. It was Attorney General Harris, after all, following the example of her predecessor Jerry Brown, who refused to defend the anti-gay marriage law passed by voters in 2008 that rescinded the California Supreme Court-granted constitutional right for same sex couples to marry.
"We were overjoyed to be the first couple married in California after the US Supreme Court struck down Proposition 8," Kris Perry, a plaintiff with wife Sandy Stier in the federal Prop 8 case, told the Los Angeles Blade.  "What delighted us even more was the solidarity and support we felt when then-Attorney General Harris ran across San Francisco City Center to join us the court clerk's office to officiate our wedding in the presence of hundreds of supporters. We will never forget the love and kindness she showed us that day."
"As the declaration season for Democratic Presidential candidates begins we are bound to see many qualified individuals. When we see names like Kamala Harris on the list, we remember when she was the chief law enforcement official in California, she ensured that equality for the LGBTQ+ community was a priority," Jeff Zarrillo, Prop 8 plaintiff with husband Paul Katami, told the Los Angeles Blade.
"After winning our lawsuit, the 9th Circuit quickly lifted the stay and on that day we tried to get a marriage license in order to be the first male couple married in Los Angeles since Prop 8 was dead," Zarrillo said. "When the registrar declined us because he hadn't received a directive from the state, AG Harris picked up the phone and called the LA registrar and told him to give us the license.  She said something powerful to him, 'Enjoy it.'  We met with AG Harris that next weekend at San Francisco Pride and she gave us the biggest congratulatory hug and we were able to thank her in person for her unwavering support over the length of our lawsuit and for continuing to keep California at the forefront of LGBTQ+ equality."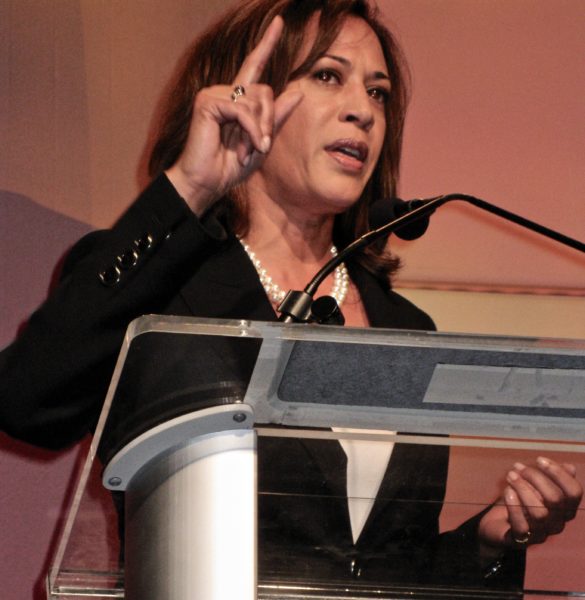 But as Washington Blade correspondent Chris Johnson points out, Harris won't automatically get a free ride from the LGBT community.
Shortly after her announcement on GMA, Harris went to Howard University in Washington DC, her alma mater, to hold her first news conference as a presidential candidate. Johnson asked about her time as California Attorney General when her office represented the California Department of Corrections and Rehabilitation that wanted to deny gender reassignment surgery prescribed to two transgender inmates in the California state prison system.
"I was, as you are rightly pointing out, the attorney general of California for two terms and I had a host of clients that I was obligated to defend and represent and I couldn't fire my clients, and there are unfortunately situations that occurred where my clients took positions that were contrary to my beliefs," Harris said.
She noted that the attorneys working for her in the attorney general's office sometimes took approaches without her knowledge.
"And it was an office with a lot of people who would do the work on a daily basis, and do I wish that sometimes they would have personally consulted me before they wrote the things that they wrote?" Harris said. "Yes, I do….But the bottom line is the buck stops with me, and I take full responsibility for what my office did."
Harris indicated she also helped the California Department of Corrections and Rehabilitation come to an agreement to set up a process where transgender inmates could obtain transition-related care, including gender reassignment surgery, Johnson reported. That's similar to what her office later told the Washington Blade in response to an article about concerns over her legal support for the position of the agency.
"On that issue I will tell you I vehemently disagree and in fact worked behind the scenes to ensure that the Department of Corrections would allow transitioning inmates to receive the medical attention that they required, they needed and deserved," Harris said.
Johnson points out that a series of briefs signed by Harris during that time suggest the state supported denial of that treatment and care. In one brief dated April 10, 2015, Johnson reported, Harris and other state attorneys dismiss the importance of gender reassignment surgery in seeking to appeal a court order granting the procedure to transgender inmate Michelle-Lael Norsworthy.
In response to a follow-up question, Harris better reflected the progressive values espoused in 2019 by most in the Democratic Party whose nomination she seeks.
"I believe that we are at a point where we have got to stop vilifying people based on sexual orientation and gender identity, and we've got to understand that when we are talking about a particular transgender community, for too long they have been the subject of bias, and frankly, a lack of understanding about their circumstance and their physical needs in addition to any other needs they have, and it's about time that we have a better understanding of that," Harris said.
The junior senator from California was among three senators demanding answers from Immigration and Custom Enforcement about the death of transgender inmate Roxsana Hernández in immigration detention.
"The American people deserve to have somebody who is going to fight for them, who is going to see them, who will hear them, who will care about them, who will be concerned about their experience and will put them in front of self-interest," Harris said on ABC's "Good Morning America."
It's that fight that is central to Harris' character and values: she was raised by a Black father and an mother of South Asian descent who took her to civil rights marches and she deeply admires the first black woman to run for president, Shirley Chisholm, who won her New York congressional seat in 1969 under the slogan "unbought and unbossed." Harris has modeled her campaign logo after Chisholm's colors and writing style, a point that will surely not be lost on Democratic Black women
Harris' other side, the prosecutor side, where her precision with the law helped win admirers during the Senate Intelligence hearings. But just as she was questioned by Chris Johnson about her signed briefs on trans inmates, she will surely be pummeled about attitudes toward crime and some of her decisions as a law enforcement officer by Black Lives Matter and other groups.
Harris has no doubt already thought this through. Others wonder if she can beat Trump.
"I think, from a purely political point of view, she is a no brainer for a place on the ticket with pretty much anyone. I think vice-president would be perfect. With Joe Biden if possible. I hope when the party sees she is the right choice to get rid of the national nightmare that is Cheeto Mussolini, they'll FINALLY respect us negroes – they refuse to stop telling to go to the end of the line," Derek L Washington, the openly gay candidate for the historical home to the Black community, Ward 5 District of Las Vegas.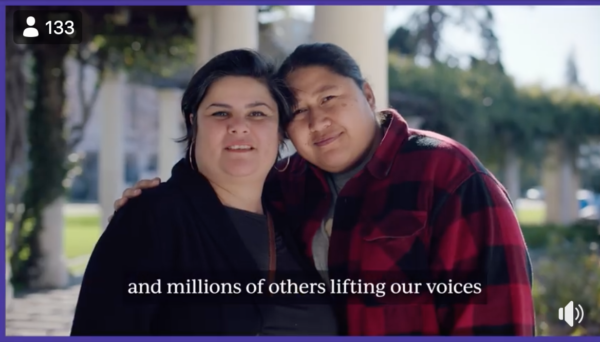 But, as Harris' 57 second video on her Facebook page suggest – she's going for the top spot out of the gate.
Truth. Justice. Decency. Equality. Freedom. Democracy. These aren't just words. They're the values we as Americans cherish. And they're all on the line now. The future of the country depends on you and millions of others lifting our voices to fight for our American values. That's why I'm running for president of the United States. I'm running to lift those voices. To bring our voices together.

So please join me in Oakland, Sunday, Jan 27 and go to KamalaHarris.org  to join our campaign. Let's do this together. Let's claim our future. For ourselves. For our children. And for our country. I'll see you in Oakland.