Georgia's first Pride parade postponed
Organizers joined anti-Russia protests in country's capital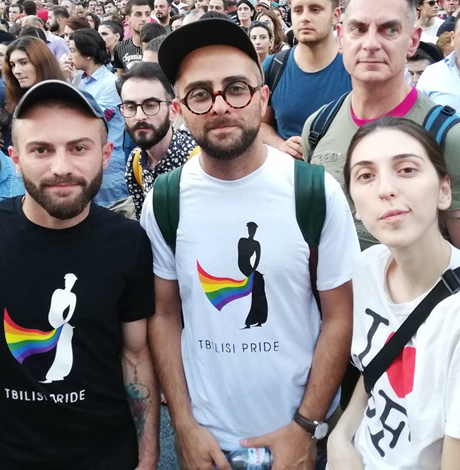 Organizers of Georgia's first Pride parade that was scheduled to have taken place in the country's capital on Saturday have postponed it.
Giorgi Tabagari, co-founder of Tbilisi Pride, on Twitter said he and other parade organizers decided to postpone the event in order to join protests against Russian MP Sergei Gavrilov, who spoke at the Georgian Parliament on Thursday, and a police crackdown against protesters who tried to storm the building that reportedly left more than 240 people injured.
"Due to (the) current political situation and ongoing protests in Tbilisi, our team had to postpone the march which was planned tomorrow," wrote Tabagari on Friday. "We have joined the protest at this point and will march once situation calms down."
Due to current political situation and ongoing protests in Tbilisi, our team had to postpone the March which was planned tomorrow. We have joined the protest at this point and will march once situation calms down. #TbilisiPride #TbilisiPride2019 #Georgia pic.twitter.com/QZhhzau2ub

— Giorgi Tabagari (@Tabagari) June 21, 2019
The announcement parade comes less than a week after the Washington Blade reported the Eurasian country's ombudswoman asked organizers to cancel a nearly week-long series of Pride events. Hooligans also threatened organizers and a Georgian millionaire called for groups to organize against those who had planned to participate in Pride.
"We welcome the decision by the organizers of Tbilisi Pride to postpone the 'March for Dignity' planned for 22 June 2019," said a statement the U.N., the E.U. and the U.S. Embassy in Georgia issued.
The Austrian, French, German, Dutch, Swedish and British embassies were also signatories.
"Participation in peaceful demonstrations of this sort is an expression of every person's fundamental human right to freedom of expression and assembly," it reads. "However, amidst real concerns about safety and security in the current context, we find the LGBTI+ community's decision highly commendable."
A State Department spokesperson on Friday referred the Blade to Tbilisi Pride organizers' statement when asked to comment on the parade's postponement. The spokesperson added "senior U.S. officials have and will continue to urge the government of Georgia to protect and defend human rights and fundamental freedoms for all — including LGBTI individuals."
"In Georgia and around the world, the United States stands up and speaks out against violence and severe discrimination against vulnerable individuals and groups, including religious, ethnic, or national minorities, persons with disabilities and LGBTI individuals," said the spokesperson. "Governments have an obligation to ensure that everyone can freely enjoy universal human rights and fundamental freedoms, including the freedoms of expression, peaceful assembly and association."
The parade was to have taken place less than a week after State Department spokesperson Morgan Ortagus defended a policy that prohibits U.S. embassies from displaying Pride flags on official flag poles. Dozens of Democrats and at least one Republican, U.S. Rep. Justin Amash (R-Mich.), have called for impeachment proceedings to begin against President Trump over his involvement in Russia's interference in the 2016 presidential election.
Tbilisi Pride organizers have not said when the postponed parade will take place.
Alex Cooper contributed to this story.
Log Cabin GOP compares FBI raid on Trump's Mar-A-Lago to Stonewall
In February, the National Archives asked the Justice Department to investigate Trump's handling of White House records
WASHINGTON – As the outraged fallout continued in Republican Party circles Tuesday, after special agents of the Federal Bureau of Investigation executed a search warrant Monday at the South Florida estate of former President Donald Trump, the LGBTQ political group Log Cabin Republicans, (LCR) joined the growing chorus on the right angered by the search.
"Just as the patrons of Stonewall were not intimidated by police, we will not be intimidated by the weaponization of the FBI and DoJ against President Trump or his home, Mar-A-Lago… …where (as we announced hours ago) we will be holding our annual gala later this year!" the group tweeted Monday after news of the search broke.
Reaction to the LCR tweet was swift ranging to from disgust as expressed by LGBTQ writer and radio host Rob Watson to outright anger as noted by former Advocate editor and LGBTQ journalist Matthew Breen.
Good God. You could not be less relevant if you tried. If we were back at #Stonewall , you wouldn't be with the patrons, you'd be buying the cops coffee.

— Rob Watson (@JandJDad) August 9, 2022
Quislings.

— Matthew Breen (@matbreen) August 10, 2022
The FBI's action was described as unprecedented by legal experts and analysts, however the execution of the search warrant underscores the fact that U.S. Attorney General Merrick Garland will order investigations into criminal wrong doing to include the former president.
Trump and his Republican allies in Congress have dismissed the FBI search as politically motivated.
While a copy of the search warrant was delivered to Trump's attorneys, little is known about the predicate probable cause found significant enough that a federal judge authorised the search. The affidavit which is the foundational document showing that a crime had been committed and that evidence would likely be found during the search provided to the judge to make that determination has not been made public.
A Justice Department source told the Blade that last January Trump had been found in possession of 15 boxes of materials at his Florida home, which he relinquished to staff from the National Archives amid concerns he may have violated the Presidential Records Act, (44 U.S.C. Chapter 22).
A certain portion of the paperwork that Trump had in his possession was classified which the Justice Department official noted is by itself criminal in nature.
In February, the National Archives asked the Justice Department to investigate Trump's handling of White House records. The National Archives said some of the documents Trump turned over to them had been ripped up and taped back together CBS News noted.
It remains to be seen whether the search will lead to criminal charges against the former president or anyone in his immediate orbit, but former prosecutors noted there are serious penalties for violating public records laws the Hill reported Tuesday.
"Highly classified information is treated that way because of its extreme sensitivity. There is a whole range of material that is really a crown jewel, national security, high-consequence sequence. And if that's what a person carried away rather than leaving it in the hands of the government and complying with the Presidential Records Act, that's a gravely serious matter," said John Barrett, a former federal prosecutor who worked for the independent counsel investigating the Iran-contra scandal and served in the DOJ inspector general's office.
The former president had issued a lengthy statement Monday evening in which he called the raid an "attack by Radical Left Democrats who desperately don't want me to run for President in 2024."
The House GOP minority leader Kevin McCarthy promised retribution in a tweet should his party retake control of Congress in the Fall midterm elections:
Attorney General Garland: preserve your documents and clear your calendar. pic.twitter.com/dStAjnwbAT

— Kevin McCarthy (@GOPLeader) August 9, 2022
The Justice Department and the FBI both declined to comment.
Former President Trump's Mar-a-Lago Home Being Searched Causes Immediate Political Fallout:
LAPD: Body found on fire hanging in tree in Griffith Park likely a suicide
The person's age, identity and gender have not yet been determined, but they are believed to be a person who frequents the park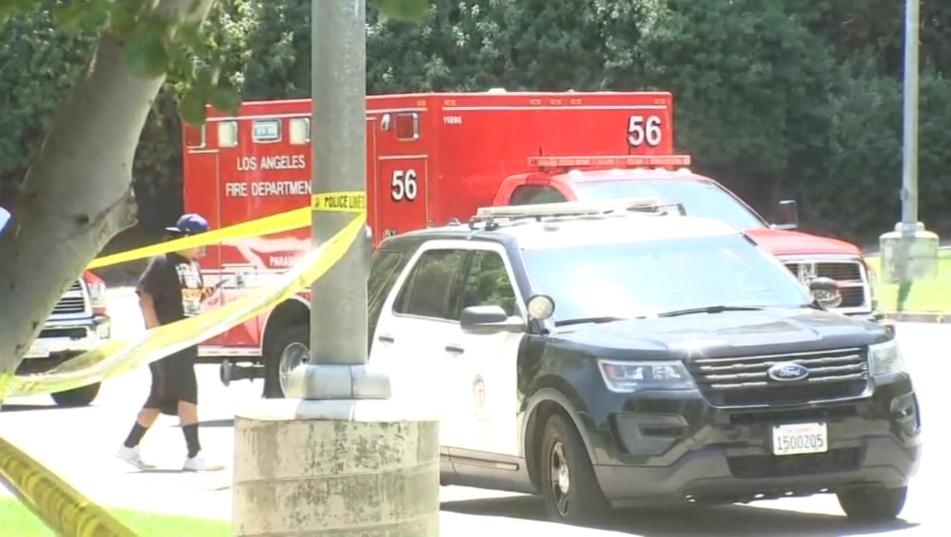 LOS ANGELES – The body of an unidentified person deceased found hanging from a tree near the Griffith Park's merry go round was likely a suicide a detective with the Los Angeles Police Department said Tuesday.
The body was discovered at around 12:30 p.m. on fire and hanging from a tree. Los Angeles City firefighters put the flames out and LAPD detectives investigated and found no signs of foul play, determining that most likely the cause of death was suicide.
"It appears to be self-immolation," said LAPD detective Michael Ventura. "This is going to be somebody who brought some gasoline, brought some lighters. We have had, they are rare, but we do have cases where people will self-immolate. Or they choose to set themselves on fire."
The person's age, identity and gender have not yet been determined, but they are believed to be a person who frequents the park on a regular basis Ventura said.
Independent freelance journalist Vishal P. Singh, who was on scene tweeted about the incident:
Firefighters from @LAFD are carefully removing things from the tree in Griffith Park. @LAPDHQ and the Park Rangers are here, too, investigating the body found hanging from a tree and on fire here. pic.twitter.com/5xBxviZRki

— Vishal P. Singh (they/he) 🏳️‍⚧️ (@VPS_Reports) August 9, 2022
KABC reported:
Editor's note: If you or someone you know is struggling with suicidal thoughts or mental health matters, please call the National Suicide Prevention Lifeline at 800-273-8255 or dial 988
Gay couple assaulted in D.C. by teens shouting 'monkeypox faggots'
The men were treated and released at Howard University Hospital for head and facial bruises, with one receiving stitches for a deep cut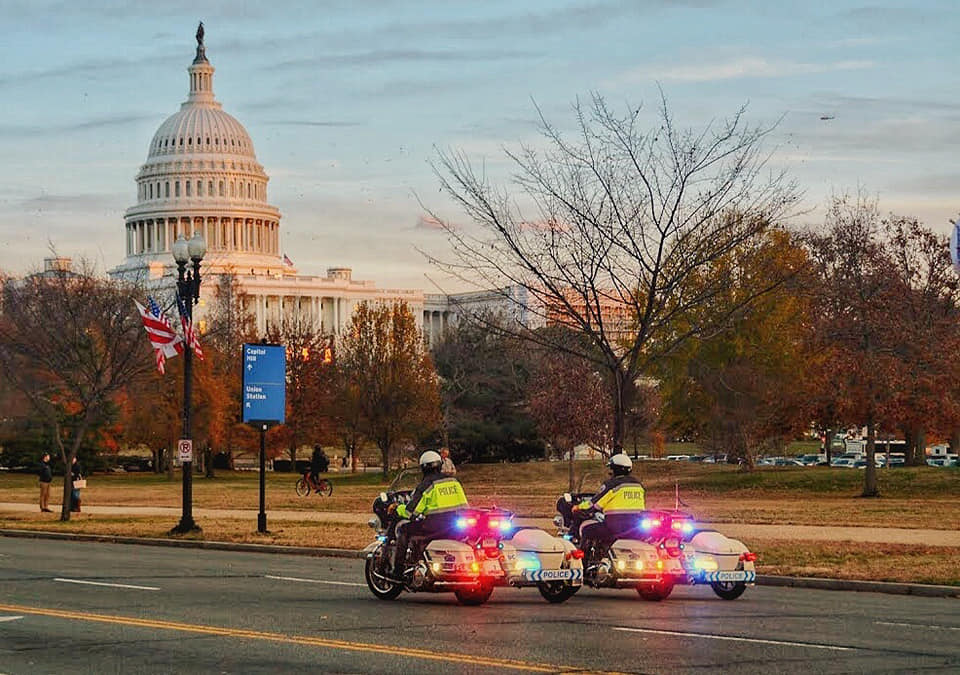 WASHINGTON – Two young men appearing in their late teens shouted the words "monkeypox faggots" at a gay male couple walking along 7th Street, N.W. in the city's Shaw neighborhood on Sunday, Aug. 7, before punching the two men in the face and head in an incident that D.C. police have called a suspected hate crime.
The gay men were treated and released at Howard University Hospital for head and facial bruises, with one of the two receiving stitches for a deep cut on his upper lip, according to one of the victims who spoke to the Washington Blade.
The victim, an Alexandria resident who asked that he and his partner, a D.C. resident, not be identified by name, said the attackers were part of a group of four or five young men appearing to be between 17 and 19 years old and two young women accompanying them. He said the group crossed paths with the gay couple around 5:40 p.m. in front of a store on the 1700 block of 7th Street, N.W., as the couple was walking to a nearby bus stop on Rhode Island Avenue.
The victim who spoke to the Blade said a nearby witness called D.C. police, who arrived within a few minutes as the two attackers and the other young men with them fled the scene. He said although an ambulance arrived on the scene, one of the police officers drove the couple to nearby Howard University Hospital, where they spent about six hours in the emergency room.
The couple had spent part of that 90+ degree day at the city's Banneker Pool and later stopped at the Kiki gay bar on U Street, N.W. before taking what the victim who spoke to the Blade said was a leisurely walk from Kiki via 7th Street on their way to the bus stop, where they planned to take the bus to his boyfriend's Northeast D.C. house.
As the couple walked south on 7th Street about a block from their destination on Rhode Island Avenue they crossed paths with the group of teenagers in front of a store that a D.C. police report says was at 1731 7th St., N.W.
"They were about 17 to 19 years old," the victim who spoke to the Blade said. "And one of them started saying stuff like, hey, look at these monkeypox faggots and some not so nice stuff like that," he said.
"We turned around to walk away and one of them came up behind me and got my attention and then sucker punched me and then hit me again and then hit my boyfriend in the face," the victim said. "And another person hit him in the face as well," he said. "And then someone across the street called the cops. And then the cops came, and they scattered off."
To the couple's surprise, the two young women remained on the scene and apologized for the actions by the guys they were with.
"So, I said something like thanks for the apology, but this is the kind of people you hang out with," the victim recounted. "And one of them said their dad was gay, and they kind of walked away before the cops got there," he said. "It was nice of them to apologize I guess for the other people."
The D.C. police report lists the incident as having two offenses, a simple assault against the two men and a misdemeanor destruction of property related to the destruction of a pair of sunglasses worn by one of the two men that were damaged in the assault against him.
The report also lists the incident as a suspected "Sexual orientation – Anti-Gay" hate crime.
As in all incidents of violent crime, D.C. police call on members of the public to contact the police with information about an incident like this to call police at 202-727-9099 or text a tip to the department's TEXT TIP LINE at 50411.