April 6, 2019 at 5:18 pm PST | by Karen Ocamb
Human Rights Campaign's amazing night of family unity (Photos/Video)
The quietest shift happened at the Human Rights Campaign gala in Los Angeles last weekend. The stage was populated with more women, trans women and people of color than rich white gay men. And it was so normal, it went unnoticed.
In fact, after champion skater Adam Rippon opened the show announcing that unfortunately singer Christina Aguilera was unable to attend to accept her Ally for Equality Award, formidable trans singer Shea Diamond came out, joking she'd dressed to impress the music icon, and launched into "American Pie" with such style and power no one was thinking of Aguilera five minutes later.
"Just want my piece of the American pie," Diamond sang with swagger. "Break the chains of old beliefs, I'm the flame that you can't unsee." And the black tie and gown crowd in the packed ballroom at the JW Marriott downtown jumped to their feet in applause and agreement.
In his seven years serving as HRC president, Chad Griffin has transformed the nation's largest LGBT lobbying organization into a "political powerhouse," HRC/LA director Gwen Baba noted. Now, on the cusp of his exit, Griffin is focused on the federal Equality Act, introduced on March 13. The bill would amend existing civil rights laws to provide protections based on sexual orientation and gender identity.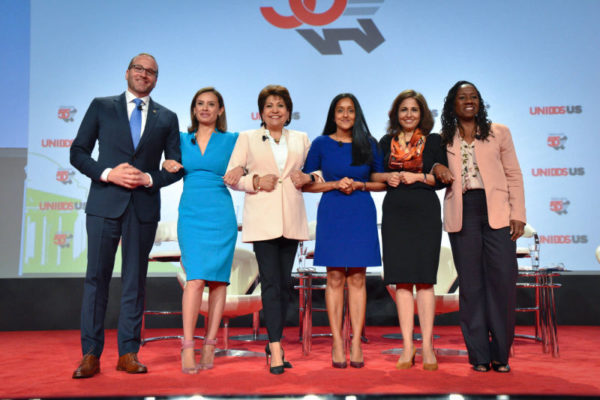 Chad Griffin, President, Human Rights Campaign, María Teresa Kumar, President and CEO, Voto Latino, Janet Murguía, President and CEO, UnidosUS, Vanita Gupta, President and CEO, Leadership Conference on Civil and Human Rights, Neera Tanden, President and CEO, Center for American Progress, Sherrilyn Ifill, President and Director-Counsel, NAACP Legal Defense and Educational Fund at Unidos US 50 July 2018 (Photo courtesy Unidos US)
HRC is now welcome at the national civil rights table as an intersectional equal, not merely as a political stepchild with deep ATM pockets.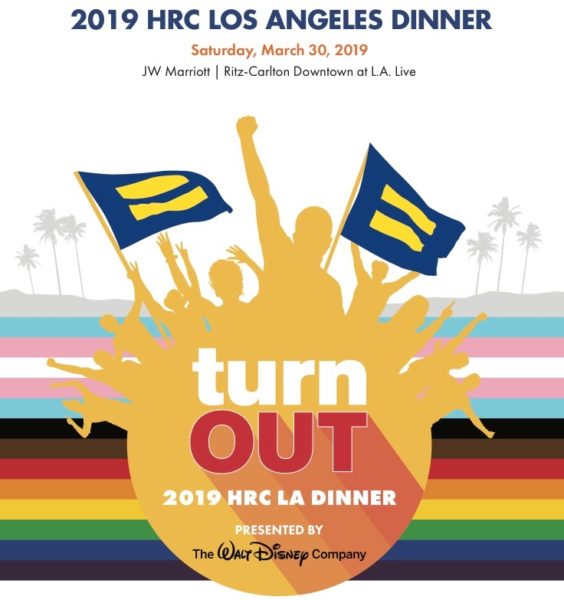 But as the HRC/LA gala logo illustrated, there's also been a shift towards internal movement unity, signified by placing the transgender flag directly on top of the rainbow flag, with the black and brown stripes added. Unity in action—presented by the Walt Disney Company, which, to people of a certain age and business-minded entertainment industry folks, has a whole other resonance. Breaking the chains of old beliefs, indeed.
Another subtle but significant shift was the sense of family equality. Heretofore, HRC audiences have largely been grateful for the attention from important public figures—such as when the late civil rights icon Julian Bond and Blue Dog Democrat Sen. Dianne Feinstein came out in support of marriage equality, for instance.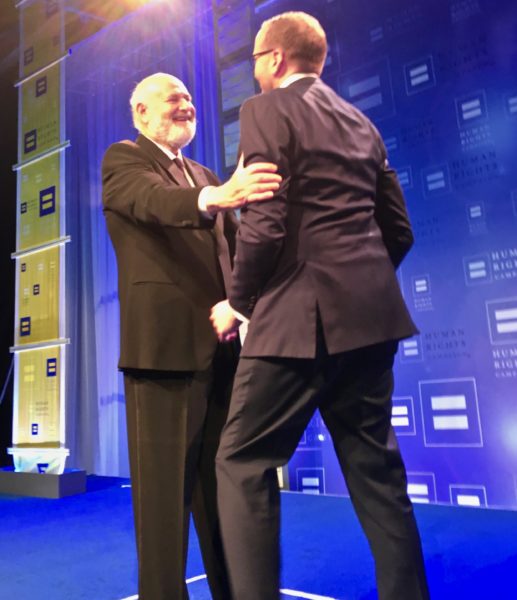 This year, the undercurrent of love and support was more family at Thanksgiving than family forged by frontline battles in the culture war. The father-son love between Griffin and actor/director Rob Reiner—with whom Griffin successfully fought against the tobacco industry and Prop 8—was so real, many choked up watching Griffin choke up.
But Reiner has his own message to deliver. "We know what our marching orders are," he said. "Whoever gets nominated from the Democrats, we're all in, right?"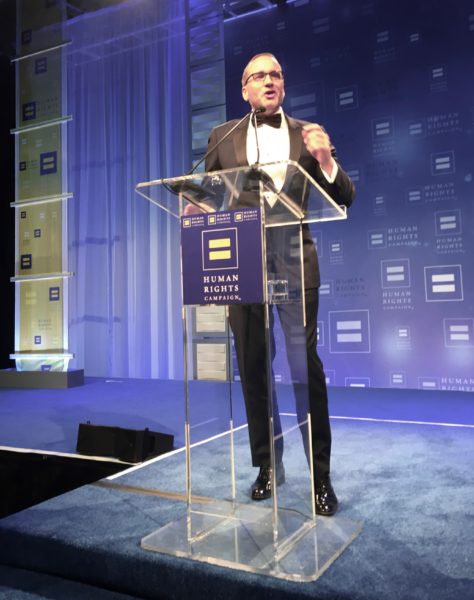 Griffin offered a counter-intuitive vision for the future, considering the two year destruction of democratic norms under Donald Trump, "weak man with one of the world's worst spray tans."
"I have never been more hopeful than I am today," Griffin said, noting how many LGBT people are choosing to run for elected office and the turning of red states blue and "our collective power to make change."
"The power of Donald Trump and his MAGA millions is not unlimited," he said.
Griffin nailed HRC's political power, having spent $26 million on specific, targeted races and helping galvanize equality voters to flip the House, including in traditionally beat red Orange County. HRC turned out more than 7 million LGBT voters in the 2018 midterm elections, making the difference in numerous narrow races around the country.
"If you come for us, we're coming for you on election day," Griffin warned.
Griffin's deep friendship with HRC National Leadership Award honoree Yeardley Smith was palpable, as was her fierce devotion to the cause of LGBT equality.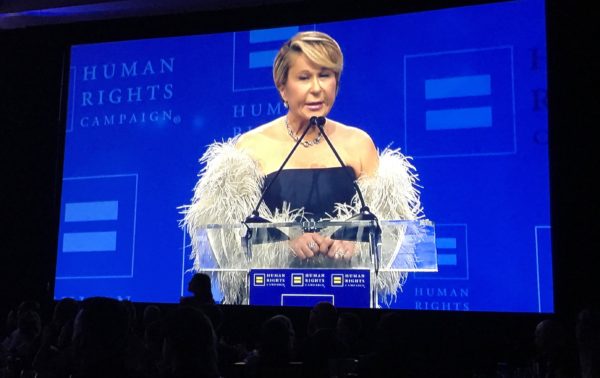 "I am here to march with you, to rally together and vote to stop the relentless and systematic assault by the bigoted, vindictive administration that's hell-bent on stripping us of all the progress that we have made, politically and humanly over the past 50 years," said Smith, known for her TV character Lisa on "The Simpsons." "You do not get to cherrypick someone's rights," she said.
The two Democratic candidates for president—Senators Kamala Harris and Cory Booker—also felt at home, as if everyone had grown up together.
Booker joked about how often Griffin had asked him to speak and then delivered a passionate-pastor version of his stump speech that ranged from the "moral vandalism" of the Trump administration to an excerpt from a poem by the late black gay Harlem Renaissance poet Langston Hughes.
"Demi-gods in the White House and the administration are working systematically to undermine and dismantle LGBTQ rights—from President Trump's discriminatory and un-American ban on transgender Americans serving on the military to the Department of Justice's refusal to protect LGBTQ Americans from employment discrimination to Betsy DeVos' failure to protect our transgender students," Booker said.
Harris had the home-field advantage, having refused to defend Prop 8 in court as California Attorney General. She officiated at the wedding of federal Prop 8 plaintiffs Kris Perry and Sandi Stier.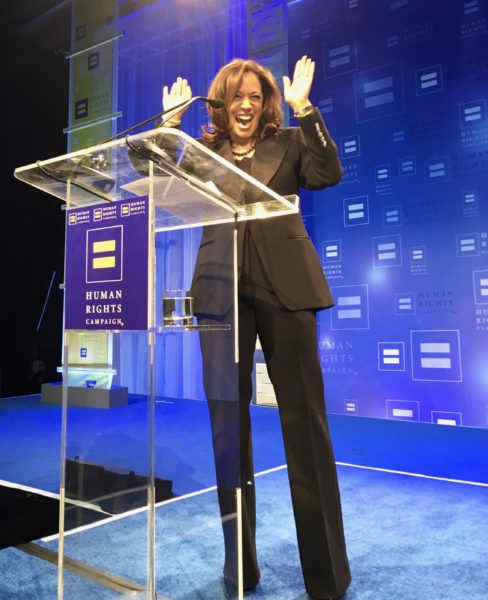 "These last two years and some months have certainly caused a lot of us to start talking to an inanimate object called a television and to shout at that thing," Harris said, prompting agreeing chuckles from the crowd. "It has caused a lot of us to sign up for individual or group therapy, it has caused a lot of us to feel a lot of despair and depression and anxiety and fear. And I say, 'Don't let the bad guys win!'"
Then Harris got serious. "This is an inflection point in our history," she said. Look in the mirror and ask: "Who are we? We are better than this."
Harris stressed the importance of restoring "truth and justice," noting that homophobia, transphobia, xenophobia and anti-semitism are real and "born out of hate."
"We must stand together and never let anyone stand alone in their fight," she said, noting that we "have more in common than what separates us."
Harris also referenced a poet—Emma Lazarus' famous quote "Until we are all free, we are none of us free."
"Let's pass the Equality Act in the U.S," she said. "Until all of us are equal, none of us are equal."
And in that room filled with family that night, that was more than a political slogan.
(Please note: I clearly need a better camera so please consider these photos as an effort to just capture some of the family fun at the HRC/LA gala. – Karen O)
The hugs were deep and real.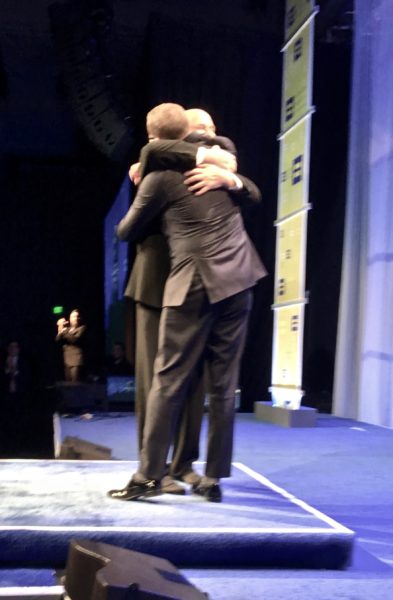 Chad Griffin and Rob Reiner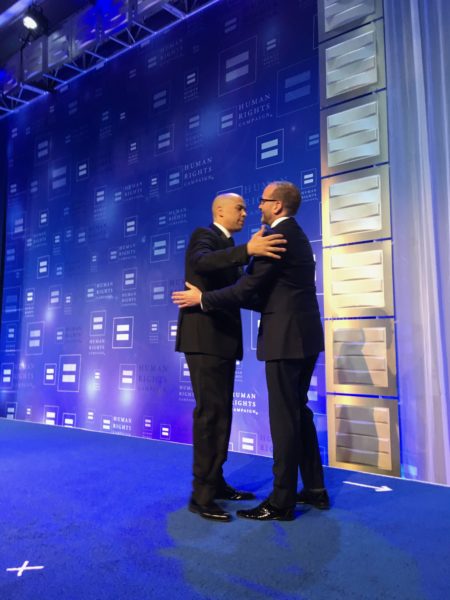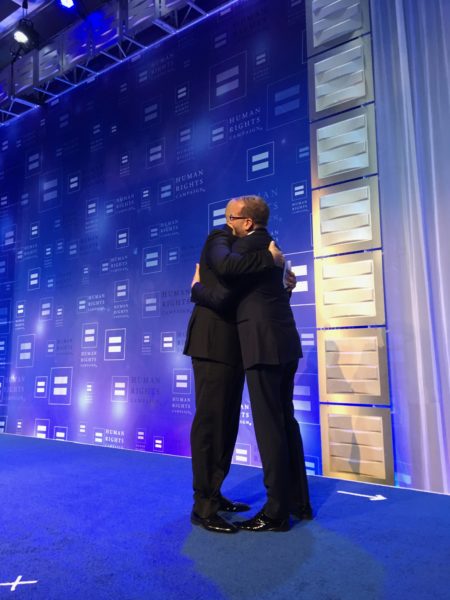 Chad Griffin and Cory Booker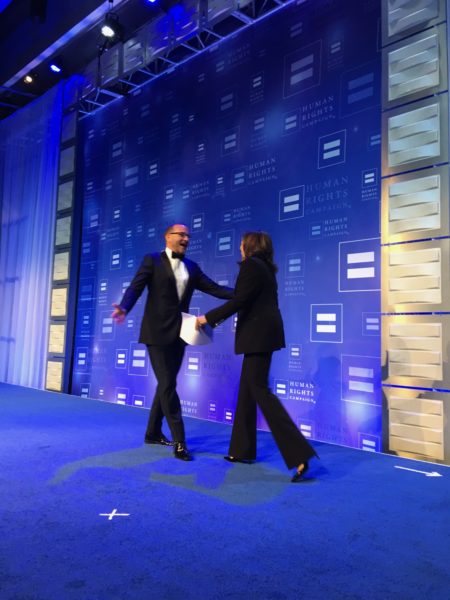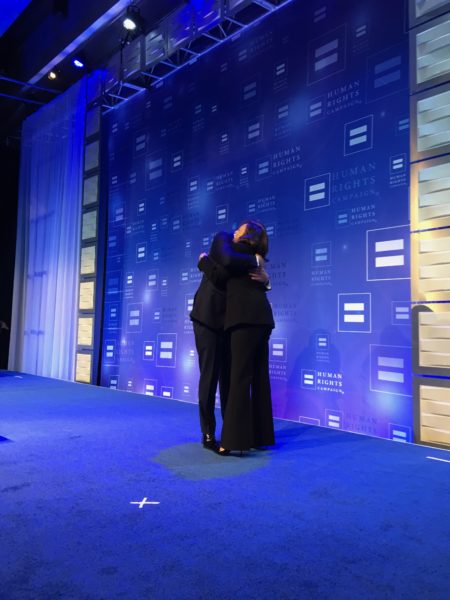 Chad Griffin and Kamala Harris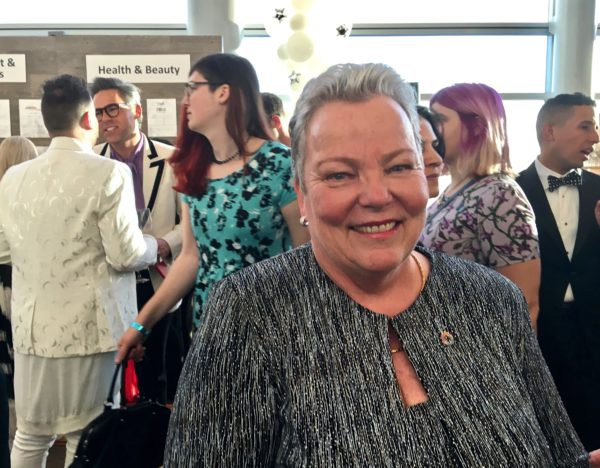 Lorri L. Jean, CEO of the Los Angeles LGBT Center. "Chad has been in the job for 7 years. I have a lot of appreciation for how much that takes. I came to support him for his last LA dinner," she says. "I have a great respect for Chad. There has been a great transformation, for sure."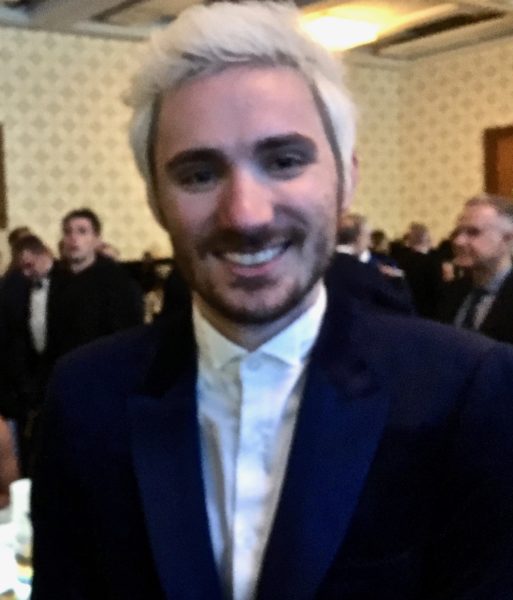 Sam Greisman – who recently participated in a video with his mother, Sally Field for Americans for the Equality Act – seemed actually kind of shy but very sweet.
The Americans for the Equality Act public awareness and advertising campaign was filmed and produced by award-winning directors Dustin Lance Black and Paris Barclay, who was at the gala with his husband Christopher (they've been together for 20 years).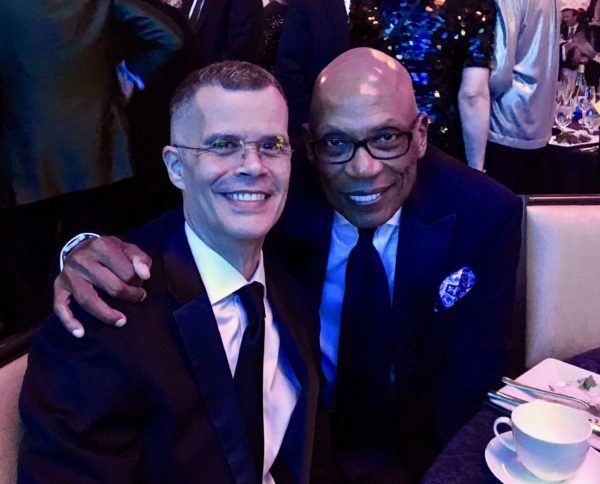 Barclay is an executive and directing producer of ABC'S "Station 19," along with Shonda Rhimes and Betsy Beers.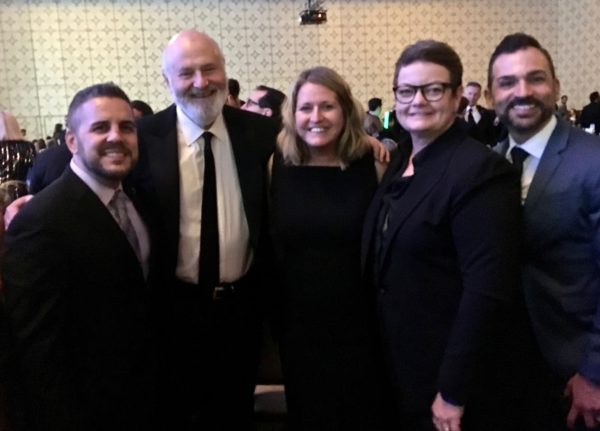 Rob Reiner with the federal Prop 8 plaintiffs he supported as part of Americans Foundation for Equal Rights: Jeff Zarrillo, Rob Reiner, Sandy Stier Kris Perry, Paul Katami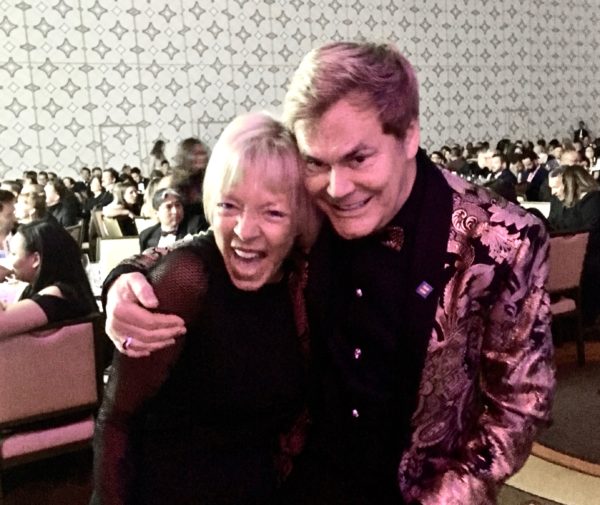 Equality Utah director Donna Weinholtz was happy to get a hug from philanthropist Bruce Bastion.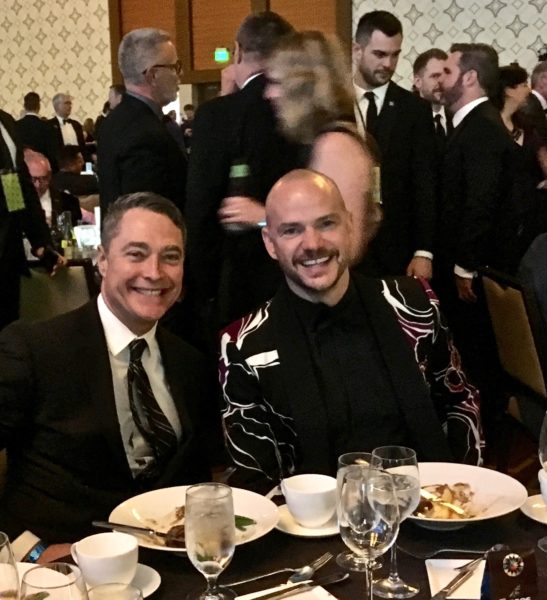 Freeform's The Fosters" and "Good Trouble" creator and executive producer Peter Paige with friend Matk Smith.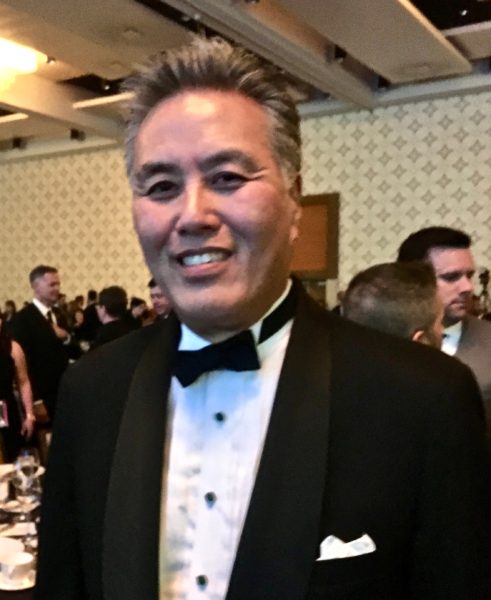 Rep. Mark Takano, Chair of House Veterans Affairs Committee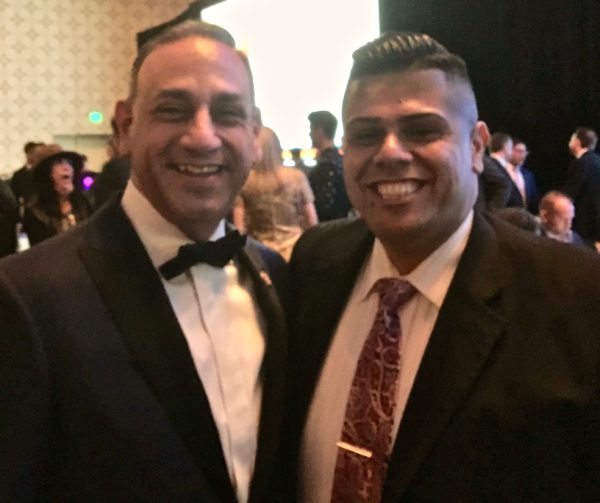 Rep. Gil Cisneros, whose Fullerton seat was flipped red to blue in 2018, with LA County Democratic Party Chair Mark Gonzalez
Chad Griffin chats with LA City Controller Ron Galperin, who on April 2 held a news conference with other LGBT officials calling for a boycott of Dorchester Hotels owned by the Sultan of Brunei, including the Beverly Hills Hotel.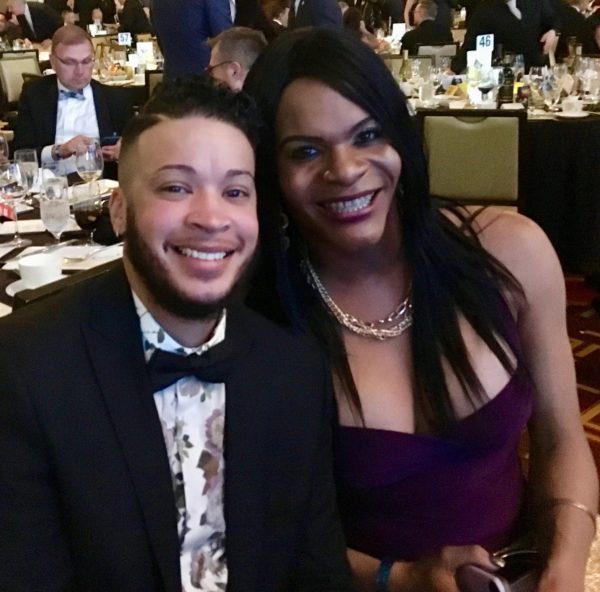 Jesse Medina and Blossom Brown. Brown delivered moving comments about being a trans person in the Deep South. "I love Mississippi and I love the South. But it's just not safe for me there," she said, who became fast friends with Griffin.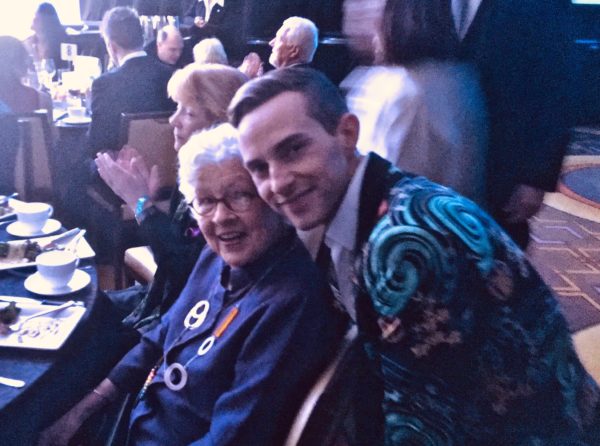 Champion figure skater Adam Rippon pauses to say hello to Betty DeGeneres, who became an HRC supporter and "mother" to many after her daughter Ellen came out.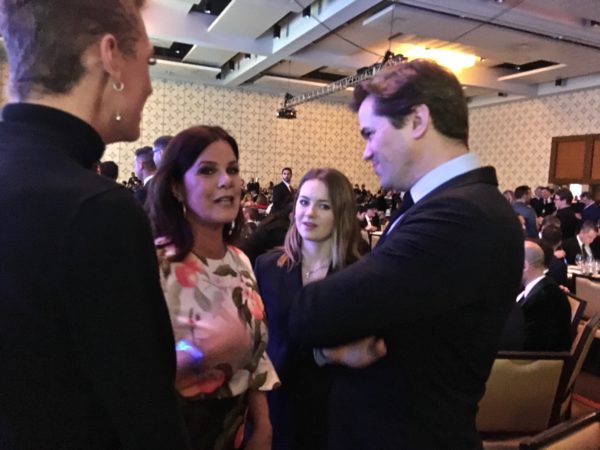 Marcia Gay Harden and Andrew Rannells chat as Julitta Dee Harden Scheel and Hudson Harden Scheel hang out.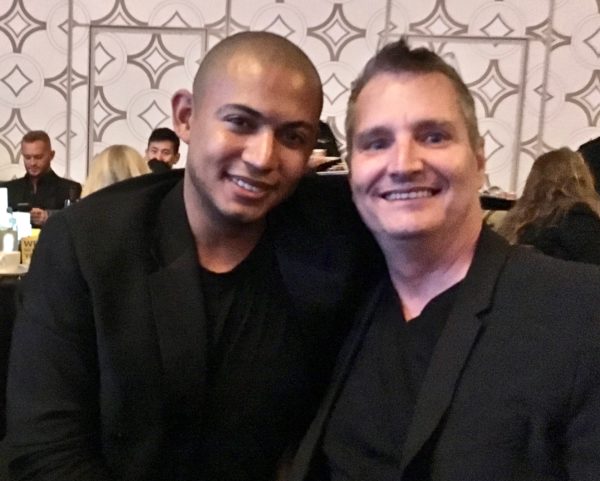 Turns out The Advocate's Zach Stafford and Los Angeles Blade publisher Troy Masters were born in the same small town of Gallatin, Tennessee.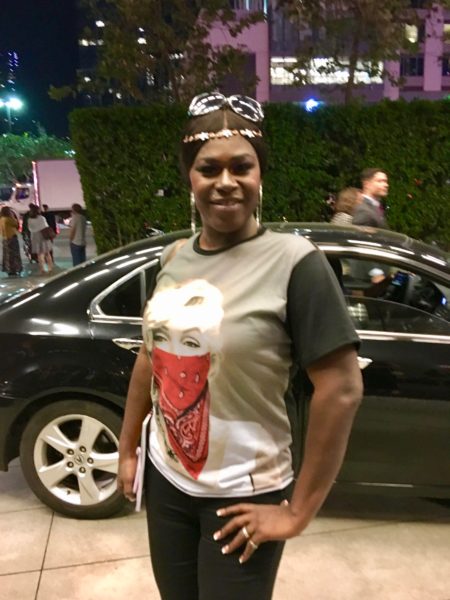 HRC/LA gala star Shea Diamond outside the JW Marriott after the gala, ready to hop in her waiting car and go home.