April 8, 2019 at 5:36 pm PDT | by Karen Ocamb
Rep. Adam Schiff on surviving Trump, Pete Buttigieg and the Tom Perez obstruction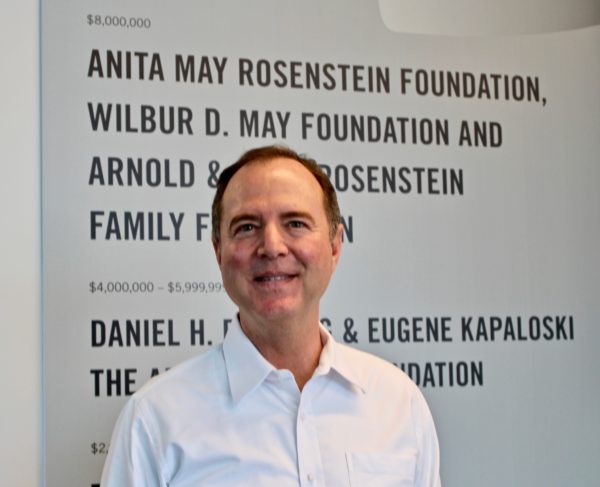 Ten days before he appeared at the grand opening of the Anita May Rosenstein Campus, the Los Angeles LGBT Center's $141 million housing and services project for LGBT seniors and youth, Rep. Adam Schiff was calling out President Trump over Special Counsel Mueller's Report, released to Attorney General Barr.
"I say this to the President, and his defenders in Congress: You may think it's okay how Trump and his associates interacted with Russians during the campaign. I don't. I think it's immoral. I think it's unethical. I think it's unpatriotic. And yes, I think it's corrupt," Schiff tweeted on March 28, clapping back at his Republican colleagues on the House Intelligence Committee he chairs for supporting Trump and pushing for a highly redacted Mueller Report, denying the American people their demand for transparency.
Just hours before he was scheduled for the ribbon cutting ceremony in Hollywood on Sunday April 7, Schiff reiterated his position on CNN, defending his country against a would-be autocrat.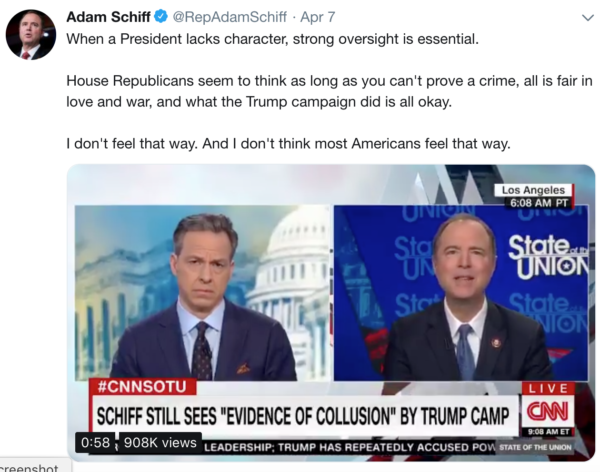 Schiff was a political rock star at the Center's event—but having helped get funding for the campus that now occupies one full city block, he wanted to keep the focus on the building, not his fight with Trump.
LA Mayor Eric Garcetti wasn't about to let the bigger historic moment go unnoticed, teasingly mentioning Schiff as "a man who came here to release the Mueller report today – Adam Schiff – which I'm so excited about," as the crowds of hundreds erupted into sustain appreciative applause.
LA LGBT Center CEO Lorri L. Jean introduced Schiff as not only "the most brilliant member of Congress" but as the only member of Congress who has ridden the AIDS LifeCycle and he did every single mile" – 7 days, 545-miles from San Francisco to Los Angeles.
Schiff joke that he couldn't sit down for a week after that ride and thanked Jean and "the Los Angeles LGBT Center on the grand opening of this magnificent revolutionary Anita May Rosenstein Campus" and acknowledged those involved, those there, and the work the new facility would encompass.
Then Schiff put the facility into perspective, remembering how two years ago, he joined the LGBT community at The Village "to consider what had just happened in the presidential election. And what it would mean for our country and what it would mean for the cause of equality. And we knew there would be tough struggles ahead and indeed, some of our worst fears have been realized. But we have stayed together, we have fought together, and we will prevail together. And we see just what we're capable of when we see this magnificent new campus."
Schiff also noted that post-election gathering in an interview after the Los Angeles Blade pointed out how poignant it was to have Trump's nemesis present at the grand opening, a symbol of LGBT defiant success.
The Center appeared to have two objectives: be safe, but celebrate. A sign at the check-in point said "No weapons;" an LAPD recruitment booth was set up just past the entrance. Well-protected security guards were ever-present but not over-bearing. Other security tried to be invisible, unless one noted the observers on the roof and the seriously fit men and women with earpieces and intense gazes. Hate crimes and mass shootings have escalated under Trump and Schiff has received death threats for his courageous convictions.
LA LGBT Center CEO Lorri L. Jean, actress Joely Fisher, Rep. Adam Schiff (Photo by Karen Ocamb) 
But no one expressed a concern for safety, despite the diversity of strangers packed together for the show. And Schiff shook hands and listened to each grateful supporter.
"In a way it feels like a bookend. I was here on the night after the election when hundreds of people gathered quite spontaneously to ask the most profound and worrying questions about what this means for the country, what it would mean for the community, what it would mean for all the hard-won progress towards marriage equality," Schiff told the Los Angeles Blade.
"And this center, this beautiful new Campus is a testament that we march forward, that we will not be deterred. Our community stands united behind equality no matter who is in the Oval Office – we shall overcome. I think it's just a wonderful celebration of what's possible when people work together," he said.
Schiff also confirmed Jean's story about Tom Perez, the former Labor Secretary under President Obama and current chair of the Democratic National Committee.
In an extensive interview with Jean before the Campus opening, she explained the ups and downs they faced during their Capitol Campaign to secure the state-owned property across from The Village.
The whole time, "we're talking to the state of California about how we want that property. And so finally they agree to give it to us for $1. We were getting it for free!" Jean said.
And then comes a twist. "We found out that the federal government had equity in the property. And because it was an Employment Development Department building, it was the Department of Labor – headed by Sec. Hilda Solis! So we worked with Hilda and she agreed to let the state give it to us for a dollar," Jean said.
And then another twist. Hilda Solis steps down to run for the LA County Board of Supervisors — "before the deal was consummated. Tom Perez stepped in (as Obama's new Secretary of Labor). He was brand new," Jean said, "but we had a deadline running with the state that we had to fish or cut bait. And even though we got (Rep.) Adam Schiff's help, Tom Perez did not have the guts to follow through on Hilda's deal—and he had toured the Center!
"So I will always be very disappointed in Tom Perez for that decision," Jean said. "So we had to pay $12.7 million for it."
Schiff remembers. "We were trying to help get the Department of Labor's green light on this and we were so close and it was a bitter disappointment that we didn't get to yes. That would have saved a lot of time and a lot of resources," Schiff says. And $12.7 million? "Yes. So that was a tremendous setback. But through the hard work of the people here – that obstacle was overcome in dramatic fashion. So today we celebrate. And look at all the community has achieved."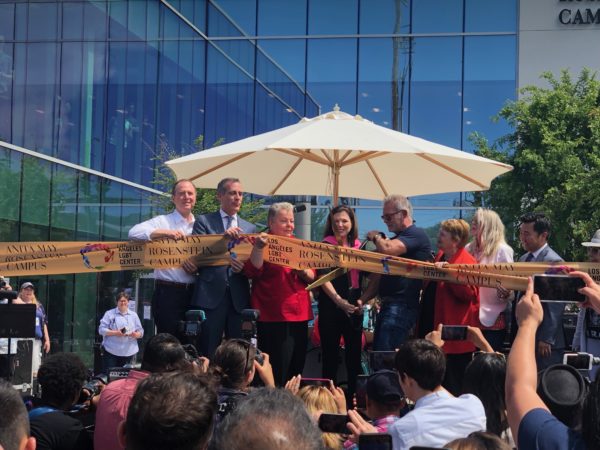 Ribbon cutting (Photo by Troy Masters) 
Schiff is confident the Equality Act will eventually pass both chambers of Congress.
"We're going to move it through the House, though I expect we're going to run into the usual opposition in the Senate," he says. "We will overcome that opposition. It's just a question of how long it's going to take us. But we are determined to press on. I know there are a great many people who thought it would be decades in the future before we would see marriage equality. But we overcome that opposition and we will make sure the Equality Act is passed as well."
Meanwhile, LGBT people continue to be official second class citizens, able to marry but subject to being fired or evicted or denied services in many states where it's still OK to discriminate based on someone's sexual orientation or gender identity.
"That is tragically all too true," Schiff says. "And you would think in this day and age in the United States of America – that you couldn't be fired for who you are or who you love. And we're going to make sure that equality is the law of the land in every state and with our federal government and I think those who oppose these efforts are going to be filled with shame when they look back and realize they were obstacles to progress."
Schiff is also excited by the message of out Mayor Pete Buttigieg, who appeared at the Victory Fund event on Sunday as an out gay man "exploring" whether to seek the Democratic presidential nomination.
"I think it's tremendous," Schiff says. "I just read an interview with him and I have to say, I was extraordinarily impressed. I can see why there's such a tremendous buzz about him and this is a phenomenal new talent.
"And it just goes to show you that the country is filled with great people and talent who have a positive vision—that this sort of dark cloud that is descended on Washington isn't representative of what's best in the country," Schiff says. "I always come back at the end of the day to something Bill Clinton once said: 'There's nothing wrong in America that can't be cured by what's right in America.' And Mayor Pete is one of those great illustrations of what's right in America."