Millions raised at GLSEN Beverly Hills fete
Greg Berlanti and Robbie Rogers donate one million dollars to GLSEN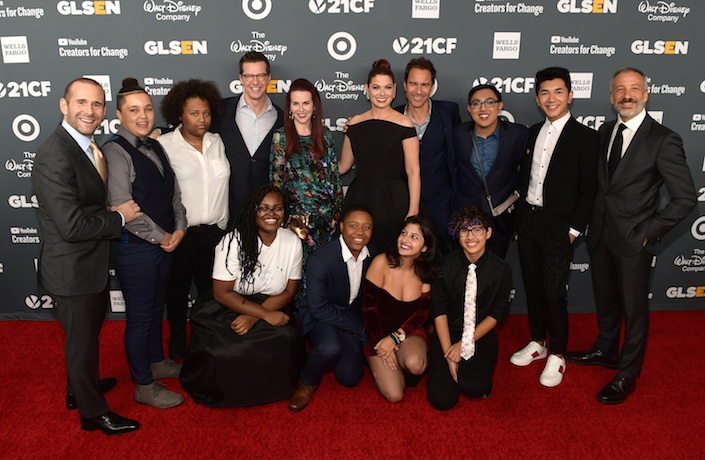 Norman Lear and Jeffrey Katzenberg in the same room, supporting safer school environments across the country for LGBT youth; it's kind of all that needs to be said about the GLSEN 2018 Los Angeles Respect Awards, held October 19 at the Beverly Wilshire Hotel. It was a power room, to be sure.
But the room was bursting with prominent members of the LGBTQ community and allies alike, including Honorary Co-Chairs Robbie Rogers, Simon Halls, and Connor Franta, Co-Chairs Jim Fielding, Dave Karger, Patrick Moran, Chip Sullivan, and additional special guests including Shannon Beveridge, Logan Browning, Gloria Calderon Kellett, Charlie Carver, Diego di Marco, Tommy Dorfman, Kat Graham, Olivia Jordan, Sasha Lane, Arturo Mesquite, Our Lady J, Judy Reyes, Roselyn Sanchez, Cammie Scott, Shangela, Meher Tatna, Eric Winter, and many more. Did we mention Joan Collins? And Billy Porter?  And Ryan Murphy? We could go on.
The event, which raised over $1.5 million, honored actress and activist Yara Shahidi, Will & Grace co-creators and executive producers Max Mutchnick & David Kohan, actress, producer, and activist Ellen Pompeo, Elizabeth Gabler, President, Fox 2000 Pictures, accepting on behalf of Twentieth Century Fox Film, and Student Advocate of the Year Ruby Noboa.
GLSEN Executive Director Eliza Byard announced a staggering $1 million donation: "Greg Berlanti and Robbie Rogers are making a transformative gift to GLSEN at a critical time in our history. I cannot thank them enough for the opportunity to take on today's urgent challenges while building for GLSEN's future. I have no doubt that their gift will change and save lives here and everywhere, and inspire others to join the fight. Thank you, Greg and Robbie."
Byard also announced the group would be opening West Coast headquarters in Los Angeles.
The Berlanti Family Foundation is dedicated to improving the lives of all LGBTQIA people and their straight allies through education, the arts, medicine and other social services is poised to make additional contributions to other group's this year, but felt that the work that GLSEN was doing merited an inaugural donation.
The evening was filled with special presentations and performances, as each honoree was recognized for their outstanding work and activism on behalf of the LGBTQ community. Former Starbucks Executive Chairman Howard Schultz addressed the crowd, stressing the importance of encouraging diversity and inclusion in the workplace, before welcoming the stars of Will & Grace to the stage.
Schultz, an ally, shared an amazing example of his own leadership for equality:  "One of my proudest achievements (at Starbucks) involves LGBTQ rights. We at Starbucks were one of the first companies in America to support same-sex marriages," he said to thunderous applause. "Today we offer full benefits to same-sex partners and offer medical benefits for transgender employees without exclusions for medically necessary care."
But, he told the audience those positions have been not without shareholder consequence. "At a shareholders meeting a gentleman stood up and questioned my decision to offer health benefits to same-sex partners, arguing we should not impact the economic interest of all shareholders for something that affects a small percentage of our employees. I told him and the 3,000 shareholders in attendance that 'with respect, this was not an economic decision. Starbucks is a company that defines itself by the relationship our employees have with their communities. We embrace diversity and inclusion, I said.  And if he or anyone else in the room disagreed with that position they could sell their stock in the company." The room was electrified.
Schultz, who delivered several hysterical one liners, then introduced Eric McCormack, Debra Messing, Sean Hayes and Megan Mullally, the cast of Will and Grace who presented the Champion Award to the show's creators, Max Mutchnick and David Kohan.
Mutchnick, in his characteristic humor, poked fun at Greg Berlanti and Robbie Rogers for their mega-donation. "We admire you not simply because you are younger, richer and have more shows on the air than we do (that fact is actually annoying to us) we admire you both for your talent, generosity and spirit."
To the cast of Will and Grace, Mutchnick took another dig, drawing great laughter from the crowd of Hollywood insiders.  "What can we say.  You are nothing without us." He went on to disprove himself, saying "they know it's the other way around and most importantly Business Affairs knows it's the other way around."
To the many students at the event, Mutchnick said, "Thank you in advance for saving the world. We're sorry," one of many references through the night that implied the LGBTQ community was facing a tremendous socio-political setback.
David Kohan, an ally and best friend of Mutchnick since childhood, jokingly struggled to explain how Max might have been a better person if GLSEN had existed while they were growing up. "Imagine there had been GLESN when we were in High School," Kohan said, "I think you would be, I don't know, more, ahm….nice."
Their sparring revealed the depth of a loving, life long relationship.  "Are you upset because I am sitting next to Norman Lear," Mutchnick implored, adding "is that what this is about? I just wanted to see how a legend eats chicken"
The pair heaped praise on Norman Lear, who received a prolonged standing ovation from the crowd. "Norman, we owe you so much for showing us that a sitcom can be so important in just 30 minutes," Mutchnick said. "You taught how to make what we do an instrument of social change. The rest we learned from our collaborator, Jimmy Burrows."
They praised the work of GLSEN and, as Kohn put it, helping ensure that "everyone's story can be respected and heard."
Later Mutchnick gave Kohan a glowing tribute. "When we were in High School, David was my GLSEN. I went to him and I came out; he listened, he didn't judge and he gave me the support and confidence to go out into the world and feel good about who and what I am. Not every school has a Dave, but we need to make sure every school has a GLSEN."
Jeffrey Katzenberg said that "having become grandparents," his wife Marilyn and he "have come to appreciate the work of GLSEN in a whole new way." Having grandchildren, he said, makes you "think about the world you will leave behind and the future you wish and hope that your grandchildren will experience."
He introduced Student Advocate of the Year Ruby Noboa, a resident of the Bronx, NY who established an LGBTQ center there. Noboa, who's girlfriend is a transwoman, retold the story of attending a women's march holding a sign that read "Trans Women Are Real Women." "I tried to include all the names of trans women who had been murdered that year but couldn't fit all of them," she said. "I was scared to walk around with my sign and I thought 'do I really want to open myself up to the anger of some feminist?' and my heart answered yes." She said "I don't mind risking my life to make the voice of thousands visible. Don't be afraid to open the door and hand over the mic."
Kathryn Prescott, a GLSEN Boardmember whose trans son Tyler committed suicide at 15 years old said that "being misgendered and victimized by peers and teachers at school each day was too much. It's up to those of us who are still here to make things better for our own children and all of us."
GLSEN, she said, "is making a real difference everyday. They connect with state and local governments, school boards, PTA's, teachers unions, individual teachers, GSA's, students and parents across the country to touch the lives of student's everywhere. GLSEN is changing the very fabric of our country by extending its reach to every school in our country to ensure that every child can thrive."
"I still think about Tyler everyday," she said, "I know that he would be proud of me. And if every here would make a commitment to the changes we need in our laws, and in our schools we could protect everyone of our children."
Grey's Anatomy creator Shonda Rhimes praised Inspiration Award recipient Ellen Pompeo for her "fearless advocacy work on behalf of so many marginalized communities of people." Pompeo accepted her award by calling out the names of those whose lives have been "senselessly taken due to an absence of love," and reiterating the need to teach and love our children. "I am a Love activist," she repeated.
Storm Reid welcomed her friend, Gamechanger Award honoree Yara Shahidi, to the stage, commending her for using her platform to enact social change. Shahidi delivered an inspiring acceptance speech, thanking GLSEN for encouraging a world of equality for everyone.
Elizabeth Gabler accepted the Visionary Award on behalf of Twentieth Century Fox Films, taking the opportunity to thank Greg Berlanti for creating the beautiful film that was "Love, Simon."
There was no shortage of these heartfelt moments, as additional presenters including Matt Bomer, Jeffrey Katzenberg, Katherine Langford, Ryan Murphy, Billy Porter, Nick Robinson, and MJ Rodriguez, all took to the stage to praise their friends, colleagues, mentors, and allies, who have continued to spread a message of love and acceptance through both their personal and professional lives. As always, the students were the center of the evening, speaking about the remarkable work that they've done to create a safe environment at their schools, launch Gender and Sexuality Alliances, and much more.
National Student Council members attending included Anais Canepa, Brianna Davis, JP Grant, Sameer Jha, Sayer Kirk, Darid Prom, Imani Sims, and Kian Tortorello-Allen.
GLSEN recently released a National School Climate Survey, the latest and the largest body of research on the experiences of LGBTQ youth in schools, including the extent of the challenges that they face at school and the school-based resources that support LGBTQ students' well-being.
The survey has consistently indicated that specific school-based supports are related to a safer and more inclusive school climate, including: supportive educators, LGBTQ-inclusive curriculum, inclusive and supportive policies, and supportive student clubs, such as Gay-Straight Alliances or Gender and Sexuality Alliances (GSAs).
For the first time in years, new data shows progress on safe schools for LGBTQ youth has slowed down, making the work that GLSEN is doing even more imperative.
For nearly three decades, GLSEN has led the way on LGBTQ issues in K-12 education through ground-breaking original research, innovative program development, educator training, student organizing, and targeted state and federal advocacy. With the development of educational resources, direct engagement of youth and educators, and GLSEN national programs like Day of Silence, No Name-Calling Week, and Ally Week, GLSEN has seen the impact of its work.
An attendee, Donna Wilkens, who flew in from Nashville for the event, put it best. "Tonight was a revolution for me and I'm gonna pass it on." Wilkens says she started a GSA at the rural Tennessee High School where she teaches and that it has become the number one social group at school. "GLSEN makes a profound difference and these kids take that home. And so on."
LA-DWP & Mayor Garcetti announce new outdoor watering restrictions
Sprinkler watering will be allowed Monday & Friday at odd-numbered addresses in the city, and even-numbered addresses on Thursday & Sunday

LOS ANGELES – In a press conference Tuesday Los Angeles Mayor Eric Garcetti and officials from the Los Angeles Department of Water and Power (LADWP) announced that outdoor watering in the city will be restricted to two days a week starting June 1.
The announcement comes as the Metropolitan Water District of Southern California declared an unprecedented water shortage emergency two weeks ago, imposing restrictions after MWD's board voted to adopt the emergency measures to "reduce non-essential water use" in certain areas. Cities and smaller water suppliers that get water from MWD are required to start restricting outdoor watering to one day a week, or to find other ways to cut usage to a new monthly allocation limit.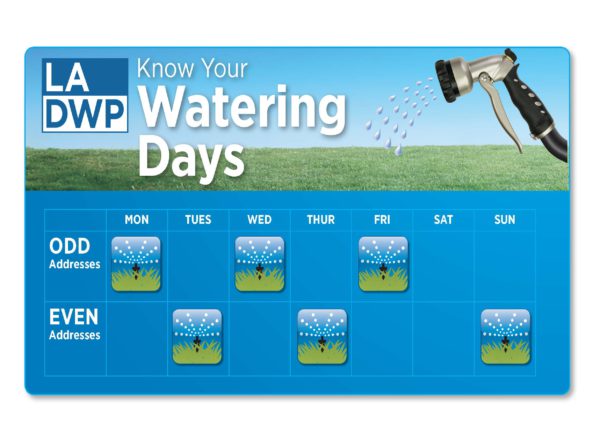 In Tuesday's press conference Mayor Garcetti said L.A.'s two-day limit was still more lenient than the one imposed by the Metropolitan Water District of Southern California, which has ordered many of its member agencies to restrict outdoor watering to once a week.
Sprinkler watering will be allowed on Monday and Friday at odd-numbered addresses in the city, and even-numbered addresses on Thursday and Sunday.
Hollywood residents angered over Sunset Blvd. homeless encampment
Many residents are frustrated over the increasing daily criminal activity that has plagued the area, including vehicle break-ins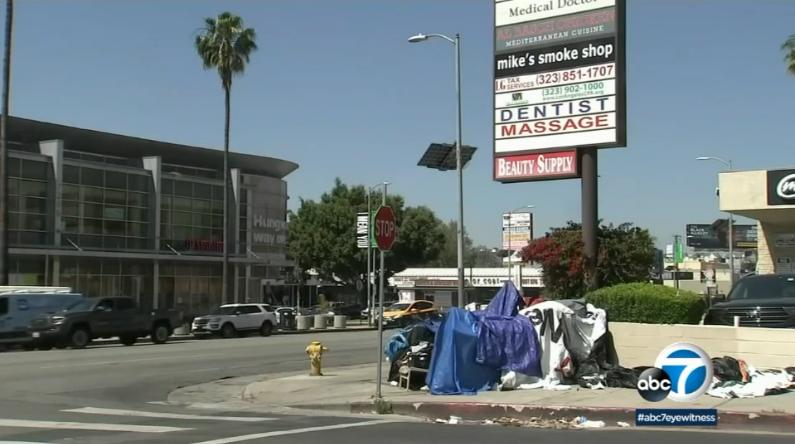 HOLLYWOOD – For those who live in the Hollywood neighborhood that surrounds the homeless encampment on Sunset Boulevard at Martel Avenue, the last seventeen months have been aggravating.
Many residents are frustrated over the increasing daily criminal activity that has plagued the area, including vehicle break-ins which at times has resulted in multiple break-ins on the same vehicles.
"We've had tons of break-ins. Our garage has been broken into five times. Cars are vandalized. Mail is stolen," local resident Lawrence S., who lives near the encampment, told KABC 7. "Our building, the building across the street, the building across the street that way — there's just rampant crime.
"I actually had my sister in-law come to visit for the first time and she parked across the street in broad daylight and within 30 seconds, someone from the homeless encampment was down swinging a club at her. The violence is escalating and we keep asking the City Council, what is it going to take? Do we need to wait till someone's murdered?"
The encampment is located at 7323 Sunset Blvd. and surrounds an AT&T building. It's located in L.A. City Councilwoman Nithya Raman's district who toured the encampment in 2021, joined by residents, including Terry S.
"She promised. She said that she would be adamantly enforcing ADA compliance. That she's looking into setting up a safe camping location for the campers. Never happened," Terry S. told KABC 7.
"In August, 41.18, an ordinance, passed and we were very hopeful because finally we thought that they would have some tools at their disposal," Lawrence S. said. "But the city councilwoman is only enforcing a part of that ordinance, which is the Care Plus Cleanup program. However, she's only doing it when she feels like enforcing it, which is three times in 17 months."
Residents say that the city's efforts to clean up and clear out the encampment only results in the homeless displaced for a couple of days sometimes less and then they return to reestablish the encampment. This past Thursday the city again clean and cleared the encampment.
While an KABC 7 camera and reporter Josh Haskell were working on the story homeless people were in the background reestablishing their presence across the street.
KABC 7 reached out to Councilwoman Nithya Raman whose office responded with a media statement:
"This encampment is a priority for our office, and our Homelessness Team has been consistently bringing services and working with the individuals living at this location. LAHSA outreach teams most recently identified seven people living here and together we worked to move three of them into shelter just yesterday as part of our Encampment-to-Home project, which has already moved 43 people in Hollywood indoors. Additionally, a cleanup took place at this location yesterday and we are working to move the remaining individuals into shelter as soon as beds become available. We are in continued communication with the residents in the neighborhood regarding the status of our progress as we move forward."
Residents upset with LA City Councilwoman Nithya Raman over Sunset Boulevard homeless encampment:
Lawsuit against USC in sexual abuse case of 80 male students settled
"The settlement is another step toward closure for our clients who finally feel a sense of recognition and validation for speaking up"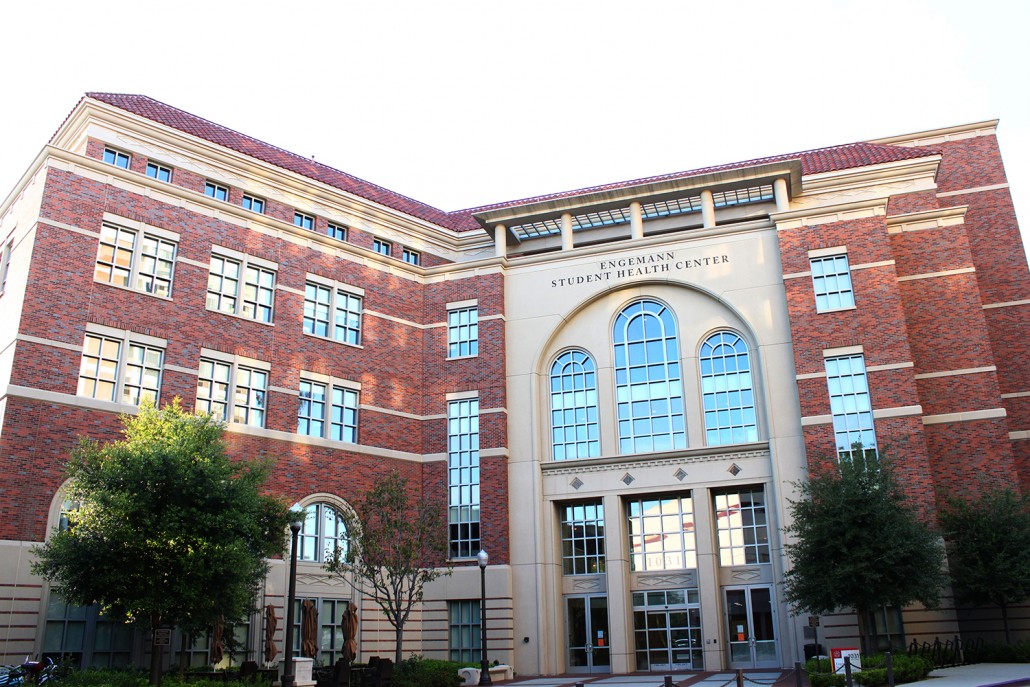 LOS ANGELES – Attorneys representing 80 individuals who filed lawsuits and made claims against the University of Southern California and former USC men's health physician Dennis Kelly for allegations of sexual misconduct and harassment have reached a global settlement according to the plaintiffs' attorney, Mikayla Kellogg.
"The settlement was achieved through the persistence and bravery of our clients who had the strength to come forward to share the harrowing details of their experiences at the USC Student Health Center and the determination to hold USC accountable for its failure to protect its students," said Kellogg, partner at Kellogg & Van Aken last week. "The settlement is another step toward closure for our clients who finally feel a sense of recognition and validation for speaking up."
The lawsuit was filed in February 2019 in Los Angeles Superior Court by six former University of Southern California student alumni, all gay or bisexual, alleges that Dr. Dennis A. Kelly discriminated against and battered them while he was serving as the only full-time men's sexual health doctor at the Engemann Student Health Center on the USC campus.
Since the original filing, 74 additional individuals have come forward, bringing the total number of claimants to 80.
Kelly Van Aken, partner at Kellogg & Van Aken said, "It has been a long three years for our courageous clients who have persevered through intense scrutiny to ensure their voices have been heard. It is our hope that by taking these allegations public and speaking out on behalf of dozens of current and former students of USC, institutions entrusted with the care of vulnerable young people are forced to confront and correct the toxic and problematic cultures that allow abuse and misconduct to continue."
Dennis Kelly was a physician at USC's Student Health Center from 1997 to 2018. The claimants allege that Dennis Kelly used his position of trust and authority as USC's men's health physician to engage in sexual misconduct under the guise of medical care and disproportionately targeted LGBTQ+ patients.  They further allege that USC received complaints about Dennis Kelly's misconduct but failed to adequately address them and continued to allow Dr. Kelly to see and treat vulnerable young students without limitation.
Kelly, 72, who resigned in August of 2018 after twenty years working at the student clinic as a primary care physician, denied any inappropriate behavior toward patients and called the lawsuit's allegations "terribly hurtful."
"I can't second-guess or question anything I've done," Kelly said in a phone interview February 12, 2019 with the Los Angeles Times. He added, "I know I did it all professionally and without any other motive."
Kelly, who described himself as an openly gay physician to the paper defended his actions telling The Times that he had devoted much of his career to counseling LGBTQ patients about ways to reduce the risks of their sexual behavior.
According to Kelly, he never used the graphic terms described in the lawsuit or performed unnecessary genital exams. He said he suspected his stern warnings about behavior that put patients at risk for sexually transmitted diseases were misinterpreted as condemnation or deviance.
The court documents stated that Kelley specifically targeted USC's gay and bisexual and male student population, "all of whom were young adults and many of whom were visiting the doctor without a parent for the first time," alleging he subjected to "intrusive and medically unnecessary rectal examinations."
"Dr. Kelly did not treat heterosexual men in a similar manner and did not perform rectal examinations on heterosexual men who had similar sexual practices," the suit claimed.