Record number of anti-trans hate crimes in Los Angeles County 
Officials say the total number of has climbed consistently over the past four years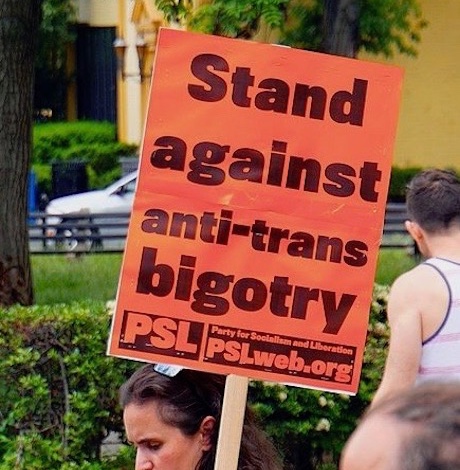 Reported hate crimes in Los Angeles County increased by five percent last year to 508, the Los Angeles County Commission on Human Relations (LACCHR) announced Oct. 18. For the second consecutive year, there were a record number of anti-transgender crimes. Ninety-four percent of those were violent. 
Even amid a slight decline in crimes against gay men, lesbians, and LGBT organizations, the Commission found 76 percent involved violence—a higher proportion than the number of violent hate crimes committed last year on the basis of race or religion. All of the incidents involving lesbian victims were violent. 
Since 2013, the Commission reports there has been a 32 percent increase in the total number of reported hate crimes. "We are extremely concerned that reported hate crimes in L.A. County have been trending upwards for four years in a row," said Robin Toma, LACCHR Executive Director, in a press release. "The rise in L.A. County mirrors increases in hate crimes in most major U.S. cities in 2017."   
This year's numbers come just after New York Gov. Andrew Cuomo called for an investigation into whether a hate crime was committed by a member or members of the far-right, pro-Trump organization Proud Boys during a fight between the group and protestors from the anti-fascist organization Antifa. A video clip taken during the incident, which unfolded at a Republican Party event in Manhattan, shows a member of the Proud Boys kicking a protestor while yelling "faggot." He was arrested Oct. 18 on charges of attempted assault and riot. 
Some studies have linked President Trump's rhetoric and tweets to the nationwide year-over-year rise in anti-black, anti-Muslim, and anti-Latino hate crimes. L.A. County officials note nine suspects referenced Trump's name during their commission of alleged hate crimes last year. Half of the crimes reported in the county in 2017 were racially motivated. There were 15 and 16 percent increases in hate crimes committed against African American and Latino/Latina residents, respectively.
"We are truly alarmed at the continued over-representation of African Americans in racial hate crimes and the extremely high rates of violence directed against gay men, lesbians and transgender victims," said Commission President Jarret Barrios in a press release. 
Black and Latino/Latina people were overrepresented in anti-LGBT crimes last year, the Commission reports. In January 2018, a transgender Los Angeles woman, Viccky Gutierrez, was stabbed—and her body set ablaze—in a brutal hate crime that underscores the type of violence encountered by trans people of color. 
Padilla, local leaders celebrate passage of Respect for Marriage Act
"There's no better place than San Francisco to celebrate passage of the Respect for Marriage Act & affirm lives of millions of LGBTQ people"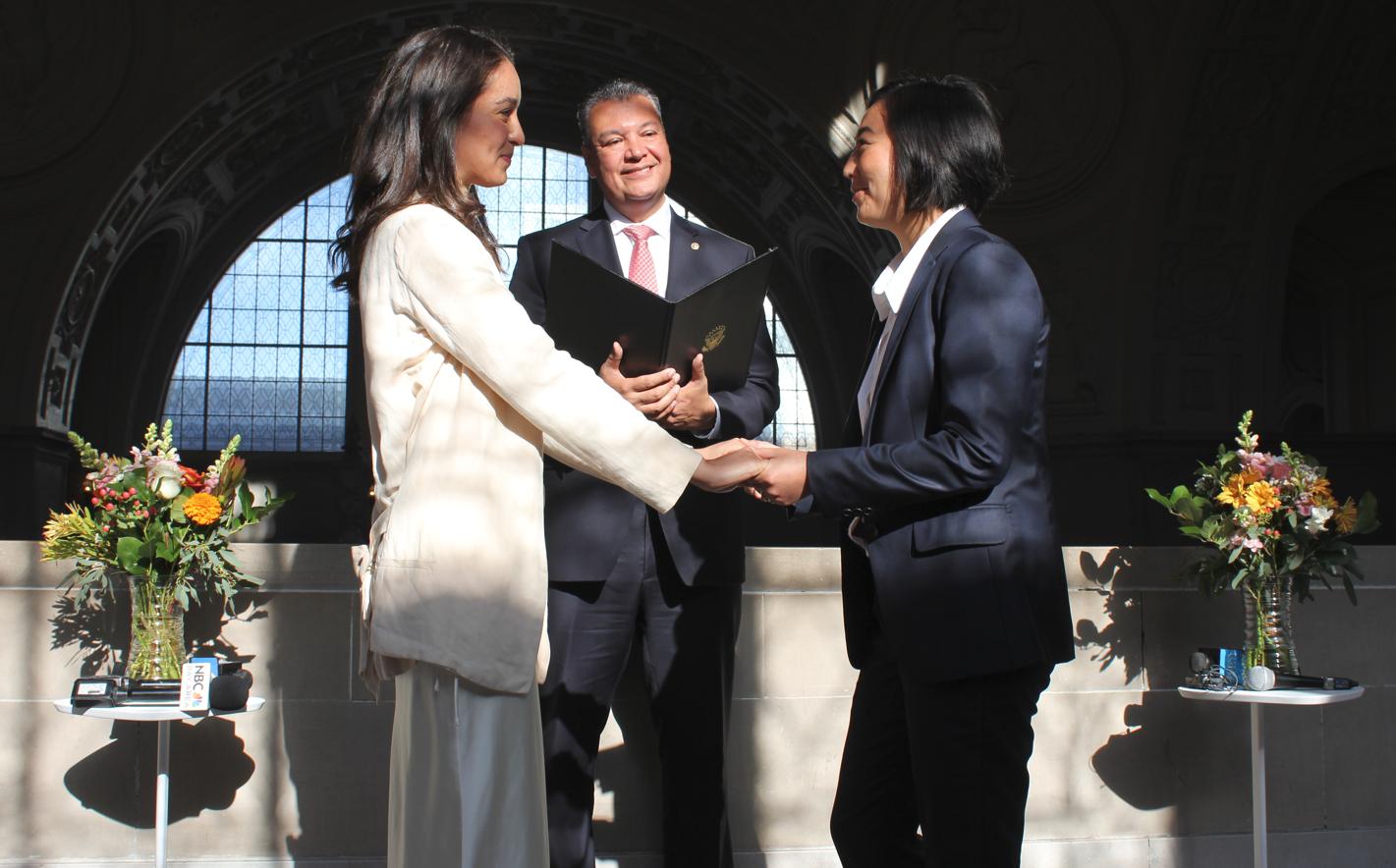 SAN FRANCISCO —  U.S. Senator Alex Padilla (D-Calif.) on Friday hosted a press conference with San Francisco Mayor London Breed, State Senator Scott Wiener, Equality California Executive Director Tony Hoang, and local leaders following the Senate passage of the Respect for Marriage Act.
Senator Padilla also officiated a vows renewal ceremony of Cyn Wang and Tessa Chavez, a local lesbian couple, at San Francisco City Hall to mark the historic occasion.
The Respect for Marriage Act requires the federal government to recognize a marriage between two individuals if the marriage was valid in the state where it was performed and guarantee that valid marriages between two individuals are given full faith and credit, regardless of the couple's sex, race, ethnicity, or national origin. The legislation passed the Senate by a vote of 61-36.
"There is no better place than San Francisco to celebrate the passage of the Respect for Marriage Act and unequivocally affirm the lives of millions of LGBTQ people and interracial couples across our country," said Senator Padilla. "We celebrate the progress that we have made today, but recognize the work still left undone to fully protect the rights of LGBTQ Americans. I'll continue working to build on our efforts until we ensure that every American is treated equally under the law, free from discrimination."
"I was proud to introduce the Respect for Marriage Act over the summer, and I'm even more pleased that the bill passed the Senate this week with strong bipartisan support," said Senator Dianne Feinstein. "The Respect for Marriage Act will guarantee legal protections for millions of marriages in the United States. Simply put, Americans should be free to marry the person they love, regardless of sexual orientation or race, without fear of discrimination or fear that their marriages will be invalidated. This was a historic vote and one that every proponent of equality can be proud of."
"The Respect for Marriage Act is an important step forward in the continued fight for LGBTQ and racial equality in America," said State Senator Scott Wiener. "Today, we celebrate this victory for our civil rights, and tomorrow we recommit to fight even harder against the right-wing Supreme Court's efforts to legalize discrimination in this country."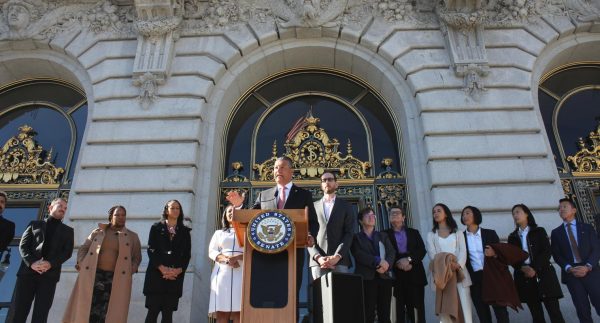 "San Francisco's history is inseparable from the history of the LGBTQ community and the movement for marriage equality locally, at the state level, and nationally," said Mayor Breed. "As we celebrate the passage of the Respect for Marriage Act, we honor those who have endured discrimination and hate, and the many who lost their lives in the quest for equality. We recommit ourselves to protect the fundamental rights of all people regardless of who they are or whom they love. Thank you to Congressional leaders, especially Senators Dianne Feinstein and Alex Padilla, and Speaker Pelosi for their leadership to pass this historical legislation."
"Equality California applauds this historic vote and the critical leadership of Senators Baldwin, Feinstein and Padilla, in getting this bill across the finish line," said Equality California Executive Director Tony Hoang. "While this is an important step in affirming the dignity of the LGBTQ+ community, it will not end all discrimination against LGBTQ+ people or erase the hateful rhetoric of anti-LGBTQ+ politicians and extremists. Equality California will continue to fight for full, lived equality for all LGBTQ+ people until the work is done."
"The Respect for Marriage Act removes an ugly, discriminatory stain on our federal law books – the 1996 so-called "Defense of Marriage Act" – and replaces DOMA with a rule requiring government at all levels to treat all married couples equally nationwide," said Jenny Pizer, Chief Legal Officer, Lambda Legal. "We hope we never need it.  But if the U.S. Supreme Court were, outrageously, to erase the constitutional protection for the freedom to marry, this law will substantially reduce the harms. Yet, even if the Respect for Marriage Act were to become necessary, it would not be sufficient. We still urgently need the Equality Act to become law, to protect LGBTQ people from the widespread discrimination that persists in the commercial marketplace and in public services with harsh, unacceptable consequences."
"It is a historic moment for the advancement and preservation of basic civil rights for all Americans, but by no means is our work done," said Kris Perry, Prop 8 Plaintiff & Nonprofit Director. "Our family and thousands of families like ours can breathe easier tonight knowing our fundamental rights are protected."
"After the Supreme Court overturned a woman's right to choice, we feared same-sex marriages were next," said Cyn Wang and Tessa Chavez. "The Respect for Marriage Act gives our family clarity and a sense of relief that our marriage, and those of all married couples regardless of sexual orientation or race, will be protected in this country."
The Respect for Marriage Act now goes to the House of Representatives for passage and then to the President's desk to be signed into law.
Senator Padilla is committed to pursuing equality for the LGBTQ community, including in employment, housing, and credit lending.
Earlier this year, Padilla introduced the LGBTQ Business Equal Credit Enforcement and Investment Act, legislation that would protect the 1.4 million LGBTQ-owned businesses in the nation from lending discrimination to ensure equal access to economic opportunities. Padilla also joined Senate Democrats in introducing a resolution recognizing June as LGBTQ Pride Month to highlight the work of the LGBTQ community in fighting to achieve full equality, including for marriage.