October 28, 2018 at 6:46 pm PDT | by Troy Masters
[email protected]
Coalition provides most exciting moment of World Series Championship Game
Wait.  That headline. Make that the absolute most exciting moment of the entire World Series.
Some might say they risked their lives for visibility while others would say they were just mighty brave, but Bamby Salcedo and Maria Roman decided to take a stand for trans visibility during one of the world's most watched sports event.
At Dodger stadium, near the top of the 6th inning of World Series game 5, with Los Angeles behind in the series 3-1 and behind in game 2 to 1,  members of [email protected] Coalition dropped a banner in support of Trans rights.
The move was a protest in opposition to the Trump administration's plan to define gender as the stated gender at birth and as immutable, a move that would reverse political, civil rights and legal gains made by the trans community.
The banner, a Transgender Pride flag emblazoned with the the phrase "Trans people deserve to live" was dropped without fanfare and while it was visible on TV, there was no hostile response.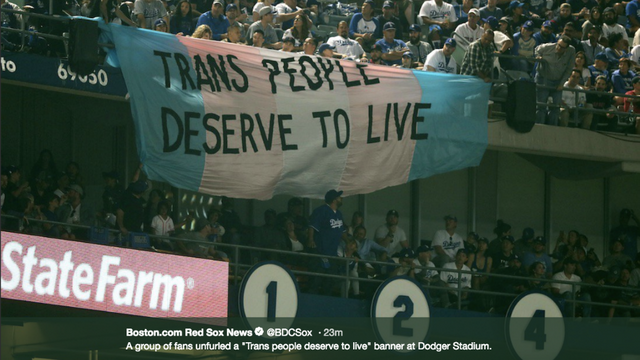 As organizers moved to drape the banner over the railing, scrambling to lower the Trans Flag, there was a great deal of activity. The banner dropped and remained on display for several minutes.
Watching the Dodgers/Red Sox final innings. It is amazing how a manager takes out a pitcher who is loose & dominating through almost 7 innings, Rich Hill of Dodgers, and brings in nervous reliever(s) who get shellacked. 4 run lead gone. Managers do it all the time, big mistake!

— Donald J. Trump (@realDonaldTrump) October 28, 2018
Security quickly descended on the group during their livestream and they were asked to leave. At least one person was detained but not arrested. The banner was seized.
"People must understand that Trans people are part of our society. Our message tonight was to let the world know that we as Trans people deserve to be humanized, acknowledged and valued. Weare claiming our righteous space in society," said Salcedo, the CEO and President of [email protected] Coalition.
Salcedo was able to leave without incident. "Have a good night," said the security person as she left.
Donald was watching.