What's next after the Democratic House victory?
Bisexual Katie Hill wins over anti-LGBT Rep. Steve Knight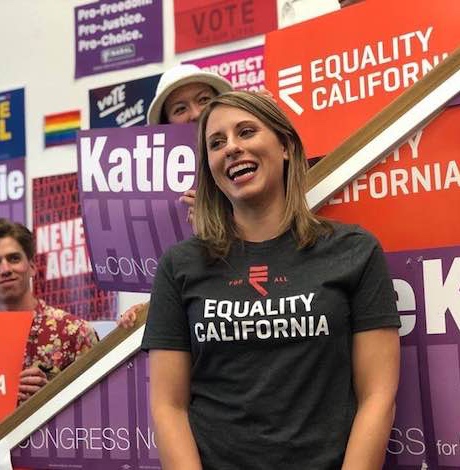 LGBT ally Steve Schmidt, the former Republican strategist turned political pundit, repeatedly cautions that President Donald Trump, whom he calls the "greatest demagogue" in US history, is inciting a "cold civil war."
"Trump has stoked a cold civil war in this country. His rallies brim with menace and he has labeled journalists as enemies of the people," Schmidt tweeted after a lone-wolf mass mail-bomb assassination attempt against Trump's Democratic hit list was uncovered. "That someone would seek to kill their political enemies is not aberrational but rather the inevitable consequence of Trumps [sic] incitement."
That was when Republicans held the White House, the Senate, the House and the majority on the US Supreme Court and the administration had no qualms in publicly rolling back protections for LGBT people. In fact, after the New York Times announced that "Transgender Could be Defined Out of Existence Under Trump," the LGBT community and many allies responded with outrage, becoming deeply invested in winning back the House of Representatives during the Nov. 6 midterm elections, while realizing that the Senate may stay in Republican hands.
Despite hard work and millions of dollars—the Human Rights Campaign alone invested $26 million in a massive grassroots campaign deploying 150 HRC staff to more than 70 congressional, targeted senate and key statewide races across 23 states—the dreamed- about massive big blue wave didn't materialize and many of the progressive leaders that LGBT and ally supporters hoped would win big to stick it to Donald Trump either lost or were artificially deprived of winning.  
There were big wins, however—including out bisexual Katie Hill, 31, who won in California's 25th District against longtime anti-LGBT Rep. Steve Knight in Northern Los Angeles County and part of Ventura. Hill was leading by roughly 5,500 votes, or 52.2 percent just past noon on Wednesday—and Knight decided to concede. "The voters have spoken and they want a new congressman — or a congresswoman, for this district," Knight told KCBSTV. "We wish her the best."
She'll need it. At a Nov. 7 news conference in the East Room of the White House, Trump took a victory lap for personally having staved off the Democrat's Big Blue Wave and weirdly praised House Leader Nancy Pelosi, who is expected to take back the gavel as House Speaker, promising to work with her on "a beautiful bipartisan-type situation." He's promised bipartisanship before—then bailed, most notably with California senior Sen. Dianne Feinstein, who was just handily re-elected, on the issue of gun violence.
But Trump also threw down the gauntlet, promising to assume a "Game of Thrones"-like "warlike posture" if the House dares investigate him or his administration.
"They can play that game, but we can play it better, because we have a thing called the United States Senate," Trump said, referring to the Republican Senate which just gained two seats but is actually a separate branch of government run by Majority Leader Mitch McConnell. "I could see it being extremely good for me politically because I think I'm better at that game than they are, actually, but we'll find out."
For her part, Pelosi told Democrats at their victory party that the House would focus on "restoring the Constitution's checks and balances to the Trump administration," as opposed to immediately following up on LGBT fan favorite Rep. Maxine Water's repeated calls for Trump's impeachment.
LGBT ally Rep. Adam Schiff of Los Angeles, meanwhile, must most feel the burden of the sane free world on his shoulders as he considers assuming the chair of the House Intelligence Committee. He told his supporters at a Burbank restaurant on Election Night, that the era of one-party rule is over.  It's a message he's been pushing while campaigning for others.
"We've had a Congress completely unwilling to do its job, to be a co-equal branch of government, unwilling to push back against the basic indecency of this person in the Oval Office," Schiff at a rally for Katie Hill, the Los Angeles Times reported. "And it is this combination of unethical president and a cowardly, rubber-stamp Congress that has our republic trembling, and why so much rides on our ability to flip the House."
Now flipped, Schiff is expected to investigate Trump's finances, Trump's campaign and the administration's possible links to Russia, intentionally ignored by his Republican counterpart, California Rep. Devin Nunes, who was also just re-elected after a briefly close race.
"As long as Donald Trump is the president, it will be a poisonous atmosphere because he's all about division. Nonetheless, we need to do our best in Congress to get the people's business done. We need to show that we are more than just being about being opposed to him. We are not going to abuse our power the way the Republicans did. We are going to be responsible and tenacious in pursuit of our policy," Schiff said.
House Republicans have trouble brewing in-house, according to The Hill. With Speaker Paul Ryan retiring, the race is on to become the next leader of the House GOP. California Rep. Kevin McCarthy, often seen glued to Trump, has been widely expected to assume the mantle of House minority leader. But shortly after Democrats had re-taken control, far right conservative Rep. Jim Jordan of Ohio announced that he intends to challenge McCarthy.
"In 2016, the American people elected Republicans to come here and change this town. I think the president is doing just that, but I don't think they see the same intensity from folks in Congress, folks in the House of Representatives," Jordan told Hill TV.  "Have we replaced ObamaCare yet? Have we secured the border yet? Have we reformed welfare yet? No."
Jordan promised rigorous debate with the Democrats, as opposed to a possible bipartisanship approach Trump mentioned in his remarks. "Now that we're in the minority, that's about all what we can do is debate, but fight hard in the debate for the principles, for the things that we know the American people sent us here to do in 2016. Show them that we deserve to be back in power in 2020," he said. 
One of those fights is expected to be with the Justice Department over special counsel Robert Mueller's investigation into what US intelligence agencies have called interference by Russian operatives in the 2016 election. Trump calls the investigation a "witch hunt." Jordan, co-founder of the proudly anti-LGBT disruptive conservative House Freedom Caucus, will no doubt engage his Freedom Caucus co-founder, Rep. Mark Meadows of North Carolina. Meadows has introduced articles of impeachment against Deputy Attorney General Rod Rosenstein, who has been overseeing the Mueller probe since Attorney General Jeff Sessions recused himself. 
All of this came before Sessions resigned Wednesday—at Trump's request. Trump has often slammed Sessions since the recusal, suggesting he would fire the Attorney General—the first member of Congress to endorse Trump—right after the midterms. Promise made, promise kept.
Schiff and the Democratic House leadership can now shift their thinking to the multitude of possible clashes that may come in the approaching lame duck session of Congress.
Another check on Trump's power will surely come from the 113 newly elected women, including 28 first-time House members, many who ran inspired by the resistance movement such as Democratic activist Alexandria Ocasio-Cortez, 29, of New York, the youngest member of Congress, now Hill, 31, and Sharice Davids, a lesbian Kansas Democrat and member of the Ho-Chunk Nation..
Both the Human Rights Campaign and Equality California raised massive amounts of money and inspired and organized thousands of volunteers. They targeted California races to not only flip the House to Democrats but also ensure solid pro-equality victories up and down the ballot in California.
"CNN's exit polling had LGBT voters at 6 percent of the turnout and voting 82 percent for Democrats / 17 percent for Republicans. Re turnout: with 113 million voters overall, that's roughly 6.8 million LGBT voters that turned out nationally. Since mail ballots are still being counted, it looks like LGBT voter turnout was at or above the turnout recorded in 2016 exits (7 million). While exit polling can be fickle, it's impressive that LGBTQ turnout in the midterms matched a presidential cycle," Olivia Alair Dalton, HRC's Sr. Vice President of Communications & Marketing, told the Los Angeles Blade.   
We do not yet know the percentage of turnout from the LGBT community in California or Los Angeles. However, gauging by the levels of enthusiasm in each of the campaigns, social media and just walking down the street in West Hollywood, the engagement was very high. Not enough, however, to pass AIDS Healthcare Foundation's Prop 10, which would have returned rent control regulation to municipalities instead of developers and landlords.
What will happen now, after the perceived losses in such key progressive races such as Beto O'Rourke in Texas to Republican Sen. Ted Cruz, and Andrew Gillum and Stacy Abrams running to be the first African American governors of Florida and Georgia, respectively? It is unclear if those races will be subject to recount or will face a legal challenge because of voting irregularities—but the immediate reaction has been one of deep disappointment in the progressive community, even with the historic "rainbow wave" and election of so many women.
"While the outcome of yesterday's midterm elections did not result in securing a safer and more just future for all, it did go a long way toward that goal," said National Center for Lesbian Rights (NCLR) Executive Director Kate Kendell in a statement. "More young people and women showed up to vote and more women and LGBTQ candidates won. We may yet save our nation and repair a U.S. Constitution in tatters. 
"At NCLR we will do our part, fighting in court and engaging these elected officials to demand that our community, especially the most vulnerable, are free to live their lives fully, safely and with full dignity," she concluded.
In statewide elections, the view was a bit more optimistic. Longtime LGBT ally Lt. Gov. Gavin Newsom, best known for helping start the nationwide opposition to then-President George W. Bush's push for a federal constitutional amendment to ban same sex marriage, handily won his race to replace longtime ally Gov. Jerry Brown as California's next governor. Equality California-endorsed candidate Eleni Kounalakis won a spirited race to become the next lieutenant governor.
Less clear, is whether openly gay California Sen. Ricardo Lara won his race against Republican-turned-independent Steve Poizner for Insurance Commissioner. Poizner was a high hope for Republicans who don't much like Trump but like old fashion Republican policies, which Poizner espoused through coded campaign commercials. Lara seemed to rely less on earned media than on other means to reach voters, especially reaching out to the under-media-served Latino community.
While Poizner used to be Insurance Commissioner, he has not be visible for years. Lara, in the meantime, has not only been visible as a State Senator, but has taken on issues such as protecting undocumented immigrants, including LGBT people seeking asylum, and opposing efforts to bring back so-called "conversion therapy. Lara told the Los Angeles Blade that he would, in fact, look at such efforts as "consumer fraud" under his jurisdiction, if elected Insurance Commissioner. If his election is certified, Lara will make history as California's first openly LGBT statewide official. As of Wednesday morning, he was leading by more than 105,000 votes.
"With millions of ballots left to be counted across the state, it is already clear that Californians sent a clear message to Washington, rejecting the politics of fear and division, and electing leaders who will work to unite us and fight for full equality," Equality California Executive Director Rick Zbur said. "The LGBTQ community has much to celebrate this 9Wednesday/Nov. 70) morning — with openly LGBTQ and pro-equality candidates making history across the country last night, a new pro-equality majority in the U.S. House of Representatives and a historic number of women elected to the House, too. We congratulate and look forward to working with Governor-elect Gavin Newsom, Lieutenant Governor-elect Eleni Kounalakis and pro-equality leaders in the Legislature and new Congress to continue making progress toward a world that is healthy, just and fully equal for all LGBTQ people."
Equality California, the nation's largest statewide LGBTQ civil rights organization, took these midterms seriously, campaigning as if this was a presidential election. The organization ran a $650,000 voter engagement and get-out-the vote program that included a direct mail campaign reaching approximately 740,000 voters — including targeted mail supporting Lara and Assemblymember Tony Thurmond's campaign for Superintendent of Public Instruction. He appears to be losing to an even better-funded campaign by charter schools enthusiast, Marshall Tucker.
Equality California also vigorously supported  eight pro-equality candidates for the California Legislature and pushed out robo-calls to approximately 520,000 voters supporting Lara, nine pro-equality Congressional candidates, 14 pro-equality state legislative candidates and 12 openly LGBT local candidates.
Right now, HRC and Equality California-supported candidates Harley Rouda (CA-48) and Mike Levin (CA-49) lead their anti-LGBT opponents by slim margins, with the races still too close to call. The other pro-equality Congressional candidates the LGBT worked hard to elect—Josh Harder (CA-10), Gil Cisneros (CA-39) and Katie Porter (CA-45)—are currently trailing their anti-LGBT opponents but the numbers can easily change as the thousands of vote-by-mail and provisional ballots are counted in each race in the next week or two.
Equality California says that they partnered with NextGen America and the California Labor Federation to target the Hill, Cisneros, Porter and Rouda campaigns in what have been considered new swing districts. They knocked on 7,200 doors and contacted more than 123,000 voters through live phone calls and peer-to-peer text messaging, EQCA says in a press release.
"Other priority races for Equality California included the contest to become California's next Superintendent of Public Instruction and the effort to reelect Legislative LGBT Caucus Member Assemblymember Sabrina Cervantes," EQCA says. "Equality California-endorsed candidate Assemblymember Tony Thurmond currently trails Marshall Tuck by a slim margin in the Superintendent's race, while Cervantes leads her challenger Bill Essayli by three votes. Equality California also strongly supported openly LGBTQ legislative candidates Joy Silver (SD-28), Jovanka Beckles (AD-15) and Sunday Gover (AD-77), who ran strong races and are currently trailing their opponents in races too close to call."
One heart-breaking loss is that of Ammar Campa-Najjar to indicted Republican Rep. Duncan Hunter Jr. in Orange County's 50th District. While the race seemed like a long shot from the beginning, there were moments when he broke through and actually ran neck-and-neck, ahead or within the margin of error. History may look back and question whether Trump's angry, fearful and inaccurate closing argument at campaign rallies about the supposed caravan of diseased and crime-filled immigrants (mostly women and children) who want to "invade" the southern border might have had an impact, as well as Hunter's disgusting racist and unethical campaign ads implying Campa-Najjar, a devout Christian, was a foreign terrorist. As of Nov. 7, Hunter has 54.33 percent of the vote to Campa-Najjar's 45.67 percent.   
"The days of attacking LGBTQ people for political gain are over, and the American people will not stand for lawmakers who try to drum up votes by trafficking in hate," said HRC President Chad Griffin. "Thanks to millions of Americans who stood up and fought back, we have succeeded in restoring a sane, pro-equality majority to the House and placing a check on this administration's hateful agenda."
Newsom signs laws, further fortifies California abortion protections
"California is a Reproductive Freedom state and all are welcome to seek the care they want or need here in California"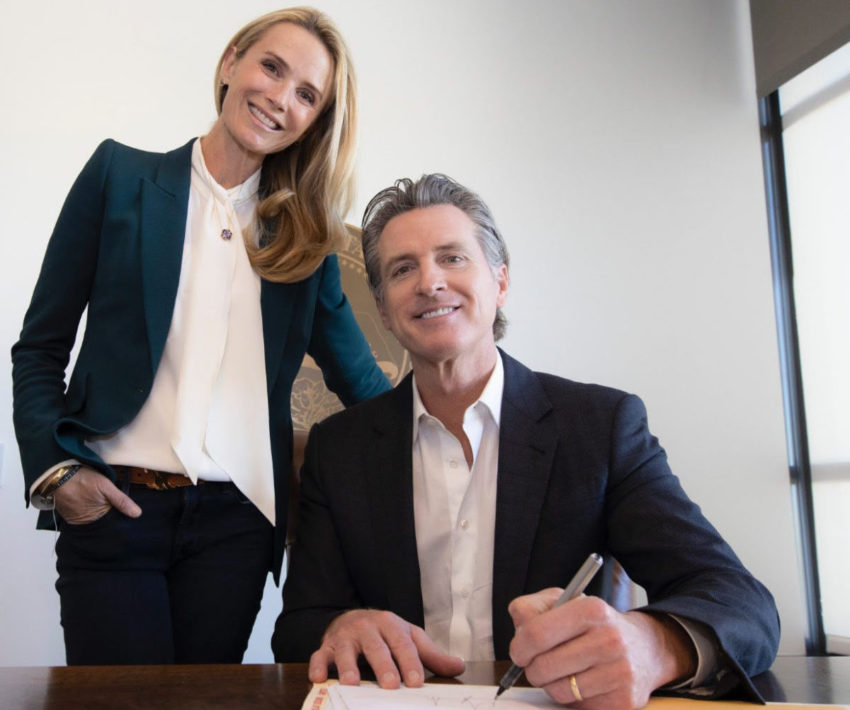 SACRAMENTO – As other states throughout the country outlaw abortion and criminalize patients and doctors, California continues to lead the nation's fight for reproductive health care access and privacy.

Today, Governor Gavin Newsom signed additional bills into law to further protect people from legal retaliation and prohibit law enforcement and corporations from cooperating with out-of-state entities regarding lawful abortions in California, while also expanding access to contraception and abortion providers in California.

"An alarming number of states continue to outlaw abortion and criminalize women, and it's more important than ever to fight like hell for those who need these essential services. We're doing everything we can to protect people from any retaliation for accessing abortion care while also making it more affordable to get contraceptives," said Governor Newsom. "Our Legislature has been on the frontlines of this fight, and no other legislative body in the country is doing more to protect these fundamental rights – I'm proud to stand with them again and sign these critical bills into law."

The package signed today includes:
PROTECTIONS FROM CRIMINAL & CIVIL LIABILITIES: AB 2223 by Assemblymember Buffy Wicks (D-Oakland) helps to ensure that pregnancy loss is not criminalized, prohibiting a person from being criminally or civilly liable for miscarriage, stillbirth, abortion, or perinatal death due to causes that occurred in utero.
KEEPS MEDICAL RECORDS PRIVATE: AB 2091 by Assemblymember Mia Bonta (D-Oakland) prohibits a health care provider from releasing medical information on an individual seeking abortion care in response to a subpoena or request from out-of-state.
PROHIBITS COOPERATION WITH OUT-OF-STATE ENTITIES: AB 1242 by Assemblymember Rebecca Bauer-Kahan (D-Orinda) prohibits law enforcement and California corporations from cooperating with out-of-state entities regarding a lawful abortion in California. It also prohibits law enforcement from knowingly arresting a person for aiding in a lawful abortion in California.
EXPANDS BIRTH CONTROL ACCESS: SB 523 by Senator Connie Leyva (D-Chino) expands birth control access – regardless of gender or insurance coverage status – by requiring health plans to cover certain over-the-counter birth control without cost sharing. It also prohibits employment-related discrimination based on reproductive health decisions.
MORE HEALTH CARE PROVIDERS: SB 1375 by Senate President pro Tempore Toni G. Atkins (D-San Diego) expands training options for Nurse Practitioners and Certified Nurse-Midwives for purposes of performing abortion care by aspiration techniques.
"During this unprecedented time, I'm grateful to the Governor and the California Legislature for taking critical measures to protect a woman's right to choose and to enshrine the right to reproductive freedom into California's constitution," said First Partner Jennifer Siebel Newsom. "No person should be denied access to contraceptive services and abortion care because of a lack of resources or a fear of retribution. And we will not accept the status quo of rendering women powerless to determine their own destiny. In California, we trust women, we believe in women, and we see their value beyond their reproductive capabilities."

"My colleagues and I saw the imminent danger headed for national abortion access more than a year ago and have spent every day since working to not only protect reproductive rights, but expand them. Our package of bills ensures that all Californians, and anyone who needs to come here, will receive the essential health care they need and the respect they deserve. Creating laws is like a marathon and today, we are only able to cross the finish line because of months of hard work, and leadership from the Legislative Women's Caucus and our partners on the California Future of Abortion Council." – Senate President pro Tempore Toni Atkins.
In addition to the bills detailed above, the Governor also signed into law:
AB 657 by Assemblymember Jim Cooper (D-Elk Grove): Expedites licensure for health care practitioners that come to California to provide abortion care services.
AB 2626 by Assemblymember Lisa Calderon (D-Whittier): Prohibits specified licensing boards from suspending or revoking a license solely for performing an abortion in accordance with the licensee's practice act.
AB 2205 by Assemblymember Wendy Carrillo (D-Los Angeles): Requires Covered California plans to report annually the total amounts of funds collected in special accounts for abortion care which was established under the ACA to hold premium payment of $1 per member per month and from which claims for abortion care must be paid.
SB 1142 by Senator Anna Caballero (D-Merced) and Senator Nancy Skinner (D-Berkeley): Requires the establishment of an abortion care services website and an evaluation of the Abortion Practical Support Fund.
SB 1245 by Senator Sydney Kamlager (D-Los Angeles): Establishes a reproductive health pilot project in LA County to support innovative approaches and collaborations to safeguard abortion access.
AB 1918 by Assemblymember Cottie Petrie-Norris (D-Laguna Beach): Creates the CA Reproductive Health Scholarship Corps to recruit, train and retain a diverse workforce of health care professionals who will provide reproductive health services in underserved areas of the state.
AB 2134 by Assemblymember Dr. Akilah Weber (D-San Diego): Establishes the CA Reproductive Health Equity Program which will provide grants to providers who provide uncompensated care to patients with low-incomes and those who face other financial barriers.
AB 2586 by Assemblymember Cristina Garcia (D-Bell Gardens): Establishes the CA Reproductive Justice and Freedom Fund to support CBOs in providing comprehensive reproductive/sexual health education, inclusive of abortion care, to disproportionately impacted communities.
The Governor previously signed SB 245 to eliminate cost-sharing for abortion services and AB 1666, which seeks to protect those in California from civil liability for providing, aiding, or receiving abortion care in the state.
"As extreme politicians across the country pursue personal political agendas seeking to restrict and criminalize people seeking and providing abortion services – essential health care that should be available to people where they live and when they want or need it – California is showing what is possible when leaders listen to experts, facts, science and from the people who are directly impacted," said Jodi Hicks, President and CEO of Planned Parenthood Affiliates of California. "Patients and providers across California and the country are living in a state of fear and confusion as we collectively try to navigate this new post-Roe reality. Today's bold and comprehensive actions provide reassurance to all that California is a Reproductive Freedom state and all are welcome to seek the care they want or need here in California."
"California continues to take historic steps towards its promise to be a Reproductive Freedom state – not just protecting access to abortion care in the face of Roe v. Wade being overturned, but moving forward centering equity and expanding access to help people, regardless of where they call home, get the essential care they want or need here in California. This bill package, in addition to the $200+ million in new funding, will go a long way in helping people seeking care in California and the community organizations and providers already on the ground doing the work across the state. By signing this bill package, Governor Newsom is putting an exclamation mark on a year-long effort by California reproductive health, rights, and justice leaders and policymakers to prepare and respond to the U.S Supreme Court overturning 50 years of precedent and eliminating the federally protected right to abortion." – Steering Committee of the California Future of Abortion Council.
"California is committed to upholding and expanding protections that ensure reproductive health care is a right and not a privilege. The legislative package signed into law today strengthens the budget actions taken by the Governor earlier this summer to protect and expand reproductive care in California, while also breaking down barriers that have caused historic inequities in access and the health outcomes of our most vulnerable communities," said Secretary of the California Health & Human Services Agency, Dr. Mark Ghaly. "We stand ready to deliver on this vision of a Healthy California for All, which protects the health and wellbeing of anyone seeking critical reproductive services in California."
These actions build upon California's nation-leading actions to cut costs, expand access and strengthen protections for abortion care:
HS Students in Virginia stage massive walk-outs over Trans policy
The student-led Virginia-based Pride Liberation Project organizing mass walkouts and rallies in more than 90 schools across the state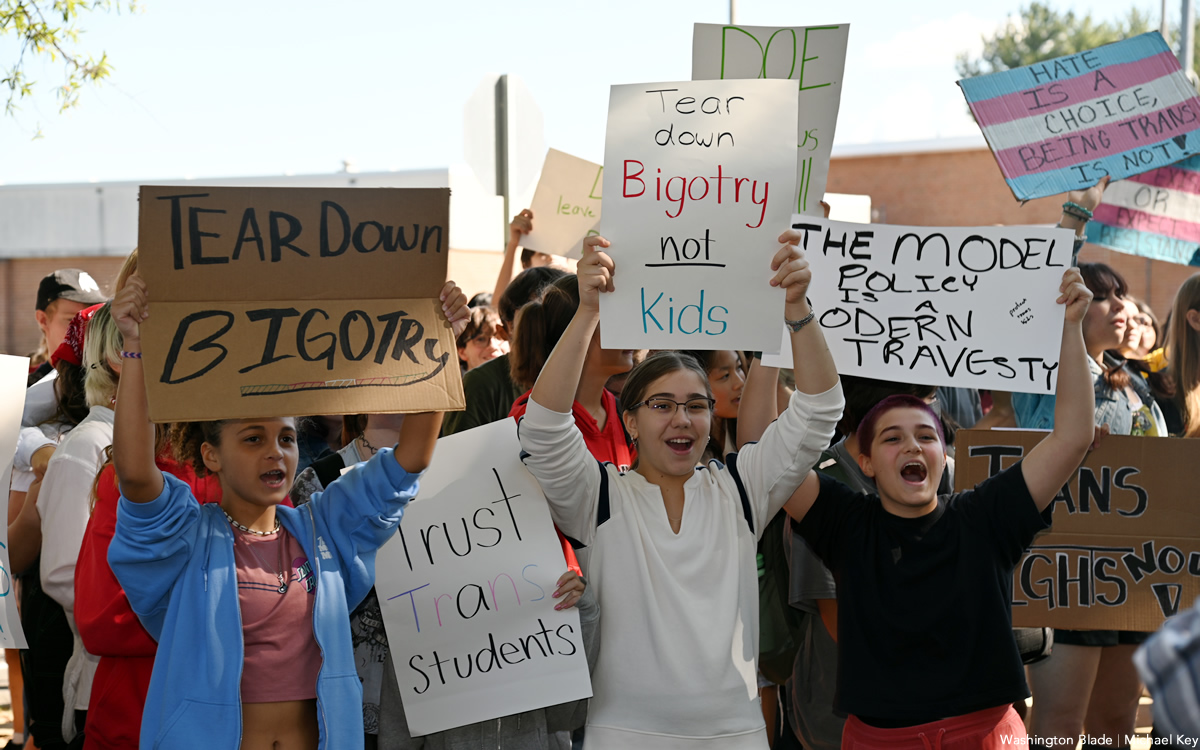 FAIRFAX COUNTY – Thousands of students in schools across Virginia participated in walkouts and rallies on Tuesday to oppose the revised "model policies" on transgender students released by the Virginia Department of Education.
VDOE policy revisions were released on Sept. 16 and differ substantially from the policies passed into law in 2020.
The original policies on the treatment of trans students were intended to protect LGBTQ students; but the revised "model policies" have been criticized by activists, educators and legislators for mandating students use school facilities for the sex they were assigned at birth and bars students from changing their names and pronouns without parental permission. Further, the policies direct teachers and staff not to conceal a student's gender identity from parents, even when a student asks to keep that information private.
The student-led Virginia-based Pride Liberation Project responded to these policy changes by organizing mass walkouts and rallies in more than 90 schools from Alexandria to Williamsburg.
"These proposed guidelines are essentially taking that cornerstone and using it to undermine our rights. If these guidelines are implemented, it will be the single biggest loss for queer rights in Virginia in years," Natasha Sanghvi, a student organizer with the Pride Liberation Project, said in a statement.
Openly gay Virginia state Sen. Adam Ebbin (D-Alexandria) in a statement said "these new model policies, which are in flagrant violation of Virginia law, will do serious harm to transgender students. They are not based in science or compassion and will lead to students being outed before they are ready, increased bullying and harassment of marginalized youth, and will require students to jump through legal hoops just to be referred to with their proper name."
Ebbin joined several hundred students at West Potomac High School in Alexandria in a rally opposing the model policies proposed by Republican Gov. Glenn Youngkin.
Incredible show of opposition to Gov Youngkin's cruel anti-trans student proposal at 80-90 student walkouts across the state! Especially proud of thousands of West Potomac HS students for their outspoken [email protected] @TheWPWire #AllStudentsMatter @EqualityVA pic.twitter.com/HAgZGd8Yr4

— Adam Ebbin (@AdamEbbin) September 27, 2022
"The new policy drafts are only going to do more harm to trans students who are already at risk for being outed, harassed and harmed," Jules Lombardi, a Fairfax County high school senior, told the Washington Blade. "These drafts will take schools, which are supposed to be safe environments for students, and make them spaces where students have to hide themselves for fear of their parents finding out about their identities."
"This isn't a matter of 'parental rights,' it's a matter of human rights and we deserve to be treated with the same respect as cis students," Lombardi added.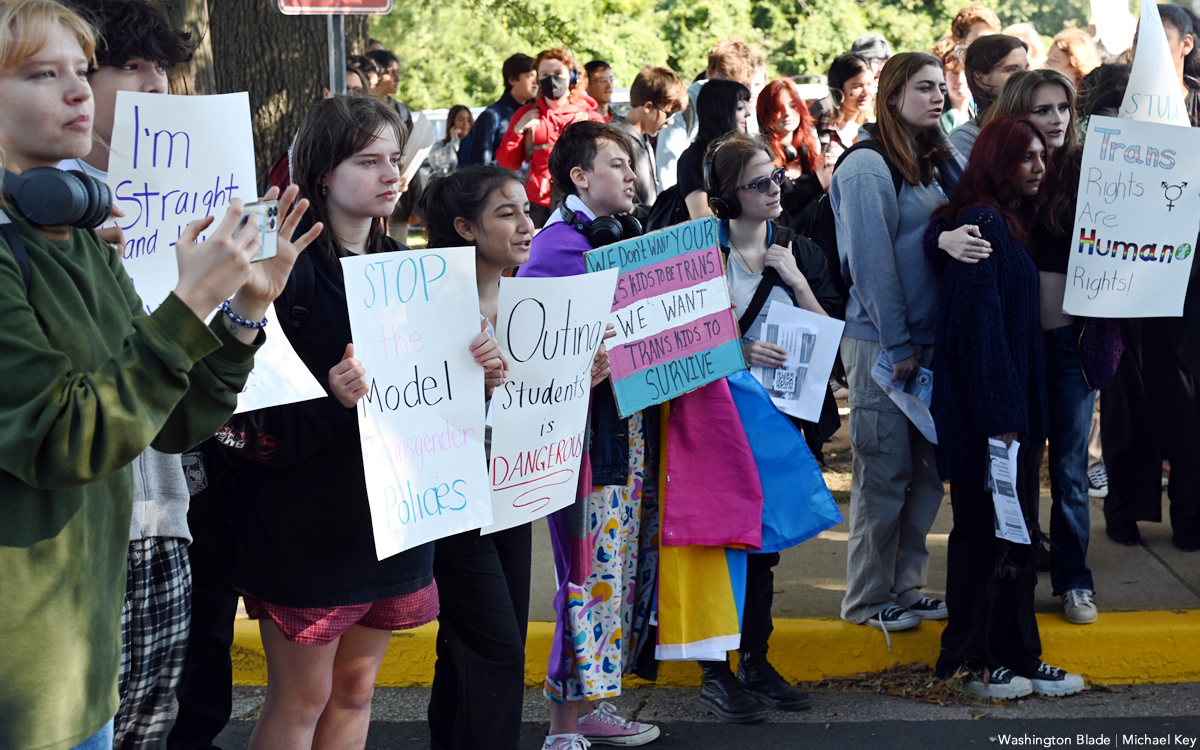 Andrea-Grace Mukuna, a senior at John R. Lewis High School in Springfield, told the Blade that "gender affirmation matters. Something so easily given to cisgender people is a right that our trans and gender non conforming youth deserve. I am walking out because schools will no longer be a safe place for queer students to be in if these policies get passed."
"Requirements for teachers to refer to students by their birth name and pronouns aligning with their sex, rather than trusting our students to know themselves and who they are best, reinforces the idea that we as students have no power, no control and no knowledge over anything in our lives. Gender queer youth exist, and no policy can change that," Mukuna said.
Mukuna continued, "making an attempt at denying them their ability to be who they are is a malicious attack on vulnerable students that could cause deathly harm."
"I walk out for my queer community — there is no erasing us," Mukuna said.
Students walk out at McLean High protesting Va. Gov. Youngkin's anti-LGBTQ student policies. @WashBlade pic.twitter.com/6SZtj4C82p

— Michael Patrick Key (@MichaelKeyWB) September 27, 2022
Several hundred students walked out of McLean High School. The walkout was lead by members of the school's GSA and organizers from the Pride Liberation Project including McLean High School senior Casey Calabia.
Calibia asked the crowd, "Do we want Gov. Youngkin to understand that this is not what Virginia looks like?"
The crowd roared, "yes!"
"Virginia stands for trans kids. Trans and queer people are a fact of humanity. We will be accepted one way or another and to see everybody here today is another step toward that change," said Calibia through a bull horn.
Calibia told the Blade in a pre-walkout statement said "to call these policies in favor of respecting trans students' rights and privacy is to call an apple an orange. The 2022 Transgender Model policies, even as a draft, have begun to actively hurt my community's mental health."
"Instead of focusing on academics and our future, we have to sit in class and wonder if we will be safe in school," Calibia concluded. "To not only take away the 2021 policies, a cornerstone in LGBTQIA+ rights for Virginia, but to mock them with these replacements, is a devastating blow to myself, trans students, queer students, and the whole of Virginia's public school student body. How can we be safe, if we can be taken out of school-provided counseling, maliciously misgendered, and denied opportunities given to other students simply because of our gender? Accepting queer students in class does not indoctrinate or brainwash kids. It tells queer students like me that it is okay and safe to be ourselves in school."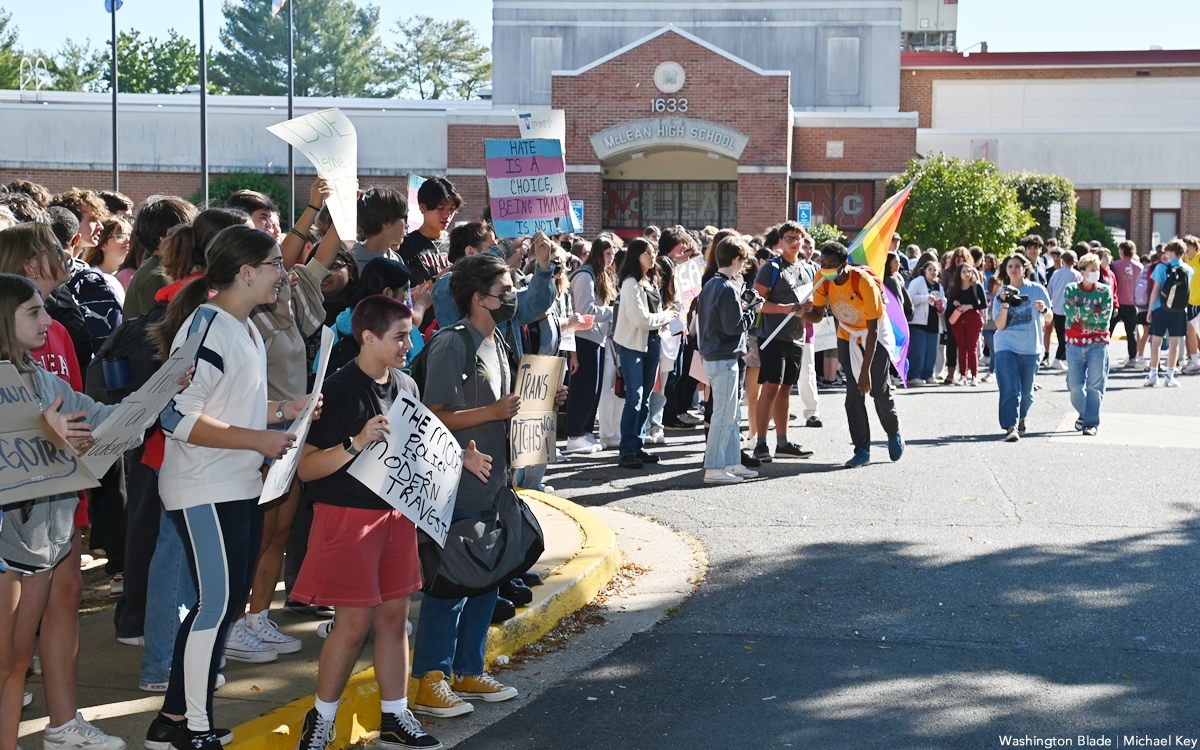 The student protests in Virginia have made national news.
"This is a president who supports the LGBTQI+ community and has been supporting that community for some time now as a vice president, as senator, and certainly as president now," said White House Press Secretary Karine Jean-Pierre in response to a question about the protests during her daily press briefing. "And he . . . always is proud to speak out against the mistreatment of that community … We believe and he believes transgender youth should be allowed to be able to go to school freely, to be able to express themselves freely, to be able to have the protections that they need to be who they are."
"When it comes to this community, he is a partner, and he is a strong ally, as well as the vice president," Jean-Pierre stated.
Walkouts and rallies were held at middle and high schools in Arlington, Bedford, Buchanan, Chesterfield, Culpeper, Fairfax, Fauquier, Frederick, Henrico, James City, Loudoun, Louisa, Montgomery, Powhatan, Prince George's, Prince William, Spotsylvania, Stafford, Warren and York Counties as well as in the cities of Chesapeake, Newport News, Portsmouth, Richmond, Williamsburg and Winchester.
Students are walking out of Henrico High School in protest of the Youngkin administration's new guidelines for the treatment of transgender students in schools. pic.twitter.com/1GCAMQLNhv

— Anna Bryson (@AnnaBryson18) September 27, 2022
"Every parent wants Virginia's laws to ensure children's safety, freedom, and to encourage a vibrant and engaging learning experience. But the Virginia Department of Education is rejecting those shared values by advancing policies that will target LGBTQ kids for harassment and mistreatment simply because of who they are," said Ebbin.
Tens of thousands of students walked out of Virginia's schools today to say Queer students belong in our school systems.

Our demand is simple: revoke the draft guidelines.

It's time we let everyone, including students, have a voice in our education – not just a vocal minority. pic.twitter.com/ZRNPmsdqvb

— Pride Liberation Project (@PrideLiberation) September 27, 2022
Bisexuality not covered by federal employment law lawsuit claims
"There is nothing in Title VII that prohibits employers from discriminating because of the employee's sexual or romantic partners"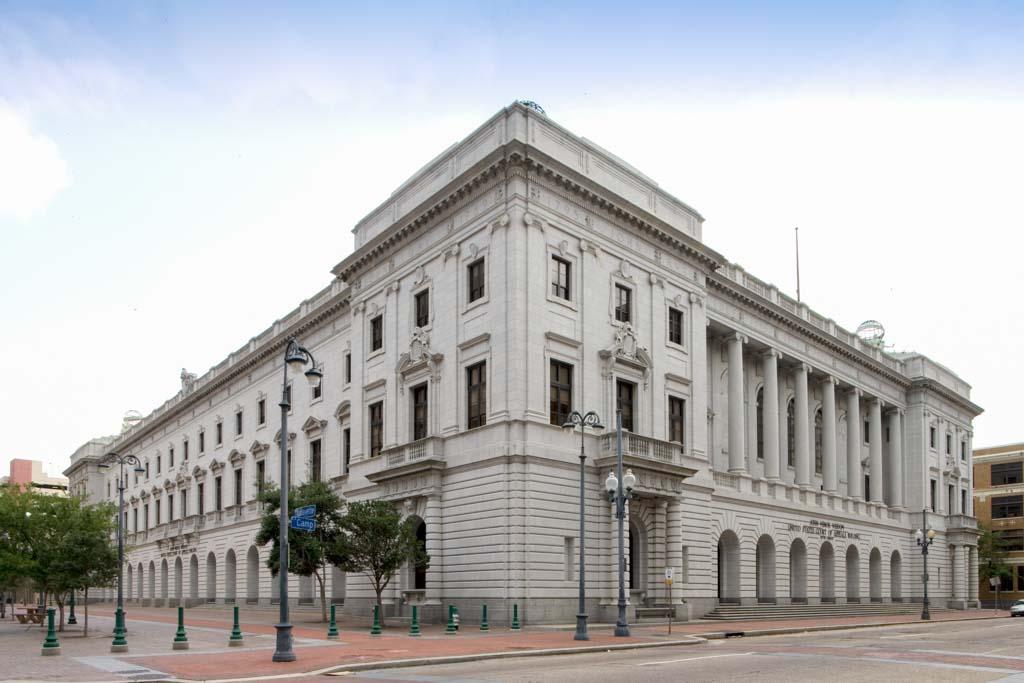 NEW ORLEANS – Lawyers in a Texas case filed a brief last week arguing that the U.S. Supreme Court's ruling in Bostock v. Clayton County, in June of 2020, does not apply to bisexual men. In that ruling the High Court held that Title VII of the Civil Rights Act of 1964 protects employees against discrimination because they are gay or transgender.
Lawyers for Braidwood Management, a business owned by hardline anti-LGBTQ activist Steven Hotze, and Bear Creek Bible Church in Keller, Texas, argued in their brief that "An employer who discriminates on account of an employee or job applicant's bisexual orientation (or conduct) cannot engage in 'sex' discrimination as defined," the lawyers wrote, "because that employer would have taken the exact same action against an identically situated individual of the opposite biological sex." In other words, employment discrimination based on sexual orientation or gender identity does not apply to bisexuals — as long as bi men are being discriminated against "on equal terms" as bi women.
The Dallas Morning News reported the brief was filed on the day it was due, Sept. 21, by former Texas solicitor general Jonathan Mitchell and Gene Hamilton, with the Trump affiliated American First Legal, are representing the plaintiffs. midway through Bisexuality Awareness Week.
The Dallas Morning News noted that:
Mitchell sued the U.S. Equal Employment Opportunity Commission in 2018, arguing that employers with religious objections should be able to hire and fire employees based on their gender identity or sexual orientation. Last year, U.S. District Judge Reed O'Connor ruled largely in his favor.
But the judge sided with the federal government on two issues — so-called bisexual conduct and certain transgender health care procedures.
In their reply to that ruling with the Fifth Court of Appeals, Hamilton and Mitchell argue the Texas judge erred on these issues. The lawyers explained their reasoning like this: The Supreme Court's decision said that an employer cannot treat two people differently solely based on their sex under federal employment discrimination rules known as Title VII.
This means, according to their argument, an employer cannot fire a gay man for being attracted to men if it would not also fire a woman for being attracted to men. But that same employer is in the clear if it discriminates equally against all bisexuals because it is not treating bi men and bi women differently, the lawyers argued.
"The text of Title VII prohibits sex discrimination only with respect to the sex of the affected employee or job applicant," they wrote. "There is nothing in Title VII that prohibits employers from discriminating because of the 'sex' of an employee or job applicant's sexual or romantic partners."
One of the foundational arguments in their brief the lawyers cite is the fact that U.S. Supreme Court Associate Justice Neil Gorsuch who wrote the majority opinion in Bostock, outlined the fact that "The key to determining whether sex discrimination has taken place is determining whether a worker of the opposite sex would be treated the same."
"An employer who fires an individual for being homosexual or transgender fires that person for traits or actions it would not have questioned in members of a different sex," Gorsuch wrote, leaving out any mention of bisexual workers. "Sex plays a necessary and undisguisable role in the decision, exactly what Title VII forbids."
The lawyers are arguing the difference between romantic or sexual partners and gender identity or sexual orientation as it applies under those circumstances.