November 11, 2018 at 5:20 pm PST | by Karen Ocamb
Suspect pleads not guilty in murder of gay student Blaze Bernstein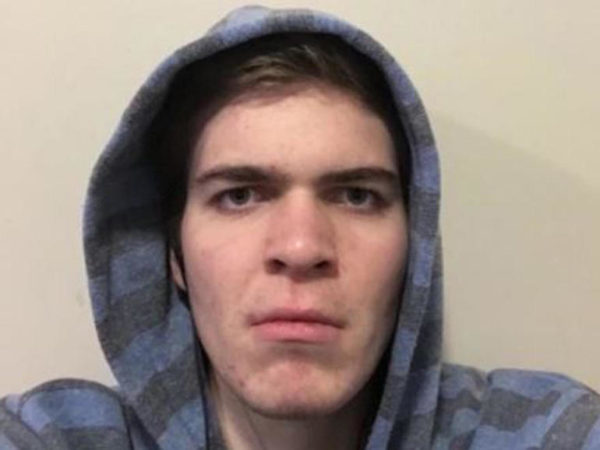 Blaze Bernstein, 19, a brilliant gay Jewish University of Pennsylvania student home for the holidays, disappeared Jan. 2. His body, with 20 stab wounds to the face and neck, was discovered in a shallow Borrego Park grave a week later. DNA evidence led authorities to Bernstein's Orange County high school classmate, Samuel Lincoln Woodward of Newport Beach, who was arrested on Jan. 12. Blaze Bernstein's blood was in Sam Woodward's car.
On Nov. 9, Woodward, 21, entered a plea of not guilty to murder  in Orange County Superior Court. Judge Kimberly Menninger denied bail, saying she thought Woodward posed a danger to the community after seeing troves of evidence linking Woodward to anti-gay, anti-Semitic messages and propaganda from the neo-Nazi group Atomwaffen Division, which apparently reveled in Bernstein's brutal murder.
"I love this," one member wrote of the killing, according to copies of the online chats obtained by ProPublica, which exposed Woodward's involvement with Atomwaffen on Jan. 26. "Sam did something stupid," wrote one member. "Not that the faggot kike didn't deserve to die. Just simply not worth a life in prison for."
Many of Bernstein and Woodward's classmates from their former Orange County high school thought it was odd that the two were together because, Bernstein's best friend Raiah Rofsky told CBS News "48 Hours," Woodward "was literally known as being a crazy, homophobic, racist guy."
When Orange County cops first went to meet with him, Woodward was apparently cooperative, telling them and Blaze's parents "that he and Blaze went to Borrego Park to hang out. According to Woodward, after awhile Blaze walked down a path alone and disappeared into the brush," "48 Hours" reported.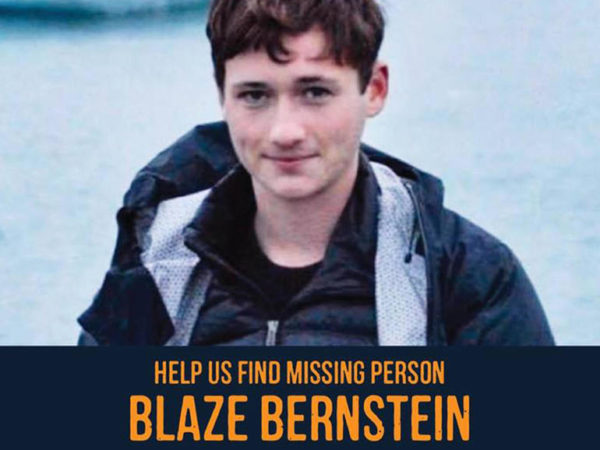 But according to a search warrant affidavit, which the Orange County Register obtained before it was sealed, Woodward claimed that Bernstein tried to kiss him on the lips and he pushed Bernstein away. Detectives noted that Woodward clenched his jaw and fists when recounting the incident, telling them he wanted to call Bernstein a "faggot" and tell him to get off him.
Orange County District Attorney Tony Rackauckas subsequently added a hate crime charge to the one count of felony murder with sentencing enhancement for "personal use of a knife." Woodward faces from 26 years to life in state prison, if convicted.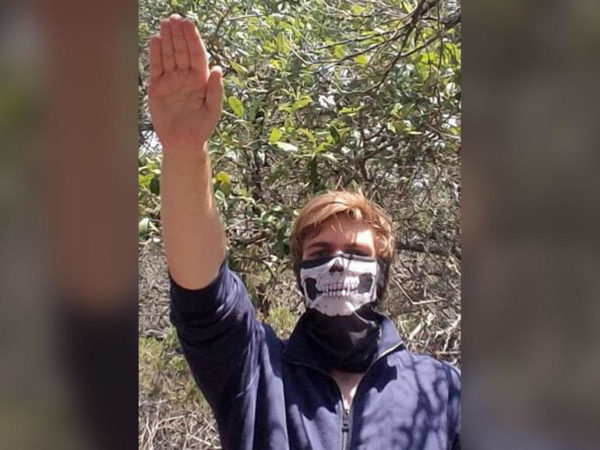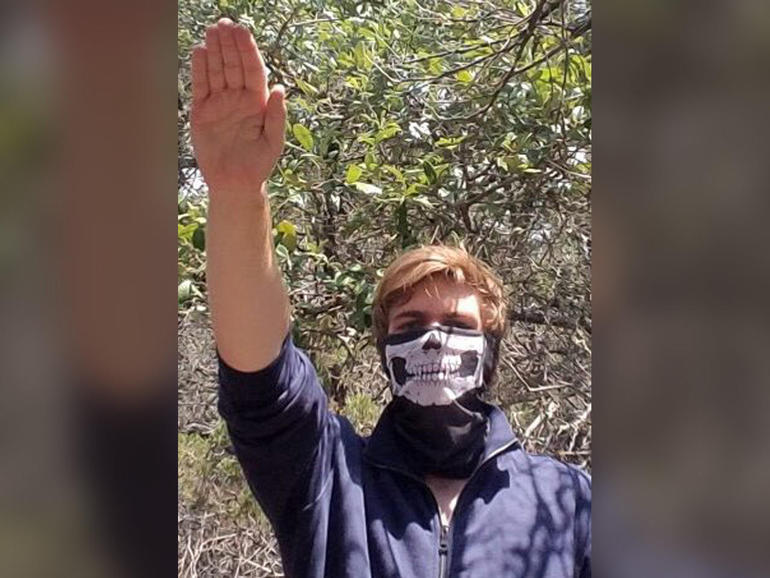 Woodward's description of Bernstein trying to give him an unwanted kiss prompted much speculation about whether defense attorney Robert Kohler might try for a "gay panic" defense. But that appears moot after ProPublica's expose and the "48 Hours" investigation broadcast Saturday night,  Nov. 10, that delved deeply into Woodward's connection to Atomwaffen, including the photo of him above in an Atomwaffen mask giving the Nazi salute.
"Sam Woodward was … absolutely, definitely … a member of Atomwaffen Division," British journalist and CBS News consultant Jake Hanrahan told "48 Hours." "They made T-shirts using Sam Woodward's mug shot."
Woodward's Atomwaffen friends "call him the gay, the one-man gay, Jew wrecking ball. You know, like kind of reveling in this idea that he's killed this gay, Jewish kid," Hanrahan said.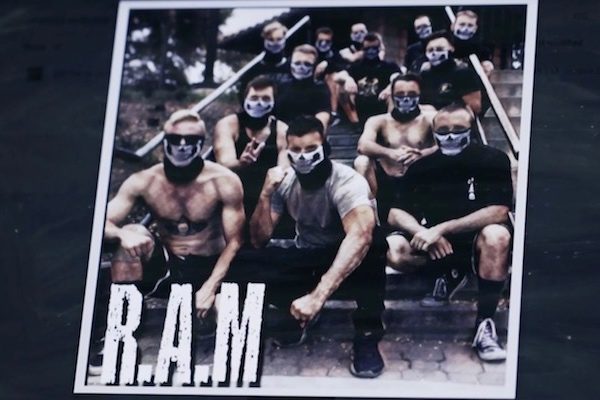 Though they wear similar masks, the nationwide Atomwaffen is different from the local white supremacist group Rise Above Movement (RAM), which saw four members arrested Oct. 2 on federal charges for allegedly traveling to Virginia last year with the intent to incite a riot at the deadly far-right rallies in Charlottesville.
"Inspired by the writings of Hitler and the idea of 'white jihad,' members of groups like R.A.M. and Proud Boys don't need much provocation to become violent. Indeed, members of Atomwaffen Division have been charged in five killings over the past two years," including Woodward, former Nazi Christian Picciolini wrote in an op-ed in the Los Angeles Times.  
"It is true that the leaders of such groups draw in disillusioned young men who believe the world has sidelined them. But just because their members look familiar to many Americans does not make them less dangerous. Their violence is part of a growing pattern of domestic terrorism and should not be excused as an adolescent blip.
"Before the Third Reich murdered tens of millions of people," wrote Picciolini, "it began in small Munich beer halls, just a few loyal street thugs with a social club."
Anti-Defamation League's Joanna Mendelson tells "48 Hours" that the Atomwaffen Division's online chats are "some of the most intense and some of the most extreme rhetoric that I've seen in a long time." Started in Florida in 2015, the hate group believes the "Unite the Right" violence in Charlottesville last year doesn't go far enough.
"They don't even like to be associated with the alt right at all. They hate the Alt Right," a former Atomwaffen member told "48 Hours."
"Their rhetoric and their ideology is white supremacy on steroids," says Mendelson. "In fact, the name of Atomwaffen translates in German to atomic weapon….We'll wipe you out."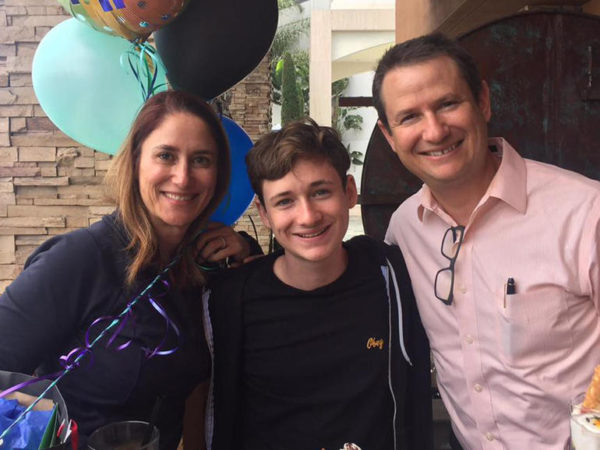 After their son's murder, Gideon and Jeanne Pepper Bernstein established a scholarship fund for foster care and at risk kids at Blaze's former Orange County high school.
See BlazeItForward on their Facebook page for more.