Tale of two Marys and a lot more
'Mary Queen of Scots' and 'Mary Poppins Returns' among holiday film highlights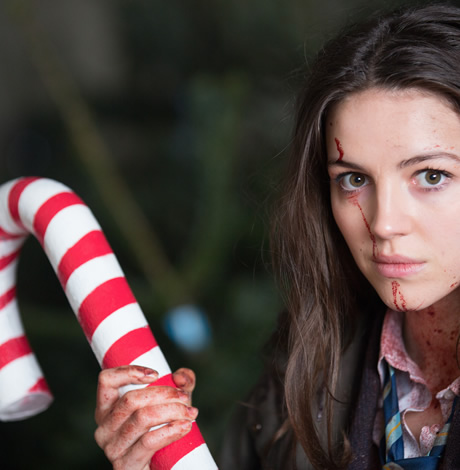 With 2019 just around the corner, it's time for the final cinematic rush toward Oscar glory and box office gold.
Already generating significant Oscar buzz, "The Favourite" is a sumptuous but irreverent period drama that gleefully mocks traditional depictions of gender, sexuality and politics. Directed by Yorgos Lanthimos ("The Lobster" and "The Killing of a Sacred Deer"), this lesbian love triangle is set in the court of England's Queen Anne (Olivia Colman), where Lady Sarah (Rachel Weisz) and down-on-her-luck aristocrat Abigail (Emma Stone) battle for the frail Queen's affections and the right to wield her power. "The Favourite" opens Nov. 30.
Dec. 7 marks the premiere of a new kind of holiday movie: the zombie Christmas musical. In the zom-com musical "Anna and the Apocalypse," the small Scottish town of Little Haven is attacked by zombies right before Christmas. Anna and her friends must slash and sing their way through the zombie hordes to save their loved ones. Ella Hunt plays the intrepid Anna and Sarah Swire plays her lesbian friend.
 A different kind of threat is the subject of "Divide and Conquer: The Roger Ailes Story," which also opens Dec. 7. The documentary tracks the rise and fall of the bombastic media mogul from his work with Richard Nixon and Ronald Reagan to his controversial tenure at Fox News.
Another leading Oscar contender is slated to open on Dec. 14. "Roma" is a semi-autobiographical tale that chronicles the life of a middle-class family in Mexico City during the turbulent early 1970s. The movie is written and directed by award-winning filmmaker Alfonso Cuarón who is known for his work on "Gravity," "Harry Potter and the Prisoner of Azkaban," the dystopian thriller "The Children of Men," and the homoerotic road movie "Y Tu Mama Tambien." Yalitza Aparicio has already been widely acclaimed for her breakout performance as the family's maid.
Another tale of royal intrigue unfolds in "Mary Queen of Scots," which opens Dec. 14. The movie was written by Beau Willimon ("House of Cards") and is directed by Josie Rourke, head of London's renowned Donmar Warehouse theater company. The movie stars Saoirse Ronan as Mary Stuart and Margot Robbie as Queen Elizabeth I; both women were nominated for Best Actress Oscars earlier this year.
Also opening on Dec. 14 is "Ben Is Back" starring Lucas Hedges as Ben Burns, a recovering addict who unexpectedly leaves his rehab program to spend Christmas with his family. Julia Roberts plays Ben's anxious mother and the movie is written and directed by Lucas' real-life father Peter Hedges who wrote "What's Eating Gilbert Grape?" and "About A Boy."
On Dec. 19, everyone's favorite nanny flies back into cinemas everywhere. Emily Blunt takes over the magical parrot head umbrella from Julie Andrews and Lin-Manuel Miranda plays her chimney sweeper sidekick Jack. "Mary Poppins Returns" is set 35 years after the original in Depression-era London. Michael Banks (Ben Whishaw) is a widower raising his three young children with the help of his sister Jane (Emily Mortimer) when the mischievous nanny returns to bring singing and dancing back to 17 Cherry Tree Lane.
Dick Van Dyke is the only actor from the original movie to appear in the sequel; he plays the son of one of his original characters. There are appearances by Meryl Streep, Angela Lansbury, Julie Waters and Colin Firth. Rob Marshall ("Chicago" and "Into the Woods") directs and choreographs (with John DeLuca and Joey Pizzi). The new songs are by Marc Shaiman and Scott Wittman, the gay songwriting team who won a Tony Award for "Hairspray."
Following in Mary Poppins' wake, Jason Momoa moves from supporting actor ("Batman v. Superman: Dawn of Justice" and "Justice League"), to leading man in "Aquaman" (Dec. 21). Amber Heard plays his love interest Mera and Patrick Wilson plays his half-brother and rival Orm.
Movie theaters will be very busy on Dec. 25 when the last of the big releases finally open.
Felicity Jones plays Ruth Bader Ginsburg in "On The Basis of Sex" which follows the early career of the famous Supreme Court Justice. Armie Hammer plays her husband Morty. The notorious RBG herself appears in the movie.
Barry Jenkins, director of the Academy Award-winning "Moonlight," returns to the big screen with "If Beale Street Could Talk," a straight romance based on the novel by openly gay author and activist James Baldwin.
Finally, Adam McKay ("The Big Short") directs Christian Bale as Dick Cheney in "Vice," the story of the ultimate Washington insider. The supporting cast includes Alison Pill ("American Horror Story") as Cheney's lesbian daughter Mary; Amy Adams (Lynne Cheney), Lily Rabe (Liz Cheney), Steve Carell (Donald Rumsfeld), Sam Rockwell (George W. Bush), Justin Kirk (Scooter Libby), Lisa Gay Hamilton (Condoleezza Rice) and Tyler Perry as Colin Powell.
Charles Busch reflects on the paths he didn't take in new book
'Leading Lady' a riveting memoir from legendary entertainer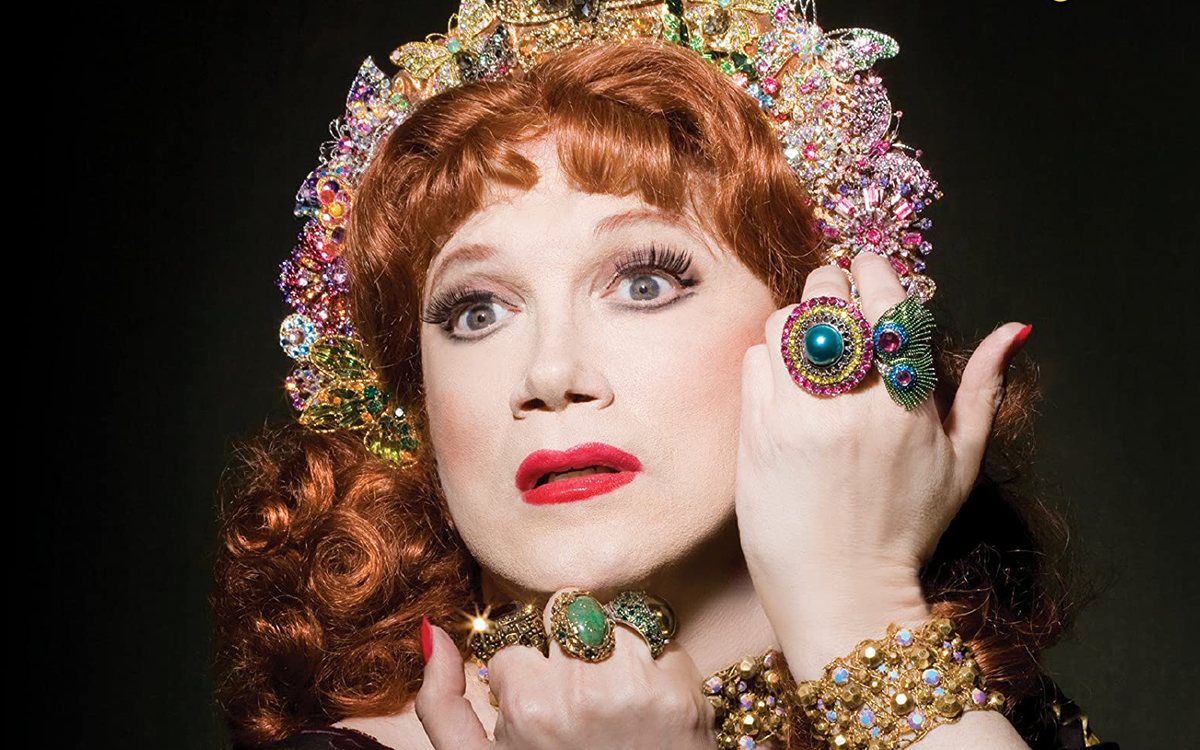 "Charles, I'm telling you, I go to plays in rat-infested basements where I'm the only one who shows up," the late queer icon Joan Rivers once told the queer, legendary playwright, actor, director, novelist, cabaret performer and drag icon, Charles Busch. "I can see the actors peeking through the curtain and groaning, 'Oh God, that old bitch in the fur coat is here. Does that mean we've gotta go on?'"
Busch reminded Rivers that she'd seen him perform in a rat-infested basement.
This is just one of the many stories that Busch, born in 1954, tells in his riveting memoir, "Leading Lady: A Memoir of a Most Unusual Boy," which comes out on Sept. 12.
"Leading Lady" is a page-turner. Some of its tales of Busch's life and career, such as his account of a Christmas party with Rivers as a guest, are dishy. Others, like his memories of trying to care for his beloved Aunt Lil, when he knew she was dying, would make even the Wicked Witch in Oz tear up.
The memoir, is, as Busch says on his website (charlesbusch.com), the story of "a talented artist's Oz-like journey."
"Leading Lady" isn't linear. This isn't a detriment. Busch deftly intertwines memories of his life and career from his mom dying when he was seven to being raised by his loving Aunt Lil to being the author and star of the cult classic "Vampire Lesbians of Sodom" to watching Kim Novak handle fans to being the Tony-nominated writer of "Tales of the Allergist's Wife" to being creative during the pandemic.
"Storytelling is a huge part of my life," Busch told the Blade in a lengthy phone interview, "I get into various adventures and, I think, this could be a good story to tell."
Interviewing Busch is like chatting with a fab storyteller over coffee or a glass of wine. Except that you're talking to a legend who's entertained and inspired queers (and discerning hetero audiences) for decades. (I'm wearing my "Vampire" T-shirt as I write this.)
As a playwright, Busch writes "linear" plays, with a beginning, middle and an end, he said. As a cabaret singer, "the way I sing songs is telling a story," Busch said.
Since childhood, he's been creating vivid scenes in his imagination. From early on, Busch has felt as if he's both a spectator and star in the movie of his life.
It seemed inevitable that he'd write a memoir. It's the ultimate form of storytelling. "You reach a certain point in your life," Busch said, "where you're more reflective and see your life as a whole."
"You reflect on the paths you didn't take," he added.
Busch spent his childhood in Hartsdale, N.Y. He had two older sisters, Betsy and Margaret. His mother's death was devastating for Busch. His Aunt Lil and Joan Rivers have been among the women who have been "mothers" to Busch since his mom died.
Once, Busch said he and Rivers dined with friends. "Joan Rivers said 'I wish I had a gay son I could phone at midnight and discuss whatever movie was on TCM,'" he recalled.
Busch would have loved to have been Rivers's "gay son."
Life in Hartsdale was hard for Busch after his mother passed away. His father was often absent and showed little interest in his children.
Things were miserable for Busch when his grandmother, for a time, cared for the family. He knew, as a boy, that he was gay and hated going to school where a movie-and-theater-loving kid who liked to draw wasn't one of the cool kids.
Yet Busch forgave his "father's failings," he writes in "Leading Lady, "because he gave me the theater."
Busch became entranced with the theater when his father, an aspiring opera singer who performed in summer stock, took him to the old Metropolitan Opera House in New York City to hear Joan Sutherland sing the role of Amina in Bellini's "La Sonnambula."
Busch was saved from a life of boredom and bullying when Aunt Lil, his mother's sister, took him to live with her in Manhattan. There, like Auntie Mame, she raised him. She prodded him into applying to the High School of Music and Art in New York City. He was accepted there.
After high school, Busch graduated with a bachelor's degree in drama from Northwestern University in 1976.
"My Aunt Lil is the leading lady [of the title of his memoir]," Busch said, "she was the most influential person in my life."
One of the reasons why Busch wrote "Leading Lady" was to paint a full portrait of her. "It was important that it not be this kind of gauzy, sentimental memory piece," he said, "making her out to be a saint."
Aunt Lil adopted Bush when he was 14. Her goal was that he would go to college, become independent, be a survivor – make a place for himself in the world.
"I don't know what would have happened if she hadn't stepped in," Busch said.
"She was very intellectual," he added, "I've never met anyone [else] with such a pure devotion to thinking. It was a little intimidating."
Aunt Lil's standards for caring – for giving of oneself – were so high that it was almost impossible to meet them. "She believed that you should anticipate what people would need," Busch said, "before they told you."
Looking back, Busch is most proud of himself when, "I've gone past my natural self-absorption," he said, "when I've thought of someone else."
Busch is being too hard on himself. In "Leading Lady," and when interviewed, he's caring and curious as well as witty, savvy, and as you'd expect, a bit campy.
His sister Margaret died recently. "She declined gradually over nine months," Busch, said, choking up, "I gave her my bedroom and I slept on my sofa."
Like many of her generation, Aunt Lil didn't understand queerness or drag. But she loved Busch. She didn't go to see his productions, he said. "She could have gone like other parents," he said, "and been tight-lipped. And said something nice that she didn't believe."
But "she didn't want to lie or be hurtful," Busch added, "so, for her, it was: can't I just love and support you, and not go?"
Aunt Lil didn't get Busch's sexuality. But she knew about secrecy. Busch learned of a terrifying secret that his aunt had long kept hidden. In the 1930s, during the Depression, Aunt Lil worked as a nurse. One day, when she worked overtime, one of the patients suffered a burn. She had to leave nursing. "Her sister in a nasty mood revealed this," Busch said, "Aunt Lil never discussed it."
In the 1970s, Busch had trouble getting into theater because there were only roles for actors playing straight male characters. "The only way I could get on stage was to write my own roles," he said, "I have a rather androgynous nature."
Busch found that the feminine within him was a place of authority and strength. "I'm fine when I play male characters," he said, "but I'm better when I play female characters."
Why this is so liberating for him is a bit of a mystery to Busch. "But I accept and love it," he said.
Times have changed since Busch made his first big splash with "Vampire Lesbians of Sodom." "In 1985, being a drag queen was considered a negative," Busch said, "my generation of drag performers bristled at being referred to as drag queens."
Busch no longer bristles. "I feel like the characters," he said, "I enjoy costumes and getting the right wig."
"But, I go from male to female not through trickery or anything visual, I transfer through my soul."
In "Leading Lady," Busch recalls AIDS and other dark moments from the past. Many of his friends and colleagues died from AIDS. "AIDS was the World War II of our generation," he said.
But Busch, in his memoir and in his life, isn't only looking back. He's very much in the present. Busch is embarrassed to say he was lucky. During the pandemic, devastating to many, he made art. He did play readings on Zoom and finished writing "Leading Lady" which he'd worked on for 14 years.
During the pandemic, Busch with Carl Andress co-wrote and co-directed the movie "The Sixth Reel." The film's cast includes Busch, Julie Halston (Busch's longtime muse), Margaret Cho and Tim Daly.
Busch describes the film, an homage to the Hollywood madcap movies of the 1930s, as "a comic, caper movie."
"I play a disreputable dealer in movie memorabilia," Busch said, "a legendary lost film is found, and I see it as my ticket out of debt."
The "Sixth Reel" is playing from Sept. 21 to Sept. 27 at the LOOK Dine-In Cinema West 57th Street in New York City.
"I hope the run in New York will encourage people to distribute this little movie," Busch said.