Teen receives standing ovation for coming out at Catholic school assembly
Finn Stannard announced to 1,500 students and faculty he is gay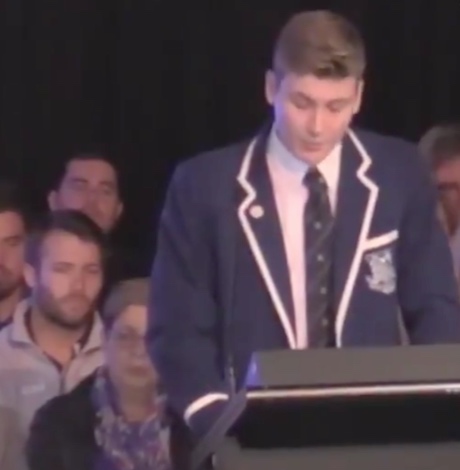 High school student Finn Stannard came out to 1,500 people during a school assembly at St. Ignatius in Sydney, Australia and received a standing ovation. The video has since gone viral with thousands of likes on Twitter.
"Announcing yourself to the world is pretty terrifying because, what if the world doesn't like you," Stannard, 17, addressed the crowd. "I decided that it was finally time to tell someone the truth. It wasn't easy but I told my mum that I thought I might be gay."
After his speech, the crowd stood on their feet and applauded.
Stannard told SBS News how monumental the moment was for him.
"When I said it, I just felt this energy pass through me and I felt – that was the first time I'd really been proud of who I was," Stannard said."I could announce it to all these people who were before me… Life was easier living as the straight eldest son. I had spent so long behind the façade of a confident, heterosexual man that I wasn't sure if I knew how to be me. I think that's really the biggest reason I made sure I got up onto that stage and gave the speech. I don't think anybody should have to go through the feeling of loss that I felt like I'd gone through."
His mother Megan told SBS News she was overcome with emotion.
"The fact that Finn was supported, the fact that his message was heard, I was in tears," she said. "We were so proud of him, so proud of the school, and so proud of the boys. It was a truly special occasion."
Paul Hines, the school's principal, said to SBS News: "I'm not sure anyone chooses their sexuality, that's who they are and therefore we need to be open to that and to accept it and to make sure we live in communities of inclusion – and with that will come diversity."
Watch below.
This is the moment a gay student at one of Sydney's most elite Catholic schools – that boasts former prime minister Tony Abbott and Barnaby Joyce among its alumni – stood up in a packed assembly hall of more than 1,500 students and came out pic.twitter.com/NyZxffFBmr

— SBS News (@SBSNews) November 26, 2018
Louisiana lawmakers send anti-LGBTQ bills to Governor Edwards
"I guess I've always believed in my heart of hearts that a decision should be made by a patient and a physician"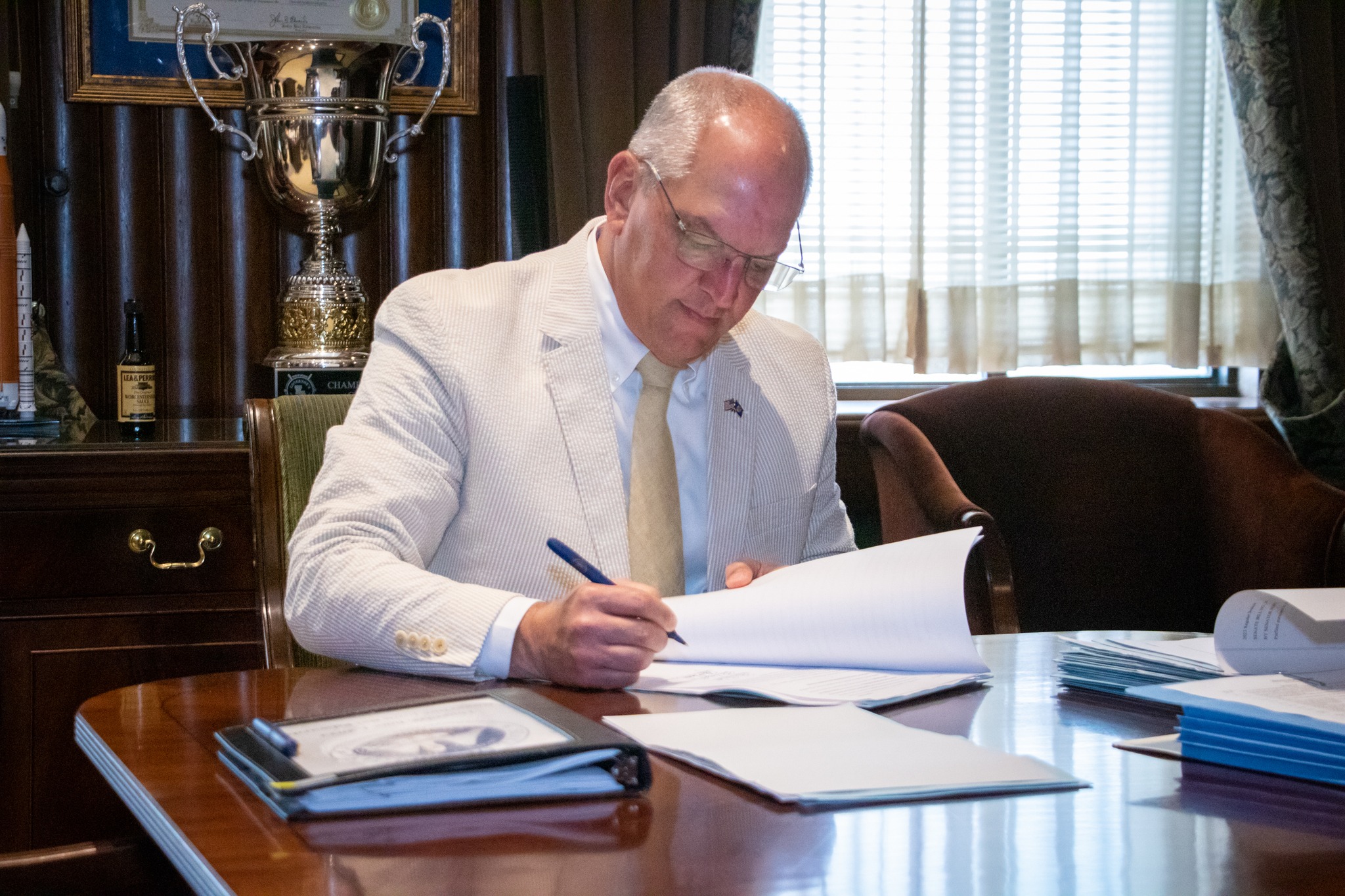 BATON ROUGE – The Louisiana state Senate on Monday, following a national conservative movement targeting LGBTQ+ youth, approved three measures that target LGBTQ+ rights. The bills now head to the state's Democratic Governor John Bel Edwards, one of which has spurred calls for the governor to veto from leading civil rights advocacy groups including the ACLU.
House Bill 648, a ban on trans youth gender-affirming health care, passed on a 29-10 vote that along party lines. HB 648 is the only bill of the three to receive a veto-proof majority vote in both House and Senate should the governor veto it, which sources say is highly likely.
"This extreme government overreach harms everyone in our state, especially transgender Louisianans, and we all deserve better," ACLU spokesperson Kari Elgin said in a statement.
The local newspaper, The Advocate reported, the Senate voted Monday for HB 466, the ban on talk of gender and sex in school classrooms, on a 29-9 vote, a two-thirds majority; and for HB Bill 81, the pronoun bill, on a 31-8 vote, also a two-thirds majority. However, the House passed each of those bills earlier in session without two-thirds majority votes.
Human Rights Campaign State Legislative Director and Senior Counsel Cathryn Oakley released the following statement:
"From doctors' offices to classrooms, Louisiana's extremist legislators show no shame in assaulting the freedoms of those different from them. Blocking teachers from providing the safe and inclusive spaces that LGBTQ+ youth so desperately need is an unconscionable act. There is absolutely nothing inappropriate about being LGBTQ+ or in acknowledging LGBTQ+ issues and people. Furthermore, denying transgender and non-binary youth access to best-practice, life-saving medical care puts their lives in very real danger.
These bills are a desperate and cruel effort by radical politicians in Louisiana to marginalize and erase the LGBTQ+ community, particularly transgender youth. The Human Rights Campaign strongly condemns these discriminatory bills and calls on Gov. Bel Edwards to veto them."
There was opposition to the trans youth healthcare ban from Senator Republican Committee Chairman Fred Mills, of Parks, joined who had joined with the Democrats in opposition. The bill killed by the Senate Health and Welfare Committee, which Mills is chair of on May 24, which was thought to have effectively killed the bill for this legislative session.
According to the Advocate after weeks of political maneuvering that saw it revived by the full Senate as political pressure mounted from conservative interest groups and then approved last week by a second Senate panel, sending it back to the full chamber.
Last month Mills, who expressed his trust in science and health care providers before joining Democrats in opposition.
"I guess I've always believed in my heart of hearts that a decision should be made by a patient and a physician," Mills said.
Speaking to the Advocate Monday, Mills said his vote was driven by his belief that decisions about medical care should remain between doctors and patients. He said Monday that blowback to his vote, which included threats from local and national conservatives, came as a surprise because he was unaware of the "cultural war" the issue was enmeshed in.
"This is probably one of the biggest blessings of my life, this controversy," he said. "I've been attacked nationwide by people with hate. But I do not hate these people. I know God blesses them."
Related: