November 28, 2018 at 5:13 am PST | by Karen Ocamb
Equality California's Rick Zbur honored as an environmentalist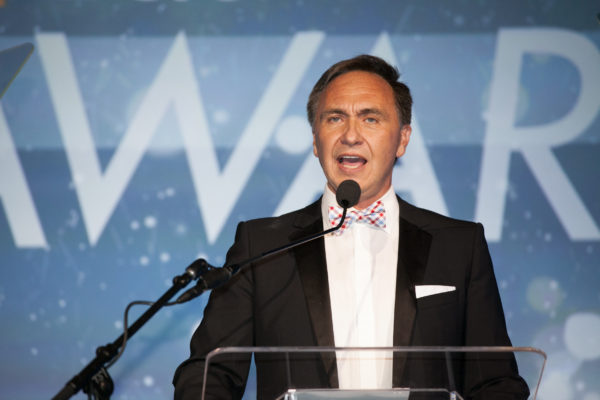 Many in the LGBT community may be unaware that Equality California Executive Director Rick Zbur has another not-so-secret passion: he's a longtime environmentalist. In fact, he is the immediate past board chair for the California League of Conservation Voters, which is honoring him on Thursday, Nov. 29, along with Black Women for Wellness and civil rights icon Dolores Huerta, co-Founder of the United Farm Workers and Equality California board member.
The LGBT community first recognized Zbur's commitment to both LGBT equality and the environment when he ran for Congress in 1996 in the 38th Congressional District. At the time, the young attorney, a graduate of both Yale and Harvard, was a senior partner at Latham & Watkins specializing in the environment, land and resources out of the firm's Los Angeles office. Though he won the Democratic Party Primary, Zbur narrowly lost in the general election, with a ruckus raised over his campaign when the Human Rights Campaign endorsed the moderate Republican incumbent until essentially being forced by the local SoCal LGBT community to duel-endorse.
"My commitment to environmental protection is very personal," Zbur tells the Los Angeles Blade. "I grew up in a Latino farm community in New Mexico's Rio Grande valley, the area where my mom Erlinda Chavez and her family have lived for generations. The community obtained their drinking water from unregulated shallow groundwater wells that had been polluted from leaking underground storage tanks and agricultural chemicals. As I was growing up, I saw my grandfather, cousins, aunts and uncles become ill from cancer and kidney disease, which I believe was due to the water they drank all their lives.
"For me, environmental protection is about protecting people and the health of our communities," he continues. "As a parent, I also worry about the world that we will leave our kids if we do not take seriously and address the threat of climate change.  Our failure to act on climate will mean that the world we leave them, our way of life and the opportunities they have will be very different from today."
Zbur believes the LGBT movement and the environmental movement have similar and overlapping goals.
"At their core, both movements share the goal of improving the heath and well-being of people," he says. "The LGBTQ community experiences huge disparities in health and well-being compared to the general public. Because of historical and systemic discrimination, LGBTQ people—especially LGBTQ immigrants and people of color—are more likely to be living in poverty, and therefore more likely to be living in lower income communities near pollution sources. As a result, LGBTQ people are more likely to experience exposure to pollution that negatively impacts their health."
The environmental justice movement, meanwhile, has long fought to protect the health of lower-income communities that are often used as dumping grounds for industrial facilities and other pollution sources—and "has been ringing the alarm bells about the very real threat of climate change for decades," Zbur says.
Though California's horrendous wildfires and the increasingly severe tropical storms and hurricanes "should be a call to action," Zbur says, "the Republican Party has been captured by Big Oil, Big Coal and climate deniers, who ignore the clear consensus of climate scientists who agree that we must act urgently to move to a clean energy economy and reduce carbon emissions to avoid the worst impacts of climate change."
As someone involved in politics on a daily basis, Zbur notes that climate change should not be a partisan issue. "But let me be clear: President Trump's Administration—which recently withdrew from the Paris Climate Accords—and Republican leaders in Congress are the primary obstacles to tackling the urgent threats of climate change. Failure to do so quickly will mean that our kids will face challenges to our way of life that we can't even imagine," Zbur says. "Gov. Brown and Gov.-elect Newsom understand the urgency of this problem and will continue to ensure that California leads on climate. But the climate emergency we are facing requires federal action, and that requires that we replace the current occupant in the White House and the climate change deniers who control the Senate."
Zbur notes the intersectionality of Equality California and the California League of Conservation Voters.
"I am very honored to receive CLCV's environmental leadership award," Zbur says. "By working to elect environmental champions to office and advance legislation to combat climate change and keep our air, land and water clean, CLCV plays the same role for the environment as Equality California plays for California's LGBTQ community. They are a crucial partner in our work to create a world that is healthy, just and fully equal for all LGBTQ people."
For more information on CLCV's Changemakers Celebration on Thursday, Nov. 29 at the Culver Hotel in Culver City, go to the California League of Conservation Voters website.