George H.W. Bush 'unsupportive' on gay rights, HIV/AIDS
Larry Kramer says, 'He hated us'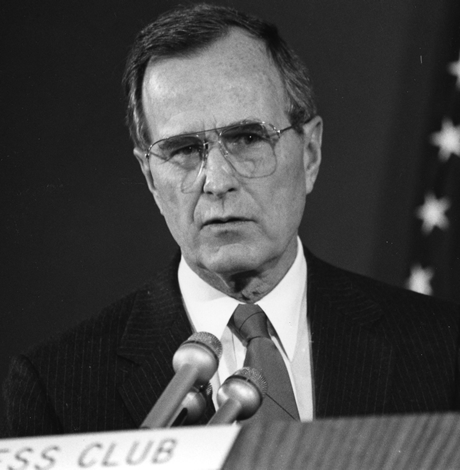 Following the death of former President George H.W. Bush at age 94, the nation remembers him for his civil tone in contrast to President Trump and for helping bring the Cold War between the United States and the Soviet Union to a peaceful conclusion — but his legacy on LGBT rights and failure to confront the raging HIV/AIDS epidemic at the time remain a stain on his overall record.
Gay former Rep. Barney Frank, whose 32-year tenure in Congress included the George H.W. Bush administration from 1989 to 1992, told the Washington Blade in an interview Saturday the late former president "was bad" on LGBT rights and "wouldn't do anything" to advance them.
"I asked him, for example, to rescind the Eisenhower rule that said we couldn't get security clearances," Frank said. "He refused to do it. Bill Clinton did a few years later."
Frank also said Bush refused to roll back military's ban on gay service members, which was administrative and not statutory in the days before the "Don't Ask, Don't Tell" law of 1993.
"Bush was simply unsupportive on any issue," Frank added.
Frank, however, qualified his remarks by saying Bush did a positive thing by appointing former U.S. Associate Justice David Souter to the U.S. Supreme Court.
But that appointment, Frank said, was undercut by Bush's appointment of U.S. Associate Justice Clarence Thomas. Frank said Thomas — who dissented in every major gay rights decision, including the Obergefell decision in 2015 extending marriage equality nationwide — has been "totally negative."
One exchange between a reporter and Bush in 1992, the final year of his administration, prominently exemplifies his anti-gay views. According to a clipping from the Los Angeles Times, a reporter from NBC News asked Bush how he would respond to a grandchild who came out as gay. Bush replied he'd "love that child," he also denigrated being gay.
"I would put my arm around him and I would hope he wouldn't go out and try to convince people that this was the normal lifestyle, that this was an appropriate lifestyle, that this was the way to be," Bush reportedly said.
Bush reportedly added, "But I would say, 'I hope you wouldn't become an advocate for a lifestyle that in my view is not normal, and propose marriages, same-sex marriages as a normal way of life. I don't favor that."
Urvashi Vaid, who served as executive director of the National LGBTQ Task Force at the time, said Monday the Bush administration "was not a friendly administration on LGBT issues."
"I think our standards have really declined," Vaid said. "Compared to the Trump administration it was better, compared to the Reagan administration, it was neutral, but President Bush continued many of the policies of the Reagan administration around LGBT people."
Vaid added, "I think that that administration pandered to the right-wing in the Republican Party and did not stand up to it and allowed itself to do a lot of things. The president allowed himself to be led by people who were far-right zealots like Patrick Buchanan."
In 1992, Buchanan delivered a fiery speech at the Republican National Convention calling for a culture war, mocking Democratic presidential candidate Bill Clinton for being called pro-gay by "a militant leader of the homosexual rights movement" and urging followers to stand with Bush on the "amoral idea that gay and lesbian couples should have the same standing in law as married men and women."
That year was the first-time the National Log Cabin Republicans made an endorsement decision in the presidential race. The group declined to support Bush because he refused to condemn Buchanan's anti-gay rhetoric at the GOP convention.
Despite Bush's anti-gay views, at least two pro-gay laws were enacted during the Bush administration. Among them was the Hate Crimes Statistics Act, which required the U.S. Justice Department to collect data on bias-motivated crimes based on a victim's race, religion, disability, sexual orientation or ethnicity.
The Hate Crimes Statistics Act was the first federal law to recognize and name gay, lesbian and bisexual people. Gay activists were invited to the White House during the signing ceremony on April 23, 1990.
During the event, Bush repudiated discrimination, praised civil rights leaders, including Martin Luther King, Jr., and enumerated the inclusion of sexual orientation in the law.
"Bigotry and hate regrettably still exist in this country, and hate breeds violence, threatening the security of our entire society," Bush said. "We must rid our communities of the poison we call prejudice, bias and discrimination and that's why I'm signing into law today the a measure to require the attorney general to collect as much information as we can on crimes motivated by religion, race, ethnicity or sexual orientation."
The other pro-gay law was the Immigration Act of 1990, which included a repeal of the ban on "homosexuals or sex perverts," or LGBT people, from entering the United States. That immigration exclusion was present in some capacity in immigration law since 1917, but was explicitly codified in 1952.
In 1990, Bush made an oblique reference to the removal of the LGBT travel ban in a signing statement for the overall bill.
"I am also pleased to note that this Act facilitates immigration not just in numerical terms, but also in terms of basic entry rights of those beyond our borders," Bush said. "S. 358 revises the politically related 'exclusion grounds' for the first time since their enactment in 1952."
Frank, however, said Bush deserves no credit for either the Hate Crimes Statistics Act or the repeal of LGBT ban in the Immigration Act of 1990.
The inclusion of the repeal language in the Immigration Act, Frank said, was part of a deal he made with former Sen. Alan Simpson, whom Frank called "one of the last pro-gay Republicans."
"I was on the immigration subcommittee and I had enough support from other Democrats to say that if they did not agree to include the repeal of the anti-gay stuff, I could defeat the bill," Frank said. "That deal was originally worked out in '86. It took a couple years to get the bill through, so Bush did sign that bill, but he didn't have much choice. Congress had agreed without him that that would happen."
The Hate Crimes Statistics Act, Frank said, was "actually a compromise" because Democrats in Congress wanted a hate crimes law with teeth, but Bush would only agree to a measure that collected data.
"It didn't have any teeth," Frank said. "Frankly, at the time, it wasn't a big deal, and it wasn't."
It wouldn't be until the Obama administration in 2009 when a broader Matthew Shepard & James Byrd Jr. Hate Crimes Prevention Act giving the attorney general authority to investigate and prosecute hate crimes became law.
But Bush faced stronger criticism for continuing the inaction on HIV/AIDS as the epidemic raged during his administration. According to the National Center for Health Statistics, in 1989 the first year of the Bush administration, there were 21,628 AIDS-related deaths in the United States. That number rose to 24,524 in 1990, 28,569 in 1991 and 32,407 in 1992.
HIV/AIDS was the No. 1 issue facing the LGBT community at the time. The activist group ACT UP held die-ins to encourage the delivery of experimental drugs to people with HIV and held protests at the Food & Drug Administration, the White House and Bush's summer home in Kennebunkport, Maine.
One protest in 1991 recorded and currently available on YouTube shows demonstrators holding signs reading, "It's time for National Plan, George," and chanting, "Health Care is a Right! We need more than Right to Life!"
Bush was publicly flustered by ACT UP and its tactics. In 1991, Bush called out the group by name in response to a reporter's questions about its protests of the Catholic Church for opposing condom use. ACT UP's efforts, Bush said, were "totally counterproductive" and an "excess of free speech," according to the book "Moving Politics: Emotion and ACT UP's Fight against AIDS."
"To the degree that the AIDS question should be treated as a health question, they work even against that because of their outrageous actions," Bush is quoted as saying. "And you're talking to somebody who has his own meetings broken up by them — or had two or three of them in the last year. And I condemn the kinds of tactics that are offensive to mainstream Catholics, Protestants and Jews, anybody else. It's an excess of free speech to use — to resort to some of the tactics these people use."
In the aftermath of an ACT UP protest in Kennebunkport, Bush urged "behavioral change" to combat the HIV/AIDS epidemic.
"Here's a disease where you can control its spread by your own personal behavior," Bush said. "You can't do that in cancer."
With regards to spending on HIV/AIDS, Bush dismissed the notion his administration wasn't spending enough to fight the disease, asserting the U.S. government was "spending $4 billion a year on AIDS research."
"When you consider that on a per capita basis or compare it to heart disease or cancer, it's an awful lot," Bush said. "It's far more."
According to the Los Angeles Times at the time, the amount spent on AIDS research then was actually quite smaller and less than $2 billion a year.
Despite anger over the government's response to HIV/AIDS, in 1990 he was the first president to sign the Ryan White CARE Act, which has provided health coverage for low-income people with HIV/AIDS and reauthorized under George W. Bush and Barack Obama. The elder Bush also signed into law an Americans with Disabilities Act that barred discrimination against people with HIV/AIDS.
Vaid, who famously interrupted a speech Bush gave on HIV/AIDS, said those laws were directly the result of activism from groups like ACT UP and wouldn't have been signed otherwise.
"He was not doing enough as a leader," Vaid said. "I think that those pressures and protests led by ACT UP all over the country…that pressure is what pushed both members of Congress and the administration to do whatever it did. I can't say that enough. I think there's a sense that looking backwards that 'well, you know, it would have happened, it just was a matter of time.' It wouldn't have happened. What we were up against were these really profound negative homophobic attitudes coupled with a right-wing that was…growing in power that these people had got elected through, pandering to that right-wing. And so, those forces were very much what we had to deal with, and that's why got so little action for so long."
Larry Kramer, a longtime activist against HIV/AIDS, was succinct in response to a Blade email inquiry on whether Bush deserves credit for signing the Ryan White Care Act into law.
"I will not give him credit for anything," Kramer said. "He hated us."
Bush's legacy on LGBT rights and HIV/AIDS stands in contrast to that of his wife, former first lady Barbara Bush, who died earlier this year and was remembered for being a gay ally who fought to dispel AIDS stigma.
As the Washington Blade reported in 1990, Barbara Bush as first lady visited Grandma's House, a D.C. home for children with AIDS. During the event, Barbara Bush held up an infant with AIDS and hugged a gay man with the disease, Lou Tesconi. Both the child and Tesconi would later succumb to AIDS.
In 1990, Barbara Bush wrote a letter responding to PFLAG co-founder Paulette Goodman, "We cannot tolerate discrimination against any individuals or groups in our country." The letter is considered the first positive statement in history from the White House on gay people.
Bush's anti-gay administration was a precursor to the anti-gay administration of his son, George W. Bush. In 2004, Bush made anti-gay positions a cornerstone of his re-election campaign, making a Federal Marriage Amendment that would have barred same-sex marriage nationwide a central plank. The measure came up in Congress in 2004 and 2006, but didn't have enough support for ratification.
In the aftermath of his presidency, George H.W. Bush like many Americans signaled a change on LGBT rights and made headlines in 2013 when he participated in the Maine wedding of lesbian couple Bonnie Clement and Helen Thorgalsen, who were longtime friends of the Bush family, and served as witness for the ceremony.
Bush, who said during his 1988 campaign he "didn't want same-sex marriage codified," wrote later in a 2015 biography he still "believe[s] in traditional marriage," but has "mellowed" on the issue.
"People should be able to do what they want to do, without discrimination," Bush wrote. "People have a right to be happy. I guess you could say I have mellowed."
Newsom signs LGBTQ+ protections but vetoes trans youth bill
"These measures will help protect vulnerable youth, promote acceptance, & create more supportive environments in our schools and communities"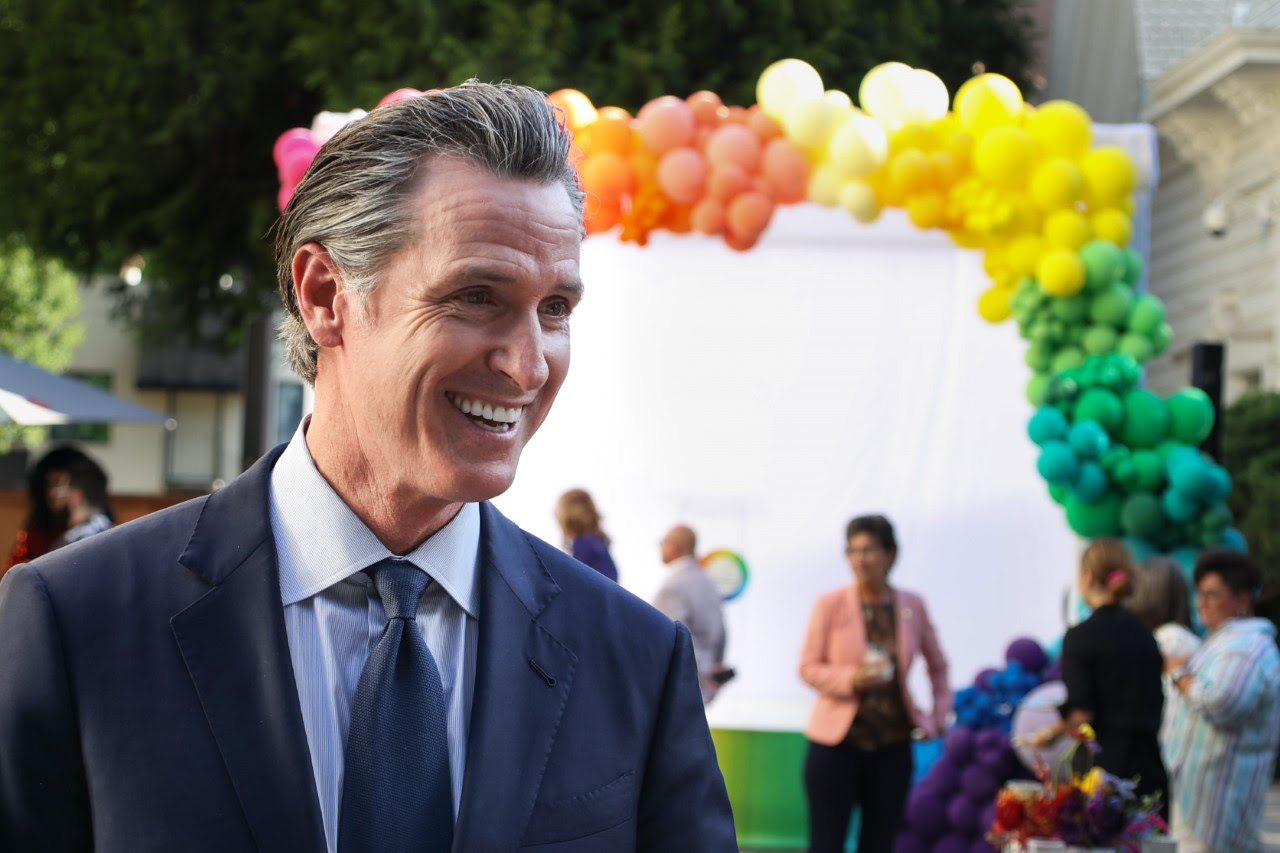 SACRAMENTO – California Governor Gavin Newsom signed several pieces of legislation on Saturday extending protection to the Golden State's LGBTQ+ community with the exception of a bill he vetoed Friday that would have required courts to consider whether a parent affirms their child's gender identity when making custody and visitation decisions.
"California is proud to have some of the most robust laws in the nation when it comes to protecting and supporting our LGBTQ+ community, and we're committed to the ongoing work to create safer, more inclusive spaces for all Californians," said Governor Newsom. "These measures will help protect vulnerable youth, promote acceptance, and create more supportive environments in our schools and communities. I thank Senator Eggman and the LGBTQ Caucus for their dedicated leadership and partnership in advancing our state's values of equality, freedom and acceptance."
Among the nine bills signed into law were:
AB 5- The Safe and Supportive Schools Act, sponsored by Assemblymember Rick Chavez Zbur (D-Los Angeles). This bill sets implementation timelines for required LGBTQ+ cultural competency training by public school teachers and staff.
AB 223- Change of gender and sex identifier, sponsored by Assemblymember Christopher Ward (D-San Diego).
Existing law authorizes a person to file a petition with the superior court seeking a judgment recognizing their change of gender to female, male, or nonbinary, including a person who is under 18 years of age. Existing law authorizes a person to file a single petition to simultaneously change the petitioner's name and recognize the change to the petitioner's gender and sex identifier, as specified.
This bill would require any petition for a change of gender and sex identifier or a petition for change of gender, sex identifier, and name filed by a person under 18 years of age, and any papers associated with the proceeding, to be kept confidential by the court. The bill would require the court to limit access to these records to specified individuals, including, among others, the minor, the minor's parents, and their attorneys.
AB 760– Public postsecondary education: affirmed name and gender identification, sponsored by Assemblymember Lori Wilson (D-Fairfield).
Commencing with the 2023–24 graduating class, existing law prohibits an institution from requiring a graduating student to provide legal documentation sufficient to demonstrate a legal name or gender change in order to have the student's chosen name listed on the student's diploma.
This bill, commencing with the 2023–24 graduating class, instead would prohibit an institution from requiring a graduating student to provide legal documentation sufficient to demonstrate a legal name or gender change in order to have the student's chosen name be the sole name listed on the student's diploma. The bill would authorize an institution to use a student's gender or legal name as indicated in a government-issued identification document only if it is necessary to meet a legally mandated obligation, but would otherwise require the institution to identify the student in accordance with the student's gender identity and affirmed name, as provided. To the extent that this requirement would impose a new duty on community colleges, the bill would impose a state-mandated local program.
AB 783– Business licenses: single-user restrooms, sponsored by Assemblymember Philip Ting (D-San Francisco). Requires cities, counties, and cities and counties to notify applicants for a business license or permit in writing of the requirement that single-user toilet facilities must be identified as all-gender toilet facilities.
AB 994– Law enforcement: social media, sponsored by Assemblymember Corey Jackson (D-Moreno Valley). With respect to an individual who has been arrested for any crime, this bill would require a police department or sheriff's office, upon posting a booking photo on social media, to use the name and pronouns given by the individual arrested. The bill would authorize a police department or sheriff's office to use other legal names or known aliases of an individual in limited specified circumstances.
This bill would also require that a police department or sheriff's office remove any booking photo shared on social media after 14 days unless specified circumstances exist. Because the bill would impose higher duties on local law enforcement, it would impose a state-mandated local program.
SB 372 – Department of Consumer Affairs: licensee and registrant records: name and gender changes, sponsored by Senator Caroline Menjivar (D-San Fernando Valley/Burbank). The bill would prohibit a board from publishing information relating to the licensee's or registrant's former name or gender online. Instead, the bill would require the board to post an online statement directing the public to contact the board for more information. For specified licensees or registrants, the board would be prohibited from posting enforcement records online, but would be required to direct post an online statement stating that the individual was previously subject to an enforcement action and directing the public to contact the board, as prescribed. The bill would provide that all records related to a request to update an individual's license or registration under these provisions are confidential and not subject to public inspection or disclosure.
SB 407 – Foster care: resource families, sponsored by Senator Scott Wiener (D-San Francisco). Existing law generally provides for the placement of foster youth in various placement settings. Existing law provides for the implementation of the resource family approval process and defines a resource family as an individual or family who has successfully met both the home environment assessment standards and permanency assessment criteria, as specified, necessary for providing care for a child placed by a public or private child placement agency by court order, or voluntarily placed by a parent or legal guardian. Under existing law, the resource family permanency standards include a family evaluation, including, but not limited to, interviews of an applicant, as specified, and a risk assessment.
This bill would require a resource family to demonstrate the capacity an ability and willingness to meet the needs of a child, regardless of the child's sexual orientation or orientation, gender identity, or gender expression, as specified.
SB 760 – School facilities: all-gender restrooms, sponsored by Senator Josh Newman (D-Fullerton). The bill would require the all-gender restroom to meet certain requirements, including, among other things, that it has signage identifying the bathroom facility as being open to all genders and is unlocked, unobstructed, and easily accessible by any pupil.
SB 857 – Advisory task force: LGBTQ+ pupil needs, sponsored by Senator John Laird (D-Santa Cruz). This bill will establish an advisory task force to identify LGBTQ+ pupil needs statewide and assist in implementing supportive initiatives.
We are thrilled that 6 of our priority bills and 2 of our endorsed bills were signed into law today! These bills protect and uplift LGBTQ+ foster youth and students in schools, as well as respect individuals' names.

We are hopeful our remaining 4 bills will be signed too! pic.twitter.com/Ch6VdQmTAo

— California Legislative LGBTQ Caucus (@calgbt) September 24, 2023
"This year the LGBTQ Caucus took up the important work of protecting our communities in the face of vile anti-LGBTQ+ rhetoric, discriminatory laws across the country, and hatred. I appreciate the Governor's partnership in signing some of our priority and endorsed legislation today, and hope we can continue to educate about the harm LGBTQ+ people will continue to face if we fail to act," said Senator Susan Talamantes Eggman, Chair of the California Legislative LGBTQ Caucus.
"While states across the nation are passing legislation that puts LGBTQ+ people and especially youth at risk, California is sending a clear message today — hate-filled attacks will not be tolerated and we will continue protecting and ensuring the safety of all members of the LGBTQ+ community," said Equality California Executive Director Tony Hoang. "We are thankful to our legislative partners for championing these important bills and to Governor Newsom for continuing to be such a strong ally in improving and protecting the wellbeing of the LGBTQ+ community as we face growing attacks from far-right extremists."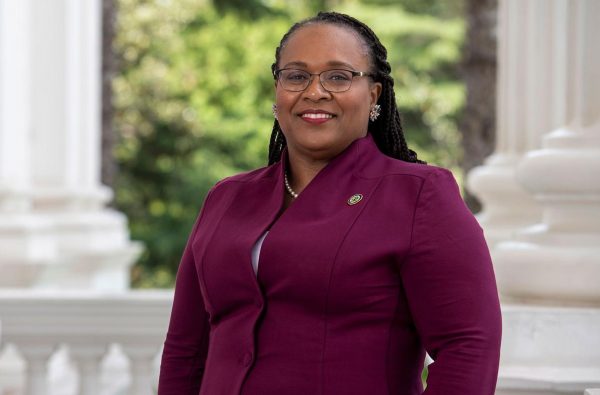 On Friday, Newsom vetoed AB 957 would have updated California law to clarify that, for the purposes of child custody and visitation decisions, a parent's affirmation of a child's gender identity or gender expression is an essential factor that must be considered in determining the best interest of the child by a judge.
That legislation had been sponsored by Assemblymember Lori Wilson, a Democrat who introduced the bill and has an adult son who came out as transgender when he was a teenager, criticized the governor's decision.
"I've been disheartened over the last few years as I watched the rising hate and heard the vitriol toward the trans community. My intent with this bill was to give them a voice, particularly in the family court system where a non-affirming parent could have a detrimental impact on the mental health and well-being of a child," Wilson said in a statement.
My Statement on Governor Newsom's Veto of AB 957 pic.twitter.com/bK1JhrW27z

— Assemblywoman Lori D. Wilson (@AsmLoriDWilson) September 23, 2023
"We are disappointed and disheartened by Governor Newsom's decision to veto AB 957, which would have helped to ensure that the unique needs of transgender and gender non-conforming youth are explicitly considered in child custody and visitation decisions," said Equality California Executive Director Tony Hoang.
"At a time where LGBTQ+ youth, specifically trans youth are facing higher rates of depression and suicide, reassurance and protection from our state is in dire need. Anti-LGBTQ+ extremists targeted this modest and straightforward legislation as part of their coordinated attacks on trans youth in California, and the failure to enact this bill bolsters their dangerous efforts. We are grateful to Assemblymember Lori Wilson for her unwavering commitment to the needs of transgender and gender non-conforming young people. Despite this setback, we will continue working with the Legislature and Governor Newsom to to protect the rights and dignity of the most vulnerable members of the LGBTQ+ community."
In his veto message, the governor explained:
"I appreciate the passion and values that led the author to introduce this bill. I share a deep commitment to advancing the rights of transgender Californians, an effort that has guided my decisions through many decades in public office.
That said, I urge caution when the Executive and Legislative branches of state government attempt to dictate – in prescriptive terms that single out one characteristic – legal standards for the Judicial branch to apply. Other-minded elected officials, in California and other states, could very well use this strategy to diminish the civil rights of vulnerable communities."