December 4, 2018 at 12:24 pm PST | by Karen Ocamb
'Philadelphia,' AIDS and LGBT ally Tom Hanks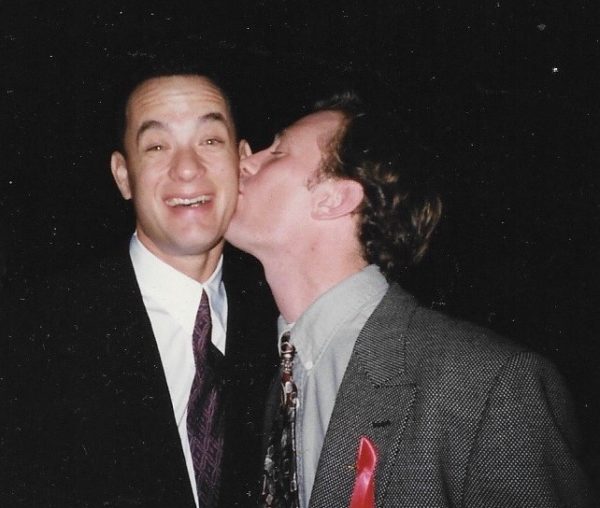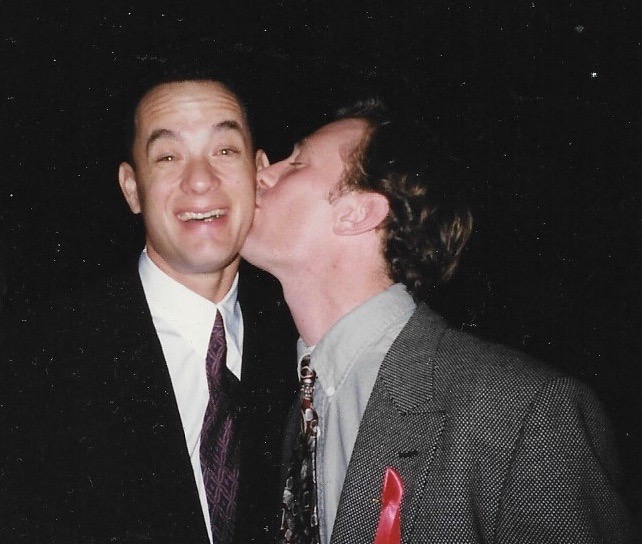 To many in the LGBT community who survived the ravaging years of the AIDS crisis, the death of former President George HW Bush on the eve of World AIDS Day was a profound PTSD trigger. Like a quick nod of a genie's head, the agony of the government's neglect during the Reagan/Bush years in the 1980s came rushing back. And while Bush signed the Americans With Disabilities Act and the Ryan White Care Act, thousands had died, there was no cure and no end in sight for more carnage, brought on by stigma as much as the disease.
What's sometimes overlooked in the overwhelming grief as we remember our lost loved ones are the friends and allies who showed up to help, to care, to just stand with us in love and defiance. One such ally was actor Tom Hanks, best known in the early 1990s for his comedic performances in "Splash," "Big," and "Turner & Hooch." Taking on the role of a gay man dying of AIDS in Jonathan Demme's 1993 film "Philadelphia" was a risk to his popularity and career.
Dec. 14 marks the 25th anniversary of the Los Angeles premier of "Philadelphia," which went on to win Hanks his first Academy Award, as well as an Oscar for Bruce Springsteen's haunting song "Streets of Philadelphia." Some criticized the film for being too milquetoast mainstream—but that was the point. Who would pay $7 to see an AIDS movie unless it was a good, relatable story with Hollywood stars? Through Hanks, straight people got to "know" a gay person and through Denzel Washington, they took the journey from homophobic ambulance-chaser to compassionate attorney for gay/PWA civil rights.
The LA premier was a benefit for AIDS Project Los Angeles, which netted $250,000 APLA Chair Steve Tisch told the LA Times. But it did more than that. About two years after actor Brad Davis died of AIDS and left a scathing letter about Hollywood homophobia tied to insurance issues over hiring HIV-positive actors, Demme hired more than 50 HIV-positive actors, including the late Ron Vawter who played one of the partners in the law firm that fires Hanks' character.
"Philadelphia" also brought attention to the real 1987 lawsuit upon which it was partly based and Hanks' remarkable Oscar acceptance speech— in which he noted "that the streets of heaven are too crowded with angels"—unintentionally outed his gay drama teacher and spawned the 1997 movie "In & Out," in which straight actors Kevin Kline and Tom Selleck share an onscreen kiss.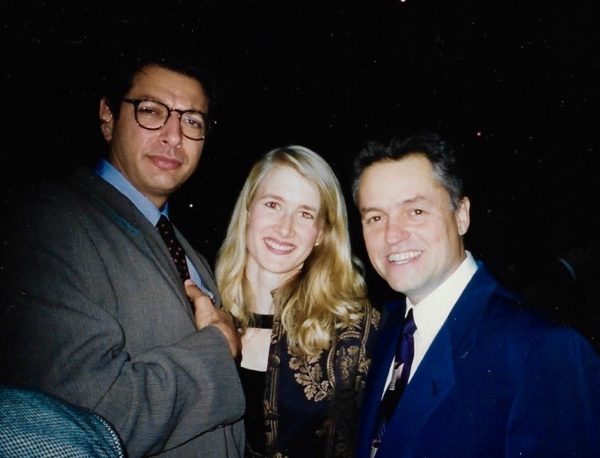 "Philadelphia" director Jonathan Demme with actors Jeff Goldblum and Laura Dern (Photo by Karen Ocamb)
I covered the LA premier of "Philadelphia" and had my own heart-warming moment. I was one of AIDS activist Michael Callen's care providers and Michael and The Flirtations made a cameo appearance singing "Mr. Sandman" in the film. He was too sick to attend the APLA event but asked me to convey his thanks to Tom Hanks. He was sorry to hear that Michael had taken a turn for the worse but told me to tell him thanks back. Hanks said he listened to Michael's "Purple Heart" album in his trailer while getting into character. Michael was overjoyed to hear that. Michael died 13 days after the APLA benefit premier of "Philadelphia."
During the APLA event, gay actor David Drake came up to us while I was interviewing Hanks. Drake, who was also in the movie, was well-known for his powerful AIDS play "The Night Larry Kramer Kissed Me." We were joking around and I asked them to play out that scenario, which they did to everyone's amusement.
"I knew from the get-go being cast in "Philadelphia" was a very special kind of honor, more so than any other big-budget Hollywood film at the time," David told me via email. Jonathan Demme "was committed to turning his formidable creativity and star power to telling the story of an gay man with AIDS in his quest to save his life was groundbreaking for mainstream culture.
"And to enlist Tom Hanks to star was major," David continues. "I was on and off filming for over 3 months, which was shot in Philadelphia, and stepping on set that first day with Tom was daunting. But he immediately made me feel right at home when we met in the makeup trailer, saying, 'So you're the guy kissing Larry Kramer! I've been reading a lot about you, so happy we're working together on this.'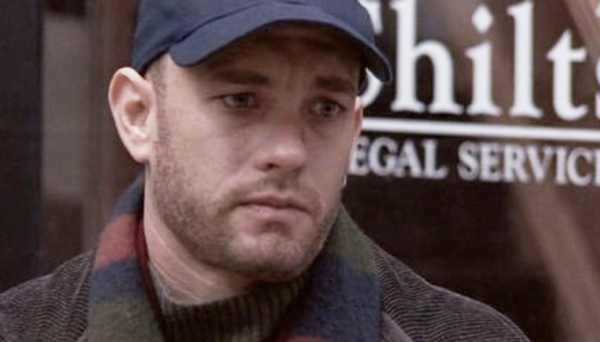 Tom Hanks in "Philadelphia" (photo via IMB)
"I was dazzled by his humility and impressed at his genuine interest in what was going on in the AIDS activist community," David says. "Plus, he was just so easy-going and available to engaging in conversation with. No diva fits, no tension, and Tom's commitment—losing 30-some pounds for the role—was astonishing. As was his performance in take after take."
"A once-in-a-lifetime encounter: I also remember having a lovely conversation in the hospital waiting room (on set) about the secret restaurants of San Francisco with Joanne Woodward  (who was knitting) and Karen Finley (who was dressed in doctor whites)," David says.
"When the movie wrapped that spring of 1993," David remembers, "Tom sent everyone in the cast and company wristwatches with the "Philadelphia" logo under the glass of the clock—and with a personally signed note of thanks. The 'nicest guy in Hollywood?' You betcha."
So when injustice seems to pour down like torrents from hell, remember there are some angel-allies who still walk the streets of Los Angeles.