John Grant's musical journey is a magic evolution
John Grant doesn't exactly fit the expected image of a rising star in the music world.
Openly gay, openly HIV-positive, and well into middle age, he writes unapologetically queer songs, frequently laced with obscenities – hardly the radio-friendly stuff of conventional pop music.
Yet this American-born singer-songwriter became a fixture of the European Indie-rock scene after his 2010 debut album ("Queen of Denmark") was named Mojo's Album of the Year.  Since then, he's continued to draw both critical acclaim and a growing number of fans back here in his homeland, as well.
It's a level of acceptance he could not have foreseen when he was growing up gay as a member of a conservative Methodist family in a small Colorado town – an experience he describes as "a perfect storm of horrible."
"My parents were actually quite loving," he is quick to add, "but it wasn't okay to be gay outside, in the world.  You were sort of seen as sub-human.  There were all these reasons – it's a perversion, it's a psychological disorder, it's a sickness – teaching you that either you change or there's no place for you anywhere, not in this world and not in any other world."
He reflects further, with characteristically brutal candor, "I remember going through decades of 'Oh my God, look, that dude's a faggot, we gotta get that fucker.  Go kill that fucking faggot.'  Or you get people whispering behind you in the grocery store, 'What's that fucking faggot doing here?   You go through that for several decades of your life, you tell me that's not going to fuck up your head."
"This all started when I was way too young to even know what sexuality was," he continues.  "I don't know what other people's experiences are, but I wasn't prepared for all that.  And I thought to myself 'My God, what the fuck have I done, that causes this much disdain, and causes people to be just absolutely consumed with their hatred for what they're saying I am?'  It's mind-boggling, even to this day."
Like countless others raised within such a repressive background, it led him down a dark road.   Grant struggled with alcohol and cocaine addiction for years before getting sober 14 years ago – something about which he is as open as he is about his sexuality and his HIV status.  Even in sobriety, though, it's been difficult to come to terms with his anger.
"I've been through a lot of therapy," he admits with a self-effacing grin.  "It's been a very long process, because even after you figure out that it's okay to be how you are, that doesn't make the damage that's been done to you disappear overnight."
"But the cruel reality of the world is that it doesn't matter what happened to you when you were a child," he adds.  "Yes, what your parents do to you, what people do to you, what happens to you, the conditioning, all that stuff matters – but you have to take responsibility.  And that means getting over the hatred for what was done to you, because if you don't get over the hatred it's just going to eat you alive, anyway."
"The people that said you deserve death for what you are, they're going to be fine.  Meanwhile, your stomach lining is being eaten by the anger you feel over all that – so you just have to move on."
For Grant, moving on has been a big part of what has shaped his music.  He's used his songs to explore (and process) the difficult emotional landscape carved out by his early experiences.  Many of these have been understandably harsh – full of anger, resentment, self-recrimination, self-loathing, and sarcasm – but there have also been beautiful love ballads, anthems of self-affirmation, and uplifting messages of hope (like the powerful "Glacier," from his album "Pale Green Ghosts").
And always, even within the bleakest of his songs, there is humor.  For Grant, who grew up under the influence of British TV comedy, "The Simpsons," and the films of Woody Allen and Mel Brooks, there is humor in everything.  "All that stuff is so dear to my heart," he says, "and it's inextricable from my musical DNA as well."
Still, it's his dark side that seems to permeate his music – even the "happy" songs are tinged with it – and he's okay with that.  It's part of an honest expression of who he is, something he sees as necessary to his survival.
For the same reason, he is as out and proud in his work as he is in his life.  He writes songs that are candid, often explicitly so, about his sexuality.  There are no carefully-worded, gender-masking lyrics; when he is singing about another man, he wants you to know it.
He realizes that makes some people uncomfortable.  "It's like, 'We were okay with you changing a few pronouns, but when you start getting nasty or vulgar… um, that's too much.'"
He laughs, "You can have gangster rap going 24 hours at the local youth group at the Baptist church, where some guy's talking about how there's no other man in the world who can fuck a woman like he can, and that's perfectly fine; but when you talk about your actual experience as a gay man, suddenly they're offended."
He's keenly aware that his freedom to sing about his truth is something for which he owes a great debt to those who came before.
"I feel very humbled and very lucky to be able to do what I'm doing."
He continues with a personal anecdote.  "When I was in Berlin the other night, the Pet Shop Boys came to my show, and they came backstage and asked for an autograph from me.   Let me tell you something, that's next level shit for me – because when I think about what these guys did, back when they did it – there has been a lot of preparation, coming up to this, that makes it possible for me to say the things that I'm saying in my music without being hung in the town square."
He goes on, "People like Boy George – okay, you know, fame fucks people up, and it fucked with Boy George – but I know him a little bit, and he's quite a lovely fellow, and he's very talented.  He's got a beautiful, unique, interesting voice, and they made unique, interesting music back in the day, and they were unapologetically themselves.  Same thing with Holly Johnson, you know, from 'Frankie Goes to Hollywood' – so I just know there has been a hell of a lot of support and help from these guys, who were doing it back when there was no support, and people were dying in droves and nobody knew what was going on, and people were pointing the finger at the gay community again and saying 'See?  This is what you get!'"
Although Grant's songs are unequivocally gay in their lyrical content, they don't necessarily fit into the stereotypical box of "gay" music.
He came of age listening to early industrial and new wave music; he loves Ministry and Skinny Puppy, as well as Devo and Missing Persons, and when asked about his favorite albums, he lists "Color of Spring" by Talk Talk, "NunSexMonkRock" by Nina Hagen, and Throwing Muses self-titled first album.  All those influences can be heard in his own work.
"I love Sylvester, and I love Donna Summer, all the good diva disco stuff," he says.  "But I try and mix it up, I try and have it all in my music."
Increasingly, he has grown more "experimental," evolving from the pure singer-songwriter style of his first album toward an eclectic, heavily electronic sound – though the importance of his strong vocals and colorful lyrics has remained central.
On his newest album – "Love Is Magic," which debuted in October at number 20 on the UK charts – that evolution has come to full blossom.  Full of throbbing beats and robotic synth flourishes, it's a collection of songs that are distinctly different from his previous work and yet can only be described as pure John Grant.
"For me," he says, "I didn't see it as drastic or courageous at all, because on any given day I'll be listening to a beautiful ballad like 'Guitar Man' by Bread, and I'll be listening to 'Land of Rape and Honey' by Ministry' – it all fits together because that's what fits together in my everyday life.  I can be listening to Sade, and Abba, and Kiss, and Fat Gadget, and Helen Reddy, and John Denver, and Johnny Cash, and Loretta Lynn, and Eurythmics – all that stuff fits together for me, so I figure why shouldn't I be able to do that on my records?  Because that's what I love.  Plus, I find that the way the styles change in the course of an album, that's very fitting for the way everyday life is for a human being in general – on any given day, you get a billion different styles from all over the place, from everything you hear, and see, and experience."
As on his previous albums, several of these are "character" songs, quirky vignettes sung in the first-person that satirize certain toxic personality traits.
Are these based on people he has known?
"They're definitely just me," he chuckles.  "You must have enough self-awareness to know that when you lash out at another person in bitterness, you're talking volumes about yourself – so in these things, where you have a character that's hyperbole, that's exaggerating the issue a little bit, it's really a caricature of me.  They're snapshots of moments – but I don't have any desire to do the Instagram or the Facebook version of my life in my music, because it is nasty and ugly underneath the surface, there is jealously and there is resentment.  We all have it.  That doesn't mean you have to let it control you, or overcome you – but I do want to talk about that and show that in my music because it's part of reality."
"And it's fun," he adds, "because we can laugh about some of the nastiness that we've been through, as well."
One such song is "Preppy Boy," about a schoolboy with a crush on a straight narcissist who has rejected him.  Grant says, "It's totally me.  It's actually a very deep song about self-loathing.  You internalize someone's rejection of you because you're not pretty and beautiful like them, and you don't have the clothing and the money – and you still desire them for their beauty and go into a Stockholm Syndrome mode where you side with your captor.   But it's also just a send-up of that whole time of the duck shoes and the wale skirts and the flipped-up collars, and the fucking powder jackets in Colorado that everybody wore.  It was a particularly difficult time for me, when I was made painfully aware of the American class system.  I went into a school system where the kids had serious money – like Porsches and Mercedes for 16th birthdays, and mansions and big, old money.  They didn't care that you were gay, you were just a lower class of citizen – it didn't matter if you were gay or straight to them because you simply weren't on the menu."
Another song, "Diet Gum," is about a rejected lover who hurls insults at his ex, only to be instantly won over by the possibility of hooking up with him again.  "That song is another song that's totally absurd, it's about being willing to do anything for someone who fits the program," Grant says – but he's quick to add that it highlights something from his own past.  "Sexually destructive behavior goes into that as well.  Because I didn't need to get HIV, either, but when I got sober, I was going to keep a little something for myself– I was like, 'I'll give up the cocaine and the booze and everything, but I'm going to keep the destructive sexual behavior.  I can get away with that, because that's an inherent part of being human, and we can just write that off as funny, or promiscuous – I don't have to deal with it.'  And then, you get HIV, and you know it was totally avoidable if you hadn't been indulging in that destructive behavior."
"All that is tied into this character in 'Diet Gum' who's just like 'Oh you fucking asshole, oh my goodness you're so cute," in the same breath – because the guy just adjusts his hips in his direction."
While most of Grant's fans have embraced his work as it has continued to develop, some have been vocally bewildered by the changes – a fact which he accepts, but shrugs off.  "I really do believe, when it comes to art," he says, "that it's none of your fucking business what people think of it."
He goes on, "When I was growing up, there was a lot of 'people pleasing' that went on – you know, fit in, don't break the rules, say the right thing, do what you're told, respect authority.  So, I feel quite lucky that I'm able to shut the door on the world when I go in the studio, and simply not transform into something I'm not – to be myself and make my music.  It's sort of a miracle that I'm able to do that, because I've always had to adjust myself, to make myself palatable, so that I could survive."
Does that mean he has finally moved on from all his anger?
"I still have a lot of it," he admits, "you can hear it in my music.  But on the other side of that there's this incredible sense of optimism."
"That's how you know you are processing things in the right way," he adds.  "You could be destroyed by the cynicism, and the black humor, if you let anger get the best of you."
"For me, mostly, I think it's turning into compassion for people who are still struggling."
John Grant brings his world tour to Los Angeles at 8pm on Friday, December 14, at the Lodge Room (104 N. Ave 56, Highland Park 90042).  Tickets are available through EventBrite.com.
Retired Supreme Court Justice Sandra Day O'Connor dies at 93
O'Connor was a trailblazer as the first woman nominated and then confirmed to have a seat on the High Court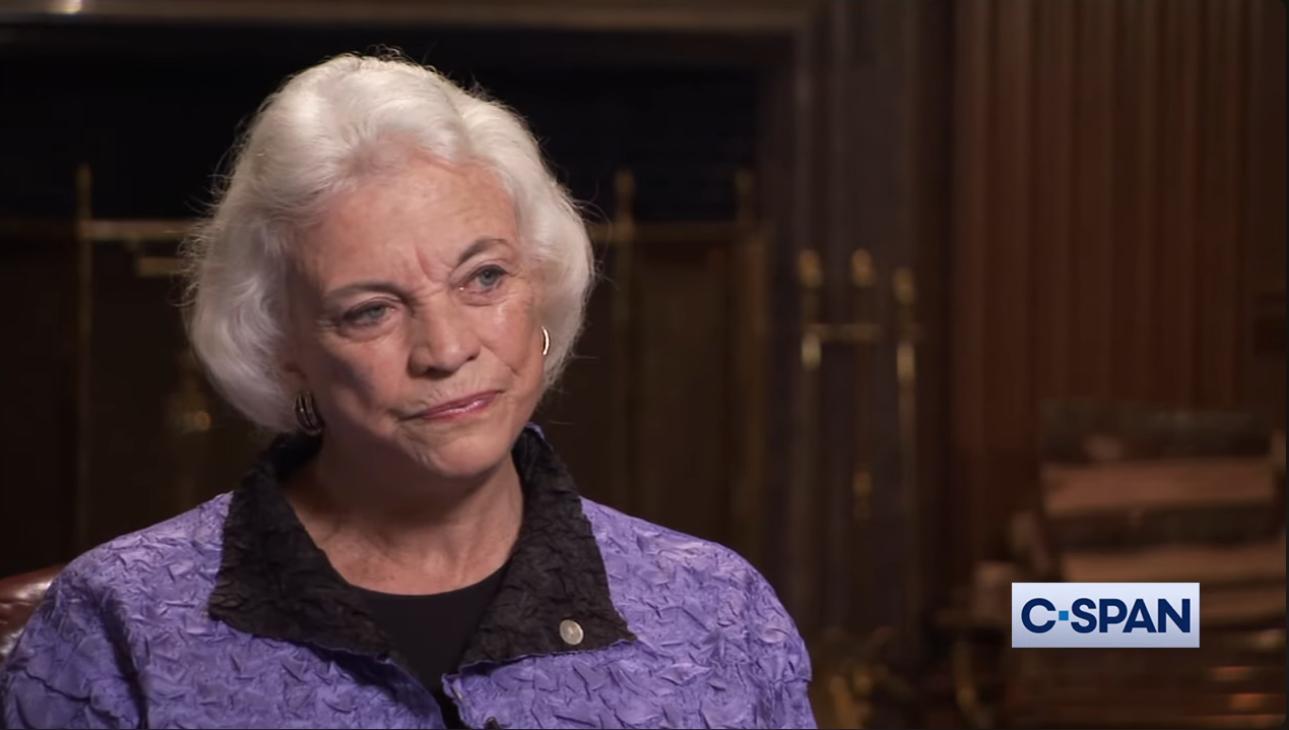 "Do the best you can in every task, no matter how unimportant it may seem at the time. No one learns more about a problem than the person at the bottom." ~ Sandra Day O'Connor
PHOENIX, Az. – Retired Associate Justice of the Supreme Court of the United States Sandra Day O'Connor died this morning in Phoenix, Arizona, of complications related to advanced dementia, probably Alzheimer's, and a respiratory illness. She was 93 years old.
Justice O'Connor was appointed to the Court by President Ronald Reagan during his first term in office in 1981 and retired in 2006, after serving more than 24 years on the nation's highest court.
A widely respected jurist, O'Connor was also a trailblazer as the first woman nominated and then confirmed by the Senate to have a seat on the Court. Her judicial record showed progressive support on issues ranging from LGBTQ+ rights, abortion, affirmative action and campaign finance.
In a statement released by the Court Friday morning, Chief Justice John Roberts said: "A daughter of the American Southwest, Sandra Day O'Connor blazed an historic trail as our Nation's first female Justice. She met that challenge with undaunted determination, indisputable ability, and engaging candor. We at the Supreme Court mourn the loss of a beloved colleague, a fiercely independent defender of the rule of law, and an eloquent advocate for civics education. And we celebrate her enduring legacy as a true public servant and patriot."
A lifelong Republican, O'Connor's early judicial record mirrored conservative values on most cultural legal issues. In 1986, O'Connor joined with Justice Byron White's five-member majority in Bowers v. Hardwick, in a case out of Georgia regarding the state's statute that criminalized sodomy.
According to court documents, Michael Hardwick was observed by a Georgia police officer while engaging in the act of consensual homosexual sodomy with another adult in the bedroom of his home. After being charged with violating a Georgia statute that criminalized sodomy, Hardwick challenged the statute's constitutionality in Federal District Court. Following a ruling that Hardwick failed to state a claim, the court dismissed. On appeal, the Court of Appeals reversed and remanded, holding that Georgia's statute was unconstitutional. Georgia's Attorney General, Michael J. Bowers, appealed to the Supreme Court and was granted certiorari.
The majority, including Chief Justice Warren Burger, Justices Lewis Powell, William Rehnquist, O'Connor with White writing the opinion, ruled that there was no particular constitutional protection against states prohibiting specific sex acts between consenting adults.
White argued that the Court has acted to protect rights not easily identifiable in the Constitution only when those rights are "implicit in the concept of ordered liberty" (Palko v. Connecticut, 1937) or when they are "deeply rooted in the Nation's history and tradition" (Griswold v. Connecticut, 1965). The Court held that the right to commit sodomy did not meet either of these standards. White feared that guaranteeing a right to sodomy would be the product of "judge-made constitutional law" and send the Court down the road of illegitimacy.
Seventeen years later however, O'Connor reversed her position in a later case, in Lawrence v. Texas, 539 U.S. 558 (2003), voting with Justices John Paul Stevens, David Souter, Ruth Bader Ginsburg, Stephen Breyer and Anthony Kennedy who wrote for the majority overturning a Texas "Homosexual Conduct" law, which criminalized sexual intimacy by same-sex couples, reversing the Court's ruling in Bowers v. Hardwick.
According to court documents, responding to a reported weapons disturbance in a private residence, Houston police entered John Lawrence's apartment and saw him and another adult man, Tyron Garner, engaging in a private, consensual sexual act. Lawrence and Garner were arrested and convicted of deviate sexual intercourse in violation of a Texas statute forbidding two persons of the same sex to engage in certain intimate sexual conduct. In affirming, the State Court of Appeals held that the statute was not unconstitutional under the Due Process Clause of the Fourteenth Amendment, with Bowers v. Hardwick, 478 U.S. 186 (1986), controlling.
Justice Kennedy wrote in the 6-3 opinion, after explaining what the Court deemed the doubtful and overstated premises of Bowers, the Court reasoned that the case turned on whether Lawrence and Garner were free as adults to engage in the private conduct in the exercise of their liberty under the Due Process Clause.
"Their right to liberty under the Due Process Clause gives them the full right to engage in their conduct without intervention of the government," wrote Justice Kennedy. "The Texas statute furthers no legitimate state interest which can justify its intrusion into the personal and private life of the individual," continued Justice Kennedy. Accordingly, the Court overruled Bowers.
Justices Clarence Thomas and Antonin Scalia, with whom Chief Justice William H. Rehnquist joined, filed dissents.
Interestingly enough though, Justice O'Connor weighed in on LGBTQ+ rights in a case prior to Lawrence v. Texas, seven years earlier when she joined with Justices Stevens, Souter, Ginsburg, Breyer and Justice Kennedy, again writing for the majority, in Romer v. Evans.
Colorado voters had adopted Amendment 2 to their State Constitution precluding any judicial, legislative, or executive action designed to protect persons from discrimination based on their "homosexual, lesbian, or bisexual orientation, conduct, practices or relationships."
Following a legal challenge by members of the state's LGBTQ community and other aggrieved parties, the state trial court entered a permanent injunction enjoining Amendment 2's enforcement. The Colorado Supreme Court affirmed on appeal.
The high court was weighing in on the question of did Amendment 2 of Colorado's State Constitution, forbidding the extension of official protections to those who suffer discrimination due to their sexual orientation, violate the Fourteenth Amendment's Equal Protection Clause?
In the ruling, the Court said Yes. In a 6-to-3 decision, the Court held that Amendment 2 of the Colorado State Constitution violated the equal protection clause. Amendment 2 singled out homosexual and bisexual persons, imposing on them a broad disability by denying them the right to seek and receive specific legal protection from discrimination.
In his opinion for the Court, Justice Kennedy noted that oftentimes a law will be sustained under the equal protection clause, even if it seems to disadvantage a specific group, so long as it can be shown to "advance a legitimate government interest." Amendment 2, by depriving persons of equal protection under the law due to their sexual orientation failed to advance such a legitimate interest.
He concluded: "If the constitutional conception of 'equal protection of the laws' means anything, it must at the very least mean that a bare desire to harm a politically unpopular group cannot constitute a legitimate governmental interest."
In 2006, she retired from the bench. In its 2019 eleven part profile of O'Connor, the Arizona Republic highlighted her record writing:
Sandra Day O'Connor disliked the term "swing vote" because "it suggests something that's not thoughtful," according to Ruth McGregor, a former Arizona Supreme Court chief justice and a longtime friend to O'Connor.
And because O'Connor saw herself as an old-school conservative, the opinions she wrote on controversial matters — such as abortion and gay rights — didn't come out of liberal leanings, but rather out of a firm belief in the rights of individuals to decide crucial issues in their own lives, free of government interference," the Republic noted.
On other issues such as women's reproductive rights, in the landmark ruling Roe v. Wade, which arose during her confirmation hearings before the Senate Judiciary Committee in 1981, because as the Republic noted, O'Connor was a woman who had presided over the Arizona Senate when it decriminalized abortion in that state, she was suspect, even though she declared her personal abhorrence for abortion.
However during the course of that confirmation hearing, she maintained that she had respect for opinions handed down by the Supreme Court, and she believed there needed to be good reason to overturn them.
In the 1992 case of Planned Parenthood v. Casey, then Justice O'Connor joined with fellow Justices Blackmun, Stevens, Kennedy and Souter, in upholding Roe v. Wade.
In a bitter 5-to-4 decision, the Court again reaffirmed Roe, but it upheld most of the Pennsylvania provisions. For the first time, the justices imposed a new standard to determine the validity of laws restricting abortions. The new standard asks whether a state abortion regulation has the purpose or effect of imposing an "undue burden," which is defined as a "substantial obstacle in the path of a woman seeking an abortion before the fetus attains viability." Under this standard, the only provision to fail the undue-burden test was the husband notification requirement.
In a rare step, the opinion for the Court was crafted and authored by three justices: O'Connor, Kennedy, and Souter.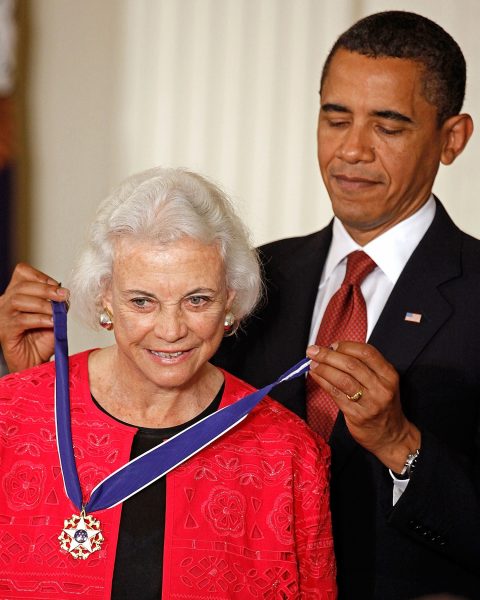 Washington D.C. based lawyer, journalist, and LGBTQ+ rights activist Mark Joseph Stern writing in a Slate magazine article dated Oct. 30, 2013, about O'Connor's stance on same-sex marriages noted:
"On Tuesday, retired Supreme Court Justice Sandra Day O'Connor officiated a same-sex marriage at the Supreme Court, the first gay wedding to take place in the court's halls. (It wasn't the first officiated by a justice, though; Ruth Bader Ginsburg beat O'Connor to that honor.) The event serves as a heartwarming confirmation that O'Connor's shift to the left has continued through retirement—but it's also a poignant reminder that the justice's early retirement cut short what might have been an evolution from Reagan conservative to gay-rights luminary."
California Governor Gavin Newsom issued a statement on the passing of O'Connor Friday:
"Jennifer and I are saddened by the passing of Justice O'Connor, an American icon who left a profound mark on history as the first woman to serve on our nation's highest court.

"Surmounting countless barriers, Justice O'Connor graduated from Stanford Law School near the top of her class, rose to prominence in the Arizona statehouse as the first woman in the nation to serve as a majority leader, and served on the bench in Arizona before being nominated to the Supreme Court by President Reagan – with widespread support on both sides of the aisle.
"A strong voice for judicial independence and the rule of law, Justice O'Connor was known for her discerning and fair-minded approach and served a pivotal role at the center of the Court, including key votes reaffirming the right to abortion and upholding affirmative action in higher education.
"With deep Arizona roots, Justice O'Connor was also an important voice on the Court for the entire American West, championing states' freedom to craft solutions that meet local needs across our diverse country.
      
"Justice O'Connor opened doors for generations of women in politics and public service, and her enduring legacy is an inspiration to all of us. Our thoughts are with her family, colleagues and friends during this time of loss."
O'Connor was born in El Paso, Texas, on March 26, 1930. She married John Jay O'Connor III in 1952. She received her B.A. and LL.B. from Stanford University. She served as Deputy County Attorney of San Mateo County, California, from 1952 to 1953 and as a civilian attorney for Quartermaster Market Center, Frankfurt, Germany, from 1954 to 1957.
From 1958 to 1960, she practiced law in Maryvale, Arizona, before serving as Assistant Attorney General of Arizona from 1965 to 1969. She was appointed to the Arizona State Senate in 1969 and was subsequently reelected to two two-year terms, during which she was selected as Majority Leader. In 1975 she was elected Judge of the Maricopa County Superior Court and served until 1979, when she was appointed to the Arizona Court of Appeals.
O'Connor authored five books: Lazy B: Growing Up on a Cattle Ranch in the American Southwest (2002); The Majesty of the Law: Reflections of a Supreme Court Justice (2002); Chico (2005); Finding Susie (2009); and Out of Order: Stories from the History of the Supreme Court (2013).
Following her tenure on the Supreme Court, she founded and led iCivics, the Nation's leading civics education platform.
She is survived by her three sons, Scott (Joanie) O'Connor, Brian (Shawn) O'Connor, and Jay (Heather) O'Connor, six grandchildren: Courtney, Adam, Keely, Weston, Dylan and Luke, and her beloved brother and co-author, Alan Day, Sr. Her husband, John O'Connor, preceded her in death in 2009.
Additional research and legal records material provided by Oyez, the free law project from Cornell's Legal Information Institute (LII), Justia, and Chicago-Kent College of Law.