Ryan Murphy gets star on Hollywood Walk of Fame
Celebs turn out in support of the prolific gay writer/producer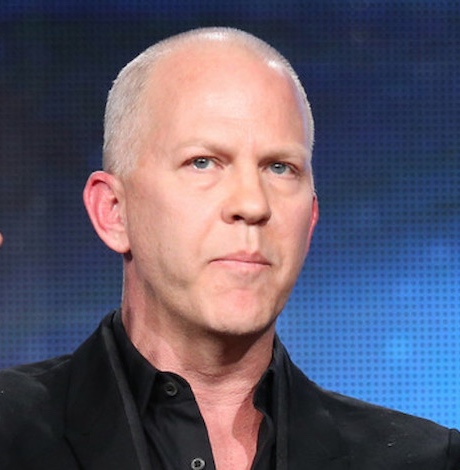 A longtime dream came true for the extraordinary award-winning writer/producer Ryan Murphy on Dec. 4 when he received a star on the Hollywood Walk of Fame. The international attraction was his first stop when Murphy moved from Indiana to Los Angeles in 1989, never imagining that one day his name would be so honored.
"My dream in life was just to be able to be myself, which I know many people relate to—to say what I wanted to say, to create stories that move me, to tell stories about women, older women, gay people and trans people and flawed men. And that dream did come true," Murphy said as his husband David Miller, their two sons Logan and Ford, and a slew of celebrities looked on.
But there was a hitch, Murphy, 53, joked: "Except I imagined that when I told these stories I would have a full head of flawless blonde hair like I did in 1989 when I moved here."
The word "prolific" was invented to describe Murphy who wrote/directed and or produced: "Glee," "Nip/Tuck," "The Normal Heart," "Scream Queens," "Feud, American Horror Story," "American Crime Story "(including "The People v O.J. Simpson" and "The Assassination of Gianni Versace"), "Pose," "9-1-1″—to name just a few of his creative endeavors.
Last February, Murphy signed a $300 million overall deal with Netflix where he will launch a comedy, The Politician, in 2019.
"I think he's shaped the face of television — literally," FX CEO John Landgraf, who has worked with Murphy since season two of Nip/Tuck, tells Variety. "He's made a handful of the most defining and innovative television shows ever. It's rare to see someone who's that brave and that original — and also that popular."
Murphy thanked those with whom he's worked over the years. "None of my career would've materialized without a troupe of people who became my family," Murphy said from the podium. "Young people ask me all the time how I became successful and because I cannot say mental illness – I respond 'my collaborators' of course. That is the truth."
Some of those collaborators and artists were on hand to appreciate the recognition: actresses Sarah Paulson, Jessica Lange and Angela Bassett, co-producer Brad Falchuck and new wife Gwyneth Paltrow, Peter Krause, Emma Roberts, Dominique Jackson, Indya Moore, Judith Light and NeNe Leakes. 
"I have loved every second. The stories that we've told pushed the envelope and celebrated the unseen and really did change the world in some way," Murphy said receiving his star. "I have so much more to say and do, I am blessed and I am excited about what is to come."
WeHo Arts unveils new holiday street pole banner by Sophie Morro
The city has also installed annual holiday lights on street poles and around trees lining Santa Monica Boulevard to make the city festive

By Paulo Murillo | WEST HOLLYWOOD – The annual holiday street pole banners went up this week throughout the city of West Hollywood. The City's WeHo Arsts unveiled the new holiday artwork by artist Sophie Morro along Santa Monica Boulevard, San Vicente Boulevard, and Melrose Avenue.
A total of 29 of the new banners were produced this year and will become part of the annual collection of holiday street pole banners on display in WeHo to celebrate the holidays. Banners include past holiday artwork by Shag (Josh Agle) and Mosa Tanksley.
The city has also installed annual holiday lights on street poles and around trees lining Santa Monica Boulevard to make the city festive around the holiday and New Year's celebrations.
Sophie Morro is an artist based in Los Angeles. Her oil paintings are largely informed by an autobiographical narrative with nods to spirituality, dreams and the otherworldly. Visit sophiemorro.com to learn more about the artist.
In April, 2022, the City of West Hollywood Arts Division made a call seeking a visual artist to provide artwork for the city's annual winter / holiday card and street pole banner display. The deadline to submit their work to WeHo's Performing Arts and Cultural Affairs Subcommittee was May, 2022.
The new artwork will also be used on the City's annual end of year Winter / Holiday card, social media promotions along with the printed street pole banners. Artists were invited to submit existing work samples to demonstrate their style and technique.
The Request for Qualifications was open to artists who live in California. Artists who live in
West Hollywood and artists of color, women, artists with disabilities, and LGBTQIA+ artists
were highly encouraged to apply. The artists who applied will remain eligible to be selected as semi-finalists for 3 calendar years without needing to reapply.
The City of West Hollywood's Arts Division and Arts and Cultural Affairs Commission believe
that all people in the City of West Hollywood have the right to celebrate and engage in meaningful and relevant arts and cultural experiences.
Each member of the community should have access to the arts which reflect and nurture individual identities, affirm personal value, and foster belonging in the community. The right to participate freely in the cultural life of the community is recognized as a basic human right.
The Division and Commission's definition of diversity includes all ways in which people
differ, including but not limited to, race, ethnicity, gender, socioeconomic status,
education, age, gender identity, gender expression, sexual orientation, ability,
geography, citizenship status, religion, language, physical appearance, and the
intersection of these various identities.
*******************************
Paulo Murillo is Editor in Chief and Publisher of WEHO TIMES. He brings over 20 years of experience as a columnist, reporter, and photo journalist.
The preceding article was previously published by WeHo Times and is republished with permission.