December 12, 2018 at 11:04 am PST | by Karen Ocamb
California Democratic Party firings shift power to Bay Area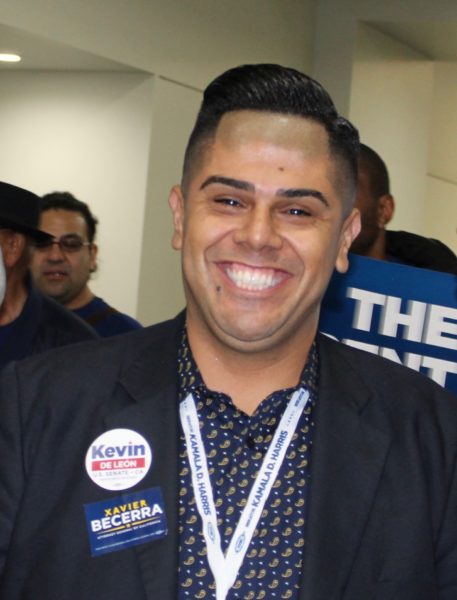 So much for due process. There was Queen of Hearts "Off with their heads!" feel to the shocking abrupt firings of seven top party staffers by acting California Democratic Party chair Alexandra Gallardo-Rooker on Dec. 11, two weeks before Christmas. The action, which also included closing the CDP's Los Angeles office, seemed designed to rid the party of anyone associated with out former party chair Eric Bauman, who resigned less than a month ago as an investigation was launched into allegations of misconduct.
Without notice and without a statement explaining the action, Rooker fired CDP political director Clark Lee, part of the team that flipped seven congressional seats, elected a super majority to the Legislature and elected endorsed judges. Also fired were longtime Bauman associates Adam Seiden, a close senior adviser; senior strategist Sandra Lowe; communications director John Vigna; creative director Jeremy Thompson; operations director Tina McKinnor; and LA director Tim Valencia. A source told the Los Angeles Blade that staff in the LA office were completely blind-sided.
Acting party spokesperson Roger Salazar, a crisis management consultant, told Politico, the LA Times and other media outlets via email that "senior staff who came in with former Chairman Eric Bauman are no longer employed by the California Democratic Party."
"This is not unusual when there is a change in leadership and is in keeping with the scaling back of party operations after an election year," Salazar said."These moves are not necessarily a reflection upon the work of each of the individuals involved, but are part of a desire by the acting chair, in consultation (with) the Speaker's office and the office of the Governor-Elect, to start fresh and keep the party moving in the right direction."
Politico later reported that neither incoming Gov. Gavin Newsom nor Assembly Speaker Anthony Rendon had been consulted by Rooker before the firings.
Rooker's silence allowed a vacuum to be filled with speculation about what prompted the abrupt firings—speculation that led to Kimberly Ellis, the Oakland-based activist who narrowly lost to Bauman in the heated and ugly election for CDP chair. The Berniecrat wing of the CDP is reportedly still incensed, according to Democratic sources, and seized the harassment allegations as an opportunity to oust Bauman and replace him with Ellis. The official election for a new chair is next May in San Francisco.
Also mentioned in the conspiracy mix is San Francisco-based Christine Pelosi, the powerful chair of the CDP's Women's Caucus, who sources say wanted to run against Bauman for party chair until Ellis entered the race. Sources she is building a base to run for her mother Nancy Pelosi's congressional seat. Interestingly, Nancy Pelosi served as CDP chair from 1981-1983.
For some Democratic activists, shutting down the LA CDP office was the middle finger to Los Angeles, signaling a power shift to the Bay Area.
"I was surprised (by the firings). I have worked with many of those folks actively as a volunteer with the party for more than 17 years," Mark Gonzalez, chair of the LA County Democratic Party, told the Los Angeles Blade. "I haven't spoken to Alex yet. I am definitely deeply surprised but there is probably a reason for it that I just don't know."
Gonzalez said there is a lot he doesn't know about the CDP machinations, including "if there is an actual investigation that is taking place at the moment. I can't credibly say that I know that for a fact." And while he doesn't think that Rooker herself thought in terms of a North-South power struggle, "I do think the future of the party and who are potential candidates for chair may be factors that led to Eric's resignation. There is still a lot of bitterness from that fight."
But, Gonzalez added, "at the end of the day, you can't discount that if there was something wrong that was happening and folks needed to speak up about it—then I stand by the victims. I'm not going to question that. Obviously, there is an investigation that has to play its course."
That said, LA can't just be ignored since LA County accounts for one-third of the state's voting base. "LA County is the one that delivered for the rest of the state," including the tight races for Superintendent of Public Instruction and electing Ricardo Lara as Insurance Commissioner, the first out gay man to win a statewide race. "Our votes brought in a number of people so having a Los Angeles office is reflective of having boots on the ground. And we need the resources. We can't always afford to have to go up to Sacramento."
Gonzalez also emphasized that the LA County Democratic Party has done "some really significant work" such as electing a Democratic Sheriff, overwhelmingly electing endorsed judicial candidates and doing well in smaller cities. "I think 93% of our endorsed Democratic candidates won in our Nov. 6 election and that is something we can definitely be proud of."
But "2020 is right around the corner," Gonzalez added. "It's one thing to get folks into a congressional seat but now it's about making sure we protect them. Super Tuesday is next March and California is in play. We've got to keep our eye on the prize because if we're going to take the White House back—that started yesterday. We're working to make sure we win tomorrow."
(Photo of Mark Gonzalez at Feb. 2018 California Democratic Party Convention by Karen Ocamb)