November 13, 2018 at 9:33 pm PST | by Karen Ocamb
Democratic 'Blue Wave' energized LGBT voters
Not even Democratic winner Harley Rouda could have appreciated the significance to the LGBT community of the Orange County Register's clear, blaring headline:  "Harley Rouda's triumph over Dana Rohrabacher signals end of GOP's O.C. congressional dominance." For 30 years, Republican Rep. Dana Rohrabacher, representing OC's coastal 48th Congressional District, has been synonymous with all things anti-LGBT.
One final example: last May Rohrabacher told a national group of Realtors that it was OK to not sell homes to gay people. Rohrabacher lost their endorsement and then late on Nov. 10, he lost his seat as The Associated Press called the race for Rouda. Rohrabacher did not jump up and concede defeat but nonetheless, it looked like the Blue Wave swept the bigot and the surfboard he swam in on out to a sea of oblivion.   
But Laguna Beach real estate executive Rouda was not alone in flipping Republicans out. Bisexual homeless advocate Katie Hill, 31, bested anti-LGBT incumbent Rep. Pete Knight in San Diego's 25th CD – he conceded before a final call (53% to 47%, as of Nov. 13). And Democrat attorney Mike Levin blew Trump favorite Diane Harkey away 55% vs 45% in CD 49.
"The Blue Wave came out in force on Nov. 6," out Los Angeles County Democratic Party Chair Mark Gonzalez told the Los Angeles Blade. "Expectations were shattered and we are seeing Democrats get elected to seats we never thought possible just a few years ago. People in traditionally red districts are disillusioned with Trump's Republican Party and are realizing that the Democratic Party is the one that stands up for every man, woman, and child regardless of any part of their identity. Now that the Blue Wave has come crashing down, we are focusing our efforts on both retaining and gaining seats in 2020."
Rouda profusely thanked women staffers, volunteers and voters. But the LGBT community turned out in force, too. "Pro-equality voters helped make the difference in so many districts in California and across the country," Equality California Communications Director Sam Garrett-Pate told the Los Angeles Blade, analyzing the latest election results Nov. 13.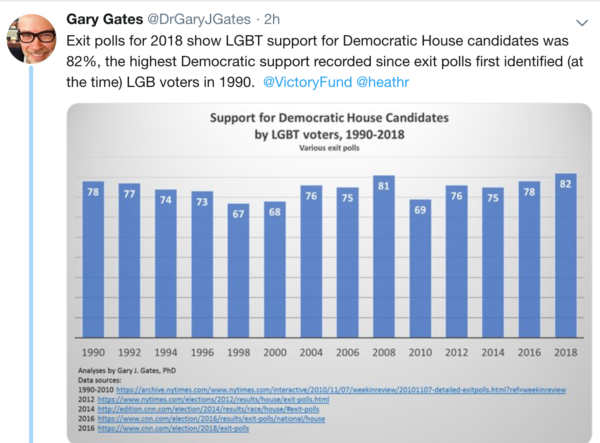 "Most voters want representatives to expand access to healthcare, improve our schools, help people get jobs—not attack transgender people, immigrants and women," he said. "Our issues resonate with people because most moderates in swing districts just want everyone to be treated equality and when they see Trump allies in Congress supporting his attacks on the LGBT community in locked step, they look for someone new."
One week after the historic midterm elections, votes are still being counted—most notably in Florida and Georgia, but in several close California races, as well.
After being behind since Nov. 6, consumer advocate and attorney Katie Porter pulled ahead of anti-LGBT Republican Mimi Walters in the Inland Empire/OC County CD 45 by 261 votes—116,732 (50.06%) to 116,471 (49.94%).  Since the majority of the remaining ballots to be counted are mail-in and provisional—traditionally Democratic voters, Garrett-Pate predicts that Porter's lead will hold. "She's going to Congress."
Not so clear yet, but also pulling away is Democrat Gil Cisneros whose race against Young Kim in North Orange County's 39th CD turned ugly through defamatory and offensive national GOP campaign ads that had to be taken down. Kim's substantial Election Night lead has narrowed significantly to only 711 votes. But Kim, who was declared the winner, is so upset, she's assumed the Trump "voter fraud" playbook, issuing a statement claiming Cisneros' campaign is "harassing and intimidating vote counters" and could be involved in "foul play."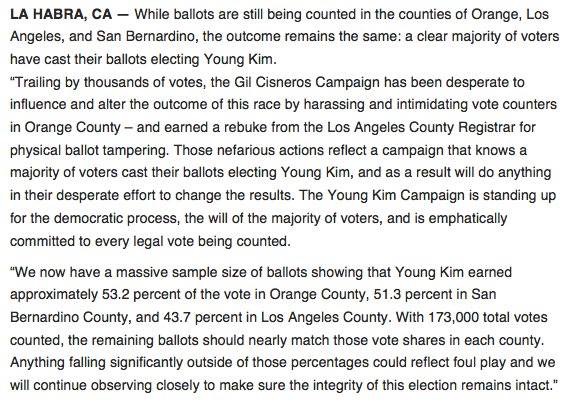 Late Nov. 13, The Associated Press called the Central Valley/Stanislaus CD 10 for Democrat Josh Harder over Republican Jeff Denham. Former Obama official Ammar Campa-Najjar, however, seems unlikely to overtake indicted anti-LGBT Rep. Duncan Hunter in his Trump-loving, deep red legacy seat.
On the state level, Tony Thurmond pulled ahead of Marshall Tuck by 67,161 votes for Superintendent of Public Instruction; challenger Alex Villanueva is ahead of LA County Sheriff Jim McDonnell by 22,192 votes; and out Assemblymember Sabrina Cervantes has pulled ahead of GOP challenger Bill Essayli by 693 votes in Riverside's AD 60.
And importantly, as of Nov. 13, out State Sen. Ricardo Lara is ahead of independent Steve Poizner,  51.5% vs 48.5%. If his lead holds, Ricardo Lara will become the first openly LGBT person elected to statewide office in California.
"As votes continue to be counted and races continue to be called, the degree to which voters across California and the nation rejected fear and division at the ballot box becomes clearer," Equality California President Rick Zbur tells the Los Angeles Blade. "With a pro-equality majority in the U.S. House and pro-equality supermajorities in the California Legislature, we have an exciting opportunity to fight for civil rights and social justice and hold the Trump-Pence Administration accountable when they attack our community and the communities to which LGBTQ people belong. And we remain optimistic about a number of races that are still too close to call."
Out LA County Registrar-Recorder/County Clerk Dean C. Logan said the total election results count is now 2,369,109, which is 45.56% of eligible Los Angeles County voters. The estimated number of outstanding ballots left to be counted in LA County is 688,000,  consisting of 405,000 Provisional ballots, 275,000 Vote by Mail ballots and 8,000 miscellaneous and conditional ballots. The next ballot update is Nov. 16. The Sec. of State will certify the election results on Dec. 14.