Katie Hill refutes Republican 'smear campaign'
Calif. Democrat denies ethics rules breach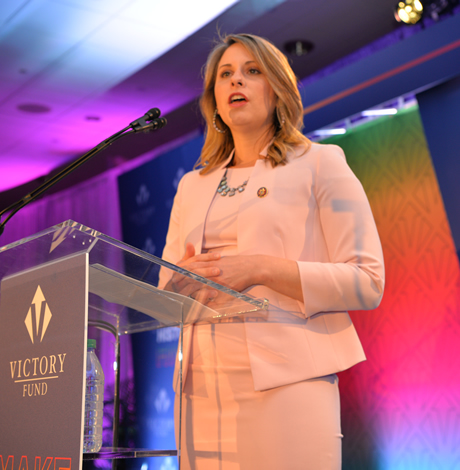 California Republicans were expected to launch a major 2020 offensive to win back the six congressional seats they lost to Democrats in 2018. And with Donald Trump as a model for ugly tactics, it should not be surprising that GOP operatives would exploit bisexual Rep. Katie Hill's private pain as she suffers through an acrimonious divorce. After all, salaciousness in the name of traditional family values has long been a feature of Republican dirty tricks from salivating Stormy Daniels fans.
But there is a particularly audacious twist to this attack. RedState, the conservative online site that originated the first rumor, claims the LGBTQ press made them do it.
"A story in Metro Weekly covering a resolution introduced by Rep. Mike Quigley (D-Ill.) and Rep. Katie Hill (D-Calif.) condemning Sec. Ben Carson's comments about transgendered people, which identified Hill as a 'lesbian' seemingly prompted Hill's estranged husband to out her on an entirely different issue," RedState reported on Oct. 10.
"Out lesbian?!? Then why has she been sleeping with her (male) finance director for the past year at least?" wrote Kenny Heslep who filed for divorce in July, requesting spousal support. "I couldn't dispute this if she was still holding to being bisexual. But but being with her husband (me) for almost 15 years and then leaving me for another MAN, not woman, whom she is still seeing, is not her being a lesbian. Bisexual yes, as I will back up her claims to this. But not lesbian alone."
Heslep, who lives in LA and didn't explain how he came across the news items in the local LGBT Washington D.C.-based paper, did not offer any supporting evidence of the alleged affair with Graham Kelly, Hill's former finance director and current legislative director.
The allegation, if true, would be a violation of House ethics rules and possible cause for an investigation of one of Speaker Nancy Pelosi's favorite newcomers, having appointed Hill vice chair of the House Oversight and Reform Committee that is now involved with the impeachment inquiry into Trump's fitness for office.
After there were no media bites on that report, RedState upped the ante, publishing a nude photo of Hill brushing the hair of someone seated in front of her, along with text messages among Hill, Heslep and an apparent young female campaign staffer with whom the married couple seemed romantically engaged.
Twelve days later, Hill was forced to deny having the rumored affair with a staff member but refused to indulge in the sensationalist idea of a "throuple."
Conservative critics called on Hill to resign, claiming national security was at stake since she could have been blackmailed. Others linked the affair to the #MeToo movement since the workplace power dynamic means any employee cannot have a "consensual" relationship with an employer.
There are no ethics rules that apply to campaign workers, though Hill critics apparently think it's a good idea to create some. For the record: Hill was 30 when she ran for Congress from the 25th District; the unnamed campaign staffer with whom she and her husband allegedly had an affair was 22. As the leaked text messages indicate, Hill was breaking off the extra-marital relationship before she entered Congress.
"Allegations that I have been involved in a relationship with Mr. Kelly are absolutely false," Hill said in the statement to Politico. "I am saddened that the deeply personal matter of my divorce has been brought into public view and the vindictive claims of my ex have now involved the lives and reputations of unrelated parties."
Neither Heslep nor Kelly responded to requests for comment from the Washington Post.
"Intimate photos of me and another individual were published by Republican operatives on the internet without my consent," Hill said in the statement.
"The fact is I am going through a divorce from an abusive husband who seems determined to try to humiliate me," she continued. "I am disgusted that my opponents would seek to exploit such a private matter for political gain."
The accusation of sexual impropriety, she said, "is despicable and will not succeed. I, like many women who have faced attacks like this before, am stronger than those who want me to be afraid."
Hill promised to keep working. "This smear campaign will not get in the way of the work I am doing every day to move our district and our country forward. I am truly grateful for the outpouring of support I have received from colleagues and constituents alike, and I know we will get through this together."
Hill said she's notified Capitol Hill police about the distribution of the photos without her consent. "Revenge porn" is against the law in California.
Hill has also spoken with Pelosi and House Majority Leader Steny H. Hoyer (D-Md.) about the matter. Hoyer declined to comment to the Post and a spokesperson for Pelosi said she was headed to Baltimore for the funeral of her brother.
"Congresswoman Hill has been a champion for the 25th District. The voters sent her to Washington to defend healthcare, stand up for middle-class families and fight for equality — and that's exactly what she's done. This shameful, anti-LGBTQ smear campaign is a despicable invasion of privacy, and we won't dignify it with a response. Neither should the media," Samuel Garrett-Pate, communications director for Equality California, told the Los Angeles Blade.
As the Blade goes to press, Politico reports the House Ethics Committee has launched an investigation into allegations against Hill.
Anti-LGBTQ Colorado baker loses Trans birthday cake court case
Phillips violated Colorado's ant-discrimination law citing the fact that at issue was a 'product' not freedom of speech or expression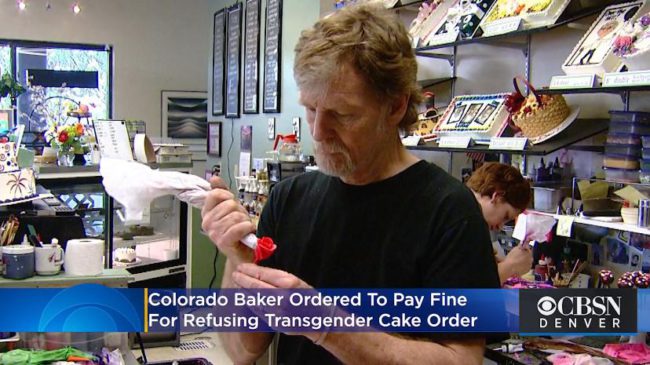 DENVER – A Colorado State District Court Judge ruled against the baker who had previously refused to bake a cake for a same-sex wedding and won at the U.S. Supreme Court a partial narrow victory in that case in 2018.
CBSN Denver reported that Denver District Judge A. Bruce Jones order that Jack Phillips violated Colorado's anti discrimination law Tuesday citing the fact that at issue was a 'product' not freedom of speech or expression.
In court documents, Jones said that Phillips refusal to make the plantiff, Autumn Scardina a cake made with blue icing on the outside and pink on the inside to celebrate her gender transition on her birthday because of her transgender status but without a written message, was in violation of the law. Phillips was ordered to pay a $500 fine.
Jones noted in his ruling that Phillips testified during a trial in March that 'he did not think someone could change their gender' and he would not celebrate "somebody who thinks that they can."
"The anti-discrimination laws are intended to ensure that members of our society who have historically been treated unfairly, who have been deprived of even the every-day right to access businesses to buy products, are no longer treated as 'others,'" the judge wrote.
The Scottsdale, Arizona based Alliance Defending Freedom, an anti-LGBTQ legal group that has been place on the Southern Poverty Law Center's Hate Watch List for spreading propaganda and lies about LGBTQ people, told CBSN that the group would appeal Jones' ruling.
"Radical activists and government officials are targeting artists like Jack because they won't promote messages on marriage and sexuality that violate their core convictions," ADF's general counsel, Kristen Waggoner, said in a media statement.
The maximum fine for each violation of Colorado's Anti-Discrimination Act is $500. But it was not clear from the ruling if the fine was for the two attempts that Scardina made to order the cake or just one.
BREAKING: A court has ruled Jack Phillips should be punished for not designing a cake celebrating a gender transition, an act that would violate his conscience.

Jack has been enduring this harassment for a decade and it must STOP.@AllianceDefends will appeal this decision.

— Kristen Waggoner (@KWaggonerADF) June 16, 2021
Supreme Court rules for religious agency rejecting LGBTQ families
A key portion of the Roberts decision that could limit its reach is language specific to Philadelphia's contract with the city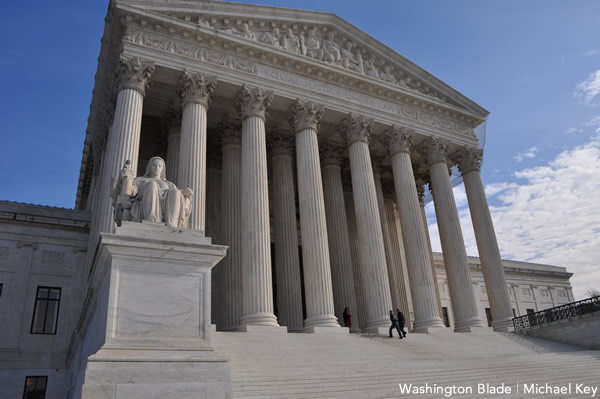 WASHINGTON – In a ruling released Thursday, the U.S. Supreme Court ruled decided in favor of a religious-affiliated foster care agency seeking to refuse child placement into LGBTQ homes, determining the City of Philadelphia's enforcement of a contract with non-discrimination provisions violates freedom of religion under the First Amendment.
In a surprise twist, the ruling was unanimous with nine justices on the court agreeing to the result in favor of Catholic Social Services, with Chief Justice John Roberts writing the opinion. As noted by SCOTUSblog, the court seemed much more divided in oral arguments, although inclined to rule for the foster care agency.
"The refusal of Philadelphia to contract with CSS for the provision of foster care services unless the agency agrees to certify same-sex couples as foster parents cannot survive strict scrutiny and violates the Free Exercise Clause of the First Amendment," Roberts writes.
Although Catholic Social Services had also contended a freedom of speech right under the First Amendment to reject same-sex couples, Roberts adds the court didn't reach a conclusion on that part of the argument.
Marianne Duddy-Burke, executive director of the Catholic LGBTQ group DignityUSA, condemned the decision in a statement immediately after it was handed down.
"Today, the well-being of our country's most vulnerable children has been sacrificed to preserve tax-payer funded discrimination for a powerful group of religious institutions," Duddy-Burke said. "The Supreme Court just decreased the number of homes available to our youth in foster care, making what was already a crisis worse. Same-sex couples are seven times more likely than straight couples to adopt or be foster parents and are more likely to have trans-racial families. This ruling means tens of thousands of children may never have a family to love and support them."
The Supreme Court reversed and remanded decision of the U.S. Third Circuit of Court of Appeals, which had ruled in favor of City of Philadelphia enforcing its contract with Catholic Social Services. Both the appeals courts and the lower trial court had come to the opposite conclusion of the U.S. Supreme Court.
A key portion of the Roberts decision that could limit its reach is language specific to Philadelphia's contract with the city allowing for discretion on enforcement, which he says means the measure isn't generally applicable measure.
"Section 3.21 of the contract requires an agency to provide services defined in the contract to prospective foster parents without regard to their sexual orientation," Roberts writes. "But section 3.21 also permits exceptions to this requirement at the 'sole discretion' of the Commissioner. This inclusion of a mechanism for entirely discretionary exceptions renders the non-discrimination provision not generally applicable."
David Flugman, a lawyer at the New York-based Selendy & Gay PLLC whose practice includes LGBTQ rights, said in a statement the technical nature of the Fulton is "sure to invite even more litigation."
"Today the Supreme Court held, on narrow, technical grounds, that the City of Philadelphia's attempt to ensure that Catholic Charities abide by the same non-discrimination provisions applicable to all other city contractors could not withstand Catholic Charities' religious right to refuse to screen loving same-sex couples to act as foster parents," Flugman writes. "The Court did not take up Catholic Charities' invitation to scuttle the 30 year-old test for free exercise claims that was announced in Smith v. Employment Division, which held that a neutral law of general applicability could survive even if it burdens religious practice."
Notably, although the City of Philadelphia in addition to the contract it struck with Catholic Social Services has in a place LGBTQ non-discrimination ordinance, the Supreme Court determines that measure doesn't apply in the context of foster care services because it's limited to the services "made available to the public."
"Certification is not 'made available to the public' in the usual sense of the words," Roberts writes. "Certification as a foster parent is not readily accessible to the public; the process involves a customized and selective assessment that bears little resemblance to staying in a hotel, eating at a restaurant, or riding a bus."
Fatima Goss Graves, CEO of the National Women's Law Center, said in a statement the decision from the Supreme Court "is a harmful loss to the children in the foster care system in Philadelphia as well as the countless LGBTQ parents."
"Weakening the government's ability to protect their civil rights is hardly in their best interest, and we're committed to ensuring this loophole is not stretched to further justify hatred or prejudice," Graves added. "We must protect the right of every person to live without fear of discrimination because of who they are or who they love, and we must hold that value particularly close when it comes to the best interest of LGBTQ youth and the families who love them."
U.S. Senate to consider apology for past anti-LGBTQ discrimination
Report shows 70-year history of gov't persecution, purges of 'sex deviates'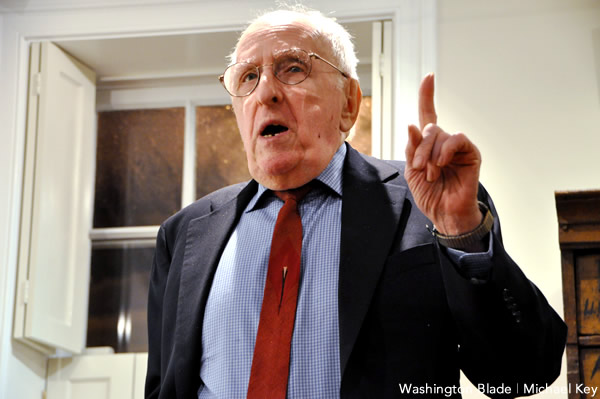 WASHINGTON – U.S. Sens. Tammy Baldwin (D-Wisc.) and Tim Kaine (D-Va.) are preparing to introduce a first-ever resolution calling on the Senate to acknowledge and apologize for the federal government's discrimination against LGBTQ federal workers and members of the military over a period of at least 70 years.
The two senators have agreed to introduce the proposed resolution at the request of the Mattachine Society of Washington, D.C., an LGBTQ group that specializes in archival research into the federal government's decades-long policy of banning LGBTQ people from working in federal jobs and serving in the U.S. military and purging them when found to be in those positions.
The Mattachine Society, in partnership with the international law firm McDermott Will & Emery, prepared a 28-page white paper reporting in extensive detail the U.S. government's history of what it calls discrimination and persecution of LGBTQ federal workers and LGBTQ military service members.
The white paper is entitled, "America's Promise of Reconciliation and Redemption: The Need for an Official Acknowledgement and Apology for the Historic Government Assault on LGBT Federal Employees and Military Personnel."
In a statement, the Mattachine Society says the paper is the product of a two-year research project involving a team of five attorneys with the McDermott Will & Emery firm and Mattachine Society.
"Over many decades, the United States government, led by teams within the Federal Bureau of Investigation (FBI), the Office of Personnel Management (OPM), and nearly every agency and branch of government, began the process of investigating, harassing, interrogating, court-martialing, terminating, hospitalizing, and, in some cases, criminally prosecuting LGBT Americans for no other reason than their sexual orientation or gender expression," the paper says.
"This wholesale purging left tens of thousands in financial ruin, without jobs, with personal lives destroyed, and, in many cases, completely estranged from their own families," the paper states.
"A straightforward acknowledgement of the mistreatment of these military and civilian employees and an official apology is overdue," the paper continues. "Both the Congress and the Executive Branch were complicit in this pervasive mistreatment of LGBT citizens."
The paper points out that over the past 30 years Congress has officially acknowledged and apologized on six different occasions for U.S. mistreatment of other marginalized groups.
Among the subject areas of those apologies were the enslavement of African Americans, the failure to enforce anti-lynching laws to protect African Americans, the internment of Japanese Americans during World War II, the mistreatment of Native Hawaiians, the mistreatment of Native Americans, and government polices of exclusion of Chinese immigrants.
The paper says the time has come for the federal government to issue its own "acknowledgement and apology" to the LGBT community by following the precedent established by Congress with respect to apologies to the other marginalized groups.
Jeff Trammell, a Mattachine Society board member who led the project to prepare the white paper, said Baldwin and Kaine were in the process of lining up other senators to sign on as co-sponsors of the resolution.
Baldwin is the Senate's only out lesbian member. Kaine is a longtime supporter of LGBTQ rights.
Trammell said Mattachine of Washington considers the Senate resolution the first step in an ongoing effort to obtain a similar resolution in the U.S. House of Representatives and a possible similar statement of acknowledgement and apology from the executive branch, including the Biden administration.
He said he and the resolution's supporters were hopeful that most senators, including Republicans, would view it as non-controversial and as a nonpartisan measure because it seeks only the acknowledgement of historical facts. Trammell noted that unlike other resolutions of apology pertaining to other minorities approved by Congress in the past, the LGBT apology resolution does not call for any financial reparations.
The eight-page proposed resolution addresses that question by stating, "Nothing in this resolution…authorizes or supports any claim against the United States or serves as a settlement of any claim against the United States."
Trammell noted that under the Obama administration, John Berry, the director of the U.S. Office of Personnel Management, issued an official government apology for the firing of D.C. gay rights pioneer Frank Kameny from his government job in the late 1950s. But Trammell said the apology to Kameny, which was considered important and groundbreaking, did not extend to the thousands of other LGBTQ employees fired or harassed in the years before and after Kameny's firing.
The white paper also points out that at least seven U.S. allied nations have issued apologies for past mistreatment of their own LGBTQ citizens. Among them are Spain, Canada, United Kingdom, Australia, Germany, Brazil, and The Netherlands.
"We believe the time has come to understand and acknowledge the historical animus that LGBT federal employees and military personnel faced for generations from their own government to ensure it can never happen again," Trammell said.
The white paper can be accessed here.