Katie Hill refutes Republican 'smear campaign'
Calif. Democrat denies ethics rules breach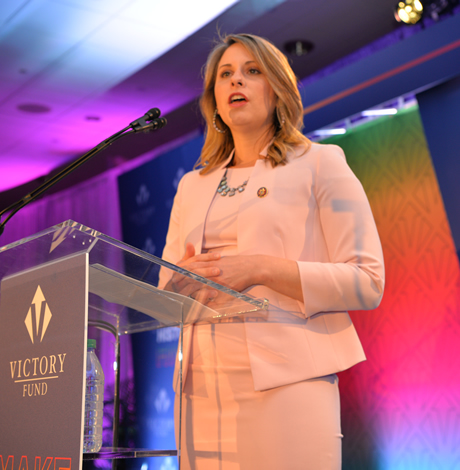 California Republicans were expected to launch a major 2020 offensive to win back the six congressional seats they lost to Democrats in 2018. And with Donald Trump as a model for ugly tactics, it should not be surprising that GOP operatives would exploit bisexual Rep. Katie Hill's private pain as she suffers through an acrimonious divorce. After all, salaciousness in the name of traditional family values has long been a feature of Republican dirty tricks from salivating Stormy Daniels fans.
But there is a particularly audacious twist to this attack. RedState, the conservative online site that originated the first rumor, claims the LGBTQ press made them do it.
"A story in Metro Weekly covering a resolution introduced by Rep. Mike Quigley (D-Ill.) and Rep. Katie Hill (D-Calif.) condemning Sec. Ben Carson's comments about transgendered people, which identified Hill as a 'lesbian' seemingly prompted Hill's estranged husband to out her on an entirely different issue," RedState reported on Oct. 10.
"Out lesbian?!? Then why has she been sleeping with her (male) finance director for the past year at least?" wrote Kenny Heslep who filed for divorce in July, requesting spousal support. "I couldn't dispute this if she was still holding to being bisexual. But but being with her husband (me) for almost 15 years and then leaving me for another MAN, not woman, whom she is still seeing, is not her being a lesbian. Bisexual yes, as I will back up her claims to this. But not lesbian alone."
Heslep, who lives in LA and didn't explain how he came across the news items in the local LGBT Washington D.C.-based paper, did not offer any supporting evidence of the alleged affair with Graham Kelly, Hill's former finance director and current legislative director.
The allegation, if true, would be a violation of House ethics rules and possible cause for an investigation of one of Speaker Nancy Pelosi's favorite newcomers, having appointed Hill vice chair of the House Oversight and Reform Committee that is now involved with the impeachment inquiry into Trump's fitness for office.
After there were no media bites on that report, RedState upped the ante, publishing a nude photo of Hill brushing the hair of someone seated in front of her, along with text messages among Hill, Heslep and an apparent young female campaign staffer with whom the married couple seemed romantically engaged.
Twelve days later, Hill was forced to deny having the rumored affair with a staff member but refused to indulge in the sensationalist idea of a "throuple."
Conservative critics called on Hill to resign, claiming national security was at stake since she could have been blackmailed. Others linked the affair to the #MeToo movement since the workplace power dynamic means any employee cannot have a "consensual" relationship with an employer.
There are no ethics rules that apply to campaign workers, though Hill critics apparently think it's a good idea to create some. For the record: Hill was 30 when she ran for Congress from the 25th District; the unnamed campaign staffer with whom she and her husband allegedly had an affair was 22. As the leaked text messages indicate, Hill was breaking off the extra-marital relationship before she entered Congress.
"Allegations that I have been involved in a relationship with Mr. Kelly are absolutely false," Hill said in the statement to Politico. "I am saddened that the deeply personal matter of my divorce has been brought into public view and the vindictive claims of my ex have now involved the lives and reputations of unrelated parties."
Neither Heslep nor Kelly responded to requests for comment from the Washington Post.
"Intimate photos of me and another individual were published by Republican operatives on the internet without my consent," Hill said in the statement.
"The fact is I am going through a divorce from an abusive husband who seems determined to try to humiliate me," she continued. "I am disgusted that my opponents would seek to exploit such a private matter for political gain."
The accusation of sexual impropriety, she said, "is despicable and will not succeed. I, like many women who have faced attacks like this before, am stronger than those who want me to be afraid."
Hill promised to keep working. "This smear campaign will not get in the way of the work I am doing every day to move our district and our country forward. I am truly grateful for the outpouring of support I have received from colleagues and constituents alike, and I know we will get through this together."
Hill said she's notified Capitol Hill police about the distribution of the photos without her consent. "Revenge porn" is against the law in California.
Hill has also spoken with Pelosi and House Majority Leader Steny H. Hoyer (D-Md.) about the matter. Hoyer declined to comment to the Post and a spokesperson for Pelosi said she was headed to Baltimore for the funeral of her brother.
"Congresswoman Hill has been a champion for the 25th District. The voters sent her to Washington to defend healthcare, stand up for middle-class families and fight for equality — and that's exactly what she's done. This shameful, anti-LGBTQ smear campaign is a despicable invasion of privacy, and we won't dignify it with a response. Neither should the media," Samuel Garrett-Pate, communications director for Equality California, told the Los Angeles Blade.
As the Blade goes to press, Politico reports the House Ethics Committee has launched an investigation into allegations against Hill.
Tyre Nichols' arrest & fatal beating video released by Memphis PD
"We want peace. We do not want any type of uproar. We do not want any type of disturbance. Please, please, protest, but protest safely."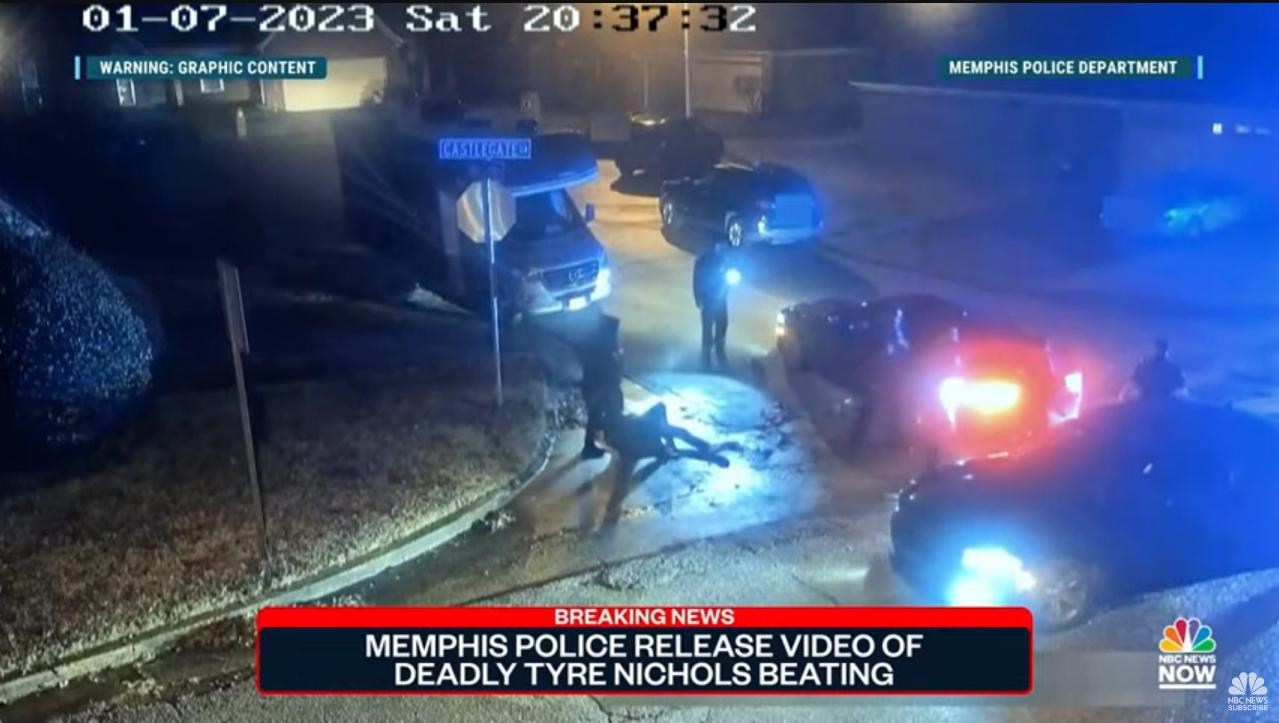 MEMPHIS – Three videos consisting of both body cam footage and street surveillance footage, were made public by the city of Memphis Police Department Friday evening showing the violent arrest and beating of Memphis resident 29-year-old Tyre Nichols.
Nichols died 3 days after he was beaten by police in a traffic stop in the Hickory Hill neighborhood around 8:22 p.m. Jan. 7, in an altercation Memphis Police Chief CJ Davis described saying, "In my 36 years in law enforcement, I don't think I have witnessed the disregard for a human being displayed in this video."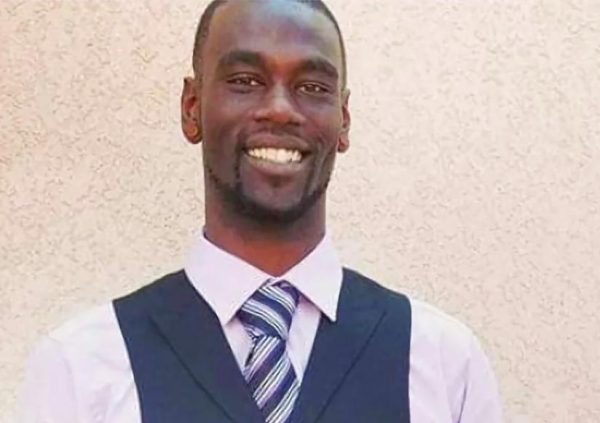 Shelby County Tennessee District Attorney Steve Mulroy announced Thursday that five now-former Memphis Police officers — Tadarrius Bean, Demetrius Haley, Emmitt Martin III, Desmond Mills Jr., and Justin Smith — were fired for misconduct, and indicted by a grand jury Thursday and taken into custody.
Each is charged with second-degree murder, aggravated assault, two counts of aggravated kidnapping, two counts of official misconduct and official oppression. By Friday morning, they had posted bond.
As news of the beating and death spread beyond Tennessee, officials expressed concern that release of the footage would touch off violent protest in reaction.
The attorneys and family of Tyre Nichols asked for justice for their son, and peace in their city, at a press conference in Memphis on Friday Memphis CBS News affiliate WREG News 3 reported.
Speakers included family members, attorneys Ben Crump and Antonio Romanucci and Van Turner, president of the Memphis branch NAACP.
Rodney Wells, Tyre Nichols' stepfather, said that he initially wanted first-degree murder charges against the officers, but the family is satisfied with second-degree murder.
He pleaded for peace in Memphis Friday night.
"We want peace. We do not want any type of uproar. We do not want any type of disturbance," Wells said. "Please, please, protest, but protest safely."
Protests are underway in Memphis after police released more than an hour of footage in the case with some major highways temporarily shut down.
Other protests were organized in New York City, as well as Sacramento, Los Angeles, Atlanta, Philadelphia and Seattle, with police at the ready for potential violence.
The White House held a joint emergency call Friday with the mayors of at least 16 cities before the video's release "to brief them on federal preparations in support of state and local leaders."
"Participating mayors shared their perspectives on how important it is to recognize the pain felt by communities across this country, be prepared in advance with a game plan to provide adequate community support, and to reinforce the importance of peace and calm during these difficult moments," the White House said in a statement about the call, which included cities from New York City, to Atlanta, Los Angeles, Washington D.C., Seattle and Portland.
The Los Angeles Police Department issued a statement condemning the actions of the Memphis officers and calling for demonstrations to remain peaceful.
"The accounts of the circumstances of this heinous crime and the criminal actions of those involved are reprehensible," the LAPD said.
"The Department will do all within its power to ensure the lawful expression of the public's anger and frustration is protected and prepared to facilitate those wishing to exercise their First Amendment rights."
The Los Angeles County Sheriff's Department told local media that it is preparing for the possibility of disturbances after the footage is made public. and is coordinating with other state, local and federal agencies.
"Our patrol stations and specialized units remain in a state of readiness to respond to any disturbances that might occur," the LASD said.
"The Sheriff's Department supports the first amendment and the people's right to protest."
Speaking with reporters as he prepared to depart for Camp David at the White House Friday evening, President Biden said that he had spoken with Nichols' mother earlier in the day prior to the video footage release for about 10 or 15 minutes.
"I spoke with Tyre's mother and expressed my condolences and told her that I was going to be making the case to the Congress to pass the George Floyd Act. We should get this under control. I can only do so much on the executive order at the federal level," Biden said. "I was really pleased that she called for peaceful protest, no violence," he added.
When asked about the potential for violence Biden said:
"I'm obviously very concerned about it. But I think she has made a very strong plea. She's obviously in enormous pain. I told her I had some idea of what that loss is like and although it is impossible to believe now, a time will come when his memory brings a smile before a tear."
The White House released a statement from the President that said in part:
"Like so many, I was outraged and deeply pained to see the horrific video of the beating that resulted in Tyre Nichols' death. It is yet another painful reminder of the profound fear and trauma, the pain, and the exhaustion that Black and Brown Americans experience every single day.

My heart goes out to Tyre Nichols' family and to Americans in Memphis and across the country who are grieving this tremendously painful loss. The footage that was released this evening will leave people justifiably outraged. Those who seek justice should not to resort to violence or destruction. Violence is never acceptable; it is illegal and destructive. I join Mr. Nichols' family in calling for peaceful protest."
California Governor Gavin Newsom issued a statement in response to the Memphis Police Department's body camera footage being released, showing the deadly actions that took the life of Tyre Nichols, a Sacramento native, and led to the charging of five since fired Memphis Law Enforcement Officers.
"Jennifer and I send our deepest condolences to the family and friends of Tyre Nichols. Tyre Nichols should be alive today. The video released shows abhorrent behavior and these officers must be held accountable for their deadly actions and clear abuse of power," said Governor Newsom. "Today, we are a country in mourning, and must continue our work nationwide to push reforms to prevent excessive use of force and save lives."
"Tonight, we saw ferocious violence from an out-of-control herd," said Los Angeles Mayor Karen Bass.
Late in the evening Friday the Office of the Vice President Kamala Harris released a statement from the Vice President on Nichols:
"Tyre Nichols should have made it home to his family. Yet, once again, America mourns the life of a son and father brutally cut short at the hands of those sworn to protect and serve. The footage and images released tonight will forever be seared in our memories, and they open wounds that will never fully heal.

The persistent issue of police misconduct and use of excessive force in America must end now.

I join President Biden in his call for accountability and transparency. We must build trust—not fear—within our communities."

VIDEO COURTESY OF KTLA:
TYRE NICHOLS VIDEO VIEWER DISCRETION ADVISED, GRAPHIC CONTENT AND LANGUAGE WARNING.