October 22, 2019 at 3:58 pm PDT | by Karen Ocamb
35th Annual AIDS Walk Los Angeles turns out 10,000
After what seems like years out of the mainstream spotlight, HIV/AIDS was a major subject at the Oct. 10 HRC/CNN town halls, perhaps largely due to the very real possibility of ending the devastating three-decades long epidemic thanks to access to new HIV/AIDS prevention medications and the ongoing healthcare debate over pre-existing conditions and criminalization of the manageable disease.
But actually putting down the remote or closing the laptop and venturing into Downtown LA to donate time, money and effort walking roughly five miles to show support for APLA Health's 35th Annual AIDS Walk is a real sign of commitment.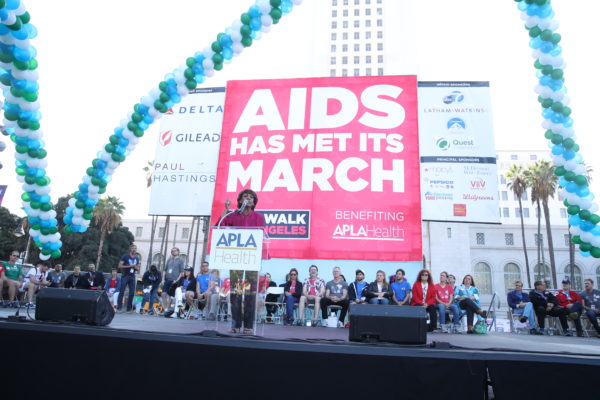 The theme this year was "AIDS Has Met Its March," a message familiar to guests such as Rep. Maxine Waters who's been advocating on behalf of people with HIV/AIDS and protesting since her election to Congress in 1991 the lack of commitment to LGBT youth of color most at risk for contracting HIV. Waters has also demonstrated her own commitment by walking in the AIDS Walk.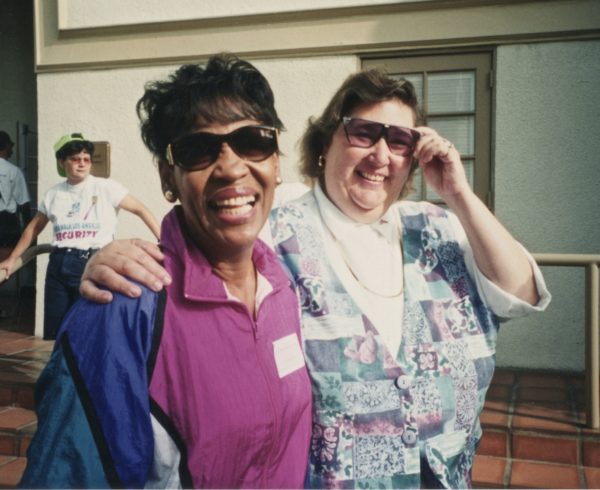 Over its 34 years, AIDS Walk Los Angeles has raised more than $88 million to fight the disease through its own services and contributing to other local HIV/AIDS service organizations. According to LA County there are 60,946 people living with HIV in the county. The county has devised its own strategy to reduce the number of HIV and end the AIDS epidemic "once and for all."
Key to strategies to end the epidemic is access to HIV prevention medications PrEP (pre-exposure prophylaxis) and post-exposure prophylaxis (PEP). Recently, Gov Newsom signed a bill that enables pharmacists to provide PrEP and PEP without a doctor's prescription and prior authorization from an insurance company.
"Use of PrEP and PEP in California remain far too low, particularly in communities most affected by HIV," APLA Health CEO Craig E. Thompson said in a press release. "SB 159, which passed the California Legislature with overwhelming bipartisan support, will increase the places where people can access these medications, increase the number of healthcare professionals who can provide them and remove onerous and unnecessary insurance barriers. We applaud Governor Newsom for signing SB 159 into law."
PrEP and PEP are critical tools to ending the HIV epidemic in California and across the country. PrEP is a once-daily pill for HIV-negative people that almost entirely eliminates the risk of acquiring HIV. PEP is medication that a person takes after a potential exposure in order to prevent the virus from taking hold. PEP must be started within 72 hours and continued for 28 days to prevent HIV acquisition.
Recent data suggests that less than 25 percent of people who could benefit from PrEP are currently taking it, APLA says, adding that PrEP is not being regularly used by Black and Latinx gay and bisexual men, transgender people, women, and youth.
"We cannot end the HIV epidemic until we ensure that all Californians have access to PrEP and PEP," said APLA Health Director of HIV Prevention Services Terry Smith. "SB 159 will help to increase awareness of PrEP and PEP, make it easier for people to access these medications from trusted community pharmacists and prevent insurance delays that can put people at greater risk of acquiring HIV."
Medicare, Medi-Cal and most insurance carriers cover PrEP and PEP, but for Californians who need financial help, there is a statewide PrEP Assistance Program (PrEP-AP) run by the California Office of AIDS. (See the bill here.)
Roughly 10,000 people participated in AIDS Walk Los Angeles, Alex Medina, director of communications at APLA Health, tells the Los Angeles Blade. And while the Oct. 20 event is over, fundraising is still open until Nov. 15. So far the 37-year old organization has raised $1,527,786 of an $1.8 million goal.
The turnout this year is an increase over last year, Medina says, perhaps because of the concerted effort to create community ties with donation support by noting what services the contributions fund, a "your dollars at work" message. The website notes that:
"AIDS Walk Los Angeles benefits APLA Health, which provides services in four key areas:

primary medical care, dental, behavioral health and HIV specialty care (as an federally qualified health center),
critical HIV support services (including the nation's largest food bank for people living with HIV – the Vance North Necessities of Life Program),
HIV prevention and education programs, and
advocacy to ensure continued care.

Since our founding in 1983, our goal has been to end the AIDS epidemic in Los Angeles County – the second largest in the country….

AIDS Walk Los Angeles also has a program – the Community Coalition Initiative – where we support the hard work of other organizations in LA County working to end the epidemics. Through the program, these organizations form teams, and the money raised by those teams is given back to them after our fundraising deadline on November 15th."
One such participating group was UCLA BLAIDS, an on-campus Black and Latino project that works to break down stigma around HIV/AIDS and sexual health.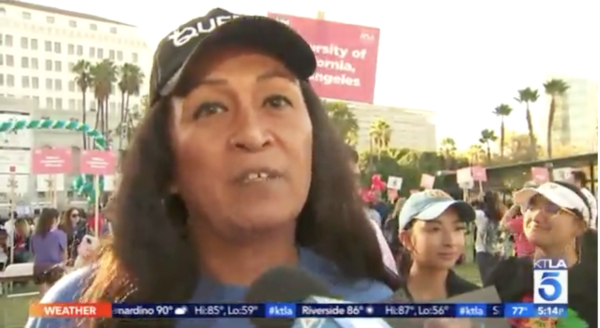 UCLA BLAIDS member Ajana Orozco has been HIV positive for 27 years. When she was first diagnosed, she told KTLA, "it was a death sentence back then. I never expected to be alive today but here I am, a UCLA student trying to make my way to law school." Her fellow students, she adds, are not afraid to give her a hug or being around her.
Medina says it was the high school and college students who took it upon themselves to block the usual protesting homophobes.
"They're advocates. It's encouraging," he says. "It's heartening to hear that even as hate crimes go up, we still do have advocates doing what's right."